Briargrove Houston Neighborhood Guide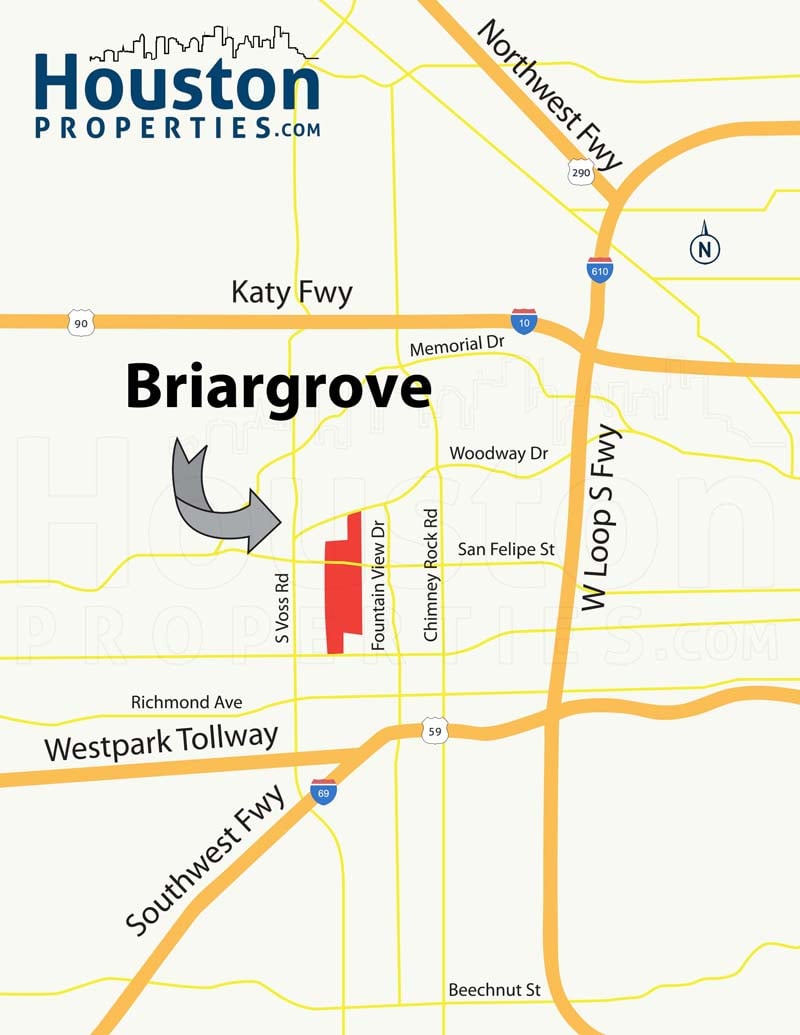 Briargrove is a deed-restricted residential enclave located about 12 miles west of Downtown Houston.
Known for its peaceful and neighborly atmosphere, Briargrove is a very popular neighborhood for a number of reasons including:
CENTRAL LOCATION: Located just west of the Galleria/Uptown area, Briargrove homes have plenty of retailers, boutiques, shopping malls, schools, job centers, and entertainment options nearby.
EASY ACCESSIBILITY: With convenient access to main Houston roads like Westheimer Road and Woodway Drive, Briargrove homes for sale are highly accessible to and from Inner Loop neighborhoods.
PEACEFUL AND FRIENDLY ATMOSPHERE: A relatively small neighborhood of about 900 homes, Briargrove is a tight-knit community, welcoming of both new residents and new generations of its old families moving into the area.
STRONG SENSE OF COMMUNITY: Briargrove's HOA, together with its architectural committee, work very hard to keep the neighborhood's look and overall ambiance. Residents can enjoy access to a community center and recreation facility as well.
AWARD-WINNING SCHOOLS: Briargrove homes for sale are zoned to some of the Houston ISD's finest IB schools. Award-winning school, Briargrove Elementary, is located at the heart of the neighborhood.
BEAUTIFUL HOMES: Briargrove's quiet streets are adorned with beautifully restored traditional ranch-style homes, and newer construction custom-built homes.
One of Houston's most desirable neighborhoods, Briargrove has very little inventory of available homes for sale. To navigate this challenging market, home buyers will greatly benefit from the help of the best Houston Realtor for advice and updated information.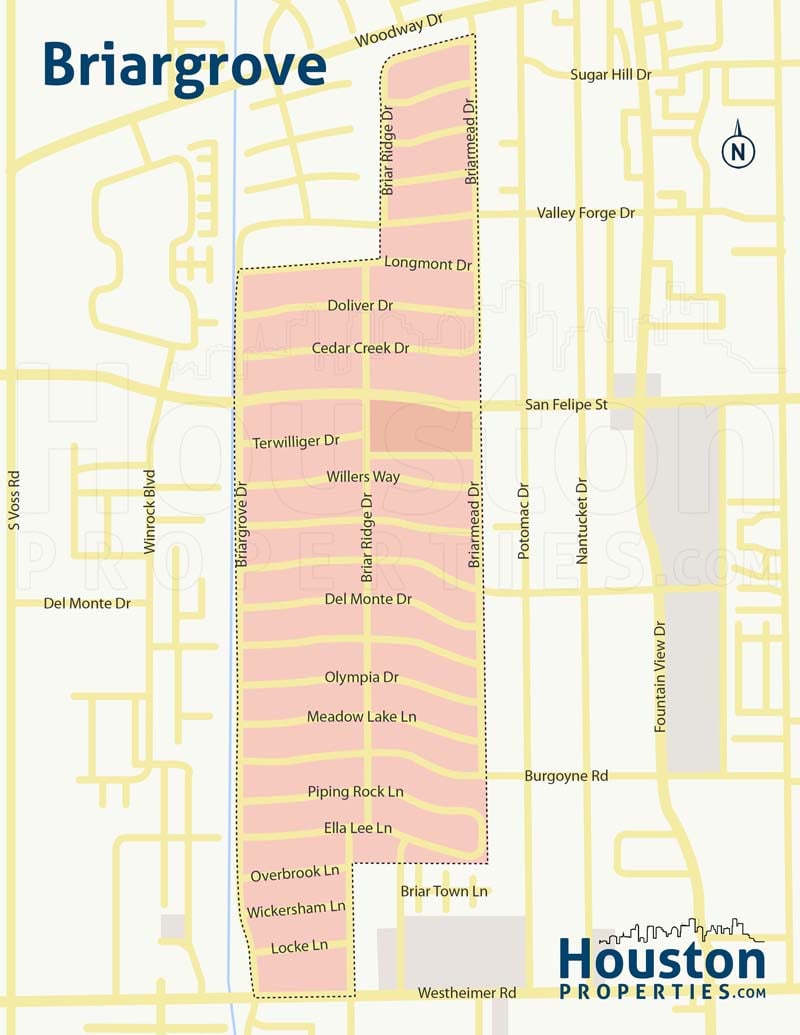 For any inquiries about Briargrove homes recommendations or off-market MLS listings, get in touch with Paige Martin, Owner of HoustonProperties.com and one of the best realtors in Houston.
Briargrove Resources (Popular Topics)
Houston Briargrove Neighborhood Profile
Briargrove Real Estate Guide
Paige Martin – Briargrove Realtor
Briargrove Maps and Location
Roughly bordered by some of Houston's main thoroughfares, Briargrove is located east of Briargrove Drive, south of Woodway Drive, west of Briarmead Drive, and north of Westheimer Road.
Nestled at the heart of west Houston, Briargrove has the Galleria/Uptown area to the east, Tanglewood to the northeast, and the Memorial Villages (Piney Point and Hunters Creek) to the north.
Briargrove Houston has a zip code 77057 in Harris County.
Zip codes near Briargrove Houston include 77024, 77056, 77081, 77027, and 77055. (View Houston zip code map)
Fun Things To Do Near Briargrove
There are perks to be had from being located adjacent to the Galleria/Uptown area.
Houston's premiere shopping destination, the Galleria area features over 700 retailers, restaurants, hotels, and other entertainment hubs. With the Galleria and Uptown Park within minutes away, Briargrove homes are within minutes of Houston's best and finest in terms of retail.
Other shopping malls nearby include Rice Village and Highland Village.
Within the neighborhood's borders, residents can enjoy a leisurely stroll around Briargrove Park Center or take a swim in the community center's pool facilities.
Briargrove Park Center offers several facilities, including a pool, tennis courts, and a playground. The park's redevelopment in 2003 led to the improvement of other clubhouse amenities like sidewalks, fences, and its large pavilion. The community center pool is also home to the local swim team – the Barracudas.
Here are some of the must-visit places near Briargrove Houston:
Restaurants
Truluck's
The Capital Grille
True Food Kitchen
Caracol
Etoile Cuisine et Bar
Chama Gaucha Brazilian Steakhouse
Masraff's
Pappas Bros Steakhouse
Maggiano's Little Italy
De Frisco's Double Eagle Steak House
Nightlife
Belvedere
The West End
Ron's Pub
Richmond Arms Pub
51fifteen Restaurant and Lounge
Firehouse Saloon
Muldoon's the Patio
The Black Swan
The Living Room
Retail and Entertainment Centers
The Galleria
Uptown Park
Rice Village
Groceries
Whole Foods
The Fresh Market
Randalls Food & Pharmacy
Target
HEB
Parks
Briargrove Park Center
Tanglewood Park
Gerald D. Hines Waterwall Park
Post Oak Park
Grady Park
Hidalgo Park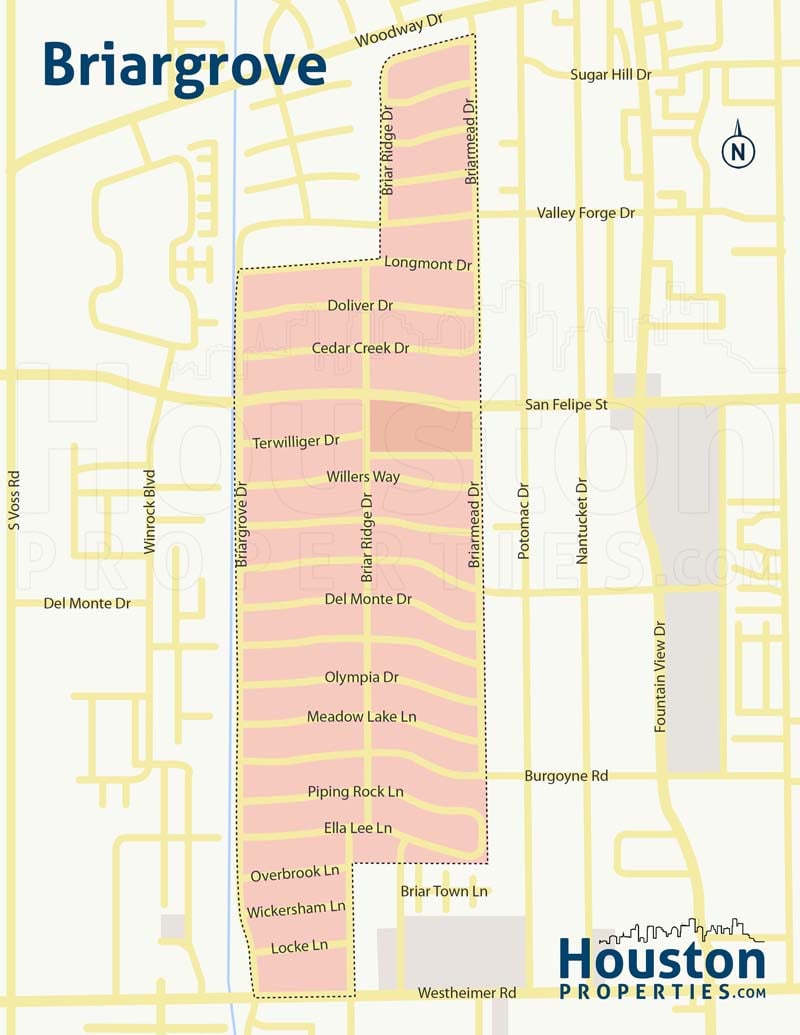 Neighborhoods Near Briargrove
Neighborhoods near Briargrove include:
Broad Oaks
Briarmeadow
Del Monte
St. George Place
Briargrove Houston History
Like most neighborhoods in west Houston, Briargrove can trace its roots back to the suburban housing boom in the 50s and 60s.
In 1948, Walter and Mary Jo Peckham moved to the property now known as Briargrove, located a few miles west of what was then Houston's city limits. They stayed there up until the property was sold to developers.
Much like the upscale subdivisions developed at the time, Briargrove was built out with ranch-style homes, some of which still stand today. Briargrove Elementary, the neighborhood's award-winning school, was built in 1958.
Briargrove Schools
Briargrove is zoned to the Houston Independent School District (HISD).
Public
Elementary Schools
Briargrove Elementary School at 6145 San Felipe St. Located comfortably within the neighborhood, Briargrove is a newly named IB World School and now offers the International Baccalaureate Primary Years Programme (PYP). Apart from this new program, the school also features a Critical Thinking Lab, along with several enrichment classes in various subjects and areas.
Briarmeadow Charter School at 3601 Dunvale Rd. As an option for those zoned to Briargrove, charter school Briarmeadow serves students in Pre-K through 8. It features Gifted and Pre-AP programs.
Students within the Briargrove area can apply to the soon to open Mark White School, slated to open its doors in August 2016.
Middle Schools
Grady Middle School at 5215 San Felipe St. As a neighborhood Vanguard school, Henry W. Grady Middle School offers Pre-AP classes for Gifted and Talented students. The school also offers core enrichment classes in different subjects including Technology, Spanish, Music, Fine Arts, and Visual Arts.
High Schools
Lee High School at 6529 Beverly Hill St. Located less than a couple of miles away from Briargrove homes, Lee High School is one of the HISD's magnet schools. It offers several Advanced Placement courses, including World History, Macroeconomics, and Statistics, among others. Students zoned to Lee can choose to attend Lamar or Westside instead.
Lamar High School at 3325 Westheimer Rd. Known for its great athletics program and its football team (the Lamar Texans, formerly the Redskins), Lamar also offers excellent academics programs. As one of the HISD's IB World Schools, Lamar serves a Middle Years Programme (MYP) a Diplomma Programme, and a Career-Related Programme. Its other programs include neighborhood and Advanced Placement.
Westside High School at 14201 Briar Forest Dr. Westside is the Houston ISD's Magnet School for Integrated Technology, and its curriculum centers on how technology can be applied to 5 aspects: Media Relations, Applied Science/Health Science, Fine Arts, Business, and Computing Sciences.
T. H. Rogers School at 5840 San Felipe St. Named a National Blue Ribbon School in 1991-92, the Thomas Horace Rogers School is an alternative public school that serves grades K through 12. It offers a Vanguard program for gifted and talented students from kindergarten to 8th grade. Programs for deaf (Program for Deaf and Hard of Hearing) and multiply impared students (Program for Preparing Students for Independence) are offered from Pre-K to 8th grade, and age 3 to 12th grade, respectively.
Briargrove Houston Private Schools
Briargove homes are located near several private schools, including St. Michael School (1833 Sage Rd.), a part of the Archdiocese of Galveston-Houston, and the Al-Hadi School of Accelerative Learning (2313 S Voss Rd.), a private Islamic School.
Here are a few private schools located near Briargrove:
St. Francis Episcopal Day School at 335 Piney Point Rd.
The Tenney School at 3500 S Gessner Rd.
Robindell Private School at 6610 Alder Dr.
Memorial Lutheran School at 5800 Westheimer Rd.
Duchesne Academy of the Sacred Heart at 10202 Memorial Dr.
The Kinkaid School at 201 Kinkaid School Dr.
Second Baptist School at 6410 Woodway Dr.
To find an updated listing of all Briargrove real estate zoned to any specific public school, please send an email to Paige Martin at Paige@HoustonProperties.com with the property preference and budget that you're working with.
*Note: School zoning tends to change from year to year, information provided above are accurate but not guaranteed. Please double check by visiting the school's website.
Briargrove Real Estate Trends
The Briargrove real estate market has grown over the past 10 years. From $440,875 in 2005, the median sales price of Briargrove homes has increased to $771,700 in 2014 – an impressive 75% positive change.
This growth is also apparent in the subdivision's average price per square foot, which has more than doubled over the same period.
Interestingly, these two trends coincide with the decreasing number of Briargrove homes for sale. With the neighborhood's continued popularity came increased demand, which in turn has driven prices up at a steady pace.
Other factors may have contributed in keeping the area's real estate market strong: Briargrove's active homeowners association, its deed restrictions, and its architectural committee.
Briargrove homes include old ranch-style homes, updated/remodeled homes, and recently constructed custom-built homes. Prices can range from $500,000 to upwards of $1M.
(Data sourced from the Houston Association of Realtors Multiple Listing Service and is deemed reliable but not guaranteed.)
For updated information regarding Briargrove real estate pricing and trend analysis, please contact Paige Martin at Paige@HoustonProperties.com.
Briargrove Single-Family Home Sale Trends
Compared to those in the Memorial Village, Briargrove single-family homes tend to range from older ranch-style and traditional homes to remodeled or updated dwellings. New construction custom-built homes are also becoming more common within the area.
Briargrove homes for sale typically sit on large lots by Houston Inner Loop standards, ranging from 8,000 to 10,000 square feet. Sprawling, manicured lawns and treed front and/or backyards are common features found in homes within the neighborhood.
Though traditional and ranch-style homes are more prevalent in Briargrove, other architectural styles are represented well in its newer homes, including French, contemporary, and modern.
Briargrove Townhomes Sale Trends
Briargrove Houston has deed restrictions and architectural guidelines discourage the construction of townhomes. There are, however, plenty of townhomes available in areas just outside the subdivision, most notably near Briargrove Drive and Westheimer Road.
Briargrove Condo Sale Trends
Due to the neighborhood's deed restrictions, there are no Briargrove condos for sale in mid-rise or highrise buildings, but plenty of units are available in surrounding areas like the Galleria and River Oaks. Museum District condos are also a popular option.
To see other condos within the Inner Loop, see Inner Loop Houston Condos. To see condos within the nearby Museum District area, see Museum District Area Houston Condos.