Guide To Briargrove Park Houston Homes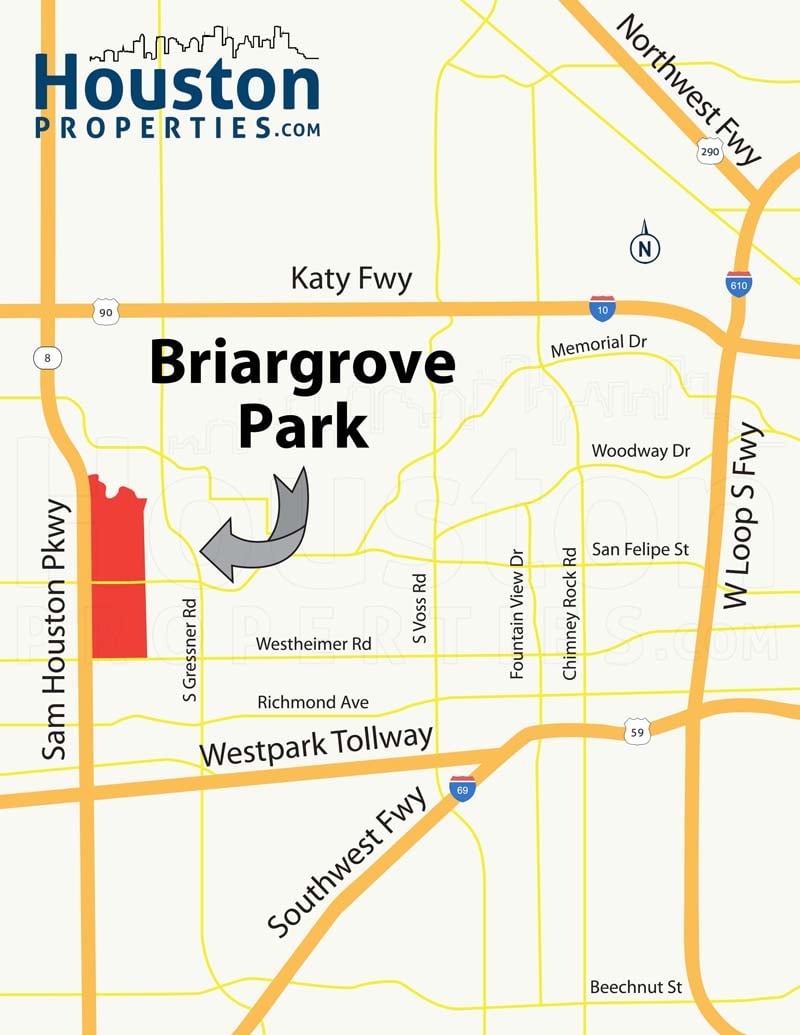 Located along the Sam Houston Parkway, Briargrove Park is a quiet, residential enclave in west Houston.
The neighborhood is known for its family-friendly vibe, distinctive gas lamps, and treed lawns.
Briargrove Park is made up of about 1480 single-family homes.
Development in Briargrove Park started in 1963, with its developer J. L. Phillips building his own house in the neighborhood.
The neighborhood was built in phases and its early homes each had 3 pine trees. This distinct feature can now be found on the neighborhood's website logo and on the stone marker at Briargrove Park's entrance.
Some Briargrove Park homes date back to the 1960s, though others have been replaced with newer custom-built homes.
The neighborhood is deed restricted and is mainly residential, but its proximity to Beltway 8 and Westheimer Road gives residents excellent access to restaurants, shopping centers, schools, parks, and entertainment venues.
Full-time staff manages Briargrove Park, employs a 24-hour constable service, and arranges for garbage collection.
Briargrove Park homes are zoned to the Houston ISD's Walnut Bend Elementary, Revere Middle School, and Westside High School.
Traditional style homes are common in the neighborhood, though there are other architectural styles available, including English, modern, contemporary, and Spanish.
Lot sizes range from 8,000 to more than 12,000 square feet. Briargrove homes typically feature a 4/3 floor plan.
Prices for Briargrove Park homes for sale, depending on location, age, and condition, can start at $400,000 to over $1 million.
For more information on available Briargrove Park Houston Homes for sale and how they compare to nearby Houston neighborhoods
call Paige Martin at 713-384-5177 or email Paige@HoustonProperties.com
Guide To Briargrove Park Homes For Sale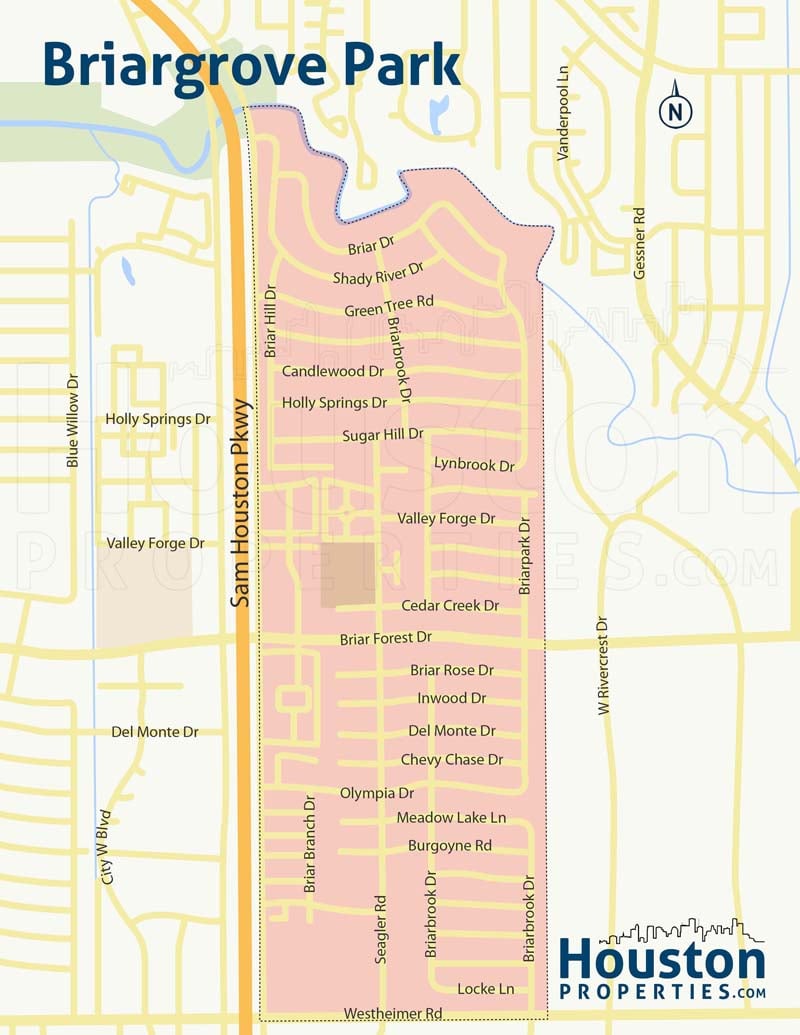 Easily confused with Briargrove, Briargrove Park is located further west, bounded by Sam Houston Parkway to the west, Gessner Street to the east, the Buffalo Bayou to the north, and Westheimer Road to the south.
Some 18 miles east of Downtown, Briargrove Park residents have a fairly easy commute to and from key Houston areas. The Energy Corridor, another major job center, is a few miles further west from Briargrove Park homes.
The neighborhood is south of Bunker Hill Village (Memorial Villages) and west of Briarmeadow (Woodlake).
Developed during the early 1960s, Briargrove Park features a swimming pool, a playground, tennis courts, and other facilities. The neighborhood has an Association Manager that organizes community events and maintains Briargrove Park's facilities.
Briargrove Park homes are single-detached and strictly adhere to the area's deed restrictions. Homes typically sit on large lots, between 8,000 to 12,000 square feet. Size, architectural styles, and floor plans vary. Most Briargrove Park homes for sale feature around 2,500 square feet of living space and traditional designs.
Home prices in the area can range start at $400,000. Bigger and newer properties can go for over $1 million.
Briargrove Park is under the 77042 zip code.
Briargrove Park Realtor – Paige Martin
As featured on Fox News in the Morning, the Houston Business Journal, Houston Chronicle, and Houston Magazine, Paige Martin – a consistent Top Producing Broker-Associate and the owner of HoustonProperties.com – is ranked amongst the very top Keller Williams agents in the Houston area.
Paige is ranked as one of the top realtors in Houston, and the state of Texas. Read more about the over 65 awards she's won in the last few years.
Paige works with a tremendous number of buyers and sellers within Briargrove Park Houston.
For a specific recommendation of neighborhoods, homes or properties based upon your personal style, goals & price point, please contact Paige Martin, Owner of HoustonProperties.com & Broker Associate at Paige@HoustonProperties.com or 713-384-5177.