Guide To Caceres Houston Homes For Sale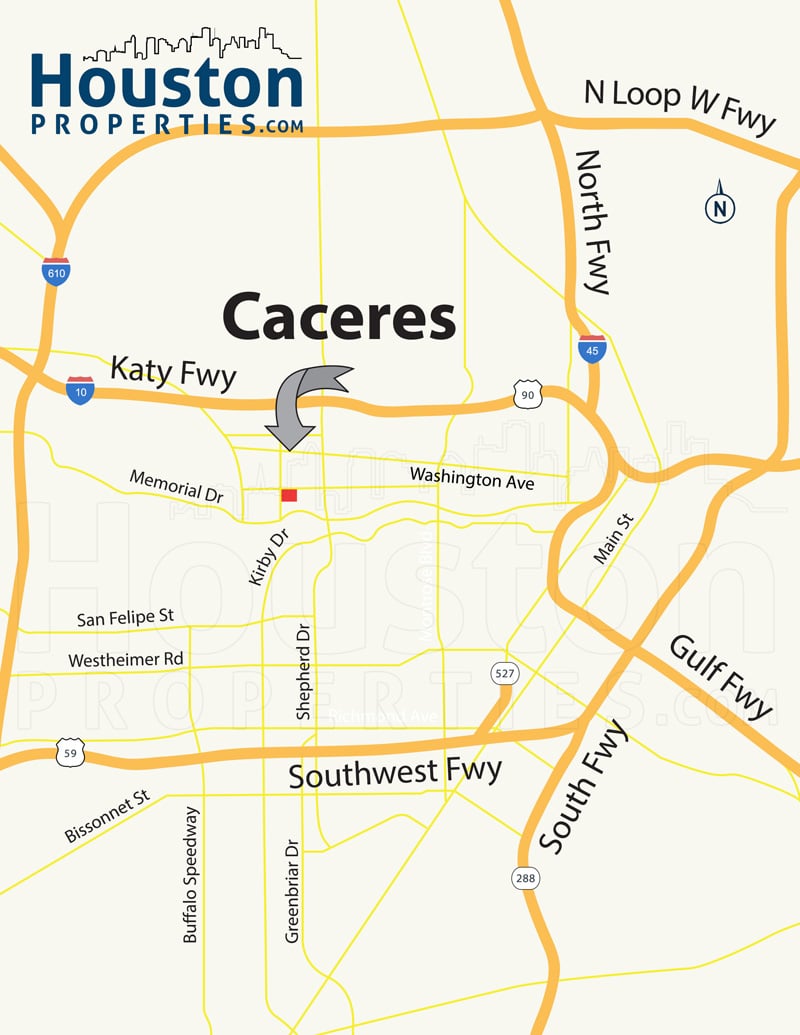 Caceres is a gated subdivision in Houston's 77007 zip code located on Reinerman St. near Memorial Park, Rice Military and River Oaks.
Caceres offers a 24-hour, guard-gated entrance and is a fully gated community.
The Caceres development started in 2006 / 2007 with the acquisition of approximately eight acres of land north of Memorial Drive and south of Feagan St.
Multiple builders have been involved in the project, including Rohe & Wright Builders, Yancy Hausman, Black Diamond, and Cunningham Building & Development.
Caceres properties include townhomes (shared walls) and single family homes (no shared walls).
Many of the Caceres homes for sale are four stories tall.  Some of these properties have an elevator or elevator shaft.
Properties within Caceres have an annual homeowners association (HOA) fee that covers the guard gate and community grounds upkeep.
For more information on available Caceres Houston Homes for sale
and how they compare to nearby guard-gated Houston communities
call Paige Martin at 713-384-5177 or email Paige@HoustonProperties.com
Caceres Townhomes Houston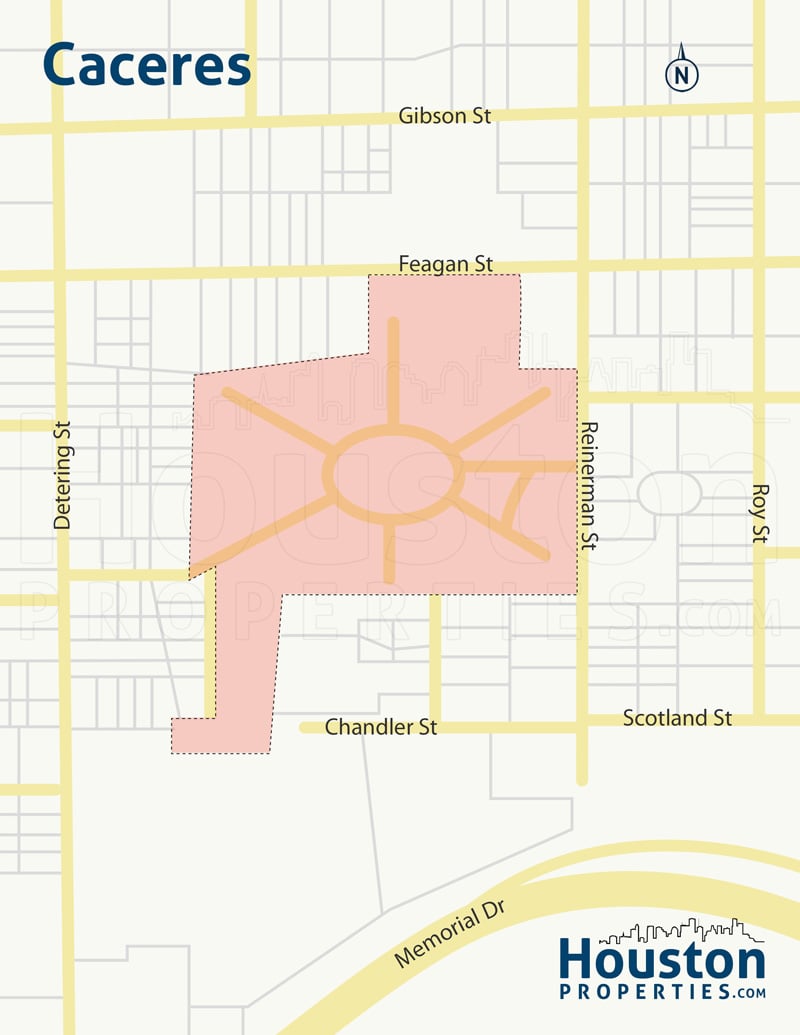 Located inside the 610 loop in Houston, Texas is a neighborhood called Caceres.
This luxury development was designed and developed by a collaboration between three, well-known developers and construction companies: Yancy-Hausman, Rohe & Wright Builders, and Black Diamond Builders.
The concept behind this neighborhood is to offer an elegant Spanish getaway by bringing the look and feel of Spanish coastal villages right to the heart of Houston, Texas.
The eight-acre plot of land developed into Caceres is now home to custom homes, villas, and Houston townhomes, offering a wide range of options for homebuyers.
If you are thinking of moving to a luxurious village in Houston, then this may be the perfect place for you to call home. This article will cover everything you need to know about Caceres Houston homes for sale and its location in west Houston.
Caceres Living, Location and Transportation
The exact address of Caceres is 207 Reinerman Street, Houston, TX 77007. This is located just off of the main road of Memorial Drive, which runs west toward the Interstate 610 interloop and east toward Interstate 45 and downtown Houston.
North of Caceres is Interstate 10, fondly called Katy Freeway, as well as Washington Avenue, another main thoroughfare in the area. For those who commute to and from work or school, there are numerous bus stops just nearby Caceres, making it easy to get around the city.
Amenities and entertainment near Caceres
Because of its great location, Caceres has easy access to some of the best restaurants, shops, entertainment, and cultural spots in Houston.
Along Washington Avenue, which has come to be known as "restaurant row" you will find over 20 restaurants, bars, lounges, and clubs.
Also nearby are some of the great shopping options found along 19th Street, Washington Avenue, and West Gray Street, not to mention the nearby River Oaks Shopping Center. Numerous parks, art galleries, museums, and studios can also be found within a short walk or drive of Caceres.
Real estate information for Caceres
In total, Caceres is home to over 100 luxury residential properties that have been fitted with some great eco-friendly technologies.
There are 19 custom homes, 33 villas, and 66 townhomes all designed in a charming Spanish style. The master-planned community is guard-gated, 24-hours a day and 365 days a year.
Some of the properties offer amazing views of downtown Houston, all from the safety, comfort, peace, and privacy of your beautiful Spanish-themed home.
Prices for properties in Caceres range from around $500,000 to over $1,500,000.  Contact Paige Martin, Caceres Houston Realtor for more details and information.