Camp Logan Houston Neighborhood Guide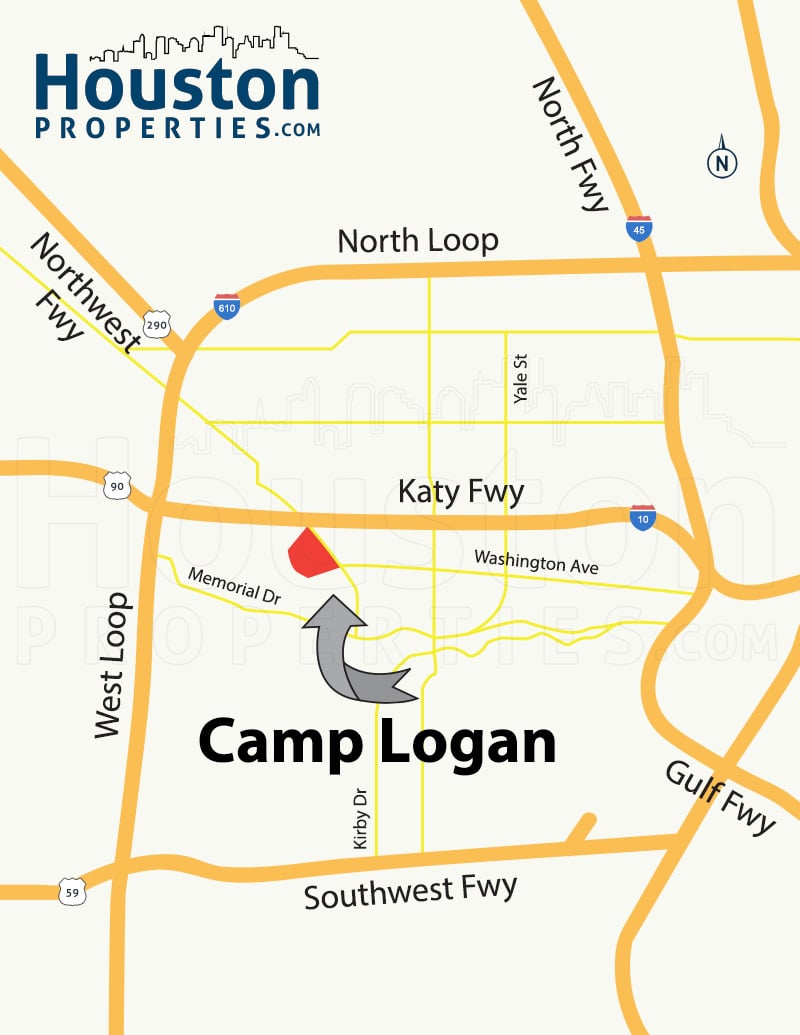 A former WWI-era training camp for the US Army, Camp Logan is now a thriving residential subdivision nestled right next to Memorial Park.
Camp Logan homes for sale are consistently in high demand due to the following:
EXCELLENT LOCATION: Camp Logan residents enjoy the neighborhood's Inner Loop location and very close proximity to Memorial Park.
GREAT ACCESSIBILITY: Camp Logan is conveniently located near Katy Freeway (I-10) and Washington Avenue, providing residents with easy access to the city's commercial, business, and cultural offerings.
GOOD SELECTION OF HOMES: Apart from ranch-style houses, Camp Logan also features newly constructed contemporary, Mediterranean, Spanish, and French-inspired townhomes.
IDYLLIC NEIGHBORHOOD: Camp Logan's tree-lined streets and expansive lawns give the area a quiet, cozy vibe amid the hustle and bustle of the city.
Camp Logan is a popular neighborhood within Loop 610, prized for its great location and easy access to Memorial Park's amenities.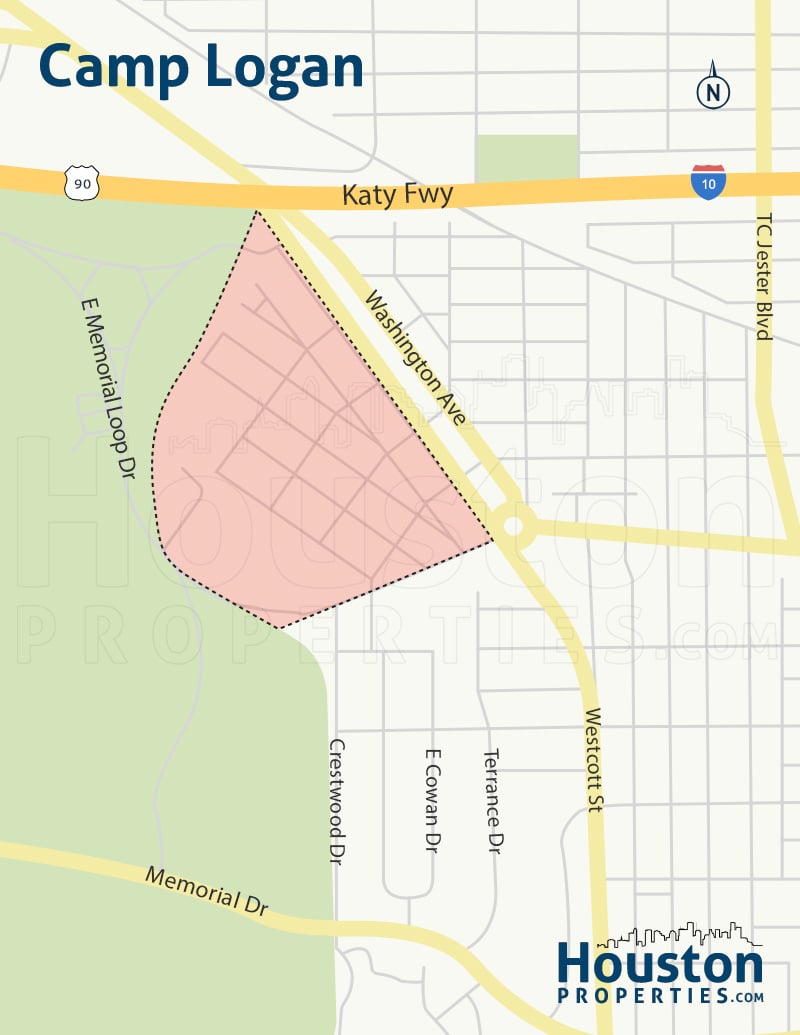 For any inquiries about Camp Logan homes recommendations, or off-market MLS listings, get in touch with Paige Martin, Owner of HoustonProperties.com and one of the best Realtors in the city.
Camp Logan Resources (Popular Topics)
Houston Camp Logan Neighborhood Profile
Camp Logan Real Estate Guide
Paige Martin – Camp Logan Realtor
Camp Logan Houston Homes For Sale
Camp Logan Maps and Location
Camp Logan is bordered by Memorial Park to the west, Arnot Street to the south, and Westcott Street to the east. It sits just north of Memorial Elementary School.
Camp Logan is conveniently located just off Katy Freeway (Interstate 10) and Memorial Drive, providing its residents with an easy jump off point to Downtown, the Texas Medical Center, and the Energy Corridor.
An oak tree that predates the Texas Republic is the landmark of the Camp Logan neighborhood.
Camp Logan has a triangular street pattern with winding, tree-lined roads. With Memorial Park at its western border and the Washington Avenue corridor to the east, the community has an element of serenity amid a bustling urban area.
The community is attractive to homebuyers who are in the market for locations close to The Galleria, Uptown, and the job centers of Medical Center and Downtown Houston.
The Camp Logan zip code is 77007 in Harris County.
Zip codes near Camp Logan include 77006, 77019, 77027, and 77008. (View Houston zip code map.)
Fun Things To Do Near Camp Logan
Camp Logan community has deed restrictions that prevent construction of commercial establishments inside the neighborhood.
Residents of the community enjoy close proximity to Memorial Park, Houston's largest public park – and one of the largest urban parks in the country. The 1,503-acre park offers venues for various outdoor activities like swimming, tennis, softball, volleyball, croquet, skating, cycling, and track.
Many Houstonians frequent the Seymour Lieberman Exercise Trail, a three-mile jogging trail made of crushed granite that course through Memorial Park and Camp Logan.
Another popular destination is the Memorial Park Golf Course, a top rated municipal golf course with a 73 rating and slope rating of 122 that is easily accessible for those who reside in the Camp Logan neighborhood.
Memorial Park is also home to the Houston Arboretum and Nature Park, a nature sanctuary that provides nature educational facilities for children.
Hikers, bike enthusiasts, in-line skaters, and roller skaters can take advantage of the Memorial Park Picnic Loop, a multi-use trail open during park hours. There are several trails available both for bikers and hikers as well.
Camp Logan is also near the dining and commercial establishments on Washington Corridor, while shopping destinations like the Galleria are highly accessible. Other commercial, entertainment, and cultural hubs are only a short drive away.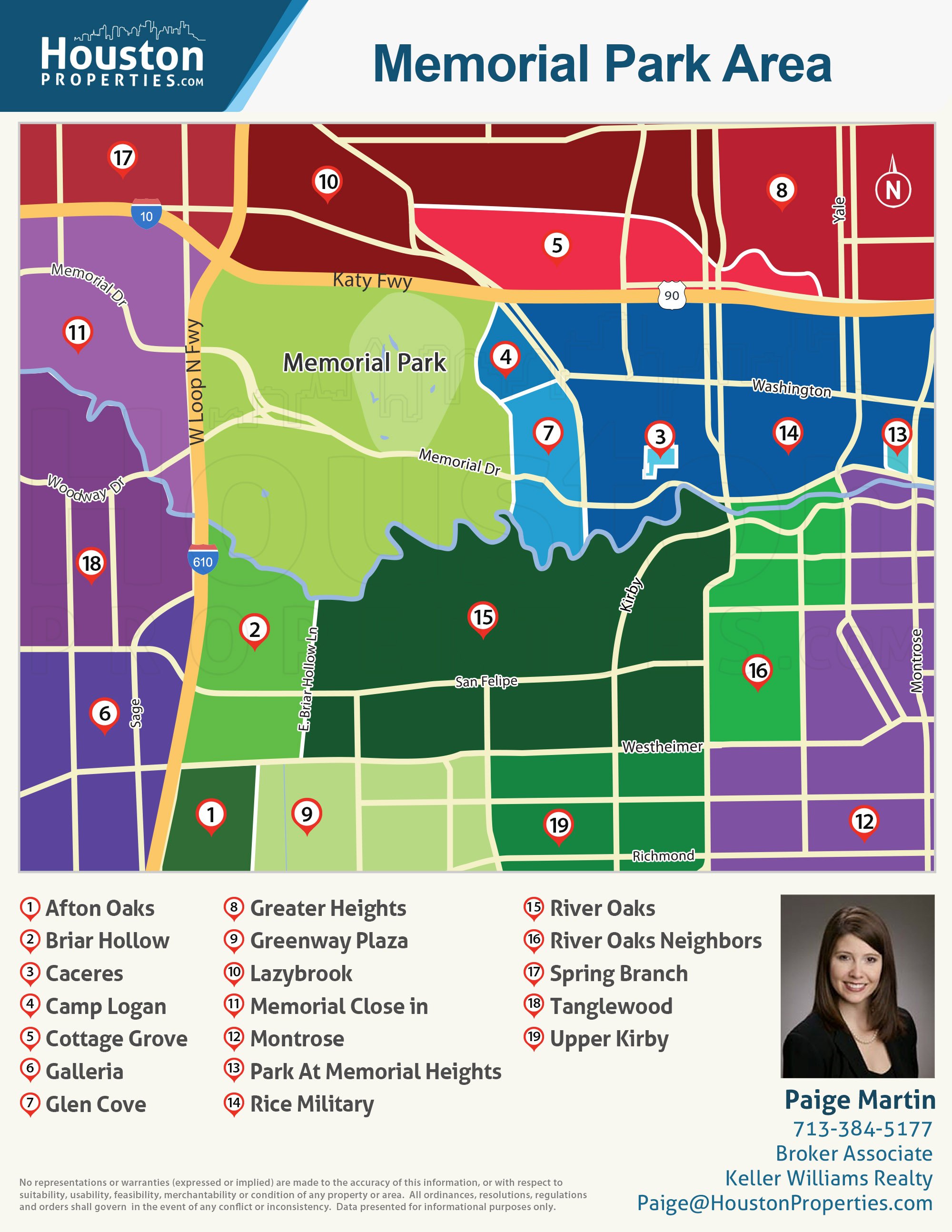 Dining
Michaeline's
Coppa Ristorante Italiano
The Chopping Block
El Tiempo Cantina
Los Dos Amigos Mexican Restaurant
Crazy White Shark
Benjy's Restaurant
Winston's on Washington
H Town Bar and Grill
Brixx
Candelari's Pizzeria
Coffee
Black Walnut Café
The Teahouse
Starbucks
Teahouse 101
The Brothers Bakery
Polovina Italian Cafe
Bars
Kung Fu Saloon
Branch Water Tavern
Outlaw Dave's Worldwide
Little J's Bar
Mafreless Ventures
Porch Swing Pub
Arts
Houston Museum of Natural Science
Museum of Fine Arts Houston
Miller Outdoor Theatre
Contemporary Arts Museum Houston
The Menil Collection
Groceries
El Tiempo Market
D F Food Store
Snap Kitchen
My Fit Foods
Shepherd food Store
Real Meals 365
Parks
Cottage Grove Park
Cleveland Park
Homewood Park
Live Oak Park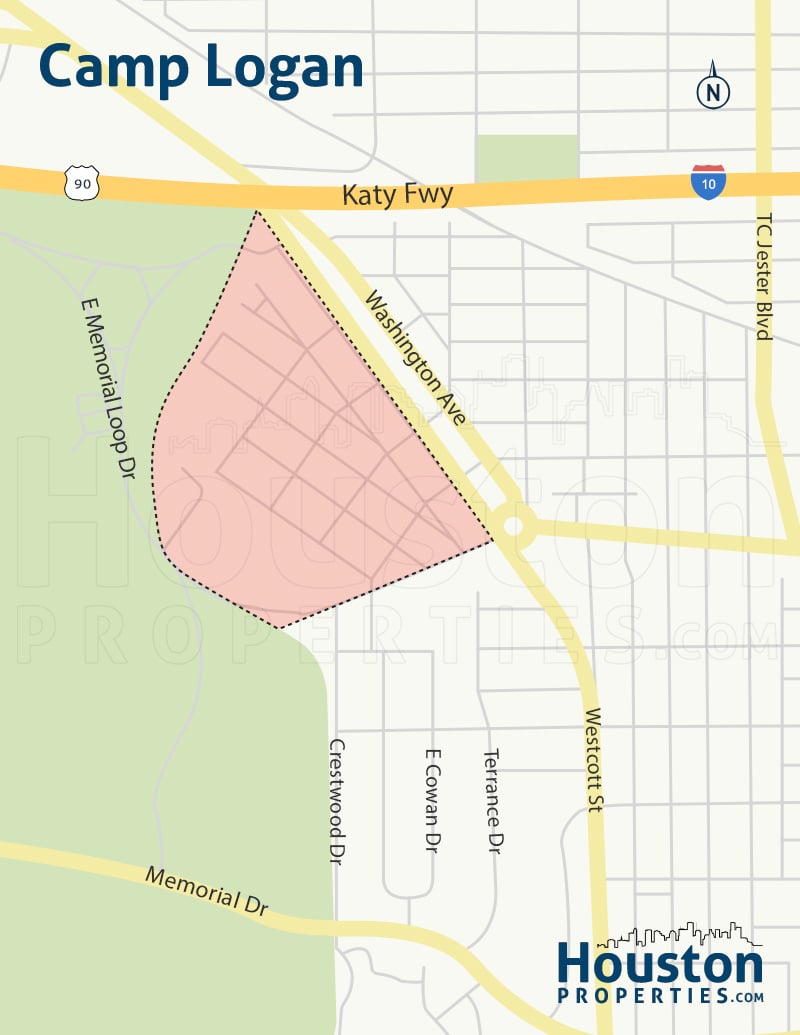 Neighborhoods Near Camp Logan
Neighborhoods near Camp Logan include:
Camp Logan Houston History
Like most areas in Houston, Camp Logan played an integral role in the city's rich history.
In 1917, shortly after the United States had declared war on Germany, the War Department commissioned two military camps to be built in Harris County. Camp John A. Logan, along with Ellington Field, was constructed in 1917-1918 and served as a training facility for the US Army. It was named after the founder of Memorial Day and was made on a 1,400-acre land, just three and a half miles from downtown Houston. It prepared over 30,000 soldiers for service during World War I.
The Third Battalion of the black Twenty-fourth United States Infantry Regiment was assigned to guard the then under-construction Camp Logan.
In 1918, Camp Logan was turned into military hospital and a golf course – the first one in Houston – was built for the recovering servicemen. The next year, the camp was decommissioned and closed.
Enterprising brothers, Mike and Will Hogg, bought 875 acres of Camp Logan, along with an adjoining property from the family of businessman William Marsh Rice.
They had planned to develop home sites on the property, but decided instead to focus their investments somewhere else. The brothers eventually sold the property to the city of Houston, and it was turned into a park dedicated to the memory of soldiers who died serving in World War I, now known as Memorial Park.
Today, some remnants of its history still remain – chunks of concrete, a shelled-road leading to the golf course, and trenches used for training.
Camp Logan Schools
Camp Logan neighborhood is under the Harris County and zoned to the Houston Independent School District (HISD). The following are the schools under the zone 77007.
Elementary
Houston Heights Learning Academy at 902 W 8th St. A charter school that has 115 students in grades PK-5 and has a 10 out of 10 test rating by Education.com. Its TEA ranking is Exemplary.
Crockett Elementary School at 2112 Crockett St. It is a charter school with an Exemplary TEA Ranking that serves 402 students in grades PK-5. It has a 9 out of 10 test rating by Education.com.
Harvard Elementary School at 810 Harvard St.  It is a magnet school that has 689 students in grades PK-5 and has a Recognized TEA Ranking. It has a 7 out of 10 test rating from Education.com. It has an 18:1 student ratio.
Memorial Elementary School at 6401 Arnot St. It is a coeducational public school that serves PK-6 students. It has a GreatSchools.org rating of 6 out of 10.
Middle School
Depelchin-Elkins Campus at Memorial Drive.  It is one of the 16 schools included in the University of Texas' University Charter School District that serves 36 students in grades 6-12.
Hogg Middle School at 1100 Merrill St. Hogg Middle School is a public co-ed school that serves 722 students in grades 6 to 8.
High School
Lamar High School at 3325 Westheimer. Lamar High School serves 3225 students in grades 9 to 12 and has a great Athletics program. Apart from having one of the oldest lacrosse programs in the state of Texas, the school's football team, the Lamar Redskins, is also considered as one of the best in the Greater Houston area. It has a GreatSchools.org rating of 7 out of 10.
Camp Logan townhomes are also located near some great private schools. St. Theresa Catholic school is within a stone's throw of the neighborhood, while others are 15 to 20 minutes away.
St. Theresa Catholic School at 6623 Rodrigo St. It is a private school that employs co-education. It is a part of the Archdiocese of Galveston-Houston and is a member of the National Catholic Educational Association.
St. Thomas High School at 4500 Memorial Dr. It is an all-boys Catholic school that serves grades 9 to 12 students. Like St. Theresa, it is also affiliated with the Archdiocese of Galveston-Houston and the NCEA.
River Oaks Baptist School at 2300 Willowick Rd. River Oaks Baptist School is a coed, nonsectatian school for PK-8 students. It is affiliated with NAIS, and has a GreatSchool.org community rating of 5 out of 5 stars.
To find an updated listing of all Camp Logan real estate zoned to any specific public school, please send an email to Paige Martin at Paige@HoustonProperties.com with the property preference and budget that you're working with.
*Note: School zoning tends to change from year to year, information provided above are accurate but not guaranteed. Please double check by visiting the school's website.
Camp Logan Real Estate Trends
The quiet neighborhood of Camp Logan is a historic and thriving community made up of single and attached townhomes west of Downtown Houston. It is a relatively small community with 207 single family properties available.
Camp Logan properties have experienced steady and continuous appreciation in the last 10 years, peaking at $238 per square foot.
Property prices dipped slightly, so home buyers can take advantage of this as property prices are expected to rise again in the coming years.
Median sales prices for the Camp Logan homes for sale is around $745,000, with an average price of over $210 per square foot. These properties have a very competitive 10-year real estate appreciation of 86%.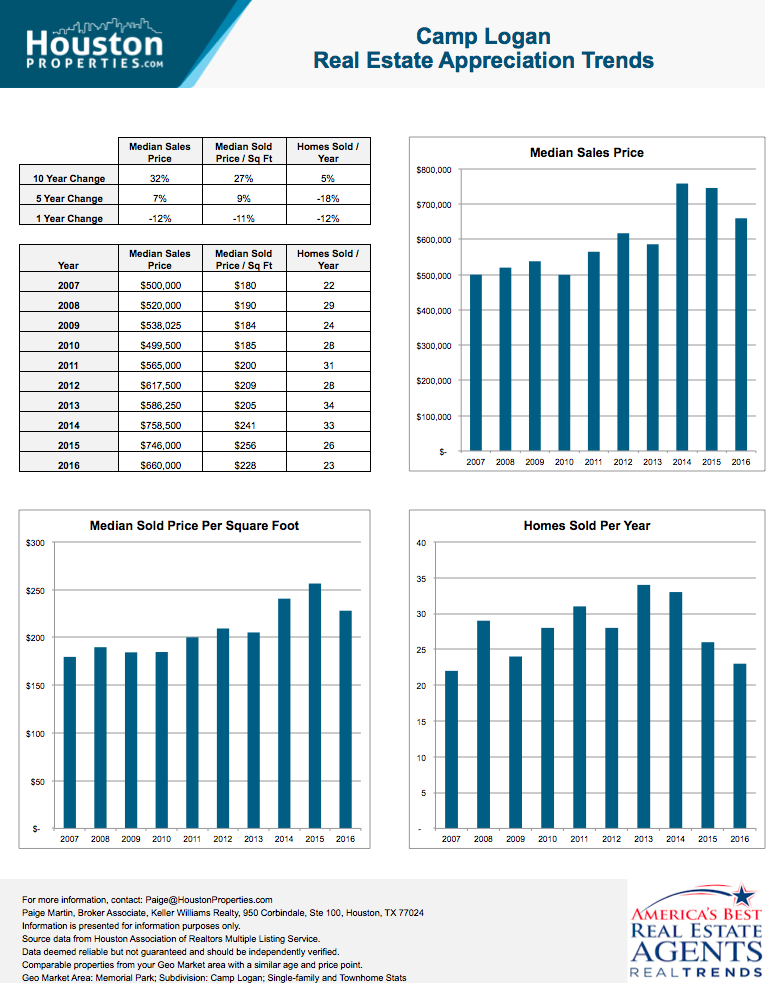 (Data sourced from the Houston Association of Realtors Multiple Listing Service and is deemed reliable but not guaranteed.)
For updated information regarding Camp Logan real estate pricing and trend analysis, please contact Paige Martin at Paige@HoustonProperties.com.
Camp Logan Single-Family Home Sale Trends
Camp Logan properties range from old ranch-style homes to newly constructed two-story contemporary, traditional, Mediterranean, and Spanish style houses.
Camp Logan single-family homes for sale can range from 1,800 to 4,000 square feet and feature 3 bedrooms and 3 ½ baths.
The median square footage is 2,394 square feet, and though this is a slightly smaller than in other Inner Loop neighborhoods, single-family homes in this area feature multi-level construction and second-floor living.
Newer construction, single-family homes in the area can go between $900,000 to $1.3 million.
Camp Logan Townhomes Sale Trends
Camp Logan is one of the few Inner Loop neighborhoods that allow for the construction of townhouses, making the area very accessible to families and professionals alike.
Camp Logan townhomes, spurred by a trend of multi-level construction in the area, feature front and backyards, decks, balconies, and patios. The standard floor plan includes 3 bedrooms and 3 and a half baths spread across two to four stories of living space.
Like single-family homes, townhomes are highly accessible in the Camp Logan area. Both housing types also share the same style sensibilities, though townhomes are slightly cheaper to buy and easy to maintain.
Townhomes in the Camp Logan area have an average lot area of 2,625 square feet, with prices ranging from $500,000 to $800,000.
Camp Logan Condo Sale Trends
There are no high rise condos in Camp Logan, but there are condo units available in mid-rise or multi-level townhouses.
There are condos available in the surrounding areas including:
To see other condos within the Inner Loop, see Inner Loop Houston Condos.