Camp Logan Houston is a neighborhood rich in history. The former training camp went through a series of real estate development to become a quiet community with a collection of renovated and new construction single-family homes and townhomes.
Camp Logan Homes For Sale
Camp Logan Neighborhood Information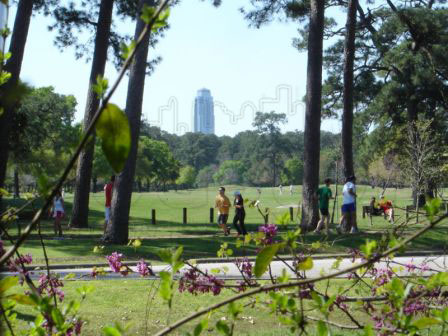 Located virtually inside of Memorial Park, Camp Logan is a neighborhood that was once the site of a World War I training camp. Hosting over 1,300 buildings and almost 45,000 troops, Camp Logan was the genesis of the Houston Riot of 1917 in what was then the northwest outskirt of the city.
After the war, prolific Houston developers Will and Mike Hogg purchased 1,503 acres of the former Camp Logan land and sold it to the city at cost. In May of 1924, the City of Houston took created a "memorial" park on the Camp Logan site dedicated to the memory to the soldiers who lost their life serving in World War I.
Today, only a few chunks of concrete in the heavily-forested park are all that remain of the original Camp Logan training camp. A historical marker in the park across the street from the school commemorates the camp, and the name 'Camp Logan' has remained, but the area looks quite a bit different now.
Camp Logan is characterized by windings streets shaded by towering trees and wide, expansive lawns blanketing the areas around ranch-style homes and some new construction two-story homes. Camp Logan's direct access to Memorial Park make it a very sought-after residential area.
Memorial Park is one of the largest urban parks in the United States, and its 1,466 acres include the 18-hole Memorial Park Golf Course (Texas's top-rated municipal golf course, with a course rating of 73 and a slope rating of 122), facilities for tennis, softball, swimming, track, croquet, volleyball, skating, cycling and a three-mile running course. 3 million joggers per year run on the Seymour Lieberman Exercise Trail, a three-mile crushed granite pathway that winds around Memorial Park and Camp Logan.
There are also miles of multi-use trails through the woods on the south side of Memorial Park, as well as a 'picnic' loop which is used heavily by road cyclists, softball fields, sand volleyball courts and a field for playing rugby or soccer — all of which are frequented by the residents of Camp Logan.
Also, The Houston Arboretum and Nature Center, an arboretum and botanical garden, sits on 155 acres within the park — right near Camp Logan.
Camp Logan is zoned to HISD's Memorial Elementary School, Hogg Middle School and Lamar High School. St. Theresa School, a Roman Catholic K-8 School that is a part of the Archdiocese of Galveston-Houston, is in the area as well.
Click here for a map of Camp Logan.
Email Paige@HoustonProperties.com or call 713/384-5177 for more information about Camp Logan.
Camp Logan Market Stats