Champion Forest TX Neighborhood Guide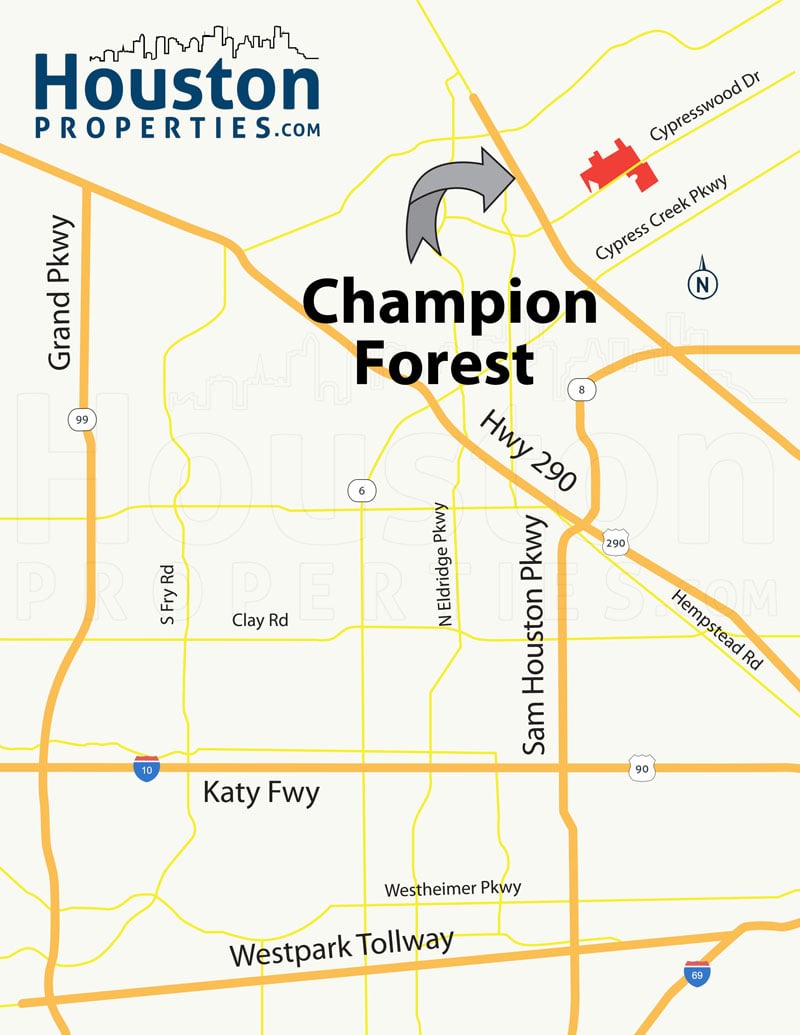 Located about 26 miles northwest of Downtown Houston, Champion Forest is an affluent, master-planned community.
Often compared to Houston's most expensive neighborhood River Oaks, Champion Forest is quite a popular option due to the neighborhood's:
GREAT LOCATION: Nestled within a lush area of unincorporated Harris County, Champion Forest was designated as a bird sanctuary by the Houston Audubon Society.
EASY ACCESS: Champion Forest homes are minutes away from Highway 249, Farm to Market Road 1960, and Beltway 8. The commute to and from key Houston areas are fairly convenient from the neighborhood.
RETAIL, DINING, AND ENTERTAINMENT OPTIONS: Champion Forest features plenty of restaurants, shopping centers, and entertainment hubs within and around its borders. The Raveneaux Country Club and the Willowbrook Mall are within minutes from Champion Forest homes for sale.
ACTIVE CIVICS CLUBS: Apart from the neighborhood's homeowners association, Champion Forest also has a women's club, and a garden club, among others.
BEAUTIFUL HOMES ON LARGE LOTS: Champion Forest homes are mostly single-family dwellings on lots ranging in size between 9,000 to more than 20,000 square feet.
Champion Forest has been dubbed as the "River Oaks of the north," and with good reason. Its beautiful homes, tree-lined streets, and family-friendly atmosphere makes it a great option for homebuyers.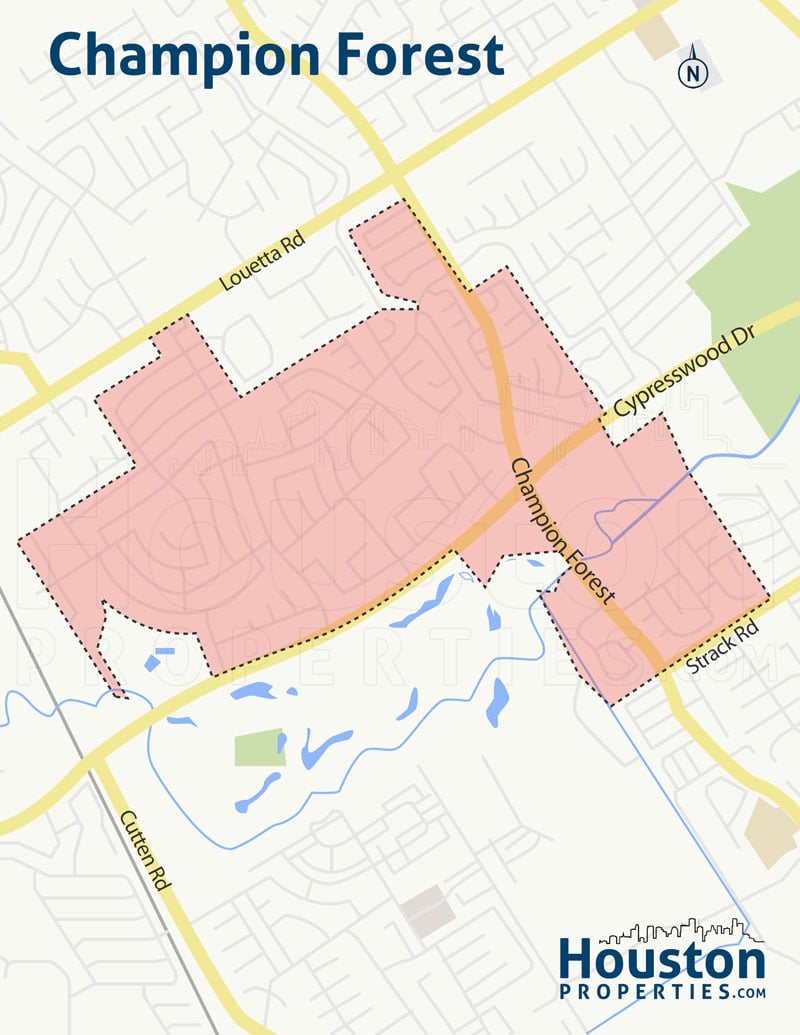 For any inquiries about Champion Forest homes recommendations, or off-market MLS listings, get in touch with Paige Martin, Owner of HoustonProperties.com and one of the best realtors in Houston.
Champion Forest Resources (Popular Topics)
Houston Champion Forest Neighborhood Profile
Champion Forest Real Estate Guide
Paige Martin – Champion Forest Realtor
Champion Forest Maps and Location
Located approximately 26 miles northwest of Downtown Houston, Champion Forest occupies a lush area along Cypresswood Drive.
Cypress Creek Parkway (Farm to Market Road 1960) and Highway 249 are a few minutes away from the neighborhood. Further south lies Beltway 8.
Champion Forest TX is divided into several sections, and is interspersed with smaller communities like Champions, Estates at Windrush, Champion Cove, Woods of Cypress Creek, Stonegate Court, and Sterling Gate Estates. The entire neighborhood is under the Cypress Forest Public Utility District.
The community features wandering, tree-lined streets and cul-de-sacs, various amenities, and active civics clubs. The homeowners' association, along with its architectural control committee and various civic groups, help maintain Champion Forest's security, cleanliness, and overall atmosphere.
The sections of Champion Forest have different deed restrictions.
Champion Forest has a 77379 Harris County zip code.
Zip codes near Champion Forest TX include 77375, 77388, 77090, 77068, 77069, 77070, and 77090. (View Houston zip code map)
Fun Things To Do Near Champion Forest
Champion Forest residents have plenty of retail, dining, and entertainment options to choose from.
Minutes away from Champion Forest homes are various restaurants offering different kinds of cuisine, including Chinese, Italian, Mediterranean, and Persian. Several shopping centers, including Vintage Park, Willowbrook Mall, and Old Town Spring, are also located within a short drive away.
For those looking for outdoor activities, there are plenty of parks and golf courses nearby, the most prominent of which is the Raveneaux Country Club.
Raveneaux features a golf course, a short game area, a 24/7 fitness center, 12 tennis courts, and a Junior Olympic-sized pool. The club also houses The Old Course Pub and a grand ballroom. Other activities are also hosted within the club.
The Champions Golf Club, one of the country's premiere golf tournament sites, is also located a few minutes from Champion Forest.
Here are some of the must-visit places in and around Champion Forest TX:
Restaurants
Peli Peli
MOD Pizza
Taste of China
Kababi Zaytoon
VertsKebap
H'sam Oriental Bistro
Zamani Mediterranean Grill
Perry's Steakhouse and Grille
Allô French Rotisserie
Fratellini Ristorante Italiano
Eden Café
Red Dot Cuisine
Vina Deli
Facón Brazilian Steakhouse
Ba Mien Bistro
Nightlife
The Farm Drinkery
Mellow Mushroom
Drunken Oyster
Jive Bar and Lounge
Mo's Irish Pub
Barcelona Bar and Lounge
On the Rox Sports Bar
Whiskey River
Johns Place
Molly's Malone Pub
Fifty Fifty Acorn Golf and Icehouse
Gearheads Grun N' Pub
Bimbo's
BRIX Wine Cellar
WineStyles
Shopping
Vintage Park
Willowbrook Mall
Market Street in the Woodlands
Old Town Spring
Sports and Country Clubs
Raveneaux Country Club
Champions Golf Club
Northgate Country Club
Shiloh Indoor Shooting Range
Giammalva Racquet Club
Kids Activities and Parks
Meyer Park
Collins Park
Cypresswood Trails
Mandolin Park
Matzke Park
Bearkat Park
The Little Gym of Spring
Art Shop for Kids
Arts, Libraries and Entertainment
Pearl Fincher Museum of Fine Arts
The Woodlands Children's Museum
Tomball Museum Center
Barbara Bush Branch Library
Applause Theatre Company
Houston Family Arts Center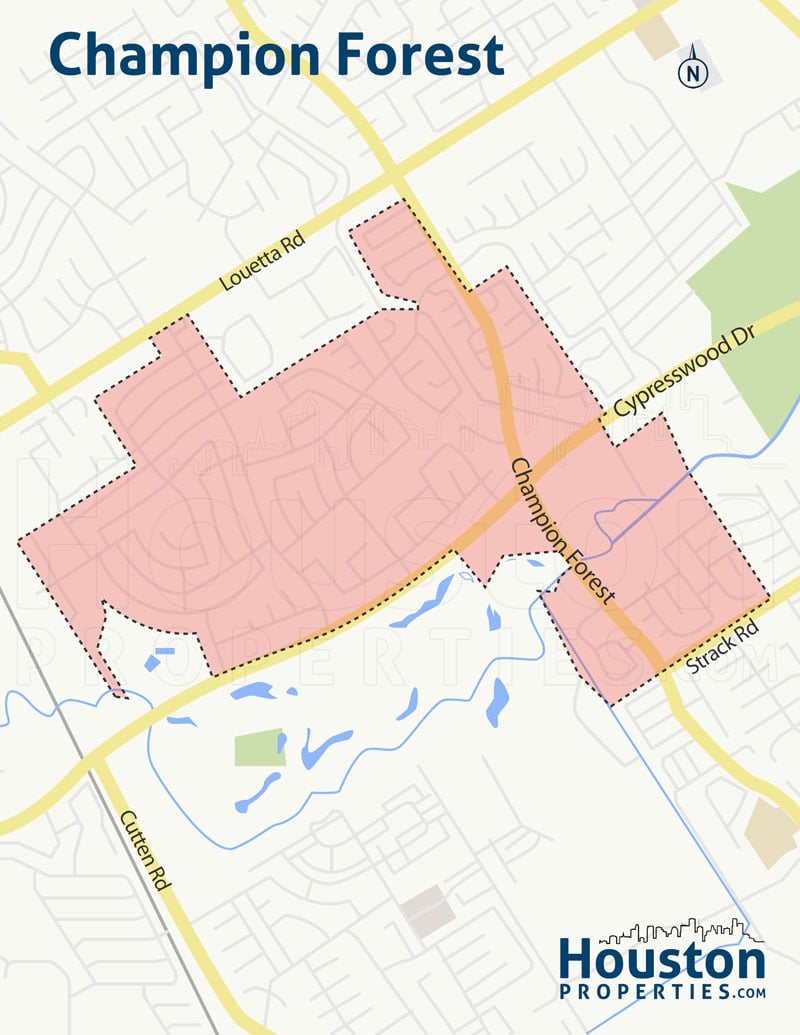 Neighborhoods Near Champion Forest
Neighborhoods near Champion Forest include:
Communities within Champion Forest:
Champions
Estates at Windrush
Champion Cove
Woods of Cypress Creek
Stonegate Court
Sterling Gate Estates
Champion Forest TX History
Champion Forest has come a long way from its humble beginnings. Developed back in the 1970s by developer Don Hand, the neighborhood now features luxury amenities, as well as a country club practically next door.
The area's development is apparent in Champion Forest homes. Some of the neighborhood's original homes from the late 1970s and early 1980s still stand. New construction homes have replaced some of Champion Forest's vintage homes, though thanks to the neighborhood's deed restrictions, the overall look and feel of the community remains the same.
Champion Forest Schools
Champion Forest is zoned to the Klein Independent School District (KISD). Residents can attend the following public schools:
Elementary Schools
Brill Elementary School at 9102 Herts Rd. One of the 26 elementary schools in Klein ISD, Brill is located within the the borders of Champion Forest. The school has a GreatSchools.org rating of 8 out of 10.
Middle Schools
Kleb Intermediate School at 7425 Louetta Rd. Home of the Bear Cubs, Kleb Intermediate originally opened its doors in 1981. The school's current campus opened in 1993. Kleb plays host to a wide variety of student academic and athletics clubs and organizations.
High Schools
Klein High School at 16715 Stuebner Airline Rd. The first high school in the KISD, Klein High School is accredited by both the Texas Education Agency (TEA) and the Southern Association of Colleges and Schools. Campus renovation was recently completed. Klein offers a great athletics program and has won state championships in soccer, baseball, tennis, and chess.
Champion Forest TX Private Schools
The following are some of the more notable private schools near Champion Forest.
Champions Montessori School at 16715 Champion Drive. Champions Montessori School offers child-centered and highly-individualized education for Toddler, Pre-Kindergarten, and Primary School students.
Kinsmen Children's Academy at 12100 Champion Forest Drive. The school offers toddler and preschool classes with extended day options.
Primrose School of Champions at 16811 Shadow Valley Drive. A private school established in 1998, Primrose School of Champions became the first school to earn an AdvancED™ Corporation Systems Accreditation based on the New Standards for Quality Early Learning Schools which is the highest-level accreditation an early learning school can receive.  The school offers Infant, Toddler, Early Preschool, Preschool, and Pre-Kindergarten classes, while also implementing after school and summer camp activities.
Champions Academy at 17155 Old Louetta Road. The school specializes in early childhood education and employs a Christian-based educational child care system.
Champions Christian Academy at 2105 Cypress Landing Drive. Serving children ages 12 months through pre-school, and kindergarten through middle school, the school has recently expanded its curriculum to include Science Lab classes as early as second grade and basic Spanish for students in fifth grade and above.
Harmony Science Academy at 16200 Tomball Parkway. Harmony Science Academy is a nearby charter school which caters to Kindergarten to Grade 8 students. Established in 2007, the school received the Title-I National Distinguished School Award from the US Department of Education mainly because of the school's exceptional student performance in the past two years.
Northland Christian School at 4363 Sylvanfield Drive. First opening its doors in the year 1974, Northland Christian School offers both elementary and secondary education. The school boasts of a right mix of excellence in academics, a thriving arts program, and a robust athletics program.
To find an updated listing of all Champion Forest real estate zoned to any specific public school, please send an email to Paige Martin at Paige@HoustonProperties.com with the property preference and budget that you're working with.
*Note: School zoning tends to change from year to year, information provided above are accurate but not guaranteed. Please double check by visiting the school's website.
Champion Forest Real Estate Trends
Over the past 10 years, Champion Forest real estate have posted good appreciation rates. According to the Houston Association of Realtors (HAR), price per square foot has increased from $79.64 in 2013 to $90.67 in 2014 alone.
This upward trend has been steadily building up over the years, and despite some slight fluctuations, Champion Forest home prices remain strong.
The neighborhood's growth can be attributed to a number of factors, including continued development in the area as newer homes tend to fetch much higher price tags.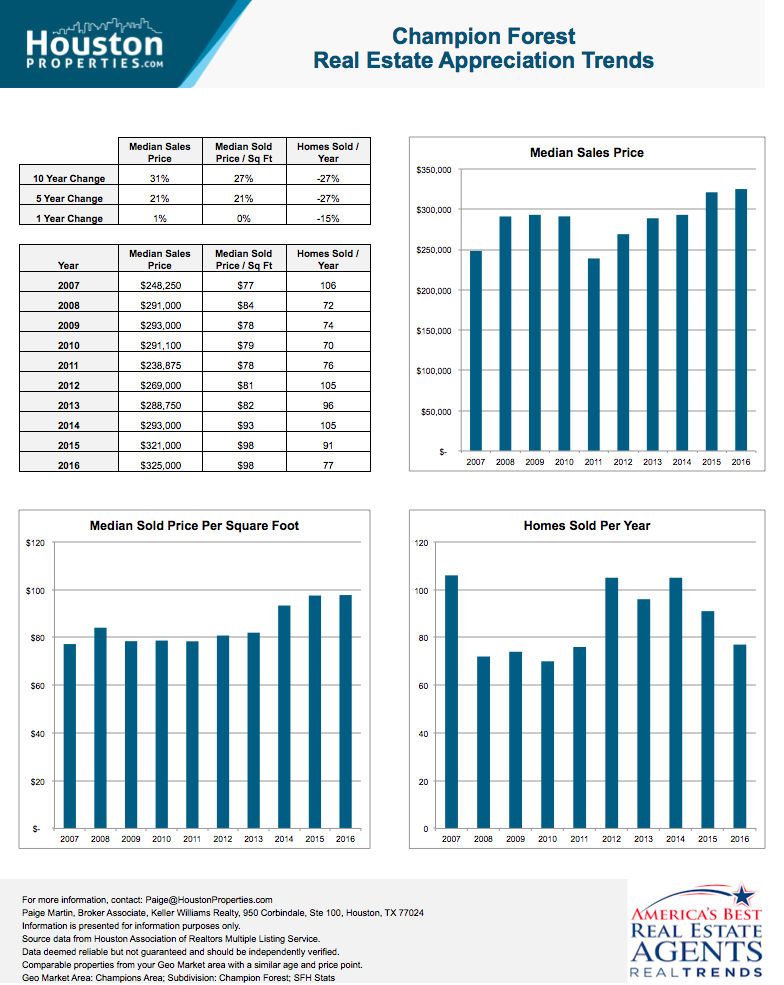 (Data sourced from the Houston Association of Realtors Multiple Listing Service and is deemed reliable but not guaranteed.)
For updated information regarding Champion Forest real estate pricing and trend analysis, please contact Paige Martin at Paige@HoustonProperties.com.
Champion Forest Single-Family Home Sale Trends
Champion Forest single-family homes are the community's main housing option. A few special and gated communities, however, have been built in the surrounding areas.
Thanks to the neighborhood's deed restrictions, Champion Forest homes are typically traditional-style, one- and two-story dwellings. Larger homes can feature as many as 5 to 6 bedrooms with 5 and 2 half-baths, though a typical floor plan features 4/3/1.
Champion Forest homes typically sit on large lots, with sizes ranging from 9,000 to more than 20,000 square feet. Wooded lots and carefully maintained lawns are common in the area.
Some homes in the neighborhood have been around since the 70s and 80s, though some newer custom-built homes are also available in Champion Forest.
Champion Forest Townhomes Sale Trends
Champion Forest's deed restrictions discourage multi-family dwellings and townhomes. As a result, there are no Champion Forest townhomes available. There are, however, some available in surrounding communities and neighborhoods.
Champion Forest Condo Sale Trends
There are no mid- or high-rise Champion Forest condos for sale, but plenty of units are available in surrounding areas.
To see condos within the Inner Loop, see Inner Loop Houston Condos. To see condos within the nearby Museum District area, see Museum District Area Houston Condos.
Champion Forest TX Realtor – Paige Martin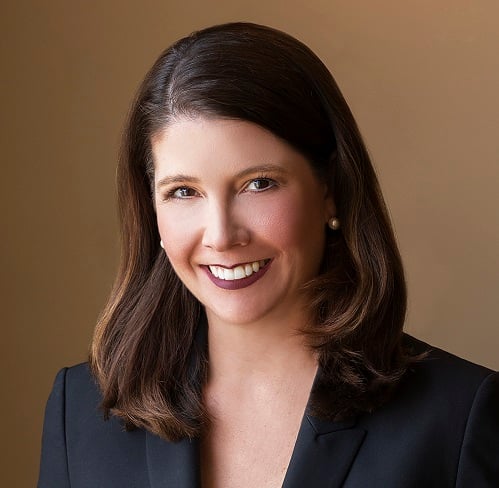 As featured on Fox News in the Morning, the Houston Business Journal, Houston Chronicle, and Houston Magazine, Paige Martin – a consistent Top Producing Broker-Associate and the owner of HoustonProperties.com – is ranked amongst the very top Keller Williams agents in the Houston area.
Paige is ranked as one of the top realtors in Champion Forest Houston, and the state of Texas. Read more about the over 65 awards she's won in the last few years.
Paige works with a tremendous number of buyers and sellers within Champion Forest, earning praises like "Paige Martin is the best Champion Forest TX realtor I know." Read more about client feedback and ratings here.
For a specific recommendation of neighborhoods, homes or properties based upon your personal style, goals & price point, please contact Paige Martin, Owner of HoustonProperties.com & Broker Associate atPaige@HoustonProperties.com or 713-384-5177.