Cottage Grove Houston Neighborhood Guide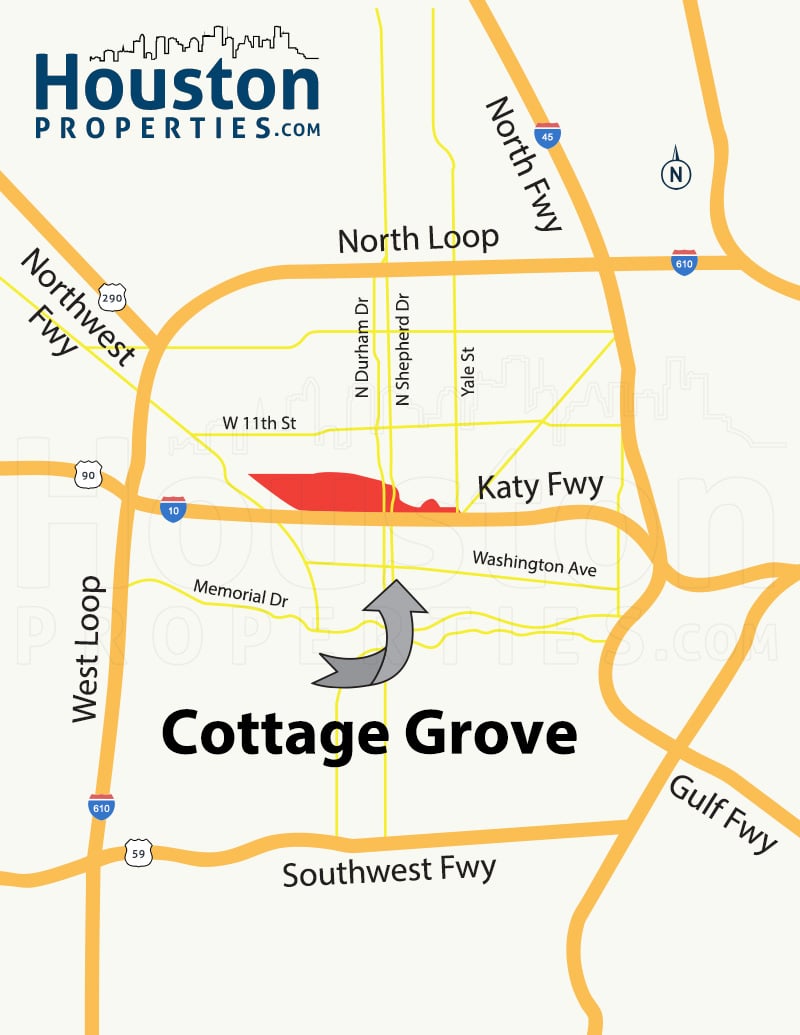 Located about 7 miles from Downtown Houston, Cottage Grove is a fast developing neighborhood.
There are plenty of reasons why Cottage Grove homes are popular, including:
CENTRAL LOCATION: Cottage Grove is centrally located within the Inner Loop, near entertainment, dining, and retail hubs, as well as job centers and cultural hotspots.
EASY ACCESSIBILITY: Conveniently located along the Katy Freeway, the neighborhood is about 10 minutes away from the Galleria and Downtown Houston.
WIDE ARRAY OF HOME OPTIONS: There are plenty of housing options in the neighborhood, ranging from vintage cottages and townhomes. Increased demand for Cottage Grove homes has sparked a surge of new development in the area.
Cottage Grove is one of Houston's burgeoning neighborhoods. With new construction custom-built homes, townhomes in gated communities, and old single-family homes, homebuyers have a bevy of options.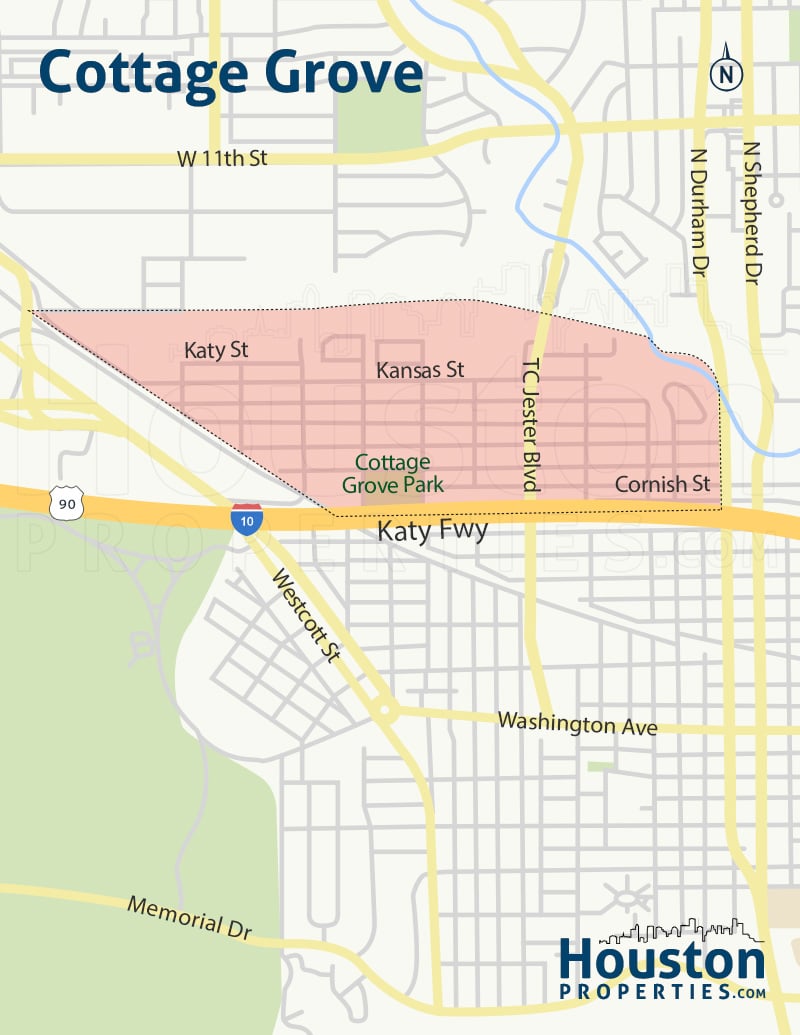 For any inquiries about Cottage Grove homes recommendations, or off-market MLS listings, get in touch with Paige Martin, Owner of HoustonProperties.com and one of the best realtors in Houston.
Cottage Grove Resources (Popular Topics)
Houston Cottage Grove Neighborhood Profile
Cottage Grove Real Estate Guide
Paige Martin – Cottage Grove Realtor
Cottage Grove Maps and Location
Cottage Grove is located in west central area of the Inner Loop. It sits north of the Katy Freeway, with Timbergrove and Lazybrook to the west and Houston Heights to the north and east. The White Oak Bayou is at the northeast border of the neighborhood.
Memorial Park, Camp Logan, and Rice Military/Washington Avenue are just south of the neighborhood across the freeway.
The neighborhood is also near the intersection where Katy Freeway and Loop 610 so other important Houston areas are very easily accessible from Cottage Grove.
Centrally located, the neighborhood is an ideal choice for those who like having schools, parks, malls, restaurants, bars, shops, and offices within minutes of their homes.
The Cottage Grove zip code is 77007 in Harris County.
Zip codes near Cottage Grove Houston include 77006, 77019, 77027, and 77008. (View Houston zip code map)
Fun Things To Do Near Cottage Grove
Cottage Grove is conveniently located near shopping, entertainment, and dining hotspots.
Outdoor recreation areas aren't in short supply either, as Memorial Park is just across the freeway from the neighborhood. One of the largest urban parks in the country, Memorial Park features several jogging, hiking and biking trails, and picnic areas, indoor and outdoor sports facilities, and playgrounds. It also features the Memorial Park Golf Course, the Seymour Lieberman Exercise Trail, and the Houston Arboretum and Nature Park.
The neighborhood also features green spaces of its own, Cottage Grove Park. The park has a covered basketball court, a baseball field, and a playground. Future improvements to the park, as well as the addition of more hike and bike trails around the neighborhood are expected.
With the Galleria, Montrose, and Rice Military within driving distance of the neighborhood, residents won't run out of places to visit. Be it upscale boutiques, restaurants, bars, lounges, coffee shops, and second-hand stores, they are all within easy reach from Cottage Grove.
Here are some of Cottage Grove Houston must-visit places:
Restaurants
Rainbow Lounge
Zelko Bistro
Bourbon and Bacon
Mascalzone
Urban Eats
Hughie's
Provisions
Backstreet Cafe
Truluck's
Chama Gaucha Brazilian Steakhouse
Nightlife
Ibiza
Eleven
Lei Low
The Boot
Down the Street
Underdogs Pub
Liberty Station
Julep
Anvil Bar and Refuge
Poison Girl
Retail and Entertainment Centers
The Galleria
River Oaks Shopping Center
Marq*E Entertainment Center
Uptown Park
Highland Village
Groceries
Kroger
Revival Market
Whole Foods Market
HEB
Parks
Memorial Park
Cottage Grove Park
Spotts Park
In Memorial Park
Seymour Lieberman Exercise Trail
Houston Arboretum and Nature Park
Memorial Park Golf Course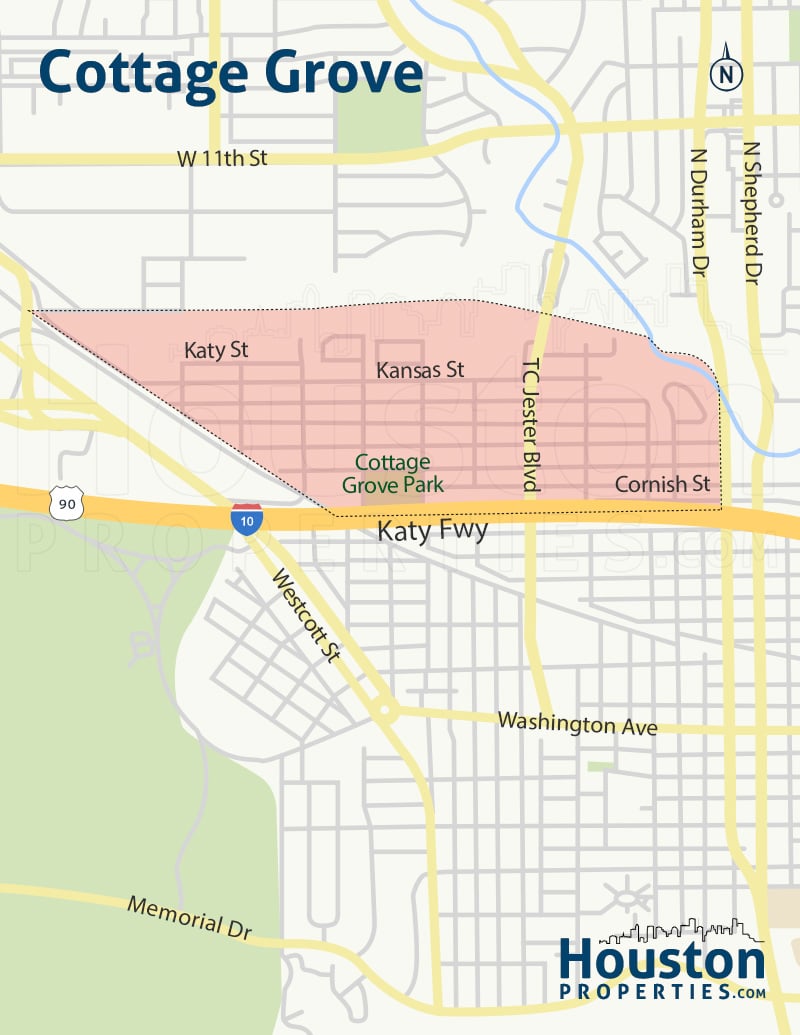 Neighborhoods Near Cottage Grove
Neighborhoods near Cottage Grove include:
Crestwood
Glen Cove
Lazybrook
Cottage Grove Houston History
Starting out as an independent city, Cottage Grove was once a rail stop for the Eureka Junction of the Houston and Texas Central Railway.
The stop served the then bustling Eureka Oil Field, which during the 20s and 30s had brought thousands of jobs into Timbergrove/Lazybrook as well as Cottage Grove. The area grew as a result of the wave of workers and hundreds of cottages were built during the period – hence the name, Cottage Grove.
Another surge of development, this time during the 90s and 2000s, was brought about by increased demand for housing near Downtown, Memorial, and Rice Military. Young professionals were moving into cottage grove, and developers quickly answered the demand with new construction townhomes.
A number of old cottages were torn down to be replaced by new single-family homes or multi-family dwellings.
Today, development continues in Cottage Grove. Gated communities, custom-built homes, and chic townhomes are slowly changing the neighborhood's character. The area's rustic cottages, however, still define much of Cottage Grove's flavor.
Cottage Grove Schools
Zoned to Houston Independent School District (HISD), students of Cottage Grove can attend the following public schools:
Elementary Schools
Memorial Elementary School at 6401 Arnot St. Located in a former boot camp (Camp Logan), Memorial Elementary School was established in 1926. It has a TEA "Recognized" rating.
Love Elementary School at 1120 W 13th St. Love Elementary School offers several services and programs for its students, including a Neighborhood Vanguard Gifted/Talented program, an Bilingual/ELL program, and a special education program. Activities offered at Love include Early Act First Knight and a Lego-based robotics program.
Middle Schools
Hogg Middle School at 1100 Merrill St. Hogg Middle School is one of HISD's International Baccalaureate World schools. It features the IB Middle Years Programme, as well as a STEM Academy (Science, Technology, Engineering, and Mathematics) magnet program.
High Schools
Waltrip High School at 1900 West 34th St. Stephen Pool Waltrip High School features Houston ISD's Research and Technology magnet program and houses a child development center for low income preschool students. Apart from a great academics program, Waltrip also offers a full complement of girls' and boys' varsity teams.
Lamar High School at 3325 Westheimer Rd. Lamar is one of Houston ISD's seven International Baccalaureate schools and it has the biggest number of students who graduate with the IB Diploma in Texas. Lamar is also home to the Texans (formerly the Redskins) and have a great athletics program.
Cottage Grove Houston Private Schools
The following are some of the more notable private schools near Cottage Grove.
River Oaks Baptist School at 2300 Willowick Rd. River Oaks Baptist School is a coed, non-sectarian school for students in grades PK to 8. Affiliated with the NAIS, it has a GreatSchools.org community rating of 5 out of 5 stars.
St. Theresa Catholic School at 6623 Rodrigo St. St. Theresa is a co-educational school and is part of the Archdiocese of Galveston-Houston. It is also a member of the National Catholic Educational Association (NCEA).
St. Thomas High School at 4500 Memorial Dr. St. Thomas is an all-boys Catholic school at that serves students from grades 7 to 12. It is affiliated with the Archdiocese of Galveston-Houston and the NCEA.
To find an updated listing of all Cottage Grove real estate zoned to any specific public school, please send an email to Paige Martin at Paige@HoustonProperties.com with the property preference and budget that you're working with.
*Note: School zoning tends to change from year to year, information provided above are accurate but not guaranteed. Please double check by visiting the school's website.
Cottage Grove Real Estate Trends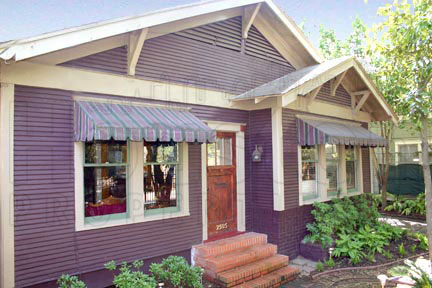 Cottage Grove real estate have been posting strong appreciation rates. Over the past decade alone, the median sales price has nearly doubled – from $193,030 in 2005 to $384,900 in 2014.
Cottage Grove's growing market is due to the large number of new developments as newer construction homes tend to sell for higher prices.
Another interesting trend is the growing number of Cottage Grove homes sold. The number of homes sold per year in the neighborhood has surged to more than 4 times (from 49 in 2005 to 261 in 2014). This trend can also be attributed to Cottage Grove's inceasing popularity.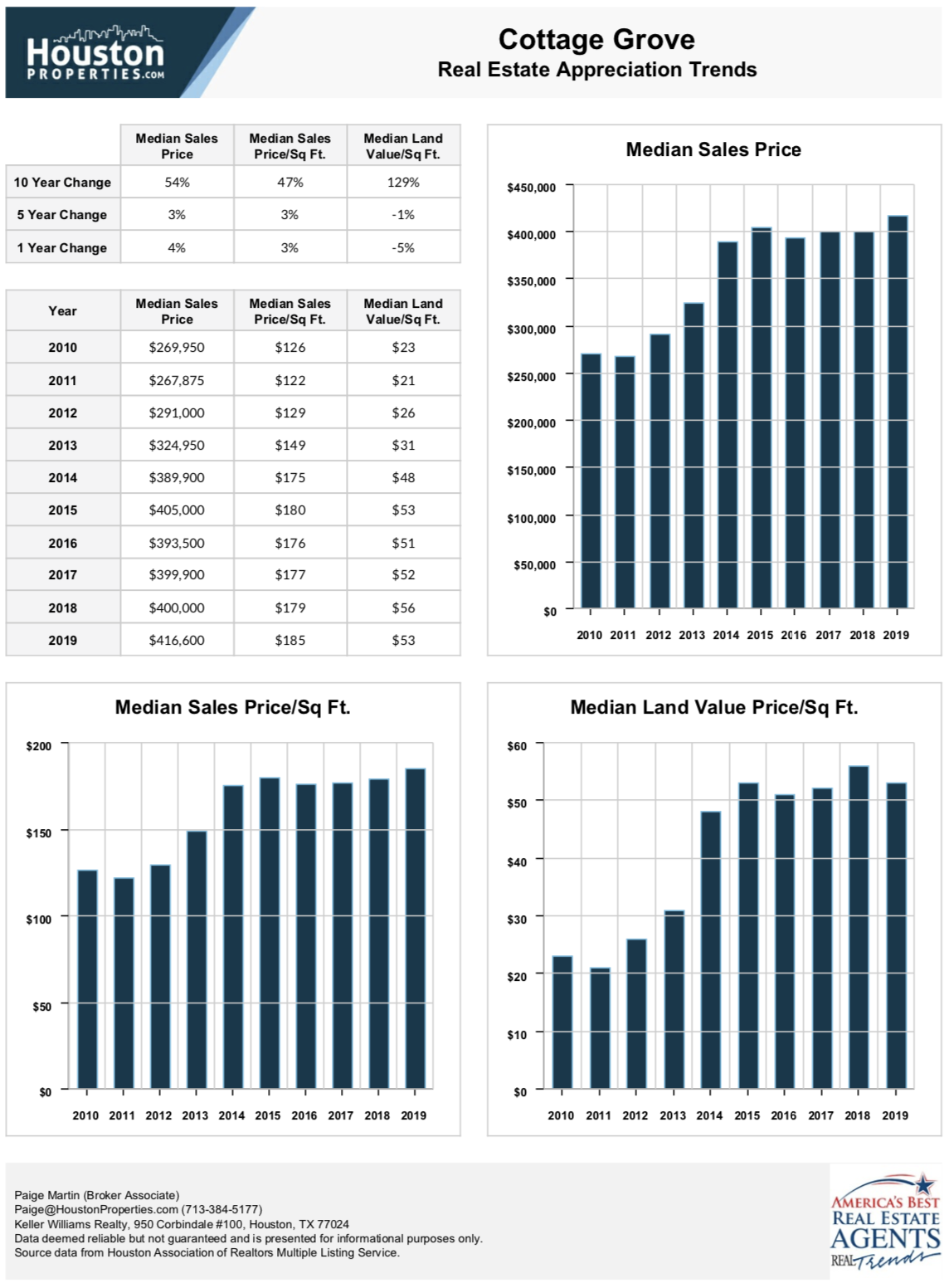 (Data sourced from the Houston Association of Realtors Multiple Listing Service and is deemed reliable but not guaranteed.)
For updated information regarding Cottage Grove real estate pricing and trend analysis, please contact Paige Martin at Paige@HoustonProperties.com.
Cottage Grove Single-Family Home Sale Trends
Not much different to Camp Logan, a trend in multi-level living has sweeped Cottage Grove.
New construction custom-built homes in the neighborhood tend to feature two- or three-stories of living space, built over a small lot. Lot sizes of these types of homes can range from 2,500 to 5,000 square feet.
Amenities can vary, though most feature 2-car garages and second-floor living. Some new single-family homes are located in gated communities with 24/7 security and other luxury amenities.
Older Cottage Grove homes for sale on the other hand range from vintage cottages that date back to the 1930s to traditional-style patio homes. Lot areas are typically more generous, ranging from 5,000 to about 6,500 square feet.
Architectural styles vary, though Traditional is more popular than other aesthetic designs.
Cottage Grove Townhomes Sale Trends
Like neighboring Camp Logan and Rice Military, there are plenty of townhomes in Cottage Grove.
Increased demand for Cottage Grove homes drove new development in the neighborhood. Some of these newer construction townhomes are located in gated communities. Other units are also available in varying designs and floor-plans.
Townhomes are a relatively new addition to Cottage Grove's housing options. Between the 90s and the 2000s, developers started building townhomes in the area, squeezing two or more units in one parcel of land. As a result, some Cottage Grove townhomes for sale tend to sit on smaller lot areas.
Cottage Grove Condo Sale Trends
There are no mid- or high-rise Cottage Grove condos for sale, but plenty of units are available in surrounding areas like the Galleria. Museum District condos are also a popular option.
Downtown Houston (77002 / 77010):
To see other condos within the Inner Loop, see Inner Loop Houston Condos. To see condos within the nearby Museum District area, see Museum District Area Houston Condos.
Cottage Grove Houston Realtor – Paige Martin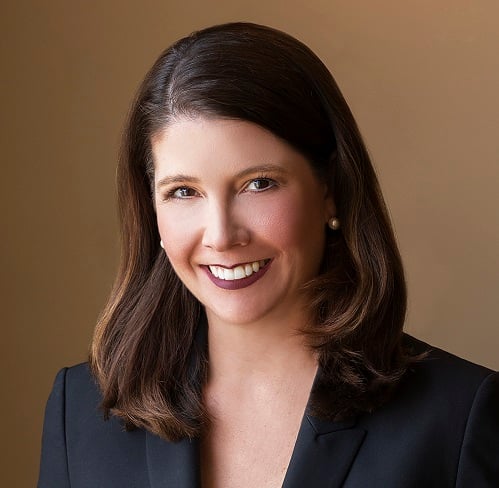 As featured on Fox News in the Morning, the Houston Business Journal, Houston Chronicle, and Houston Magazine, Paige Martin – a consistent Top Producing Broker-Associate and the owner of HoustonProperties.com – is ranked amongst the very top Keller Williams agents in the Houston area.
Paige is ranked as one of the top realtors in Cottage Grove Houston, and the state of Texas. Read more about the over 65 awards she's won in the last few years.
Paige works with a tremendous number of buyers and sellers within Cottage Grove, earning praises like "Paige Martin is the best Cottage Grove Houston realtor I know." Read more about client feedback and ratings here.
For a specific recommendation of neighborhoods, homes or properties based upon your personal style, goals & price point, please contact Paige Martin, Owner of HoustonProperties.com & Broker Associate atPaige@HoustonProperties.com or 713-384-5177.