Downtown Houston Condos, Lofts, Real Estate Guide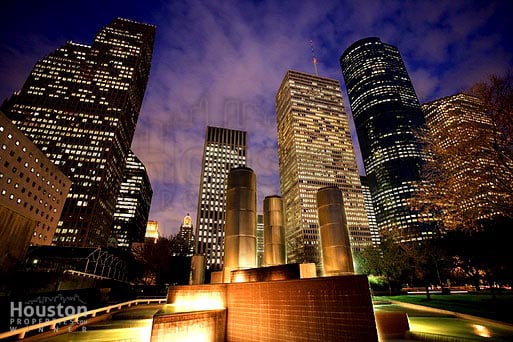 Houston is the fourth largest city in the US. Downtown Houston is home to over 150,000 workers and 3,500 businesses.
Despite that, only ~3,500 people reside downtown (making Houston's downtown very different than Manhattan, Chicago or Los Angeles).
There are 25 residential downtown Houston loft and condo buildings (see map and details below), which compose the majority of the available real estate options.
Contact Paige Martin, Owner of HoustonProperties.com & Broker Associate at Paige@HoustonProperties.com for help buying or selling downtown Houston real estate loft or condo.
Downtown Houston Real Estate Resources:
Downtown Houston Real Estate History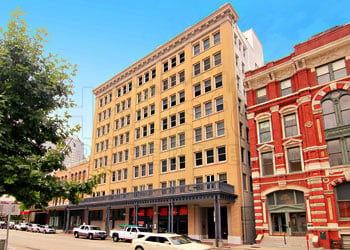 Over the last decade, downtown Houston experienced a transformation that the Houston real estate market has not seen since the Allen brothers first established the city in the early 1800s.
The 1980's oil crash laid downtown Houston bare. Development stopped, businesses closed, and shops and buildings were boarded up. The population in the neighborhood fell and many people called downtown "desolate, barren and forgotten."
That changed in the mid-to-late 1990's with pioneering real estate developers (like Randall Davis and Frank Garvey) who purchased historic buildings (e.g. Post Rice Lofts, Bayou Lofts, Franklin Lofts) and converted them into urban lofts with modern amenities.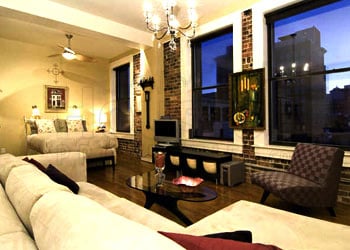 Today, Downtown Houston is a bustling district filled with residential and commercial skyscrapers; streets lines up with restaurants, bars, and clubs; parks; and an extensive network of pedestrian tunnels and skywalks, making for a more inviting and fantastic living experience in downtown Houston than ever before.
Downtown Houston is the largest business district in Houston, Texas. It is one of the busiest and most exciting places to live in Houston with more than 3,500 businesses and 150,000 workers.
Close proximity to work is one of the reasons that more and more people are beginning to move "back" into downtown Houston.
Downtown Houston Real Estate: Lofts & Condos Map
Three major freeways bound Downtown Houston: I-10 on the north, U.S. 59 on the east and I-45 on the south and west. Located near the Midtown, Montrose, Rice Military, and Museum District, Downtown Houston neighborhoods fall into the 77002 and 77010 zip codes.
View the map below, showing all of residential downtown Houston loft & condos.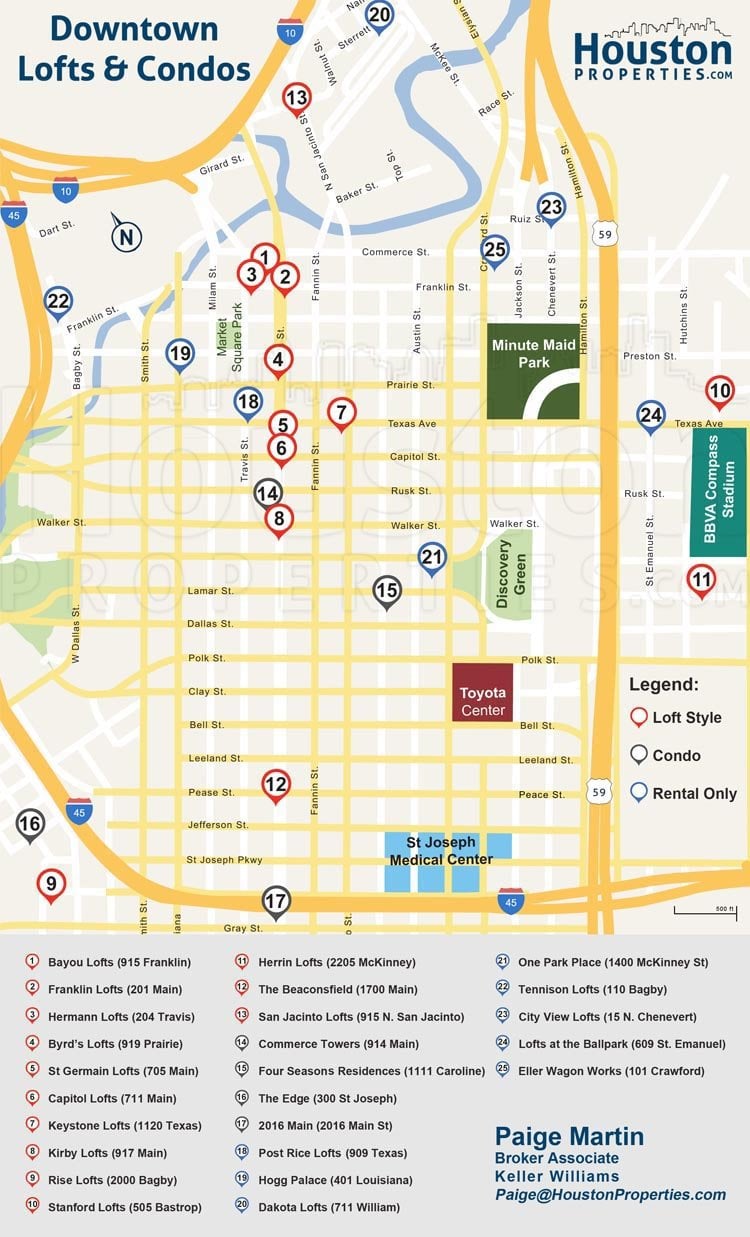 Below are some of the most popular neighborhoods for Downtown Houston real estate, Houston lofts and some of the most popular buildings within each area.
Downtown Houston (77002, 77010):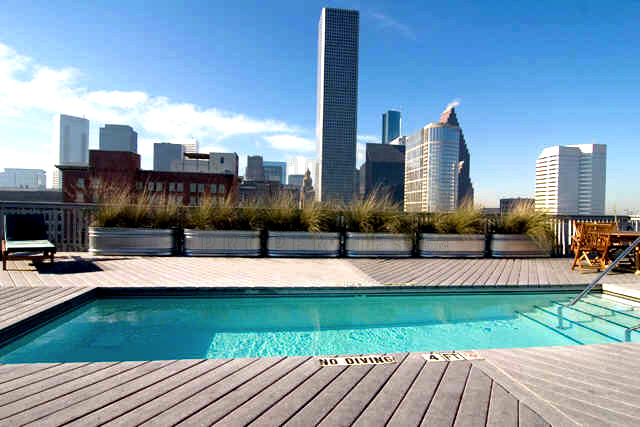 View all Houston Lofts For Sale
View all Houston Condos and Highrises For Sale
Getting Around Downtown Houston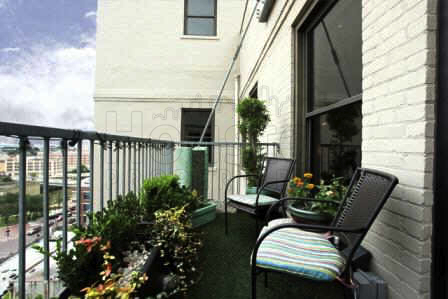 Set along Main Street, the METROrail begins downtown and extends through midtown, the Museum District and Texas Medical Center before ending at Reliant Park. Travel time from end to end is around 30 minutes.
METRO also offers several types of bus service in Houston. Local service runs mostly on city streets, stopping at every other corner along its route. METRO's 28 Park & Ride lots provide bus service to key destinations in the service area.
Downtown Houston also has free and convenient transportation through the Greenlink line. Seven buses operate Monday through Friday, 6:30 a.m. to 6:30 p.m., approximately 7-10 minutes apart. The route spans 2.5 miles with 18 stops and connects major office buildings along Smith and Louisiana streets to METRO transit.
Fun Activities in Downtown Houston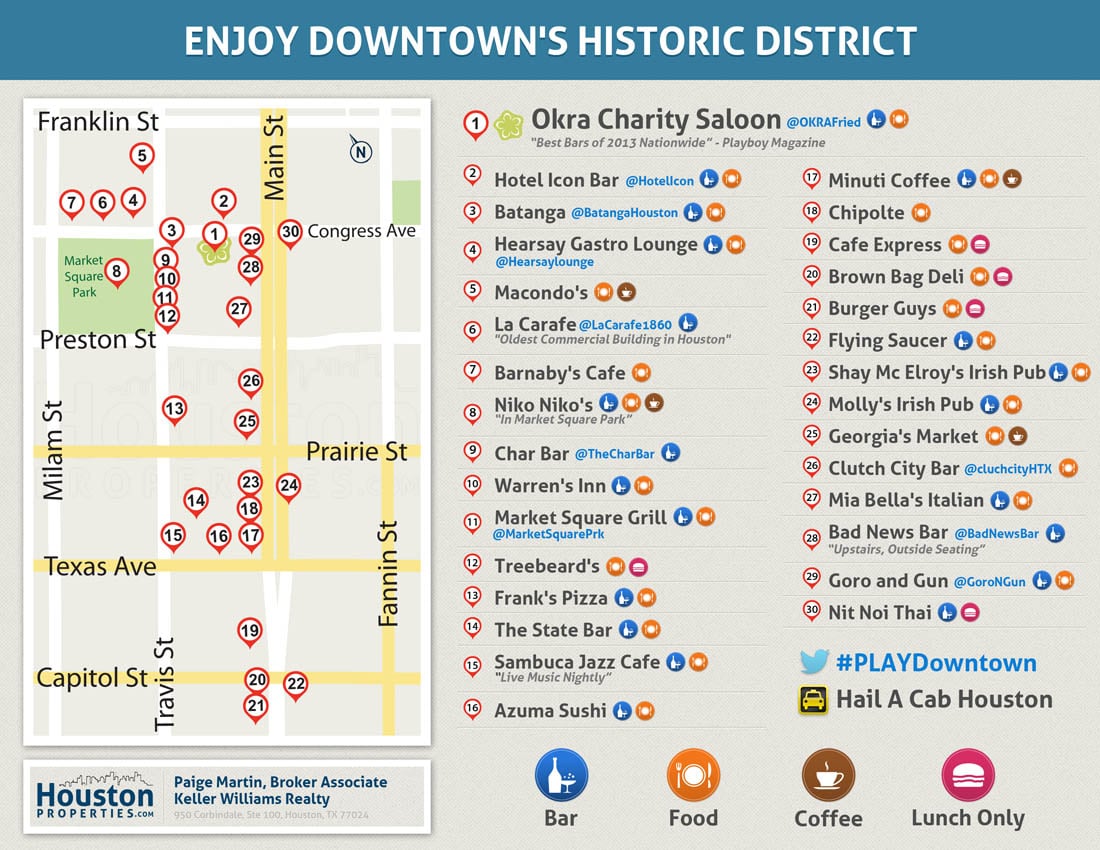 Downtown Houston's Historic district has over 30 restaurants, bars, coffee and wine shops.
View the location of these establishments in the map above, including: Okra Charity Bar, Hotel Icon Bar, Hearsay Gastro Lounge, La Carafe, Niko Niko's, Market Square Grill, Minuti Coffee and Bad News Bar.
Downtown Houston Condo Realtor – Paige Martin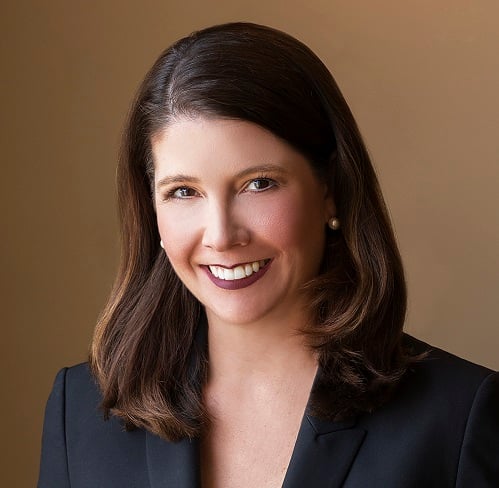 As featured on Fox News in the Morning, the Houston Business Journal, Houston Chronicle, and Houston Magazine, Paige Martin – a consistent Top Producing Broker-Associate and the owner of HoustonProperties.com – is ranked amongst the very top Keller Williams agents in the Houston area.
Paige was named the #1 Ranked Individual Agent in the Keller Williams Memorial Office for 2012, 2011 and 2010. She has been a consistent top producing agent, winning awards every year since 2007.
Paige works with a tremendous number of buyers and sellers of Houston condos and is familiar with all major residential condos buildings in Houston.
For a specific recommendation of neighborhoods, buildings or condos based upon your personal style, goals, and price point, please contact Paige Martin, Owner of HoustonProperties.com and Broker Associate at Paige@HoustonProperties.com or 713-384-5177.