Garden Oaks Houston Neighborhood Guide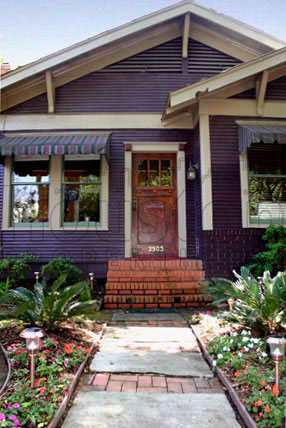 Garden Oaks is a tree-rich neighborhood of approximately 1400 homes located north of the North Loop (610), and bordered by Ella Blvd. to the west and Yale St. to the east.
Nestled among towering pines and grand magnolias, Garden Oaks feature cottages, bungalows, ranch, and traditional-style homes.
Developers are also building new construction single-family and townhomes rapidly, to meet demand from new Houston homebuyers..
Garden Oaks homes have seen significant appreciation and development over the past decade. Median sale price last year is roughly $300,000, but properties range from under $200,000 to over $1,000,000.
Garden Oaks Resources (Popular Topics)
Garden Oaks Houston Neighborhood Profile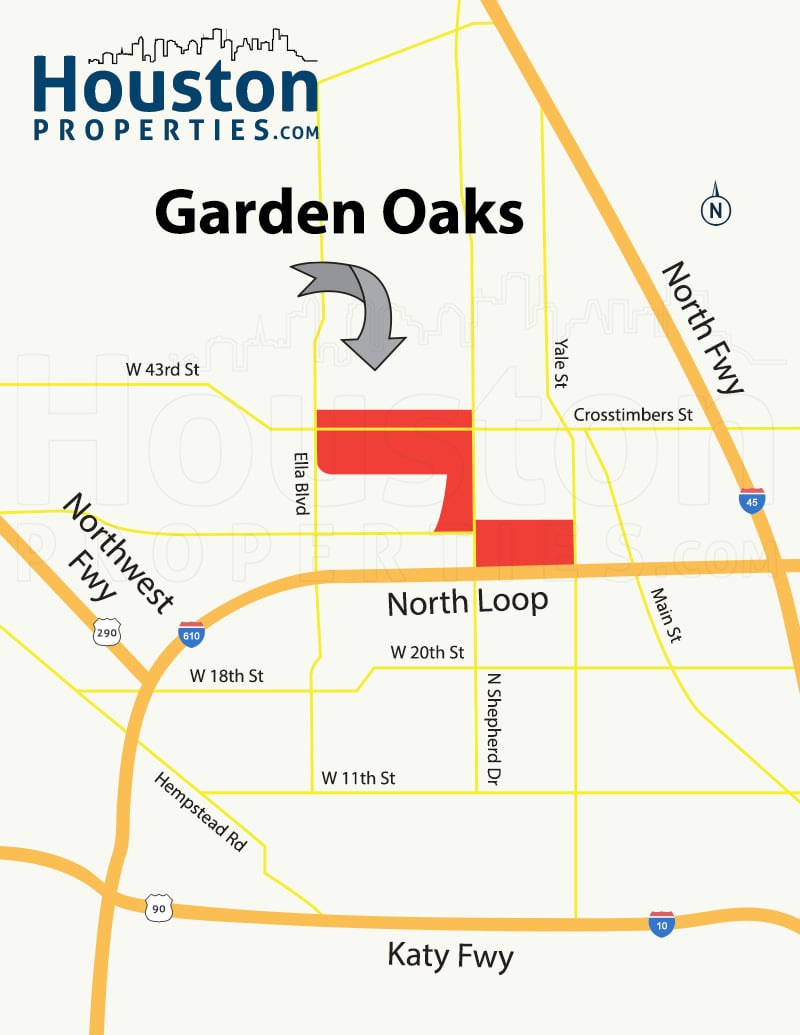 Garden Oaks Maps and Location
Established in 1937 by Edward L. Crain, Garden Oaks is a peaceful neighborhood of approximately 1,400 homes located north of Houston Heights and near the retail and office/industrial buildings off Shepherd, Ella Blvd, and North Loop 610.
Neighborhoods near Garden Oaks include: Oak Forest, Greater Heights (Houston Heights), Spring Branch. Timbergrove, Lazybrook, and Memorial. Downtown Houston and Galleria are also only about a 10-minute drive or commute away (depending on traffic).
Despite being close to main commercial districts Downtown Houston and Galleria, Garden Oaks has kept its "naturesy" identity. Oak, pecan, and pine trees tower over homes in Garden Oaks. Massive lots (median lot size is 12,000 square feet) with lush yards compliment the tree-roofed neighborhood.
The Z-shaped Garden Oaks neighborhood is conveniently located right outside the Houston Inner Loop, with easy access to major freeways leading to main Houston hubs.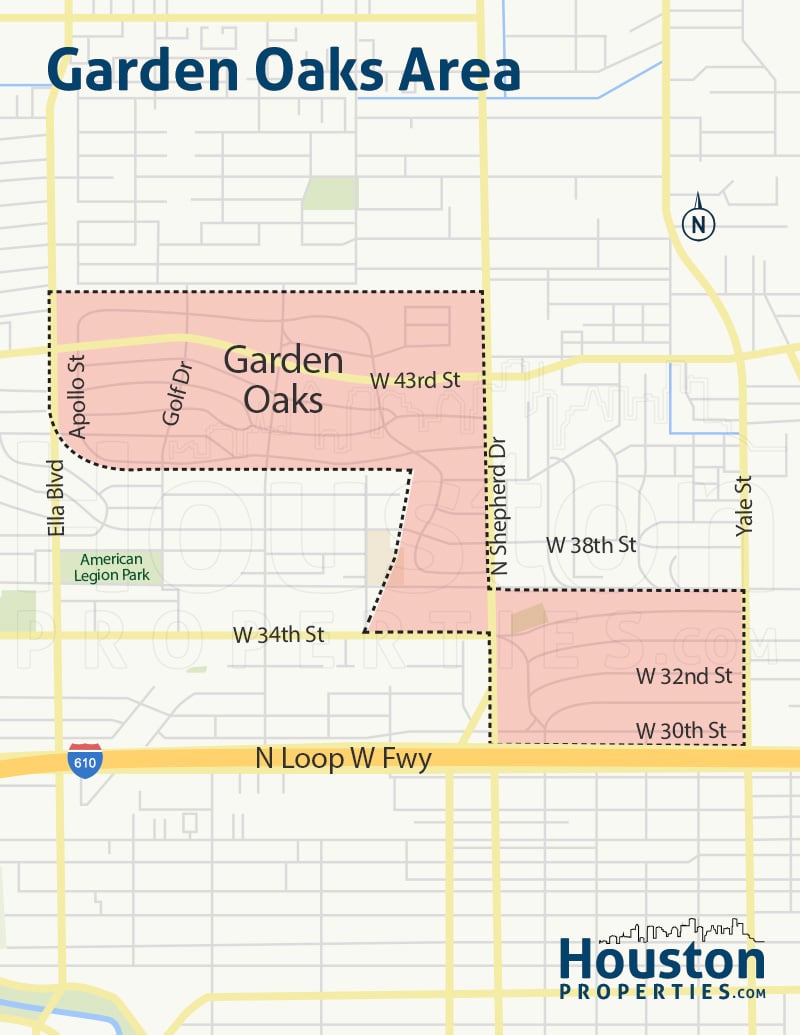 Fun Things To Do In Garden Oaks
With a 62 Walkability score, Garden Oaks gets a "Somewhat Walkable" rating from Walkscore. The ranking suggests that basic errands (such as shopping, dining, etc) are doable on foot.
There are about 420 restaurants, bars and coffee shops in the Garden Oaks/Oak Forest area (these neighborhoods are right next to each other). Garden Oaks residents can walk to an average of 0.9 restaurants, bars and coffee shops in 5 minutes.
Its 59/100 "Bikeable rating" is also above average. Yelp.com has over 230 rated establishments in the Garden Oaks area.
Notable commercial establishments include:
Facundo Cafe ( Breakfast & Brunch, Burgers, Coffee) at 3103 Ella Blvd.
Shepherd Park Draught House (American Gastropub) at 3402 N Shepherd
Plonk! Beer & Wine Bistro (Wine Bar) at 1214 W 43rd St
Petrol Station (Restaurant, Bar) at 985 Wakefield Dr
Little Bitty Burger Barn (Burgers) at 5503 Pinemont Dr
Many recreational parks are located within/near Garden Oaks. Garden Oaks residents are only a few minutes away from biking trails, picnic destinations, and scenic jogging trails.
Parks in Garden Oaks include:
T.C.Jester Park at 4201 T C Jester Blvd
Oak Forest Park at 2100 Judiway
Lamonte Park at 3737 Watonga Blvd
Graham Park at 540 W. 34th St.
Shepherd Park at 4725 Brinkman
Candlelight Park at 1520 Candlelight Ln.
American Legion Park at 3621 Golf Dr.
Mangum Manor Park at 5235 Saxon
Watonga Parkway at 4100 Watonga Blvd
Neighborhoods Near Garden Oaks Houston
Acres Home
Spring Branch East
Langwood
Sawyer Heights
Woodland Heights
Sunset Heights
Shady Acres
Independence Heights
Other popular neighborhoods within a 5-10 minute drive (depending on traffic) include: Memorial, Galleria, Downtown Houston and Rice Military.
Garden Oaks Houston History
Located north of Houston's 610 N Loop, Garden Oaks homeowners have easy access to Downtown Houston, the Uptown/Galleria area, the Medical Center and Houston Intercontinental Airport. Residents are also very close to Highway 290 and I-45.
When development for Garden Oaks was started in 1937, the neighborhood was initially billed as "Houston's next River Oaks". Its founder, Edward L. Crain, first established Garden Oaks on a tract of land just north of the Houston Heights.
The first Garden Oaks homes were large plantation- and ranch-style houses built on huge lots. World War II halted early developments, effectively slowing down real estate improvements until mid to late '40s.
WWII had another effect on Garden Oaks: soldiers returning from war preferred smaller and more practical homes. The western edge of the neighborhood is comprised of G.I. homes built for war veterans.
Garden Oak's deed restrictions require large lots and deep setbacks. Over the years, Garden Oaks homes became a diverse mix of plantation and ranch-style homes, quaint cottages and bungalows, as well as new construction single-family and townhomes.
Garden Oaks Houston: Schools Info
Garden Oaks Public Schools
The Houston Independent School District (HISD) serves Garden Oaks. The public schools associated with homes in Garden Oaks include:
Elementary School
Also zoned to Garden Oaks residents, Garden Oaks Elementary carry a qualified Montessori program first established in 1995.
Middle Schools
Frank Black Middle School is best known for its Vanguard Magnet program. Vanguard is a program that offers advanced and accelerated academic curriculum for students who have been designated as "Gifted & Talented" using the HISD GT matrix.
High Schools
Waltrip High School is rated 5 out of 10 by Greatschools. While it remains average in most subjects, its Grade 11 students got between 91% to 98% test scores in English Language Arts, Math, Science, and Social Studies.
Waltrip is also one of the highest performing comprehensive high schools in Houston Independent School District (HISD). The school was named "Recognized" by the Texas Education Agency, one of the few urban high schools in HISD to receive such a designation.
Private Schools
St. Rose of Lima Catholic School at 3600 Brinkman
Lutheran High North at 1130 W. 34th
St. Pius X High School at 811 Donovan
Heritage Oaks School at 2931 W. 12th Street
To find an updated listing of all Garden Oaks real estate zoned to any specific public school, please email Paige Martin at Paige@HoustonProperties.com with the property type and budget that you're looking for.
*Note: school zoning can change from year to year, information above is deemed accurate, but not guaranteed. Please double check.
Garden Oaks Houston Real Estate Appreciation Trends
Garden Oaks homes for sale have a median home size of approximately 2,442 sq ft on median sized 12,000 sq ft lots priced anywhere from the mid $200,000 to $800,000.
Lot price per square foot can vary greatly between sections in Garden Oaks. This is primarily due to location, as well as the real estate properties commonly available in each section.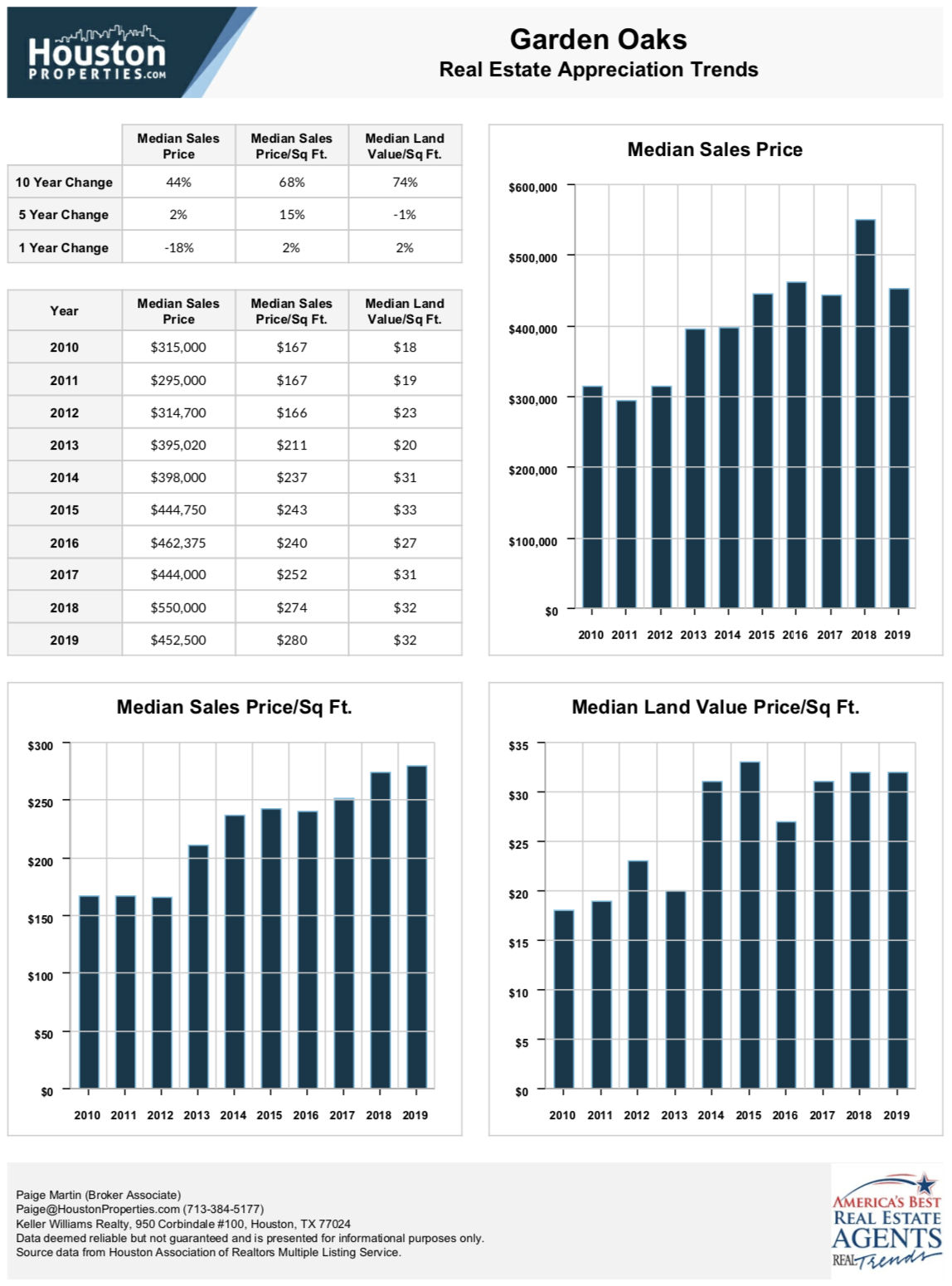 (Data sourced from the Houston Association of Realtors Multiple Listing Service and is deemed reliable but is not guaranteed).
Garden Oaks homes bought a decade ago appreciated by 59%. In dollar value, last year's $283,500 median sales value is a more than $100,000 higher than the price of Garden Oaks homes sold 10 years ago.
For an updated Garden Oaks real estate pricing or trend analysis, please contact Paige Martin at Paige@HoustonProperties.com.
Garden Oaks Single-Family Home Sale Trends
Garden Oaks homes are mostly single-family properties with a neighborhood value range of $189,000 to $489,000. The average home size is 1,690 square feet with the average number of bedrooms and baths at 2.81 and 1.73 respectively.
Known for having some of the biggest yards in Houston, Garden Oaks homes have a median lot size of 12,000 square feet.
Garden Oaks single-family homes are have performed well in terms of sales. The neighborhood's 10-year real estate appreciation data shows a steady year-by-year median sales price increase.
Last year's median sales price is 59% higher than the figures recorded 10 years ago. In dollar volume, this represents an average increase of roughly $105,000.
Garden Oaks Townhomes Sale Trends
The biggest difference between townhomes and single-family homes is that townhomes share a wall with one or more neighbors. However, similar with single-family homes, you still own the dirt from the center of earth to infinity.
Most of the homes in Garden Oaks were built in the mid 1930s to 1940s. Much like other neighborhoods near or within Houston's Inner Loop, Garden Oaks went through a shift in home architecture during the 1990s.
World War 2 also influenced Garden Oaks real estate development. Prewar homes are mostly plantation-types or ranch-style properties. However, soldiers returning from war preferred smaller and more practical homes. This resulted in a diverse mix of estates, bungalows, and new construction townhomes and single-family homes.
Houston townhomes have become very popular as a cost effective alternative to single-family homes or condominiums. Many developers have purchased lots in Garden Oaks and begun construction on new townhomes.
The most common Garden Oaks townhomes are in the $180,000 to $250,000 range with the prices depending on the townhomes' lot size, style, and exact location.
Garden Oaks Condo Sales Trends
Condos within the 77008 zip code include:
Condos within the 77009 zip code include:
Other condos within 10-20 minutes of Garden Oaks include:
View all Houston condos for sale
Garden Oaks Realtor – Paige Martin
As featured on Fox News in the Morning, the Houston Business Journal, Houston Chronicle, and Houston Magazine, Paige Martin – a consistent Top Producing Broker-Associate and the owner of HoustonProperties.com – is ranked amongst the very top Keller Williams agents in the Houston area.
Paige was named the #1 Ranked Individual Agent in the Keller Williams Memorial Office for 2012, 2011 and 2010. She has been a consistent top producing agent, winning awards every year since 2007.
Paige works with a tremendous number of buyers and sellers in Garden Oaks.
For a specific recommendation of neighborhoods, homes or properties based upon your personal style, goals & price point, please contact Paige Martin, Owner of HoustonProperties.com & Broker Associate at Paige@HoustonProperties.com or 713-384-5177.