Houston Heights Neighborhood, Real Estate Guide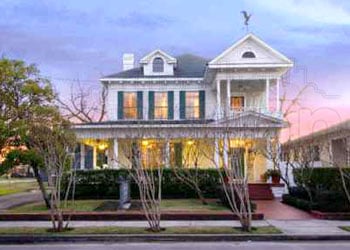 The Houston Heights is an exciting neighborhood of 3,700 homes in Houston located North of I-10 highway, South of Loop 610 and West of Highway 45.
The Heights has experienced tremendous property appreciation and development over the past decade.
Most real estate sales in the Heights are single family & townhome properties. Over the past year, the median sale price is approximately $400,000, but properties ranges from under $200k to over $1.3M.
The Heights has a Walk Score of 78 of 100 (a "Very Walkable" ranking).
Houston Heights Resources (Popular Topics)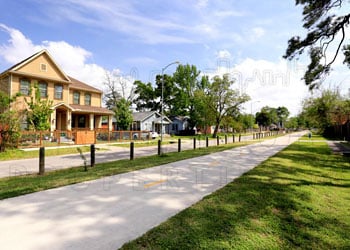 All Houston Heights Homes For Sale
Houston Heights Neighborhood Profile
Houston Heights Maps and Location
One of Houston's first master-planned communities, Houston Heights is an upscale neighborhood of over 3,700 homes located North of the I-10 highway, South of Loop 610 and West of Highway 45.
The Heights has a Walk Score of 78 out of 100, ranking this Houston neighborhood as "Very Walkable," with one of highest walk scores in the city (view more Houston Neighborhoods).
The Houston Heights is located in the 77008 zip code.
Located just northwest of Downtown Houston, the Houston Heights borders Highway I-10 on the South, 610 on the North, 45 on the East and Shepard on the West.
Houstonians use the neighborhood's common name, "The Heights" or "Greater Houston Heights" to describe a collection of Houston areas surrounding the actual Houston Heights.
However, Houston Heights is a unique neighborhood that is distinct from from the neighboring communities (like Cottage Grove, Norhill and Woodland Heights).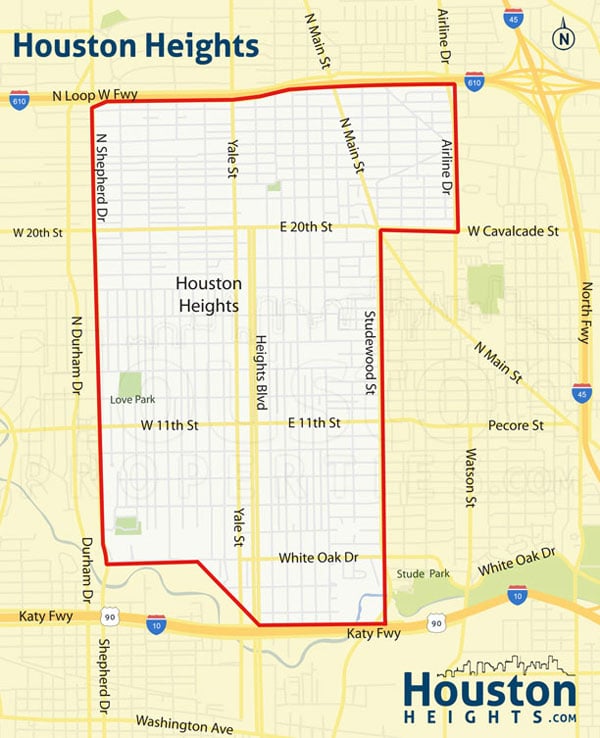 Fun Things To Do In Houston Heights
The Heights is rated as one of the most "Walkable" neighborhoods in Houston. Yelp alone has over 1,000 rated establishments in the area (View Yelp Reviews).
Some of our favorite, notable highlights include:
Revival Market (Cafe, Coffee, Grocery) at 550 Heights Blvd
Liberty Kitchen (Restaurant) at 1050 Studewood
Zelko Bistro (Restaurant) at 705 E 11th St
Down Houston (Cafe, Bar) at 1801 Yale St
Antidote (Coffee) at 729 Studewood
Wabash Antiques & Feed Store (Shopping & Antiques) at 5701 Washington Ave
Neighborhoods Near Houston Heights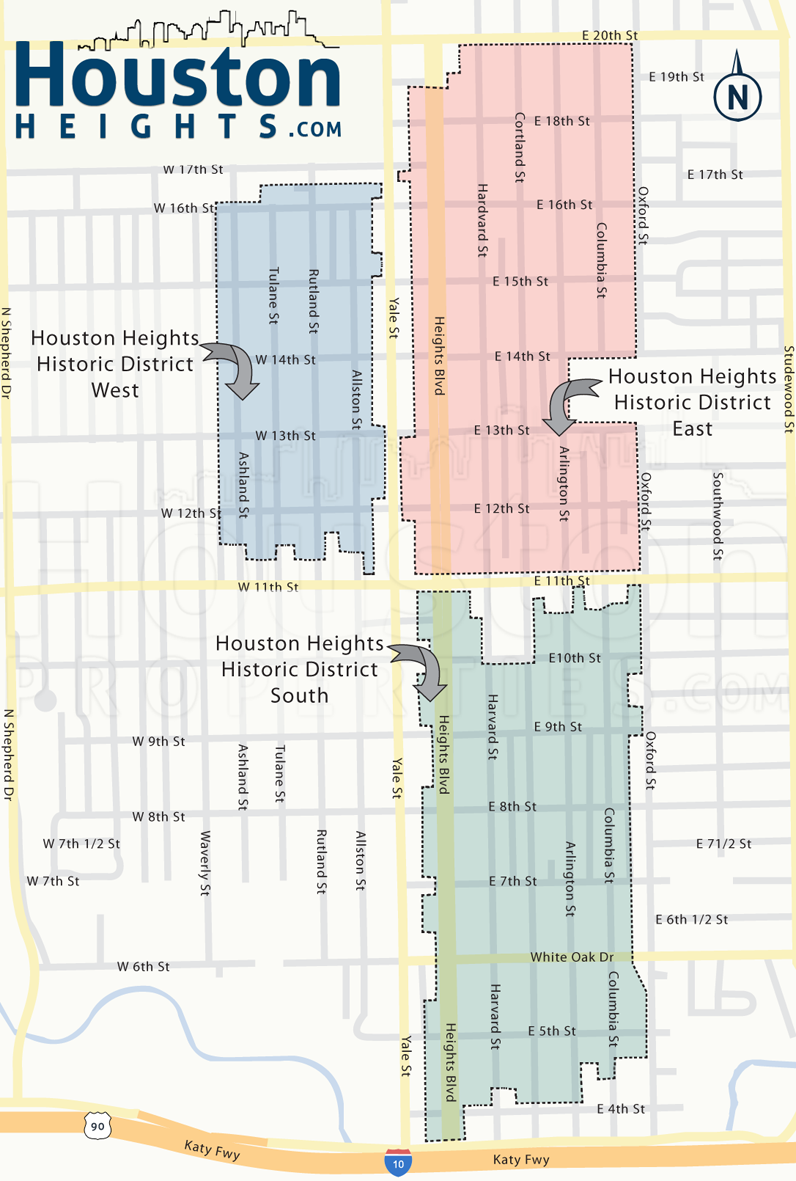 Neighborhoods surrounding the Houston Heights include:
Oak Forest
Sawyer Heights
Woodland Heights
Sunset Heights
Shady Acres
Independence Heights
Northside Village
Additional popular neighborhoods within a 5-10 minute drive (depending on traffic) include: Downtown Houston, River Oaks and Montrose.
Zip codes for surrounding areas include 77007, 77009, 77018 and 77019 (view the Houston zip code map).
Houston Heights Historic Districts
Heights Housing Options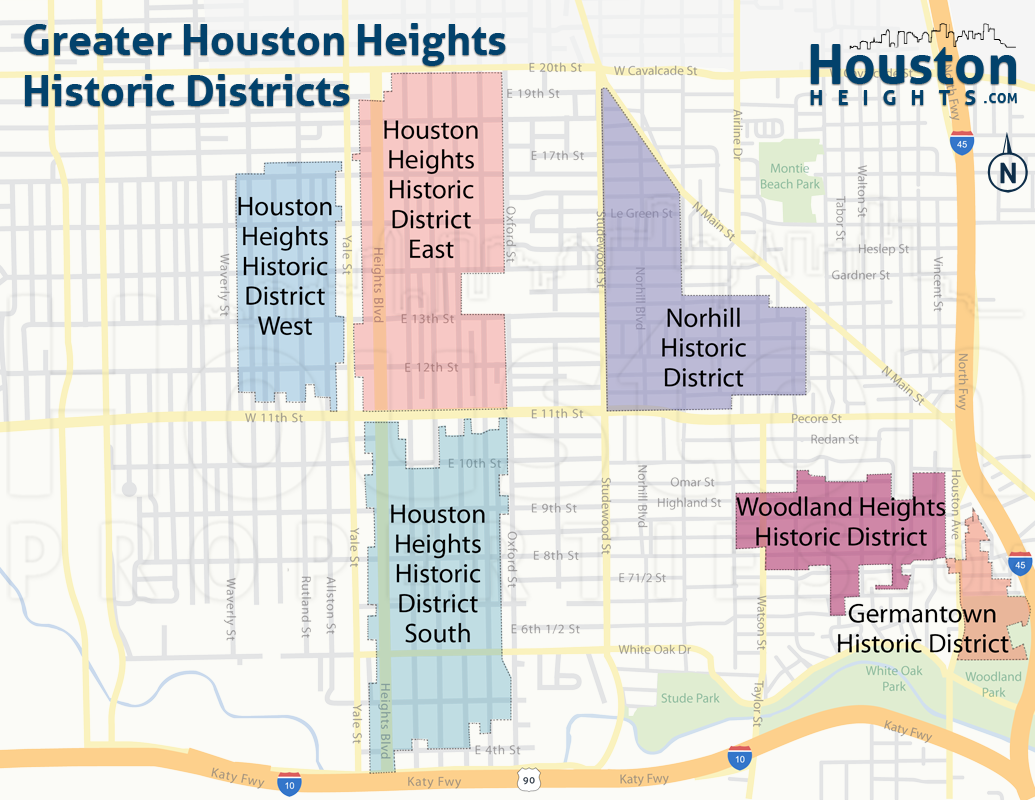 There are three historic districts located within the Houston Heights, appropriately named:
Houston Heights Historic District West
Houston Heights Historic District East
Houston Heights Historic District South
In these areas, The Heights have an enforced deed restriction to keep the neighborhood's character and charm.
That historic influence and residential construction limits give these areas within the Houston Heights a common "look and feel" and bring charm and character to the areas.
As you can see on the map, they are clustered around Heights Blvd, north of I-10 and below 20th. These historic districts are in addition to neighboring Norhill Historic District, Woodland Heights Historic District and Germantown Historic District.
For an updated list of homes for sale in the Houston Heights Historic District, please email Paige@HoustonProperties.com
Houston Heights History
The Heights is one of Houston's first "master-planned" communities. In 1891 Oscar Martin Carter and his Omaha and South Texas Land Company spent $500,000 to buy 1,756 acres of land that is now Houston Heights.
Houston Heights was initially established as a suburb built for people who do not wish to live in densely populated areas (i.e. downtown Houston).
The Heights even had its own municipality until the City of Houston annexed the Heights in 1919.
The community continued to grow up to the 1940s. After World War II, many industrial buildings and factories moved into the community. For the next 30 years, the area was considered "low income" and "decrepit."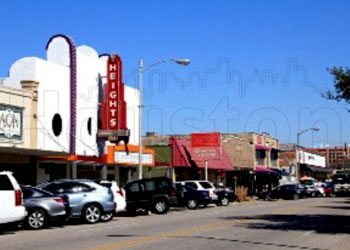 Houston Heights real estate started to bounce back around 1990 due to gentrification (average income increases and average family size decreases). Urban professionals, most of whom worked in Downtown Houston, began purchasing historic homes and renovated/replaced it with newer upscale homes.
Today, Houston Heights is a diverse mix of renovated Victorian-themed houses and newly built single-family homes and townhomes.
Commercial establishments have also emerged, creating a vibrant community with rich architectural history.
Real estate in The Heights have appreciated significantly over the last 10 years (this community has been one of the fastest appreciating neighborhoods in the Bayou City), with developers building more single-family and townhomes to meet growing demand.
Overview: Houston Heights Schools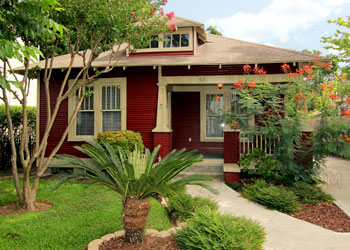 Houston Heights Public Schools
The Houston Independent School District (HISD) serves the Houston Heights. The public schools associated with homes in the Houston Heights include:
Elementary Schools:
Built in 1898, Harvard Elementary School is the oldest elementary school in Houston Heights. The school received the National Blue Ribbon School recognition in 2008. Middle School: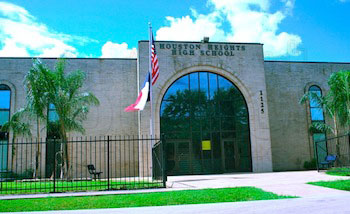 High School:
Reagan High School was first established in 1904. Houston Press ranked Reagan as the sixth most architecturally beautiful high school campus in Greater Houston in 2012. Reagan is under the same public school zoning as Harvard Elementary School and Hogg Middle School.
To learn more about Houston public schools, including schools zoning address, academic ranking, and exact addrees,  visit our Houston Schools page.
Houston Heights Private Schools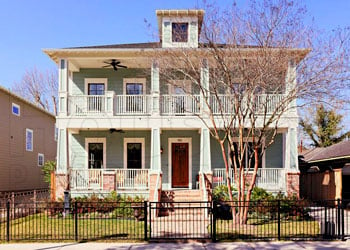 There are two state charter schools in the Greater Houston Heights:
Houston Heights Learning Academy
Houston Heights High School
Private schools in The Heights include:
The New School in the Heights (K-9),
Immanuel Lutheran Church and School (K-8)
Houston Outdoor Learning Academy, (6-12 private school)
Other notable private schools within a 10-15-minute drive from the Houston Heights are Woodland Heights' Houston Outdoor Learning Academy (private 6-12) and Rice Military's St. Theresa School, a Roman Catholic K-8 School.
To find an updated listing of all Houston Heights real estate zoned to any specific public school, please email Paige Martin at Paige@HoustonProperties.com with the property type and budget that you're looking for.
*Note: school zoning can change from year to year, information above is deemed accurate, but not guaranteed. Please double check.
Houston Heights Real Estate Trends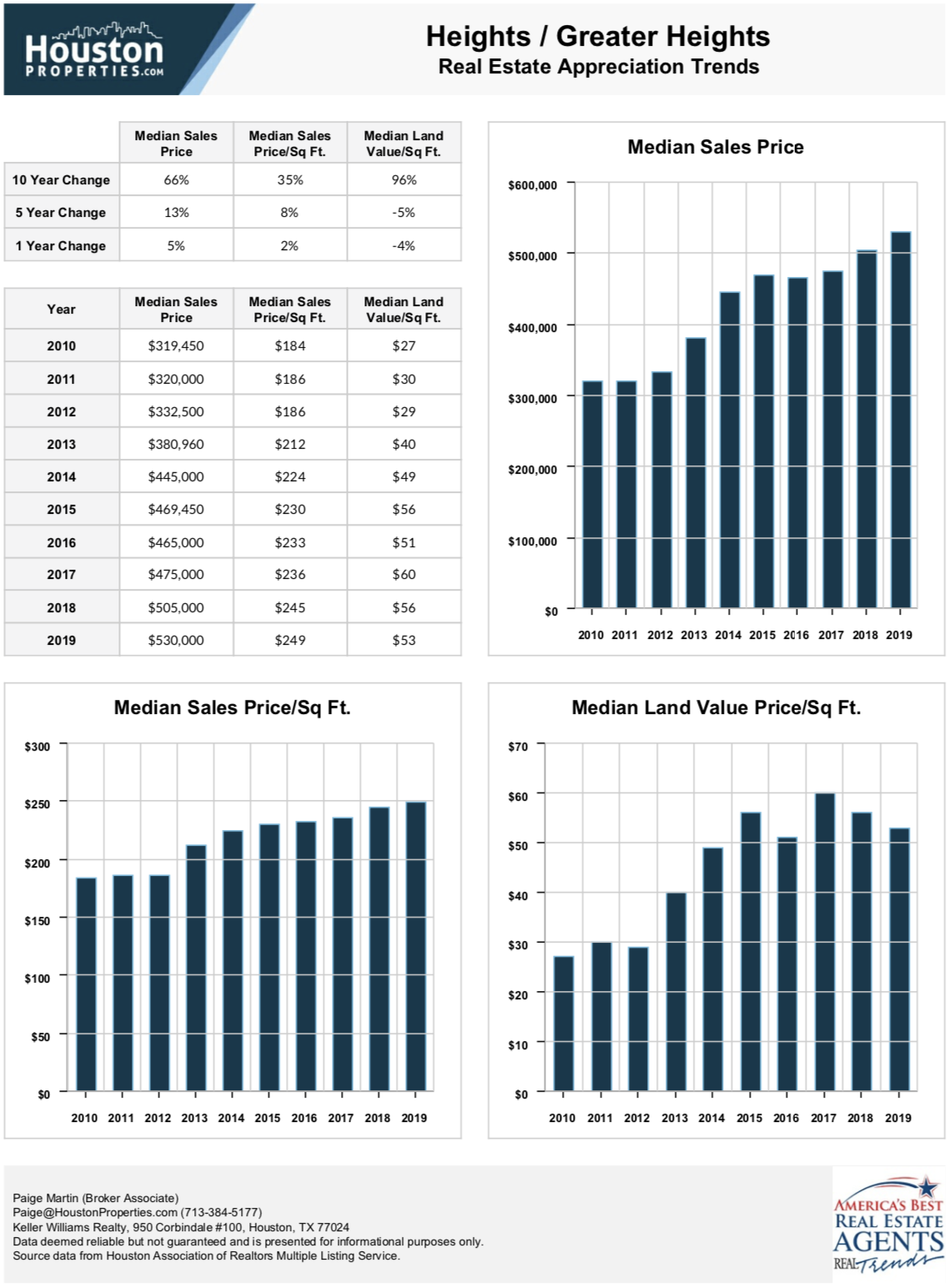 (Data sourced from the Houston Association of Realtors Multiple Listing Service and is deemed reliable but is not guaranteed).
The Houston Heights has been one of the top performing real estate markets in Houston over the past decade.
For an updated Houston Heights real estate pricing or trend analysis, please contact Paige Martin at Paige@HoustonProperties.com
Houston Heights Single-Family Home Sale Trends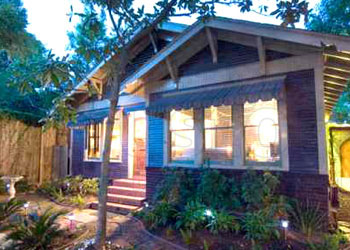 Over the past decade, single family homes have been the predominant type of real estate bought and sold in the Houston Heights.
Recently, developers have been purchasing lots and building patio homes and townhomes, but single family homes are still most common.
Because of its long history, Houston Heights homes were originally built as either one-story bungalow or Victorian-themed structures.
Much like other neighborhoods within the 610 Loop, the Houston Heights experienced a shift in home stylings during the 1990s. New residents bought old properties and proceeded to either renovate historic homes or demolish them in favor of newer, upscale housing.
This created a stir among old-time residents fearing that their community is starting to turn away from its roots.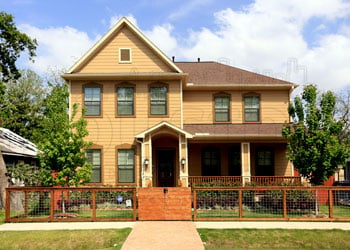 A deed restriction was then enforced to preserve The Heights history, both architectural- and atmosphere-wise. This paved the way to a diverse neighborhood with a healthy mix of history, character, and modern touches.
Houston Heights Townhome Sale Trends
Townhomes differ from single family homes in that they share a wall with one or more neighbors, but you still own the dirt from the center of earth to infinity (read more about Houston townhomes).
Townhomes in the Houston Heights have become very popular as a cost effective method to live within a few miles of Downtown Houston for under $400,000.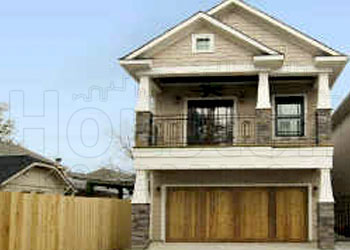 Many developers have purchased lots in the Houston Heights and begun construction on new townhomes.
The Heights is included (along with Rice Military, EaDo, and Midtown) as one of the most popular neighborhoods for new townhomes.
The most common Houston Heights townhomes are in the $300,000 to $600,000 range (view all Houston Heights townhomes for sale in the $300k-$600k range), with the prices depending on the townhomes' lot size, style, and exact Houston Heights location.
Houston Heights Condo Sales Trends
There are a limited number of highrise or midrise condos in the Greater Heights (especially given the neighborhood's preference for deed restrictions and Victorian homes). Condos within the 77008 zip code include: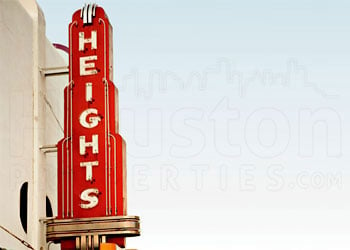 Condos within the 77009 zip code include:
Other condos within 10 minutes of the Heights include:
View all Houston condos for sale
Houston Heights Realtor – Paige Martin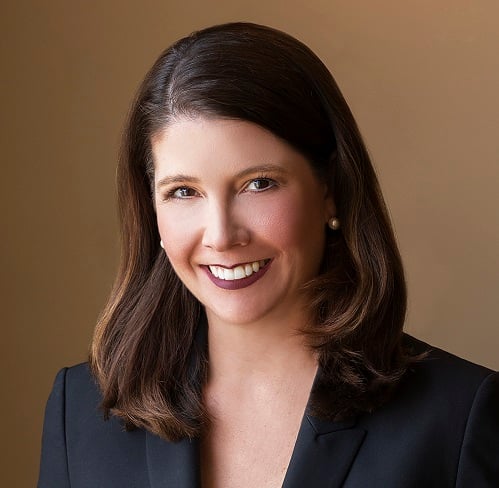 As featured on Fox News in the Morning, the Houston Business Journal, Houston Chronicle, and Houston Magazine, Paige Martin – a consistent Top Producing Broker-Associate and the owner of HoustonHeights.com – is ranked amongst the very top Keller Williams agents in the Houston area.
Paige was named the #1 Ranked Individual Agent in the Keller Williams Memorial Office for 2012, 2011 and 2010. She has been a consistent top producing agent, winning awards every year since 2007.
Paige works with a tremendous number of buyers and sellers in Houston Heights.
For a specific recommendation of neighborhoods, homes or properties based upon your personal style, goals & price point, please contact Paige Martin, Owner of HoustonProperties.com & Broker Associate at Paige@HoustonProperties.com or 713-384-5177.