Hyde Park Houston Neighborhood Guide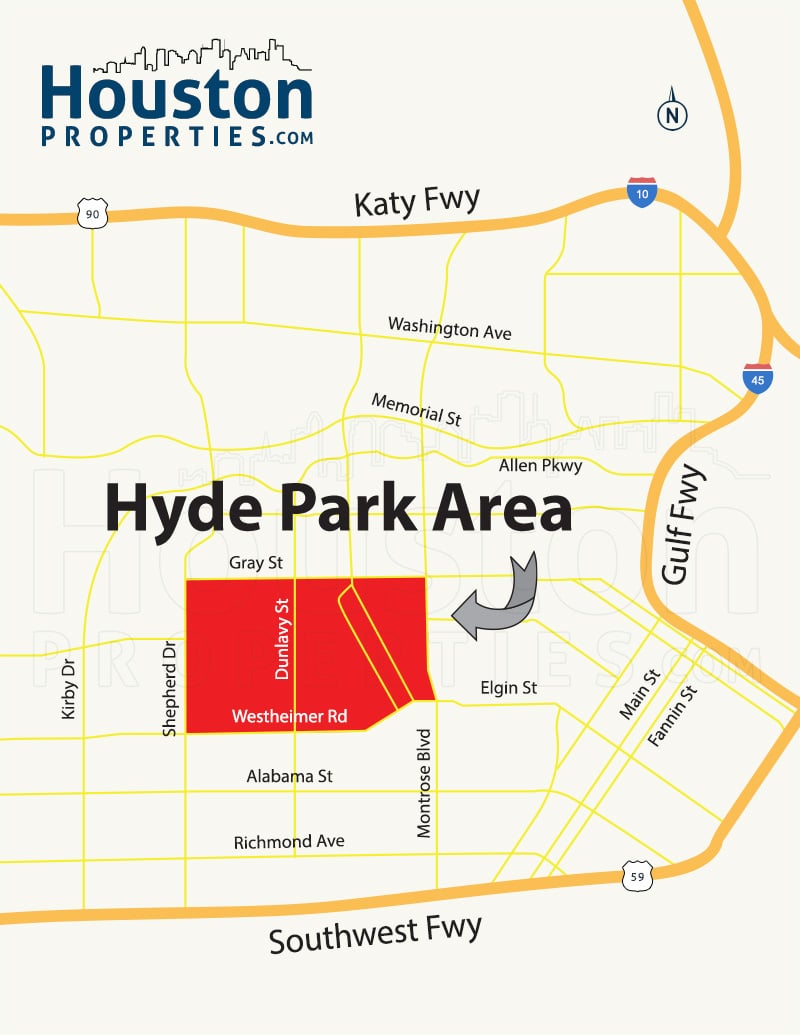 Located within the Neartown/Montrose area, Hyde Park is one of Houston's oldest neighborhoods.
The neighborhood reflects the area's rich history and classy appeal, along with Montrose's Bohemian, anything-goes vibe.
Hyde Park homes for sale are in great demand due to the following:
CENTRAL LOCATION: Centrally located within the Inner Loop, Hyde Park is only a couple of miles west of Downtown Houston.
GREAT ACCESSIBILITY: Job and business centers like Downtown and Medical Center are only a few minutes away from Hyde Park. Montrose/Neartown is one of the most highly accessible neighborhoods in Houston.
CIVIC ASSOCIATION: The Hyde Park Civic Association covers most of the deed-restricted areas of the neighborhood.
EXCITING DINING SCENE AND NIGHTLIFE: Since the neighborhood is located within Montrose/Neartown, the Hyde Park homes have convenient access to the area's exciting street scene and nightlife.
SHOPPING AND ENTERTAINMENT OPTIONS: The River Oaks Shopping Center and the Galleria are within driving distance from Hyde Park.
DIVERSE HOUSING OPTIONS: The neighborhood features a wide variety of options, including stately mansions, quaint patio homes, townhomes, condos, and custom-built single-family homes.
With convenient access to retail, entertainment, and cultural hubs, as well as job centers, Hyde Park homes are ideally located for people who like being at the center of all the action Houston has to offer.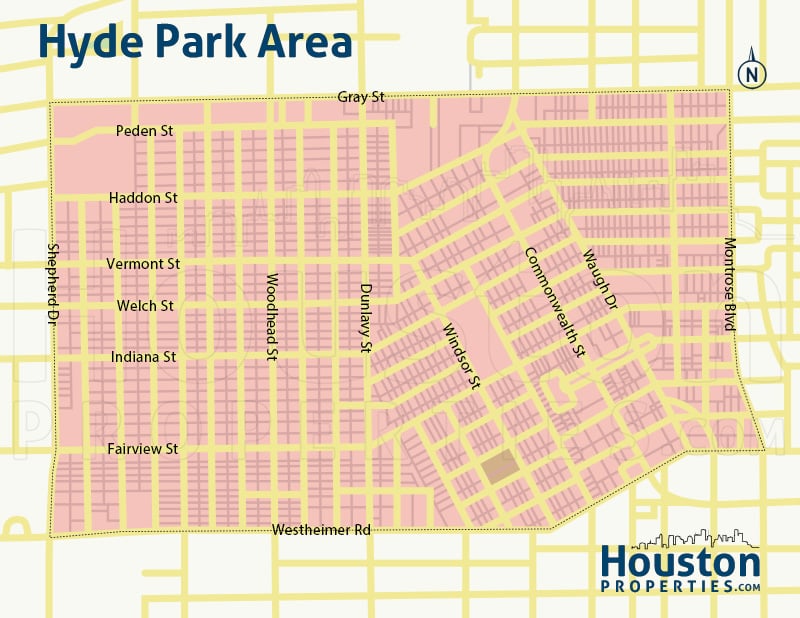 For any inquiries about Hyde Park homes recommendations, or off-market MLS listings, get in touch with Paige Martin, Owner of HoustonProperties.com.
Hyde Park Resources (Popular Topics)
Houston Hyde Park Neighborhood Profile
Hyde Park Real Estate Guide
Paige Martin – Hyde Park Realtor
Hyde Park Maps and Location
Located within Montrose/Neartown, the neighborhood of Hyde Park is roughly defined as the area bordered by Montrose Boulevard to the east, Shepherd Drive to the west, Gray Street to the north, and Westheimer Road to the south.
Hyde Park is centrally located within the Inner Loop, and offers easy access to key Houston areas including Downtown, Midtown, the Museum District, Rice Military, River Oaks, and the Medical Center.
Some parts of the Hyde Park area, specifically ones within the boudaries of the Hyde Park Civic Association, are deed-restricted. These areas are largely residential, though some types of businesses and commercial establishments are allowed under certain conditions.
Hyde Park Houston has a 77006 and 77019 Harris County zip code.
Nearby zip codes include: 77098, 77002, 77005, and 77004. (View Houston zip code map)
Fun Things To Do Near Hyde Park
Most of Hyde Park is deed restricted and mostly residential, though the neighborhood's central location within the Inner Loop provides easy access to Houston's cultural, commercial, and entertainment hubs.
The Menil Collection, located at 1533 Sul Ross St., is only a few blocks from Hyde Park homes. With over 17,000 paintings, drawings, photographs, sculptures, and rare books, the museum features one of the largest private art collections in the country.
Menil Collection founders John de Menil and Dominique de Menil also commissioned the Rothko Chapel, an interfaith chapel built in 1971. It features writings and books from different religions in addition to art. The Broken Obelisk, a sculpture dedicated to Martin Luther King Jr., is also a popular feature at the chapel's reflecting pool.
Several other museums, mostly members of the Houston Museum District Association, are located within driving distance from Hyde Park.
Residents are also spoiled for choice in terms of retail and dining options. Several bars, restaurants, wine bars, and lounges are located near Hyde Park. The River Oaks Shopping Center and The Galleria are also easily accessible from the neighborhood.
Listed below are just some of the best places to visit in and around Hyde Park.
Nightlife
Agora
Poison Girl
Griff's Houston
Cecil's Pub
Firkin & Phoenix Pub
Lola's Depot
Anvil Bar & Refuge
Boondocks
Absinthe Restaurant Lounge
The Next Door
Rudyard's
Boheme Cafe & Wine Bar
West Alabama Ice House
JR's
Dining
Barnaby's
The Breakfast Klub
La Mexicana Restaurant
Niko Niko's
Cafe Brussels
Osaka
Feast
Brasil
Ocean's
Uchi
Da Marco
Mark's American Cuisine
Hugo
Brennan's of Houston
Tony's
Baba Yega's
Museums
Menil Collection
The Rothko Chaper
Art League of Houston
Blue Orange
Contemporary Arts Museum
Parks
Buffalo Bayou Park
Autry Park
Live Oak Park
Chew Park
Mandell Park
Cherryhurst Park
Lamar Park
Shiffick Park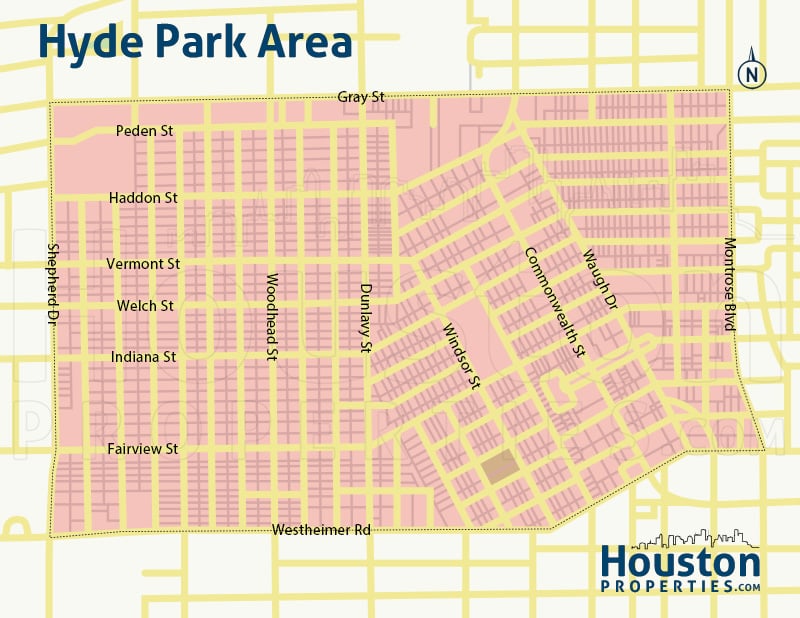 Neighborhoods Near Hyde Park
Neighborhoods near Hyde Park include:
Hyde Park Houston History
According to the Hyde Park Civic Association, the community was established in 1893, making it one of the oldest Houston neighborhoods.
Back in the 1840s, the land which is now known as Hyde Park was previously owned by Mirabeau B. Lamar, the second President of the Republic of Texas. It was later annexed by the City of Houston.
Several years later in 1911, J. W. Link of the Houston Land Corporation bought about 250 acres of land in what is now modern day Montrose/Neartown. Link envisioned his development as a "streetcar suburb" with Montrose Boulevard running through the center of the neighborhood.
The Link-Lee mansion, the former residence of Link himself, is located just a few blocks away from Hyde Park. The mansion now serves as the University of St. Thomas' administration offices.
Hyde Park Schools
Hyde Park is zoned to the Houston Independent School District (HISD).
Public
Elementary
MacGregor Elementary School at 4801 La Branch St. Founded in 1922, MacGregor Elementary is a music and science magnet academy serving students in grades EE to 5. Apart from its magnet programs, MacGregor also offers an Extended Day program.
Wharton Dual Language Academy at 900 W Gray St. Wharton is a dual language magnet school that caters to both K-5 and 6-8 students. It features a curriculum that incorporates Spanish and English. It has a GreatSchools.org rating of 10/10.
Wilson Montessori at 2100 Yupon St. Located in the Neartown/Montrose area, Wilson offers a Montessori program for students in grades PK to 8. The school is famous for being built on the former site of Mirabeau Lamar's summer farm home.
Middle School
Lanier Middle School at 2600 Woodhead St. Lanier is both a Vanguard magnet and an International Baccalaureate Middle Years World School. It was awarded with Texas Gold Performance Award and has a GreatSchools.org rating of 9 out of 10.
Gregory-Lincoln Education Center at 1101 Taft. Located in the Fourth Ward, GLEC serves grades Pre-K to 8 students. It features a fine arts program as well as classes in vocal and instrumental music, dance, theater, visual arts, multimedia arts, and culinary arts.
High School
Lamar High School at 3325 Westheimer Rd. Home to the Lamar Texans (formerly known as the Redskins), this secondary school is considered to have one of the best athletics programs in Houston. It has one of the oldest lacrosse teams in the state and offers a great academics programs as well. It features International Baccalaureate Diploma Programme, business magnet, and Advanced Placement programs.
High School for the Performing and Visual Arts at 4001 Stanford St. The HSPVA – or simply, PVA – is divided into 6 departments, namely  instrumental music, vocal music, dance, theater, visual arts, and creative writing. Creative writing is a relatively new addition.
Hyde Park also features several private schools. Here are some of them:
Annunciation Orthodox School at 3600 Yoakum Blvd.
The Harris School at 900 Lovett Blvd.
Avalon Academy at 1616 Indiana St.
Kipling Street Academy at 1425 Kipling St.
School For Young Children at 810 Sul Ross St.
St Stephens Episcopal School at 1800 Sul Ross St.
To find an updated listing of all Hyde Park real estate zoned to any specific public school, please send an email to Paige Martin at Paige@HoustonProperties.com with the property preference and budget that you're working with.
*Note: School zoning tends to change from year to year, information provided above are accurate but not guaranteed. Please double check by visiting the school's website.
Hyde Park Real Estate Trends
Hyde Park real estate have marked one of the most impressive appreciation rates among Inner Loop neighborhoods. Hyde Park homes' median sales price has more than doubled over the past 10 years, from $329,000 in 2005 to $712,450 in 2014 – a 117% positive change.
Average price per square foot has similarly increased, from $168 to $291 over the same period.
As a neighborhood within one of Houston's most eclectic areas, Hyde Park offers a wide variety of housing options ranging from patio homes, townhomes, condos, and high-end contemporary homes. Thanks to its deed restrictions, the area has a distinct look and a chic atmosphere.
A number of factors, particularly high demand, influenced the development of Hyde Park real estate over the years. The area's proximity to Houston's cultural centers attracted those of a creative persuasion. Affordable homes and low rental costs also provided a great draw.
Over time, Hyde Park homes became popular among those working in Downtown Houston and the Medical Center due to its central location. Old houses were torn down to make way for custom-built homes or townhomes – with increasing demand driving prices up.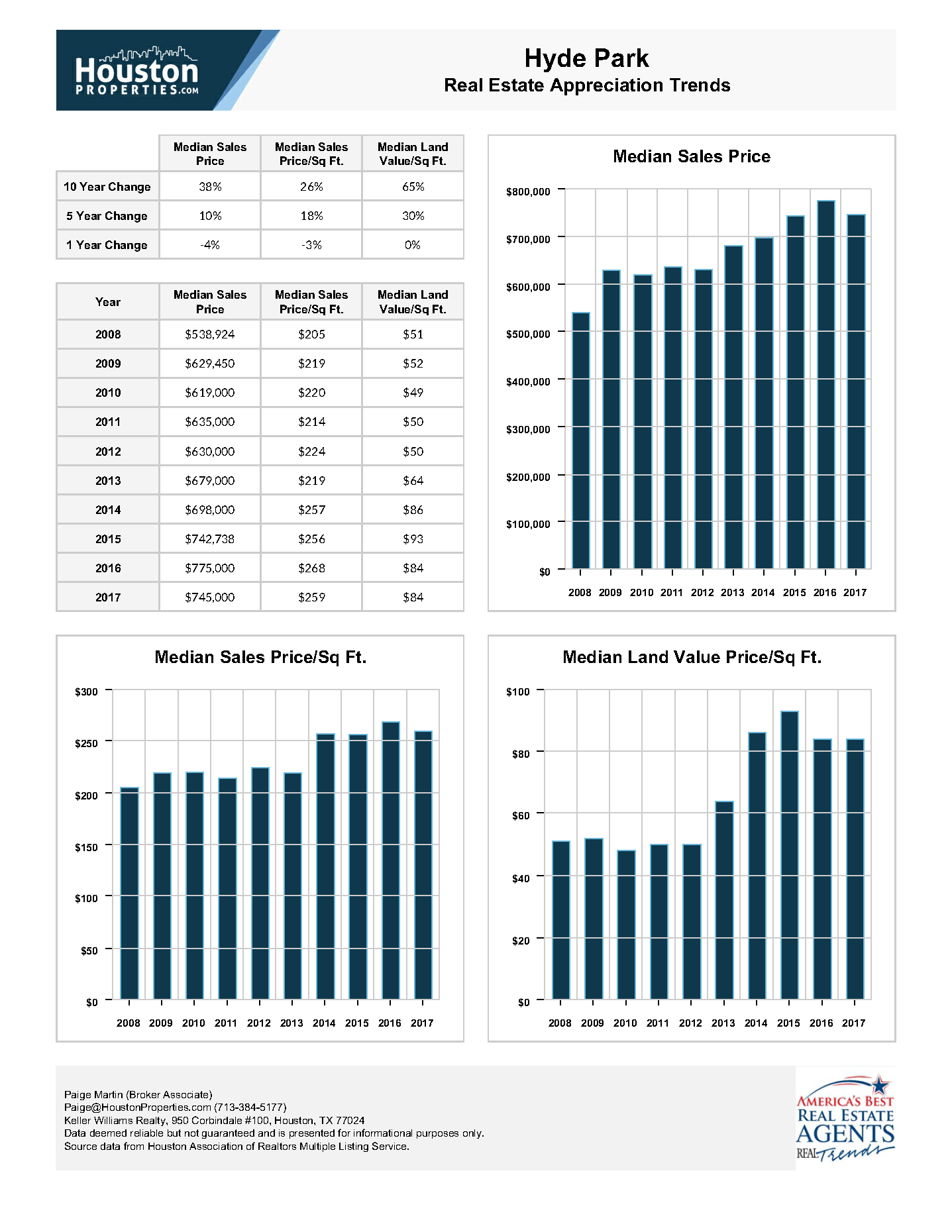 (Data sourced from the Houston Association of Realtors Multiple Listing Service and is deemed reliable but not guaranteed.)
For updated information regarding Hyde Park real estate pricing and trend analysis, please contact Paige Martin at Paige@HoustonProperties.com.
Hyde Park Single-Family Home Sale Trends
Hyde Park has a diverse collection of homes ranging from old bungalows to new custom-built single-family homes, and from stately manors to small patio homes.
With such a wide selection, homebuyers have the luxury of picking from a collection of Hyde Park homes for sale. Homes in the area come in different architectural styles as well, including Contemporary, Tudor, Victorian, Traditional, Mediterranean, and French, among many others.
Pricing depends on a number of factors, including age of the home, lot size, and location.
Hyde Park Townhomes Sale Trends
Thanks to the surge in demand and the subsequent development boom in Montrose and in neighboring communities, Hyde Park townhomes for sale are fast becoming one of the most popular housing options in the area.
Due to continued demand, some older homes are being torn down for new developments. Hyde Park townhomes are generally more affordable compared to single-family homes.
Hyde Park Condo Sale Trends
Like townhomes, condos are also becoming a popular housing option in the Hyde Park neighborhood. There are a number of midrise condo developments around the Montrose/Neartown area, while highrise condos can be found in surrounding neighborhoods like the Museum District, River Oaks, and Downtown.
Listed below are just some of the highrise condo buildings around Hyde Park.
Downtown Houston (77002 / 77010):
To see other condos within the Inner Loop, see Inner Loop Houston Condos.