Memorial Houston Neighborhood Guide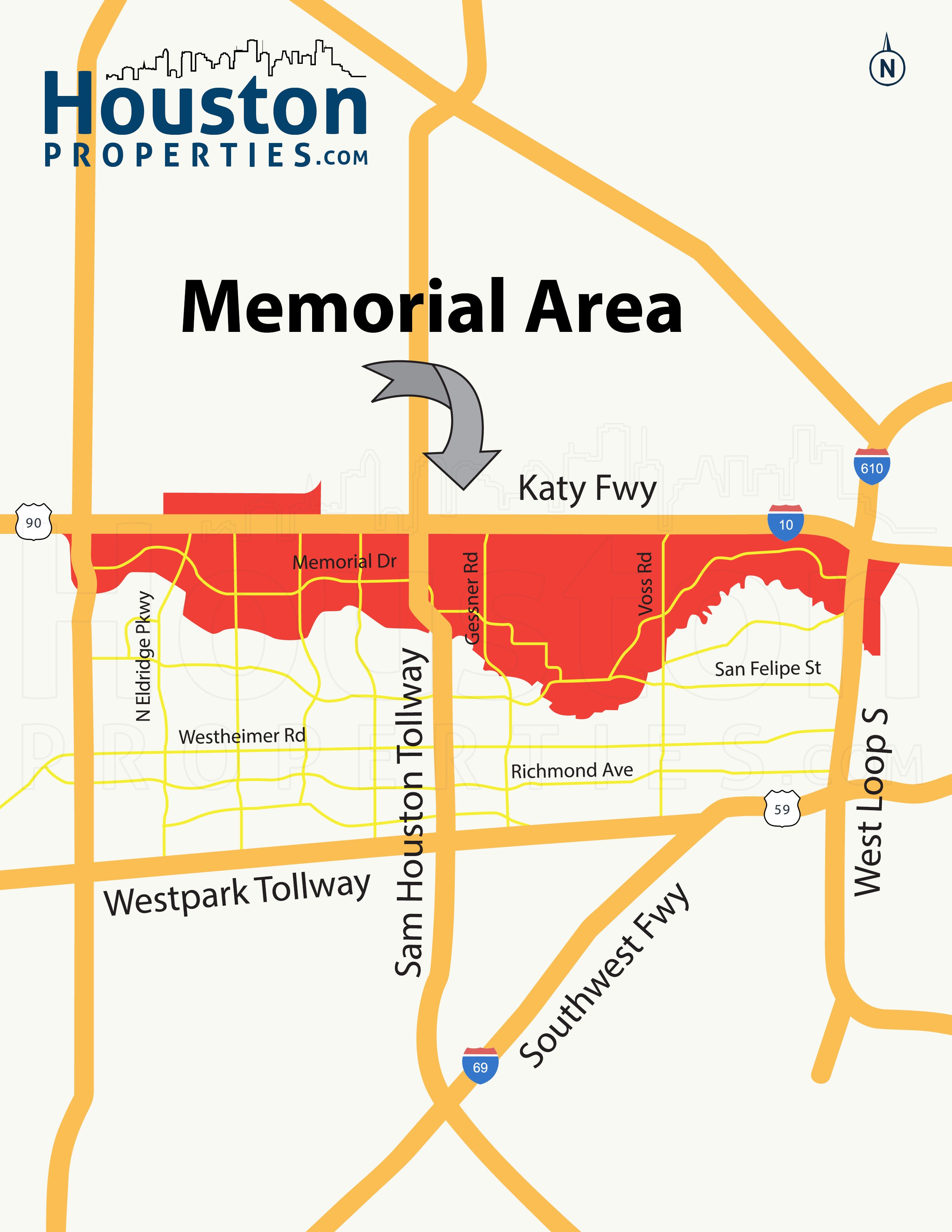 Covering over 80 miles, Memorial is one of Houston's most diverse and beautiful neighborhoods. Memorial is also home to Frostwood and Memorial Forest, two of Houston's 20 most expensive neighborhoods.
Shadowed by large pine and hardwood trees, Memorial is a community full of elegant homes and spacious lots.
Memorial Houston offers its residents:
GREAT LOCATION: Memorial Houston offers easy access to main thoroughfares and city streets that lead to Houston's Galleria, Energy Corridor, Memorial City Mall, and Town & Country Mall. There are also many great restaurants, hotels, medical facilities, shops, and business offices in the area.
LARGE LOTS / YARDS. Memorial homes for sale have some of the largest lots in Houston. Memorial Villages lots average around 15k square feet while Memorial Forest homes feature lots averaging over 10k square feet.
ESTABLISHED COMMUNITIES: Neighborhoods within Memorial have established civic and homeowners associations that create a welcoming atmosphere and preserve the integrity of the area.
DIVERSE REAL ESTATE MARKET: The Memorial Houston real estate inventory includes homes that fit every income level and has continuously displayed high appreciation rates.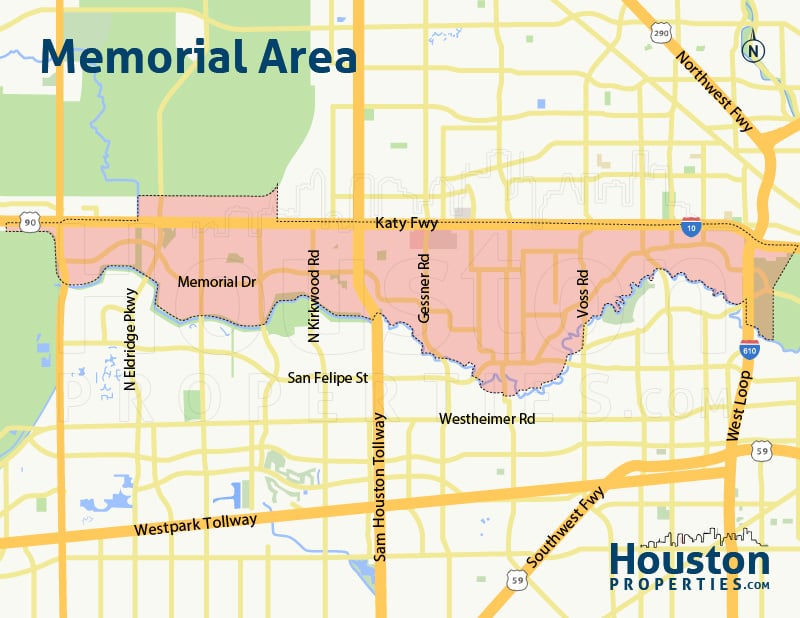 The Memorial Houston area is great for people who enjoy space and nature. Aside from the mature trees that line the streets, there are numerous parks where residents can enjoy picnics and various recreational activities.
Memorial Houston covers a vast area and is composed of smaller neighborhoods. These neighborhoods have their individually unique culture and characteristics. It's a great place for those who wish to live near the city and yet remain close to nature.
Due to its size and high number of neighborhoods, finding the best Memorial Houston realtor familiar with the area and each of its subdivisions is very important.
For questions, advice, Memorial real estate recommendations, or off-market MLS listings, contact Paige Martin, Owner of HoustonProperties.com and rated as the best Keller Williams Memorial realtor the last four years.
Memorial Houston Resources (Popular Topics)
Houston Memorial Neighborhood Profile
Memorial Real Estate Guide
Paige Martin – Memorial Realtor
Memorial Maps and Location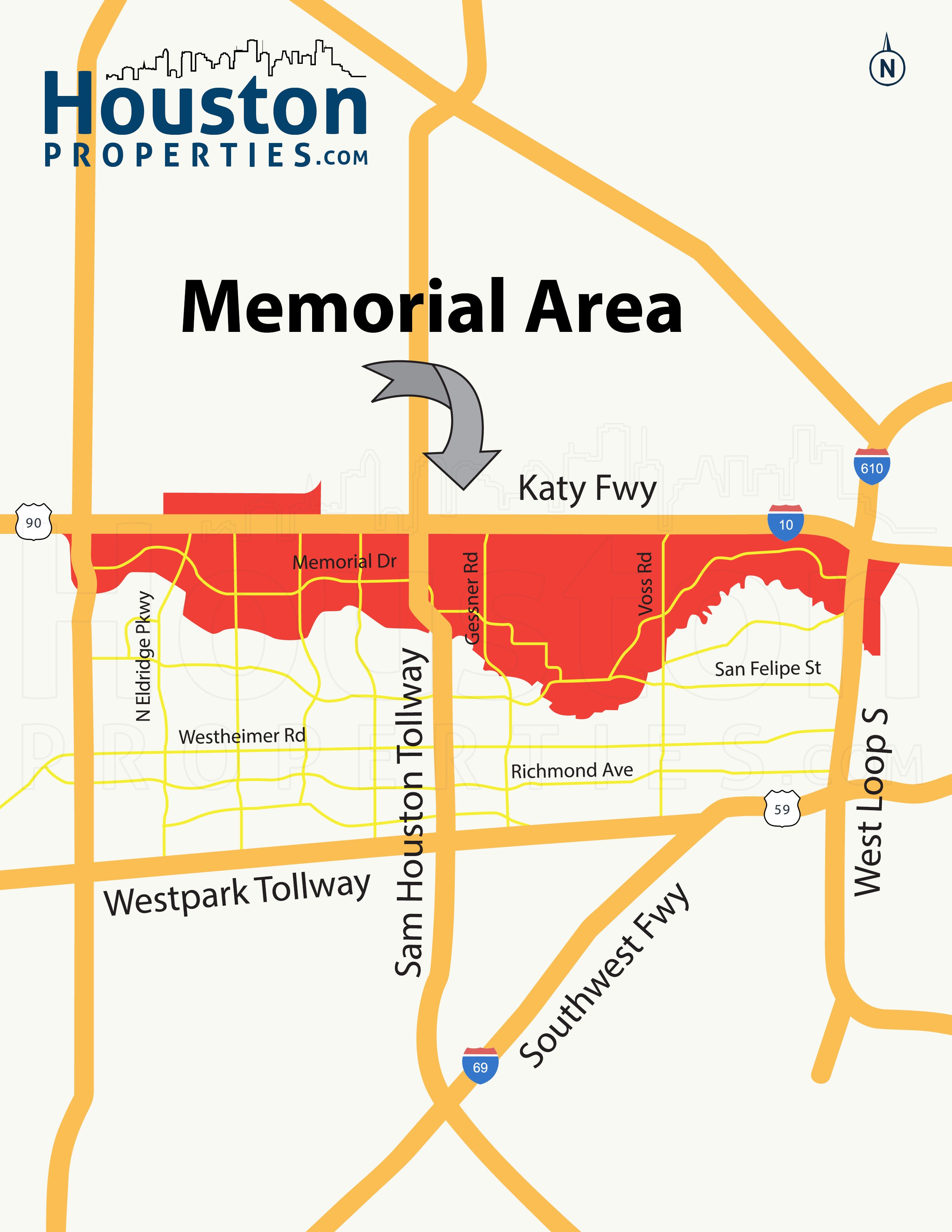 Memorial Houston is located south of Katy Freeway, between West Loop 610 North and West Beltway 8.
The neighborhood is bordered by Buffalo Bayou to the south, I-610 to the east, Texas State Highway 6 to the west, and extends partly north of Katy Freeway.
Its strategic location gives it easy access to major freeways and city streets.
Portions of Katy Freeway, West Loop 610, Sam Houston Parkway, and Texas State Highway 6 all run through portions of Memorial.
Neighborhoods and subdivisions in Memorial Houston fall under the 77007, 77079, 77055, 77056, and 77024 zip codes of Harris County.
Zip codes near Memorial homes for sale include 770092, 77008, 77019, 770027, and 77057. (View Houston zip code map)
Memorial Subdivisions
Memorial City
Memorial City is a district located along Interstate 10 between Beltway 8 and Bunker Hill Road. The area is composed mostly of retail, office, medical complexes, and a few apartment complexes. It uses a Houston address despite being composed of independent municipalities.
Memorial Villages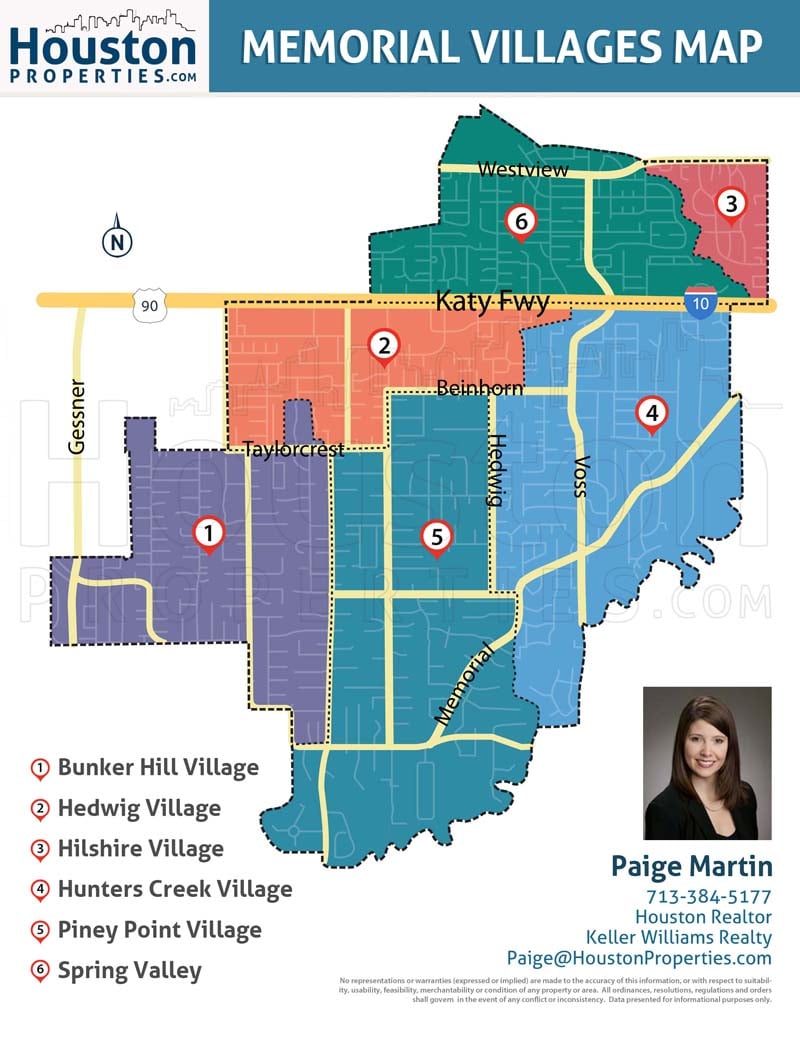 Memorial Villages is a collection of upscale residential communities in Memorial Houston.
Just a few minutes west of Downtown Houston, the six independent villages making up the area are known for their small-town vibe and ranks as one of the most desirable places to live in Texas.
Many of the homes feature home styles ranging from traditional, contemporary, and country. The villages operate a shared fire department, police department, water system, and political system.
Memorial Super Neighborhood
Memorial Super Neighborhood is a community of residential subdivisions extending from the incorporated villages of Memorial to Highway 6. Common home styles in the area are traditional, contemporary, New Orleans Colonial, and Cape Cod.
Member neighborhoods include:
Ashford Forest
Autumn Oaks
Barker's Landing
Ethan's Glen
Fleetwood
Fonn Villas
Marywood
Memorial Bend
Memorial Drive Acres
Memorial Thicket
Memorial Way
Nottingham
Nottingham Forest
Thornwood
Westchester
Wilchester
Winding Brook
Woods on Memorial
Yorkshire
Other Memorial Houston Subdivisions
Stablewood is the first gated subdivision in Houston and lies along the beautiful forest of Buffalo Bayou. It was modeled after Boulevard Oaks, and houses over 120 (mostly single-family) homes. All Stablewood Houston homes are required to have more than 4.200 square feet of space.
Gaywood Houston is an upscale subdivision of mostly one-story and two-story single family homes. It stretches from Memorial Drive to Buffalo Bayou.
Bayou Woods is a neighborhood of approximately 117 homes. Most of the homes are of Traditional American design and are surrounded by mature oak trees and landscaped gardens.
Fun Things To Do Near Memorial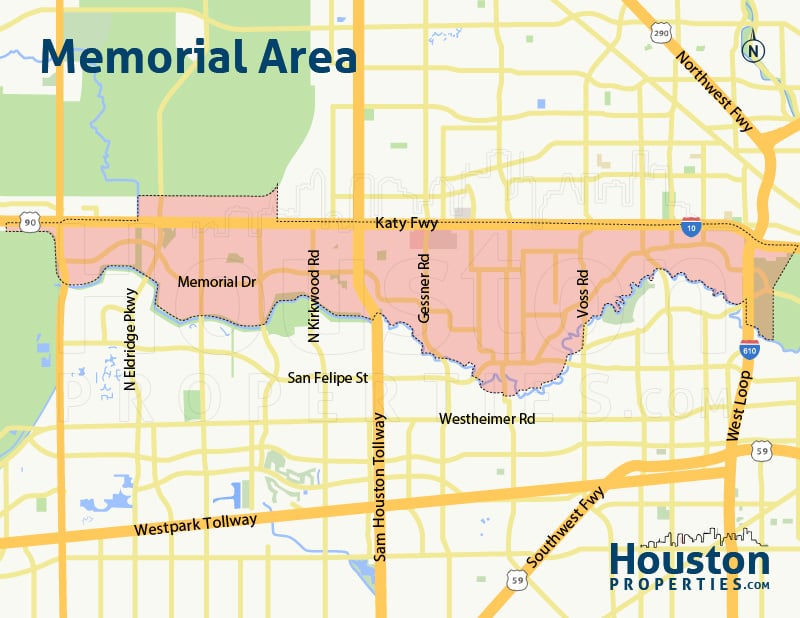 Memorial Houston attracts crowds that are just as eclectic as the entertainment it offers. The area is littered with luxurious lounges, wine bars, quaint cafes, and many of Houston's most-loved restaurants.
The Memorial area has a WalkScore of 44 out of 100, making it the 51st most walkable neighborhood in Houston. Given the vast area, this statistic can be misleading.
Smaller neighborhoods within Memorial have better walkability depending on its location.
Neighborhoods near main thoroughfares such as Sam Houston Parkway, Katy Freeway, Memorial Drive, and West Loop Freeway have better access to the many commercial establishments within Memorial.
Most of the area remains car-dependent. Some neighborhoods have strict restrictions against businesses to protect their community.
Yet with over 270 restaurants, bars, cafes, and shops — one wouldn't mind driving 5 minutes along the pleasing views of Buffalo Bayou to experience the best of Memorial Houston.
Driving north along Gessner Road will lead to Memorial City Mall, which has regained much of its popularity after its renovation in 2001. It now houses stores of Target, Macy's, Sears, JC Penney, and Dillard's. It is also home to Ice Skate USA, Houston's premiere ice skating rink, and Cinemark Memorial City.
The Memorial Park is one of the most popular places to run in the city. It houses tennis courts, volleyball courts, skating rinks, a fitness center, swimming pool, bike trails, and playing fields.
Its golf course, Memorial Park Golf Course, is rated among the top municipal golf courses in the country. For fitness buffs, the Crossfit Memorial Houston and the Memorial Athletic Club and Aquatic Center are both in the area.
Memorial Houston is also home to one of the best art festivals in the country. The Bayou City Art festival happens twice a year and features over 300 artists and crafters from around the nation.
Other places to visit within Memorial Houston include: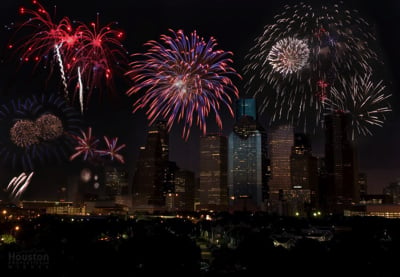 Restaurant
Asian

LA Crawfish
Izakaya Wa
KUU Restaurant
Straits
Sushi Jin
Ginza
Bibijo Express

Traditional American

Sweet Tomatoes
Ruggles Green
Bistro Alex
Dish Society
Yard House
The Union Kitchen

Mediterranean/European

Cafe RIta
Empire Turkish Grill
Bistro Provence
Pizaro's
Nirvana

Grills, Seafood, and Steakhouses

Brenner's Steakhouse
Jonathan's The Rub
Perry's Steakhouse & Grille
Eddie V's Prime Seafood
The Brisket House
Fleming's Prime Steakhouse & Wine Bar
Orange Lunch Box
Tous Les Jours
Pappy's Cafe
Corner Bakery Cafe
Sweet Paris Creperie
The Americana Cafe
Cafe La Villete
Beans Cafe
Smallcakes
Shopping
Memorial City Mall
Affection Boutique
Georgia's Farm to Market
A Moveable Feast
Leibman's Wine & Foods
Town & Country Mall
Outdoors
Memorial Park
Hedwig Park
George Bush Park
Molly Pryor Memorial Orchard
Terry Hershey Park
Nottingham Park
Houston Audubon Society
Bendwood Park
Edith L. Moore Nature Sanctuary
Nightlife
Shakespeare Pub
Watson's House of Ales
G Bar
NextDoor Bar and Lounge
Burlap Barrel
Neighborhoods Near Memorial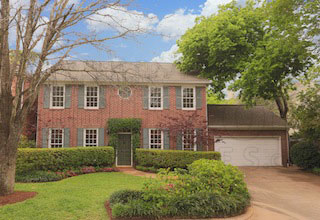 Neighborhoods near Memorial Houston include:
Spring Branch
Energy Corridor
Memorial Houston History
The land occupied by Memorial Houston used to be an area full of homes with large stables in the 1930's. Through the years, developers replaced these stables with mostly ranch-style homes.
After the construction of I-610 in 1968, the Memorial area became favorable for development due to its proximity to Downtown Houston.
The first few homes were mostly built along Buffalo Bayou. The area continued to progress and high class developments in the Memorial Villages made the area popular for public figures..
Memorial Schools
Majority of Memorial Houston students are zoned to the highly-acclaimed Spring Branch Independent School District (SBISD) while the rest attend Houston Independent School District (HISD) schools.
Many of Houston's notable private schools are also within Memorial.
Public Schools
Elementary School
Houston ISD
Memorial Elementary School at 6401 Arnot St. Memorial ES serves students grades PK -6 and has a GreatSchools.org rating of 6/10.
Stevens Elementary School at 1910 Lamonte Ln. Stevens ES serves students grades PK-5 and has a GreatSchools.org rating of 4/10.
Briargrove Elementary School. It has a GreatSchools.org rating of 6/10, and students perform well above the state average.
Spring Branch ISD
Bunker Hill Elementary School at 11950 Taylorcrest. Bunker Hill ES is a TEA Gold Performance School and a consistent Texas Exemplary School. It has a GreatSchools.org rating of 9/10.
Frostwood Elementary School at 12214 Memorial Dr. Frostwood ES has been a National Blue Ribbon School for many years. It has a GreatSchools.org rating of 10/10.
Hunters Creek Elementary School at 10650 Beinhorn Rd. Hunters Creek ES serves parts of Hunters Creek Village, Stablewood, and some areas of Houston. It has a GreatSchools.org rating of 8/10.
Memorial Drive Elementary School at 11202 Smithdale. Once a National Blue Ribbon School, Memorial Drive ES serves sections of Piney Point Village, Hedwig Village, Hunters Creek Village, and Bunker Hill Village. It has a GreatSchools.org rating of 10/10.
Shadow Oaks Elementary School at 1335 Shadowdale Dr. A few sections of Memorial City is zoned to Shadow Oaks ES. It has a GreatSchools.org rating of 2/10.
Valley Oaks Elementary School at 8390 Westview Dr. This recently rebuilt school has a GreatSchools.org rating of 7/10.
Wildcat Way School at 12754 Kimberley Ln. Wildcat Way School serves Pre-K students in the Memorial area and has a GreatSchools.org community rating of 5/5.
Middle School
Houston ISD
Grady Middle School at 5215 San Felipe Rd. Grady Middle School is a TEA Recognized school with a 6/10 rating from GreatSchools.org.
Spring Branch ISD
Spring Oaks Middle School at 2150 Shadowdale Dr. Spring Oaks MS was a former recipient of the National Blue Ribbon Award and serves residents of Shadow Oaks, Westwood, Pine Shadows, and Sherwood. It has a GreatSchools.org rating of 3/10.
Memorial Middle School at 12550 Vindon Dr. Memorial MS serves students grades 6-8. It has a GreatSchools.org rating of 10/10.
Spring Branch Middle School at 1000 Piney Point Rd. Another former recipient of the National Blue Ribbon Award, Spring Branch MS has a GreatSchools.org rating of 7/10.
High School
Houston ISD
High School for Law Enforcement and Criminal Justice at 4701 Dickson. LE/CJ is an all-magnet school for law enforcement and criminal justice. It has a GreatSchools.org rating of 8/10.
Lee High School at 6529 Beverly Hill Ln. Lee HS ranked #151 out of over 16,000 schools nationwide in a Newsweek Magazine article in 2010 on "America's Best High Schools". It has a GreatSchool.org rating of 2/10.
Lamar High School at 3325 Westheimer Rd. Lamar High School has a great Athletics program. They have one of the oldest lacrosse programs in the state. Their football team, The Lamar Redskins, is one of the highest-ranking teams within the Greater Houston area. It has GreatSchools.org rating of 7/10.
Westside High School at 14201 Briar Forest Dr. Westside HS is Magnet School for Integrated Technology. It has GreatSchools.org rating of 7/10.
Spring Branch ISD
Memorial High School at 935 Echo Ln. Memorial High School was named the 10th most posh public school in the country in 2011. It is also the oldest operating school under the Spring Branch ISD. The school serves students in the Memorial Villages, Spring Branch regions, and a portion of Memorial City. It has a GreatSchools.org rating of 8/10.
Stratford High School at 14555 Fern Dr. Known for its great athletics and academics programs, Stratford has been named a Gold Medal School and a National Blue Ribbon School (1983-84). It has also received an Exemplary TEA rating, the College Readiness Award, and the Gold Performance Award.
Private Schools
Other notable private schools in the area include:
Memorial Private High School
Depelchin-Elkins Campus
St. Theresa Catholic School
St. Thomas High School
Center for Hearing and Speech
School of the Woods
St. Cecilia Catholic School
The Kinkaid School
St. Francis Episcopal Day School
Duchesne Academy of the Sacred Heart
The Monarch School
The Parish School
To find an updated listing of all Memorial Houston real estate zoned to any specific public school, please email Paige Martin at Paige@HoustonProperties.com with the property type and budget that you're looking for.
*Note: school zoning can change from year to year, information above is deemed accurate, but not guaranteed. Please double check.
Memorial Real Estate Trends
The Memorial Houston Real Estate market has experienced a resurgence in the past couple of years due to the trend of tearing down older properties to make way for new constructions.
Outdated properties are replaced by luxury townhomes and condominiums, mixed-use developments, and businesses.
Developments in the neighborhoods are not uniform, making housing styles in Memorial more varied. Popular home styles include Georgian, bungalows, and cottages.
Due to the large area that Memorial Houston encompasses, it's hard to understand the trends in its real estate market without looking into each neighborhood. Consulting the best Memorial Houston realtor will give you needed insight on which neighborhoods would best fit your needs.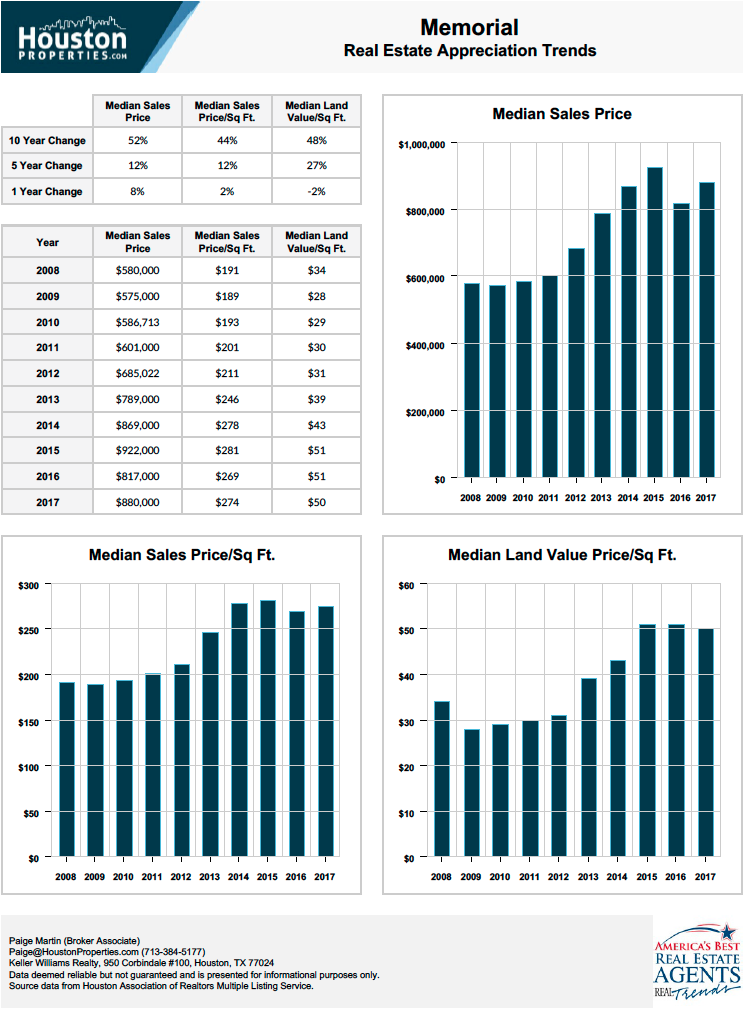 (Data sourced from the Houston Association of Realtors Multiple Listing Service and is deemed reliable but is not guaranteed).
For an updated Memorial real estate pricing or trend analysis, please contact Paige Martin at Paige@HoustonProperties.com.
Memorial Single-Family Home Sale Trends
The Memorial Houston real estate inventory is still composed mostly of single-family homes.
Due to the large area covered, it would be better to look at each neighborhood's real estate trend to get a better understanding of the market.
For example, Memorial Villages has shown a 71% increase in median sales price for the past decade. From just $826,002 in 2004, Memorial Forest homes for sale have appreciated to over $1.4 million last year.
Memorial Forest homes for sale have also posted a 9% increase in median sales price in 2013. This is one of the higher appreciation trends in Houston neighborhoods last year.
Memorial Townhomes Sale Trends
In general, Memorial Houston Townhomes for sale have a price range of between mid $80,000 to over $1 million. Those in the lower price ranges are usually delinquent properties, although there's not a lot of them.
Newly constructed Memorial Houston townhomes for sale occupy those in the higher price ranges. These homes come with a lot of custom details and state-of-the-art appliance packages.
Some of Memorial Houston Townhome communities include:
Village on Memorial
Brittwood Townhome
London Townhomes
Memorial Club Townhouses
Somerset Place
West Bayou Oaks
Memorial Condo Sale Trends
Despite the continuous development of Houston condominiums, there's still not a lot of Memorial Houston condos for sale. Those that currently exist are mostly located along the borders.
Condos in Memorial Houston include:
Condos within 15 minutes of Memorial Houston include:
Lakeside Greens Condominiums
Terra Courtyard Condo
Other condos near Memorial Houston are within the Galleria, Museum District area and other sections of Inner Loop. To tour these condos, click on the links below:
Memorial Houston Realtor – Paige Martin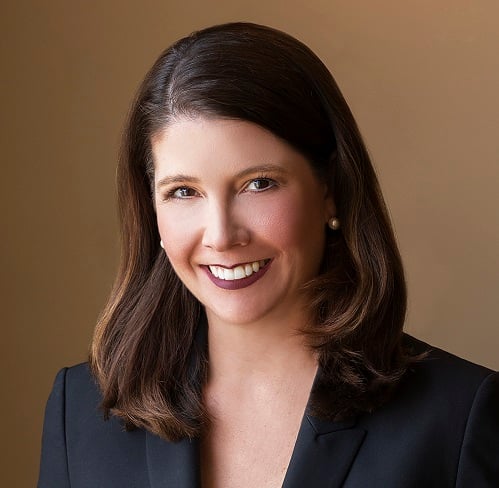 As featured on Fox News in the Morning, the Houston Business Journal, Houston Chronicle, and Houston Magazine, Paige Martin – a consistent Top Producing Broker-Associate and the owner of HoustonProperties.com – is ranked amongst the very top Keller Williams agents in the Houston area.
Paige is ranked as one of the best realtors in Memorial, Houston, and the state of Texas.
Paige was named the #1 Ranked Individual Agent in the Keller Williams Memorial Office for the last four years. She has been a consistent top producing agent, winning awards every year since 2007. Read more about the over 65 awards she's won in the last few years.
Paige works with a tremendous number of buyers and sellers in Memorial.
For a specific recommendation of neighborhoods, homes or properties based upon your personal style, goals & price point, please contact Paige Martin, Owner of HoustonProperties.com & Broker Associate at Paige@HoustonProperties.com or 713-384-5177.