Memorial Park Homes, Real Estate & Neighborhood Guide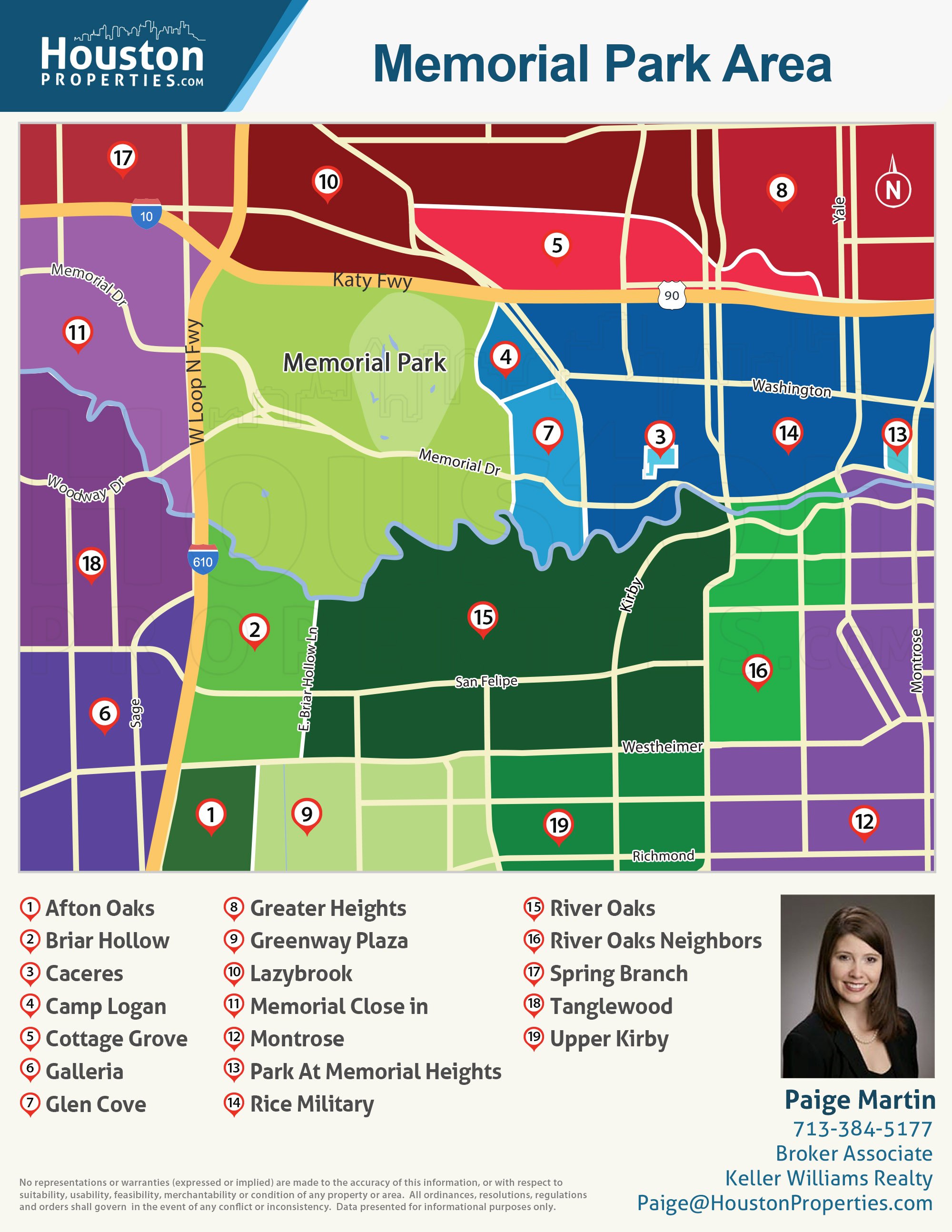 Search Memorial Park / Rice Military Homes For Sale
Statistics on the Rice Military Neighborhood
The Neighborhood surrounding Memorial Park Houston TX (including Rice Military) is one of the most desired neighborhoods in Houston's Inner Loop.
Memorial Park is one of the three largest municipal parks in the downtown Houston, inner-loop area (the other two — MacGregor and Hermann — do not have off-road trails). Memorial is a 7-10 minute drive directly west of downtown Houston along Memorial Parkway.
As you drive through the park on Memorial you will see several trailheads leading off into the woods, especially towards the southern side of the park. Any of these will lead you to the main artery of trails that meander through the wooded areas
Memorial Park Houston TX Information
Memorial Park is a roughly square section of land that is about 1,600 acres in size. If you look on a detailed map of Houston, you will see it to the northwest of the Downtown Houston area. It is bordered to the north by the I-10 Interstate, to the west by the I-610 Loop, and to the south by Buffalo Bayou. Thinking of the park as a square divided into four quadrants (NE, NW, SE, and SW), look to do most of your trail running in the SE, SW, and NW sections. All the wooded areas in these parts of the park are chris-crossed by trails. In fact, there is such a myriad of trails that there is no one route to follow…
Hiking, Biking & Running
Memorial park is Houston's largest with an 18-hole golf course, tennis center, swimming pool, picnic grounds, softball fields, hiking and biking paths, and Arboretum.
The woods and trails in the parks SW and NW quadrants are less biked. All the trails vary in size from narrow footpaths to wide, unused fire roads. The terrain varies from extremely undulating (with "camel hump" sequences rising and falling sharply anywhere from 5 to 40 feet) to perfectly flat.
Besides the Bayou itself, there are creeks, ponds, a few open fields, a railroad, and a couple of swamps to run through, beside, or around. The woods are dense, and populated particularly with tall pines. The trails take you adjacent to an equestrian center, as well as the Houston Nature Center and Arboretum. There are also tunnels underneath the two major thoroughfares traversing the park (Memorial and Woodway). These tunnels connect the various trails and allow runners to avoid negotiating directly across traffic, which can be both thick and speedy at times. Runners keeping a steady pace of 8-9 minutes/mile can easily run these trails for as much as 2 hours with little or no backtracking. Be prepared to bring water, however — Houston weather is notoriously scalding and humid (even during the "winter" months) and, as of yet, there are no water stops directly on the trails — though the park itself has many.
Memorial Park Housing
Redevelopment of the MEMORIAL PARK area's housing with high-end single-family, patio home and town home properties has overtaken this area, once the home of artists and working-class families.
Rice Military is a rapidly changing area that has become popular in the last few of years because of it's proximity to Memorial Park, the Galleria & Downtown Houston. Unlike the Houston Heights where preservationists restore whenever possible, tiny inferior homes in Rice Military have been torn down & beautiful but moderately priced town homes & contemporary metallic buildings have taken their place.
Because of the exciting atmosphere of this great urban neighborhood, it's a wonderful area for Houston's young architects and developers to build more aviate guard designs.
E mail Paige@HoustonProperties.com or call 713/384-5177 for more information about the Memorial Park area and Rice Military in Houston.