Memorial Villages TX Neighborhood Guide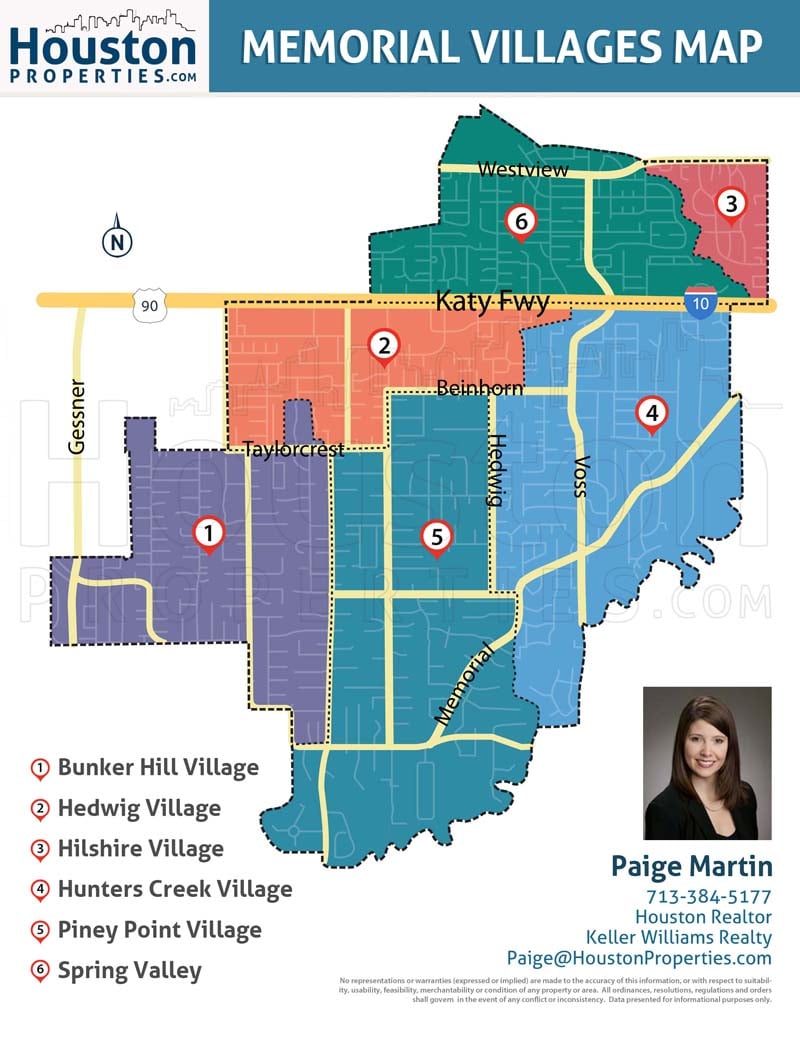 A collection of six independent villages, the distinctively luxurious Memorial Villages is a quiet residential enclave.
Memorial Villages, or simply the "Villages," is located along Katy Freeway, west of Greater Houston. Its elegant homes and upscale estates remain popular due to its:
GREAT ACCESSIBILITY: Memorial Villages residents enjoy easy access to major roads leading to Downtown and Medical Center. Another major employment center, the Energy Corridor, is a short drive away.
EXCELLENT SCHOOLS: Memorial Villages homes are zoned to the Spring Branch ISD. National Blue Ribbon Schools, including Memorial High School and Stratford High School, serve the Villages.
PEACEFUL AND PRIVATE COMMUNITY: With deed restrictions and its own governing bodies in place, Memorial Villages maintain a quiet and private ambience. It also has its own police force and fire department.
PROXIMITY TO SHOPPING AND ENTERTAINMENT: The CityCentre and the Memorial City Mall offer great retail and dining options. The Galleria is within minutes of Memorial Villages.
LUXURY REAL ESTATE: The Memorial Villages boast of estate-style homes sitting on oversized lots. Homes in the Villages include beautifully renovated country-style homes and new construction estates.
One of the most expensive areas in Texas, Memorial Villages presents a unique blend of upscale homes, tree-lined streets, and great schools. Hunters Creek, Piney Point, Hedwig, Bunker Hill, Spring Valley, and Hilshire each has its own identity.
Memorial Villages cover a large area with each village having its own set of deed restrictions. It had a 71% real estate appreciation growth over the last 10 years. The real estate market is competitive and the area can be challenging to navigate.
For any inquiries about Memorial Villages homes recommendations, or off-market MLS listings, get in touch with Paige Martin, Owner of HoustonProperties.com and one of the top ranked realtors in Houston.
Memorial Villages Resources (Popular Topics)
Memorial Villages TX Neighborhood Profile
Guide To The Six Memorial Villages
Memorial Villages Real Estate Guide
Paige Martin – Memorial Villages Realtor
Memorial Villages TX Maps and Location
The six independent villages collectively known as the Memorial Villages are located along Interstate 10.
The Buffalo Bayou borders the Villages on the south. Two villages, Spring Valley and Hilshire, rest north of the I-10. Hunters Creek, Piney Point, Hedwig, and Bunker Hill are south of the freeway.
Hunters Creek, Piney Point, Hedwig, Bunker Hill, Spring Valley, and Hilshire Village feature joint police and fire departments. The Hunters Creek, Bunker Hill and Piney Point operate the Memorial Villages Police Department, while the Village Fire Department serve all six villages. Memorial Villages also has its own water authority.
Each village elects their own mayor and city council members.
Memorial Villages are mostly residential, as commercial establishments are only allowed outside the villages' borders. Shopping centers are notably found on the fringes of Memorial Villages. These restrictions help in keeping the area a private, quiet enclave just outside the hustle and bustle of Houston.
Memorial Villages TX is under the 77024 zip code of Harris County. Forbes has listed 77024 as one of the most expensive zip codes in the country.
Zip codes near Memorial Villages include: 77055, 77008, 77007, 77019, 77027, 77056, and 77057. (View Houston zip code map.)
Fun Things To Do Near Memorial Villages
Memorial Villages has plenty of green spaces in and around its borders. There's Bendwood Park, located beside the Wildcat Way and Bendwood School. It features two children's playgrounds and tennis courts, and is large enough to play team sports in.
The 1,466-acre Memorial Park is located east of Memorial Villages. It features the Houston Arboretum and Nature Center, the Memorial Park Golf Course, and several nature trails. The 18-hole Memorial Park Golf Course has a course rating of 73 and a slope rating of 122.
Apart from this public golf course, Memorial Villages also has members-only country clubs, including Lakeside Country Club and Houston Country Club.
Memorial Villages also presents plenty of shopping options. The Memorial City Mall is a large shopping mall located along the I-10. Its anchor stores include Dillard's, Macy's, JCPenney, Sears, and Target.
The CityCentre is located along the West Sam Houston Parkway N (Beltway 8) and Interstate 10.  The new pedestrian-friendly mall now features several restaurants including RA Sushi and Eddie V's Prime Seafood.
Here are some of the must-visit places in and around Memorial Villages:
Golf
Lakeside Country Club
Houston Country Club
Memorial Park Golf Course
Shopping
Memorial City Mall
CityCentre
Marge Entertainment Center
The Galleria
Hedwig Village Shopping Center
Fine Dining
Fleming's Prime Steakhouse & Wine Bar
Masraff's
Brenner's Steakhouse
Perry's Steakhouse and Grille
KUU Restaurant
Taste of Texas
Tony's
Dining
Orange Lunch Box
Izakaya Wa
Jonathan's The Rub
LA Crawfish
Sal Y Pimienta Kitchen
The Union Kitchen
Empire Turkish Grill
The Brisket House
Pappasito's Cantina
RA Sushi
Eddie V's
Sushi Jun
A Moveable Feast
The Egg & I
Olde Towne Kolaches
Liebman's
Bistro Provence
Lemon Tree
Sam's Deli Diner
Nightlife
The Marque
Pinot's Palette
024 Lounge
Memorial Wine Cellar
Monnalisa Bar
Twin Peaks
Seasons 52
Parks
Bendwood Park
Tanglewood Park
Edith L. Moore Nature Sanctuary
Hedwig Park
Terry Hershey Park
Texas Heritage Park
Flag Tree Park
Anne Wilford Memorial Park
Memorial Park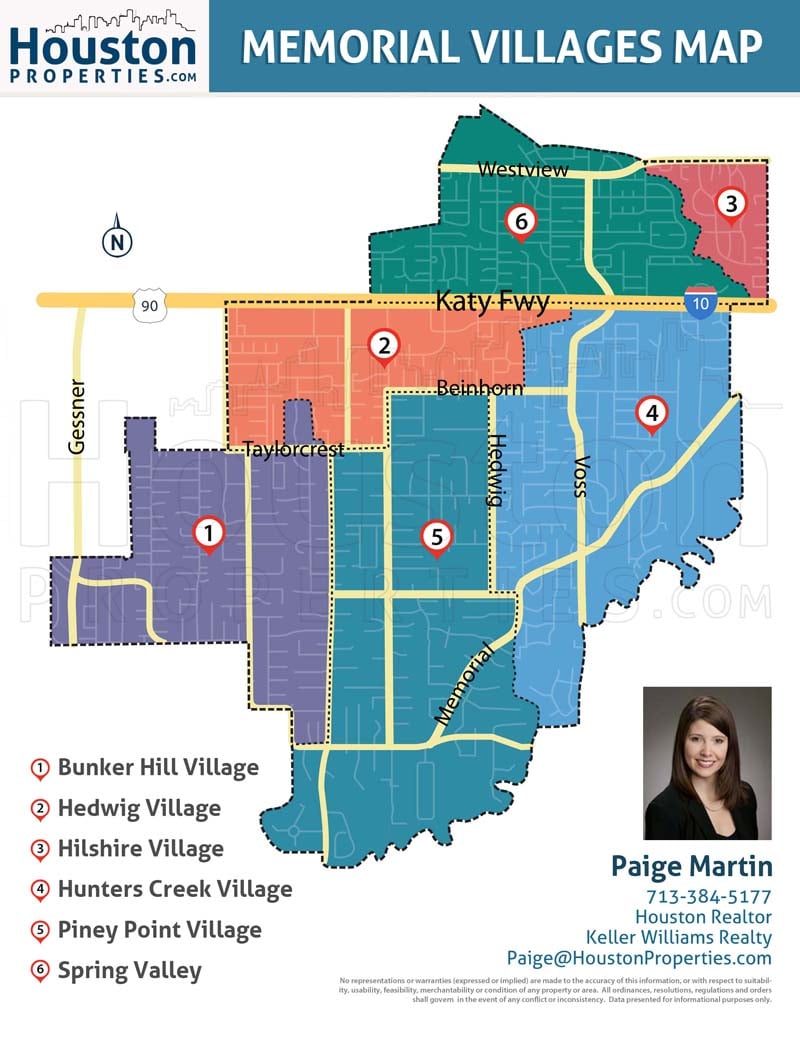 Neighborhoods Near Memorial Villages
Neighborhoods near Memorial Villages TX include:
Memorial Villages TX History
During the 1930s, the Memorial Villages were a group of large farms and country estates west of Houston. In the 1950s and 60s, Houston experienced a suburban boom and started extending its borders outside the Inner Loop (Interstate 610).
To prevent annexation by the city of Houston, the six independent villages, Hunters Creek, Piney Point, Hedwig, Bunker Hill, Spring Valley, and Hilshire, joined together to be collectively known as the Villages, or Memorial Villages.
The construction of Interstate 10 in 1968 sparked an interest in the area. It was during this period in the late 1950s that development of upper-middle-class subdivisions along the Buffalo Bayou started in earnest.
Commercial establishments bloomed along main roads, most notably Memorial Drive. Government facilities, including schools and fire and police services, followed suit.
The Memorial Villages continued to prosper, and the area saw more upscale developments. More people moved to the Villages during the 1980s.
Development in the area is a bit uneven and this has resulted in a number of housing styles in Memorial Villages. Single-family homes range from Georgian-style houses, smaller cottages, and bungalows. Townhomes and condominiums are not as common, but are present in the neighborhood.
Today, the Villages are some of the most luxurious and expensive neighborhoods in Texas. Gated subdivisions, upscale homes, and sprawling estates have replaced the old farms and stables that used to populate the area.
Memorial Villages Schools
Memorial Villages is known for its exemplary schools. The majority of students in Memorial Villages attend schools from the Spring Branch Independent School District (SBISD).
The SBISD has a 5-year plan known as a T-2-4 that aims to prepare its students for college or post secondary training. The school district has several award-winning schools, with many recognized as National Blue Ribbon Schools.
Public Schools:
Pre-K and Elementary
Wildcat Way School at 12754 Kimberley Ln. Completed in 2002, Wildcat Way provides quality early education for Memorial Villages area students.
Bunker Hill Elementary School at 11950 Taylorcrest. Located in Bunker Hill Village, this school was honored as a National Blue Ribbon School in 1991-92. It is also a TEA Exemplary and Gold Performance School that serves students in grades K to 5. It has a GreatSchools.org rating of 9 out of 10.
Frostwood Elementary School at 12214 Memorial Dr. Another National Blue Ribbon School (1989-90, 2005), Frostwood Elementary serves grades K to 5. It has a GreatSchools.org rating of 10 out of 10.
Memorial Drive Elementary School at 11202 Smithdale Rd. Located in Piney Point Village, Memorial Drive is a National Blue Ribbon School in 1996-97. It serves grades PK to 5 and regularly hosts City Council meetings. It has a GreatSchools.org rating of 10/10.
Hunters Creek Elementary at 10650 Beinhorn Rd. Also known as HCE, Hunters Creek is another National Blue Ribbon School (1993-94) located in Memorial Villages. It has a GreatSchools.org rating of 8/10.
Bendwood Campus Elementary School at 12750 Kimberly Ln. Bendwood is a a special needs school that offers a Preschool Program for Children with Disabilities (PPCD) and a Gifted and Talented (GT) program.
Middle School
Memorial Middle School at 12550 Vindon Dr. A National Blue Ribbon School (1988-89), MMS provides great academics and athletics programs for students in grades 6 to 8. It has a GreatSchools.org rating of 10/10.
Spring Forest Middle School at 14240 Memorial Dr. Spring Forest offers several academic, sports, and fine arts programs. The school offers Pre-AP and GT classes, with high school credits in several subjects. It was also a National Blue Ribbon School (1994-96).
Spring Branch Middle School at 1000 Piney Point Dr. Located in Hedwig Village, Spring Branch offers electives in Family and Consumer Science, Foreign Language, and Technology Education. The school has a special education program as well. It was a National Blue Ribbon School (1997-98).
High School
Memorial High School at 935 Echo Ln. Memorial High is located in Hedwig Village. It has received numerous awards and recognitions, including the TAKS Gold Performance Award and College Readiness Award. It was also named a National Blue Ribbon School (1988-89), an Honor Roll School, and as one of the Top 10 Best High Schools in the Area.
Stratford High School at 14555 Fern. Stratford High School has great athletics programs in several sports including basketball, baseball, football, and diving. Like Memorial, Stratford has also received several awards (Gold Medal School, Gold Performance Award, and College Readiness Award) and honors (National Blue Ribbon School, 1983-84). It had an Exemplary TEA rating in 2002.
Westchester Academy for International Studies at 901 Yorkchester. WAIS is a Spring Branch ISD charter magnet school, an International Baccalaureate World School, and a National Blue Ribbon School (2011-2012).
Private Schools:
Memorial Villages also has several private schools within its borders. Here are some of them:
Chapelwood Pre-School at 11140 Greenbay St.
St. Cecilia Catholic School at 11740 Joan of Arc
Montessori Morning Glory School at 737 Bunker Hill Rd.
Campbell Learning Center at 1440 Campbell Rd.
The Kincaid School at 201 Kincaid School Dr.
Duchesne Academy of the Sacred Heart at 10202 Memorial Dr.
To find an updated listing of all Memorial Villages real estate zoned to any specific public school, please send an email to Paige Martin at Paige@HoustonProperties.com with the property preference and budget that you're working with.
*Note: School zoning tends to change from year to year, information provided above are accurate but not guaranteed. Please double check by visiting the school's website.
Memorial Villages Real Estate Trends
Memorial Villages is one of the most affluent areas west of Houston. It features grand estate style homes that sit on sprawling lots. Manicured lawns and tree-lined drives are common in the area.
New construction homes are common as well, though there are some single-family homes that survived the teardown trend. A number of these homes were either updated or restored.
Memorial Villages is often compared to Houston's most expensive neighborhood, River Oaks. The neighborhoods are indeed similar to some degree, but have a number of differences.
Lot sizes in Memorial Villages are comparably larger – some properties boast of 100,000 square feet of land area. Memorial Villages homes also boast of a more private, quiet atmosphere, being independent from the metropolis.
Memorial Villages feature older ranch-style homes, beautifully updated homes, and sprawling estate-style homes. Prices start at $500,000 for older homes, while newer construction country estates can sell for as much as $12,000,000.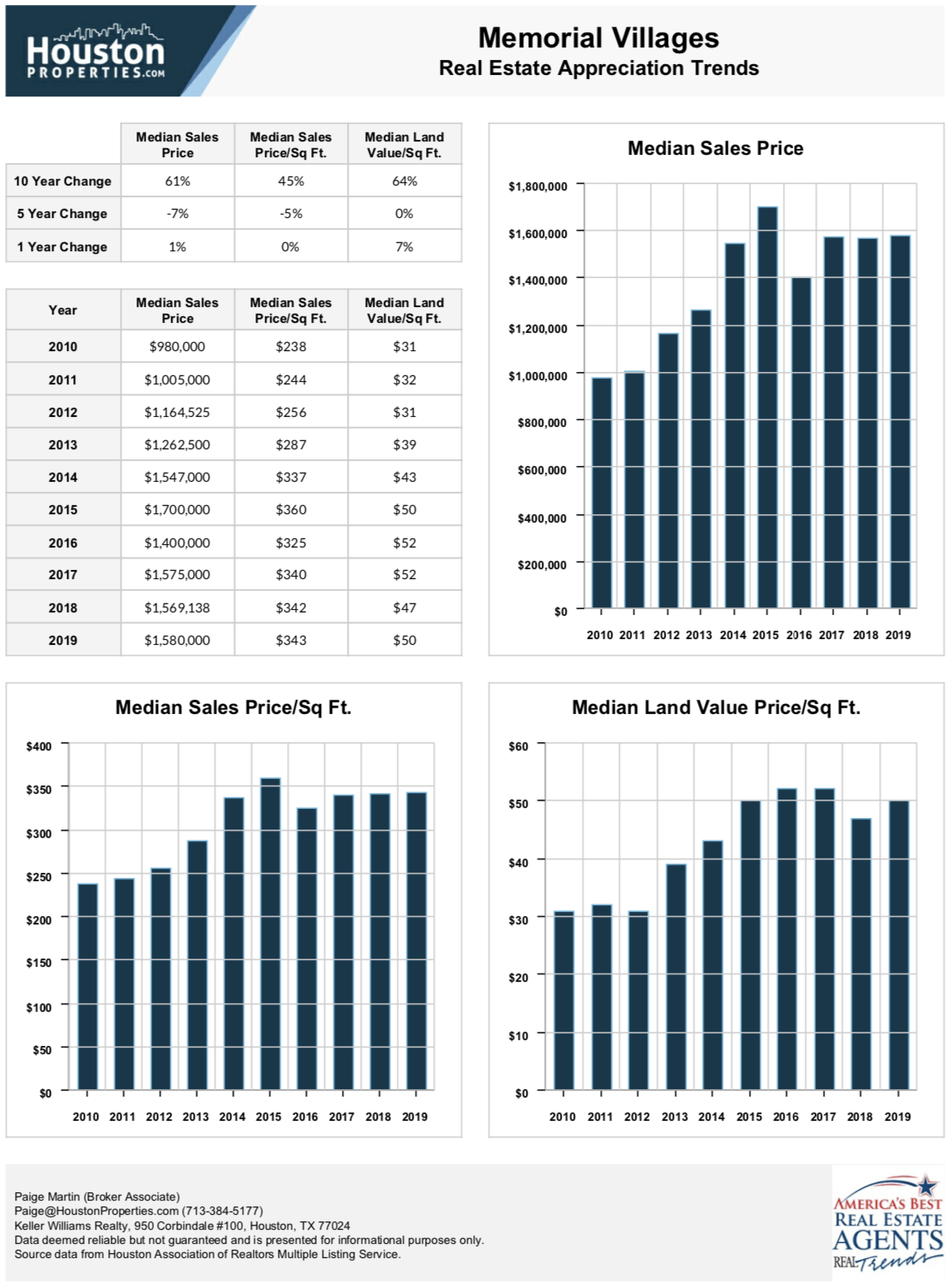 (Data sourced from the Houston Association of Realtors Multiple Listing Service and is deemed reliable but not guaranteed.)
For updated information regarding Memorial Villages real estate pricing and trend analysis, please contact Paige Martin at Paige@HoustonProperties.com.
Memorial Villages Single-Family Home Sale Trends
Single-family homes are the Memorial Villages' main housing attraction. The Memorial Villages features a wide variety of homes, ranging from patio homes to grand estate-style homes.
Memorial Villages homes for sale typically feature larger lot areas, with an average of 4 bedrooms, and 4 and a half baths.
Architectural sensibilities vary from traditional, French, Georgian, and other styles.
Pricing depends on a number of factors, including size and location. Beautifully restored and updated homes and newer construction homes tend to be more expensive than older homes in smaller lots.
Memorial Villages Townhomes Sale Trends
There aren't many townhomes in the Memorial Villages area. Some have survived the teardown trend, most of which date back to the 1980s. Memorial Villages townhomes for sale can feature 3 bedrooms, 2 and a half baths, and 2-car garages.
Prices depend mainly on size and location, with older and smaller properties going for as low as $120,000. Others, located within gated communities, are more expensive at around $500,000 or higher.
Memorial Villages Condo Sale Trends
There are no high-rise or mid-rise condos in the Memorial Villages. There are, however, some units available in older complexes.
Some of the notable condo buildings in the Memorial area include:
To see other condos within the Inner Loop, see Inner Loop Houston Condos. To see more condos within and near the Memorial area, please see Memorial Houston Condos.
Memorial Villages TX Realtor – Paige Martin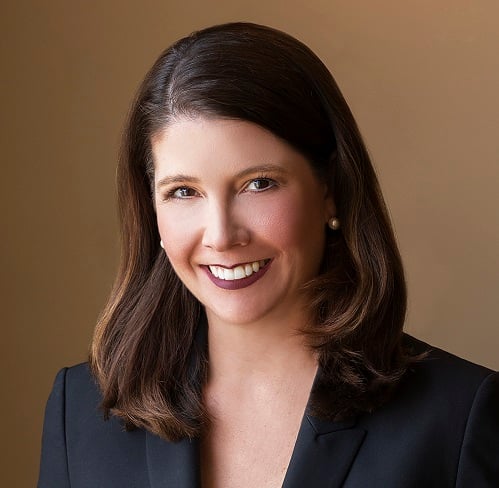 As featured on Fox News in the Morning, the Houston Business Journal, Houston Chronicle, and Houston Magazine, Paige Martin – a consistent Top Producing Broker-Associate and the owner of HoustonProperties.com – is ranked amongst the very top Keller Williams agents in the Houston area.
Paige is ranked as one of the best realtors in Memorial, Houston, and the state of Texas.
Paige was named the #1 Ranked Individual Agent in the Keller Williams Memorial Office for the last four years. She has been a consistent top producing agent, winning awards every year since 2007. Read more about the over 65 awards she's won in the last few years.
Paige works with a tremendous number of buyers and sellers in Memorial.
For a specific recommendation of neighborhoods, homes or properties based upon your personal style, goals & price point, please contact Paige Martin, Owner of HoustonProperties.com & Broker Associate at Paige@HoustonProperties.com or 713-384-5177.