Hedwig Village TX Neighborhood Guide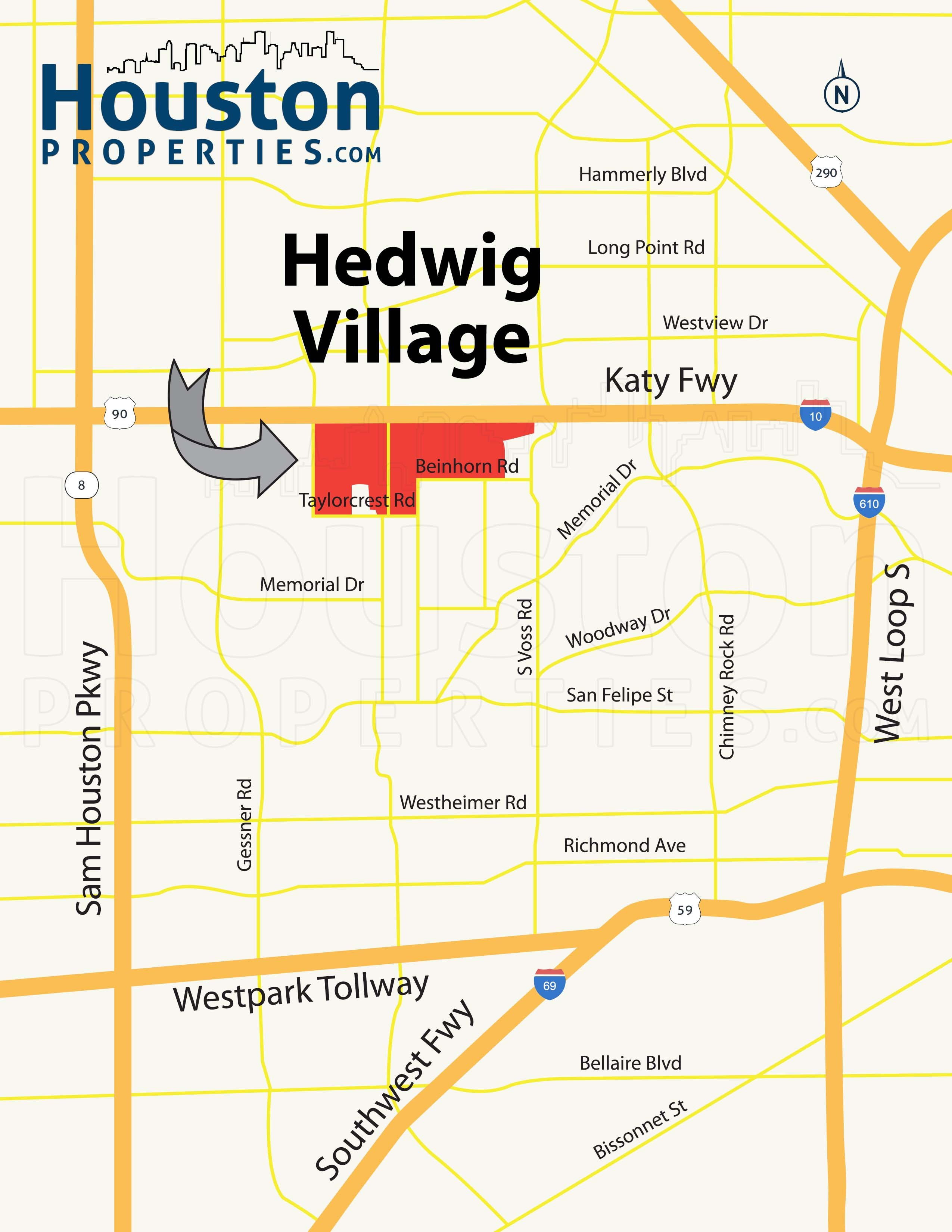 One of the independent cities that make up the Memorial Villages, Hedwig Village is an upscale neighborhood a few miles west of Downtown Houston.
Tree-lined streets, elegant mini-mansions, and ranch-style homes define the city's old country-living and new upbeat charm. Hedwig Village remains popular due to the neighborhood's:
EXCELLENT ACCESSIBILITY: Located along Katy Freeway, Hedwig Village features easy access to Inner Loop hubs including Downtown Houston and the Museum District. Another business center, the Energy Corridor is a few minutes west of the city.
ELEGANT HOMES: Hedwig Village homes sit on large, tree-roofed lots, with ample space for front- and backyards. A number of properties feature older ranch-style homes, though these are slowly being replaced with new construction custom-built manors.
ACCESS TO AWARD-WINNING SCHOOLS: The city is zoned to the Spring Branch ISD, well-known for its excellent schools. A number of schools are located within Hedwig Village, including Memorial High School, Spring Branch Middle School, and St. Cecilia School.
ACCESS TO RETAIL AND DINING OPTIONS: Unlike the other cities in the Memorial Villages, Hedwig Village allows commercial establishments within its borders. The Hedwig Village Shopping Center and the Echo Lane Shopping Center are located in Hedwig, along with offices and other businesses.
Hedwig Village's tree-lined streets and serene charm makes it an ideal location for families who want to live in a quiet neighborhood. The city's proximity to key Houston hotspots is a great plus, specially for professionals.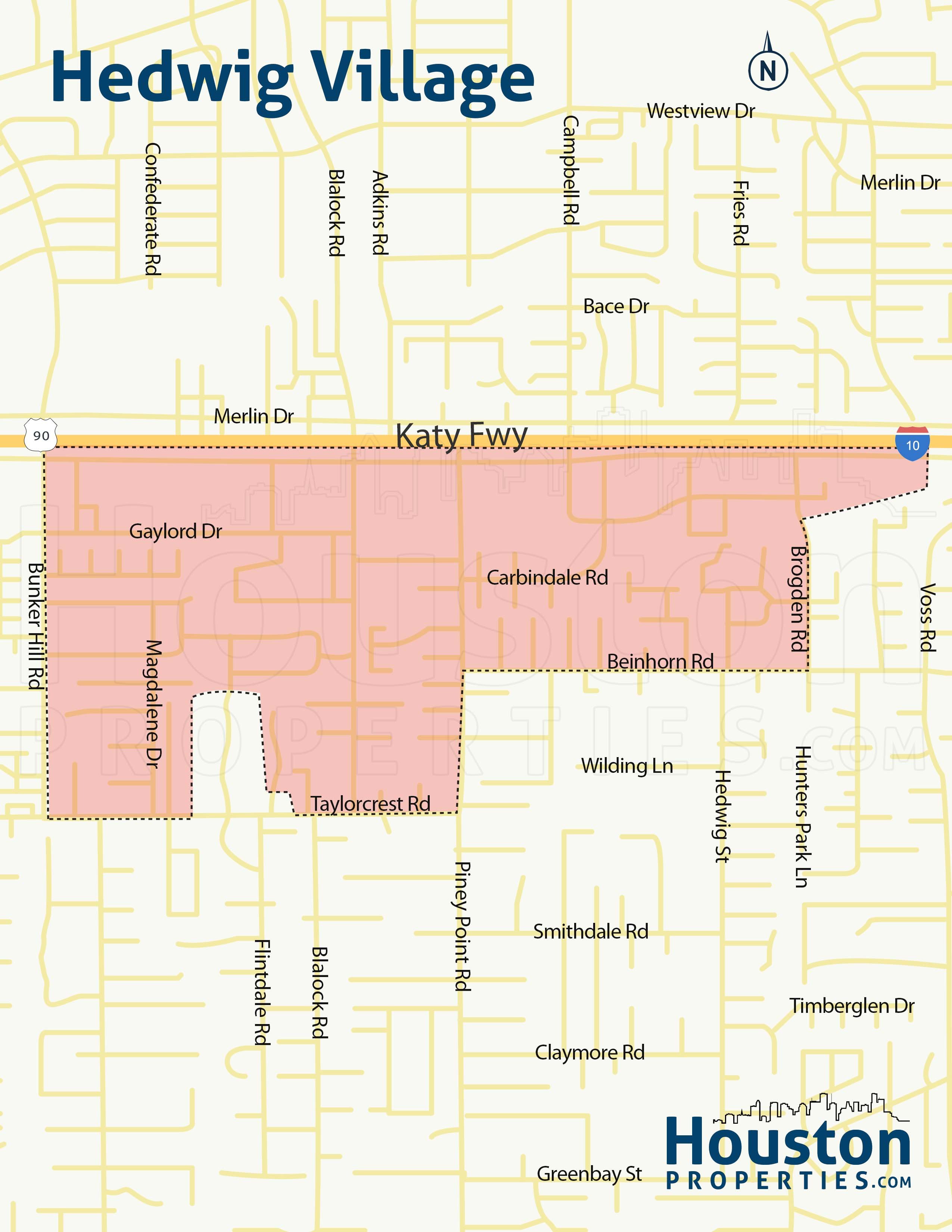 For any inquiries about Hedwig homes recommendations, or off-market MLS listings, get in touch with Paige Martin, Owner of HoustonProperties.com and one of the best Realtors in the city.
Hedwig Village TX Resources (Popular Topics)
Houston Hedwig Neighborhood Profile
Hedwig Real Estate Guide
Hedwig Village TX Maps and Location
Located about 10 miles west of Downtown Houston, Hedwig Village sits along the Katy Freeway (I-10).
It is among the four villages located south of the freeway and is bordered by Hunters Creek to the east, and Piney Point and Bunker Hill to the south. Spring Valley is located north of Hedwig Village, just across the I-10.
It is the second smallest among the Memorial Villages and one of the smallest municipalities in Harris County, having a total area of just 0.9 square miles.
Due to its strategic location, Hedwig Village provides easy access to and from major Houston hubs like The Galleria and Downtown Houston. The Energy Corridor, a major business and employment center, is a few minutes west of Hedwig.
Hedwig Village has a 77024 Harris County zip code.
Zip codes near Hedwig Village TX include: 77007, 77008, 77019, 77027, 77055, 77056, and 77057. (View Houston zip code map.)
Fun Things To Do Near Hedwig
Hedwig Village is unique among the Memorial Villages for having commercial establishments within its borders. Residents have easy access to retail, entertainment, and dining options.
Opened in 1974, the Hedwig Village Shopping Center features a number of stores and is located along Katy Freeway and Mustang Lane. The Echo Lane Shopping Center, on the other side of Mustang Lane and Katy Freeway, also offers retail and dining options.
Other shopping and entertainment options are readily available and are easily accessible via the I-10. The Memorial City Mall, the CityCentre, and The Galleria are minutes away from Hedwig Village.
Golf courses and country clubs are also within easy reach. Members-only clubs like the Lakeside Country Club, the Houston Country Club, and the Houston Racquet Club are located in nearby villages. A top-rated, 18-hole municipal golf course, the Memorial Park Golf Course, is a few minutes' drive away from Hedwig Village.
Residents can also find numerous entertainment, retail, and cultural options in key Houston hotspots like Downtown and the Museum District.
Here are a few must-visit places in and around the Hedwig Village area:
Dining
Hunan Inn Restaurant
Buffalo Wild Wings
Memorial Bakery
LongHorn Steakhouse
Firehouse Subs
La Fiesta
Russo's New York Pizzeria
Southwell's Hamburger Grill
A Moveable Feast
Kobe Japanese
Goode Company Seafood
Pappasito's Cantina
Taste of Texas
Jonathan's The Rub
Retail
Catherines
Kirkland's
Marshalls
DSW Designer Shoe Warehouse
Ross Dress For Less
Kroger
Walgreens
Shopping
Hedwig Village Shopping Center
Echo Lane Shopping Center
Memorial City Mall
CityCentre
The Galleria
Katy Reed Shopping Center
Marge Entertainment Center
Country Clubs and Golf Courses
Lakeside Country Club
Houston Country Club
Memorial Park Golf Course
Houston Racquet Club
Parks
Hedwig Park
Memorial Park
Terry Hershey Park
Bendwood Park
Corbindale Road Park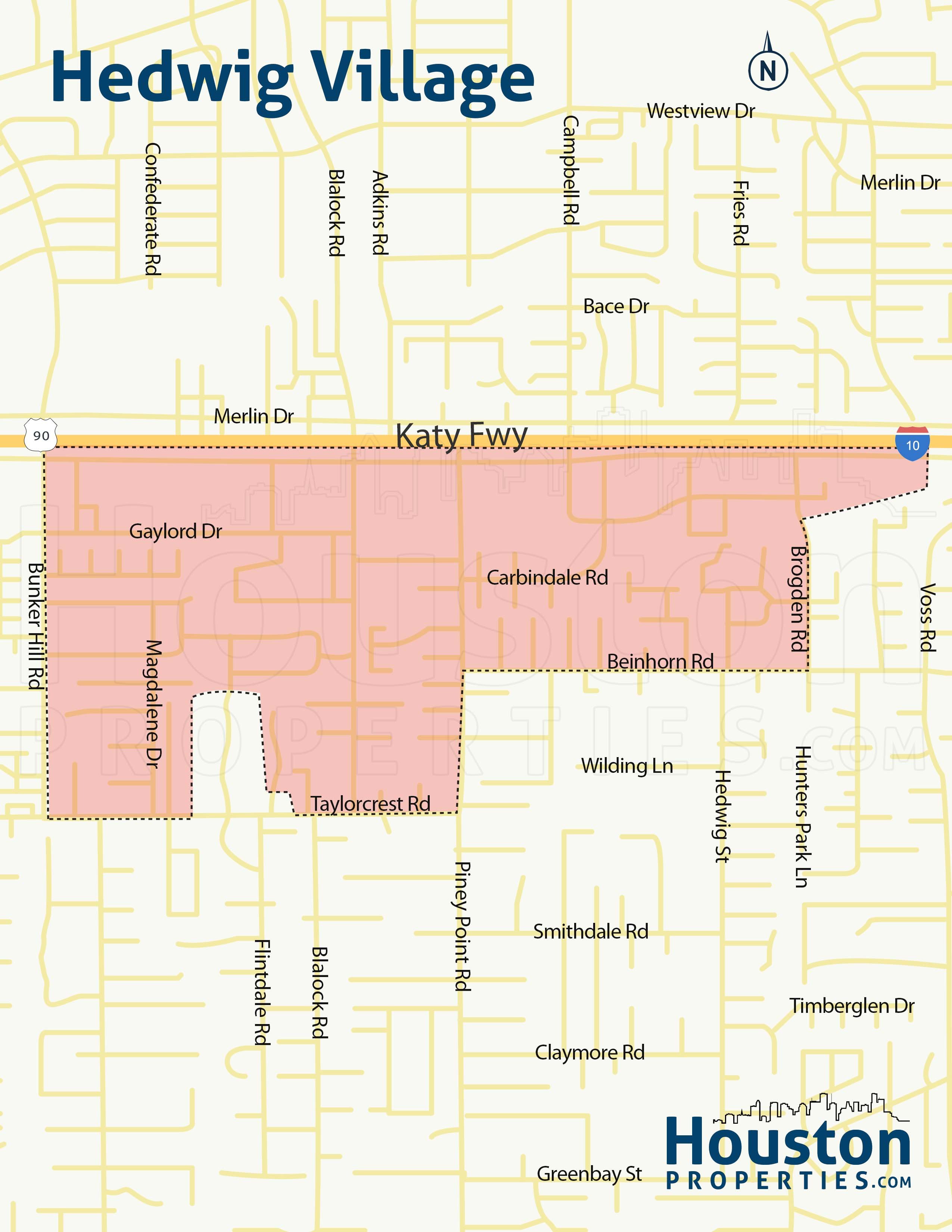 Neighborhoods Near Hedwig
Neighborhoods near Hedwig include:
Spring Valley Village
Hilshire Village
Hedwig Village TX History
In the early 1900s, farms and sawmills populated the Memorial area. The village's name itself is a nod to this early history, as it was named after Hedwig Road.
The road was named after Hedwig Jankowski Schroeder, who settled in the area in 1906 with her husband to farm. The German couple had donated a portion of their farm on which the road was built.
During the 1950s and 60s, development in the area started in earnest. The Katy Freeway's development, along with Houston's suburban boom, ushered in the development of upper-middle-class subdivisions along the Buffalo Bayou. Commercial establishments bloomed along the freeway. Houston was growing and was looking to extend its borders.
Along with the other 5 villages, Hedwig Village aimed to prevent annexation and preserve the area's country-living atmosphere. The municipality was officially incorporated in December 1954 with a mayor-council form of government.
Hedwig Village is served by the Villages Fire Department and the Memorial Villages Water Authority. The city operates its own police department.
A year after the city's incorporation, Hedwig Village adopted zoning ordinances. Unlike the other villages, Hedwig doesn't enforce deed restrictions, instead welcoming the commercial establishments along the Katy Freeway.
Today, Hedwig Village is an interesting mix of older single-family ranch-style homes, elegant mini-mansions, award-winning schools, stores, and restaurants.
Hedwig Schools
Hedwig Village is zoned to the Spring Branch Independent School District (SBISD). The city has a number of schools within its borders, including top-ranked Memorial High School and Spring Branch Middle School. Two private schools, St. Cecilia School and Duchesne Academy, are also located in Hedwig.
Public Schools:
Preschool and Elementary
Wildcat Way School at 12754 Kimberley Ln. Like most of the Memorial Villages, all students in Hedwig Village are zoned to Wildcat Way for preschool.
Memorial Drive Elementary School ay 11202 Smithdale Rd. One of Spring Branch ISD's award-winning schools, MDE was recognized as a National Blue Ribbon School (1996-97). The school is located in nearby Piney Point and has a GreatSchools.org rating of 10 out of 10.
Bunker Hill Elementary School at 11950 Taylorcrest. Located in Bunker Hill Village, this school was also recognized as a National Blue Ribbon School (1991-92). Along with that distinction, Bunker Hill Elementary is also a Gold Performance School and has an Exemplary TEA rating. The school serves K to 5 students and has a GreatSchools.org rating of 9 out of 10.
Middle School
Spring Branch Middle School at 1000 Piney Point Dr. Located within Hedwig Village, SBMS was recognized as a National Blue Ribbon School in 1997-98. It offers several electives in Foreign Language, Technology Education, and Family and Consumer Science. It also has a special education program.
High School
Memorial High School at 935 Echo Ln. Memorial High School is also located within the city of Hedwig Village. It was listed as one of the Top 10 Best High Schools in the Area, and has been named as a National Blue Ribbon School (1988-89) as well as an Honor Roll School. A recipient of the TAKS Gold Performance and College Readiness awards, MHS also has an excellent athletics program.
Private Schools:
St. Cecilia School at 11740 Joan of Arc Dr. This coeducational and non-profit school is within the Roman Catholic Archdiocese of Galveston-Houston. Located within Hedwig Village, SCS (or SCCS) serves grades Pre-K to 8 and offers a curriculum that focuses on six core subjects: Theology, Mathematics, Sciences, Social Sciences, Literature, and English).
Duchesne Academy of the Sacred Heart at 10202 Memorial Dr. Located near Hunters Creek Village, Duchesne Academy serves students from grades K to 12. This all-girls Catholic school is part of both the Archdiocese of Galveston-Houston and the Independent School Association of the Southwest.
The Kinkaid School at 201 Kinkaid School Dr. Located in Piney Point Village, Kinkaid is one of the most prestigious private schools in the area. Founded in 1906, The Kinkaid School offers excellent academics and athletics programs.
The Parish School at 11001 Hammerly Boulevard. A part of the Houston Area Independent Schools, The Parish School is a non-profit private school that offers students with language, communication, or learning deficiencies with alternative learning programs and therapy.
To find an updated listing of all Hedwig real estate zoned to any specific public school, please send an email to Paige Martin at Paige@HoustonProperties.com with the property preference and budget that you're working with.
*Note: School zoning tends to change from year to year, information provided above are accurate but not guaranteed. Please double check by visiting the school's website.
Hedwig Real Estate Trends
As part of the Memorial Villages, Hedwig Village is one of the most desirable close-in areas west of Houston. While the municipality doesn't enforce deed restrictions – and therefore commercial establishments are allowed within its boundaries – it has still managed to preserve some of its old charm and perhaps develop a new one.
Though the Memorial Villages' real estate market in general has marked fairly healthy growth over the past decade, Hedwig Village has one of the most impressive individual markets in the area. The median sales price of single-family Hedwig homes for sale was $737,500 in 2005. This figure jumped by a whopping 142% to $1,787,500 in 2014.
Average price per square foot has increased by over half, while lot prices have appreciated by 143%.
Though not as expensive as its immediate neighbors Piney Point and Hunters Creek, Hedwig Village still features some of the most expensive homes in the area. Prices in Hedwig Village can range from just under $1,000,000 to more than $2,700,000.
Lot areas are smaller compared to Piney Point, but are still relatively bigger than in most areas. Lot sizes can range from 10,000 to 30,000 square feet.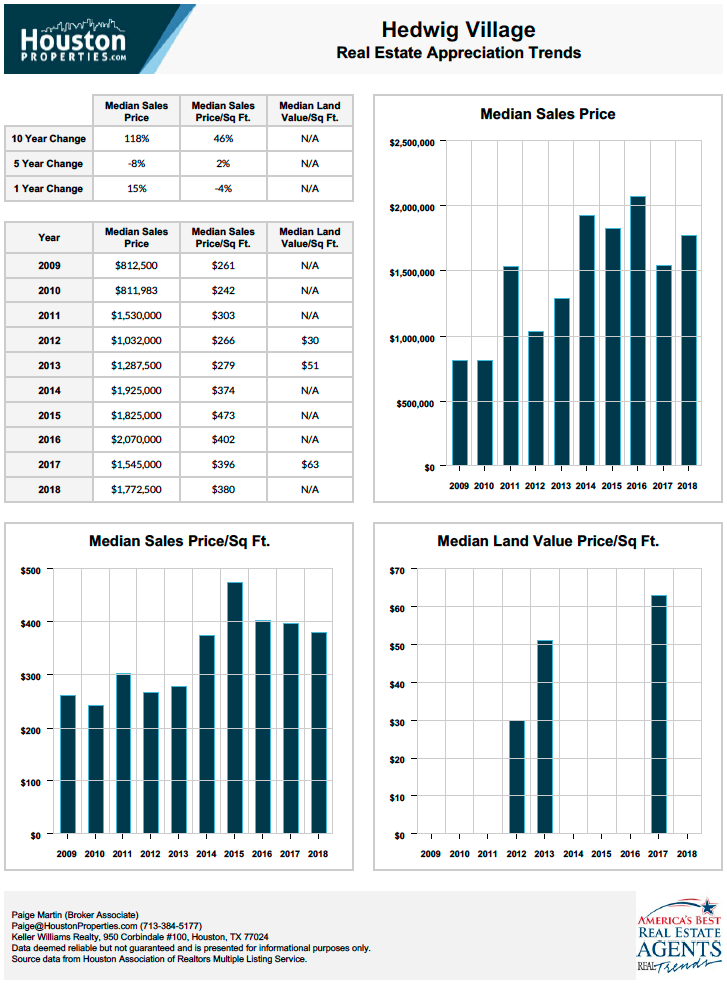 (Data sourced from the Houston Association of Realtors Multiple Listing Service and is deemed reliable but not guaranteed.)
For updated information regarding Hedwig real estate pricing and trend analysis, please contact Paige Martin at Paige@HoustonProperties.com.
Hedwig Single-Family Home Sale Trends
Though Hedwig Village doesn't enforce deed restrictions like its neighbors, the community does have zoning ordinances and building codes. Like Piney Point and Hunters Creek, single-family homes are the main housing attraction in Hedwig.
Homes in the area range from old ranch-style homes to mini-manors. Styles and home sizes vary, though most feature ample living space and large lots.
Floor plans can include 4 bedrooms and 4 baths, though more luxurious properties can feature 7/6 floor plans.
Like most of the Memorial Villages, older homes in Hedwig tend to sell for lower prices compared to more modern, custom-built homes. The Hedwig real estate market has another thing in common with its neighbors: a teardown trend replacing older ranch-style homes with custom-built mansions.
Hedwig Townhomes Sale Trends
Townhomes are not very popular in the Memorial Villages in general. Most Hedwig Village real estate feature detached, single-family homes. There are townhomes available in nearby areas.
Hedwig Condo Sale Trends
Like the rest of the Memorial Villages, there are no mid-rise or high-rise condominiums in Hedwig Village. There are some units available in older apartment complexes.
There are, however, some condos in the Memorial Area:
To see other condos within the Inner Loop, see Inner Loop Houston Condos. To see more condos within and near the Memorial area, please see Memorial Houston Condos.
Hedwig Village TX Realtor – Paige Martin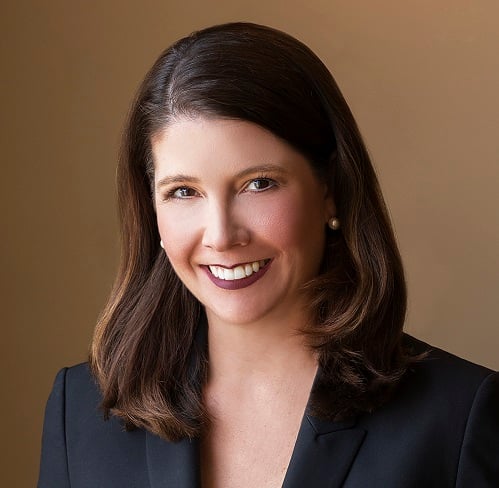 Paige Martin is a dependable realtor in Hedwig, Houston, and the State of Texas.
Featured in the Houston Business Journal, Houston Magazine, Houston Chronicle, and Fox News in the Morning, Paige Martin has received various awards as a Top Producing Broker-Associate and is owner of HoustonProperties.com.
Paige is also a top ranking Keller Williams agent in the Houston area. Read more about the over 65 awards she's won in the last few years.
Paige works with a tremendous number of buyers and sellers in Hedwig Village, earning praises such "Paige Martin is the best Hedwig Village realtor" along the way. You can check more client feedback about Paige as well as her list of awards and client ratings here: Client Testimonials.
For a specific recommendation of neighborhoods, homes or properties based upon your personal preference, goals and price point, please contact Paige Martin, Owner of HoustonProperties.com & Broker Associate at Paige@HoustonProperties.com or 713-384-5177.