Hunters Creek Village TX Neighborhood Guide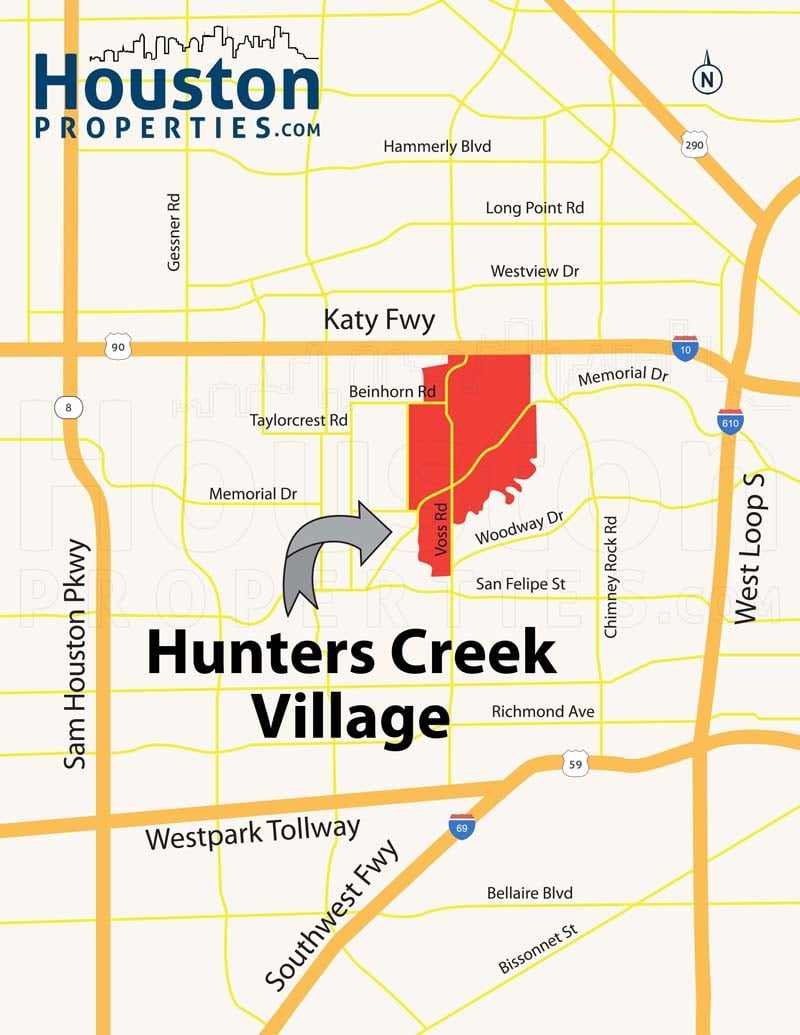 Hunters Creek is one of the most expensive suburbs in Texas. It is an independent city and is part of the six villages that make up the Memorial Villages.
Homes in Hunters Creek Village are in great demand due to their:
QUIET AND VERDANT LOCATION: Originally a farming community, Hunters Creek took great care to maintain its wooded surroundings, and preserve its tranquil charm.
PROXIMITY TO INNER LOOP: Among the Villages, Hunters Creek is located on the easternmost area and nearest Loop 610. The Galleria is a short drive away, along with other key Houston districts like Downtown, Museum District, and Medical Center.
ACCESS TO TOP RANKED SCHOOLS: Hunters Creek is zoned to both the Spring Branch ISD and the Houston ISD. Award-winning schools like Lamar High School and Memorial High School serve the neighborhood.
LARGE LOTS: The average lot area of Hunters Creek homes for sale is half acre, or 21,780 square feet. Long driveways, sprawling lawns and backyards are common in the area, giving additional privacy to homeowners.
ELEGANT, LUXURY HOMES: Homes in Hunters Creek range from older ranch-style homes to custom-built luxury homes. New construction and restoring old houses is a popular trend in the area.
Hunters Creek is an upscale neighborhood that preserves the charm for which the Memorial Villages are known: serene and stylish living a stone's throw away from big city Houston.
With new construction on the rise, homebuyers will benefit from the advice and recommendations of the best Houston realtor.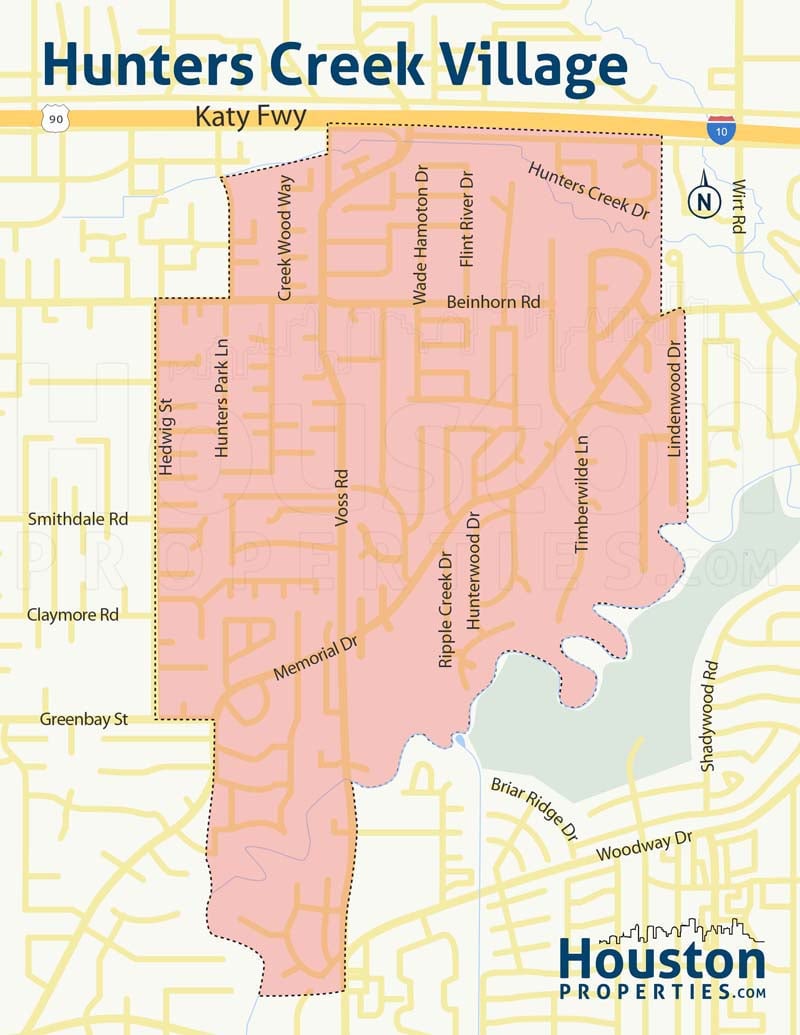 For any inquiries about Hunters Creek homes recommendations, or off-market MLS listings, get in touch with Paige Martin, Owner of HoustonProperties.com and one of the best realtors in Memorial Houston.
Hunters Creek Village Resources (Popular Topics)
Hunters Creek Village TX Neighborhood Profile
Hunters Creek Real Estate Guide
Paige Martin – Hunters Creek Realtor
Hunters Creek Maps and Location
Hunters Creek Village TX covers approximately 2 square miles, located along Katy Freeway (I-10).
The city is located on the easternmost part of the Memorial Villages, with Katy Freeway to the north, Hedwig Village to the northwest, Piney Point Village to the southwest, the Buffalo Bayou to the south, and Houston to the east. Spring Valley Village is across the freeway north of Hunters Creek.
The majority of the city's area sits north of the Buffalo Bayou, though a small portion juts out south of the Bayou.
Hunters Creek boasts of 6.33 miles of hike and bike paths.
Hunters Creek homes have easy access to major Houston centers, including The Galleria, Downtown, Museum District, and Medical Center. Further west is another major employment center, the Energy Corridor.
Hunters Creek Village has a 77024 Harris County zip code. The area south of the Bayou is under the 77063 zip code.
Zip codes near Hunters Creek Village include: 77055, 77008, 77007, 77019, 77027, 77056, and 77057. (View Houston zip code map.)
Fun Things To Do Near Hunters Creek Village TX
Like most of Memorial Villages, Hunters Creek has deed restrictions in place that forbid commercial establishments in the general area of the neighborhood. Stores, shopping centers, and restaurants are relegated to the fringes of the city.
Residents, nevertheless, have plenty of entertainment, shopping, and outdoor activity options.
Located in Hunters Creek, the Houston Racquet Club is a historic landmark, especially for tennis fans. It is cited as the birthplace of the modern WTA Tour. It still offers tennis and fitness facilities at its grounds at 10709 Memorial Drive.
Courtside Cafe and The Grill cater to members of the club. The club went into a reciprocal relationship with the Westwood Golf Club, located at 8888 Country Creek Drive. It features an 18-hole golf course and practice facilities (driving range and short game area).
Located in 1 Potomac Drive, the Houston Country Club is located just south of the Hunters Creek, across the Buffalo Bayou. Lakeside Country Club, another members only club, is located in 100 Wilcrest Drive.
Memorial Park Golf Course is just a short drive away from Hunters Creek. This 18-hole golf course is a top-rated municipal golf course. It has a 122 slope rating and a 73 course rating.
The Galleria, a major Houston shopping destination, is a few minutes from Hunters Creek. Other shopping hubs like the Memorial City Mall and the CityCentre are equally accessible from the neighborhood.
Hunters Creek residents also have access to entertainment, retail, and cultural hubs in Houston, including the Museum District and Downtown Houston.
Here are some of the must-visit places in and around Hunters Creek Village:
Sports and Outdoor Recreation
Houston Racquet Club
Houston Country Club Golf Driving Range
Lakeside Country Club
Memorial Park Golf Course
Forest Club
Westwood Golf Club
Restaurants
Vietnam Poblano
Masraff's
Thai Gourmet
Muscle Maker Grill
Orange Lunch Box
Cafe Mezza & Grille
Muiishi Makirritos
Zabak's Mediterranean Cafe
Buffalo Grille
Carrabba's
Escalante's
Sylvia's Enchilada Kitchen
Saltgrass Steak House
Goode Company Barbeque
Sweet Tomatoes
Cafes
French Riviera Bakery & Cafe
Barnaby's Cafe
Argentina Cafe
Collina's Italian Cafe
La Madeleine Country French Cafe
Cafe Express
Shopping
Katy Reed Shopping Center
Memorial Antiques & Interiors
Trader Joe's
The Galleria
Memorial City Mall
CityCentre
Parks
Hunters Creek Village Park
Memorial Park
Terry Hershey Park
Bendwood Park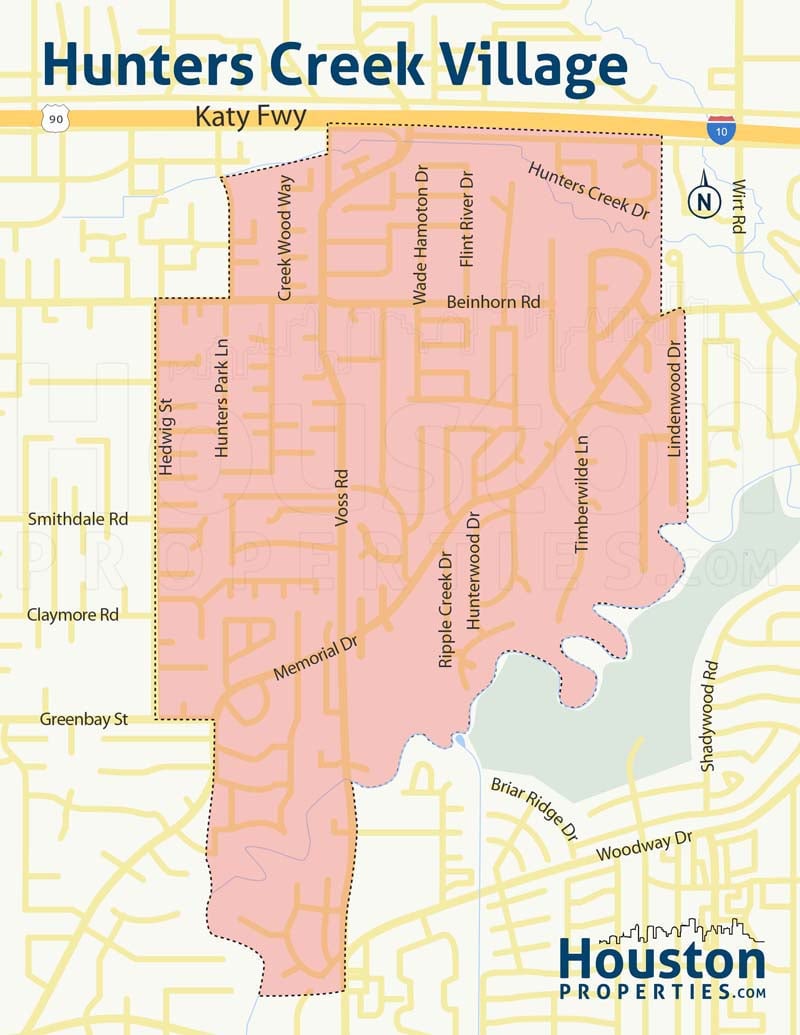 Neighborhoods Near Hunters Creek
Neighborhoods near Hunters Creek include:
Spring Valley Village
Hilshire Village
Hunters Creek Village TX History
The area now known as Hunters Creek Village used to be populated with sawmills. German farmers had settled there to cut timber, and those early settlers established sawmills there. In 1936, the site had a number of homes.
Like most of the Memorial Villages, growth in Hunters Creek started in earnest during the 1950s and 60s. Houston was experiencing a suburban boom during this same period and was expanding to include unincorporated neighborhoods around its borders.
Looking to prevent annexation and preserve residential zoning, Hunters Creek, along with 5 other villages, petitioned for incorporation.
In 1954, Hunters Creek was incorporated with a mayor-alderman type of government. By the mid-1960s, Hunters Creek Village had a school and a church.
From 1960 to 1980, the village's population almost doubled, from 2,478 to 4,580.
Today, Hunters Creek Village operates as an independent city. It also co-operates the Memorial Villages Police Department with Bunker Hill and Piney Point. The Village Fire Department and the Memorial Villages Water Authority serves all 6 villages.
Forbes lists Hunters Creek as one of the "Top Suburbs to Live Well" in 2008. In 2010, a BusinessWeek study named Hunters Creek Village as the most expensive suburb in Texas.
Among the most expensive neighborhoods in West Houston, Hunters Creek features gated subdivisions, upscale homes, and grand estates.
Hunters Creek Schools
Hunters Creek Village is zoned to both the Spring Branch ISD and the Houston ISD. Homes north of the Buffalo Bayou are under SBISD, while the southern portion is served by HISD.
All pre-schoolers are sent to Wildcat Way School. Hunters Creek Elementary is located within the city boundaries. Some residents are zoned to Memorial Drive Elementary located in Piney Point Village. Spring Branch Middle School and Memorial High School, both in Hedwig Village, serve students in Hunters Creek.
Residents south of the Buffalo Bayou are zoned to the HISD's Briargrove Elementary School, Grady Middle School, and Lee High School. Students may opt to attend Lamar High School or Westside High School.
Public:
PK and Elementary
Wildcat Way School at 12754 Kimberley Ln. Located beside Bendwood Park, this school is under the Spring Branch Independent School District. It serves early education for nearly all Memorial Villages area students.
Hunters Creek Elementary School at 10650 Beinhorn Rd. This school is located within the borders of Hunters Creek Village. HCE was recognized as a National Blue Ribbon School in 1993-94. It has an 8 out of 10 rating at GreatSchools.org.
Memorial Drive Elementary School at 11202 Smithdale Rd. Located in Piney Point Village, MDE is also a National Blue Ribbon School (1996-97). Serving students in grades PK to 5, it has a GreatSchools.org rating of 10 out of 10.
Briargrove Elementary School at 6145 San Felipe St. Accepted as a candidate in the International Baccalaureate (IB) Programme in 2013, Briargrove is looking to be authorized as an IB World School. It has an excellent academic program and offers afterschool programs as well.
Briarmeadow Charter School at 3601 Dunvale Rd. Like Briargrove, Briarmeadow is an International Baccalaureate Candidate School. It is an alternative charter school with Pre-AP, after school, and gifted programs. It has a GreatSchool.org rating of 9 out of 10.
Middle School
Spring Branch Middle School at 1000 Piney Point Dr. Another National Blue Ribbon School (1997-98) from the SBISD, SBM was a TEA Recognized Campus (2008 to 2010) and a TBEC Honor Roll School in 2008.
Grady Middle School at 5215 San Felipe St. Henry W. Grady Middle School is a TEA Recognized, International Baccalarreate World School (Middle Years Programme). It features excellent academic and athletics programs.
High School
Memorial High School at 935 Echo Ln. Located in Hedwig Village, Memorial High School has received a number of awards. Like Spring Branch Middle School, it is an Honor Roll School and a National Blue Ribbon School (1988-89). The school's excellence also extends to its athletics programs. The Memorial tennis was in the state finals from 2010 to 2012, while its football team is considered one of the best in the area.
Lee High School at 6529 Beverly Hill St. Houston ISD's Lee High offers an AP/Magnet program and its courses include Macroeconomcs, Calculus, Chemistry, and World History, among others. It houses a number of clubs, as well as a full complement of girls and boys varsity teams.
Lamar High School at 3325 Westheimer Rd. Located in Upper Kirby, Lamar High offers AP and neighborhood programs, as well as an International Baccalaureate Diploma Programme. Its great academics programs is complemented by the school's athletics programs. The Lamar Texans football team, formerly known as Redskins, is considered as one of the best teams in the Greater Houston area. Lamar also has one of the oldest lacrosse teams in Texas.
Westside High School at 14201 Briar Forest Dr. As HISD's Magnet School for Integrated Technology, Westside's academic program is divided into 5 strands: Fine Arts, Media Relations, Business, Applied Science/Health Science, and Computing Sciences. It also offers a 3-year entrepreneurial program.
Private Schools:
A number of private schools are located in and around Hunters Creek Village. The following are a few of them:
Duchesne Academy of the Sacred Heart at 10202 Memorial Dr.
Chapelwood Pre-School at 11140 Greenbay St.
St. Cecilia Catholic School at 11740 Joan of Arc
Montessori Morning Glory School at 737 Bunker Hill Rd.
Campbell Learning Center at 1440 Campbell Rd.
The Kincaid School at 201 Kincaid School Dr.
Second Baptist School at 6410 Woodway.
School of the Woods at 1321 Wirt Rd.
To find an updated listing of all Hunters Creek real estate zoned to any specific public school, please send an email to Paige Martin at Paige@HoustonProperties.com with the property preference and budget that you're working with.
*Note: School zoning tends to change from year to year, information provided above are accurate but not guaranteed. Please double check by visiting the school's website.
Hunters Creek Real Estate Trends
Like most of the Memorial Villages, growth is not possible for Hunters Creek Village. This, however, has led to homeowners replacing old ranch-style homes with custom-built homes equipped with modern luxuries.
A spike in sales prices due in part to the teardown trend is most notable in recent years: The median sales price in Hunters Creek increased from $1,115,020 in 2012 to $1,867,500 in 2013.
Over the past 10 years, Hunters Creek homes for sale have appreciated by an impressive 65%. Average price per square foot has increased by 55% during the same period.
Lot prices tend to fluctuate, though those too have marked a significant increase – from $32 per square foot in 2005 to $43 in 2014.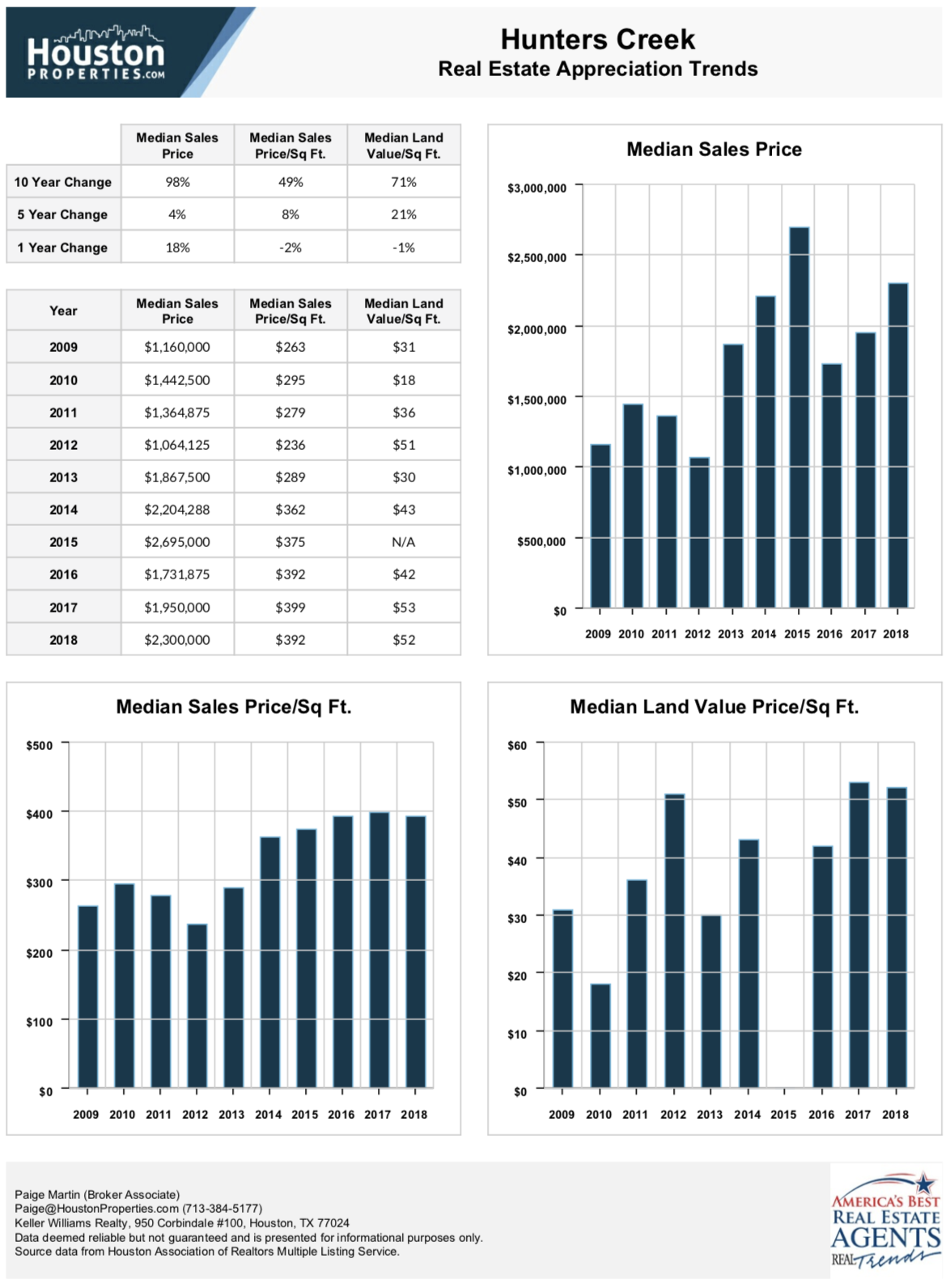 (Data sourced from the Houston Association of Realtors Multiple Listing Service and is deemed reliable but not guaranteed.)
For updated information regarding Hunters Creek real estate pricing and trend analysis, please contact Paige Martin at Paige@HoustonProperties.com.
Hunters Creek Village Single-Family Home Sale Trends
Hunters Creek Village homes are built according to deed restrictions and zoning ordinances. Much like the neighboring Villages, these standards maintain the look and feel of the area.
Some homes are within gated subdivisions that strictly comply to building regulations.
Most properties occupy large lot areas, ranging from 22,000 to more than 45,000 square feet. Architectural styles also vary. Some homes feature contemporary or French styles, though most lean toward traditional designs.
Floor plans may include 4 bedrooms and 3 and a half baths. Larger estates, however, can feature as many as 7 bedrooms, with garage space for 4 cars.
A number of factors affect pricing in Hunters Creek Village, including location, size, and age. Older homes on smaller lots tend to sell for lower prices, while newer construction homes and updated estates can sell for more than $3M.
Hunters Creek TX Townhomes Sale Trends
Townhomes are not very popular in Hunters Creek Village due to deed restrictions and local building codes.
There are, however, some townhomes within the vicinity and neighboring Houston districts.
Hunters Creek Condo Sale Trends
There are no highrise and midrise condos in Hunters Creek.
There are, however, a few condo buildings in the Memorial area, including:
To see other condos within the Inner Loop, see Inner Loop Houston Condos. To see more condos within and near the Memorial area, please see Memorial Houston Condos.
Hunters Creek Village Realtor – Paige Martin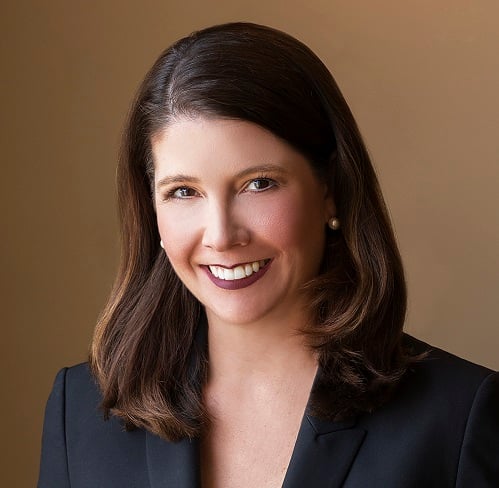 As featured on Fox News in the Morning, the Houston Business Journal, Houston Chronicle, and Houston Magazine, Paige Martin – a consistent Top Producing Broker-Associate and the owner of HoustonProperties.com – is ranked amongst the very top Keller Williams agents in the Houston area.
Paige is ranked as one of the best realtors in Memorial, Houston, and the state of Texas.
Paige was named the #1 Ranked Individual Agent in the Keller Williams Memorial Office for the last four years. She has been a consistent top producing agent, winning awards every year since 2007.
Paige works with a tremendous number of buyers and sellers in Hunters Creek, earning praises such "Paige Martin is the best Hunters Creek realtor" along the way. Read more about the over 65 awards she's won in the last few years.
For a specific recommendation of neighborhoods, homes or properties based upon your personal style, goals & price point, please contact Paige Martin, Owner of HoustonProperties.com & Broker Associate at Paige@HoustonProperties.com or 713-384-5177.