Piney Point TX Neighborhood Guide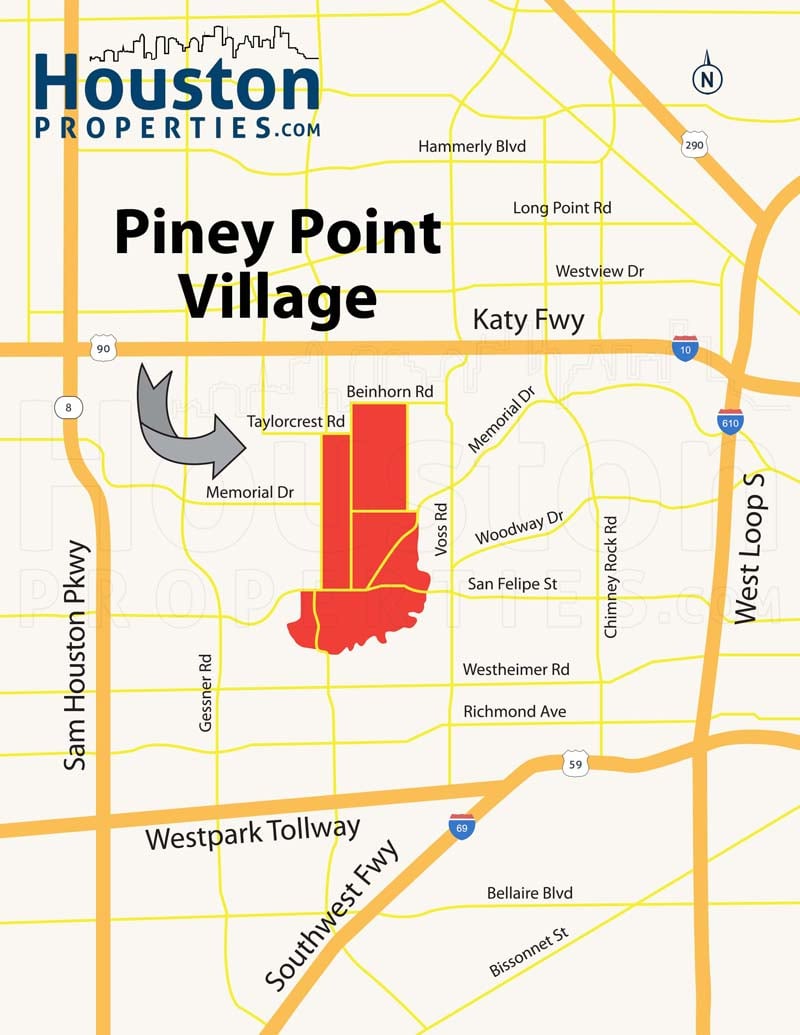 Piney Point Village is the wealthiest area in Texas by per capita income. It is part of the 6 independent cities that make up the Memorial Villages.
Opulence and luxury are staples in Piney Point homes. Real estate in Piney Point are highly desirable due to the following:
Central location: Piney Point Village is located in the south-central area of the Memorial Villages. Its location provides residents with easy commutes to and from key Houston hubs like The Galleria and Downtown.
Access to main thoroughfares: Piney Point has convenient access to four major freeways, Loop 610, Katy Fwy, Beltway 8, and Westpark Tollway.
Sprawling, wooded lots: Like most of Memorial Villages, Piney Point homes for sale typically sit on large, sprawling lots. Sizes range from half-acre (21,780 square feet) to more than 160,000 square feet.
Access to award-winning schools: The city is zoned to both the Spring Branch ISD and the Houston ISD. Top schools like Memorial High School and Memorial Drive Elementary serve Piney Point. The Kinkaid School, a prestigious prep school, is located within the city's borders.
Luxury homes: Piney Point homes are known for featuring luxurious amenities. Housing options range from elegant estates to gorgeous, updated ranch-style homes, and from custom-built homes to grand manors.
Piney Point Village presents an elegant affluence – private, wooded driveways, sprawling, landscaped grounds, and grand luxury homes.
Homes in Piney Point are in great demand, especially since new construction is on the rise. Due to these, the market is challenging to navigate, and homebuyers will greatly benefit from the help of the best Houston realtor.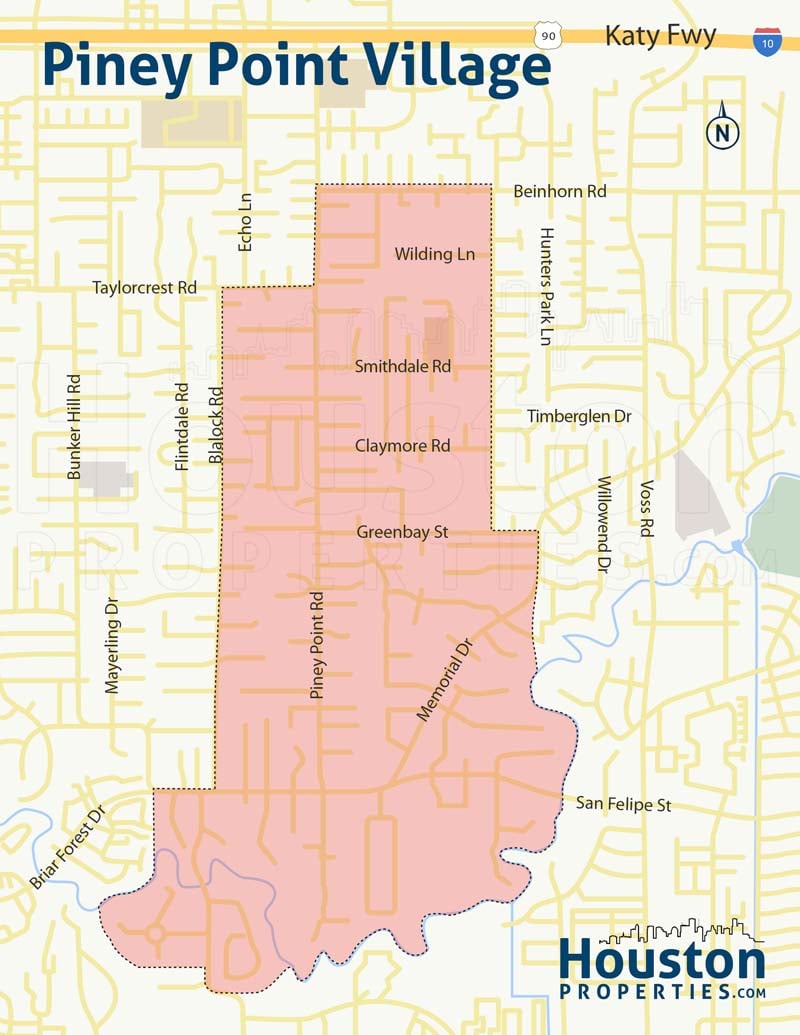 For any inquiries about Piney Point homes recommendations, or off-market MLS listings, get in touch with Paige Martin, Owner of HoustonProperties.com and one of the best Realtors in the city.
Piney Point TX Resources (Popular Topics)
Houston Piney Point Neighborhood Profile
Piney Point Real Estate Guide
Paige Martin – Piney Point Realtor
Piney Point TX Maps and Location
Piney Point Village TX covers 2.1 square miles. It is nestled between Bunker Hill Village to the west, Hedwig Village to the north, and Hunters Creek Village to the east. The Buffalo Bayou and Houston defines the city's southern borders.
The city is located at the south-central part of the Memorial Villages, and like Hunters Creek, a small portion of it sits south of the Buffalo Bayou.
Piney Point is a largely residential area, though commercial establishments can be found along its borders.
Its central location in West Houston gives Piney Point residents with relatively easy commutes to and from key Houston hubs. Four major roads – the I-10 (Katy Fwy), Beltway 8 (Sam Houston Pkwy), Westpark Tollway, and Loop 610 – are within minutes of the neighborhood.
The majority of the Piney Point Village is under the 77024 zip code, while the area that sits south of the Buffalo Bayou has the 77063 Harris County zip code.
Zip codes near Hunters Creek Village include: 77055, 77008, 77007, 77019, 77027, 77056, and 77057. (View Houston zip code map.)
Fun Things To Do Near Piney Point
Like most of the Memorial Villages, Piney Point Village has deed restrictions against all kinds of commercial establishments. Stores, shopping centers, and restaurants are notably located along the borders of the Memorial Villages. Though this may be the case, there are several dining, retail, and entertainment centers nearby.
The Memorial City Mall is mere minutes away. A large shopping mall located along the I-10, Memorial City Mall has been serving Piney Point and surrounding neighborhood since it opened its door in 1962. Anchor stores in this mall include Macy's, JCPenney, Sears, Target, and Dillard's.
Another retail hotspot, the CityCentre is a short drive from Piney Point. Located in the corner where the I-10 and Beltway 8 meet, it is a pedestrian-friendly mall that features a number of restaurants.
Piney Point Village is also highly accessible to several members-only country clubs, including Lakeside Country Club and the Houston Country Club.
The Houston Racquet Club is located in neighboring Hunters Creek Village. Along with tennis facilities, the club also has the Courtside Cafe and The Grill which cater to its members. The club also fosters a relationship with the Westwood Golf Club, which has an 18-hole course with several practice facilities.
A public 18-hole golf course, the Memorial Park Golf Course, is easily accessible from the neighborhood via the I-10. It has a course rating of 73 and a slope rating of 122.
Houston's cultural, entertainment, and retail hotspots – the Museum District, Downtown Houston, and The Galleria – are also within reach.
Here are some of the must-visit places around Piney Point Village:
Outdoor Recreation
Lakeside Country Club
Houston Country Club
Houston Racquet Club
Memorial Park Golf Course
Forest Club
Westwood Golf Club
Shopping
Memorial City Mall
CityCentre
Marge Entertainment Center
The Galleria
Hedwig Village Shopping Center
Katy Reed Shopping Center
Restaurants
Vietnam Poblano
Thai Gourmet
Kasra Persian Grill
Muiishi Makirritos
The Original Marini's Empanada House
Muscle Maker Grill
Orange Lunch Box
The Afgan Village
Izakaya Wa
Masraff's
Fogo de Chão Brazilian Steakhouse
Straits Restaurant
Fleming's Prime Steakhouse & Wine Bar
Nightlife
Winetopia
Stereo Live
Caps Piano Bar
El Patio Restaurant and Club
Pinot's Palette
Richmond Arms Pub
Parks
Edith L. Moore Nature Sanctuary
Memorial Park
Terry Hershey Park
Bendwood Park
Arthur Storey Park
Briarbend Park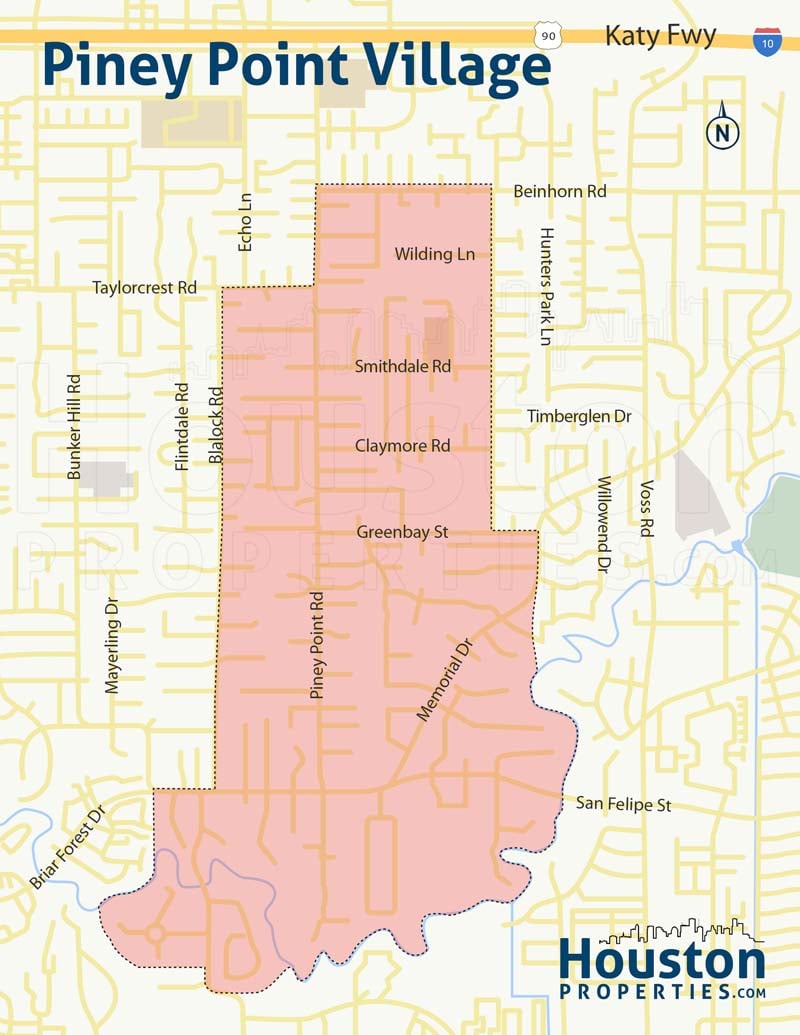 Neighborhoods Near Piney Point Village TX
Neighborhoods near Piney Point include:
Spring Valley Village
Hilshire Village
Piney Point TX History
John D. Taylor was a member of Stephen F. Austin's Old Three Hundred. He received a league (about 4,605 acres) and a labor of land in 1824. Taylor's league centered on "pine point," an area on the southernmost turn of the Buffalo Bayou. Taylor's house was called Piney Point.
In 1885, Piney Point was a station on the Texas Western Railroad. A number of German farmers had also settled in the general vicinity.
In the 1950s and 60s, Houston was having a suburban boom, leading to development in neighboring communities as well. Several upper-middle-class subdivisions were developed along the Buffalo Bayou.
During this period, Piney Point – along with Hedwig, Hunters Creek, Bunker Hill, Spring Valley, and Hilshire – were thriving communities, ripe for Houston's annexation. The six villages filed for petitions for incorporation to prevent annexation and to preserve residential zoning.
Piney Point Village was incorporated in 1955 with an alderman form of government, and is now part of the collective known as the Memorial Villages. As an independent city, Piney Point Village elects its own mayor and five city council members.
As a part of the Memorial Villages, Piney Point jointly operates the Memorial Villages Police Department with Hunters Creek and Bunker Hill. The Village Fire Department and the Memorial Villages Water Authority serves the Memorial Villages.
Like the other Villages, Piney Point still has deed restrictions and building ordinances that preserve the area's serene country-living atmosphere. Commercial establishments of any kind are not allowed within the city's borders.
The city is known for its efforts in preserving its wooded areas as well. Piney Point has a village arborist to help residents care for their trees.
Today, the City of Piney Point Village is one of the wealthiest places in the state of Texas by per capita income.
Piney Point Village Schools
Like most of the Memorial Villages, Piney Point is notable for its award-winning and top-ranked schools.
Piney Point Village homes located north of the Buffalo Bayou are zoned to the Spring Branch Independent School District (SBISD). The small portion south of the Bayou are served by the Houston Independent School District (HISD).
Three schools are located within Piney Point Village, SBISD's Memorial Drive Elementary School, and two private schools, The Kinkaid School and the Saint Francis Episcopal Day School.
Public:
PK to Elementary
Wildcat Way School at 12754 Kimberley Ln. Wildcat Way serves most of the Memorial Villages. It is located beside Bendwood Park, about 4 to 5 miles away from Piney Point Village.
Memorial Drive Elementary School at 11202 Smithdale Rd. MDE is one of the schools located within Piney Point's borders. It was recognized as a National Blue Ribbon School in 1996-97. It serves students in grades PK to 5 and has a GreatSchools.org rating of 10/10.
Briarmeadow Charter School at 3601 Dunvale Rd. Alternative charter school Briarmeadow is an International Baccalaureate Candidate School. It offers Pre-AP and gifted programs and has a 9/10 rating at GreatSchools.org.
Emerson Elementary School at 9533 Skyline Dr. Emerson serves early education to grade 5 students. It offers a dual-language program called Two-Way Bilingual Immersion Program (TWBIP).
Middle School
Spring Branch Middle School at 1000 Piney Point Dr. Spring Branch Middle School is located in Hedwig Village, a few minutes away from Piney Point. It offers several electives and has a special education program. It was recognized as a National Blue Ribbon School in 1997-98.
Revere Middle School at 10502 Briar Forest Dr. Paul Revere Middle School specializes in Science, Technology, Engineering, and Mathematics. Its campus also houses one of the HISD's Math/Science Magnet school-within-a-school programs.
High School
Memorial High School at 935 Echo Ln. Like SBMS, Memorial is located in neighboring Hedwig Village. It was a National Blue Ribbon School (1988-89) and an Honor Roll School. Its academics program isn't the only thing that makes Memorial High School stand out; its athletics programs are regarded as excellent as well. Its tennis and football teams are among the best in the area.
Lee High School at 6529 Beverly Hill St. Lee offers a well-rounded curriculum, with its AP/Magnet program. It has courses in Calculus, World History, and Chemistry, among others. It is home to numerous clubs and has a number of boys and girls varsity teams. (Students zoned to Lee High School can opt to attend Lamar or Westside instead.)
Lamar High School at 3325 Westheimer Rd. Lamar High School is located in Upper Kirby. Known for its great academics and athletics programs, Lamar offers an advanced placement program. It is also an IB school, offering an International Baccalaureate Diploma Programme. It is home to the Lamar Texans, previously named the Redskins. Lamar also has one of the oldest lacrosse teams in the state.
Westside High School at 14201 Briar Forest Dr. Westside High School is the HISD's Magnet School for Integrated Technology. Students can choose from 5 strands: Fine Arts, Business, Applied Science/Health Science, Computing Sciences, and Media Relations.
Private:
The Kinkaid School at 210 Kinkaid School Dr. Kinkaid is the oldest independent school in Houston. The school was founded in 1906, and in 1957, Kinkaid moved to a 40-acre site in Piney Point. One of the most prestigious private schools in Texas, its famous alumni include former President George W. Bush and former Florida governor Jeb Bush.
Saint Francis Episcopal Day School at 335 Piney Point Rd. SFEDS is the largest Toddlers to 8 Episcopal parish day school in the country. Located within Piney Point Village, St. Francis was recognized as a National Blue Ribbon School in 1998-99.
Other private schools around Piney Point and the Memorial Villages include:
Chapelwood Pre-School at 11140 Greenbay St.
St. Cecilia Catholic School at 11740 Joan of Arc
Montessori Morning Glory School at 737 Bunker Hill Rd.
Campbell Learning Center at 1440 Campbell Rd.
Duchesne Academy of the Sacred Heart at 10202 Memorial Dr.
To find an updated listing of all Piney Point real estate zoned to any specific public school, please send an email to Paige Martin at Paige@HoustonProperties.com with the property preference and budget that you're working with.
*Note: School zoning tends to change from year to year, information provided above are accurate but not guaranteed. Please double check by visiting the school's website.
Piney Point Real Estate Trends
Much like Hunters Creek, homeowners in Piney Point Village are tearing down old ranch-style homes and replacing them with custom-built homes. Some properties with older homes are sold as lots, though most as-is properties still sell for over $1M.
Piney Point property values have marked impressive appreciation rates over the past decade. Piney Point homes for sale had a median sales price of $1,346,500 in 2005. This steadily increased to $2,797,500 in 2014 – more than doubling over a 10-year period.
Newer construction homes in the area have contributed to the higher median sales but that isn't the sole factor.
Land price and average price per square foot have also increased and this can be attributed to increased demand and low inventory.
These significant increases in property prices have made Piney Point Village one of the most expensive suburbs in Texas.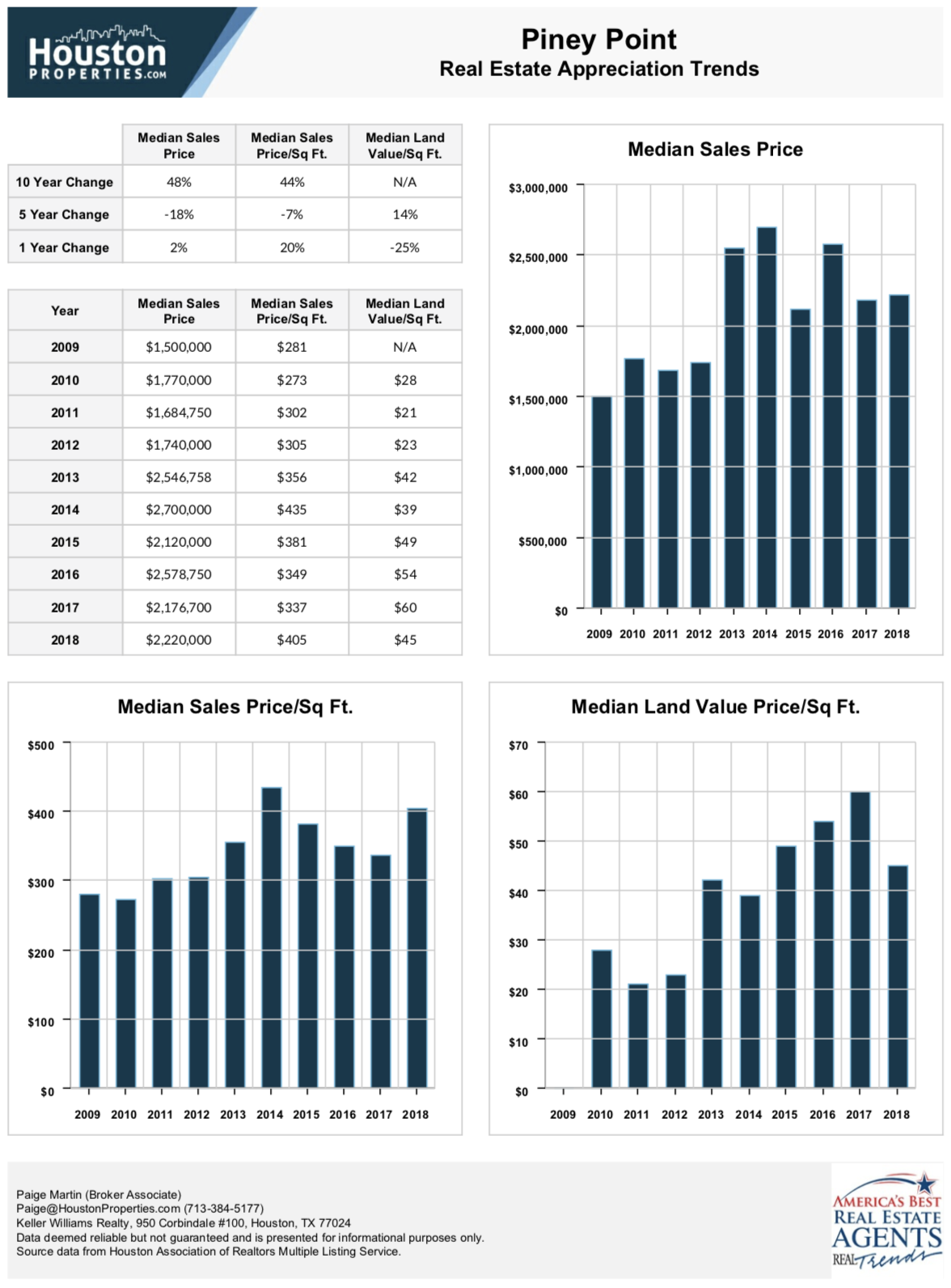 (Data sourced from the Houston Association of Realtors Multiple Listing Service and is deemed reliable but not guaranteed.)
For updated information regarding Piney Point real estate pricing and trend analysis, please contact Paige Martin at Paige@HoustonProperties.com.
Piney Point Single-Family Home Sale Trends
Single-family homes are the main housing attraction in Piney Point Village.
Luxury features are the standard: impressive masters bedrooms, walk-in closets, air conditioned wine rooms, multi-car garages, porte cochères, pools, high ceilings, expansive grounds, and summer kitchens, among others.
Wooded grounds are also a staple in most Piney Point real estate. Lots are bigger, measuring between half-acre to more than 70,000 square feet. Bigger properties can measure more than 160,000 square feet.
Some floor plans can include as many as 8 bedrooms, 8 baths, and 2 half baths. Living space can range from 4,000 to more than 12,000 square feet.
Several factors affect pricing, especially the age of the home, the size of the lot, and the property's location. Older, smaller single-family homes can sell for just under $1.5M, while new construction custom-built homes can for as much as $6M.
Piney Point Townhomes Sale Trends
There aren't any townhomes within Piney Point Village. This is due primarily to the city's deed restrictions. Townhomes, however, are available in surrounding areas in Houston and south of the Buffalo Bayou.
Piney Point Condo Sale Trends
Like most of the Memorial Villages, there are no condos in Piney Point. There are, however, some units available in and around the Memorial area.
Some of the notable condo buildings in the Memorial area include:
To see other condos within the Inner Loop, see Inner Loop Houston Condos. To see more condos within and near the Memorial area, please see Memorial Houston Condos.
Piney Point TX Realtor – Paige Martin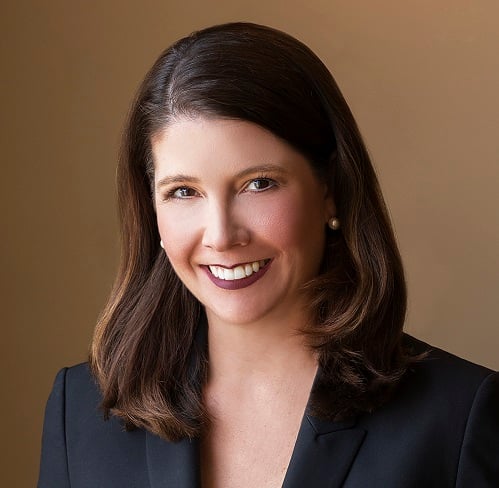 As featured on Fox News in the Morning, the Houston Business Journal, Houston Chronicle, and Houston Magazine, Paige Martin – a consistent Top Producing Broker-Associate and the owner of HoustonProperties.com – is ranked amongst the very top Keller Williams agents in the Houston area.
Paige is ranked as one of the best realtors in Memorial Houston, and the state of Texas.
Paige was named the #1 Ranked Individual Agent in the Keller Williams Memorial Office for the last four years. She has been a consistent top producing agent, winning awards every year since 2007. Read more about the over 65 awards she's won in the last few years.
Paige works with a tremendous number of buyers and sellers in Piney Point Village.
For a specific recommendation of neighborhoods, homes or properties based upon your personal style, goals & price point, please contact Paige Martin, Owner of HoustonProperties.com & Broker Associate atPaige@HoustonProperties.com or 713-384-5177.