Tired Of Traffic? These Houston Neighborhoods May Have The Answer
Tired of Traffic?  These Houston Neighborhoods May Have The Answer.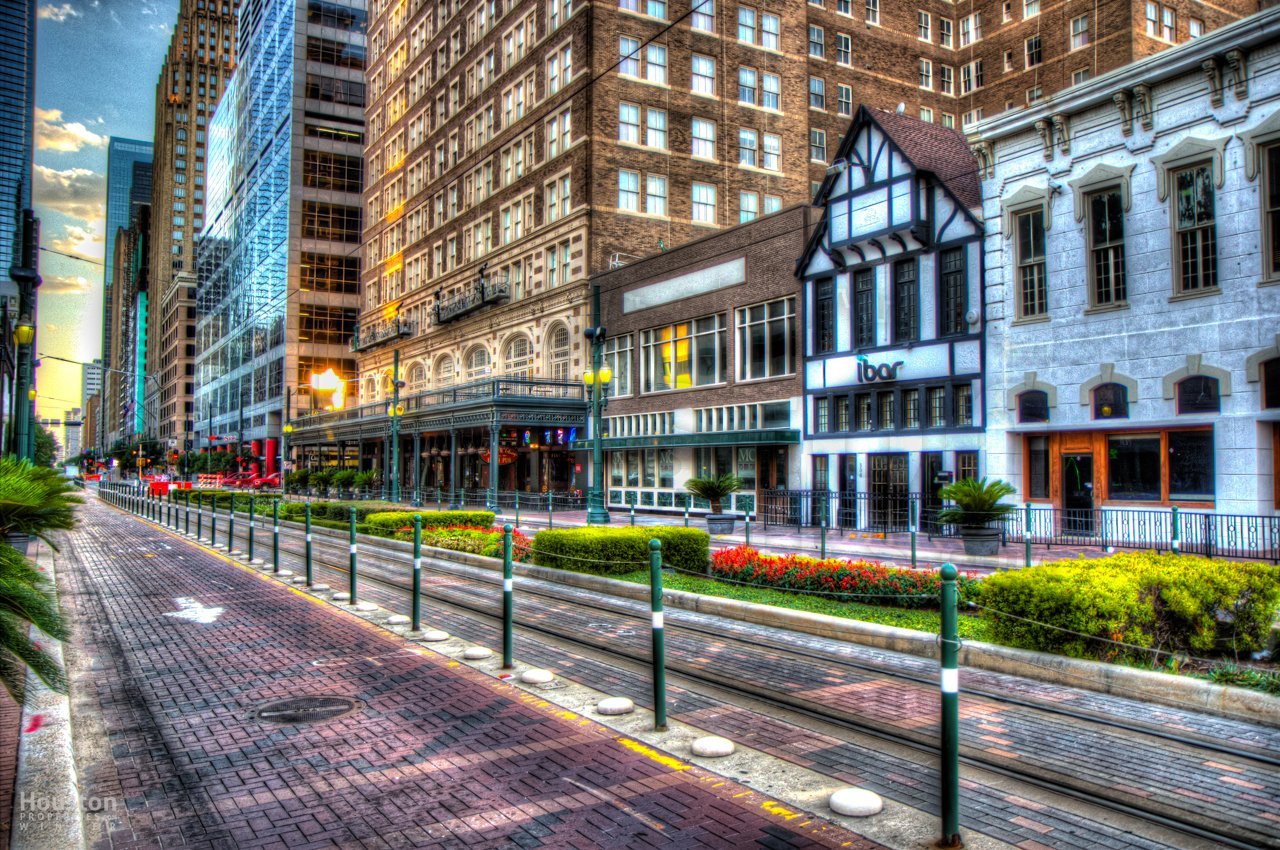 According to Forbes Magazine, Houston is the most "walkable major city in Texas," and the 23rd most "walkable city in the United States."
Neighborhoods that easily allow residents to access what they need without a car (grocery stores, restaurants, shops, parks, museums, entertainment, etc.) are in high demand.
The Houston Chronicle wrote, "Houston ranked No. 15 on a list of the country's top 30 metro areas based on the amount of office and retail space jointly developed in 'Walkable Urban Places,' or 'WalkUPs."

The Houston Heights is an exciting neighborhood of 3,700 homes in Houston located north of I-10 highway, south of Loop 610 and west of Highway 45.
Culturemap calls the Heights, "one the most walkable neighborhoods in Houston."
Ranked #4 in CNN Money's Top 10 Big City Neighborhoods, The Heights offers charm and a small-town feel and a fantastic collection of restaurants, coffee bars, antique shops, parks, and running trails.
Yelp alone has over 1,000 rated establishment within the Greater Heights area.
The Hike & Bike Trail in the Heights recently opened with several new bridges.  It connects the north side of Houston's inner loop with soon-to-be over hundred miles of city trails.
Real estate in the Greater Heights has been a fantastic investment over the past decade. Lot prices have appreciated by 64% and homes have appreciated by 75%.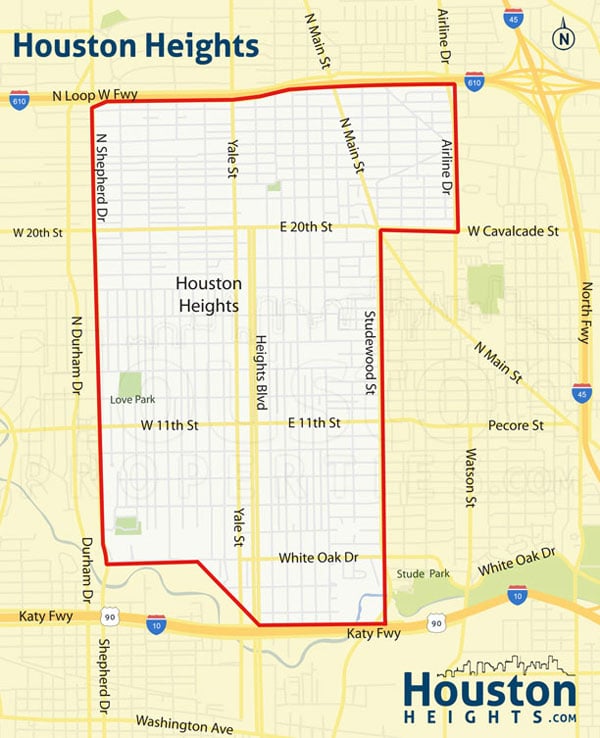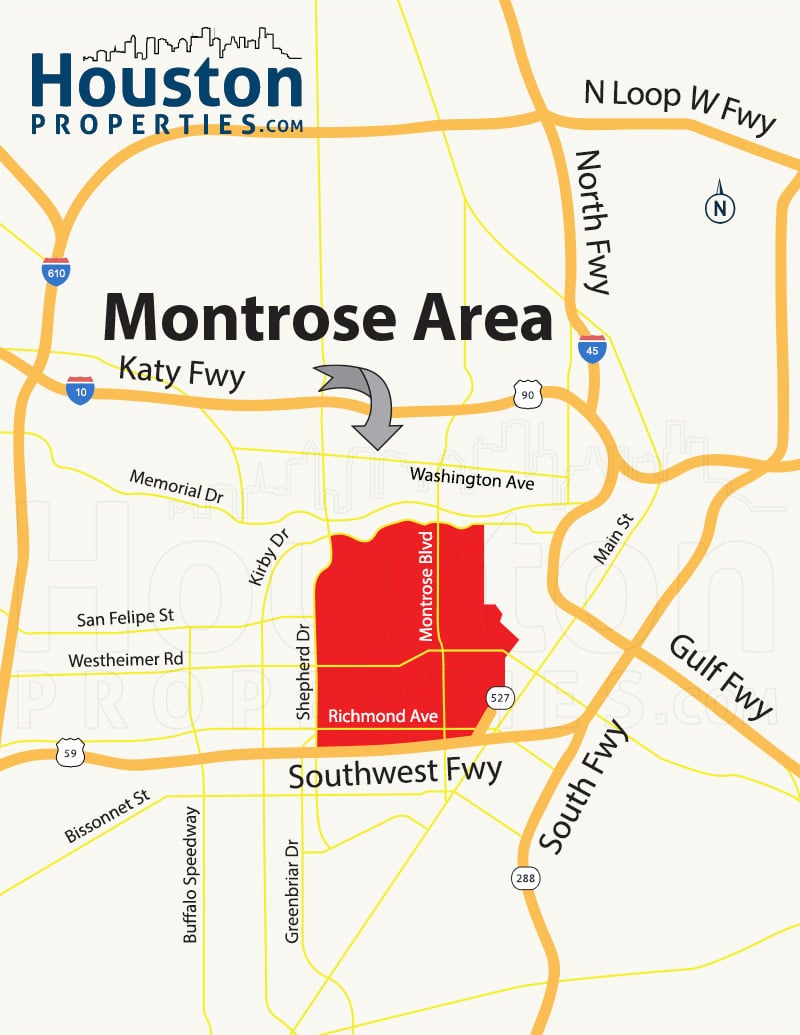 Located in the heart of Houston's Inner Loop, Montrose is a diverse neighborhood known for its elegantly restored mansions, contemporary condos, craftsman bungalows, and fantastic restaurants and bars.
The Houston Chronicle wrote, "Montrose, the central Houston community known for its diverse lifestyles, vibrant street life and stately historic homes, is being honored by the American Planning Association … as one of the country's 10 great neighborhoods."
Montrose is just minutes from Downtown Houston and The Medical Center and offers one of the best commutes of any Houston neighborhood to these major employment hubs.
Montrose boasts over 50 restaurants and bars, including a nine restaurants that consistently make the list of "Top Restaurants in the State of Texas," according to Texas Monthly
Montrose real estate also has been a great investment, appreciating 61% over the past ten years.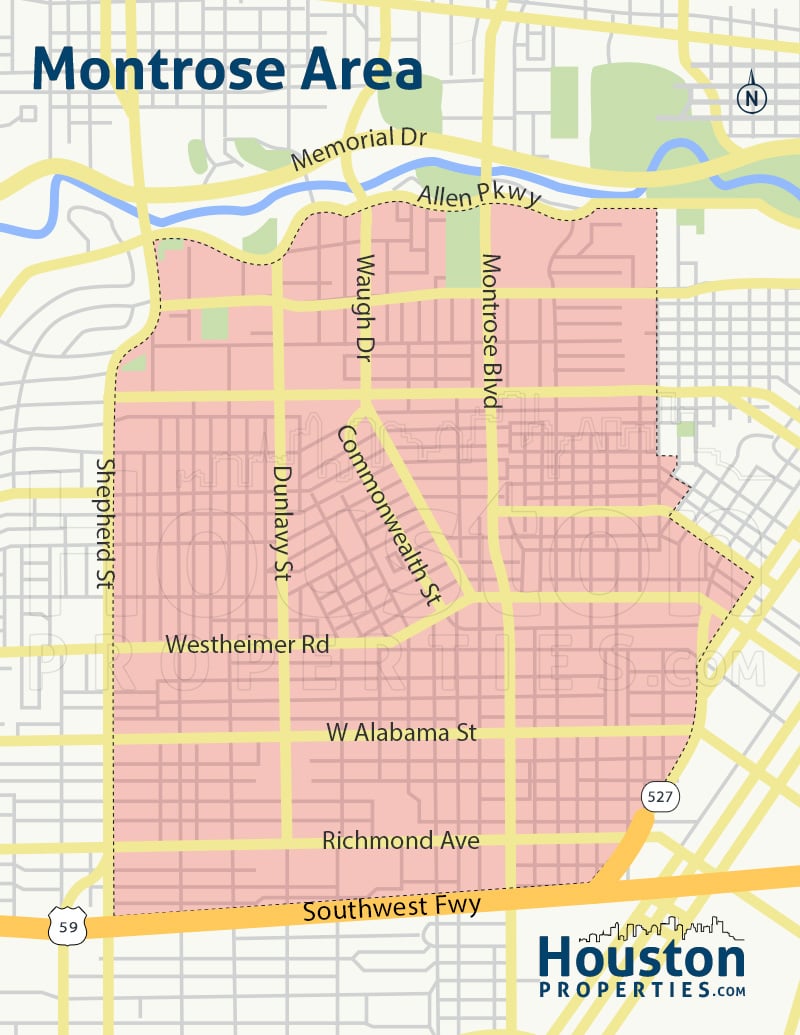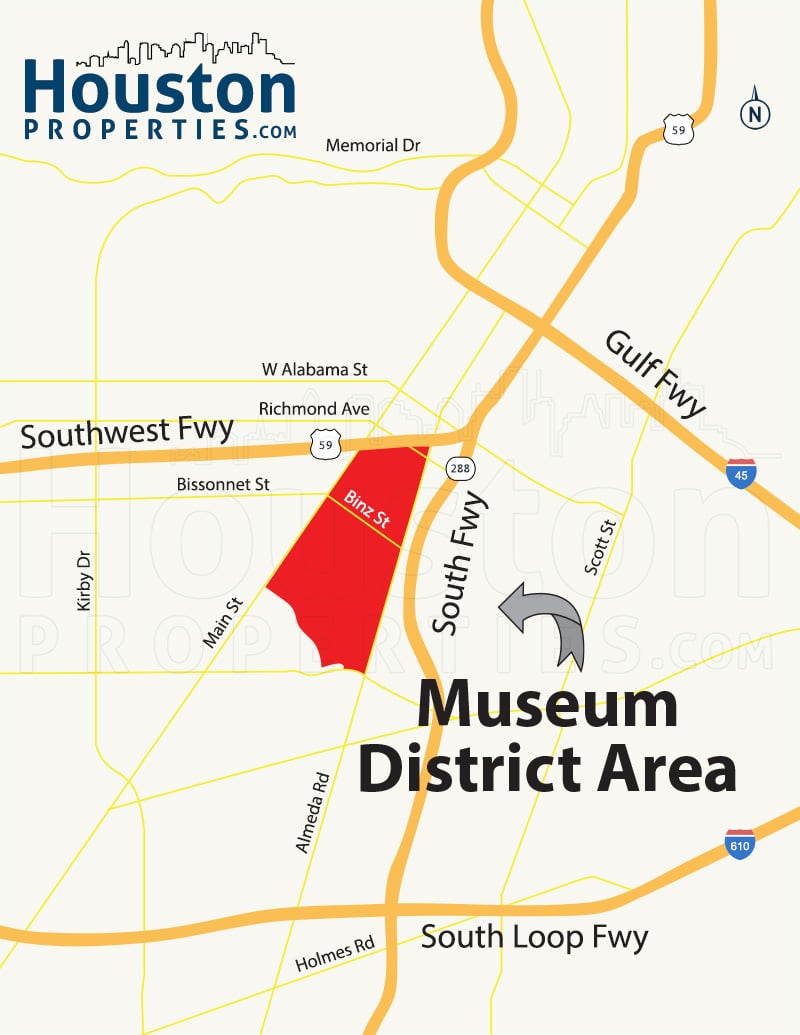 Houston's Museum District is 2nd in the country (only to Manhattan, NY) with the largest number of museums in a contiguous area.
Within a 1.5 mile radius, the Museum District includes 19 museums that offers educational, artistic, and scientific resources. A dozen of the member museums have free admission each day.
YourHoustonNews wrote, "Museum District represents world-class collections of art, history and science – all within a walkable area. The museums are one of the biggest draws to the city – and one of the reasons more and more visitors consider Houston a leisure destination."
In addition, this area includes Rice University, Houston's Zoo, Hermann Park Golf Course, three running trails, Miller Outdoor Theatre and MetroRAIL access to The Medical Center and Downtown Houston.
There are multiple property types throughout the area, and Museum District condos and townhomes are certainly a popular choice (Including this fabulous townhome.)
Much of the newer construction is architecturally-inspired, allowing these Museum District homes to compliment the vibrant feel of the area.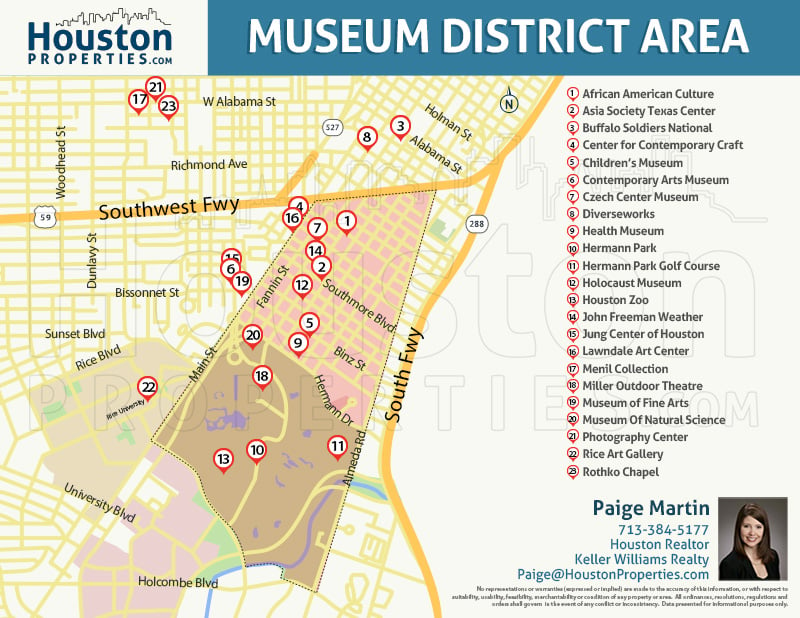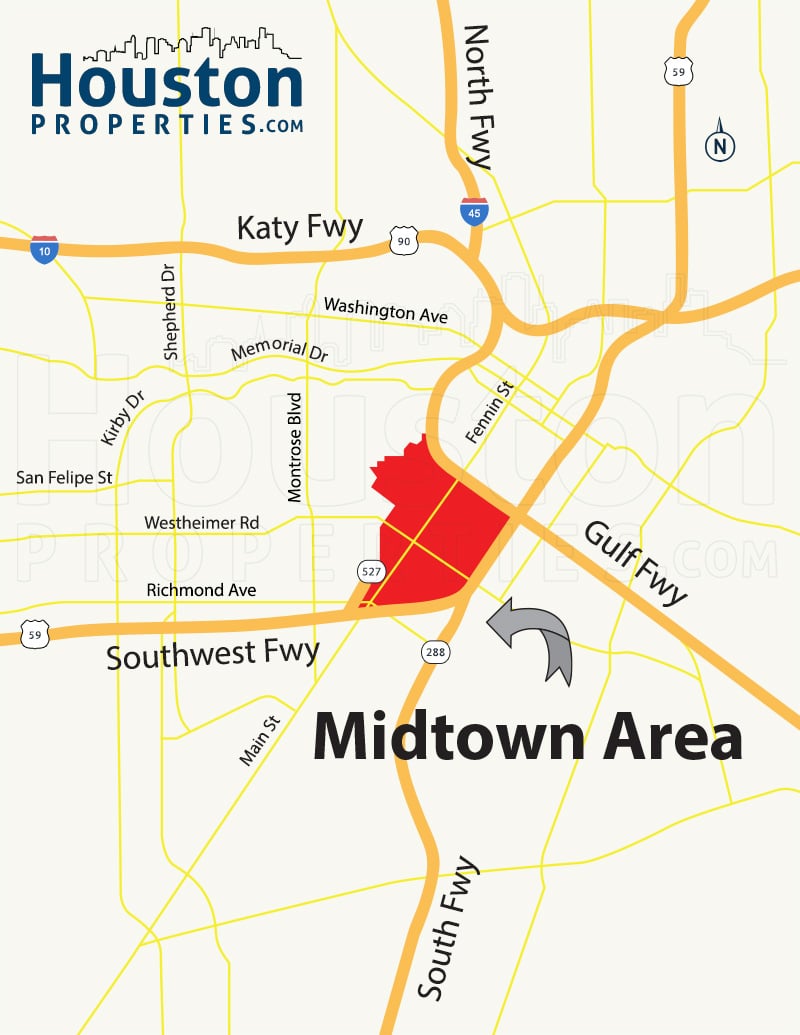 Situated between Downtown Houston and Medical Center, Midtown residents enjoy easy access (including the MetroRail) to two of the city's biggest commercial districts.
Midtown is also one of Houston's most accessible neighborhoods. The neighborhood is nestled at the corner where the Southwest and Gulf Freeways meet, permitting residents comfortable access to the city's main commercial and business hubs.
The neighborhood has seen tremendous growth recently. HoustonChronicle noted that "the walking scene for people who live in mixed-use developments in Midtown includes retail, lounges and restaurants. Midtown, just south of the Central Business District, has seen its residential population explode over the past decade, to about 8,600 today."
Midtown residents are a few blocks away from approximately 180 restaurants, bars, and coffee shops. Many of Midtown's new construction homes were designed to accommodate and encourage retail activities on the first floors of multi-story buildings.
Midtown also has an excellent reputation in public transportation and bike-ability.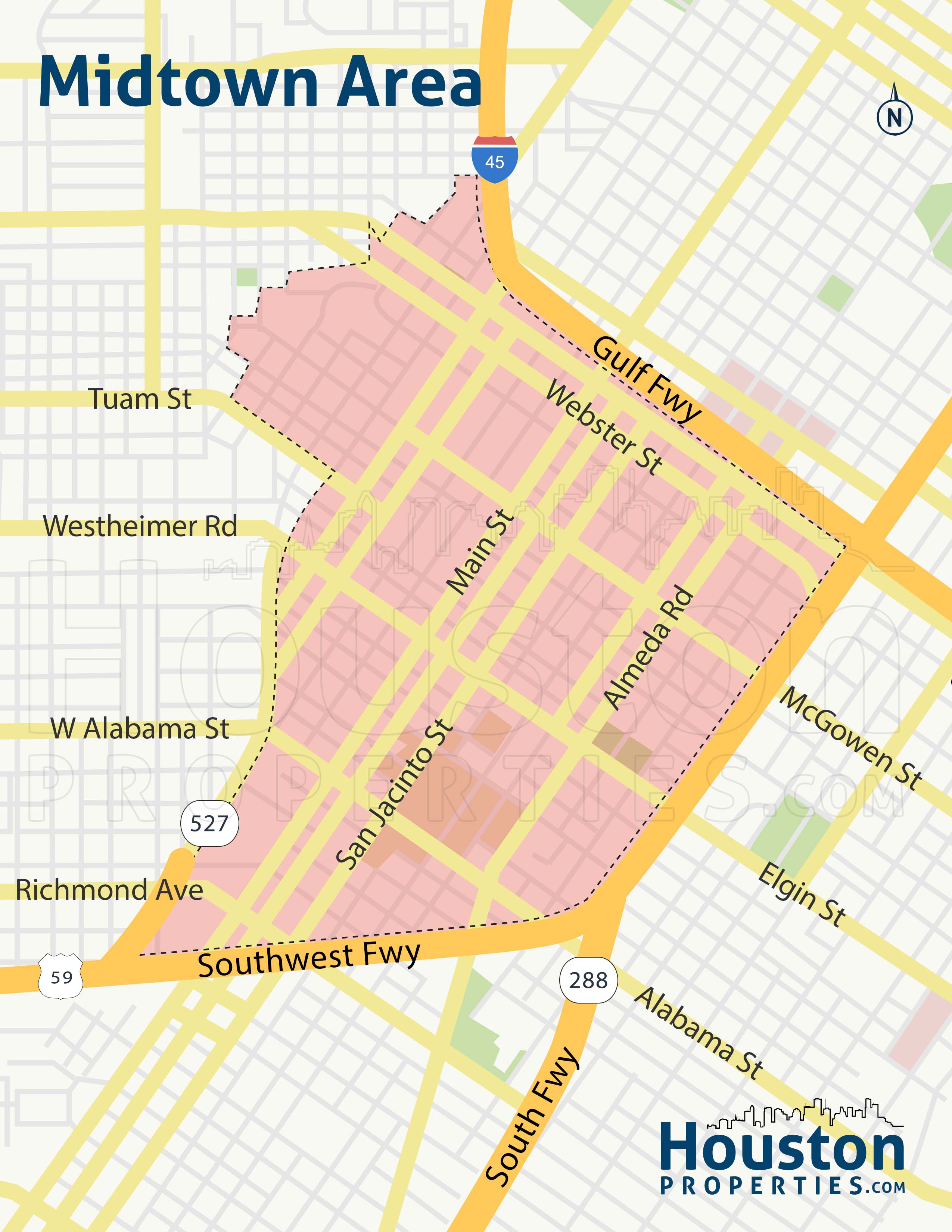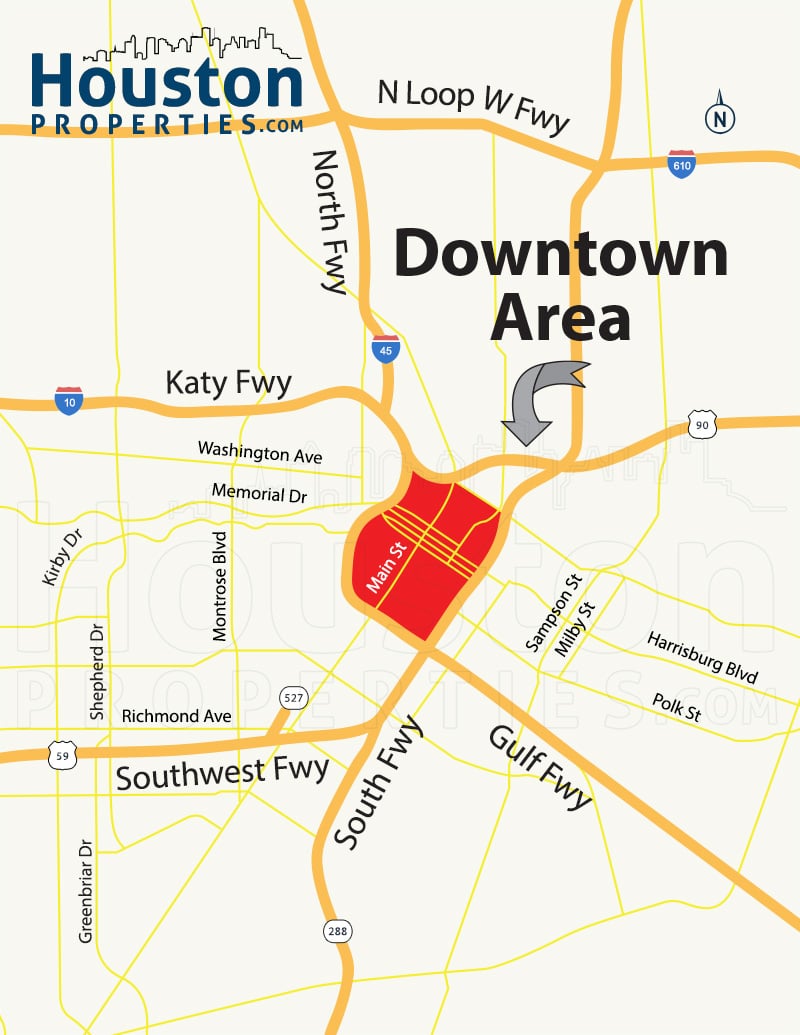 Approximately 200,000 people from over 3,500 companies work in Downtown Houston each day.
Downtown's central Inner Loop location makes it one of Houston's most accessible districts. It is also bordered by the city's main thoroughfares. Downtown also has its own METRORail station and a local bus service for transportation.
One of the most unique aspects of this neighborhood is that it houses just under 3,000 residents, spread out through a collection of Downtown Houston lofts & condos, giving the neighborhood a "small community feel."
There are 25 residential downtown Houston loft and condo buildings (see map and details below), which compose the majority of the available real estate options.
Residents enjoy living a few blocks away from theater district (also 2nd in the nation with the largest number of seats), numerous parks, Sundance Cinema, and the Bayou Center.
Downtown Houston is a bustling district filled with residential and commercial skyscrapers; streets lines up with restaurants, bars, and clubs; parks; and an extensive network of pedestrian tunnels, making for an inviting and fantastic living experience in downtown Houston.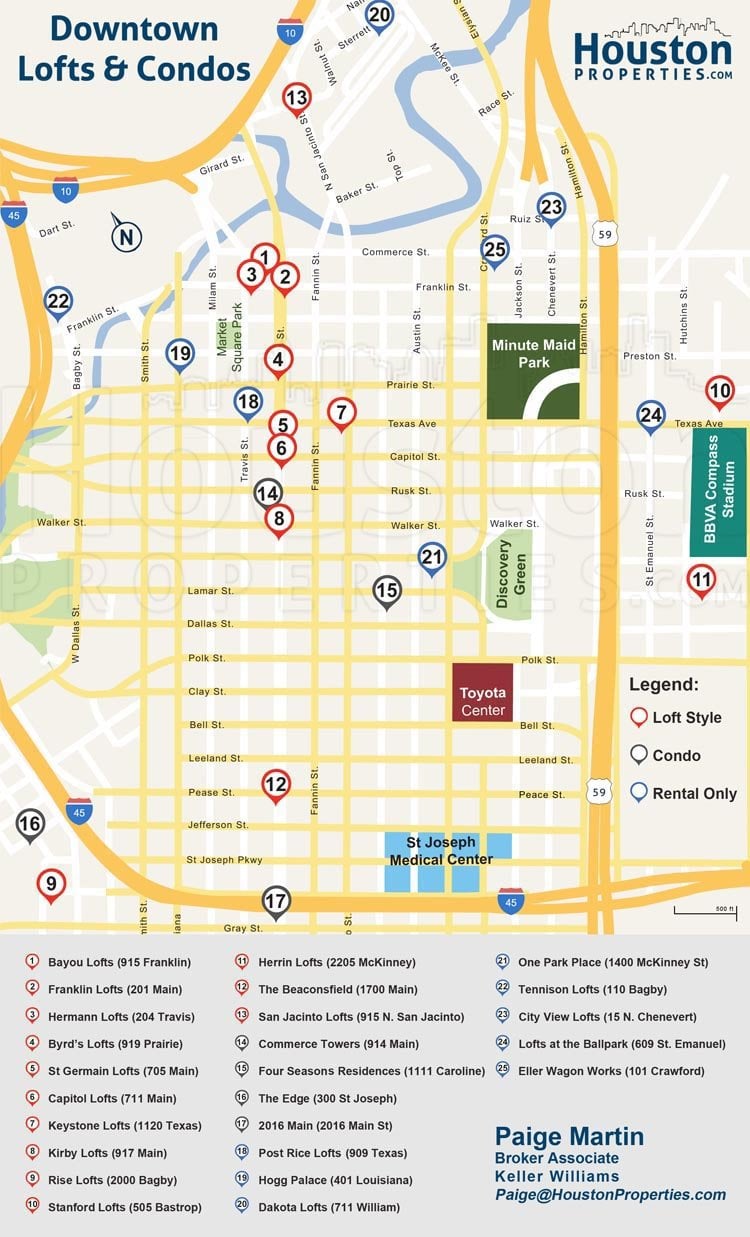 River Oaks is Houston's most expensive neighborhood and is located in the geographic center of Houston, making it one of the most accessible neighborhoods in the city.
The neighborhood is north of the Upper Kirby district and is near many major thoroughfares such as Westheimer Road, Kirby Drive, and San Felipe Street.
Houston main districts Downtown, Galleria and Medical Center are within 15 to 20 minutes from River Oaks.
Parts of River Oaks have acre-plus lots and deed restrictions to keep out commercial establishments. Other parts of River Oaks (notably on the South and Eastern sides) border the River Oaks Shopping Center, Upper Kirby / Greenway Plaza and are home to a fabulous collection of shops and restaurants.
The entirety of River Oaks is a scenic view of towering trees that line streets coupled with intricately detailed bushes that lead to pocket gardens. There are also plenty of restaurants, bars, boutiques, and art galleries in the River Oaks Shopping Center and West Ave complexes.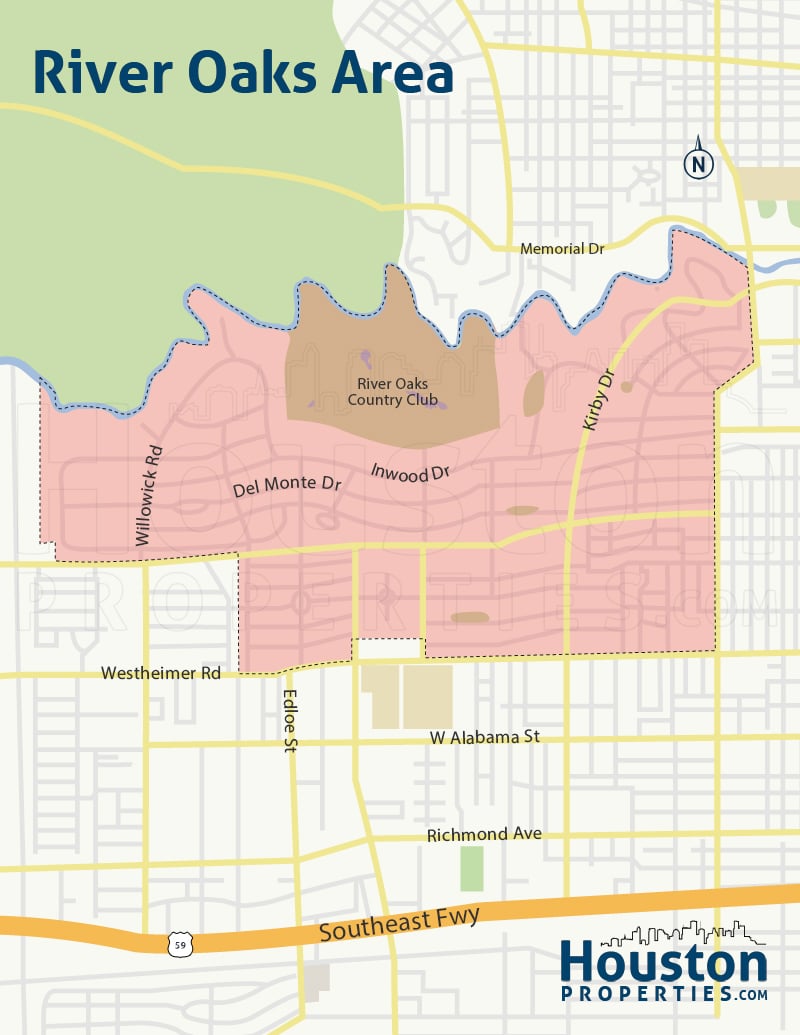 Commonly referred to as a "River Oaks Neighbor," Hyde Park is a small collection of homes on the Southeast side of River Oaks near Shepherd, Westheimer and Montrose that have fabulous access to grocery, shops, restaurants, bars, parks and schools.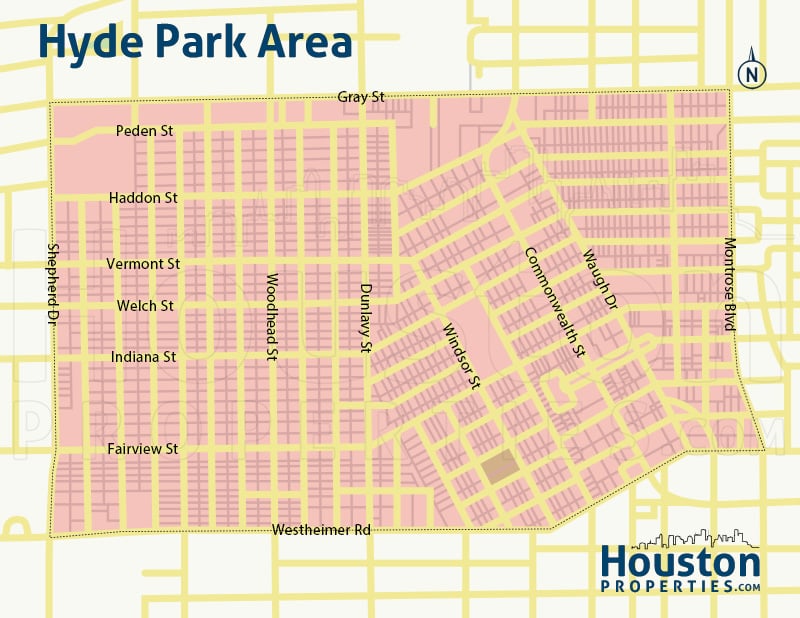 This boutique, luxury region is one of the best places to live for great access to shops, restaurants and the finer things of Houston's inner loop.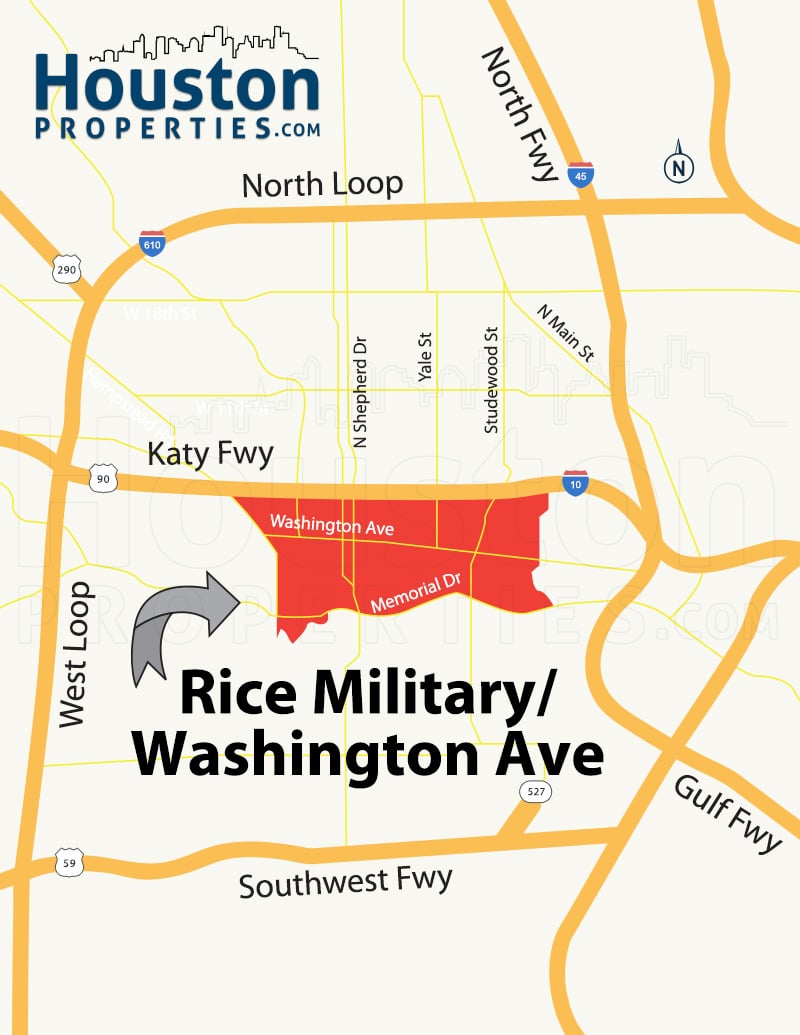 Located in the center of Houston's Inner Loop, Rice Military is bordered by Westcott on the west, Shepherd/Durham on the east, Washington on the north, and Buffalo Bayou on the south.
The Rice Military neighborhood is a few minutes away from Houston's main districts. Galleria and Downtown Houston are roughly 10 minutes away.
Rice Military residents are also a stone's throw away from Memorial Park, one of the nation's largest urban park with one of the largest trail systems anywhere in the city.
Houston Chronicle wrote, "Rice Military, a historic neighborhood on the fringes, is now a hip locale for young professionals and those without children interested in culture, fitness and walkable living. One thing that appeals to these demographics is the ability to walk to restaurants, shopping, art galleries and of course, Memorial Park, in addition to several other local parks."
The majority of Rice Military's establishments are bars and restaurants and are filled with excitement most weekends. Yelp.com also has over 500 rated establishments in the area.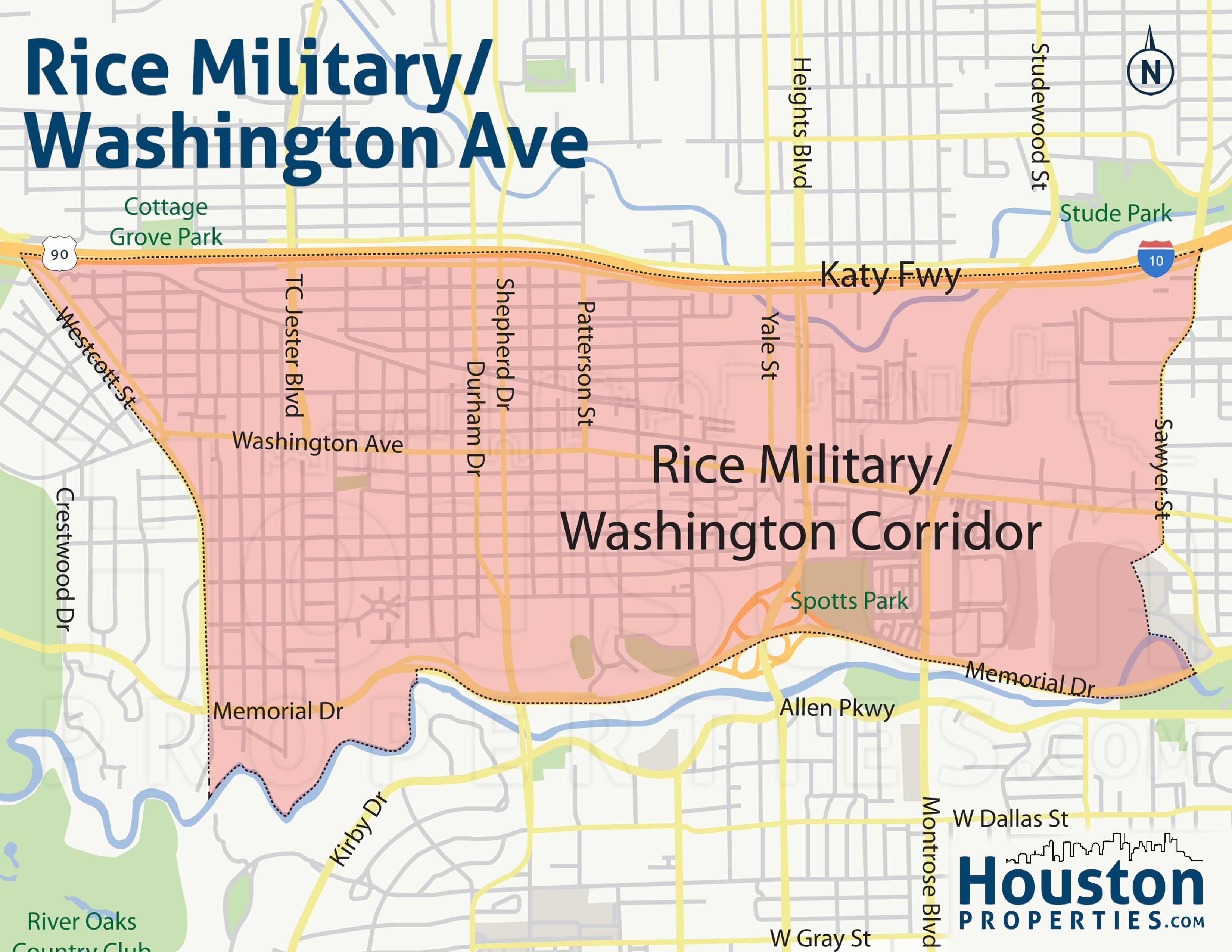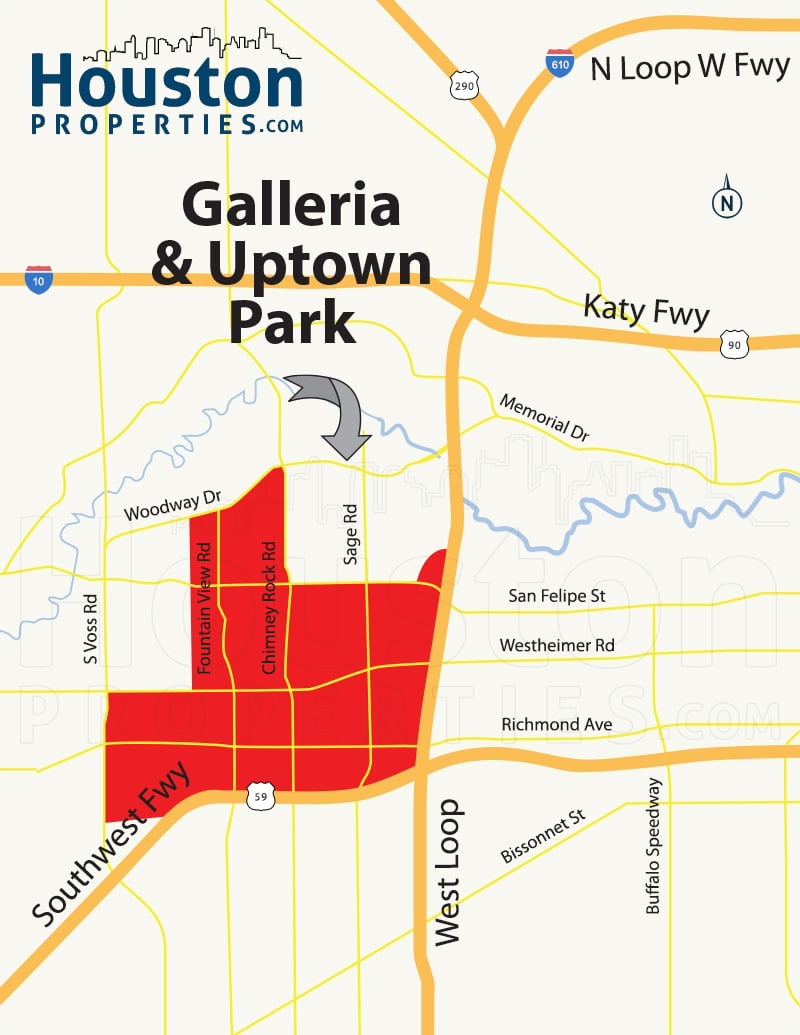 Located just outside the Inner Loop, The Galleria is one of Houston's busiest and most exciting districts.
Nestled at the corner of Southwest Freeway, Galleria is one of Houston's most accessible districts. It is in close proximity to Memorial Park, one of the country's largest urban park. Downtown Houston, Medical Center and the West University area are about 15 to 20 minutes away from the area as well.
Most of the people who live in the Galleria / Uptown park area live in condo and highrises. (Compare Galleria Condos), as land values are quite high.
Highrise living allows residents to reside just a few blocks from numerous entertainment hubs like The Galleria mall and Uptown Park, as well as several hundred restaurants, parks, and shops.
Galleria highrises also offer great amenities: tennis courts, pools, saunas, fitness rooms, well-kept grounds, roof top decks, and more. Porters, valet, building managers, concierges, trash & dry cleaning pickup are also available at many luxury buildings.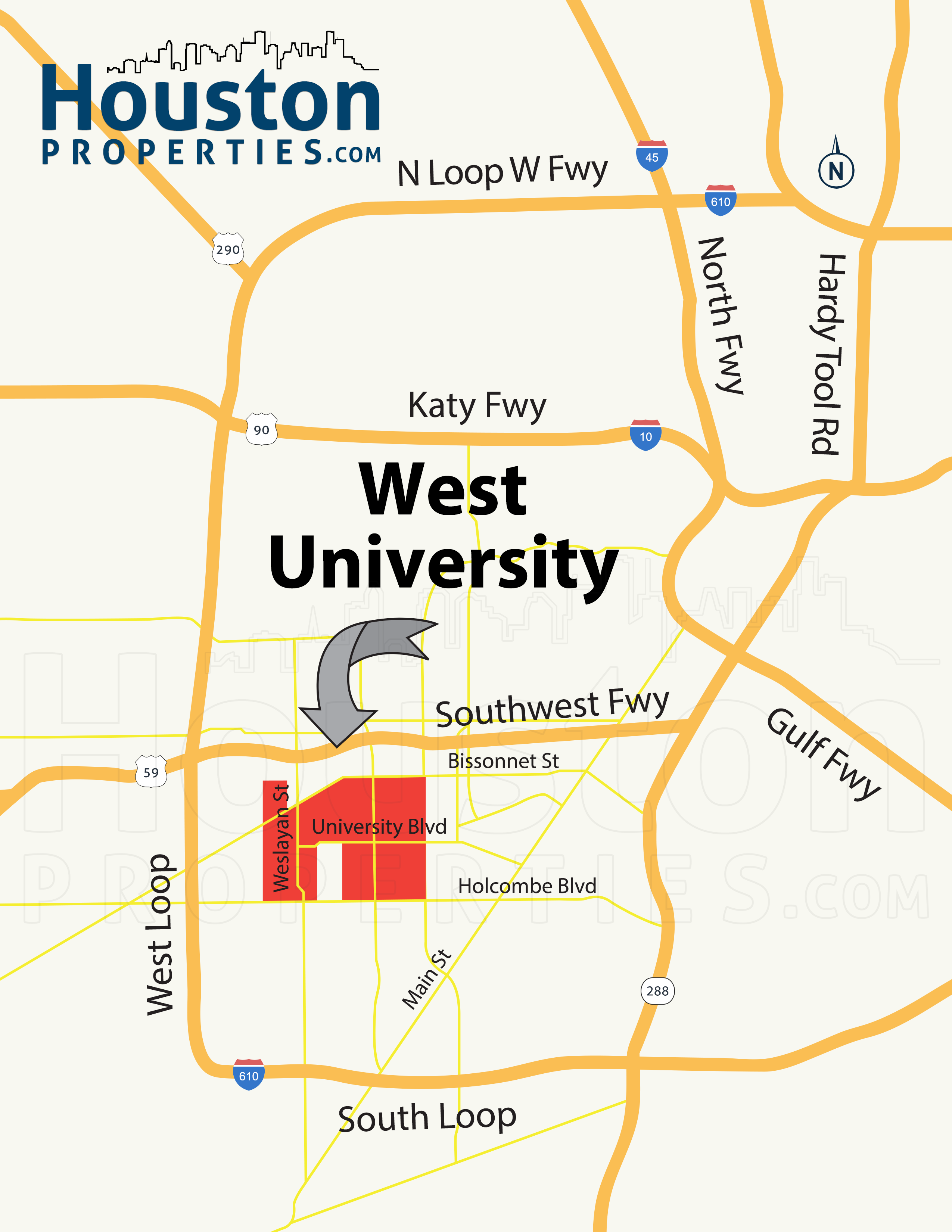 West University is also one of Houston's Top 20 Most Expensive Neighborhoods.
West University offers easy access to Downtown Houston, The Medical Center, The Galleria and Houston's Inner Loop. The neighborhood is also right next to the Southwest Freeway, giving residents accessibility to the rest of the city's main business and commercial districts.
West U offers some of the best public schools in the State of Texas, a private police and fire department, and the Rice Village Shopping Center with over 300 establishments.
Parts of West U also offer a fantastic small town vibe with easy access to the Rice Village Shopping Center with over 300 establishments. The entire area is also divided into 26 blocks or sections, making it one of the most organized neighborhoods in Houston.
In addition, West University Real Estate has been one of the city's best investments over the past decade.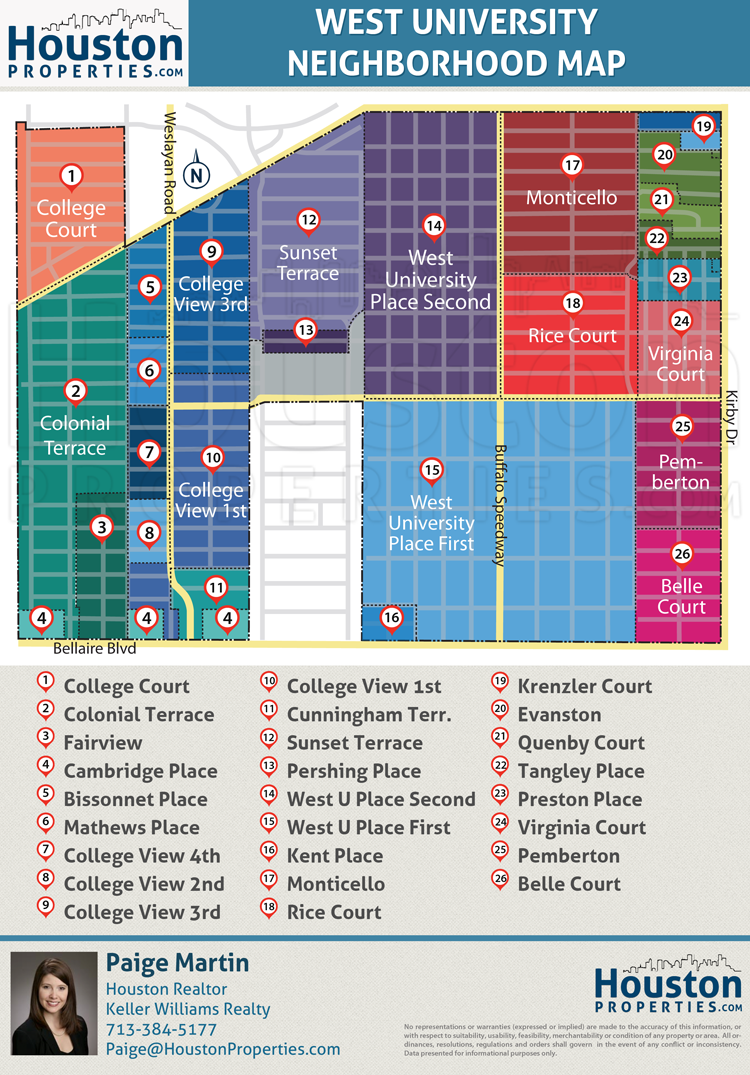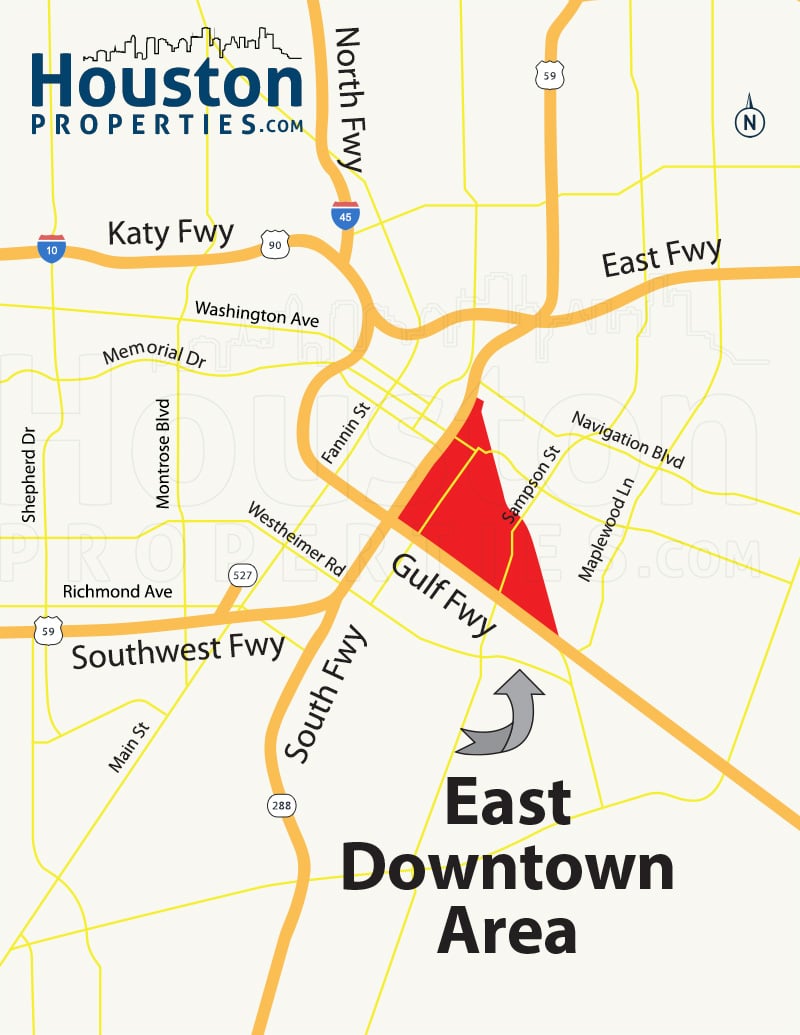 EaDo is one of the Houston's top up-and-coming neighborhoods.
Located adjacent to Downtown Houston (hence the name East Downtown), this area was a graveyard of abandoned supermarkets and restaurants until about 10 years ago.
East Downtown (EaDo) is a vibrant Houston neighborhood near the major business districts of Downtown Houston, the Texas Medical Center, and the Houston Ship Channel.
EaDo is located north of Interstate 45, and between the George R. Brown Convention Center and the East End district.
EaDoHouston.com dubbed the neighborhood as the "Art & Soul of Houston." Formerly referred to as "Houston Chinatown," EaDo was filled with inexpensive land.
Over the past few years, this community has seen one of the largest investments in capital projects of any part of Houston.
EaDo benefits from the new BBVA Soccer stadium, MetroRail expansion, multiple new apartment and townhome complexes and an explosion of (highly rated) new restaurants and bars.
View More Houston Resources
About Paige Martin – Owner Of HoustonProperties.com
As featured on Fox News in the Morning, Houston Business Journal, the Houston Chronicle, and Houston Magazine, Paige Martin, a consistent Top Producing Broker-Associate and the owner of HoustonProperties.com, is ranked amongst the very top Keller Williams agents in the Houston area. Paige Martin's recent awards include:
2013 – Top 50 Houston Realtors by the Houston Chronicle (from 25,000+ Realtors)
2013 – Five Star Realtor, Featured in Texas Monthly Magazine (from 100,000+ Realtors)
2012 – #1 Ranked Individual Agent in the Keller Williams Memorial Office (from 200+ Realtors)
2012 – Top 5 Ranked Individual Agent in the Houston Area with Keller Williams (from 5,000+ Realtors)
2011 – #1 Ranked Individual Agent in the Keller Williams Memorial Office (from 200+ Realtors)
2011 – Top 10 Ranked Individual Agent in the Houston Area with Keller Williams (from 5,000+ Realtors)
2010 – #1 Ranked Individual Agent in the Keller Williams Memorial Office (from 200+ Realtors)
2010 – Top 10 Ranked Individual Agent in the Houston Area with Keller Williams (from 5,000+ Realtors)
and over 52 additional awards since 2006
Tired Of Traffic? These Houston Neighborhoods May Have The Answer
was last modified:
October 2nd, 2015
by