Museum District Houston Neighborhood Guide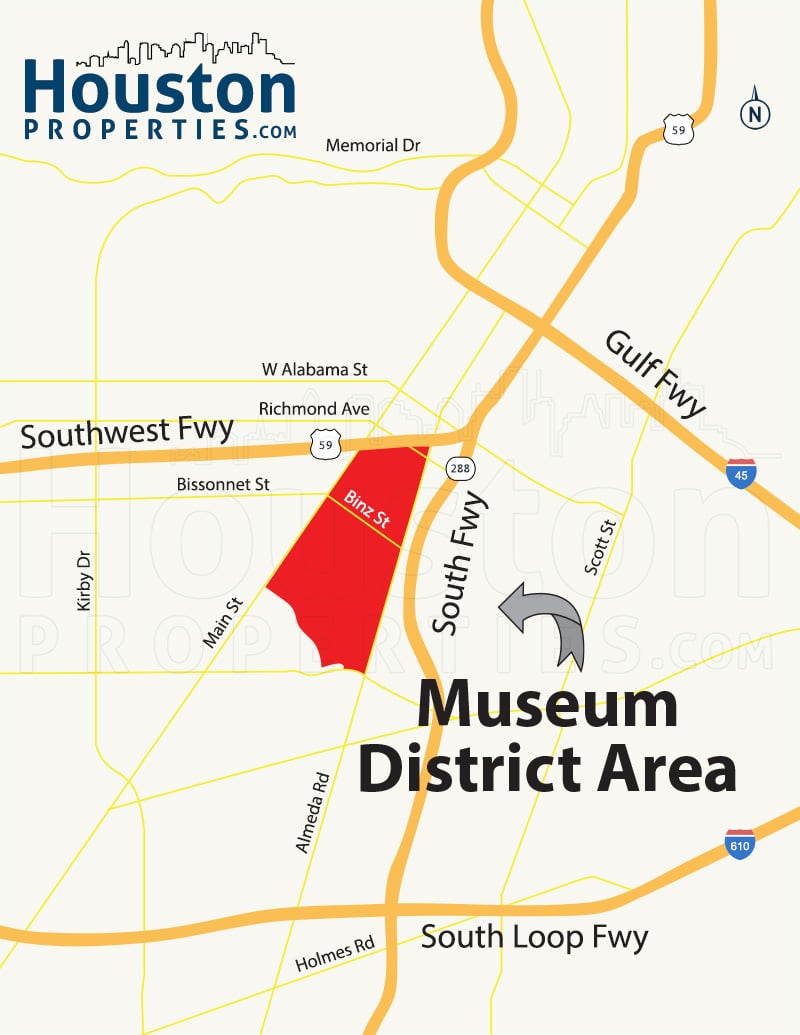 Centers for culture and the arts define much of the Museum District area's character. The neighborhood's charm, however, extends well beyond galleries and exhibitions.
Located just north of Houston's premiere Medical Center, the Museum District features both classic and contemporary homes, reflecting the neighborhood's artistic draw. Museum District homes for sale are highly prized due to the following:
CENTRAL LOCATION: The Museum District is centrally located within the Inner Loop, minutes away from key Houston hubs like Downtown, the Texas Medical Center, Montrose, and Rice University.
EASY ACCESSIBILITY: Its location along the South and Southwest freeways, MetroRAIL access, and pedestrian-friendly streets are factors that make the Museum District one of Houston's most accessible neighborhoods.
ARTS AND CULTURE: With 19 museums located within a 1.5-mile radius around the Mecom Fountain, the Houston Museum District has the second largest number of museums in a contiguous area.
WIDE VARIETY OF HOMES: Much like neighboring Montrose, Museum District homes are an eclectic mix of patio homes, elegant manors, townhomes, and stylish lofts.
GROWING REAL ESTATE MARKET: Museum District real estate have been on a steady rise over the years due to new development and growing demand. Over the past decade, it has posted some of the most remarkable appreciation rates in the Inner Loop.
The Houston Museum District houses a rich mix of artistic, educational, and historical collections within its borders. Its tree-lined streets and lovely collection of homes will endear homebuyers to the neighborhood's unique vibe.
New development, along with the wide array of housing options in the Museum District, can make the area a bit challenging to navigate without the help of a reliable Houston realtor.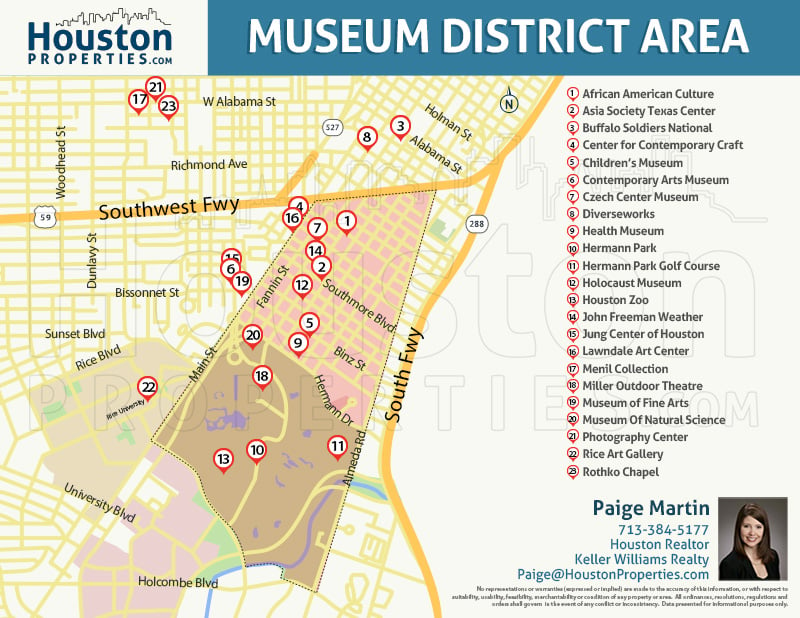 For any inquiries about Museum District homes recommendations, or off-market MLS listings, get in touch with Paige Martin, Owner of HoustonProperties.com.
Museum District Resources (Popular Topics)
Houston Museum District Neighborhood Profile
Museum District Real Estate Guide
Paige Martin – Museum District Realtor
Museum District Houston Maps and Location
Located along the South and Southwest freeways, the Museum District has the Texas Medical Center to the south and Rice University to the west. Across the Southwest Freeway north of the neighborhood lies Midtown and the Neartown/Montrose.
Downtown Houston is about three miles further northeast of the district.
Considered as one of the Inner Loop's most accessible neighborhoods, the Houston Museum District is pedestrian-friendly, has immediate access to major freeways, and features great transportation services.
The MetroRAIL's Red Line has stops in the neighborhood, including Museum District, Hermann Park/Rice U, and Wheeler. The Museum District also encourages visitors to avail of a bike sharing program called Houston B-cycle.
Museum District homes are minutes away from job centers like Downtown and the Texas Medical Center, and from retail and nightlife options in Montrose and The Galleria.
The Houston Museum District is under the 77004, 77005, 77006, 77030, and 77098 Harris County zip codes.
Nearby zip codes include 77002, 77003, 77019, 77021, and 77054. (View Houston zip code map)
Fun Things To Do Near Museum District
The Houston Museum District Association lists 19 member museums and institutions inside an area within a 1.5-mile radius of the Mecom Fountain in Hermann Park. These member museums – each with its unique scientific, educational, and artistic exhibits – welcome more than 8 million visitors annually.
Located at 1001 Bissonnet Street, the Museum of Fine Arts, Houston is one of the largest museums in the country. Within its 300,000-square feet of space, the MFAH houses more than 60,000 pieces in its permanent collection. Visitors can take advantage of the cultural complex's 2 gallery buildings, two house museums, sculpture garden, library, movie theatre, and cafe.
The Houston Museum of Natural Science, located at 5555 Hermann Park Drive, is one of the country's most popular museums, with more than 2 million visitors per year. In addition to its natural science halls, HMNS features the Wortham Giant Screen Theatre, the Burke Baker Planetarium, and the Cockrell Butterfly Center. The museum also plays host to numerous guest exhibits every year.
Forbes listed the Children's Museum of Houston at 1500 Binz Street as one of the "Best Children's Museums in the US." With its exhibits and bilingual programs, the museum aims to inspire "a passion for lifelong learning" in all children.
Another popular Museum District destination is Hermann Park. The 445-acre public park is home to the Houston Zoo, the Houston Museum of Natural Science, the Hermann Park Golf Course, the Miller Outdoor Theatre, and the Houston Garden Center. It features several attractions and amenities, including jogging trails, pedal boats, playgrounds, and gardens, among others.
The Museum District also features plenty of dining, retail, and entertainment options, and its proximity to Montrose, Medical Center, and Rice University means that more choices are mere minutes away.
Listed below are some of the best places to visit in and around the Museum District:
Member Museums
Asia Society Texas Center
Buffalo Soldiers National Museum
Children's Museum of Houston
Contemporary Arts Museum Houston
Czech Center Museum Houston
DiverseWorks
Holocaust Museum Houston
Houston Center for Contemporary Craft
Houston Center for Photography
Houston Museum of Natural Science
Houston Zoo
The Health Museum
The Jung Center of Houston
Lawndale Art Center
The Menil Collection
Museum of African American Culture Center
Museum of Fine Arts , Houston
Rice University Art Gallery
The Rothko Chapel
In Hermann Park
Miller Outdoor Theatre
Houston Zoo
Buddy Carruth Playground For All Children
The Japanese Garden
McGovern Lake
Judson Robinson Jr. Community Center
Hermann Park Mini-Train
Hermann Park Trail
Houston Garden Center
Bayou Parkland
Hermann Park Golf Course
Restaurants
Maxwell Street Grill
Number 1 Chicken Rice & Seafood
Bowl Cafe
Davis Street at Hermann Park
Bowl Cafe
The Raven Grill
Bodegas Taco Shop
Lucille's
Pax Americana
Museum Park Cafe
Reggae Hut
Pinewood Cafe
Black Hole Coffee Houst
Ambrosia
Green Seed Vegan
The Lexington Grille
Papa Mio Italian Cafe
Nightlife
Monarch Restaurant & Lounge
Grand Prize Bar
Absinthe Brasserie
Harp
Revelry on Richmond
Ruthie's Place
Bar 5015
Kaiser's Korner Pub
The Alley Kat Bar & Lounge
Bosta Wine and Coffee
Mosaic Bar and Lounge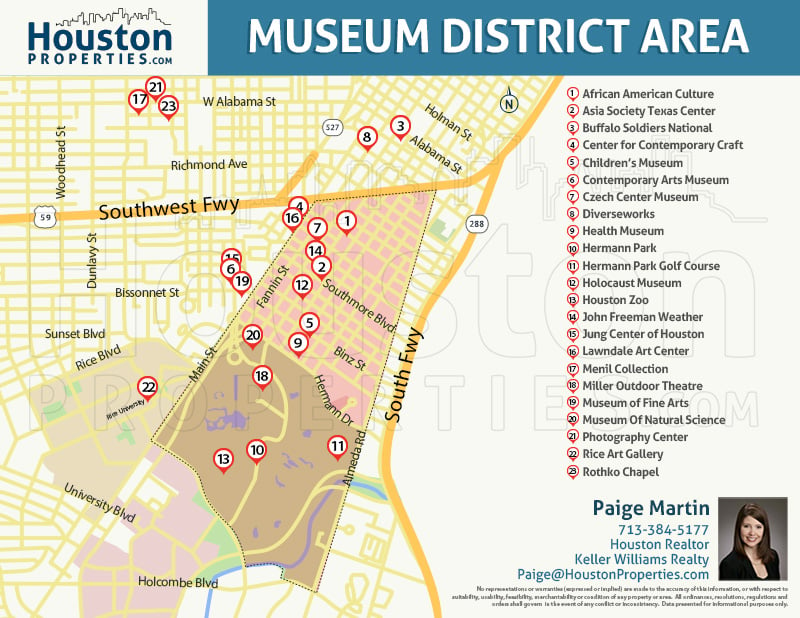 Neighborhoods Near Museum District
Neighborhoods near Museum District include:
Third Ward
Southside Place
Southgate
University Area
Rice University
Museum District Houston History
The Museum Distict's history is a testament to the neighborhood's strong sense of community and civic responsibility.
In 1977, a number of civic organizations and associations came together to initiate efforts in revitalizing the Houston Museum District. Ten years later, what was then dubbed the "Montrose Project" became the Museum District Development Association of Houston.
The MDDAH and its previous iteration plotted a progressive plan to turn the district into a pedestrian-friendly area centered on the Museum of Fine Arts.
In 1989, Mayor Kathryn Whitmire and the City of Houston City Council officially designated the Museum District as "the area along Montrose Boulevard, from Allen Parkway to Hermann Park."
The MDDAH was dissolved in 1994, though three years later, 11 institutions formed the Houston Museum District Association. More museums have joined the HMDA in the years since, and the association is now comprised of 19 member museums and institutions.
Museum District Schools
The Houston Museum District is zoned to the Houston Independent School District (HISD) and is home to high-rated schools like MacGregor Elementary School at La Branch Street and the Young Women's College Preparatory Academy at Cleburne Street.
Public
Elementary
MacGregor Elementary School at 4801 La Branch St. Founded in 1922, this school used to be known as Southmore. Named after Henry F. MacGregor, the school serves students in grades EE to 5 and offers magnet programs for music and science.
Poe Elementary School at 5100 Hazard St. Edgar Allan Poe Elementary is a fine arts magnet school, as well as a candidate school for the International Baccalaureate Primary Years Programme (IB PYP). Poe also offers enrichment classes in several areas including visual arts, dance, music, physical education, Suzuki violin, and technology.
Middle School
Lanier Middle School at 2600 Woodhead St. Located in the Neartown/Montrose area, Lanier Middle School is one of the HISD's International Baccalaureate World Schools. Lanier also has a Vanguard magnet program, as well as fine arts and athletics programs. It has a GreatSchools.org rating of 10/10.
Cullen Middle School at 6900 Scott St. Located a few minutes away from the Museum District, Cullen Middle School (or CMS) offers a number of academics programs. The school has a Pre-AP program, along with a Vanguard Magnet and Vanguard Neighborhood programs for Gifted and Talented students. Spanish, Music, and Aquatics are also offered at Cullen.
High School
Young Women's College Preparatory Academy at 1906 Cleburne St. A relatively new school, YWCPA opened in 2011 through a partnership between the HISD and the Young Women's Preparatory Network. This all-girls high school offers Pre-AP and AP programs.
High School for the Performing and Visual Arts at 4001 Stanford St. Located in Montrose, HSPVA offers a curriculum that covers six art areas, including intrumental music, vocal music, dance, theater, creative writing, and visual arts.
Debakey High School for Health Professions at 3100 Shenandoah St. One of the best public schools in the Houston area, Debakey offers the only magnet program for health professions under the HISD. It was recognized as a National Blue Ribbon School in 1997-98 and 2003.
Lamar High School at 3325 Westheimer Rd. Located in Upper Kirby, Lamar is an International Baccalaureate school that offers IB Diploma and AP programs. It also offers a magnet program for Business Administration. It also features a great athletics program and is home to the Lamar Texans, formerly known as the Redskins.
Private
The Museum District is an ideal jump off point to the private schools and universities located in Rice University, Montrose, Medical Center, and the Third Ward. Several private schools are located within minutes of the neighborhood. Listed below are some of them.
St. John's School at 2401 Claremont Ln. Founded in 1946, St. John's is one of the most prestigious private schools in Houston. Forbes listed it as one of "America's Elite Prep Schools" and holds a reputation for academic excellence and selectivity. It has a great athletics program as well, and has a rivalry with The Kinkaid School.
St. Paul's School at 5501 Main St.
Montessori Country Day School at 5117 La Branch St.
Presbyterian School at 5300 Main St.
The Joy School at 1 Chelsea Blvd.
To find an updated listing of all Museum District real estate zoned to any specific public school, please send an email to Paige Martin at Paige@HoustonProperties.com with the property preference and budget that you're working with.
*Note: School zoning tends to change from year to year, information provided above are accurate but not guaranteed. Please double check by visiting the school's website.
Museum District Real Estate Trends
Much like Midtown and Montrose, the Museum District's real estate market has grown by significant margins over the past decade.
In 2005, Museum District homes for sale posted a median sales price of $438,075. By 2014, it has increased by over half to $739,756 – this 69% positive change is one of the best appreciation rates in the Inner Loop.
Average price per square foot has also increased over the same period, marking a 43% change, from $208 to $298.
Prices tend to fluctuate, though this can be due to the area's wide variety of home options.
Houston Museum District real estate are certainly as interesting as the neighborhood's selection of science and art museums. This vibrant community features a mix of elegant estates, luxury condos and lofts, patio homes, bungalows, and townhomes in gated communities.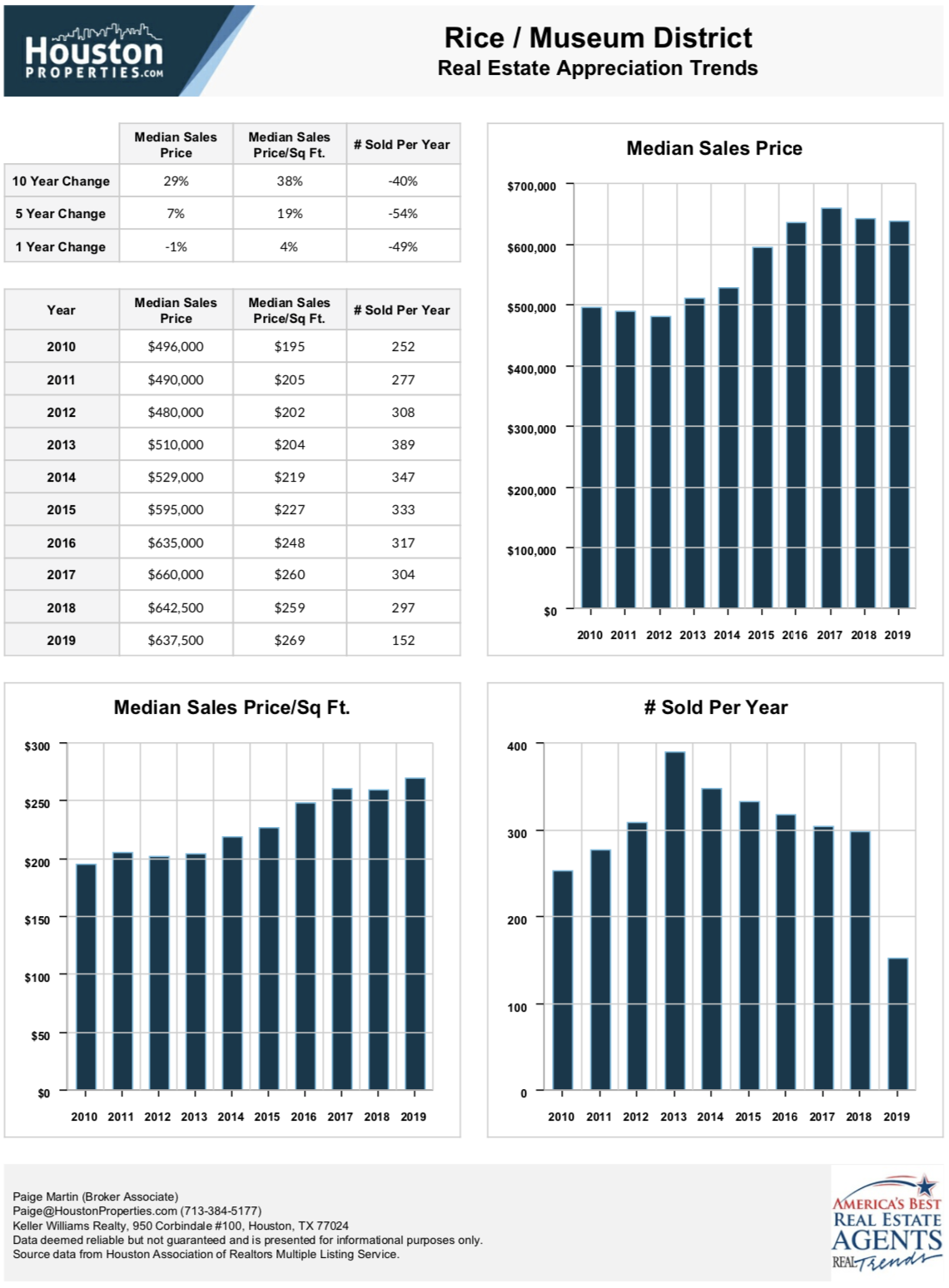 (Data sourced from the Houston Association of Realtors Multiple Listing Service and is deemed reliable but not guaranteed.)
For updated information regarding Museum District real estate pricing and trend analysis, please contact Paige Martin at Paige@HoustonProperties.com.
Museum District Single-Family Home Sale Trends
Though new construction townhomes and condos are becoming quite popular in the Museum District, there are plenty of detached single-family homes.
Patio homes and older bungalows line the neighborhood's pedestrian-friendly streets, interspersed with gated communities. On average, Museum District single-family homes have a 3-bedroom, 3 and a half-bath floor plan, with 3,000 square feet of living space.
Some of the most luxurious – and most expensive – housing options in the district are the old estates that date back from the 1920s. Beautifully updated, these homes can feature 6 bedrooms, 6 baths, and 3 half-baths.
Pricing depends on a number of factors, including the condition of the home, location, and size. Museum District homes for sale can go for $400,000 to more than $3,000,000.
Museum District Townhomes Sale Trends
One of the Museum District's most popular housing options, townhomes are a common sight in the area. Most Museum District townhomes are located within gated, private enclaves with luxury amenities and 24/7 security.
The standard townhome can feature a standard 3/3.5 floor plan. Floor areas can range from 2,000 to more than 4,000 square feet. Luxury Museum District townhomes are also available, and in addition to more living space, they can feature 4 bedrooms, 4 baths, and 2 half baths.
Prices can range from $300,000 to more than $1,000,000.
Museum District Condo Sale Trends
The Museum District is home to several mid- and high-rise condominiums, most featuring early 19th century European-inspired architecture.
Houston Museum District condos typically feature 24/7 security, round-the-clock staff, and parking. Some also offer luxury amenities, like pools, gyms, tennis courts, and jogging trails.
Museum District Condos include:

To see other condos within the Inner Loop, see Inner Loop Houston Condos. To see condos within the nearby Museum District area, see Museum District Area Houston Condos.
Museum District Houston Realtor – Paige Martin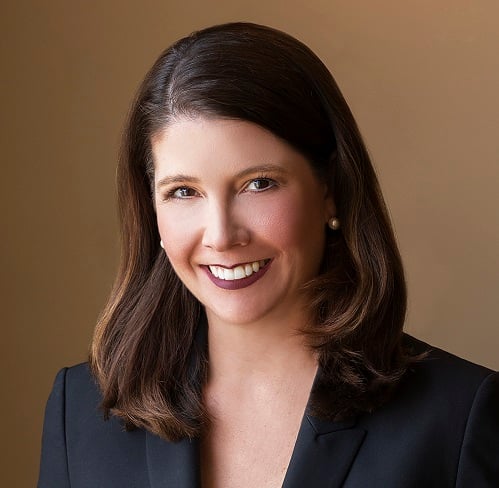 As featured on Fox News in the Morning, the Houston Business Journal, Houston Chronicle, and Houston Magazine, Paige Martin – a consistent Top Producing Broker-Associate and the owner of HoustonProperties.com – is ranked amongst the very top Keller Williams agents in the Houston area.
Paige is ranked as one of the top realtors in East Downtown Houston, and the state of Texas. Read more about the over 65 awards she's won in the last few years.
Paige works with a tremendous number of buyers and sellers within the Inner Loop.
For a specific recommendation of neighborhoods, homes or properties based upon your personal style, goals & price point, please contact Paige Martin, Owner of HoustonProperties.com & Broker Associate atPaige@HoustonProperties.com or 713-384-5177.