Key River Oaks Houston Real Estate Info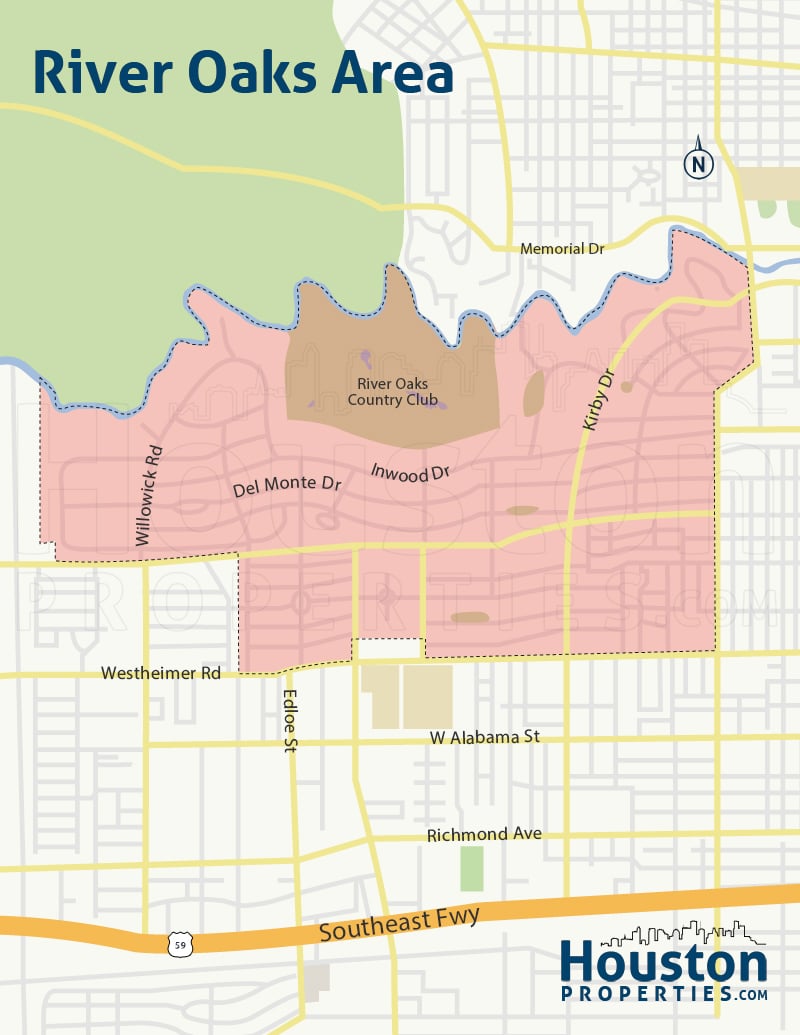 An exclusive enclave with mansions and large estates, River Oaks is Houston's most expensive neighborhood.
River Oaks is located in the geographic center of Houston, giving residents easy access to Downtown Houston, Galleria, and Memorial Park.
The neighborhood spans 1,100 acres and is bounded by Buffalo Bayou to the north, Westheimer Road to the South, South Shepherd Drive to the east, and Willowick Road to the west.
River Oaks is famous for its impressive roster of homes designed by some of the country's premier residential architects, including: John Staub, Birdsall P. Briscoe, Hiram Salisbury, and Howard Barnstone.
The neighborhood is also home to River Oaks Country Club designed by noted golf course designer, Donald Ross.
River Oaks Resources (Popular Topics)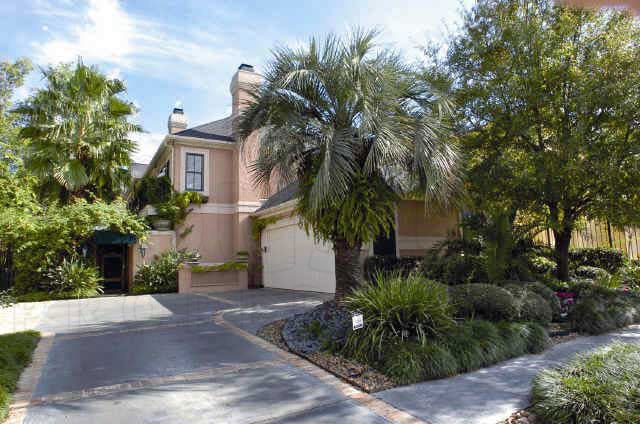 Houston River Oaks Neighborhood Profile
River Oaks Real Estate Guide
Paige Martin – River Oaks Homes Realtor
River Oaks Maps and Location
River Oaks spans 1,100 acres between Galleria and Downtown Houston. It is located within Interstate 610 and bounded by Buffalo Bayou to the north, Westheimer Road to the South, South Shepherd Drive to the east, and Willowick Road to the west.
The neighborhood is north of the Upper Kirby district and is near many major thoroughfares such as Westheimer Road, Kirby Drive, and San Felipe Street.
River Oaks has a Walk Score of 72 out of 100.  While this statistic is one of the highest in the city, this " 72/100 average" is misleading.  Homes close to the River Oaks Shopping Center have fantastic proximity to shops and restaurants, while many of the estates (e.g. River Oaks Tall Timbers) have extremely large lots and no commercial establishments.
River Oaks is within the 77019 zip code. Forbes magazine listed 77019 as one of the wealthiest zip codes in America.
River Oaks is one of the most luxurious neighborhoods in Houston. River Oaks homes have a wide variety of architecture, ranging from oversized traditional American homes with massive lawns, to grand Victorian mansions, to French Castles, to mid-Century Modern homes to ultra-modern contemporary houses.
Fun Things To Do In River Oaks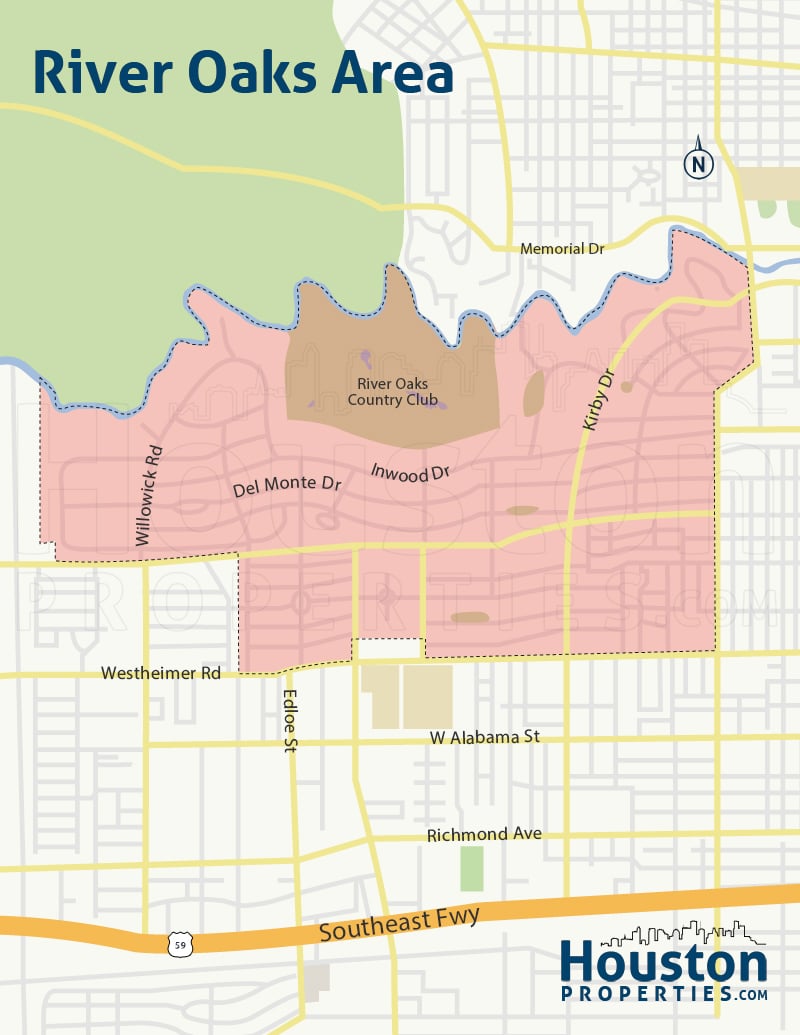 River Oaks Boulevard exudes an old world charm that complements the lavish lifestyles of the cream of Houston's society.
Aside from the rows of elegant houses that comprise River Oaks, much of the community's beauty comes from the abundance of verdant elements in the area.
The entirety of River Oaks is a scenic view of towering trees that line streets coupled with intricately detailed bushes that lead to pocket gardens.
The neighborhood boasts of a 72 out of 100 walkability score, making it one of the most "walkable" areas in Houston. There are plenty of restaurants, bars, boutiques, and art galleries in the River Oaks Shopping Center and West Ave complexes.
The River Oaks District will open shortly, and will offer an artful ambiance of posh social venues and private tree-lined streets.
Nightlife
The Oak Bar – The Oak Bar has DJs spinning most nights asl regulars dance around while sipping cocktails.
1919 Wine & Mixology – 1919 Wine & Mixology offers a hybrid of wine and specially-curated cocktails.
The Railyard – The Railyard sets itself apart from other neighborhood bars by offering cheap beer and a laid-back attitude.
Downing Street – Downing Street is a cigar-bar themed pub that offers incredible whiskeys and various martinis.
Red Lion Pub – The Red Lion is a British Pub that offers a huge selection of beer and cider along with delicious pub food.
Shopping
River Oaks Bookstore – A venue for book signings and photography exhibits, The River Oaks Bookstore has been in the neighborhood for over 40 years.
The River Oaks Shopping Center at West Gray and S.Shepherd has 76 stores, 14 restaurants, a theater, and a grocery store.
Antique Pavilion – An upscale multi dealer shop that houses an inventory of authentic antiques, fine accessories, and a vast assortment of collectibles.
Outdoors
Buffalo Bayou Park – This 124-acre park offers kayaking, canoeing, jogging trails, biking trails, hiking trails, a skate park, a disc golf course, and a dog park.
The River Oaks Country Club is located at 1600 River Oaks Boulevard. It hosts the annual River Oaks International Tournament, among other golf tournaments.
The Downtown Aquarium & Restaurant houses a 500,000-gallon underwater adventure complex with over 200 species of aquatic life forms from all over the globe.
Dining
Americas River Oaks – This award winning restaurant offers a menu that merges the bold flavors of South America with influences of Caribbean and Mexican cuisine.
Ouisie's – The restaurant offers trendy and elegant yet classic southern food and is among the most popular breakfast spots in Houston.
Brasserie 19 is situated in the heart of the 77019 zip code, hence its name. It features classic French cuisine with Modern American influences.
La Griglia offers guests with the experience of authentic Italian dining. It was named by Esquire magazine as one of the Best New Restaurants in America.
Tony Mandola's is considered as one of the best seafood and Italian restaurants in Houston.
Backstreet Cafe offers New American choices prepared by James Beard, Chef Hugo Ortega.
Armando's is famous for its upscale Mexican fare and has been a staple for many well-heeled locals and celebrities for decades.
Neighborhoods Near River Oaks
Zip codes for surrounding areas include 77046, 77056, 77098, 77005, and 77401 (view the Houston zip code map).
River Oaks Houston History
In 1923, the founders of River Oaks, brothers Will and Mike Hogg, along with their associate Hugh Potter, purchased 200 acres of land around the River Oaks Country Club.
They acquired the services of Kansas City landscape architects Hare and Hare to provide a master plan for the new subdivision.
They relied heavily on the allure of the country club's golf course to stimulate sales. River Oaks' very detailed development plans allowed it to become the most expensive neighborhood in the 1920's.
Today, River Oaks is Houston's most expensive neighborhood. River Oaks real estate include stately mansions, grand Victorian homes, and a collection of single-family new construction properties with modern designs.
River Oaks homes for sale have a median sales price of roughly $1,500,000. The neighborhood's real estate also has one of the city's highest appreciation rates in the last 10 years. Land value per square feet has increased by 65% in the last decade.
River Oaks Schools
The Houston Independent School District (HISD) operates the public schools servicing the River Oaks Houston area.
The neighborhood is home to some of the best public schools in Houston. River Oaks Elementary School features an accelerated multidisciplinary curriculum. Lanier Middle School is one of the few Texas schools with a perfect 10/10 GreatSchools.org rating.
The public schools associated with homes in River Oaks include:
Elementary Schools
River Oaks Elementary School at 2008 Kirby Dr.
River Oaks Elementary School has an accelerated multidisciplinary curriculum and is one of the first three elementary schools in Texas to acquire an authorization for the International Baccalaureate Primary Years Programme. It has a GreatSchools.org rating of 10/10.
Wharton Dual Language Academy at 900 W. Gray
Wharton is an alternative primary school that serves gifted and talented students in the Language Magnet program for Pre-K to 8. Their language program promotes both Spanish and English as languages of equal value. It has a GreatSchools.org rating of 10/10.
Middle Schools
Gregory-Lincoln Education Center at 1101 Taft
GLEC is an urban K-8 school that has a Fine Arts magnet program. It features instrumental music, vocal music, theatre arts, dance, culinary arts, visual arts, and multimedia classes to all students.
Lanier Middle School at 2600 Woodland
Lanier Middle School handles students from grades 6 to 8. They received a Texas Gold Performance Award based on language arts, math, reading, science, social studies, and writing in 2011. It has a GreatSchools.org rating of 10/10.
High Schools
Lamar High School at 3325 Westheimer Rd.
Lamar High School has a great Athletics program. They have one of the oldest lacrosse programs in the state, and have either won or placed several times in state championships in the past. Their football team, The Lamar Redskins, is one of the highest-ranking teams within the Greater Houston area.
To learn more about Houston public schools, including schools zoning address, academic ranking, and exact address, visit our Houston Schools page.
River Oaks Houston Private Schools
Notable Private Schools near River Oaks include:
St. Thomas High School at 4500 Memorial Dr.
St. Thomas is Roman Catholic school founded in 1900. It is the second oldest continuously operating private high school in Houston. It has a GreatSchools.org community rating of 4/5 stars.
St. Anne Catholic School at 2120 Westheimer Rd.
St. Anne Catholic School is an accredited Pre-K through 8th grade with a National Blue Ribbon Status from the Department of Education. It has a GreatSchools.org community rating of 4/5 stars.
St. John's School at 2401 Claremont Ln.
St. John's is one of "America's Elite Prep Schools" according to Forbes.com and "the best private school in Houston" according to the New York Times.It has a GreatSchools.org community rating of 3/5 stars.
Annunciation Orthodox School at 3600 Yoakum Blvd.
AOS is co-educational school for age-3 to 8th grade. It has a GreatSchools.org community rating of 4/5 stars.
River Oaks Baptist School at 2300 Willowick Rd.
River Oaks Baptist School is one of the premier independent, co-educational schools in Houston. Half of their faculty hold advanced degrees in their field and they boast of a low teacher to student ratio.
The Kinkaid School is a non-sectarian school attended by students from PK -12. It is also the oldest independent coeducational school in Greater Houston.
River Oaks Academy at 10600 Richmond Ave.
ROA specializes in individualized education for children with special needs. They boast of small student to teacher ratios and specialized programming for students with learning disabilities, unique learning styles, ADHD, social skill needs, autism, behavioral and emotional issues, and learning differences.
It is the only program approved by both the Texas Education Agency (TEA) and Southern Association of Colleges and Schools Council on Accreditation and School Improvement (SACS CASI).
To find an updated listing of all River Oaks real estate zoned to any specific public school, please email Paige Martin at Paige@HoustonProperties.com with the property type and budget that you're looking for.
*Note: school zoning can change from year to year, information above is deemed accurate, but not guaranteed. Please double check.
River Oaks Real Estate Trends
River Oaks is one of the the few real estate markets that have shown strength even in the times when the US real estate markets are struggling. Land value has increased by 65% in the last decade.
Homes for sale in River Oaks have a neighborhood value range of $845,000 to $2,835,000.
The River Oaks real estate market has a distinctive trend of restoration of older houses. There is a discernible shift to cultivate the traditional styles while still promoting a cozy environment.
The median sales price is around $1.55M, a 27% increase in the past 5 years.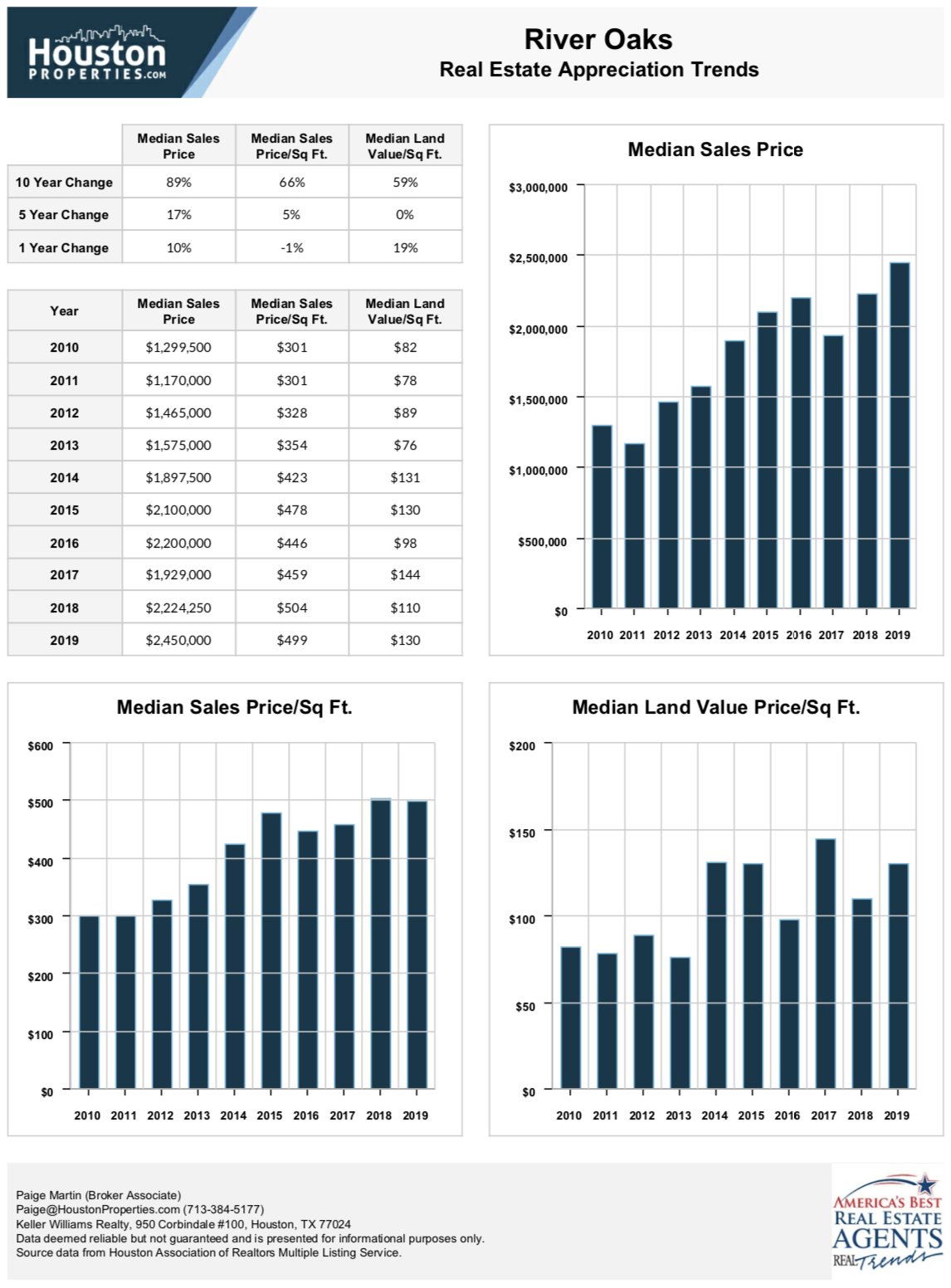 (Data sourced from the Houston Association of Realtors Multiple Listing Service and is deemed reliable but is not guaranteed).
For an updated River Oaks real estate pricing or trend analysis, please contact Paige Martin at Paige@HoustonProperties.com.
River Oaks Home Sale Trends
Even with the development and new constructions of townhomes and condominiums, over 60% of the home inventory in River Oaks are single-family homes.
The earlier-built homes in the area are products of the city's best and most popular architects. As one of Houston's most exclusive neighborhood, single-family homes usually come complete with maid's quarters, manicured lawns, and landscaped gardens.
Most owner-occupied single-family homes in River Oaks have 4 or more bedrooms. The average estimated value of detached single-family home is nearly $1,000,000.
There are over 1,300 single-family homes in River Oaks. The average number of bedrooms and baths is 3.67 and 3.38 respectively. The average price per square foot has increased by 54% in the past 10 years to around $448.
River Oaks Townhomes Sale Trends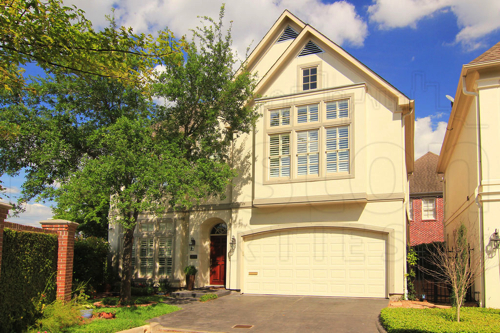 About 36% of the home inventory is a mix of condominiums and townhomes.
Townhome prices in this prestigious neighborhood start just under $1 million for a tear-down home or lot. At this price point, River Oaks townhomes for sale are a popular option.
Townhomes differ from single-family homes in that they share a wall with one or more neighbors, but you still own the dirt from the center of the earth to infinity.
The average estimated value of River Oaks townhomes is over $700,000.
River Oaks townhomes offer the luxury of single-family homes, with a lower price point. Most River Oaks townhomes for sale are within gated communities, and offer extensive amenities with a luxurious environment.
Popular River Oaks Townhomes For Sale:
River Oaks Condo Sale Trends
River Oaks condominiums offer the comfortable distance to prominent places in the city. Most residential properties have world-class amenities such as swimming pools, fitness centers, concierge, and security.
Every River Oaks condo promises a sweeping view of the city with wide windows, high ceilings, and spacious units. Kitchens and laundry rooms come equipped with state of the art appliances
There are many options for River Oaks Condos ranging from $200,000 to $5 million. The difference in price is usually influenced by the age of the property, the size of the unit, and the amenities included.
Condos in and near River Oaks include:
River Oak Gardens – located at 1601 S. Shepherd near West Gray, this 3-square block gated property features extensively landscaped grounds, a swimming pool, covered parking, and a 24-hour courtesy patrol.
Piedmont at River Oaks – Piedmont lies between River Oaks and Montrose at 1010 Rosine. It is fully-fenced and offers a great view of the River Oaks Shopping Center.
Huntingdon – This 34-story high rise condominium is considered a River Oaks landmark. It also offers different amenities like residents' only swimming pools, exercise rooms, saunas and tennis courts.
The Royalton at River Oaks – This magnificent 33-story high rise landmark is located at 3333 Allen Parkway with breathtaking views of the Houston skyline, gorgeous kitchens, grand master bedroom suites, private balconies, and posh designer finishes.
Bayou Bend Towers – Located at 101 Westcott, 77007, this prestigious full-service residential high-rise is surrounded by lush gardens with condo units overlooking the Buffalo Bayou.
Inwood Manor – This 16-story high Inwood Manor Houston condo building is located at 3711 San Felipe. It has 110 units and is among the stateliest buildings with condos for sale in Houston.
Regency House – Regency House stands 13 floors high and features 93 condo units. Built in 1963, its amenities include a concierge, guest rooms, tennis court, storage, valet parking, and a pool.
Renoir Lofts – Renoir Lofts is an 8-story, "19th century Europe-inspired" residential loft condominium on the edge of River Oaks. It is located at 1005 S. Shepherd Dr.
The Willowick – The Willowick is a 16-story high rise condo on the edge of River Oaks. It is located at 2200 Willowick.
View all Houston condos for sale
River Oaks Homes Realtor – Paige Martin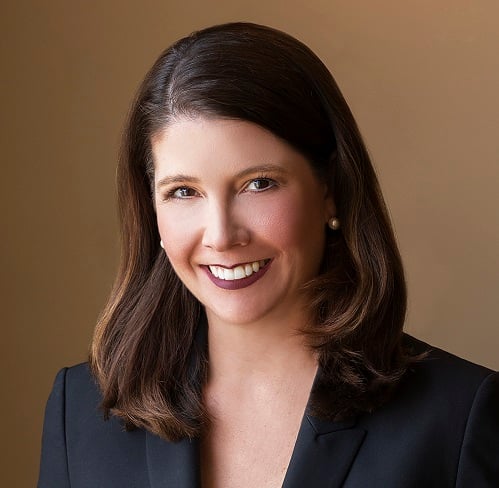 As featured on Fox News in the Morning, the Houston Business Journal, Houston Chronicle, and Houston Magazine, Paige Martin – a consistent Top Producing Broker-Associate and the owner of HoustonProperties.com – is ranked amongst the very top Keller Williams agents in the Houston area.
Paige was named the #1 Ranked Individual Agent in the Keller Williams Memorial Office the last four years. She has been a consistent top producing agent, winning awards every year since 2007.
Paige works with a tremendous number of buyers and sellers in River Oaks.
For a specific recommendation of neighborhoods, homes or properties based upon your personal style, goals & price point, please contact Paige Martin, Owner of HoustonProperties.com & Broker Associate at Paige@HoustonProperties.com or 713-384-5177.