Southampton Houston Neighborhood Guide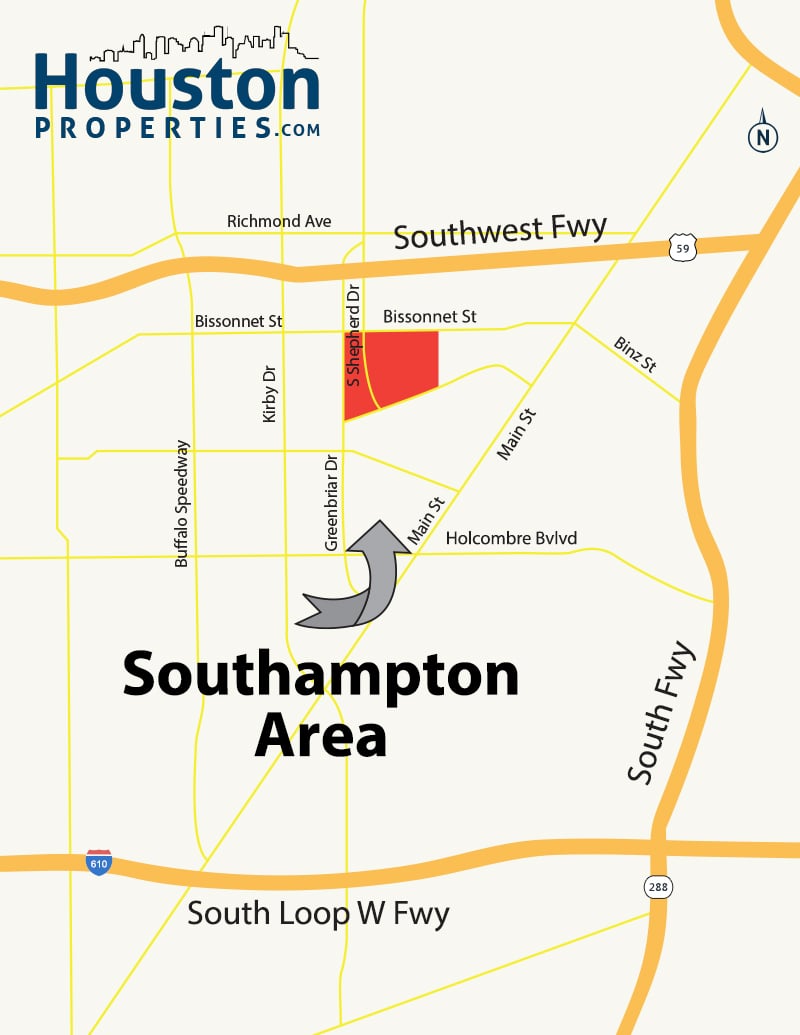 Southampton is one of the 20 Most Expensive Neighborhoods In Houston and also one of the 14 Hottest Inner Loop Neighborhoods in real estate appreciation.
Some of the features that make Southampton Houston a great neighborhood include:
GREAT LOCATION: The neighborhood is a few minutes away from the Texas Medical Center, Museum District, Downtown Houston, and is right across Rice University.
ACTIVE CIVICS CLUB: The stringent deed restrictions in Southampton Place maintain the identity and integrity of the neighborhood. A canopy of mature oak trees line the streets of this strictly single-family residential community.
STRONG REAL ESTATE APPRECIATION: Southampton Place homes for sale have appreciated by 60% in the past decade.
SECURITY: The Southampton/BOCA Patrol service is composed of off-duty Houston Police District officers. They patrol the area in marked police cars 24 hours a day.
LUXURY HOMES. Southampton homes for sale are mostly luxurious single-family properties with over 3 bedrooms and 3 baths.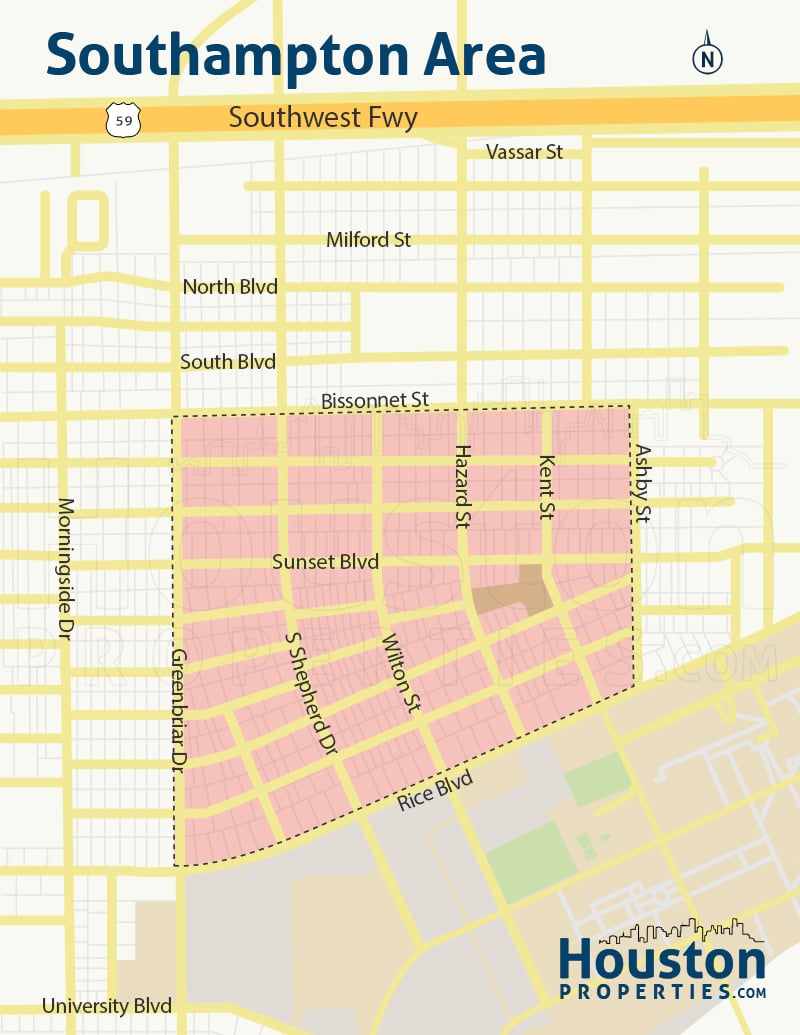 Compared to the rest of Harris County, the Southampton Place real estate inventory tend to move fast. Inventory is often low and homes get sold quickly.
Homebuyers benefit from the help of the best Southampton Houston realtor who knows how to navigate the neighborhood, its deed restrictions, and non-MLS inventory.
For questions, advice, Southmapton real estate recommendations, or off-market MLS listings, contact Paige Martin, Owner of HoustonProperties.com (and one of the top ranked Realtors in the city).
Southampton Place Resources (Popular Topics)
Houston Southampton Neighborhood Profile
Southampton Place Real Estate Guide
Paige Martin – Southampton Realtor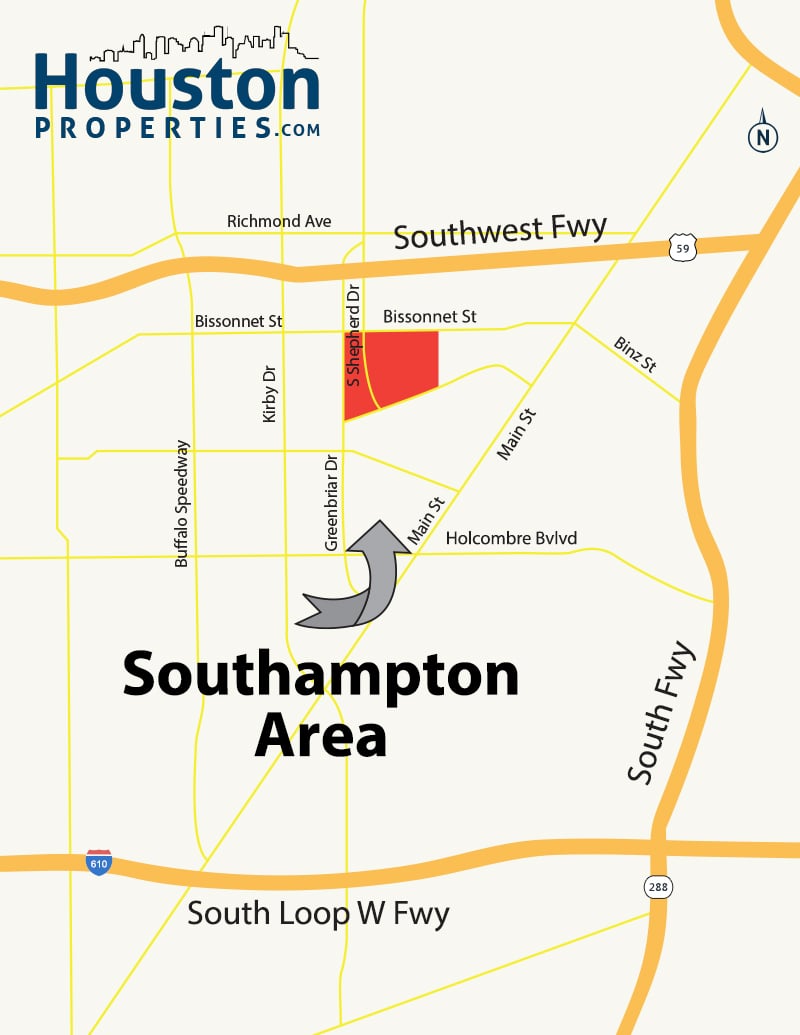 Southampton Maps and Location
Adjacent to Rice University, Southampton Houston is 160.75 acres of tree-lined streets, luxury homes, and beautiful landscape. Live oaks line the Sunset and Rice Boulevards, and has been the hallmark of this neighborhood.
The community's central location is a huge influence to its rising property values. It is near enough the Southwest Freeway without the disadvantage of being too close to worry about noise and traffic.
Southampton Place homes for sale are bordered by Rice Boulevard to the south, Bissonnet Street to the north, Greenbriar Drive to the west, and Ashby Street to the east.
The neighborhood is conveniently located near Texas Medical Center, the Museum District, and Hermann Park.
The Southampton Houston zip code is 77005.
Houston zip codes nearby include: 77098, 77030, 77006, and 77046. (View Houston zip code map.)
Fun Things To Do Near Southampton
Southampton Place deed restrictions prohibits construction of commercial or business establishments.
Fleming Park at Dunstan and Kent houses two full tennis courts, a playground, and a pavilion where various community activities take place. The well-kept asphalt streets and bike lanes are a favorite for Houston inline skaters and cyclists.
Southampton Place Houston has a WalkScore of 82 of 100 making it one of the most walkable neighborhoods in Houston. Though there are few public transportation options in the area, it rarely is an issue as most errands can be accomplished on foot.
Sunrise Grocery, a convenience store that used to be a gas station, is a familiar view along Bissonnet. British Isles is just outside the neighborhood along Rice Boulevard and is a favorite for many Houston consumers craving for some English fare.
Mercantile, a part grocer and coffee bar is just a 10-minute walk from Southampton. It is currently one of the hottest coffee shops in the country according to Eater.com.
Daily commutes are made easy by the Memorial Hermann station of the METRORail Redline. There are also buses plying Shepherd Drive, Bissonnet Street, and Greenbriar Drive.
Other must-try places near Southampton Place include: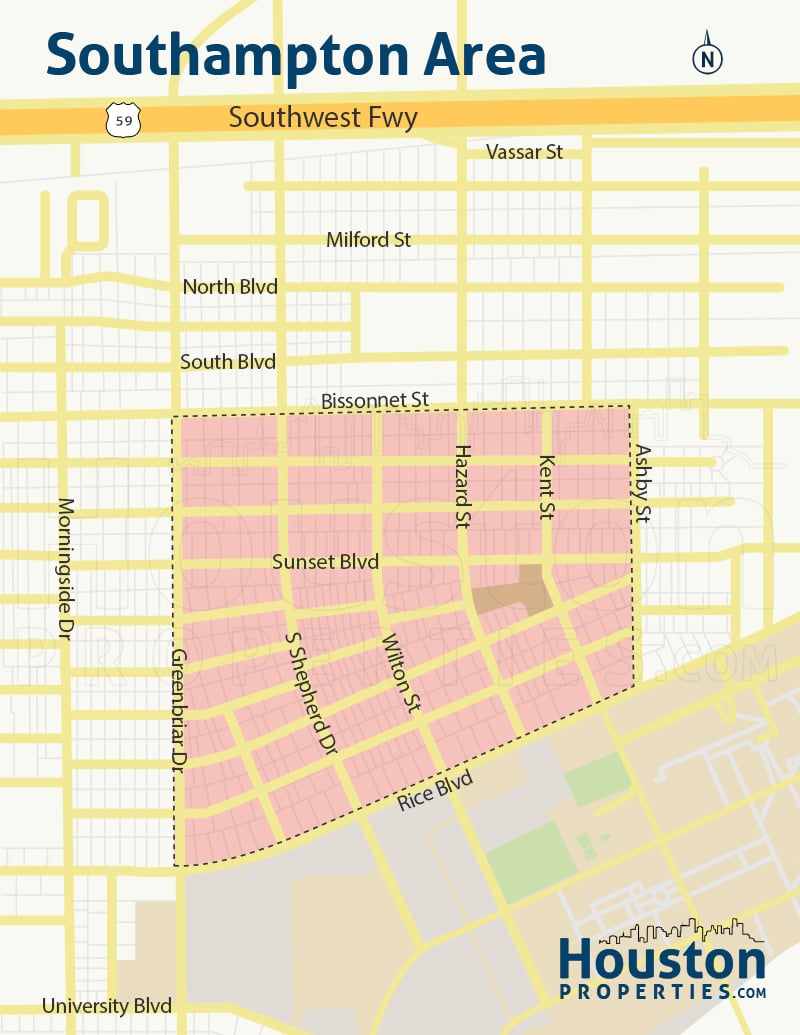 Dining
Punk's Simple Southern Food
Antica Osteria
Ruggles Cafe Bakery
Cloud 10 Creamery
Benjy's
Nightlife
Under the Volcano
Simone on Sunset
Kay's Lounge
The Ginger Man
Baker St. Pub & Grill
Arts
Houston Museum of Natural Science
Museum of Fine Arts Houston
Miller Outdoor Theatre
Contemporary Arts Museum Houston
The Menil Collection
Outdoors
Rice Running Trail
Hermann Park Trails
Hermann Park Reflecting Pool
Mecom Fountain
Japanese Garden
Shops
Esquivel & Fees Jewelry
Murder by the Book
Rice Village
Leap
Cactus Music
Neighborhoods Near Southampton
Neighborhoods near Southampton include:
Southampton Houston History
Southampton Place was developed in 1922 by E.H. Fleming as a residential and business community.
It was incorporated into the City of Houston the following year, and Southampton deed restrictions were drafted. One of its rules stated that there were to be no apartment houses or duplexes built within the neighborhood.
In 1929, the Southampton Civic Club (SHCC) was established to preserve and protect the deed restrictions of the neighborhood. The deed restrictions have been updated through the years. The homeowners association is a big driving force in keeping Southampton a single-family residential area for over 85 years.
The SHCC promotes preservation of the neighborhood and has also been active in the development of Houston ordinances such as off-street parking and residential permit parking.
They were also instrumental in preserving the beautiful oaks lining the Southampton Place streets when the new water lines were installed under city streets in 1972.
Southampton is also famous for its heavily-enforced deed restrictions. Alley access at the back of homes help keep cars and trash off the streets, and provide more space in their front yards.
Southampton is part of the University Place Association, an organization of area neighborhoods, businesses, and institutions that aim to promote civic goals.
Southampton Schools
The Houston Independent School District (HISD) operates public schools servicing Southampton Place. Residents are zoned to the following schools:
Elementary Schools
Poe Elementary at 5100 Hazard St.  The Edgar Allen Poe Elementary School is a fine arts magnet school that aims to develop creative thinkers and performers in the arts. It has a GreatSchools.org rating of 8/10.
Middle Schools
Lanier Middle School at 2600 Woodland. Sidney Lanier Middle School handles students from grades 6 to 8. They received a Texas Gold Performance Award based on language arts, math, reading, science, social studies, and writing in 2011. They also have a Vanguard program for gifted students. It has a GreatSchools.org rating of 10/10.
High Schools
Lamar High School at 3325 Westheimer Rd. Lamar High School has a great Athletics program. They have one of the oldest lacrosse programs in the state. Their football team, The Lamar Redskins, is one of the highest-ranking teams within the Greater Houston area. It has GreatSchools.org rating of 7/10.
Southampton Private Schools
From Pre-K to high school, there are many impressive private schools near Southampton Place Houston. These include:
Southampton Montessori Houston
The Village Montessori School
First Christian Church & School
It's Playtime
Little Miracles Montessori
Sheridan Montessori School
Presbyterian School
To find an updated listing of all Southampton real estate zoned to any specific public school, please email Paige Martin at Paige@HoustonProperties.com with the property type and budget that you're looking for.
*Note: school zoning can change from year to year, information above is deemed accurate, but not guaranteed. Please double check.
Southampton Real Estate Trends
The affluent neighborhood of Southampton Place is a small yet vibrant community of mostly single-family homes just north of Rice University.
It is the 2nd most expensive neighborhood in Houston due to its Inner Loop location, proximity to hot Houston hubs, and luxury homes for sale.
Southampton is also among the 14 top Inner Loop neighborhoods in terms of appreciation. Southampton homes for sale have appreciated by 13% last year. These properties also have a very strong 10-year real estate appreciation of 58%.
Southampton Place exhibits a similar trend of restoring old houses like the neighboring homes for sale in Boulevard Oaks Houston.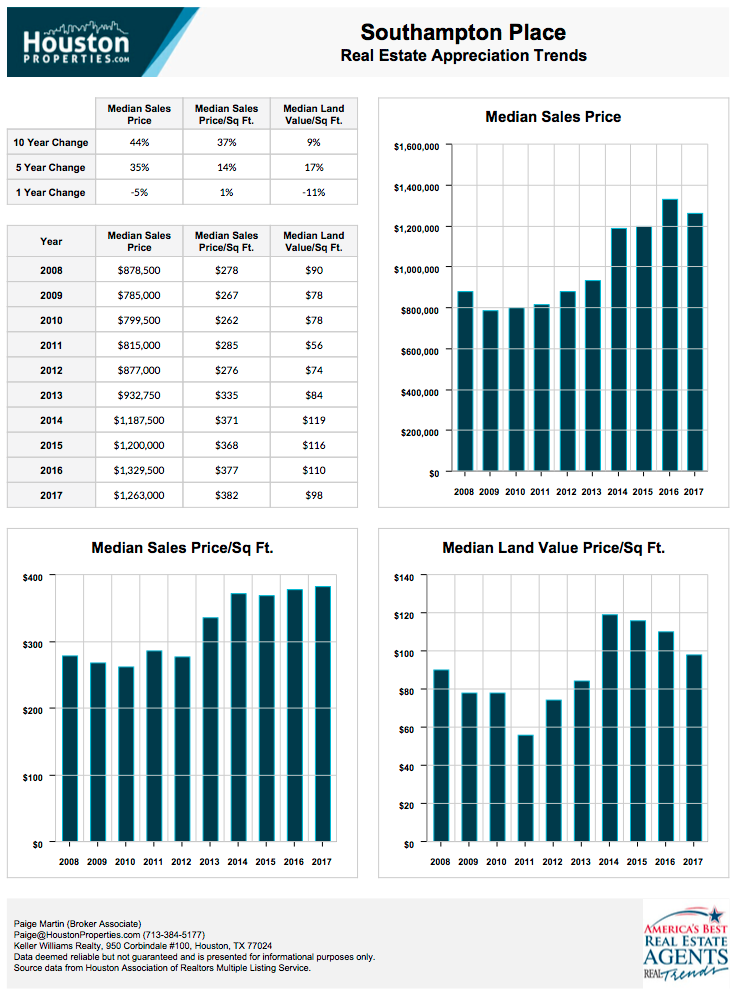 (Data sourced from the Houston Association of Realtors Multiple Listing Service and is deemed reliable but is not guaranteed).
For an updated Southampton real estate pricing or trend analysis, please contact Paige Martin at Paige@HoustonProperties.com.
Southampton Single-Family Home Sale Trends
Southampton Place is composed of over 600 single-family homes. The neighborhood deed restrictions only allow properties to be used as single-family residences, and also limit homes to 2 ½ floors.
The average number of bedrooms and baths of Southampton homes for sale is 3 and 2.5, respectively. Homes typically have large front yards due to another restriction that requires home to have back alleys.
Southampton homes for sale offer a glimpse of the 1920's and 1930's era, with popular home styles such as brick cottages, contemporary, Mediterranean, and classical Georgian. Prices range from over $500,000 to over $2 million.
Many homes in Southampton Place were built before the days of airconditioning and commonly have large wooden windows and side porches. Notable architects Salisbury and McHale designed many of the fine houses in the neighborhood.
Compared to the rest of Harris County, the Southampton Place real estate inventory tends to move quickly. Inventory is often low, and homes get sold quickly. Land value has soared by 94% in the past 10 years to $93 per square feet.
Southampton Townhomes Sale Trends
The neighborhood is a strictly single-family enclave and there are no Southampton Place townhomes for sale. The nearest townhome community is Southampton Homes along Southampton Estate.
Other townhome communities in 77005 include:
Sycamore Lofts
College Court Place
Westchester Court
Auburn Place Townhomes
Southampton Condo Sale Trends
Condos are likewise excluded from the neighborhood as stated in Southampton deed restrictions.
Condos for sale near Southampton Place include:
The Wesleyan Condo
The Oaks at West University
Other condos near Southampton are within the Museum District area and other sections of Inner Loop. To tour these condos, click on the links below: