Tanglewood Houston: Things To Know About The Neighborhood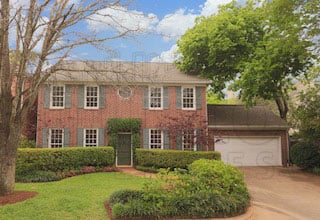 Tanglewood is one of the 20 most expensive neighborhoods in Houston.
Tanglewood is just West of the 610 loop and is close to Memorial Park, Memorial Villages, Galleria and Briargrove.
Once awarded by the National Association of Home Builders as one of the five best-planned neighborhoods in the country, Tanglewood remains popular due to its grand homes and oak-lined streets.
Managed by a strict homeowners association, Tanglewood has deed restrictions in place to preserve the neighborhood's small town vibe.
Tanglewood homes are mostly single-family homes with a median appraised value of over $1,000,000. Known for their oversized lots that average well over 16,000 square feet, Tanglewood homes for sale are also among the most expensive properties in Houston.
Tanglewood Resources (Popular Topics)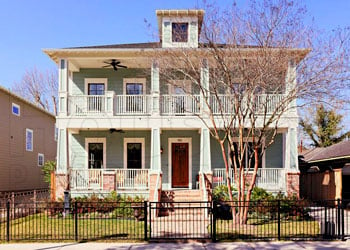 Houston Tanglewood Neighborhood Profile
Tanglewood Maps and Location
Tanglewood Houston is just outside Inner Loop and inside Texas State Highway Beltway 8. The Galleria and Downtown Houston are both 10-15 minutes away.
Popular among locals due to its tree-lined streets, expansive lots, and quality homes for sale, the neighborhood is near enough the business center yet withdrawn from the commotion of the city.
This picturesque residential area is bordered by the Woodway Drive to the north, San Felipe Street to the south, Chimney Rock Road to the east, and Sage Road to the west.
The Tanglewood Houston Zip code is 77056. The world-famous Galleria Mall is just an 8-minute drive from the neighborhood. The Houston Country Club is also just 14 minutes away.
Downtown Houston, Galleria, Greenway Plaza and Energy Corridor are the nearest business districts to Tanglewood, all less than a 15-minute drive.
There are close to 1,200 single family homes in Tanglewood Houston Tx. Tanglewood Houston is a predominantly composed of single family homes.
Fun Things To Do In Tanglewood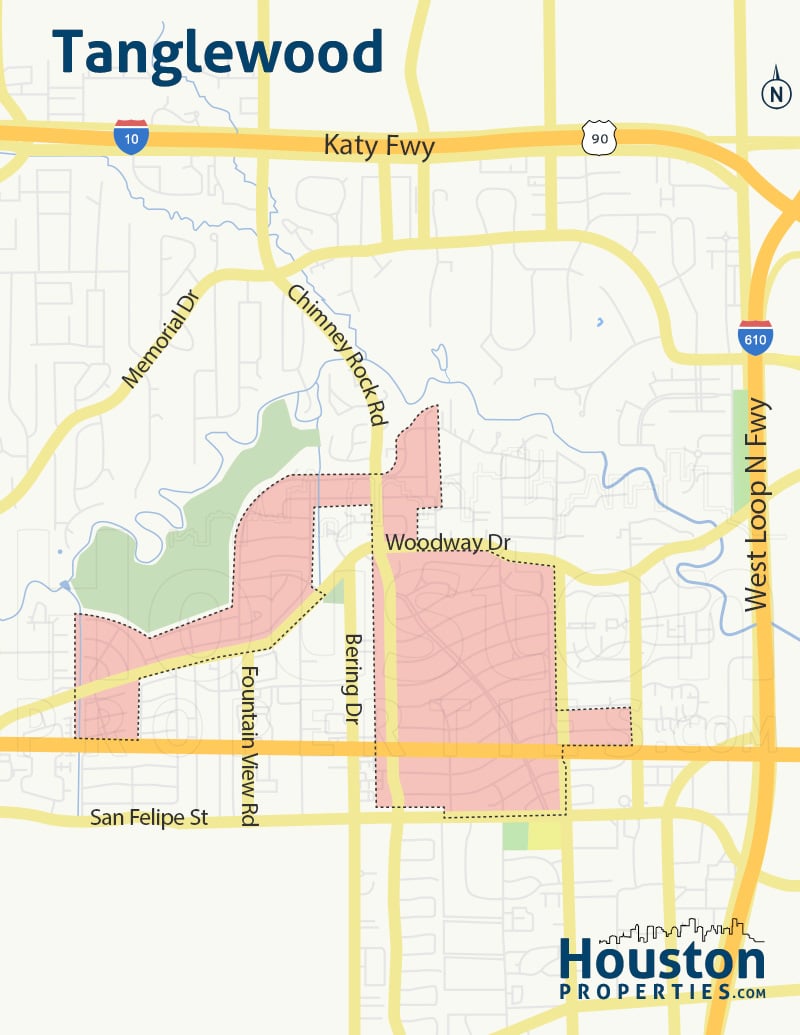 Tanglewood has a "Walkability" score of 55 according to Walkscore.com. Residents do some of their errands on foot or by biking around the many bike trails in the area.
Dining options are very diverse. There are over 300 restaurants, bars, and cafes offering cuisines such as Traditional American, Mediterranean, Brazilian, French, Italian, Middle Eastern, and Chinese. Some of the most popular include:
Adair Kitchen at 5161 San Felipe, Suite 390
Willie G's Seafood & Steakhouse at 1605 Post Oak Blvd
McCormick & Schmick's Seafood Restaurant at 1151-01 Uptown Park Blvd
Crave Cupcakes at 1151 Uptown Park Blvd
RDG + Bar Annie at 1800 Post Oak Blvd
Other popular places to visit for out-of towners include:
Houston Arboretum & Nature Center, a Botanical Garden located at 4501 Woodway Dr
Water Wall, a multi-story sculptural fountain at 2800 Post Oak Blvd
The Menil Collection (Museum) at 1533 Sul Ross St
Memorial Park at 1001 E Memorial Loop
Houston Country Club at 1 Potomac Dr
Neighborhoods Near Tanglewood
Zip codes for surrounding areas include 77057, 77024. 77027, and 77081 (view the Houston zip code map).
Tanglewood Houston History
The William G. Farrington Company developed the prairie where the now luxurious neighborhood of Tanglewood stands.
It opened in 1949 with just 7 air-conditioned ranch homes, each planted with 2 oak trees.
The name "Tanglewood" comes from the Nathaniel Hawthorne book, Tanglewood tales, which was Farrington's daughter's favorite book. It also serves as the inspiration for the neighborhood's tree-lined streets and expansive lawns.
Since most of the land was open prairie, developers planted two large oak trees within each yard plus three oaks added on every corner. As a result, Tanglewood is now one of Houston's most beautiful wooded areas.
Sales was slow for the first few months. However, after several heavy rains flooded most of Harris County, many prospective buyers began inquiring about Tanglewood homes.
The area had high water drainage and was one of the few areas in the county that weren't affected by the floods.
From the original 7 home sites, the neighborhood today features well over 1,000 homes for sale with a median sales price of over $1,000,000.
Tanglewood Schools
The Houston Independent School District (HISD) operates the public schools servicing the Tanglewood area. The public schools associated with homes in Tanglewood include:
Elementary Schools
Briargrove Elementary School
Elementary students in the neighborhood attend the Briargrove Elementary School. It has a GreatSchools.org rating of 6/10, and students perform well above the state average.
Middle Schools
Grady Middle School is a TEA Recognized school with a 6/10 rating from GreatSchools.org. Its TAKS (Texas Assessment of Knowledge and Skills) passing rate in 2011 is 99% for Social Studies and 97% for both Reading and Writing.
High Schools
Lee High School
Lamar High School
Westside High School
TEA rates Lamar High School as "Recognized". Lamar High School currently has the biggest number of students who graduate with the IB Diploma in Texas.
The International Baccalaureate Diploma Programme (IBDP) is a two-year educational programme primarily aimed at students aged 16–19. It serves as a qualification for entry into higher education.
Lamar High School also has a great Athletics program. They have one of the oldest lacrosse programs in the state, and have either won or placed several times in state championships in the past. Their football team, The Lamar Redskins, is one of the highest-ranking teams within the Greater Houston area.
To learn more about Houston public schools, including schools zoning address, academic ranking, and exact address, visit our Houston Schools page.
Tanglewood Private Schools
Notable private schools near Tanglewood include:
St. Michael School, a co-educational Catholic school for elementary to middle school students. It is located in the Galleria area.
Al-Hadi School of Accelerative Learning, an Islamic school located in Southwest Houston. The school accepts students from Pre-K to 12th grade.
Strake Jesuit College Preparatory, the largest Catholic school in Houston for grades 9 – 12.
St. Agnes Academy, a Dominican school for female students grades 9 – 12.
St. John's School, one of "America's Elite Prep Schools" according to Forbes.com and "the best private school in Houston" according to the New York Times. St. John's admits students from K-12.
The Kinkaid School, a non-sectarian school attended by students from PK -12. it is also the oldest independent coeducational school in Greater Houston.
To find an updated listing of all Tanglewood real estate zoned to any specific public school, please email Paige Martin at Paige@HoustonProperties.com with the property type and budget that you're looking for.
*Note: school zoning can change from year to year, information above is deemed accurate, but not guaranteed. Please double check.
Tanglewood Real Estate Trends
Tanglewood Houston homes vary from Mediterranean villas to French chateaus to Georgian mansions. The median price of Tanglewood homes is around $1,300,000 while the median price per square foot is roughly $330.
Tanglewood homes for sale continue to appreciate the last five years. The average price per square foot has increased by 15%. Tanglewood's land value per square foot has increased by 43% over the last 10 years.
(Data sourced from the Houston Association of Realtors Multiple Listing Service and is deemed reliable but is not guaranteed).
For an updated Tanglewood real estate pricing or trend analysis, please contact Paige Martin at Paige@HoustonProperties.com.
Tanglewood Single-Family Home Sale Trends
There are close to 1,200 single family homes in Tanglewood Houston Tx. Tanglewood Houston is predominantly composed of single family homes.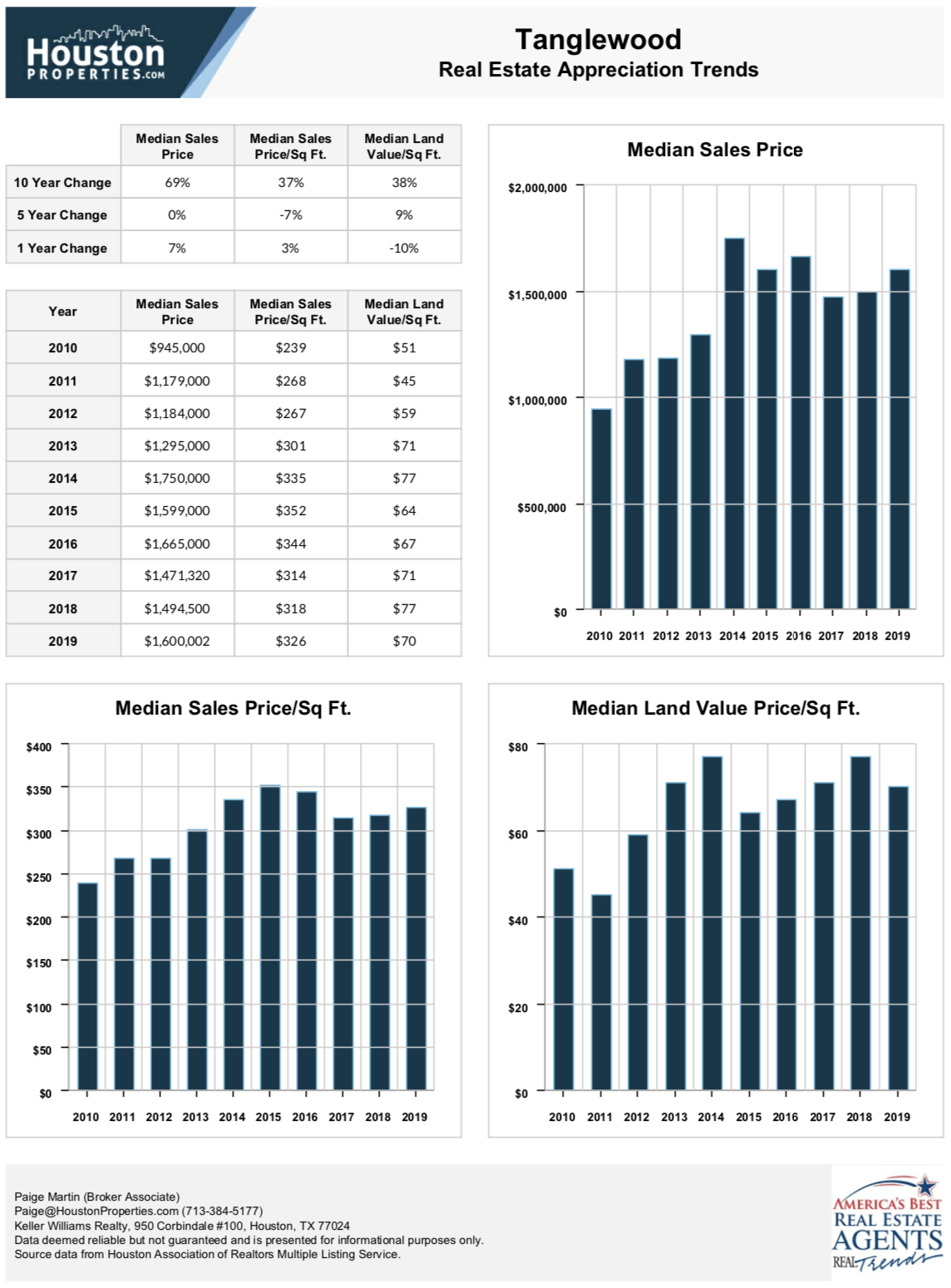 One of the factors that affect Tanglewood Houston single-family homes' heightened curb appeal are the very spacious lots. Tanglewood real estate have some of the biggest lots in Houston. Tanglewood lots range from 6,000 to 13,000 square feet.
The median list price of single family homes in Tanglewood is around $1,300,000, a 48% increase from its average 10 years ago. The short supply of Tanglewood homes for sale continue to push its appreciation.
Only 5.35% of the single-family homes are currently vacant. Tanglewood Houston homes have a median size of 5,446 sq.ft. Newly constructed single family homes are gradually replacing the older homes in Tanglewood.
Tanglewood Townhomes Sale Trends
Tanglewood new constructions are paving the way for diversity with the development of townhomes and high rise condominiums. The popularity of the neighborhood caused an increased interest in more practical housing options.
Townhomes differ from single-family homes in that they share walls with one or more neighbors. However, like single-family homes, they still own the dirt from the center of earth to infinity. Most townhomes in Tanglewood provide shared amenities to other residents, similar to condominiums.
The inventory of Tanglewood townhomes is very low but developers are in the process of building new townhomes in the area. Nearby Inner Loop neighborhoods have numerous Houston townhome options.
Tanglewood Condo Sale Trends
There are currently no residential mid or high rise condominiums in Tanglewood. However, there are many condominiums within the 77056 zip code and nearby areas.
Nearby Galleria is home to many Houston condos and highrises. Condos about 5 to 10 minutes away from Tanglewood include: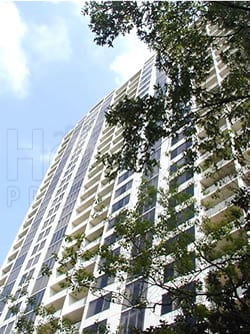 Galleria (77056):
Tanglewood is also close to Memorial Park. Memorial Park condos include:
View all Houston condos for sale
Tanglewood Homes Realtor – Paige Martin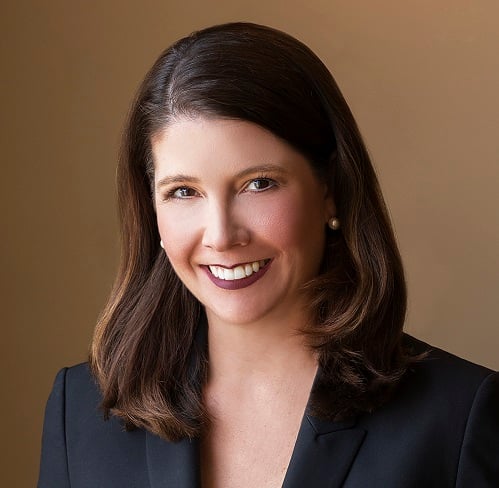 As featured on Fox News in the Morning, the Houston Business Journal, Houston Chronicle, and Houston Magazine, Paige Martin – a consistent Top Producing Broker-Associate and the owner of HoustonProperties.com – is ranked amongst the very top Keller Williams agents in the Houston area.
Paige was named the #1 Ranked Individual Agent in the Keller Williams Memorial Office the last four years. She has been a consistent top producing agent, winning awards every year since 2007.
Paige works with a tremendous number of buyers and sellers in Tanglewood.
For a specific recommendation of neighborhoods, homes or properties based upon your personal style, goals & price point, please contact Paige Martin, Owner of HoustonProperties.com & Broker Associate at Paige@HoustonProperties.com or 713-384-5177.