West University Houston Neighborhood Guide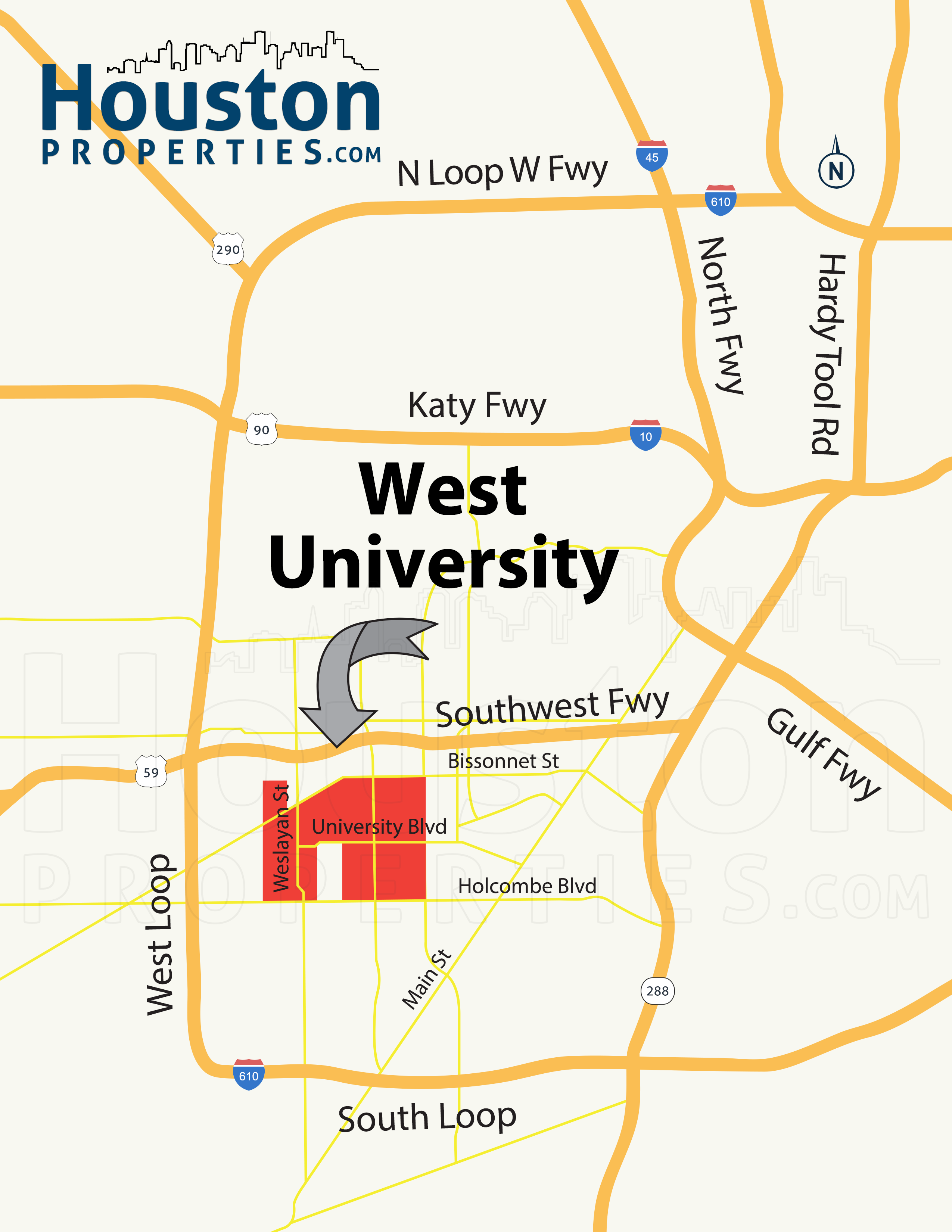 West University Place (called West University or West U) is consistently ranked one of Houston's Top 20 Neighborhoods.
Below is one of the most comprehensive West University Neighborhood & Real Estate guides available.  What sets West University apart includes:
GREAT LOCATION:  West University offers easy access to Downtown Houston, The Medical Center, The Galleria and Houston's Inner Loop (West University Location Map, West University Map, West University Subdivision Map).
SCHOOLS: West University Elementary is one of the top ranked public schools in the state of Texas.  West U has great access to a large number of top ranked public and private schools.
PRIVATE POLICE & FIRE: West University has a distinct Police and Fire Department that just serves the community.
STRONG COMMUNITY: West U's "neighborhood feel" is unique, and hard to describe unless you've lived here. West U is filled with great parks, recreation and community activities.  Parts of West U also offer a fantastic Walk Score with easy access to the Rice Village Shopping Center with over 300 establishments.
STRONG REAL ESTATE APPRECIATION: Over the past decade, West U real estate has been a phenomenal investment.  (10 year West U real estate trends.)
Real estate prices of West University homes for sale are some of the highest in the city.  Townhomes, lots and "West U Fixer Uppers" sell for $600k-$900k.  Homes easily cost $1 – $3 million.
Navigating the West University real estate market can be tricky. Zoning restrictions, high competition for good properties, and premiums or discounts for certain subdivisions, blocks, (or even sides of the street) make expert real estate advice critical and profitable.
For questions, advice, recommendations or West U real estate for sale, contact Paige Martin, Owner of HoustonProperties.com and one of the top ranked realtors in the city.
West University Resources (Popular Topics)
West University Homes Under $500,000
Houston West University Neighborhood Profile
West University Real Estate Guide
Paige Martin – West University Homes Realtor
West University Maps and Location
Located just west of Rice University, West University is bordered by Bellaire Blvd, South Freeway, and Southwest Freeway.
Proud of their neighborhood's "residential image", West University Place homeowners have tough zoning and deed restrictions.
These protect the city from industrial and commercial development. In an era of rapid metropolitan growth, West University has emerged as an island of residential stability.
In order to preserve the beauty and integrity of the neighborhood, current ordinances require that each lot contain a certain amount of open space. This prohibits large new construction homes or remodeled homes from occupying the total yard.
A recent addition to the City has been the Urban Forester who protects the neighborhood from losing too many of its cherished trees. As a result, West University Place has maintained its small town atmosphere with a very organized community planning.
West University is within the 77005 zip code of Harris County.
West University Subdivisions
West University Place has emerged as one of Houston's most desirable neighborhoods. As part of its goal to keep the West U area well-organized, the neighborhood has been divided into "blocks". There are a total of 26 sections or blocks within West University.
Each block contains original bungalows, recently remodeled homes, as well as an abundance of beautiful new and recent construction. Contemporary, Tudor, New Orleans, traditional Georgian, and French designed homes blend harmoniously into the neighborhood.
These include: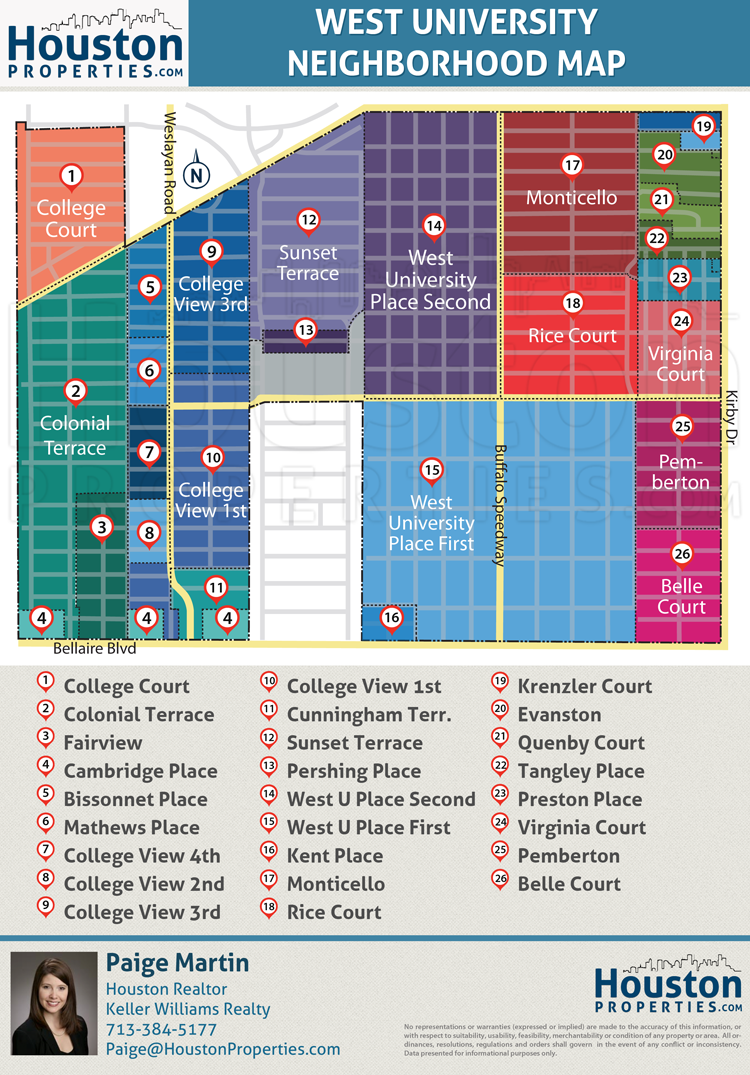 College Court
Fairview
Cambridge Place
College View 4th
College View 2nd
College View 3rd
College View 1st
Pershing Place
West U Place 2nd
West U Place 1st
Kent Place
Rice Court
Krenzler Court
Tangley Place
Preston Place
Virginia Court
Fun Things To Do In West University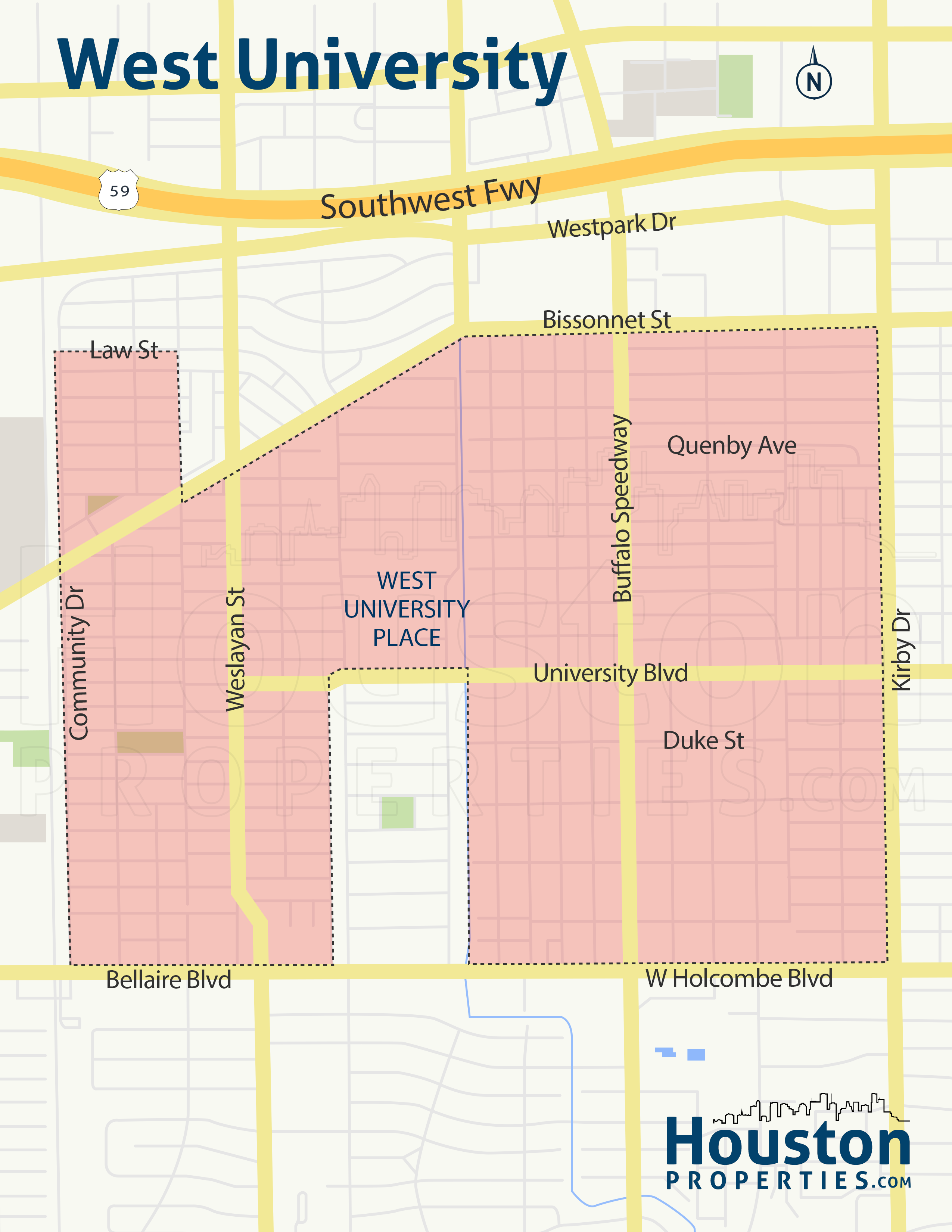 Residents of West University Place enjoy a variety of activities and establishments within the neighborhood. There are many parks and picnic areas where residents can go bird watching, do team sports, or have a relaxing bike ride.
West U has a Walk Score of 74 of 100, meaning many errands can be accomplished on foot.
Public transport is accessible via the Hermann Park/Rice U Metrorail Station. There are also plenty of buses plying routes nearby.
Rice Village is one of the city's best-loved shopping destinations. Encompassing 16 blocks with over 300 shops, it gives the area a youthful ambiance due to cozy coffee shops and local pubs it houses.
West University also has the largest Little League Baseball group in the United States.
Outdoors
Parks within the West University Place include:
Colonial Park
Friends Park
Huffington Park
Whitt Johnson Park
Judson Park
Wier Park
Nearby outdoor attractions include:
Hermann Park
Gerald D. Hines Waterwall Park
Rice Running Trail
Memorial Park
Buffalo Bayou Park
Houston Arboretum and Nature Center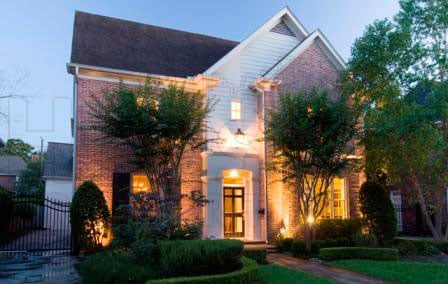 Dining
Bite Macarons
Local Foods
Uchi
The Breakfast Klub
Luna Pizzeria
Hobbit Cafe
Kolache Factory
Nightlife
Flying Saucer Draught Emporium
Baker St. Pub and Grill
The Ginger Man
Grand Prize Bar
Mezzanine Lounge
Shopping
Rice Village
H-E-B
Kroger
Urban Harvest Farmers Market
Central Market – Houston
Neighborhoods Near West University
Neighborhoods surrounding West University Place include:
West University Houston History
Former Governor of Tennessee, Ben Hooper, initialized West University real estate development in 1910. West University got its name due to its proximity to Rice University.
In 1924, community leaders incorporated West University as its own city because Houston was reluctant to extend their power lines that far from the city center.
The city fathers spent years establishing infrastructures and other conveniences such as a natural gas supply, water supply, sewage disposal, postal delivery, police force, fire protection, and garbage collection.
The municipality refused to consolidate with the City of Houston in 1939, and adopted a formal city chapter the following year.
Today West University is one of Houston's most popular and most expensive neighborhoods. Famous colleges, universities, and poets make up the name of streets in West University.
West University Schools
The Houston Independent School District (HISD) operates the public schools servicing the West University Houston area.
The neighborhood is home to some of the best schools in Houston. The public schools associated with homes in West University include:
Elementary Schools
West U Elementary School at 3756 University Blvd. West U Elementary serves kindergarten to 5th grade students. It has a GreatSchools.org rating of 10/10, one of the few Houston schools with a perfect rating.
The Rice School at 7550 Seuss Dr. The Rice School is K-8 magnet school for Technology and Spanish. It has a GreatSchools.org rating of 7/10.
Mandarin Chinese Immersion School at 6300 Avenue B, Bellaire. They are the first dedicated Mandarin language immersion magnet school in Houston for Pre K-3 students. They have a GreatSchools.org rating of 5/10.
Middle School
Pin Oak Middle School at 4601 Glenmont St, Bellaire. The school offers a Foreign Language magnet program and serves grades 6 to 8. It has a GreatSchools.org rating of 10/10.
Pershing Middle School at 3838 Blue Bonnet Blvd. The school serves students grades 6 through 8 and offers a Fine Arts magnet program. It has a GreatSchools.org rating of 7/10.
High School
Lamar High School at 3325 Westheimer Rd. The school offers business management courses as well as International Baccalaureate programs. It has a GreatSchools.org rating of 7/10.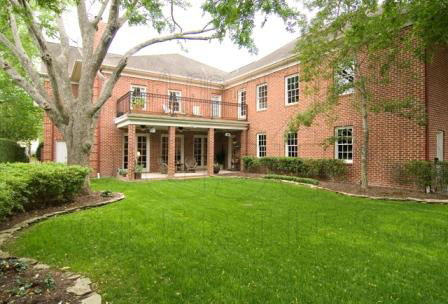 West University Private Schools
Known as a neighborhood for academics, West University has some of the top private schools in Houston.
Southampton Montessori School at 5012 Morningside Dr.  It is a co-educational preschool with a GreatSchools.org community rating of 5/5.
St. Mark's Episcopal School at 3816 Bellaire Blvd. The school serves students from preschool to Grade 8 and has a GreatSchools.org community rating of 4/5.
The Post Oak School at 4600 Bissonnet St, Bellaire. The Post Oak School is a Montessori school serving elementary to high school students. It has a GreatSchools.org community rating of 4/5.
Episcopal High School at 4650 Bissonnet St, Bellaire. Episcopal High School is a co-educational school with a curriculum based on academics, religion, fine arts, and athletics. It has a GreatSchools.org community rating of 4/5.
St. Vincent De Paul Catholic School at 6802 Buffalo. The school is a parochial co-educational school for elementary to middle school students. It has a GreatSchools.org community rating of 4/5.
St. John's School at 2401 Claremont Ln. St. John's School is one of "America's Elite Prep Schools" according to Forbes and "the best private school in Houston" according to the New York Times. St. John's admits students from K-12.
St. Francis Episcopal Day School at 335 Piney Point Rd. A previous National Blue Ribbon School, the school admits elementary to middle school students. It has a GreatSchools.org community rating of 4/5.
Colleges and Universities
Rice University is just a few minutes east of West University Place. The city is also served by the Houston Community College System, with several campuses around Houston. The University of Houston and the Texas Southern University are both just a few minutes away.
To find an updated listing of all West University real estate zoned to any specific public school, please email Paige Martin at Paige@HoustonProperties.com with the property type and budget that you're looking for.
*Note: school zoning can change from year to year, information above is deemed accurate, but not guaranteed. Please double check.
West University Real Estate Trends
West U real estate inventory is mostly composed of single-family homes, townhomes, and condominiums.
Popular home styles in West U include brick and stucco homes. There are also contemporary, Tudor, New Orleans, traditional Georgian, and French designed homes.
Prices of homes range from $500,000 to $1,800,000. The median year built is 1987.
The West University Place real estate market is primarily a seller's market. The median days on market of listings is under 37 days.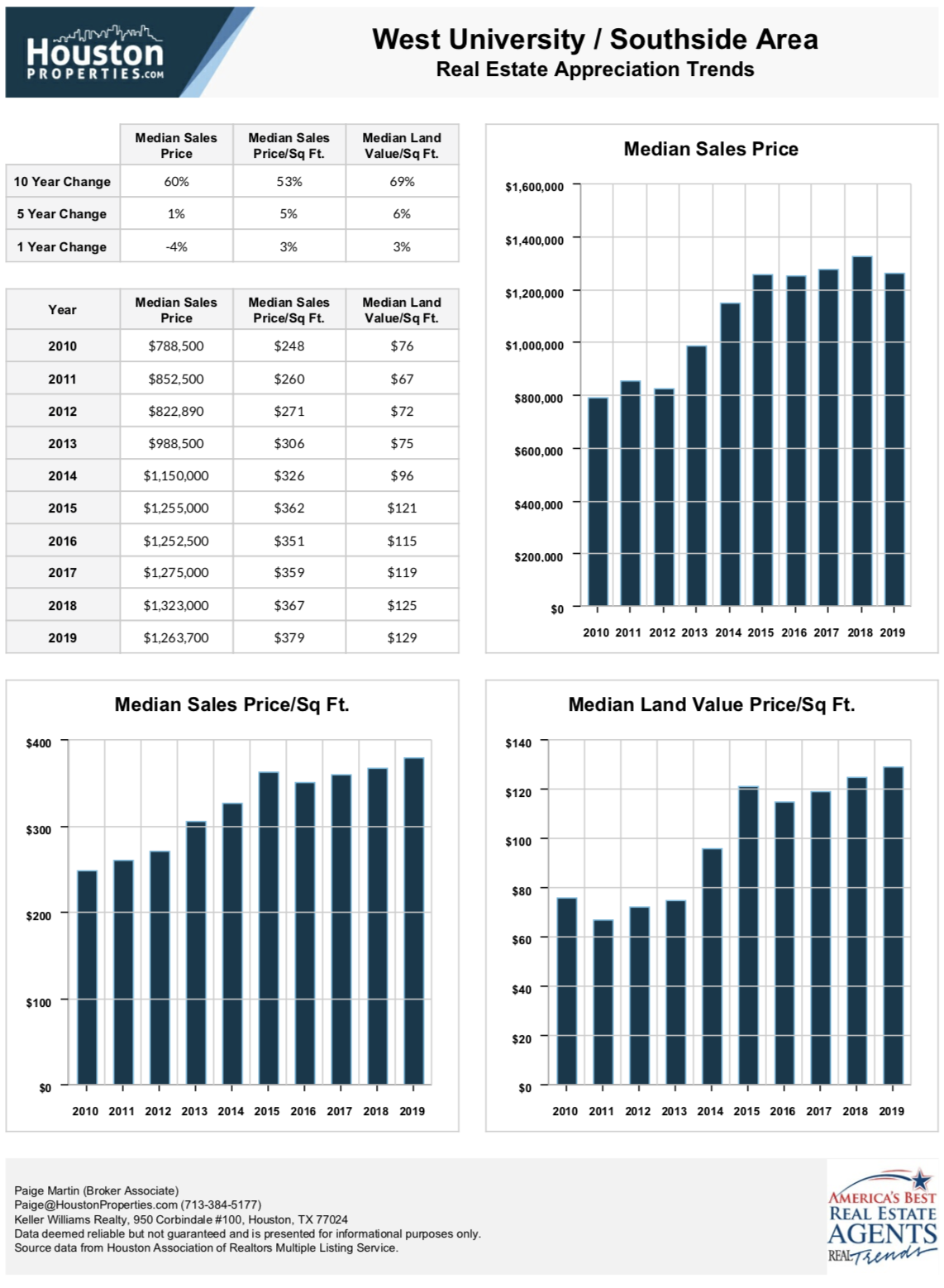 (Data sourced from the Houston Association of Realtors Multiple Listing Service and is deemed reliable but is not guaranteed).
For an updated West University real estate pricing or trend analysis, please contact Paige Martin at Paige@HoustonProperties.com.
West University Single-Family Home Sale Trends
Majority of the properties in West University are single-family homes. West University was originally composed mostly of small cottages. Like with the rest of Houston, there is an ongoing trend to replace older structures with newly constructed homes.
The average number of bedrooms and bathrooms is 3.75 and 3.20 respectively. The median lot size is nearly 7,500 square feet, with a median home size of over 3,700 square feet.
The median sales price of West University homes is around $950,000, a 64% increase in the past decade.
The average price per square foot of West University single-family homes for sale is about $300. Land value has increased by 73% in the past 10 years to around $80 per square foot.
West University Townhomes Sale Trends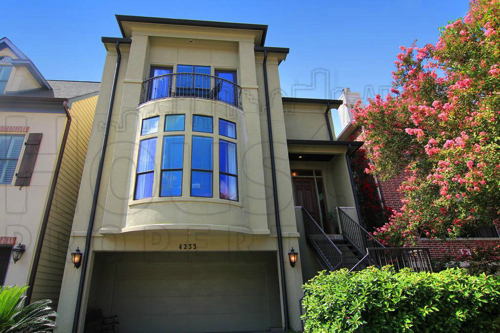 Old properties getting torn down have made way for the increase in West University townhomes.
Most of these townhomes are within gated communities and offers many amenities comparable to high-rise condominiums.
Unlike condos, townhome owners have a direct ownership of the land. Townhomes also offer lower HOA fees, which pay for the maintenance of common areas.
West University townhomes offer some of the benefits of both single-family homes and condos.
West University Townhomes for sale range from roughly $500,000 to around $1M.
West University Townhomes include:
Westchester Court
Auburn Place Townhomes
Hampton Oaks
West University Condo Sale Trends
Being a bedroom community, West University condos are another popular option. Condos afford its residents luxurious living, without the high maintenance costs associated with single-family homes.
West University Condo inventory remains very low. Condo buildings within and near West University are:
Popular Inner Loop condos near West University include:
West University Condos:
Condos near West University are within the Museum District area and other sections of Inner Loop. To tour these condos, click on the links below:
West University Houston Realtor – Paige Martin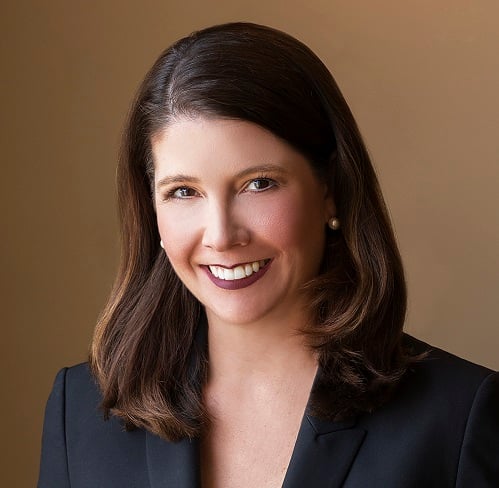 As featured on Fox News in the Morning, the Houston Business Journal, Houston Chronicle, and Houston Magazine, Paige Martin – a consistent Top Producing Broker-Associate and the owner of HoustonProperties.com – is ranked amongst the very top Keller Williams agents in the Houston area.
Paige is ranked as one of the top realtors in West University, Houston, and the state of Texas.  Read more about the over 65 awards she's won in the last few years.
Paige works with a tremendous number of buyers and sellers in West University.
For a specific recommendation of neighborhoods, homes or properties based upon your personal style, goals & price point, please contact Paige Martin, Owner of HoustonProperties.com & Broker Associate at Paige@HoustonProperties.com or 713-384-5177.