Search West University Place Real Estate For Sale
West University Place Market Statistics
West University Houston Real Estate Information
The city of West University Place was developed by former Tennessee Governor Ben Hooper in 1917. Proximity to Rice Institute inspired the name West University. It incorporated as its own city in 1925, because of a reluctance on Houston's part to extend power lines out "that far."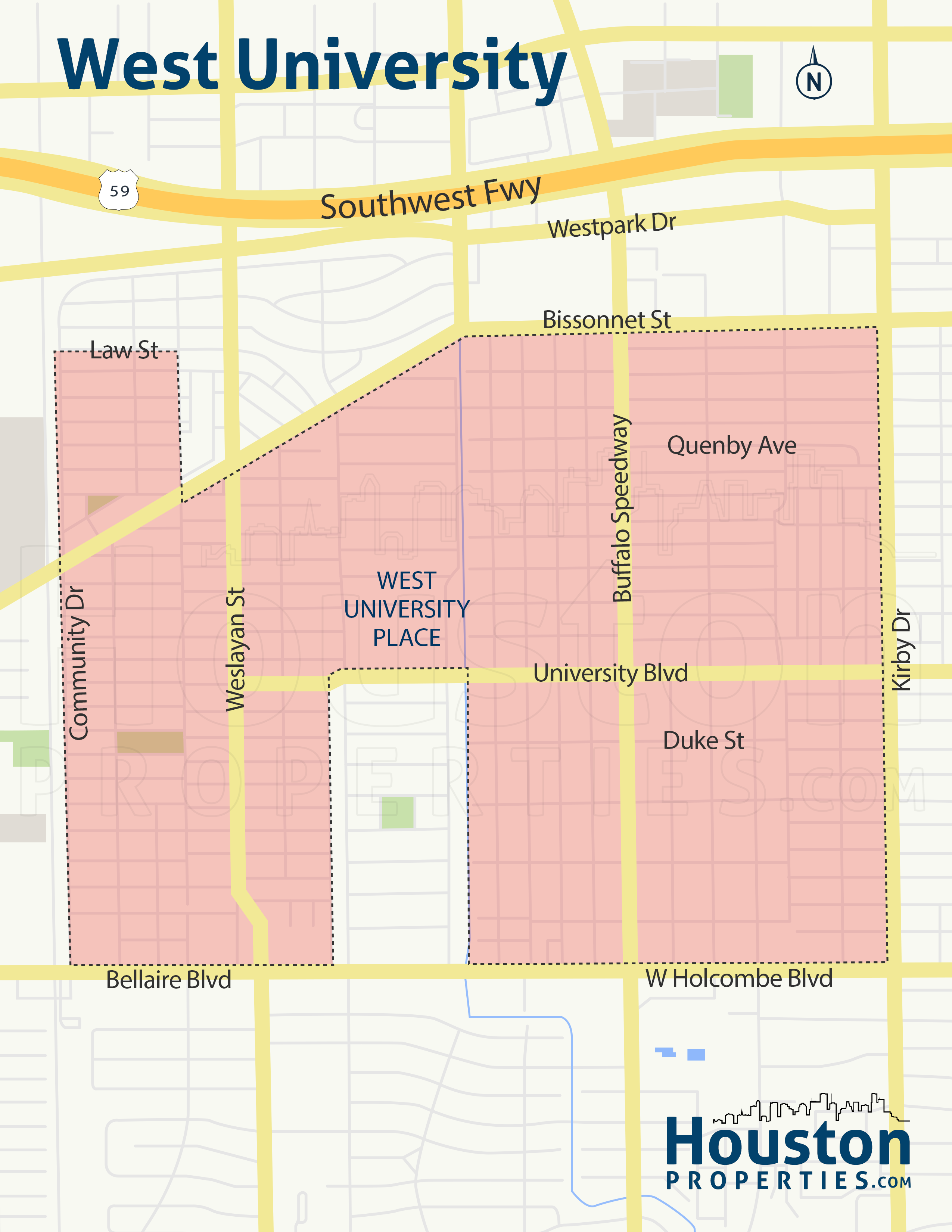 Location
West University Place is completely surrounded by the cities of Houston, Bellaire, and Southside Place.  Home to many professionals, this city provides very easy access to Downtown Houston, the Museum District, Houston Medical Center, the Galleria, Greenway Plaza, Montrose and most major freeways.
The city is well known for its academically recognized elementary school, Little League, beautiful parks and recreational facilities, The JMH Market, the Edloe Street Cafe, Rice Village, as well as its eclectic architectural style.
West University Houston is in close proximity to The Rice School, a kindergarten through 8th grade magnet school in Houston. West U has a distinct logo that graces many of its street signs, water towers, manhole covers, and some street intersections.
The City of West University Place operates its own fire department and police department. Currently, about 13,000 residents live in this city that spans over 1,200 residential acres and nearly 20 acres of commercial property. West University maintains strong inspection and permit policies as well as strict zoning regulations.
West University Homes For Sale

Because of the high demand for homes in the area, very few vacant home lots remain. About ten years ago, a trend began in West University Place; older homes were razed and replaced with new, multi-story Georgian style homes. In fact, more of this kind of renovating has taken place in the West U. area than elsewhere in Houston.
Per square foot home-building costs run $130 to $150, having risen from $104 in April 1989.  Per square foot home sale prices have risen from around $130 in 1995 to approximately $234 in 2005 (see detailed market data below).
From inception, West University Place has priced itself with tough zoning and deed restrictions. Although the setback requirements were written in 1937, the City later adopted them into law. The laws protect the city from industrial and commercial development. In an era of rapid metropolitan growth, West University has emerged as an island of residential stability.
Through the years, West University Place has worked hard to protect its residential image. In order to preserve the beauty and integrity of the neighborhood, current ordinances require that each lot contain a certain amount of open space. This prohibits large new construction homes or remodeled homes from occupying the total yard.
A recent addition to the City has been the Urban Forester who protects the neighborhood from losing too many of its cherished trees. As a result, West University Place has maintained its small town atmosphere.
West University Place affords a variety of choices when it comes to price range and style of residence. Each block contains original bungalows, recently remodeled homes, as well as an abundance of beautiful new and recent construction. Contemporary, Tudor, New Orleans, traditional Georgian, and French designed homes blend harmoniously into the neighborhood. Homes range in price from the $200,000s to as much as $2 million dollars.
West University Place has emerged as one of Houston's most desirable neighborhoods. Although big new homes with small yards have changed the look of the neighborhood over the past 10 years, many things have stayed the same.
Architectural diversity, price ranges, and proximity to major areas have improved housing values through the years. This small city within a city has captured the hearts of many. Time has proven that the demand for "West U" housing remains consistently high.
E mail Paige@HoustonProperties.com or call 713/384-5177 for more information about West University Place or to tour a West University Place Home. 
West University Place Market Statistics