Whispering Oaks Houston Neighborhood Guide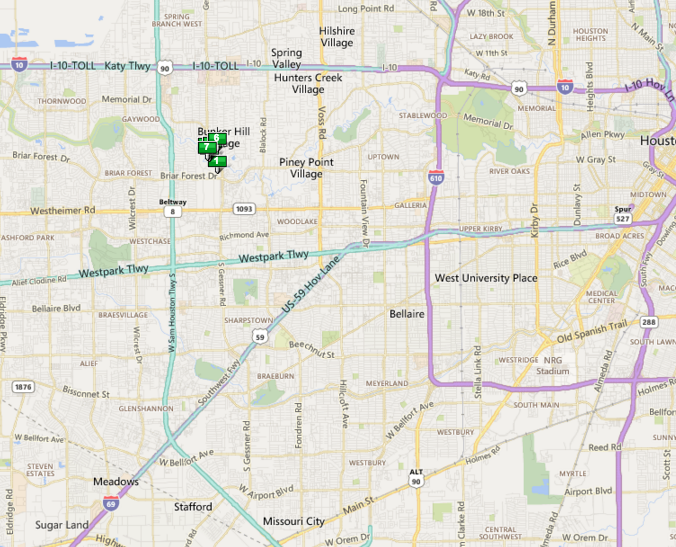 Whispering Oaks is an upscale neighborhood located east of Gessner Road, well within Bunker Hill.
Whispering Oaks has remained popular over the years due to its:
EXCELLENT LOCATION: Nestled nearby the upscale neighborhoods that make up Memorial Villages, Whispering Oaks features an excellent location with convenient access to Katy Freeway and Beltway 8.
LUSH SURROUNDINGS: With grand oak trees lining the streets, acres of green spaces, and Buffalo Bayou less than a mile away, Whispering Oaks offers a quiet enclave with a charming small-town feel.
GREAT SHOPPING AND DINING OPTIONS: Whispering Oaks homes are minutes away from a wide variety of dining and shopping options including Memorial City Mall and City Centre.
AWARD-WINNING SCHOOLS: Homes in the neighborhood are zoned to the Spring Branch ISD, including the award-winning Frostwood Elementary School and Memorial High School.
BEAUTIFUL HOMES: Whispering Oaks offers a great selection of beautifully updated vintage homes from the 60s as well as new construction homes sprawled in large wooded lots.
With the picturesque Buffalo Bayou right beside the neighborhood, beautiful homes and large lots, and excellent location, Whispering Oaks homes are in high demand. Homebuyers would greatly benefit from the guidance of a reliable Houston realtor in navigating the neighborhood's real estate.
For any inquiries about Whispering Oaks homes recommendations, or off-market MLS listings, get in touch with Paige Martin, Owner of HoustonProperties.com and one of the best realtors in Houston.
Whispering Oaks Resources (Popular Topics)
Call Paige at 713-384-5177 to tour a Whispering Oaks Houston home today or email Paige@HoustonProperties.com for more information.
12 Things Whispering Oaks Real Estate Buyers Should Know
Whispering Oaks is a small upscale neighborhood nestled in the heart of Houston's Memorial area.
Whispering Oaks is bordered by some of the most expensive real estate in Houston including Bunker Hill and Hedwig Village.
Homes in the area enjoy easy accessibility to major thoroughfares such as Katy Freeway, Sam Houston Parkway, Memorial Drive, and Gessner Road.
Residents have a wide variety of shopping and dining options with Memorial City Mall, City Centre, and Town & Country Village less than 10 minutes away from the neighborhood.
The neighborhood was named as such from the grand oak trees lining the streets.
Whispering Oaks homes are also less than a mile away from Buffalo Bayou, adding to the lush surroundings of the neighborhood.
The neighborhood is part of the award-winning Spring Branch Independent School District, and is serviced by National Blue Ribbon Schools including Frostwood Elementary.
Similar to its Memorial Village neighbors, Whispering Oaks features beautifully updated vintage homes from the 60s as well as newly constructed homes.
The neighborhood is made up of approximately 230 home sites.
Whispering Oaks homes sit on generous wooded lots, with sizes ranging from 11,000 to 14,700 square feet.
Home sizes can range from 2,000 up to 4,700 square feet for new construction homes.
Despite slight fluctuations, home prices in the neighborhood continue to rise.
Prices for Whispering Oaks homes for sale can start at around $825,000 to $1.7 million.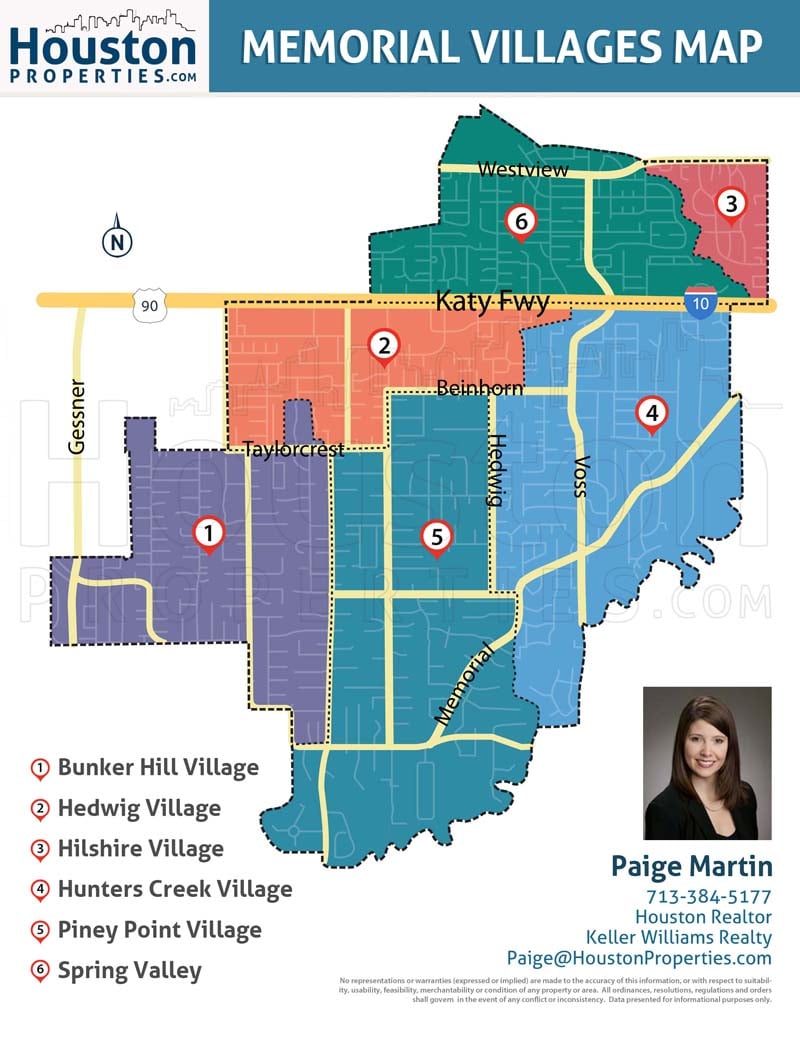 Fun Things To Do Near Whispering Oaks
Thanks to its great location and easy access to major thoroughfares, Whispering Oaks residents are minutes away from retail, entertainment, and outdoor recreation.
Less than 10 minutes from the neighborhood are the shopping centers of Memorial City Mall and CityCentre. Other nearby establishments includes Town and Country Village, Bunker Hill Shopping Center, and Hedwig Village Shopping Center.
Outdoor recreation is also easily accessible with Buffalo Bayou and other parks just minutes away from Whispering Oaks.
Here are some of the best places to visit in and around Whispering Oaks:
Dining
Adam's Chef & Grill
Chama Gaucha Brazilian Steakhouse
Roostar Vietnamese Grill
Masraff's
Izakaya Wa
Jonathan's The Rub
Patagonia Grill & Café
Grocery
H-E-B
Trader Joe's
99 Ranch Market
Randall's
Outdoor
Bendwood Park
Hedwig Park
Memorial Park
Terry Hershey Park
George Bush Park
Golf and Tennis Clubs
Lakeside Country Club
Memorial Park Golf Course
Houston Country Club
Memorial Forest Club
Westwood Golf Club
Neighborhoods Near Whispering Oaks
Neighborhoods near Whispering Oaks include:
Whispering Oaks Schools
Whispering Oaks homes are zoned to the Spring Branch Independent School District (SBISD) and students in the area may attend the following public schools:
Elementary Schools
Frostwood Elementary School at 12214 Memorial Drive. Recognized as a National Blue Ribbon School, Frostwood Elementary serves students in grades K to 5. It is located within Bunker Hill and has a GreatSchools.org rating of 10 out of 10.
Middle Schools
Memorial Middle School at 12550 Vindon Drive. Another National Blue Ribbon School, Memorial Middle School features a great balance of academics and athletics programs. It has a GreatSchools.org rating of 10 out of 10.
High Schools     
Memorial High School at 935 Echo Lane. Memorial High School is considered as one of the best high schools in the area and has received numerous awards and recognitions, including being named an Honor Roll school and a National Blue Ribbon School.
Whispering Oaks Houston Private Schools
The following are some of the notable private schools near Whispering Oaks:
Cecilia School at 11740 Joan of Arc Drive. Located in Hedwig Village, SCS is a non-profit coeducational school within the Roman Catholic Archdiocese of Galveston-Houston. The school's curriculum centers of six core subjects (Theology, Mathematics, Sciences, Social Sciences, Literature, and English).
The Kinkaid School at 201 Kinkaid School Drive. Kinkaid is one of the most prestigious private schools in the Houston area. It was originally located in Houston, but later moved to a bigger campus in Piney Point Village.
Duchesne Academy of the Sacred Heart at 10202 Memorial Drive. Duchesne Academy is an all-girls Catholic school and is part of the Archdiocese of Galveston-Houston and the Independent School Association of the Southwest. The school serves students from grades K to 12.
To find an updated listing of all Whispering Oaks real estate zoned to any specific public school, please send an email to Paige Martin at Paige@HoustonProperties.com with the property preference and budget that you're working with.
*Note: School zoning tends to change from year to year, information provided above are accurate but not guaranteed. Please double check by visiting the school's website.
Top Ranked Whispering Oaks Houston Realtor – Paige Martin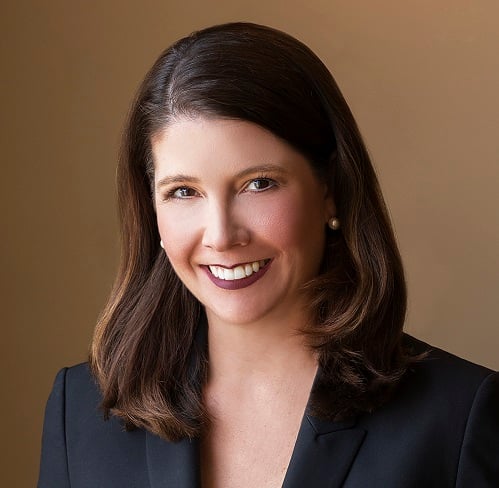 As featured on Fox News in the Morning, the Houston Business Journal, Houston Chronicle, and Houston Magazine, Paige Martin – a consistent Top Producing Broker-Associate and the owner of HoustonProperties.com – is ranked amongst the very top Keller Williams agents in the Houston area.
Paige is ranked as one of the top realtors in Houston and the state of Texas. Read more about the over 65 awards she's won in the last few years.
Paige works with a tremendous number of buyers and sellers within Whispering Oaks, earning praises like "Paige Martin is the best Whispering Oaks Houston realtor I know." Read more about client feedback and ratings here.
For a specific recommendation of neighborhoods, homes or properties based upon your personal style, goals & price point, please contact Paige Martin, Owner of HoustonProperties.com & Broker Associate atPaige@HoustonProperties.com or 713-384-5177.