Houston Townhomes Guide: Compare Houston Townhomes
Townhomes are one of the fastest growing housing types in Houston as they offer abundant space, have low maintenance, and are usually less expensive than single family homes and don't have the high HOA fees seen in Houston condos for sale.
Popular neighborhoods for Houston townhomes for sale include: Rice Military, Midtown, EaDo, Montrose, Camp Logan, and the Houston Heights. (See below for the average pricing of Houston townhomes by neighborhood).
Houston Townhomes Resources
Contact Paige Martin, Owner of HoustonProperties.com & Broker Associate at Paige@HoustonProperties.com or 713-384-5177 for help buying or selling a Houston townhome.
Houston Townhomes Defined
Townhomes for sale in Houston are individually owned structures that share a wall with a neighbor. When you own a townhome, you own the land from the center of the earth to infinity in addition to owning your structure.
Townhomes differ from single family homes (or patio homes) as they share a wall. They are similar in that they own the land.
Townhomes different from condos (highrise or midrise condos) in that if you buy a condo, you own the airspace and a fractional ownership of the complex. With the townhome, you have direct ownership of the land / dirt upon which the structure resides.
Many people prefer townhomes as they have some of the benefits of the single family homes and some of the benefits of a condo.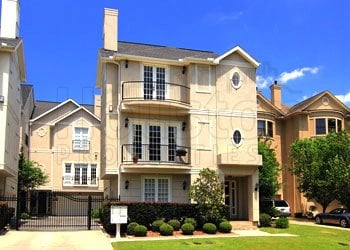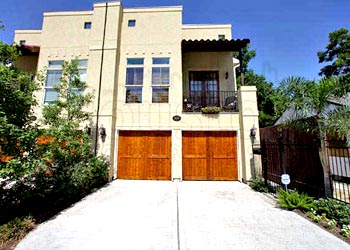 Benefits of owning a townhome:
Price: Construction costs are usually less expensive than a single family home (as you share a wall) and they often give you more livable space for your money.
Location: Most of the townhomes that have been built in Houston over the past decade are in locations offering easy access to Downtown, The Galleria and the Medical Center.
Reduced maintenance: In most cases, common areas (shared gate, landscaping, water features, etc.) are maintained by the HOA.
Lower HOA fees: Compared to Houston condos, most Houston townhomes have a substantially lower HOA fee.
Drawbacks of owning a townhome (compared to single family homes):
Shared wall (you live closer to your neighbor).
Many townhomes have some kind of an HOA fee (most single family homes do not).
Drawbacks of owning a townhome (compared to a condo):
Fewer amenities than you'll typically find with a highrise/midrise condo (condos often include pools, fitness centers, larger common areas, porters, valet parking. etc.)
With a townhome, you are responsible for maintaining the exterior of your structure.  Exterior structures are maintained by the HOA in a condo.
Houston townhouses are great as they serve as a "middle-ground" between single-family homes and condominiums because of the trade-offs – less expensive than single-family homes and has more privacy than condominiums or apartments.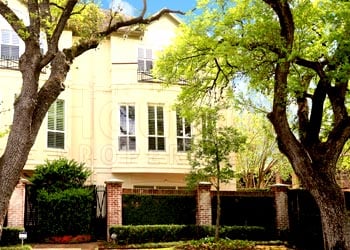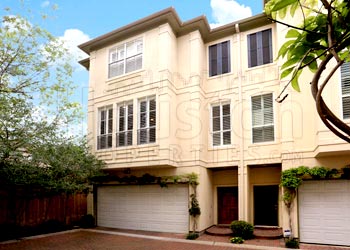 Houston Townhomes For Sale By Neighborhood
Starting in the 1990's and continuing through today many developers purchased lots and built townhomes for sale.
Below, we've grouped popular Houston neighborhoods for townhomes by their average price point and have a link to both the neighborhood (for more information about that region) and townhomes for sale in that area.
We've also starred (*) some of the neighborhoods that have a lot of new construction Houston townhomes for sale.
For a custom search, please email Paige@HoustonProperties.com with the areas you like, your price point and preferences.
Note: some neighborhoods are included in multiple categories as they offer a wider variety of selections.
Under $300,000
Between $300,000 – $600,000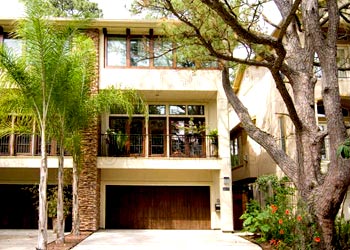 Above $600,000
New Construction Houston Townhomes
Home developers have started over 6,400 new Houston homes in the first quarter and are on track to start construction on over 28,000 properties this year.
Given the influx of people relocating to Houston, this additional new inventory should help Houston home buyers find more options.
Some of the current builders of new Houston homes include:


InTown Homes
Apex Builders
CapitalClassicHomes
Carmel Builders
CitySide Homes
City Scape Homes
CMC Homes
Pelican Builders
Coventry Homes
Lovett Homes
Avalon Homes
Arcada Homes
Tricon Homes
Covington Homes
Carnegie Homes
Urban Living
Rohe & Wright
Cunningham Development
Memorial Signature
Callisto Builders
Prebisch Homes
Keystone Classic
Colony Builders
MTK Enterprises
Trimac Developers
Princeton City Homes
SmartSpace
Zenith Homes
ROC Homes Texas
Iron Gate Builders
Farb Homes
PlainView
There are a number of new construction Houston townhomes for sale in inner loop neighborhoods like: Rice Military, Houston Heights, EaDo, and Midtown.
View the section above (Houston Townhomes for Sale by Neighborhood) for a more comprehensive look at where this new inventory is going.
If you're thinking about buying a new construction Houston townhome, contact Paige Martin at Paige@HoustonProperties.com for your free copy of "15 Secrets Every New Construction Houston Home Buyer Should Know" to get the best buy.
Houston Townhomes Realtor – Paige Martin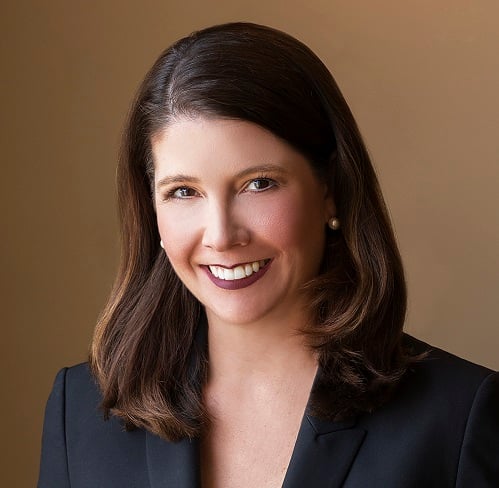 As featured on Fox News in the Morning, the Houston Business Journal, Houston Chronicle, and Houston Magazine, Paige Martin – a consistent Top Producing Broker-Associate and the owner of HoustonProperties.com – is ranked amongst the very top Keller Williams agents in the Houston area.
Paige was named the #1 Ranked Individual Agent in the Keller Williams Memorial Office for 2012, 2011 and 2010. She has been a consistent top producing agent, winning awards every year since 2007.
Paige works with a tremendous number of buyers and sellers of Houston townhomes.
For a specific recommendation of neighborhoods, builders or specific townhomes for sale based upon your personal style, goals & price point, please contact Paige Martin, Owner of HoustonProperties.com & Broker Associate at Paige@HoustonProperties.com or 713-384-5177.