8 Telling Houston Real Estate Statistics For 2015
8 Telling Houston Real Estate Statistics For 2015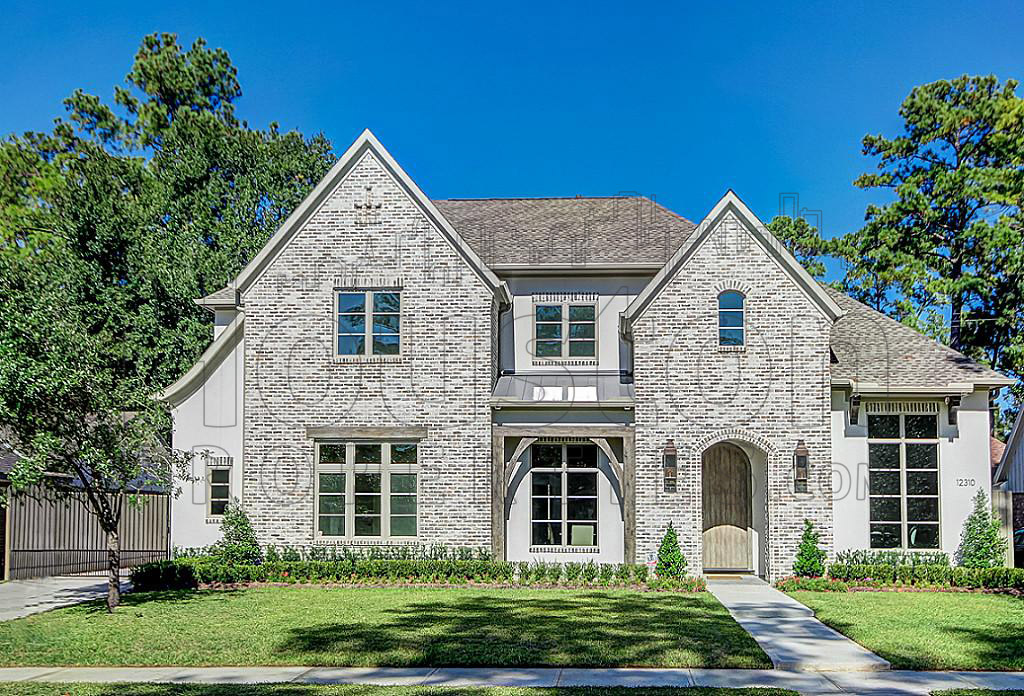 2014 was a banner year for Houston Real Estate, setting over a dozen records (read more about those here).
While Forbes and Money CNN just ranked Houston among their "Top 10 Housing Markets for 2015" (at 3rd and 5th, respectively), the decline in oil prices creates new questions as to what 2015 holds. (1)(2)
Last month, we ran an analysis of a potential impact on Houston real estate from oil price drops.
This month, we've dug deeper into the 2014 data to identify themes that will help predict winners and losers.
Below, we've highlighted 8 telling Houston real estate trends from last year, and what they could mean for buyers and sellers in 2015.
As always, real estate is hyper-local (based on your neighborhood and property).  Please contact me if you're considering buying a home or selling a property, and I can give you more insights on your situation.
1. A 30% Drop In Home Sales Would Create A Balanced Market ("Party Like It's 2005")
Houston is currently in a very strong seller's market; 2.5 months of inventory, compared to 5.1 months nationwide. A balanced market has 5-8 months of home inventory.(3)
A 30% drop (either based on a drop in new buyers or increase in supply from new homes on the market) would bring us to a balanced market (similar to what Houston experienced in 2005 through 2009 – "before the impact of the financial crisis.")
Historically, Houston's "balanced market" appreciates at a rate between 3-5% per annum.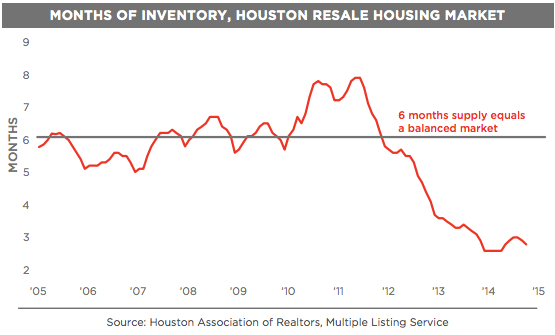 | | | | |
| --- | --- | --- | --- |
| CATEGORIES | DECEMBER 2013 | DECEMBER 2014 | CHANGE |
| Total property sales | 6,932 | 7,695 | 11.0% |
| Total dollar volume | $1,750,080,206 | $2,066,438,709 | 18.1% |
| Total active listings | 28,147 | 25,821 | -8.3% |
| Total pending sales | 3,122 | 3,414 | 9.4% |
| Single-family home sales | 5,781 | 6,451 | 11.6% |
| Single-family average sales price | $263,403 | $280,863 | 6.6% |
| Single-family median sales price | $188,500 | $209,590 | 11.2% |
| Single-family months inventory* | 2.6 | 2.5 | -6.2% |
* Source: Houston Association of Realtors. Months inventory estimates the number of months it will take to deplete current active inventory based on the prior 12 months sales activity. This figure is representative of the single-family homes market. 
2.  If Home Supply Doubles, Inventory Levels Are Still Lower Than 2008 to 2013 Inventory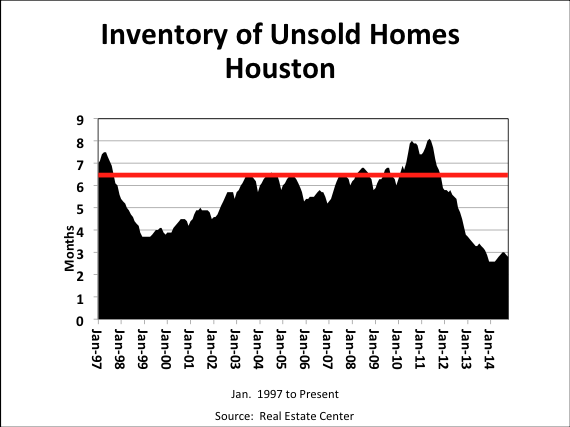 In January 2006 (before the 2008 financial crisis), Houston home inventory was at 5.1 months. It rose to 6.5 months in January 2008 and reached a 10-year high of 8 months in January 2011.(4)
Houston's record-breaking run last year puts us at 2.5 months of home inventory, the lowest in Houston real estate market's history.(3)
Even if current home supplies double, we'll still be well below the home inventory #s recorded in the last 16 years.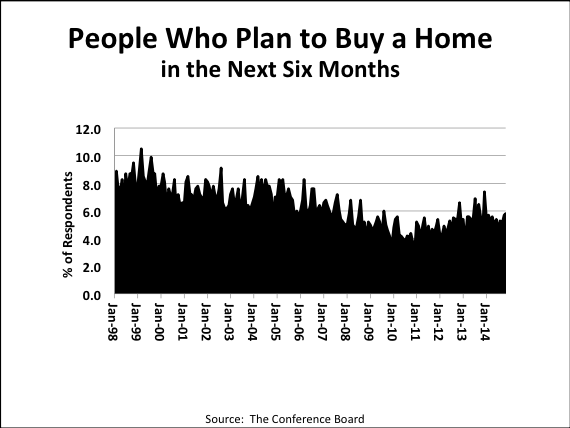 3. $300k-$450k Townhomes Within Houston's "Close-In" Neighborhoods Have Under 1.5 Months Of Available Inventory
Since Houston is over 600 square miles, averages (like the graphs above) can over or under represent certain neighborhoods.
Smart buyers who want to "plan for the worst case," should look at neighborhoods that are in the highest demand.  Even if the broad market takes a downturn, then it's likely these areas will fare best.
Historical data show that close-in Houston neighborhoods (located in the Inner Loop and immediate vicinity) remain largely unaffected by downturns.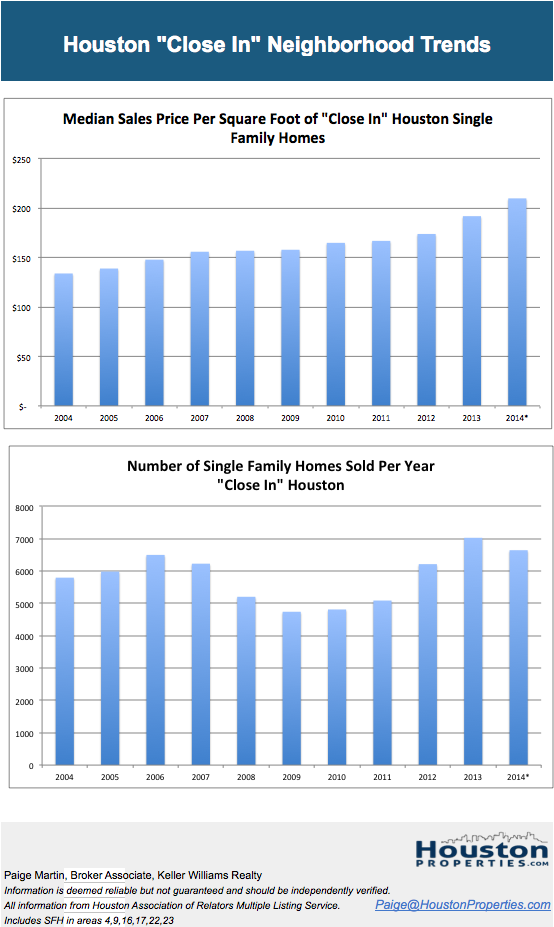 Specifically, one segment of the market that is in "incredibly high demand" are Houston inner loop townhomes for sale under $500k in neighborhoods like Montrose, Rice Military, Houston Heights, and Museum District.(5)
For an additional list of specific neighborhoods and property types that fit this criteria in your price range, please email me.
4. Accessibility Is #2 Top Priority For Most Homebuyers
The National Association of Realtors' "2014 Profile of Home Buyers and Sellers" report shows that homebuyers put "convenience to jobs" and "convenience to shopping" as the 2nd and 5th most influential factors when choosing a neighborhood.(6)
Neighborhoods that easily allow residents to access what they need without a car (grocery stores, restaurants, shops, parks, museums, entertainment, etc.) are very popular among buyers.
A sampling includes:
These neighborhoods posted appreciation rates between 13% to 27% last year.
See the rest of Houston's most accessible neighborhoods.
Buyer who want to purchase real estate that should appreciate in the long term, should consider the accessibility of both the neighborhood and the specific property.  For a specific method on how to do this, please email me.
5. Private School Tuition Costs Can Exceed Home Ownership Costs For Certain Exemplary Schools.
On average, Houston private school tuition costs families in excess of $18,000 a year per child and easily reach over $30,000 per year when all costs are considered.(12)
Thanks to low mortgage interest rates and increasing private school tuitions, it can make more financial sense for a family with three children to buy a home zoned to "Exemplary" public schools versus paying private school tuition.
Examples of Houston neighborhoods zoned to some of Houston's top ranked public schools in Texas include (13):
Also according to NAR's "2014 Profile of Home Buyers and Sellers", "the least compromised features for all buyers over time is the 'quality of schools' and 'distance to schools.'"(6)
The quality of public schools has certainly contributed to the price appreciation in those neighborhoods.
During the aftermath of the 2008 financial crisis, we saw many homeowners in these neighborhoods choose to rent their property for several years, instead of selling.  In hindsight, this was a wise financial move.
Based on current purchase prices and interest rates, in some cases, it is economically feasible for owners in those prized neighborhoods to rent out their homes (at prices covering their ownership costs) AND have the family renting the house still pay less than they would by living elsewhere and paying private school tuition.(7)
6. 26 Houston Neighborhoods Posted Median Sales Price Above $1,000,000
One of the fastest growing segments of the Houston real estate market in 2014 was the luxury market, as over 150,000 people have relocated to the Bayou City (many coming from high cost locations like New York and California).
A total of 26 neighborhoods saw their median sales price exceed $1,000,000. The list includes River Oaks, West University, and Tanglewood.
In 2014, Houston featured the largest number of luxury home sales in Texas, with $1M+ homes representing almost 2% of overall home sales.(8)  Luxury sales were up 13% over the prior year, which significantly outpaced the 2% year-over-year growth seen in volume for the total market.(8)
14 of Inner Loop's hottest neighborhoods feature many of Houston's luxury real estate.
See the list of of Houston's 20 most expensive neighborhoods.
7. Condos Are Houston's Fastest Growing Real Estate
Condos and townhomes were the fastest-growing sector in 2014, growing 10.5% in the first months of 2014 compared to the same time period in 2013.(9)
These properties also spent 14 fewer days on the market compared to 2013 in Texas.(9)
The demand for residential condos stem from the rapid growth of Houston's major districts. The Bayou City now ranks 7th in Emporis' list of "North American Cities With Most Number Of Highrise Developments".(10)
Development for luxury highrises like Astoria, Belfiore, and Riva At The Park are set for completion between 2015 and 2017.
Check out Houston's new residential condo buildings.
8.MetroRAIL Expansions Brings Accessibility To Over 25,000 Dwellings
From point #4 above, accessibility is the #2 top priority for homebuyers.  The current and planned MetroRail expansion are bringing "new accessibility" to over 25,000 existing Houston dwellings – likely increasing property values over time.(11)
MetroRAIL's 7.5-mile Red Line (formerly the Main Street Line) carries over 43,000 passengers daily, making it the second most traveled light rail system in the Southern United States.(11)
Some of the main neighborhoods (and possibly property values) benefiting from MetroRail's current expansion include:
In April, the MetroRAIL system aims to expand its reach by adding the Green and Purple line. These two lines add 19 more stops on top of the current 16 stations along the Red Line. The MetroRAIL expansion also adds a combined 10 miles of light-rail train track, branching out to the East End and Southeast Houston.(11)
The 3.3 mile East End Line (Green Line) travels along Harrisburg from the Magnolia Park Transit Center through the historic East End to a variety of downtown entertainment and business destinations.
The 6.6 mile Southeast Line (Purple Line) begins downtown and travels southeast along Capitol and Rusk to the Palm Center near MLK and Griggs.
As always, real estate is locale.  For specific recommendations that meet your goals and objectives, email me: