Royalton At River Oaks Guide: The Royalton Houston Condo
Royalton At River Oaks Executive Summary
With an iconic contemporary architectural design, Royalton At River Oaks is one of Houston's premier landmark buildings.
Located near River Oaks, Houston's Most Expensive Neighborhood, The Royalton offers hotel-like services and luxury amenities.
The luxury highrise features:
LUXURY AMENITIES: Royalton At River Oaks' luxury amenities include a pristine infinity pool with sundeck, 3000-square foot state-of-the-art fitness center, a grand ball room, private movie theatre, recreational game room, caterer's kitchen and garden cocktail terrace. The luxury building also offers hotel-like services including 24-7 concierge and valet parking, and private limousine services. The condo's white-glove services include assistance with transportation, theater tickets, and flower arrangements, among others.
DISTINCT ARCHITECTURE: Featuring contemporary architectural designs, Royalton At River Oaks sits at the former site of the 1929-built Gulf Publishing Corp. headquarters. To preserve its historical significance, the developers attached the frieze of the original building onto the entrance wall of The Royalton. The most iconic feature of The Royalton is the signature metal crown on top of the building. When lit up at night, the ornamental crown is visible for miles.
STRONG HISTORICAL APPRECIATION: With a median sale price over $500,000, Royalton At River Oaks has one of the best 5- and 10-year appreciation rates among Houston's luxury highrises. (See Guide To Best Performing Luxury Houston Condos.)
"Paige Martin and her team helped me both buy and sell at the Royalton. They are experts on the building, know exactly what to look for when evaluating a unit, have relationships for off market deals, and helped us connect with vendors who are approved with (and do a great job within) the building. If you're looking at buying or selling at the Royalton, I highly recommend Paige Martin and her team."
NEAR RIVER OAKS SHOPPING CENTER: Located a mile away from The Royalton, River Oaks Shopping Center features over 70 eclectic boutique shops and restaurants, and the River Oaks Theatre. Residents are also few minutes away from other upscale shopping centers like The Galleria, River Oaks District, Uptown Park and Highland Village.
OUTDOOR ACTIVITIES: Residents enjoy direct access to Buffalo Bayou Park and close proximity to Memorial Park. Just adjacent to the building, the 160-acre Buffalo Bayou Park features hike and bike trails, skate park, dog park and picnic areas. About 2 miles west of the building, Memorial Park features a golf course, running trail, and facilities for sports like tennis, swimming and volleyball.
DIRECT ACCESS TO MAJOR JOB CENTERS: Downtown, located about 3 miles east of the building, is one of Houston's main employment centers with over 150,000 employees and 3,000 businesses. Downtown also houses popular landmark centers including Minute Maid Park Stadium (home of the Houston Astros), the Toyota Center (home of the Houston Rockets), Discovery Green, and the George R. Brown Convention Center. Featuring more than 50 medical and research institutions, The Texas Medical Center houses more than 7 million visitors yearly.
Buying in the Royalton At River Oaks can be tricky for several reasons. The building has over 250 units and some of the floor plans have had resale issues in the past. Units facing certain directions typically sell at a premium / discount (both based on views and sun exposure).
To get personal advice on buying or selling a Royalton At River Oaks condo, contact Paige Martin, one of Houston's best condo Realtors and one of top ranked Realtors in the United States.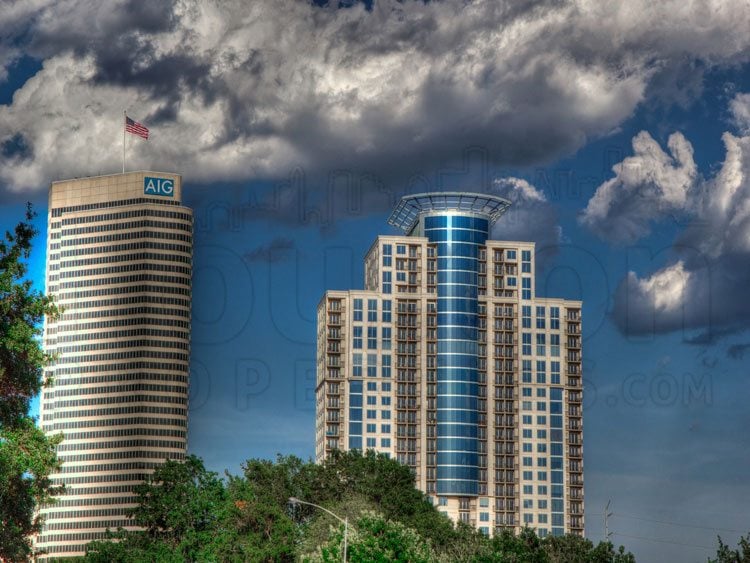 Following are the amenities currently offered at Royalton At River Oaks and what the HOA fee covers:
Building Amenities:
24-7 Concierge service
24-7 Valet parking
State-of-the-art fitness center
5-level parking garage
Infinity edge pool
Party room
Recreational game room with large TV and bar
Theatre
Wine cellar
Unit Amenities:
10′ ceilings
Garden cocktail terrace
Gourmet Kitchen
Grand master bedroom suites
Guest suite
Walk-in showers and private powder rooms
Open floorplans
Custom-designed Eggersmann kitchen cabinetry
Miele kitchen appliances
Energy-efficient windows and doors
Royalton residents are part of a Homeowner Association (HOA). Monthly HOA fees cover common building amenities such as pool, spa, gym, and common area electricity, outdoor landscaping, management fees and maintenance. HOA fees may vary per unit because they assess it from the unit's square footage.
See how The Royalton condos HOA fee compares with other Houston luxury condos: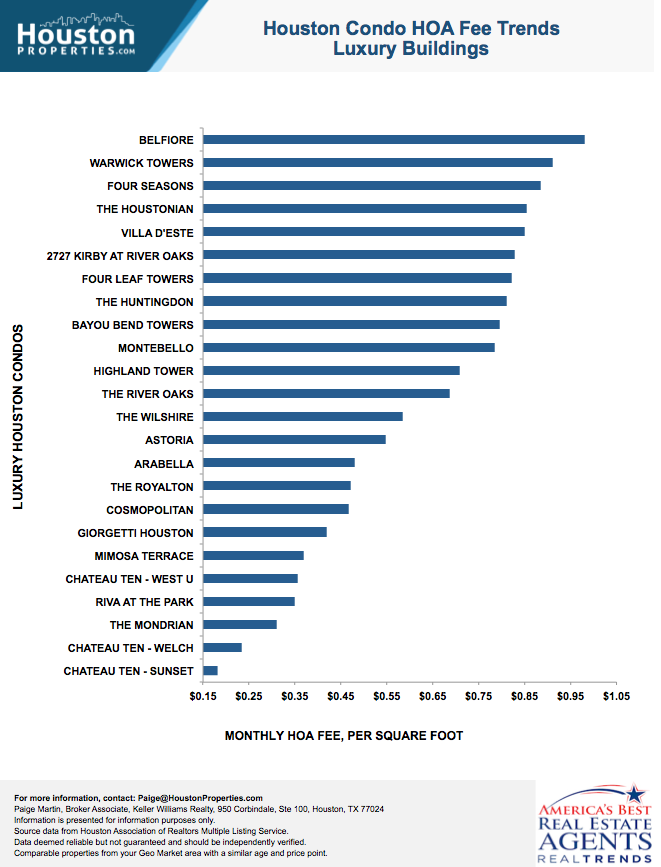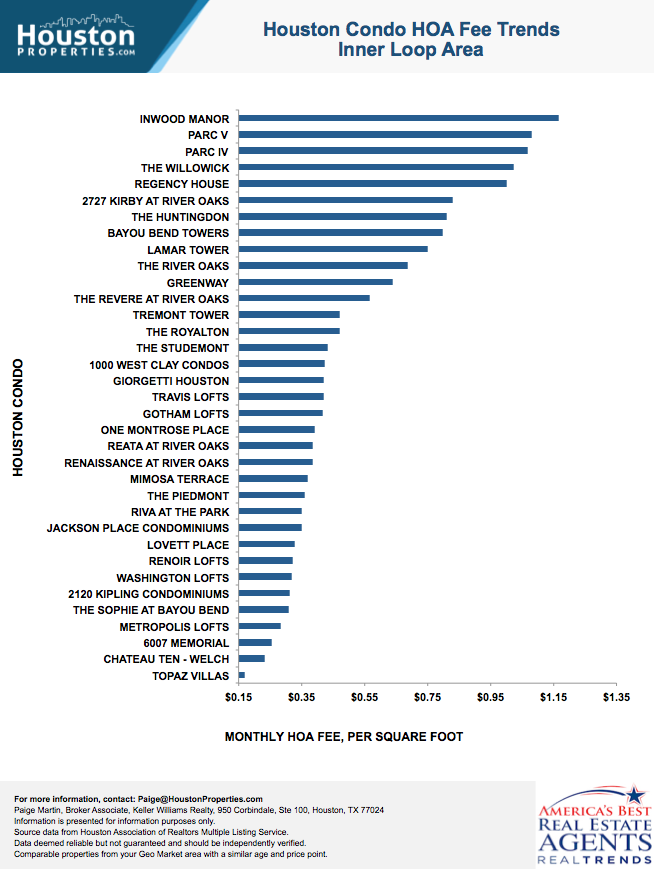 Royalton At River Oaks: Comparable Condo Buildings
One of the best performing luxury condos in Houston, Royalton condos posted strong appreciation rate over the past decade. As shown below, more than 10 units were sold every year with median price sales of over $600,000.  (See Guide To Best Performing Luxury Houston Condos.)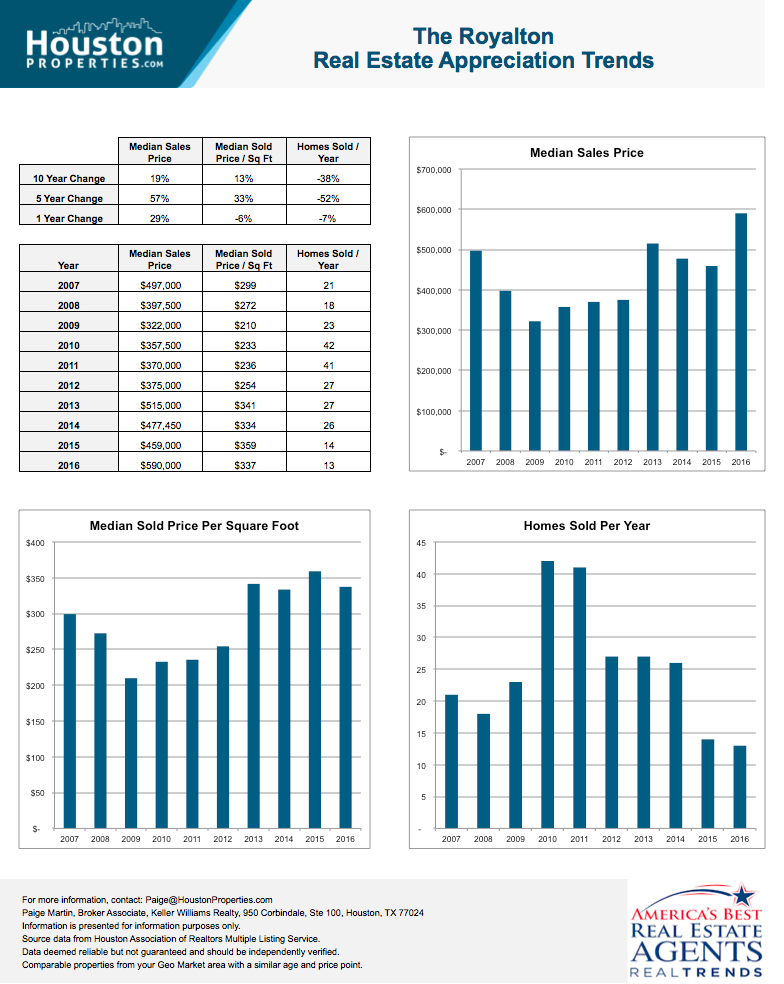 Check the ten year median sale price appreciation (or depreciation) rates from luxury Houston condos below.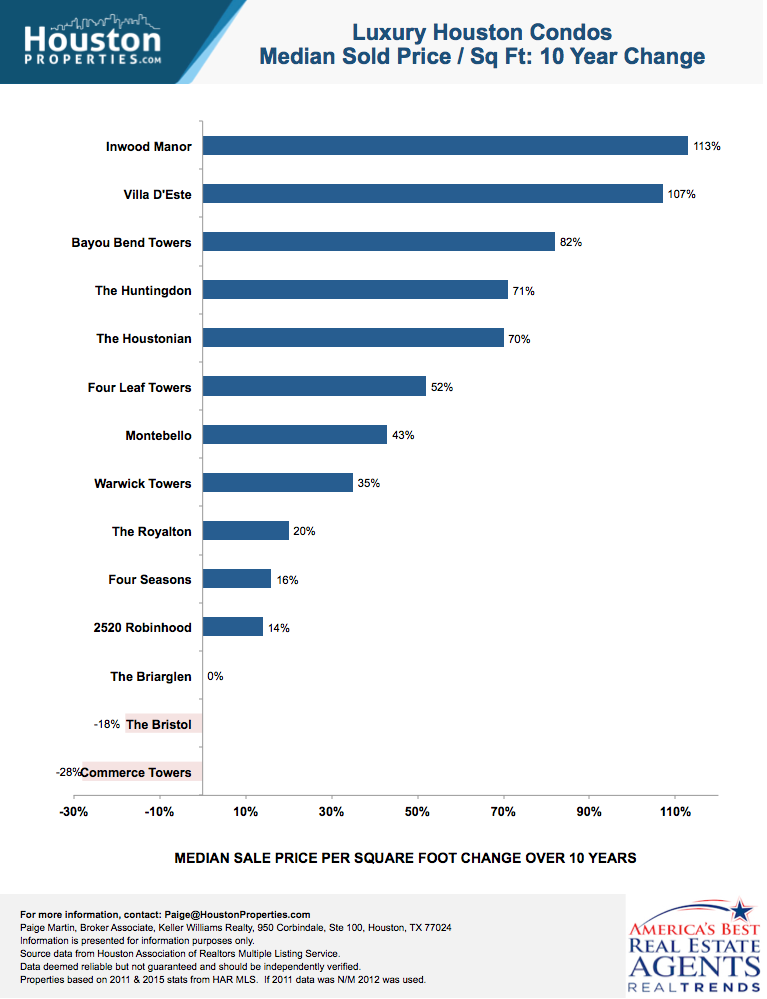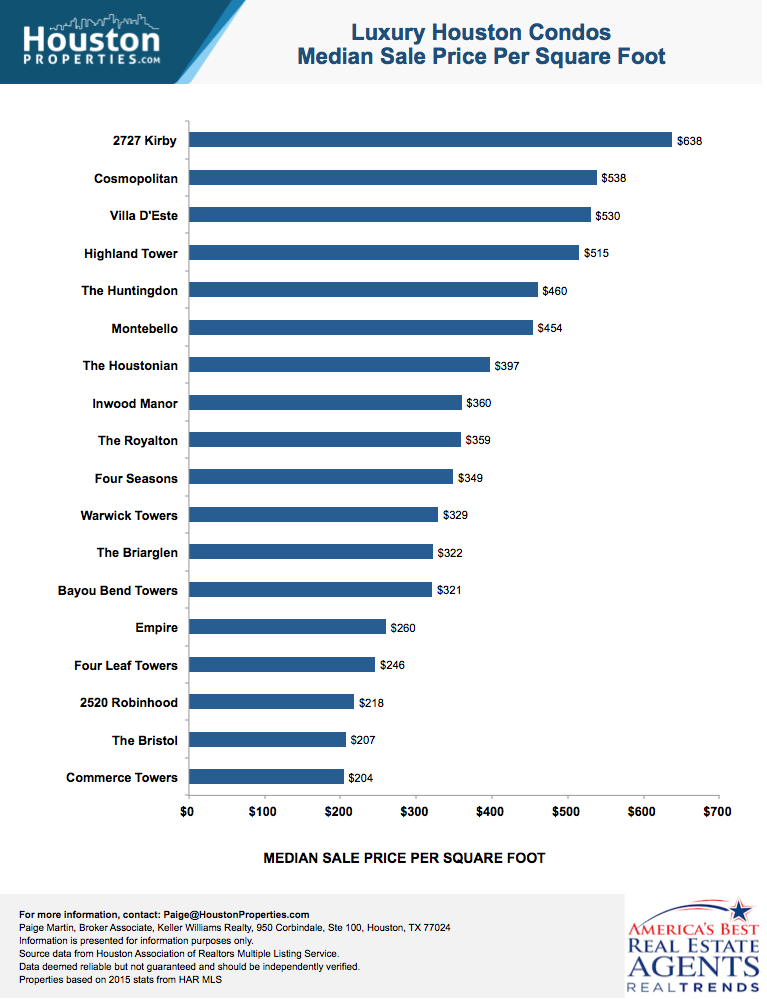 (Data sourced from the Houston Association of Realtors Multiple Listing Service and is deemed reliable but not guaranteed.)
For more information on available Royalton At River Oaks condos, please contact Paige Martin at 713-425-4194 or email [email protected]
12 Things Royalton At River Oaks Condo Buyers Should Know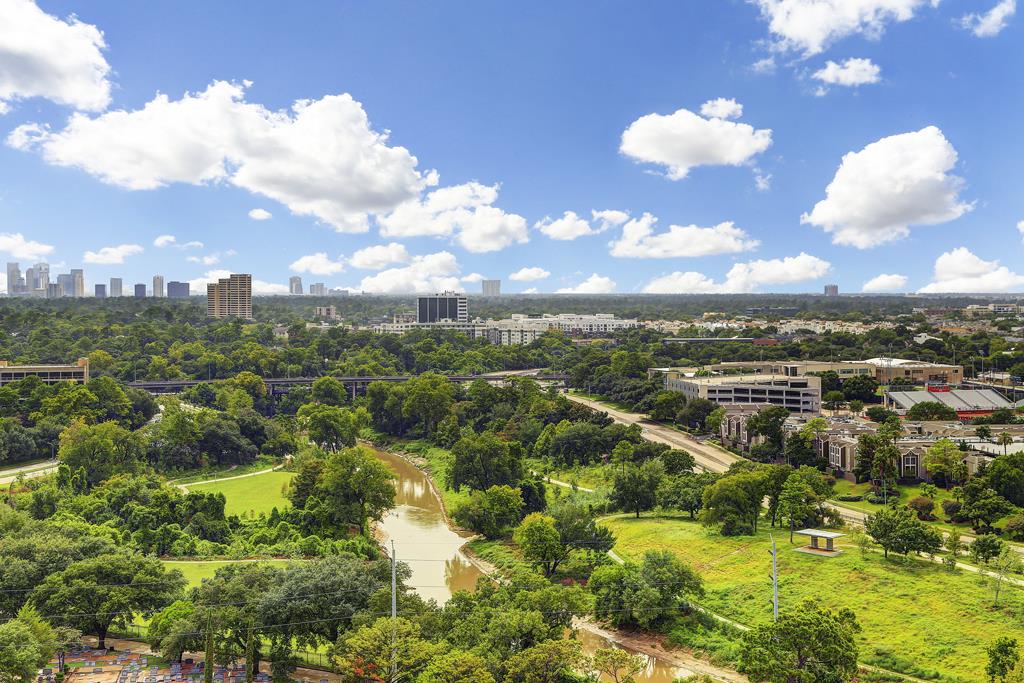 Towering over 360 feet high, Houstonians consider Royalton as one of the luxury high rise landmarks in the city.
Group LSR, a Montreal-based developer in Houston since 1989, completed Royalton's construction in 2003.
Royalton features 33 floors with 253 units that come in 27 varying floor plans. Buyers may choose from one-, two- or three-bedroom floor plans.
Royalton building is located at 3333 Allen Parkway. Its central location within Inner Loop not only gives residents breathtaking views of Houston skyline but also unparalleled city access.
Royalton is only few minutes away from Downtown Houston, the city's central business district. Residents are just within 10 mins drive or commute from the building to their workplace.
The residents have easy access other key districts like Galleria, Medical Center and Museum District.
The building is also in close proximity to the Theater District, Memorial Park and Buffalo Bayou jogging trails.
The interior design and architecture of the building is contemporary. Each unit, with its carefully crafted interiors, gourmet kitchens, private balconies, grand master bedroom, and posh designer finishes, provides its residents a distinct luxury condo living.
The Royalton features 24-7 amenities like concierge, valet, executive fitness center, and state-of-the-art health centers.
Apart from round the clock services, Royalton also has five-star hotel amenities like infinity edge-pool, recreational theater room, garden cocktail terrace and private wine room.
Royalton residents are zoned to some of the top schools in Houston. The neighborhood also has great access to premier private schools.
Royalton is a pet-friendly residential building with no restriction in the number and weight of pets.
Prices for Royalton units for sale are typically priced between $275,000 t0 $1,600,000 depending on the number of rooms.
Royalton At River Oaks Pet Policies & Management Office
Royalton is one of Houston's pet-friendly building. It has an open pet policy that doesn't restrict owners on the number and weight of pets.

Royalton At River Oaks: Mass Transit Options And Access
River Oaks is one of the most accessible neighborhoods in Houston. The building's proximity to main thoroughfares provides residents easy commutes, as several main roads go through the neighborhood. These includes Westheimer Road, Kirby Drive, and San Felipe Street.
Aside from enjoying River Oaks' scenic view of towering trees and bushes, Royalton residents also have convenient access to top-of-the-line restaurants, commercial establishments and numerous shopping malls, and retail outlets.
Popular Neighborhood Venues: River Oaks Shopping Center, River Oaks District.
Top Ranked Restaurants Nearby: Brenner's on the Bayou, Express Rolls, State of Grace, Piada Italian Street Food, Backstreet Café, Cafe Ginger, The Kitchen at The Dunlavy, Rossini Caffe Italiano, Hops Meet Barley
Grocery Stores: Central Market Houston, Kroger, Whole Foods Market, H-E-B, Trader Joe's, Sprouts Farmer's Market
Trails & Parks: River Oaks Country Club, Buffalo Bayou Park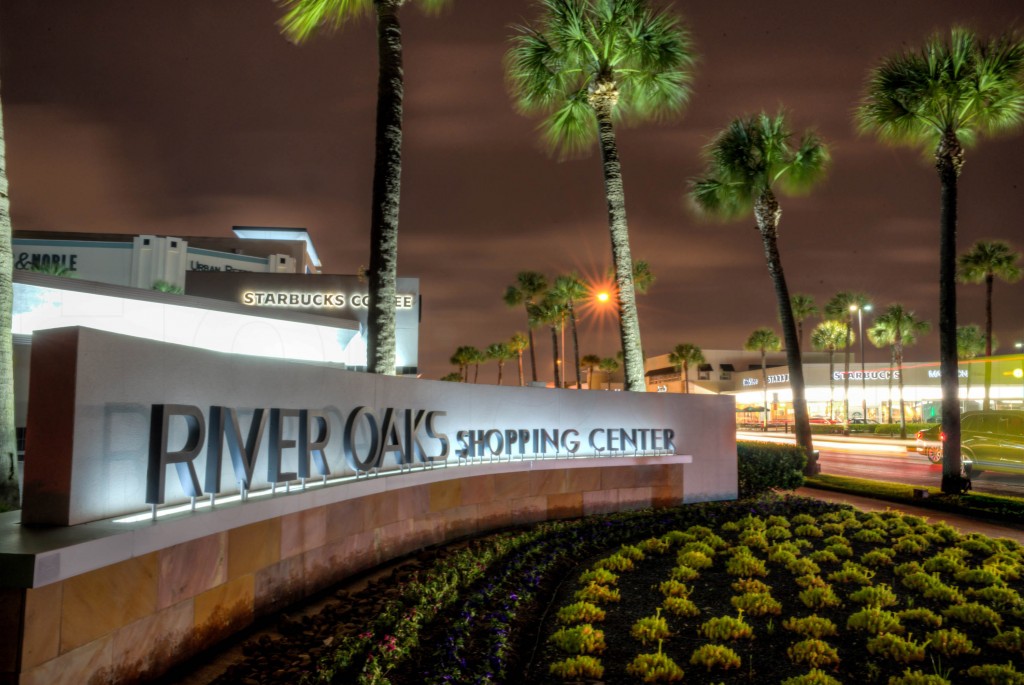 Located within near the posh River Oaks neighborhood, The Royalton sits along Allen Parkway. The neighborhood is situated north north of Upper Kirby, east of Briar Hollow and Galleria/Uptown, west of Neartown/Montrose and south of Memorial Park.
Key Houston business and retail centers like the Medical Center and the Galleria are just 4 miles and 7 miles away from the Royalton condos, respectively.
Royalton residents are also few minutes away from entertainment centers like River Oaks Shopping Center, Highland Village and The Galleria. River Oaks Shopping Center is less than 2 miles away from the condo while Highland Village and The Galleria are 6 miles away.
River Oaks is within Harris County and bears 77027 and 77019 zip codes.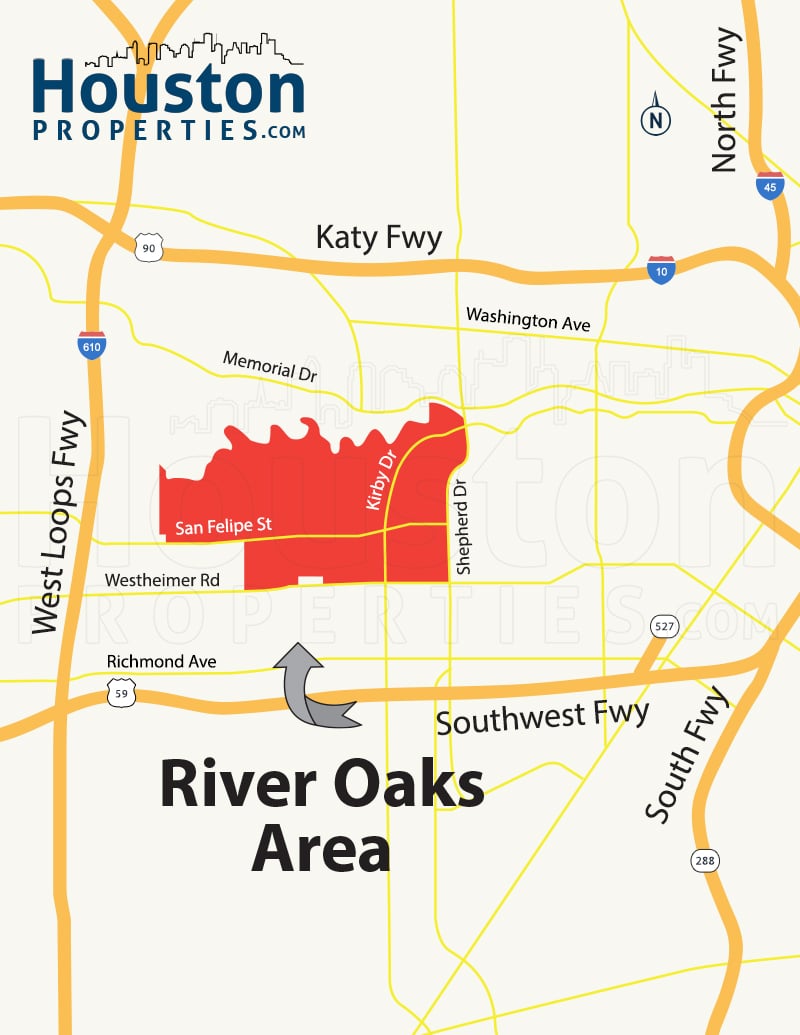 Royalton At River Oaks: School Zoning Information
Located near River Oaks neighborhood, Royalton At River Oaks is zoned to the Houston Independent School District (HISD).
Royalton At River Oaks condo residents can send their children to the following schools:
Wharton Dual Language Academy at 900 W Gray St. Wharton is an alternative primary school that serves gifted and talented and neighborhood Vanguard programs (Language Magnet program for Pre-K to 8). Their language program promotes both Spanish and English as languages of equal value.
Gregory-Lincoln Education Center at 1101 Taft St. GLEC is a a Fine Arts magnet school with classes in instrumental music, vocal music, theatre arts, dance, culinary arts, visual arts, and multimedia.
Lamar High School at 3325 Westheimer Rd. Lamar High School has a great Athletics program. They have one of the oldest lacrosse programs in the state, and have either won or placed several times in state championships in the past. Their football team is one of the highest-ranking teams within the Greater Houston area. Lamar also boasts of exemplary academics programs: Advanced Placement (AP), International Baccalaureate (IB) Diploma Programme, and a business magnet program. Its IB Diploma programs include classes in 5 languages, including Russian, Chinese, French, Italian, and Spanish.
Paige Martin is one of the most experienced and knowledge condo Realtors in Houston, and has a lot of experience helping people buy and sell at Royalton At River Oaks.
Our vast market knowledge, relationships & extraordinary marketing platform (built over 10 years) will help you sell faster, for more money. Know what your home value is AND learn more about our Houston seller program.
Get the most money for your condo in the least time!
Our proprietary marketing system (over 10 years in the making) gives you maximum exposure for your condo.
We pay to have your condo staged and professionally
photographed by one of the best
photographers in Houston.*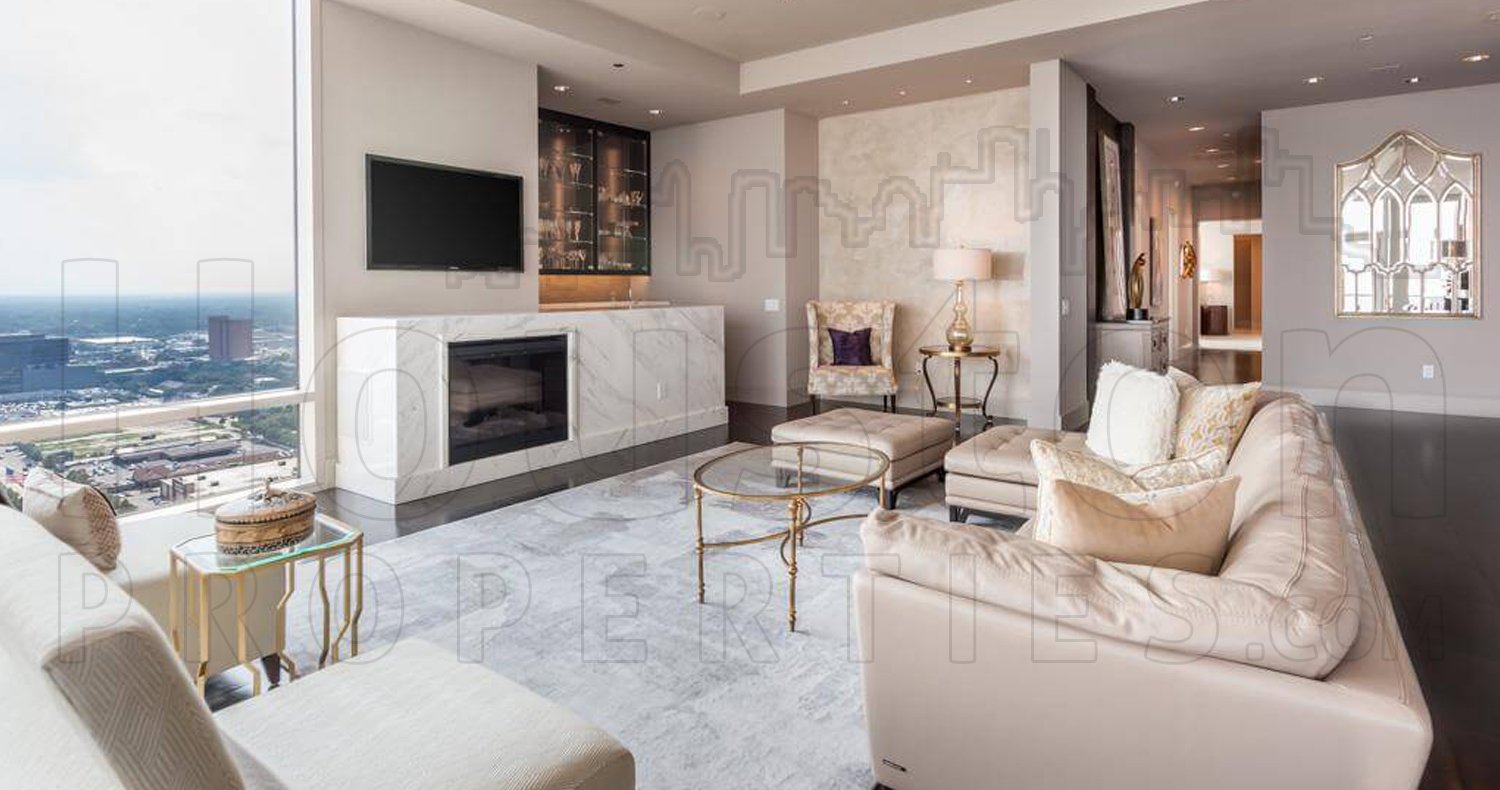 *Up to two hours of staging
Online Marketing Dominance
9 out of 10 buyers use the Internet to search for condos.
We rank in the top 3 results for over 1,150 unique, intentional Houston condo keyword searches on Google.
Only we will feature you to our 400,000 annual visitors.