Guide To 5000 Montrose Condos In Houston
Located at the Museum District and Hermann Park area, 5000 Montrose can also be found in 5000 Montrose Blvd, Houston, Texas under the 77006 zip code. 5000 Montrose Condominiums has 122 luxury condos for sale and 20 penthouses spread out on 22 floors.
Address: 5000 Montrose Blvd, Houston, Texas 77006
Built In: 1981
Number of Units: 122 condos, 20 penthouses
Location: Museum District
For more information or available 5000 Montrose Condos for sale, call Paige Martin at
713-384-5177 or email Paige@HoustonProperties.com
5000 Montrose Condo Houston For Sale
5000 Montrose Condo Listings
5000 Montrose Condos For Sale Information
Built in 1981, 5000 Montrose condos for sale range between 963 to 2,652 square feet in size. It has 122 condos for sale (including 20 penthouses) with its price going between $90,000 to $650,000. Among the condo tower's amenities are concierge service, jacuzzi and pool, a party room, and valet parking.
5000 Montrose Condos is high on top of the list of many Houston condo for sale buyers mainly because of its ideal location. Being right at the heart of Houston's Museum District allows 5000 Montrose condo for sale buyers the opportunity to live close to many exciting and trendy areas in the city while still remaining at the relatively exclusive and quiet corner of Houston.
Nearby neighborhoods include: The Medical Center, Houston Midtown, West University Place, Fairhaven, Southampton, Pemberton, Southside Place, and Collegeview.
For more information on available 5000 Montrose condo Houston, please contact Paige Martin at 713-384-5177 or email paige@houstonproperties.com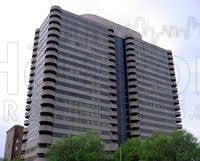 5000 Montrose Condo Houston has some of the best available high rise prices in the area.  Located in the Montrose, Museum/Hermann Park area, lease prices at 5000 Montrose range from $1,000 – $3,000 and sale prices are $90,000 – $650,000.