Guide To Gotham Lofts Houston
Located at 1025 S. Shepherd, Houston, Texas 77019, Gotham Lofts is a four-story residential loft midrise with 41 condos featuring large tinted windows for energy efficiency, wood blinds, custom paint (including ductwork and faux columns), and antique 100 year Birdseye Maple hardwood floors.
Gotham Lofts affords residents sweeping views of Downtown, the Galleria Area and Inner Loop neighborhoods.
Address: 1025 S. Shepherd, Houston, Texas 77019
Built In: 1998
Number of Units: 41
Nearby buildings: Renoir Lofts
Neighborhood: Galleria Area
For more information or available Gotham Lofts for sale, call Paige Martin at
713-425-4194 or email [email protected]
Gotham Lofts For Sale
All Gotham Lofts Listings
Gotham Lofts Amenities
Gotham Lofts Houston Location Overview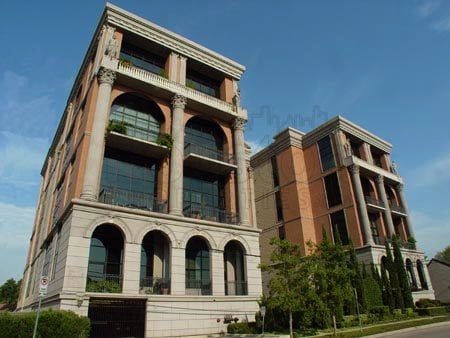 The 4-story tall Gotham Lofts Houston has 41 lofts for sale found in Downtown Houston. Downtown Houston is well known for its role in the strong Houston economy, with over 200,000 professionals currently working in it. Because of the rising number of businesses and employees downtown, numerous commercial establishments have been built all over the area too. From world-class restaurants, exciting clubs, trendy bars, and countless retail stores, Downtown Houston, and in turn owners of lofts in Gotham, has it.
Minutes away from Gotham Lofts Houston are the Minute Maid, Toyota Center, and Sam Houston and Tranquility Parks. The MetroRail station downtown is also in close proximity to the residential building, allowing its residents to have an easy commute from various places in the city. The Galleria area and River Oaks are moments away from the condos in Gotham Lofts as well, along with the countless other commercial establishments housed within said places.
Gotham Lofts' nearness to many establishments plus its location within the biggest business district in the city gives owners of its for sale the chance to have a healthy "work and life balance".
The Gotham Lofts For Sale Features And Amenities
The Gotham Lofts' four-story structure can be linked to one of the Credit Lyonnais building in Paris because of its European-style architectural design. It also has faux columns and pillars that further enchances its hotel-like "sophisticated and luxurious" vibe.
Condos for sale in Gotham Lofts Houston come with eight spacious floor plans, ranging from 1,800 to more than 2,900 square feet. This ensures a more than ample living space for residents. Other loft features are large tinted windows that provide natural light, soaring ceilings, exposed AC ducts, brick and glass brick interior trim, high end appliance packages, and hardwood flooring.
The Gotham Lofts building also takes advantage of the location through its large windows and private balconies (for some units). This allows residents to enjoy the magnificent views of Downtown Houston, Galleria, River Oaks, and other Inner Loop neighborhoods.
For more information on available Gotham Lofts for sale, please contact Paige Martin at 713-425-4194 or email [email protected]
Gotham Lofts Amenities