Houston Real Estate Trends, April 2016 Update
Houston Real Estate Trends, April 2016 Update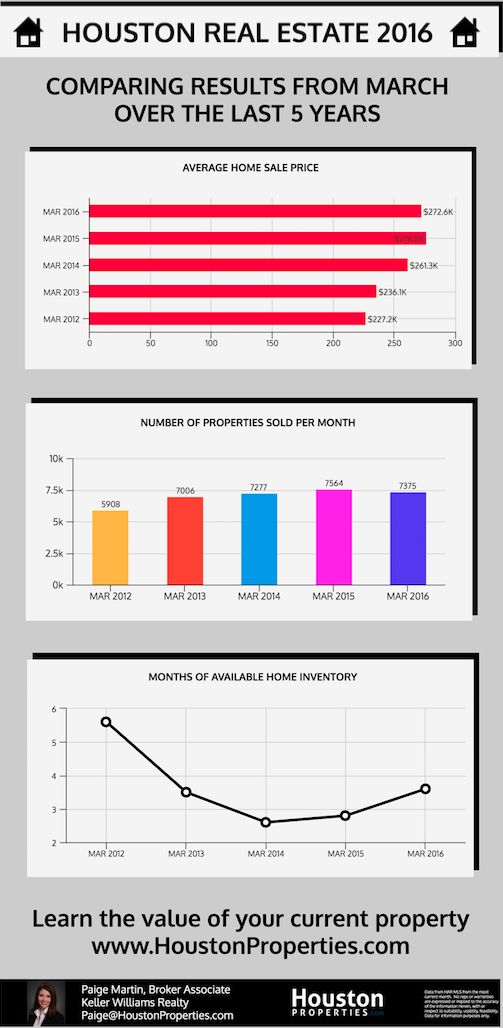 Houston Association of Realtors (HAR) has just released the March Houston real estate stats.
Despite continued strains in the oil patch, the Houston real estate market demonstrated more sustainable conditions in March, with positive sales among mid-range homes.
Here are a few highlights:
April 2015 to March 2016 had the second highest number of total property sales of any 12-month period over the prior 5 years.
March 2016's total dollar volume and property sales were nearly identical to (record) March 2015 numbers.
For March 2016, the average single-family sales price remained almost the same as February 2015.
While still well below the national average, Houston's single-family "months of available of home inventory" is creeping up to 2013-territory.
We recently completed an analysis of over 400,000 home sales in Houston since 2000 (email me if you'd like a copy) and found several key themes:
Pundits are notoriously bad at calling either the top or bottom of a market.
On average, if you bought a quality home in a quality neighborhood and held for at least 5-7 years, you've broken even on your investment – regardless of when you purchased.
Quality matters.  Quality was ranked in multiple categories including: location, construction type, floor plan and avoiding being along either a railroad, highway or major thoroughfare.
Home buyers who did the worst financially purchased properties that violated two or more of these conditions. Interestingly, over two thirds of buyer who purchased these "disadvantaged properties" bought directly from a builder, didn't use a Realtor or used the seller's real estate agent to do "both sides of the deal."
Key Seller Tips:
For sellers, in a declining market (regardless of how long a declining market lasts) pricing just below the recent comparable sales ("comps") is your best option for selling fast for the most money.
As the market "normalizes", it makes sense to price your home based on how the market "trended" the last time it started to slow down. Comparable sales ("comps") help sellers stay ahead of the curve.
Comps are a "rear view" mirror approach of what the market has been, not what the market will be.
In declining markets, each month that passes will mean that the value declines as well.
To maximize value in a declining market, you want to price where the market is going, not where it's been, so that someone sees you as a deal, moves quickly and negotiates less on price.
In addition, if someone sells faster than you for a lower price, then they "re-set" the comps to a lower amount, and then you'll have to sell under that.
So, in many cases, it's better for you to be the first one out so you can set the trend, rather than lagging behind.
Key Buyer Tips:
The key lesson from our study of 400,00 home purchases since 2000, is not to try and "time the bottom" but instead to buy the highest quality home while not overpaying for where the market is at that point in time.
Local trends matter. The spike in home inventory is most prominent in the mid-range housing category. Single-family homes priced between $150,000 and $250,000 saw year-over-year sales increase by nearly 9% while total property sales remain unchanged
As you'll see in the below graph, historically, Houston's "best properties" don't come on the market in large volumes during major downturns (Houston real estate trends).
What has happened historically during downtowns is that prices stagnate and transaction volume falls materially.
In the graph below, compare the similarities between the trends between 2014 – 2015 and 2007 – 2008.
No one knows what future oil prices will bring.  It may or may not be worse than the "Great Recession."
If it is similar, we can use 2007 as the proxy.  In 2008, we saw price stagnation and in 2009, we saw price appreciation.
I believe the key here is to not "chase the market" and buy wisely – both in terms of property quality and appropriate pricing.
 
The following is the most recent Houston MLS Report, published by the Houston Association of Realtors. The data covers Houston homes for sale and real estate trends from the last twelve months (January 2014 – January 2015).
March Houston Real Estate Milestones:
Single-family home sales declined 2.2 percent compared to last March;
On a year-to-date basis, single-family home sales are up 1.0 percent;
Total property sales declined 1.0 percent to 7,375 units;
Total dollar volume fell 2.5 percent to $1.9 billion;
At 272,658, the single-family home average price was down 1.6 percent compared to last March;
The single-family home median price rose 2.4 percent year-over-year to an all-time March high of $215,000;
Single-family homes months of inventory climbed to a 3.6-months supply versus 2.8 months a year earlier;
Townhomes/condominium sales rose 1.9 percent with the average price down 2.0 percent to $193,483 and the median price up 4.9 percent to $150,000;
Leases of single-family homes climbed 9.0 percent with rents up a fractional 0.6 percent to $1,736;
Leases of townhomes/condominiums rose 7.4 percent with rents up 1.7 percent to $1,596.
Houston Real Estate Resources
Houston Real Estate Updates In March
Despite continued strains in the oil patch, the Houston real estate market demonstrated more sustainable conditions in March, with positive sales among mid-range homes and a growing supply of homes from which buyers can choose.
According to the latest monthly report prepared by the Houston Association of Realtors (HAR), March single-family home sales declined 2.2 percent versus March 2015, with a total of 6,001 sales compared to 6,137 a year earlier. On a year-to-date basis, however, home sales are 1.0 percent ahead of last year's pace. New listings helped boost inventory from a 2.8-months supply to 3.6 months.
"Overall home sales held steady throughout March, and much of that may be due to an influx of new residents throughout the Houston area even as the energy industry suffered more layoffs," said HAR Chairman Mario Arriaga with First Group. "Positive home sales in the $150,000 to $250,000 price range and increasing housing inventory suggest that we are in a more sustainable market."
In its April 2016 report on the Houston economy, the Greater Houston Partnership (GHP) cited U.S. Census Bureau data showing the Houston metropolitan area leading the nation in population growth in 2015, with the addition of over 159,000 new residents. GHP stated that since April 2010, Houston has added over 736,000 residents and that energy industry layoffs have been offset by job creation in other sectors.
Home prices showed mixed readings in March. The single-family home average price declined 1.6 percent to $272,658. The median price—the figure at which half of the homes sold for more and half sold for less—rose 2.4 percent to $215,000, the highest price ever for a March.
March sales of all property types in Houston totaled 7,375, down 1.0 percent from the same month last year. Total dollar volume for properties sold in March fell 2.5 percent to $1.9 billion.
March Monthly Market Comparison
Houston's monthly housing market measurements were mixed in March compared to those from a year earlier, but still demonstrate what are considered more sustainable market conditions. On a year-over-year basis, single-family homes sales, average price, total dollar volume were down while inventory levels grew and the median sales price rose to a March high.
Month-end pending sales for single-family homes totaled 8,018, an increase of 4.9 percent compared to last year. Total active listings, or the total number of available properties, at the end of March shot up 21.0 percent from March 2015 to 34,504.
An increase in new listings in March gave single-family homes inventory a boost, with levels climbing from a 2.8-months supply to 3.6 months. For perspective, the national supply of homes reported by the National Association of Realtors (NAR) currently stands at 4.4 months.
| | | | |
| --- | --- | --- | --- |
| CATEGORIES | MARCH 2015 | MARCH 2016 | CHANGE |
| Total property sales | 7,448 | 7,375 | -1.0% |
| Total dollar volume | $1,943,771,966 | $1,894,976,160 | -2.5% |
| Total active listings | 28,507 | 34,504 | 21.0% |
| Single-family home sales | 6,137 | 6,001 | -2.2% |
| Single-family average sales price | $277,064 | $272,658 | -1.6% |
| Single-family median sales price | $209,900 | $215,000 | 2.4% |
| Single-family months inventory* | 2.8 | 3.6 | 28.6% |
| Single-family pending sales** | 7,647 | 8,018 | 4.9% |
* Months inventory estimates the number of months it will take to deplete current active inventory based on the prior 12 months sales activity. This figure is representative of the single-family homes market.
** Effective May 2015, in an effort to be consistent with industry standards, the Houston MLS is now including all categories of pending sales in its reporting. Previously, the Houston MLS did not include "option pending" and "pending continue to show" listings in its reporting of pending sales. The new methodology is now all-inclusive for listings that went under contract during the month.
Single-Family Homes Update
Single-family home sales totaled 6,001 in March, a decrease of 2.2 percent from March 2015.
The average price dropped 1.6 percent to $272,658, while the median price rose 2.4 percent $215,000, a record high for a March in Houston. Days on Market (DOM), or the number of days it took the average home to sell, edged up to 58 days versus 54 in 2015.
Broken out by housing segment, March sales performed as follows:
$1 – $79,999: decreased 19.8 percent
$80,000 – $149,999: decreased 17.4 percent
$150,000 – $249,999: increased 8.1 percent
$250,000 – $499,999: decreased 2.5 percent
$500,000 and above: decreased 12.4 percent
HAR also breaks out the sales figures for existing single-family homes. Existing home sales totaled 5,066 in March, down 1.0 percent versus the same month last year. The average sales price fell 2.7 percent year-over-year to $254,012 while the median sales price climbed 2.9 percent to $198,000.
Townhouse/Condominium Update
Sales of townhouses and condominiums rose 1.9 percent in March coming off of last month's year-over-year decline of 10.5 percent. A total of 589 units sold compared to 578 properties in March 2015. The average price declined 2.0 percent to $193,483 while the median price rose 4.9 percent to $150,000. Inventory grew from a 2.6-months supply to 3.5 months.
Lease Property Update
Demand for single-family lease homes remained strong in March, climbing 9.0 percent, while townhomes/condominiums saw demand increase by 7.4 percent. The average rent for single-family homes edged up 0.6 percent to $1,736 while the average rent for townhomes/condominiums rose 1.7 percent to $1,596.
The computerized Multiple Listing Service of the Houston Association of REALTORS® includes residential properties and new homes listed by 25,000 REALTORS® throughout Harris, Fort Bend and Montgomery counties, as well as parts of Brazoria, Galveston, Waller and Wharton counties. Residential home sales statistics as well as listing information for more than 50,000 properties may be found on the Internet at http://www.har.com.
The information published and disseminated to the HAR Multiple Listing Services is communicated verbatim, without change by Multiple Listing Services, as filed by MLS participants.
The MLS does not verify the information provided and disclaims any responsibility for its accuracy. All data is preliminary and subject to change. Monthly sales figures reported since November 1998 includes a statistical estimation to account for late entries. Twelve-month totals may vary from actual end-of-year figures. (Single-family detached homes were broken out separately in monthly figures beginning February 1988.)
Founded in 1918, the Houston Association of REALTORS® (HAR) is a 26,000-member organization of real estate professionals engaged in every aspect of the industry, including residential and commercial sales and leasing, appraisal, property management and counseling. It is the largest individual dues-paying membership trade association in Houston as well as the second largest local association/board of REALTORS® in the United States.