Top 6 Houston Real Estate Predictions For 2023
Our annual forecasts are 72% accurate. Here are our top predictions for the year ahead.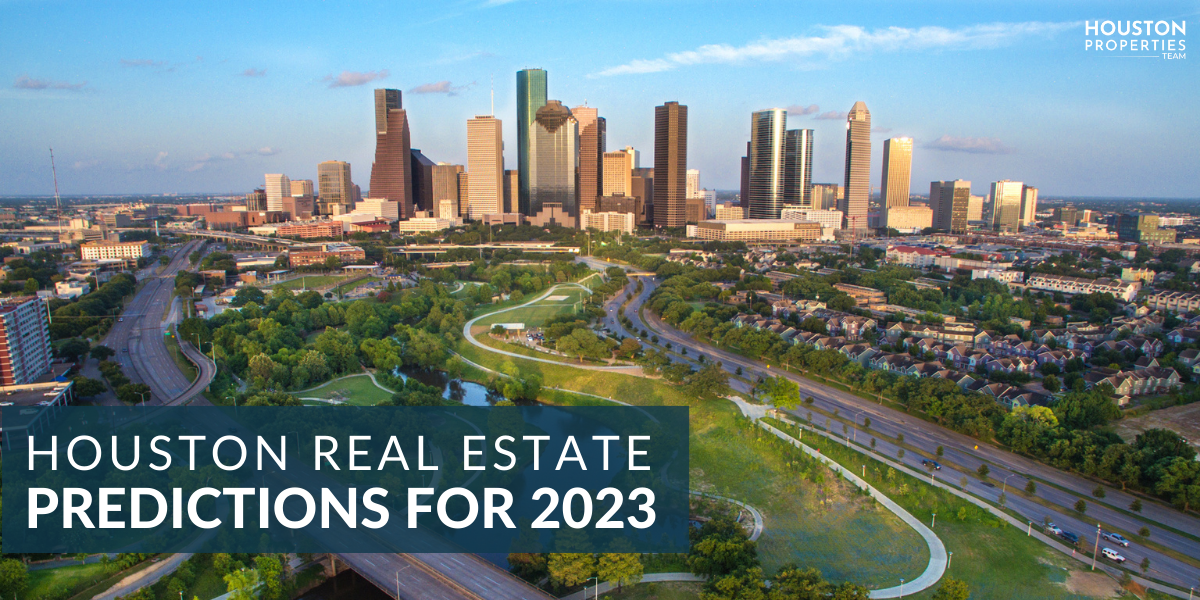 In January 2021, the median Houston homebuyer could purchase a home at $842 per month - costing them $263,000 with a 30-year mortgage at 2.6%.
By October 2022, monthly costs had increased by 210% to $1,773. Median home prices rose 25% while 30-year mortgage rates doubled. (1)
This "double whammy" of rising prices and interest rates caused Houston's real estate market to experience its most sudden change in the past 20 years.
During the first quarter of 2022, Houston was on pace for a new record. By the fourth quarter, sales volumes dropped below 2018 levels.
What's in store for us this 2023? Read our team's top six predictions for the Houston real estate market.
---
Table of Contents
---
We Transition Into The 2nd & 3rd Phases Of A Shifting Real Estate Market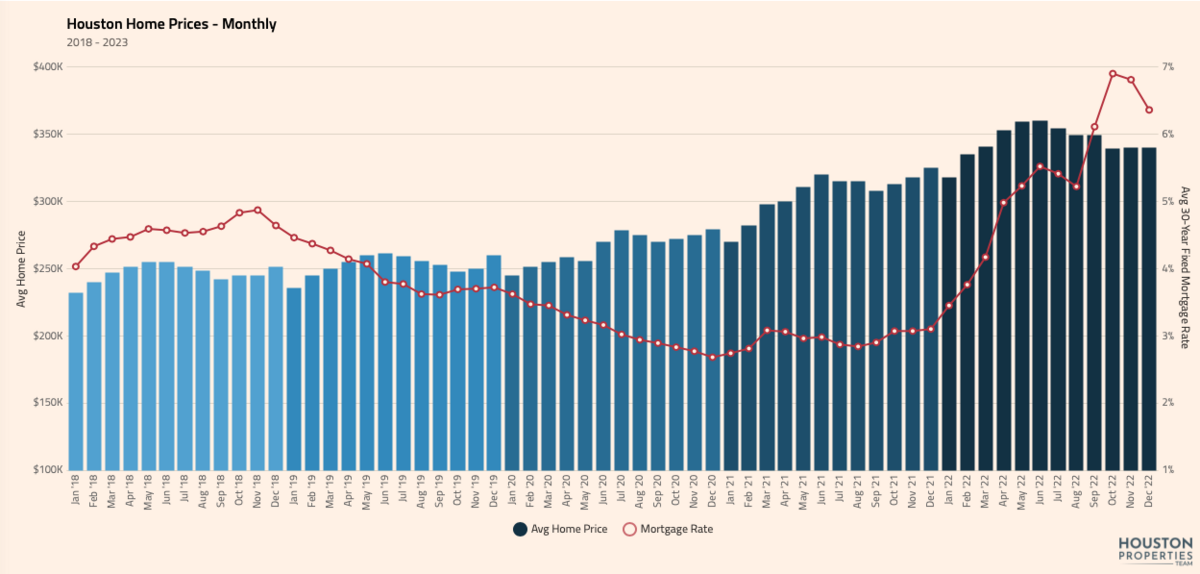 There are three distinct phases that occur when a real estate market shifts from a sellers' market into a buyers' market:
- Phase 1: Sales volumes decrease and prices increase
- Phase 2: Sales volumes decrease and prices stabilize
- Phase 3: Sales volumes decrease and prices decrease
As of December 2022, Houston's housing market was in Phase 1.
Annual comparisons showed:
- Sales volumes declined by 37%
- Median prices increased by 5%
However, as displayed in the graph above:
- Monthly prices for Oct, Nov, & Dec 2022 stabilized.
- This was the first time in 5 years that prices did not increase during these months.
While no one knows exactly how long each phase of a shifting market will last, our prediction is that the overall Houston real estate market will enter Phases 2 & 3 before December 2023.
Click here for Current Houston Housing Market Data.
If you'd like our specific price forecasts, text or call us at (713) 425-4194.
---
Houston Will Outperform The Nation Due To Local Job Growth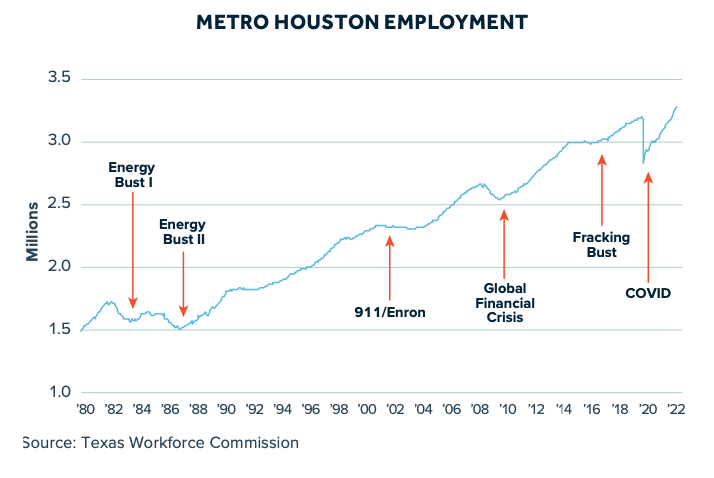 While some forecasters predict a strong US economy in the coming year, our team disagrees.
We believe the Federal Reserve (the group controlling the US money supply) is more focused on controlling prices than avoiding a recession.
Notably, the Fed has never pulled off a "soft landing" with inflation is as high as it is today.
In addition, here are the signs that lead us to think that a broader, national recession is forthcoming (2):
- Money supply is contracting as bank deposits drop;
- Negative Conference Board Leading Economic Indicators for 6 out of the last 7 months;
- The yield curve remains inverted;
- Past 0.5% unemployment rate increases have always resulted in a recession;
- The Fed projects over a 1.0% unemployment rate increase due to its aggressive policy.
Despite our pessimism about a nationwide recession, we are optimistic about Houston's job growth— which is the #1 predictor of Houston's future real estate prices.
In nearly every "recession scenario," Houston is forecasted to add jobs.
Specifically (3):
1. Houston added 108,600 jobs in the first nine months of 2022 and this momentum continues into 2023.
2. Houston is one of only 22 of the top 50 US metro areas to have materially added new jobs since the COVID pandemic losses.
3. Crude shortages and high energy prices benefit approximately 30% of our region's employers.
4. 50,000 residents per year move to Houston seeking affordable housing, career opportunities, and warmer winters.
5. Houston is a worldwide leader in health care, one of the nation's top-growing industries.
6. Houston records approximately 100,000+ births every year, supporting the local health care economy.
The National Association of Realtors' Chief Economist predicts a 1% increase in national median annual home prices this 2023. (7)
Our prediction is that Houston's median home price change in 2023 will be at least 2% above the national average.
---
Houston Will End 2023 With Its 5th-7th Best Real Estate Market In History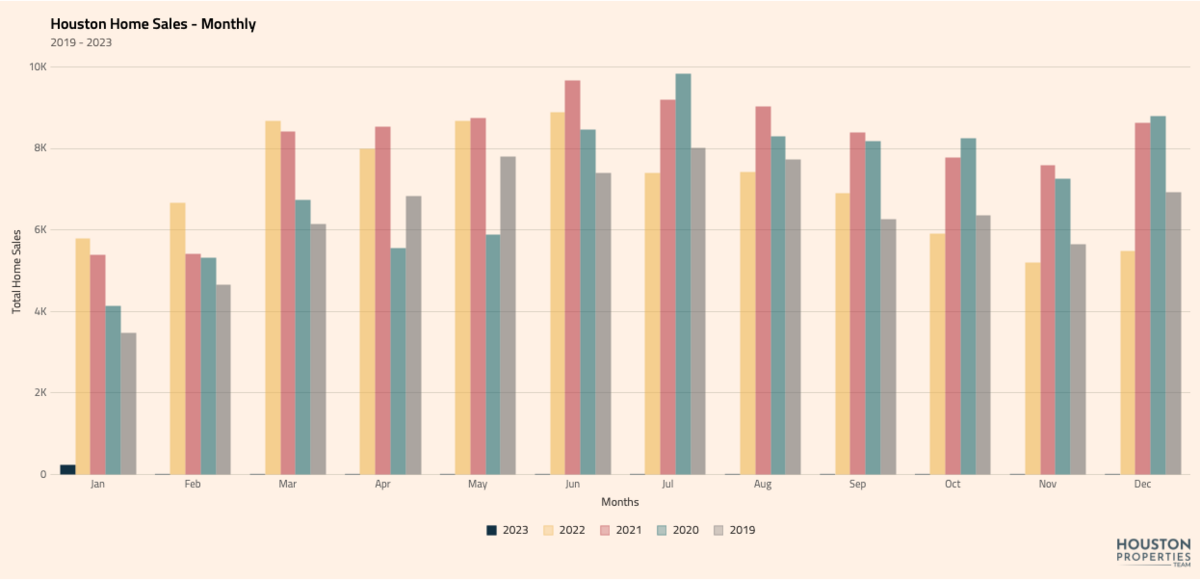 By sales volume, 2022 was Houston's 3rd best real estate market (2021 was #1 and 2020 was #2).
We saw something different in each quarter of 2022:
- Q1 "Best Ever"
- Q2 "Just Below 2021"
- Q3 "On Par With 2019"
- Q4 "Below 2019, Similar To 2018"
Given the Fed's guidance on future interest rates, we believe Houston's 2023 sales volumes will end at levels similar to those in 2016 & 2017.
In other words, we're expecting a decline in sales volumes of 10-18% in 2023.
Click here for Real Time Houston Market Data.
---
Housing Inventory Will Remain Low & We Will Technically Remain In A Sellers Market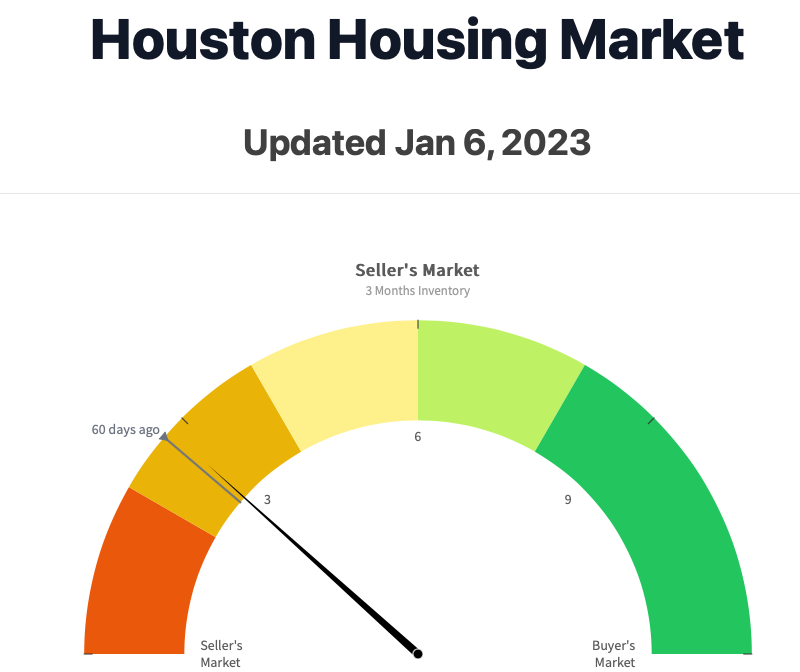 A balanced real estate market has 5-7 months of inventory.
- Sellers Market: less than 5 months
- Buyers Market: more than 7 months
2020 and 2021 saw the greatest seller's markets in history.
Here's data on Houston's inventory for the last 7 years from each December:
- 2022: 3.0 months
- 2021: 1.4 months
- 2020: 1.8 months
- 2019: 3.5 months
- 2018: 3.4 months
- 2017: 3.2 months
- 2016: 3.4 months
We believe that 2023 will also bring constrained inventory levels given that over 85% of homeowners pay mortgage rates below 5%, with two-thirds paying below 4%.
We believe higher rates in 2023 will keep home sales slow due to the "lock-in effect," where people delay moving until rates drop below 5% or prices adjust.
Our team expects to end 2023 with 3.5 - 5 months of inventory.
---
30 Year Mortgage Rates End 2023 In The 5-6% Range
Mortgage rates have fluctuated significantly since 2020. At the beginning of the pandemic, the Federal Reserve lowered rates to zero, causing 30-year mortgage rates to drop below 3%.
However, rising inflation and the Federal Reserve's efforts to cool the economy caused mortgage rates to climb above 7% in 2022.
Currently, mortgage rates are starting to stabilize. According to Bankrate's national survey of lenders, the average rate for a 30-year mortgage as of December 28th was 6.74 percent.
Looking ahead to 2023, housing economists predict that mortgage rates will continue to decline. CFA and Bankrate's Chief Financial Analyst, Greg McBride, expects 30-year mortgage rates to drop to 5.25 percent by the end of the year. (4)
Overall, the past few years have seen significant changes in mortgage rates. While rates may have risen significantly in 2022, it appears that they are starting to stabilize and may even decline in 2023. This will be welcome news for homebuyers and homeowners looking to secure a mortgage at a more affordable rate.
We predict 2023 will end with 30-year mortgage rates in the 5-6% range.
---
Buyers Will Still Favor The "Easy Button"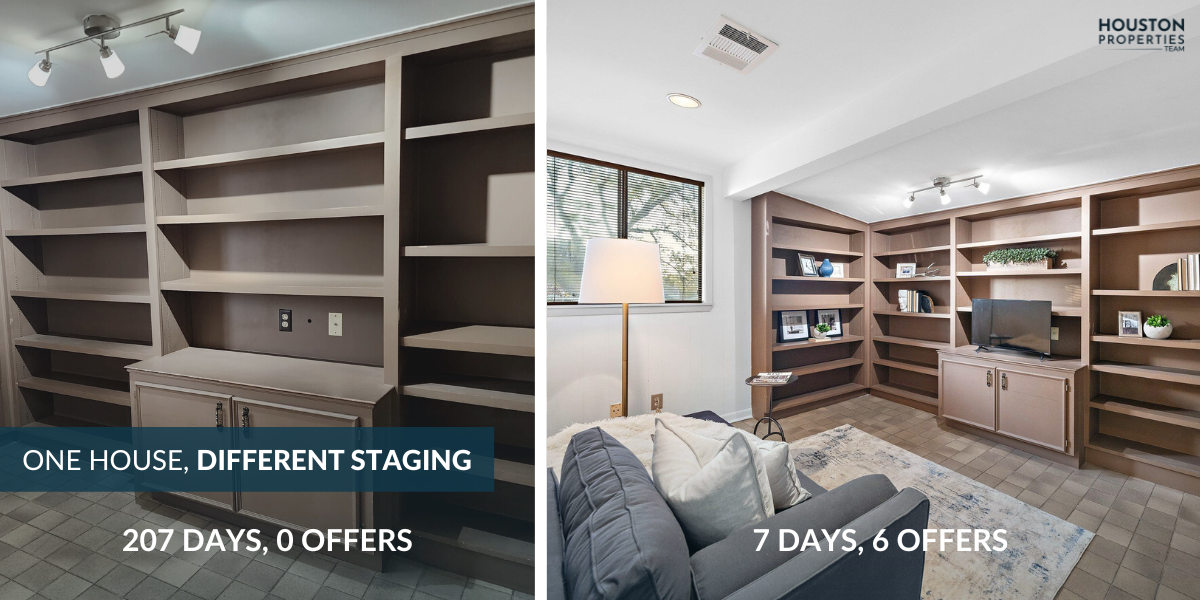 In early 2022, our data showed that 44% of Houston listings received multiple offers.
By Q4 of 2022, that number dropped by 60%. (6)
However, we're seeing many buyers who are still "COVID Tired" and favor the easy button. They don't want to:
- Imagine how the home could look different
- Re-do a home
- Source a contractor
- Wait for supply chains to loosen
We define "the easy button" as:
- Something pretty ("as seen on HGTV");
- Colors and design are in-line with current trends;
- Move-in ready (needs little to no work);
- Is priced fairly based on today's market.
In the example above:
- Previous listing: 0 offers in 207 days
- Our listing: 6 offers in 7 days
The key differences that contributed to the success rate from the example above were the quality of home preparation, staging, photos, and marketing.
- As a seller, you only have 8 seconds to capture the buyers' attention. 
- For more details, read on the Top 9 Houston Home Selling Mistakes To Avoid.
During 2023, we expect 15-30% of Houston homes will receive multiple offers.
We recommend that buyers who are looking "for value" be prepared to "buy ugly" and do the work to make it attractive.
- Here's a guide on How To Find The Best Buys In Houston.
If you'd like specific recommendations or to partner with the best Houston realtor to sell your house, text or call us at (713) 425-4194.
---
Disclaimers, Sources & Methodology
We don't have a crystal ball. All predictions are our educated guesses.
All Houston home value information was sourced from the HAR MLS database.
Data is deemed accurate but is not guaranteed. Information is provided for informational purposes only.
(1) In January 2021, the interest on a 30-year fixed-rate mortgage was 2.6% and the median Houston single-family home sale price was $263,000. The monthly cost of principal and interest was $842. This calculation does not include taxes, insurance, or HOA fees. By October 2022, the mortgage rate was 6.9%, the median Houston home sale price was $330,000 and the calculated P&I monthly cost was $1,773.
(2) https://www.federatedinvestors.com/insights.do
(3) https://www.houston.org/sites/default/files/2022-12/Employment%20Forecast_2022_Digital.pdf
(4) https://www.bankrate.com/mortgages/mortgage-rate-forecast/
(5) https://www.usatoday.com/story/money/2022/10/26/housing-market-worsens-mortgage-interest-rates/10588515002/
(6) We calculate this by looking at home sales in MLS areas 4,9,16,17,22,23 between $250,000 and $1M and comparing the original list price with the final sales price. We assume an average of 1.5% negotiations during the option period and classify anything that sold at 100% or above of the original listing price as getting multiple offers.
(7) https://www.nar.realtor/newsroom/nars-lawrence-yun-predicts-us-home-prices-wont-experience-major-decline-could-possibly-rise-slightly
---
Best Houston Real Estate Resources
---