Top 4 Home Selling Tips For A Shifting Market
Selling in the next 18 months? Know these key lessons from history.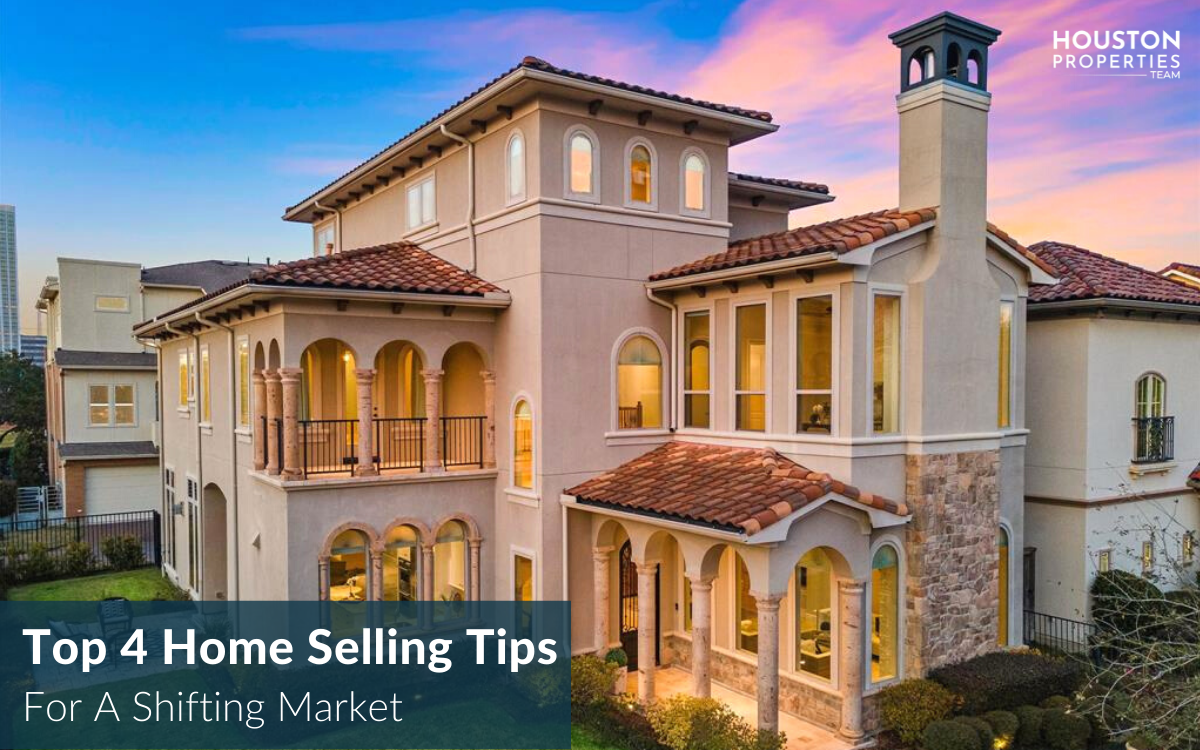 You may have noticed that the Houston housing market is in the process of shifting from a hot seller's market into a buyer's market.
This isn't the first time we've experienced this. It's happened three times since 2000.
If you're planning to sell over the next 18-24 months, here are four best practices to know to make the best decisions for your household.
---
Table of Contents
---
Tip #1: Know Where You Are In A Shifting Market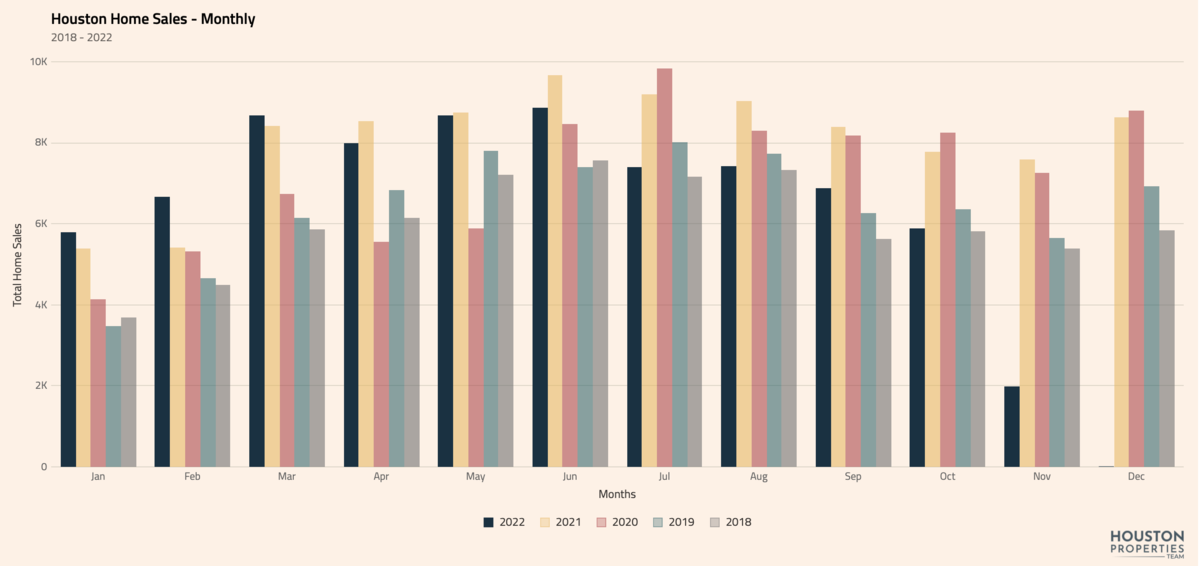 There are three types of real estate markets:
- Seller's Market
- Buyer's Market
- Shifting Market (The Market That Happens In Between The Two)
2020 and 2021 were some of the greatest seller's market in recorded history.
Remember the stories of multiple offers, homes on the market for only a few hours, and buyers paying dramatically over the list price and still not securing the home?
Houston experienced this kind of market through the spring of 2022, as evident in the graph above. By June 2022, we were beginning to see the initial signs of a market shift, and by October, we are in the midst of the transition between a seller's and buyer's market.
The beginning of a shifting market is the most difficult to navigate, as buyers and sellers have completely different expectations of what they can and should achieve in the process.
What we see as a maneuver off a shifting market are three clear phases:
- Phase 1: Sales volumes decline but prices increase.
- Phase 2: Sales volumes decline and prices stabilize.
- Phase 3: Sales volumes decline/stay the same and prices fall.
Not every shifting market experiences all three of these phases. Market and economic conditions come into play and it's difficult to predict how far into Phase 2 and 3 our market will travel; however, it's very clear that we're well into Phase 1 with a strong likelihood we'll experience Phase 2 over the next few months.
---
Tip #2: Read The Tea Leaves For What's Next
The HAR.com data noted the following October stats:
- Home sales dropped 22.7%
- Prices increased 7.2%
- Inventory increased 55% (inventory reached 2.8 months up from 1.8 months)
As of mid-November 2022, Houston clearly falls within Phase 1 of a shifting market.
So, what's next for Houston, and what it means for you if you're considering selling your home?
When you consider the possible market over the next 18-36 months, there are three critical metrics to watch, which will indicate if we are moving rapidly toward Phase 2 and Phase 3:
- Pending sales: These are the #1 indicator of future closings. If these are declining, future sales will also lower, formally indicating the transition/shift.
- Days on market: This is the #1 indicator for future price reductions. Time is not your friend as a seller in a shifting market. The longer a home remains on the market, the more likely it is to have a price reduction. This matters because of the point below.
- Price reductions: These are the #1 indicator for future prices. When sellers reduce their price (and this is typically done because the home has been on the market for a period of time), and ultimately find a buyer at a lower price, this is what leads us toward Phase 3 of the shifting market.
We track these metrics daily to stay on top of these trends. For live updates, visit the Houston Housing Market Live Trends.
---
Tip #3: Avoid The 9 Most Common Home Selling Mistakes In Houston
We performed a study of over 800,000 Houston real estate listings, analyzing what lead to 35% of the homes not selling.
Listings that included one or more of these mistakes cost valuable time, money, and missed opportunities.
These are a few of the common mistakes to avoid:
- Taking low-quality photos. High-quality photos sell homes 32% faster.
- Having less than 15 photos. More shots can highlight the lifestyle you want to sell, taking home staging up a notch.
- Overpricing at the early stages of selling. Properties originally listed 2.2% higher sold for 1.3% less than the average sale price.
For more details on the other six mistakes, here's our Reasons Your Houston Home Isn't Selling and how to best achieve the most value for your property in the least amount of time.
---
Tip #4: Don't Chase The Market Down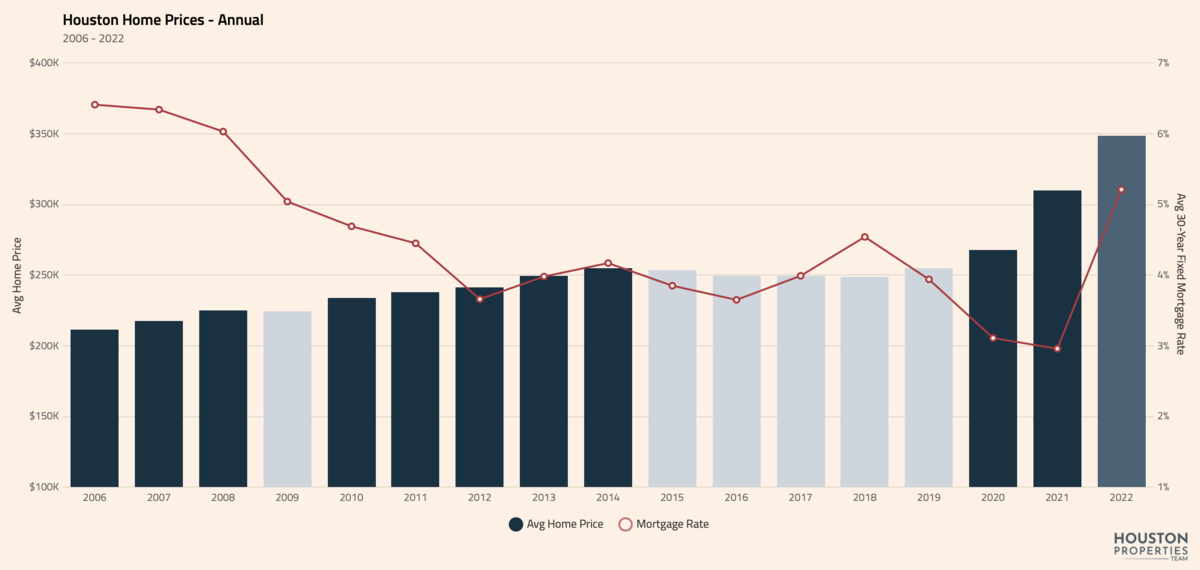 In a shifting market, waiting can cost you significantly!
In the above graph and the live Houston Housing Trends page, the gray bars indicate when prices dropped.
Since Houston's economy is so integrated to the energy sector, the 2014 oil price crash had a longer negative impact on real estate prices as compared to the Great Recession. It took five years for prices to rebound.
While we don't have a crystal ball, every other time in modern history that the US Fed increased interest rates to stamp out inflation, they caused a recession.
In each of Federal Reserve Bank Chairman Powell's recent speeches, he makes it clear that their "overarching focus right now is to bring inflation back down to our 2 percent goal."
In every recession over the past three decades oil prices fell.
If we enter a recession in 2023 or 2024 and subsequently oil prices fall, today may be the best market to sell your Houston home for the next 3-5 years.
We're happy to talk about what this may mean for you and your situation. Text or call us 713-425-4194.
---
Best Houston Realtor To Sell Your Home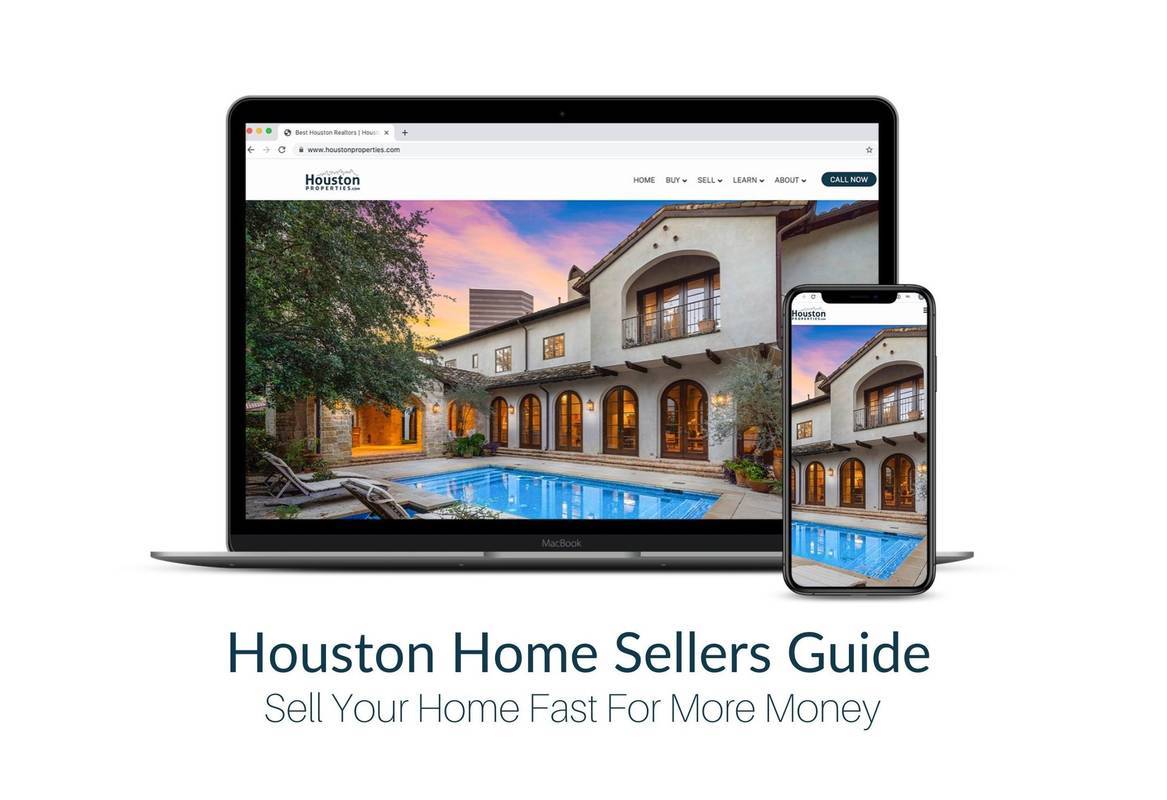 Six months ago, the Houston Properties Team was named the #1 Small Real Estate Team in Houston by the Houston Business Journal.
With over $1 billion in Houston residential real estate sales and 300+ Google five-star reviews, Houston Properties Team has been awarded the #1 Keller Williams Realtor in Houston and #1 Keller Williams Realtor in Texas.
Best Houston Realtor - Meet Paige Martin
As featured in the Wall Street Journal, Fortune, Forbes, Houston Chronicle, Fox News, Reuters, Houston Business Journal, and Houston Magazine Paige Martin — lead of the Houston Properties Team and a consistent Top Producing Keller Williams Broker — is ranked as one of the top residential Realtors in the world.
Houston Properties Team listings sell for 7.2% more and for 43.7% faster than average.*
Know the price of your home with this Free Houston Home Valuation.
Visit Houston Properties Team to meet all our award-winning members.
---
Sources
With all the available information out there about Houston's top areas, it can be confusing when finally making a decision on which neighborhood to choose. We provide comprehensive and substantial Houston home guides and Houston real estate market news to keep you informed and up-to-date. Get advice from the best Houston Realtors and remove the guesswork when looking for one of the best homes in Houston to live in.
HAR's November 9, 2022 press release
All Houston property sale information was sourced by the HAR MLS database.
Speech by Chair Powell on Monetary Policy and Price Stability from August 26, 2022.
Data is deemed accurate, but is not guaranteed. Information is provided for informational purposes only.
---
Best Houston Real Estate Resources
---