Yolanda Ames Top Houston Realtor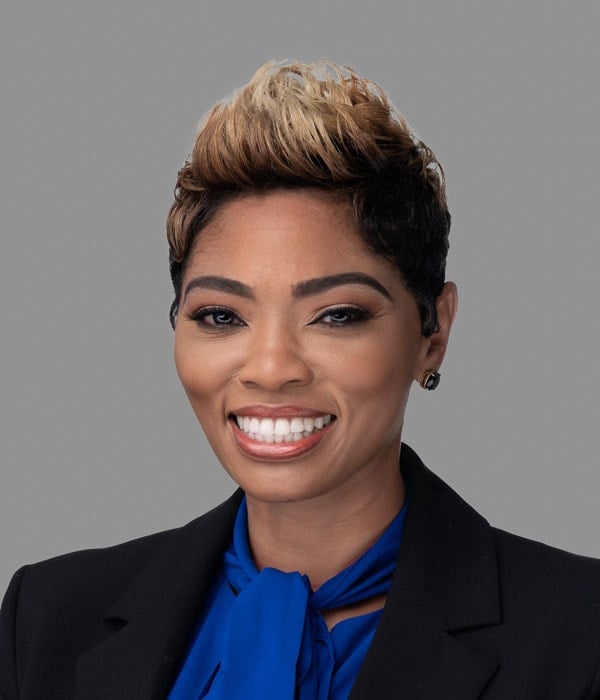 Yolanda is a stellar Houston Realtor® recognized for her incredible work ethic, excellent listening skills, and strong leadership capabilities.
She is an integral member of the Houston Properties Team, the #1 boutique real estate team in the Bayou City with over $1 billion in property sales.
She leverages her deep knowledge of the latest Houston real estate trends to help clients find prosperity in life and generate long-term wealth through real estate ownership.
Recent awards include:
- Team Top Producer
- Five Star Service Professional
- Outstanding Customer Service
- Diamond Neighborhood Professional
- Distinguished Listing Specialist
- Lead Residential Marketer
Before becoming a Realtor®, Yolanda worked in customer service and operations management, where she gained valuable marketing training and customer relationship skills. She now uses these professional tools to help buyers and sellers get the best value in every transaction.
Her warm and hands-on approach ensures that clients enjoy an stress-free experience.
Yolanda brings her years of experience to guide people through the real estate process. Her honest insights empower them to make informed decisions for their homes.
---
Yolanda's Latest Client Reviews
★★★★★ NNeka Wilson
Yolanda Ames is listed as a platinum agent and her service validates just that. She is kind, thorough, transparent, dependable, efficient, and did I mention thorough! I made the decision to move from NY to Tx and with Yolanda's help, was able to find an amazing residence, and close in a month. Her team (those from Houston Properties) and all her connections (from inspection SMEs to financial advisors) - mitigated the anxiety and overwhelming stress of purchasing a home. A year later, she still follows up and keeps me informed. If you have any inclination to move to the Houston area, reach out to Yolanda Ames. You will not regret it! Thanks Yolanda and Houston Properties!
★★★★★ Iris Chen
Yolanda was amaaazing! My husband and I are second time home buyers and with Yolanda's help, this experience was so much better. From our initial meeting, Yolanda was very approachable, kind, and very knowledgeable. The best thing about her is that she really listened to what we were looking for and she really was our #1 advocate. Before we got her on our team, we were about to buy a house that was "too good to be true" and we thought we were getting a good deal for it. But thankfully, we had Yolanda join our team and educated us on things that we really did not realize. But what I appreciated most was that she was always very loving and kind in her approach to letting us know how the house we chose was a bad idea. She always checked in to really listen to what we wanted in a new house and reassured us that we should not settle. Soon after that, she was able to find the perfect house for us! Her professionalism and communication were also top notch! I highly recommend her!
★★★★★ Evan Englert
Outstanding! Yolanda was amazing to work with. I've bought multiple properties and worked with multiple agents and can confidently say she is a true pro. I'd recommend the Houston Properties Team to anyone looking for their forever home.
★★★★★ Saida Khan
It was such a pleasure to work with Yolanda Ames. She was the most professional and personable agent I have ever worked with. She recommended to sell my house at higher price range than 3 other agents I interviewed.

As part of her services she brought an interior designer to help me stage the house to show case the best view for online viewers at no cost. She walked me through each step of the way until the end. I would not have sold my house at such short period of time and at higher price if it wasn't to Yolanda's details and market research.

At the time of rising interest rates, selling a house in 9 days takes a miracle and Yolanda was my angel to make that happen. Her market research and listening to the potential buyers helped us price the house right and sell it fast.

She cared about my house selling at the highest price and shortest time and all her effort in market research made that happen.

It was an absolute pleasure to work with such a professional agent. If you work with her, you will never work with any other agent. It was my sincere pleasure to working with Yolanda!
★★★★★ Rebecca Goosen
Houston Properties took the worry and guess-work out of selling our house. They had recommendations for everything to make this house ready and appealing. Their attention to detail is unsurpassed. The way that our house was marketed made us want to buy it again ourselves. Yolanda Ames was kind, respectful, personable, knowledgeable, and responsive. She guided us through everything
★★★★★ hong-lin chen
Yolanda Ames's team is amazing to work with. With her help and guidance, we have been able to smoothly transition our home and investment properties from other states to Houston, TX.

Her team not only has broad knowledge on the trends in the Houston market, but they also produce very valuable reports customized to each property.
Their work ethic and detail oriented natures are the reasons we keep coming back to work with them.
Yolanda is excellent. She listens to our needs, communicates extremely well and most importantly, she cares for our transactions as if they were her own. Highly recommend working with her!
★★★★★ Meagan Joacim
Yolanda and the Houston Properties Team helped make the purchase of our first home so much less stressful, especially in this market. Yolanda and the team kept in constant communication and helped us navigate the process from beginning to end.
★★★★★ Jgskupien
Yolanda and the whole Houston Properties Team are incredible and we whole heartedly recommend them. Yolanda was our buyers agent when we purchased our house in Pearland back in 2019. We were moving to Pearland from out of state and Yolanda expertly guided us the whole way, even as we were thousands of miles away. She was so professional, efficient, and personable, which immediately put our minds at ease and made us feel confident that we were in good hands. When we decided to move to a different city, it wasn't even a question that we would ask Yolanda to be our sellers agent.

We contacted Yolanda on a Sunday and she had our house staged, beautifully photographed, and listed by the following Friday, which was a crazy fast turnaround. We had our first all cash offer in hand two days later. Three days after that, however, our buyers backed out, which put us in jeopardy of losing the house we were trying to buy in our new city. But then, within a few hours, Yolanda had somehow rustled us up a new offer.

Simultaneously buying and selling a house was a crazy roller coaster. It seemed like every possible thing that could derail either or both deals surfaced and yet Yolanda shepherded us through with grace, tenacity, and determination. She always presented us with our options and let us make the choice, and then fiercely advocated on our behalf. She was always available and made us feel like we were top priority, even though I'm sure she had many other clients at the time. We really felt like she cared about us and had a vested interest in everything working out on our behalf, and that made the craziness of the whole experience much more tolerable.

If you're looking for a realtor who is equal parts competence and warmth, organized, and a true expert in the market, then look no further.

We truly could not recommend Yolanda more strongly. If you're buying or selling in the Houston area, it's a no brainer to choose Yolanda.
★★★★★ Beverly Poulter
The Houston Properties Team was an outstanding team to work with throughout our recent home buying experience, especially Yolanda Ames! My husband and I had a very particular set of criteria since we were looking for our forever home, so I know we weren't the easiest clients to work with. Yolanda had tons of patience with us looking at home after home until we finally found "the one". I would recommend Yolanda and her team to anyone looking to buy (or sell - that's next on our to-do list!) a home or property in the Houston area. She's a real estate ROCKSTAR!!
★★★★★ Shah Islam
Yolanda Ames with the Houston Properties Team has been nothing but an absolute pleasure working with. Having had less than stellar experiences with realtors before, Yolanda couldn't be more of the opposite. She provided information that was helpful not only on the buying front but also the selling front down the line. Whenever something came up that she wasn't positive about she used her resources to find the answer for me. I am thankful to have found an agent that shares the same commitment to excellence and beyond. This was my first home purchase and look forward to working with her continually down the line.
---
Best Houston Real Estate Resources
---