Houston TX Neighborhood Guide
A Houston MLS Market Snapshot provides you with:
Information on homes currently for sale, including prices, listing details and days on market;
Comprehensive details on recently sold homes (including original asking price, sold price, days on market and trends);
All homes are clearly mapped out with Yahoo maps;
Descriptive community area information (shopping, places of worship, museums, restaurants, theaters, stores, etc.);
Full information on local schools (number of schools in the area, public schools, private schools) with the ability to compare school information including: number of students, number of teachers, number of classrooms and more!
(Scroll down to learn more about this report, or complete the box above to get your free copy now!)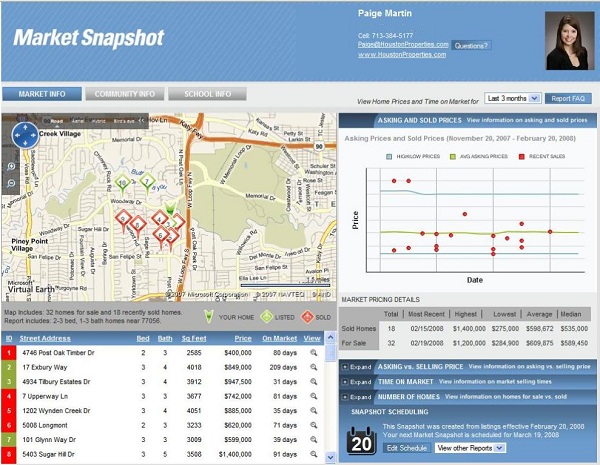 Information we'll need from you:
Address (of the home you're selling or the location of where you're looking to purchase a new home) – so you'll get information on the neighborhood that is of interest to you;
Email (where we send you the report);
Your name;
Type of home that you own or are interested in buying (to custom the report for the homes that interest you most)
Fill out your name, email and information in the box below to get a customized Houston MLS Market Snapshot – specifically for your address!
When you've finished entering your information above, the report will be emailed to you. Visit some of the other resources on HoustonProperties to search: