How to Downsize Your Home: A Comprehensive Guide to Downsizing in Houston
The best tips and strategies on moving to a smaller home.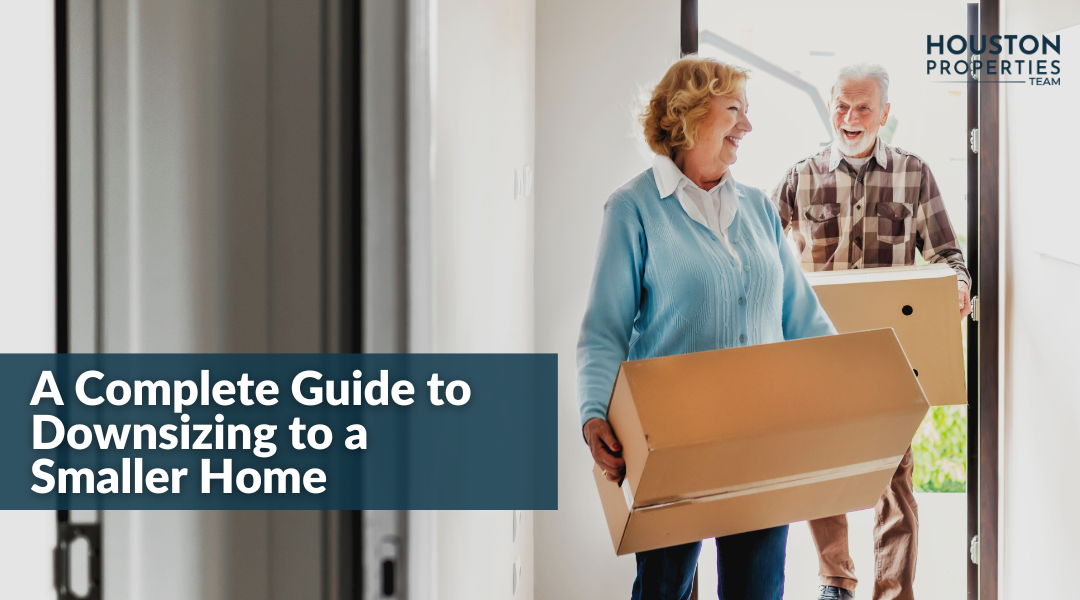 Sixteen percent of Americans are looking to downsize to a smaller home in their next move. Thirty-seven of those are Millennials and Gen Xers, while more than half are Baby Boomers and members of the Silent Generation. Are you one of them?
If you've been feeling overwhelmed by the size, cost, and maintenance of your current home, then downsizing might be worth considering for you. Imagine a smaller, more manageable space that saves you money and that you can customize to fit your changing lifestyle — it's a beautiful picture, isn't it?
In this comprehensive guide, we'll tell you everything you need to know about downsizing. You'll get to understand the advantages and disadvantages of downsizing, the financial costs involved in selling your current house and buying a smaller one, and the practical steps you need to take once you get started with the process.
Plus, there are expert tips and a free printable downsizing checklist for seniors at the end to make it easier for you to transition to your new home. Let's start.
"I can't believe we waited so long to downsize. Our life is so much less complicated, and we're more free to travel without worrying about the maintenance, hassles or costs of a large home. The Houston Properties Team did an excellent job of helping us evaluate our options, sell, and find a spectacular new home that's easy to lock & leave! They're wonderful advisors, and I can't recommend them highly enough!" - Carol & Bill Johnson
---
Table of Contents
---
Downsizing Definition: What Does It Mean to Downsize?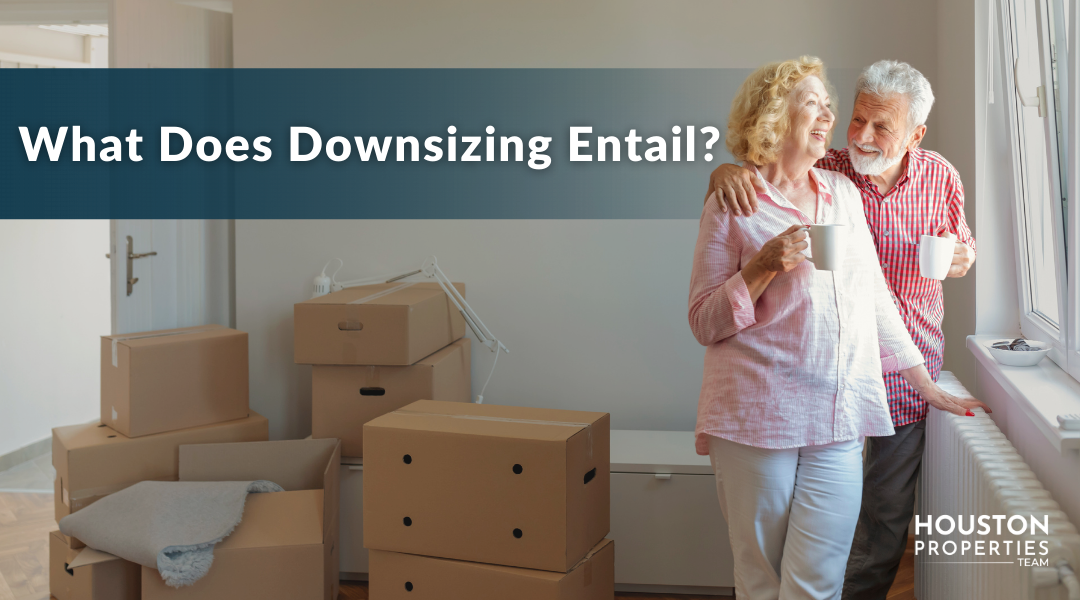 "Yolanda Ames is listed as a platinum agent and her service validates just that. She is kind, thorough, transparent, dependable, efficient, and did I mention thorough! I made the decision to move from NY to Tx and with Yolanda's help, was able to find an amazing residence, and close in a month. Her team (those from Houston Properties) and all her connections (from inspection SMEs to financial advisors) - mitigated the anxiety and overwhelming stress of purchasing a home. A year later, she still follows up and keeps me informed. If you have any inclination to move to the Houston area, reach out to Yolanda Ames. You will not regret it! Thanks Yolanda and Houston Properties!" - NNeka Wilson
First of all, what is the meaning of downsizing, really?
At its core, downsizing is a deliberate choice to simplify your living space by moving to a smaller home — usually one that's around 1,500 to 2,000 square feet. And a lot of retirees are doing it or planning to do it.
A Merrill Lynch and Age Wave national study on retirement found that 51% of retirees downsized in their last move. On the other hand, Del Webb, a builder of 55+ active adult communities, said that 28% of Americans between 55 to 59 years old are looking to downsize on their next home purchase.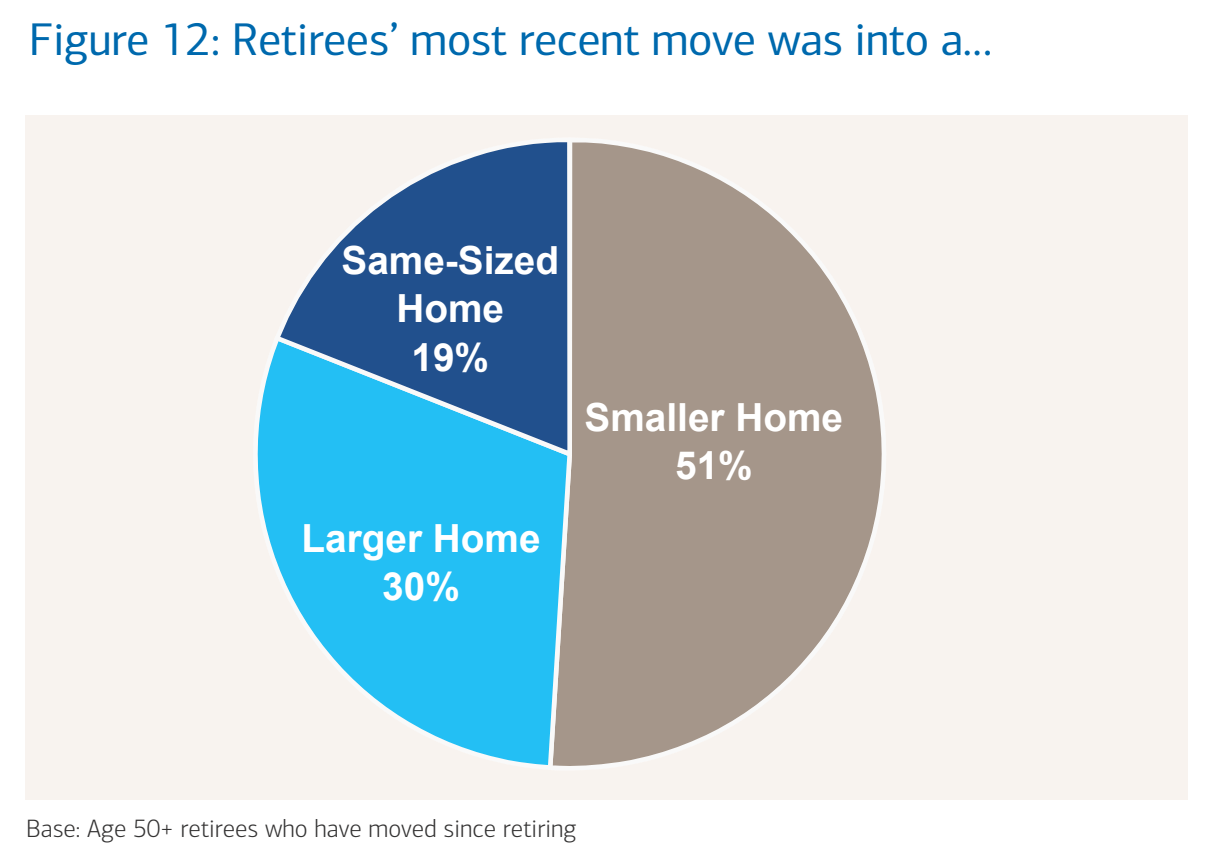 (Image credit: Merrill Lynch)
However, it should be noted that downsizing is not just about reducing the physical size of your home — it's also an opportunity to create a living environment that better suits your needs and lifestyle.
According to the National Association of Realtors, Baby Boomers and the Silent Generation are selling their houses and downsizing not only because their home is too large, but also because they want to move closer to their family and friends.
Below we will delve into more reasons why people choose to downsize and the pros and cons of buying a home after age 60.
---
The 6 Main Reasons Why People Downsize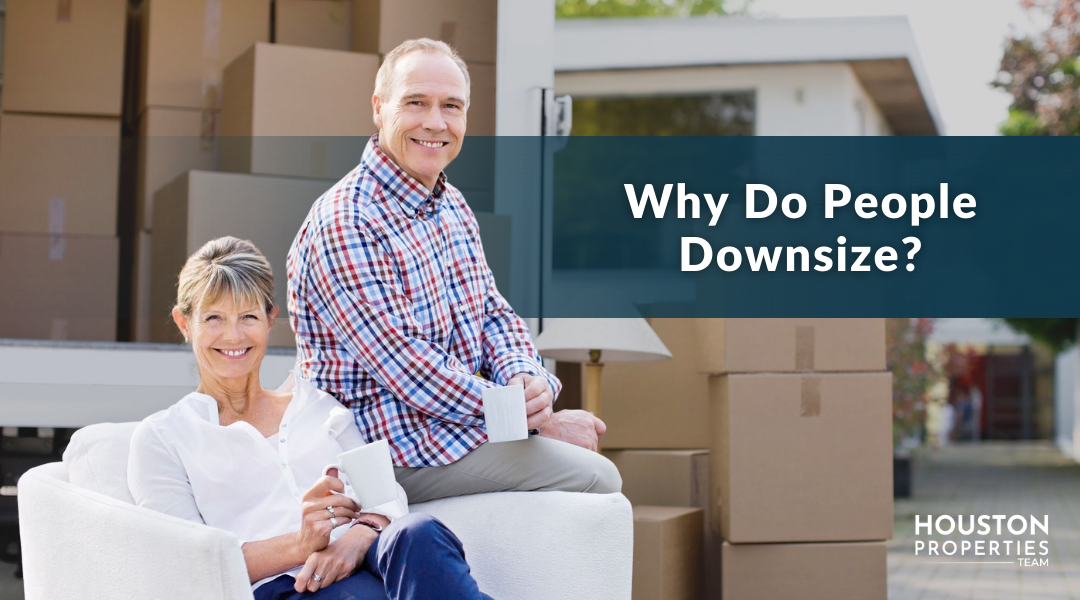 "Why can't we give 10 stars? Brad went above and behind with me in my house search. He did such a great job, that when my parents were moving we used him again. Can't say enough about Brad and his team! Thank you Houston Properties and Brad Evans." - Sean Higgs
1. Financial Freedom
In the Merrill Lynch and Age Wave study above, retirees cited that they consider financial freedom as their top reason for downsizing.
It makes sense because current homes that are sized upwards of 2,500 square feet can cost a lot in terms of utilities. In fact, 19% of Americans said that they downsized their homes specifically so they can save money on utility costs.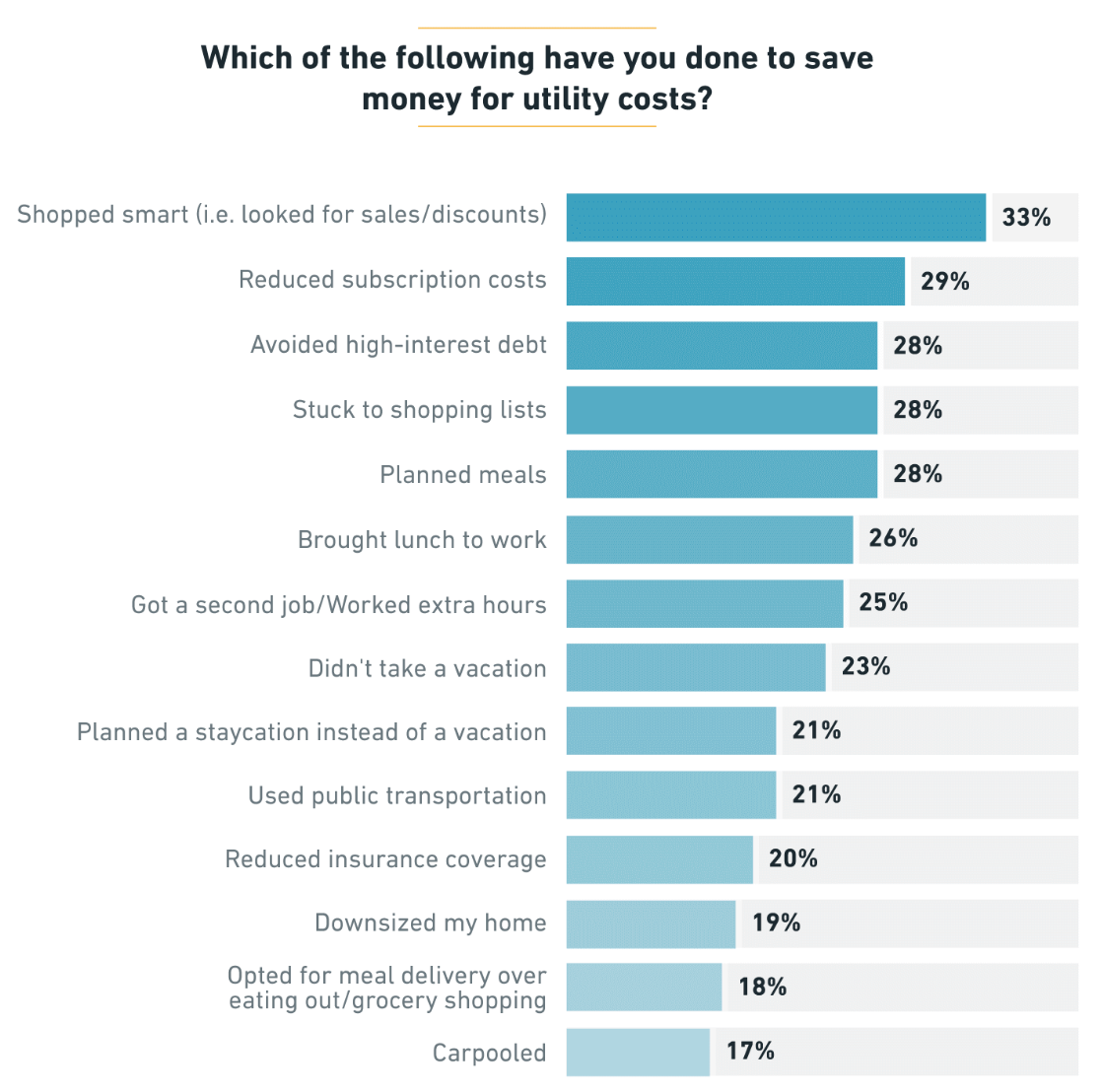 (Image credit: Payless Power)
"It's not only utilities though," says Brad Evans, a Houston broker associate and one of the top producers of the Houston Properties Team. "It's also maintenance, mortgage, and property taxes. Buying a smaller house can significantly reduce these costs, which can free up their finances that they can direct toward retirement savings, vacations, or new hobbies."
Retirees also find home equity conversion mortgages as another good reason to downsize, since releasing equity tied up in a larger home can help make them more financially secure in their retirement.
2. Maintenance Burdens
The second biggest reason why seniors downsize is that their home has become difficult to maintain. "My clients tell me that taking care of a large house with numerous rooms, extensive yards, and multiple floors can become physically challenging, not to mention time-consuming," says Brad.
Even if they can hire housekeepers, gardeners, and repairmen to do the cleaning, repairs, landscaping, and general upkeep, there's still the fact that managing staff takes a lot of work as well. They find that the amount of time they spend on overseeing maintenance personnel can be better spent on other worthwhile pursuits instead.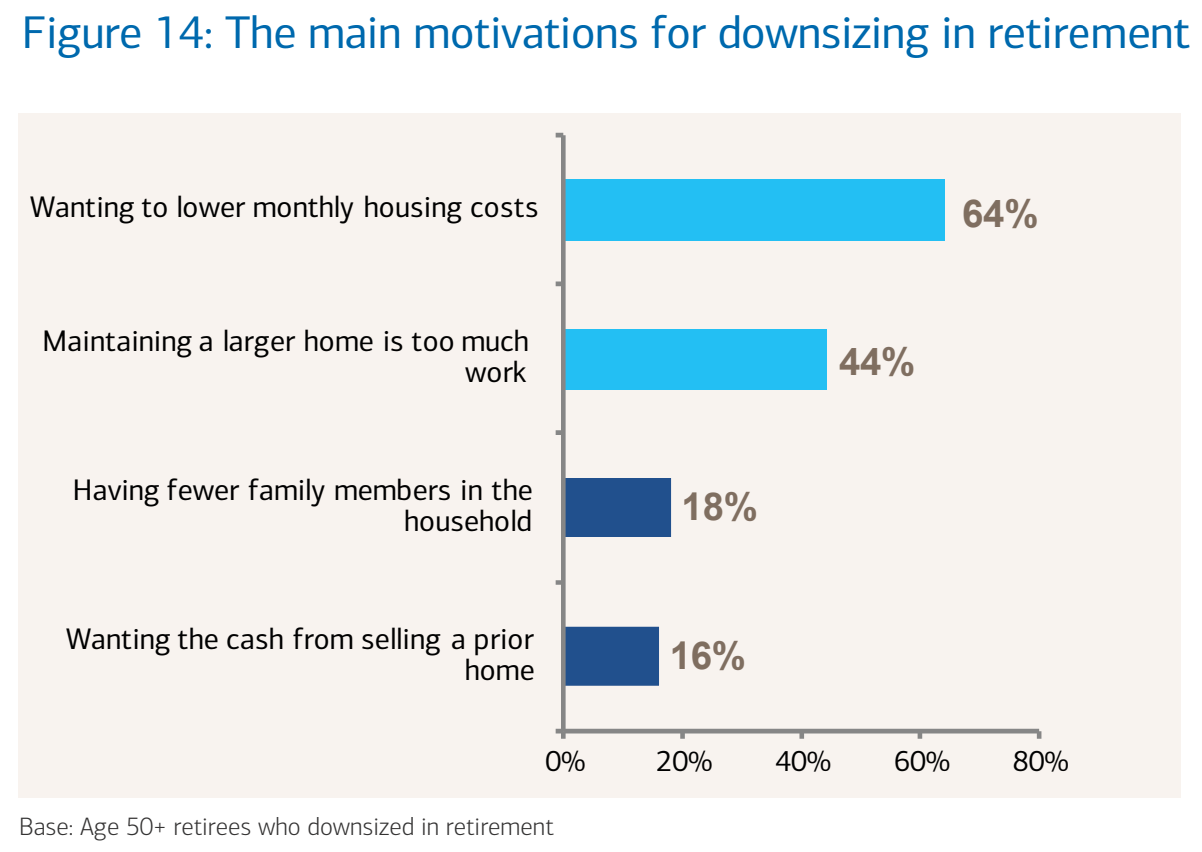 (Image credit: Merrill Lynch)
3. Empty Nest
As their children grow up and move out, the once bustling family home now feels too spacious and empty. Suddenly there's a lot of unused space that parents wouldn't know what to do with.
Converting them into functional spaces can be costly. Besides, not a lot of people will get the chance to use them anyway, seeing as there are fewer family members in the household now. Even if they choose to leave the rooms vacant, those empty spaces can still unnecessarily increase heating or cooling costs.
Instead of undertaking costly renovations, Brad says that empty nesters opt to move to a smaller home that's more intimate and cozy, where every single square foot is more appropriate to their new circumstances in life.
4. Lifestyle Change
It's important to remember that retirees and seniors aren't the only ones downsizing their homes. Some homebuyers downsize because they want to be closer to family and friends, while some just got a job in a new city and want to downsize due to higher mortgage rates.
Some downsize because they want to move to a home that's conveniently located near groceries, restaurants, and shops — in a neighborhood that has better walkability, like these 11 walkable Houston neighborhoods.
Others do it because they want to travel more and benefit from a lock-and-leave lifestyle, or maybe they experienced a recent relationship change and needed to start afresh in a new, smaller home.
5. Health and Age Considerations
People's health and physical needs change as they age, and as such, they find that their own home has to keep up with those changes. Mobility limitations affect 35% of people aged 70, and these people may find that a one-level house, apartment, or condo makes more sense for them than a two- or three-story monstrosity with innumerable stairs, steep driveways, and hard-to-access storage spaces.
According to Brad, it's an even better deal if the home they downsize to has:
A stepless entry from the outside
Bathrooms with grab bars
Easily accessible electrical outlets, switches, climate controls, kitchen countertops, cabinets, etc.
Extra-wide doors and hallways that can comfortably fit a wheelchair
Elevators
6. Sustainability
For the environmentally conscious, downsizing is an opportunity for them to reduce their carbon footprint since a smaller home consumes less energy and produces less waste.
Consider this: Residential energy use is responsible for 20% of greenhouse gas emissions in the United States, and an average-sized home releases 28,000 pounds of CO2 into the atmosphere per year.
In contrast, tiny homes for sale in Houston — ones that are no larger than 400 square feet — produce only about 2,000 pounds of CO2 per year.
---
The Unexpected Benefits Of Downsizing Your Home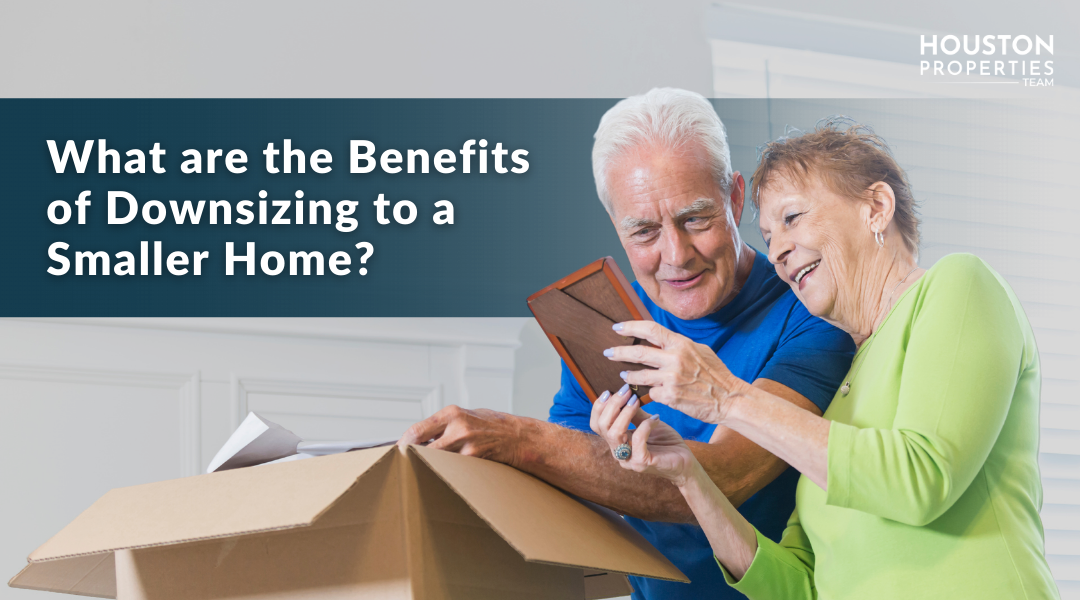 "Paige Martin and the Houston Properties Team are exactly the kind of people you hope to work with when it comes to real estate. They were able to guide me through different Houston neighborhoods and talked me through all the decisions I needed to make. Paige and her team are expert in what they do, reliable and communicative, making the entire process a pleasure." - Amy Marlyse Plato
1. Simplified Lifestyle
Is living in a small house better? If you're looking to simplify your lifestyle as per the downsizing definition that we talked about previously, then yes, living in a small house is better.
Living smaller forces you to declutter and evaluate your belongings. According to a research paper published in the Journal of Environmental Psychology, clutter has a negative impact on your psychological well-being and quality of life. Not only does it increase stress, it also decreases productivity and leads to unhealthy habits.
By letting go of unnecessary possessions, you can create a more organized and simplified living space, which can lead to reduced stress and an overall sense of calm.
Smaller homes also encourage you to be mindful of how you use your space. Every square inch of space becomes valuable, and this kind of limitation can foster creativity and resourcefulness in you. Think of it as an opportunity to maximize your storage, explore multi-functional and modular furniture, and surround yourself with items that hold the most meaning for you.
2. Reduced Costs
There are many factors that determine a home's listing price — including the age, condition, and location of the home, the sale price of comparable homes in the area, and current market conditions. Generally, however, smaller homes come with a lower price tag than larger homes in the same area. This means reduced mortgage debts, which in turn means more cash left over for travel, hobbies, or retirement savings, or to settle other debts such as student loans, credit card debt, and auto loans.
Property taxes are often lower for smaller properties as well. Square footage is one of the factors that go into the assessment of your home value; a bigger home can increase your assessment, and thus, increase your tax.
It's not only about listing prices and property taxes too. Smaller homes require less energy to heat or cool, resulting in lower utility bills. The Energy Information Administration reports that in 2020, the average billing for energy usage of households in the US was $1.04 per square foot. That means a 3,000-square-foot home pays $3,120 for energy usage, compared to $2,080 for a 2,000-square-foot home. That's a $1,040 difference — money that can be used for other expenses, savings, or the pursuit of hobbies and other fulfilling activities.
Maintenance costs less too, whether it's for cleaning, landscaping, roofing, repairs, or renovations. With a smaller space to heat, cool, and maintain, you'll have the benefit of energy-efficient living while saving on monthly expenses at the same time.
3. Easier Maintenance
According to a recent survey by Angi (formerly Angie's List), adult Americans spend 42 hours per month on household tasks. That's 21 days per year, or 2.9 years in a lifetime. That's a lot.
One of the joys of living in a small house is that you can cut back on this number significantly. There's less space to clean, which means that general upkeep requires less time and effort. Think about it — there are many factors that can come into play, but a 3,000-square-foot house can take more or less 5 hours to clean, while a 1,000-square-foot one can take only about 2 hours.
With a smaller home, tasks become streamlined. Daily errands become more convenient and efficient. Generally, maintenance becomes more manageable and you spend less time supervising any house staff. These not only save you money but also free up your time for other activities.
4. Reduced Environmental Footprint
The bigger the house, the more resources are needed to build, maintain, and operate it — meaning the environmental impacts associated with it are bigger as well. Larger properties typically require more land to house them and more trees to construct them. The Home Preservation Manual estimates that it takes more than 20 full-grown Douglas Fir trees (a softwood that's frequently used in building projects) to build every 1,000 square feet of structure. That's 60 Douglas Firs, or more than half an acre of trees, for a 3,000-square-foot home. By opting for a smaller home, you can help preserve entire forests, natural habitats and open spaces.
Downsizing your house also give you an opportunity to reduce your energy usage. According to the Center for the National Interest, a public policy think tank, nearly 70% of energy use in homes is for heating. It stands to reason that the smaller the space, the less energy is needed to heat up that space, resulting in a smaller carbon footprint.
But it's not only your energy usage that affects the ecological footprint of your home — it's also your water consumption. A smaller property generally requires less water for daily activities. If you use water-efficient fixtures and practice responsible landscaping practices on top of that then you are further minimizing your water consumption and contributing to the conservation of this precious resource.
Lastly, as mentioned before, downsizing often necessitates decluttering your belongings because of the limited space. This can lead to the adoption of a more minimalist lifestyle, which can reduce your consumption patterns. With fewer possessions, you minimize the need for resource-intensive manufacturing processes and decrease the waste generated from discarded items.
Overall, downsizing your house leads to a smaller environmental footprint. You become more mindful of your resource consumption, waste generation, and energy usage. By making conscious choices to live in a smaller space, you can set an example for others and inspire a more sustainable way of life for yourself.
5. Access to Desired Locations
Another one of the unexpected benefits of downsizing your home is getting the option to live in a location that better aligns with your lifestyle preferences. If you've always dreamed of living in a vibrant urban area, for example, you can make that dream a reality when you move.
Alternatively, you can choose a small home in a peaceful, nature-oriented community that meets your need for tranquility and outdoor activities.
Or you may just want to move to a neighborhood that's closer to friends and family — like 37% of homebuyers in 2023 according to the National Association of Realtors.
"Smaller homes are also often situated in neighborhoods with better walkability," says Paige Martin, one of the top 50 Keller Williams Realty agents worldwide and founder of the Houston Properties Team.
"You may have easy access to essential amenities such as grocery stores, restaurants, parks, and cultural venues," she continues. "This can enhance your daily life by reducing the need for long commutes and providing opportunities for social interactions and community engagement."
6. Opportunity for Change
Moving to a smaller home presents an opportunity for personal growth, reinvention, and new possibilities. You may be recuperating from a relationship breakdown and you need to find a smaller property after your previous shared home has been sold — you can treat it as a gain instead of seeing it as a loss, simply because it allows you to start anew in a fresh environment.
Or your children have gone off to college and you're excited to travel and explore the world, maybe engage in new hobbies. A lock-and-leave lifestyle that a smaller home brings can make all that possible.
It could also be that you or your parent may be experiencing mobility concerns due to age or health-related reasons, and you require a new environment that can meet your changing needs. In 2023, 20% of homebuyers cited a household member's health as one of the factors that can cause them to move.
On the other hand, members of the Silent Generation, or those aged 77 to 97, were most likely to purchase senior-related housing at 12%. They were also more likely than others to choose a neighborhood based on its proximity to health facilities.
Downsizing to a single-level, low-maintenance, accessible home can prove to be safer and more convenient for them. A smaller home can be equipped with safety features such as grab bars and non-slip flooring to reduce the risk of accidents or injuries. It also typically has fewer stairs or no stairs at all, plus wider hallways and doorways that can accommodate mobility aids like wheelchairs or walkers. This enhanced accessibility can promote independence for you or your parents with mobility challenges.
---
The Drawbacks of Downsizing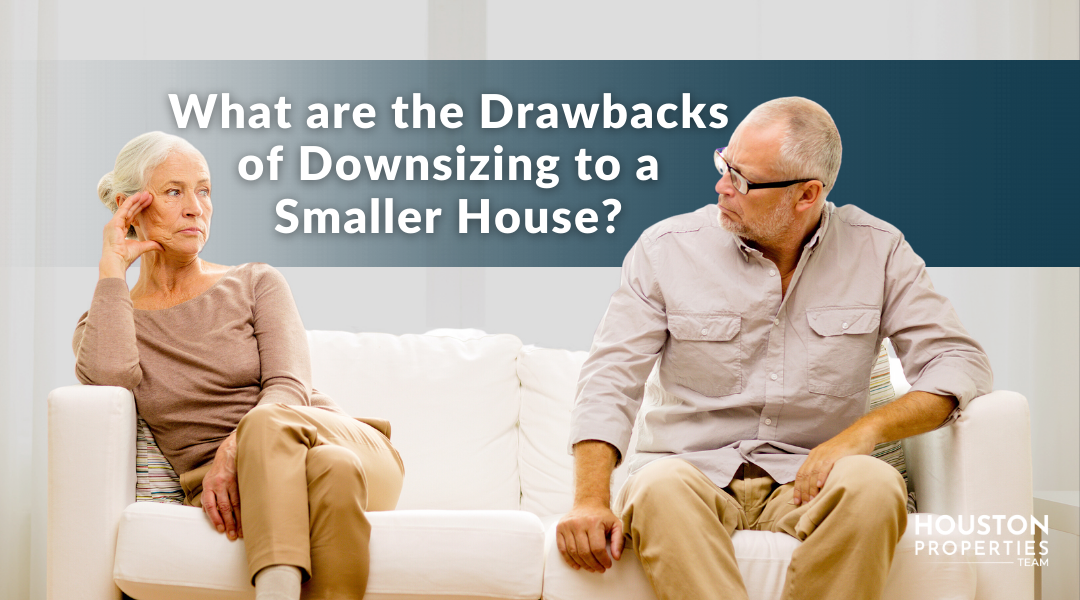 "Paige Martin, Yolanda Ames, and the Houston Properties Team are the best in the business here in Houston! They have provided my family with expert assistance in locating, offering, and successfully closing on two properties for us; and we could not be happier. Their regular updates to us on market trends and other important details about the real estate market are timely and informative. We also love staying connected with them on a more personal level by attending many of their quarterly events they hold for their clients. I highly recommend them for any real estate needs in and around Houston!" - Sam Vranish
1. Space Limitations
One of the most obvious disadvantages of living in a small house is the limited space that's available to you. For one thing, smaller homes generally have less storage space compared to larger properties. This can pose a challenge when it comes to storing belongings, seasonal items, or collections.
Another thing is that accommodating guests and family members can be trickier in a smaller home. Where will they sleep? Can you all fit around the dining table come Thanksgiving? Is there enough room in the lounge for all of you during the Super Bowl?
For this, you may be forced to find creative solutions such as sofa beds, inflatable mattresses, or bean bags, or you may find yourself turning single-purpose areas into multi-purpose ones.
2. Impact on Lifestyle and Activities
If you're trying to decide between a small house vs big house, you should understand that the space limitations of a smaller house can also affect your lifestyle and the activities you can comfortably engage in. Entertaining or hosting the events mentioned above can be difficult, if not outright impossible, especially if you plan on inviting a large number of people.
The same holds true for any hobbies or interests that require a dedicated space, say, woodworking, painting, or gardening. You may need to consider renting an external studio space or utilizing community facilities for those.
"If you run a home-based business, downsizing may also impact your ability to allocate sufficient space for your operations," Yolanda Ames, a platinum real estate agent with the Houston Properties Team, warns.
"Before moving, assess whether a smaller home can accommodate your business needs, or if you can make alternative arrangements such as having a dedicated table in a co-working space," she advises.
3. Letting Go of Belongings
Moving to a smaller house and decluttering a lifetime of belongings can be an emotional and difficult process for some people. Many possessions hold sentimental value, which can make it hard to part with them.
It can be daunting and time-consuming as well, especially when it comes to deciding what to keep, sell, donate, or discard.
You may also find the need to adopt a more minimalist lifestyle, which entails adjusting to a simpler way of life and having fewer material possessions. This can be tough for people who are used to a larger home and a more consumer-driven mindset.
4. Adjustment and Transition
Moving to any home involves a period of adjustment and transition, especially if, say, you're moving after 30 years in the same house. There's the emotional attachment toward your former home to consider, as well as the community and social attachments that you'll be leaving behind.
It's necessary to acknowledge the fact that when you're moving to a new neighborhood or community, it can take time to establish new social connections and become familiar with the neighborhood amenities, services, and resources there. You will need to be patient with yourself in this regard.
5. Potential Resale Issues
Smaller homes may have a more limited market appeal compared to larger properties. As Paige advises, "If you're not planning to retire in your downsized home or if you're anticipating potential changes in the future such as health-related needs or the desire for additional space, you may want to assess the local real estate market and check whether there's a strong demand for smaller homes in your desired area."
"You will also need to remember that smaller homes may not appreciate in value as quickly as larger properties in certain markets," she continues. Of course, real estate trends may vary, but it's still important to be mindful of the potential long-term financial implications of downsizing.
---
The Costs Involved In Selling Your Home and Buying a Smaller House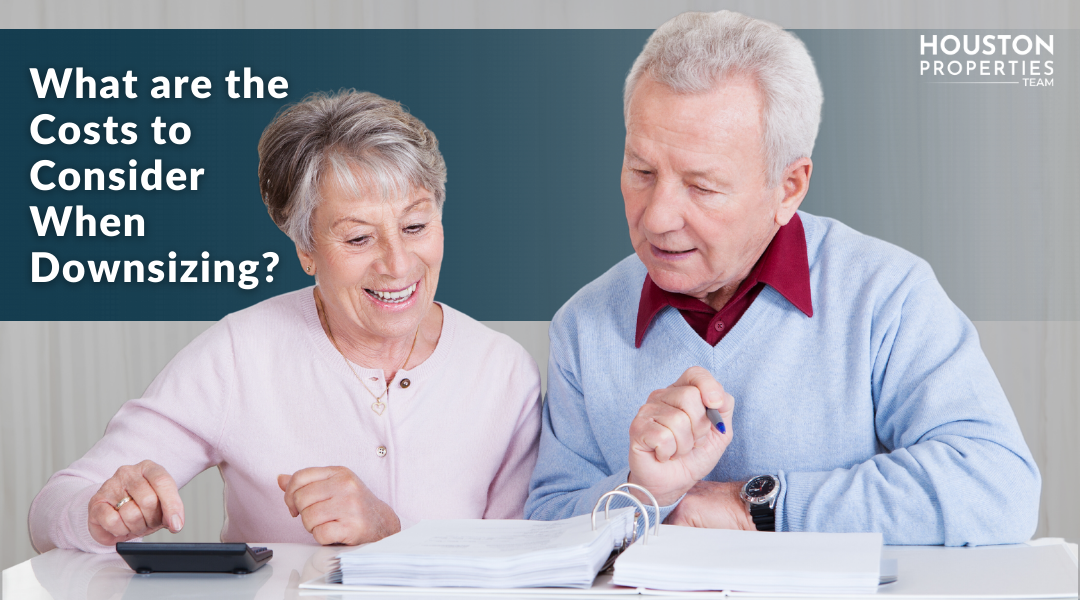 "Aaron with the Houston Properties Team was phenomenal! He helped us buy a home in Houston and made the process extremely smooth. He was knowledgeable and communicated with us every step of the way. He will forever be my go to guy for all future land/home purchases." - Alexis Sibila
1. Mortgage
When downsizing your home, a mortgage is one of the costs that you need to consider. While downsizing usually leads to a smaller mortgage, it might not always be the case with today's astronomical rates.
Aaron Dailey, a top Realtor with the Houston Properties Team, says that in 2012, the average mortgage rate in Houston on 30-year loans was 3.66%. "On a $325,000 house, that would equal a monthly payment of $1,489," he explains.
"Say you decided to downsize this year to a smaller house worth $280,000. Today's mortgage rates in Houston are at 6.17%, which would translate to higher monthly payments of $1,709 on your new home."
What he's saying here is that when it comes to mortgage, it's essential to carefully evaluate your budget and ensure that the payments will comfortably fit within your financial means.
2. Property taxes
Before making the move to a smaller house in a different area, you need to bear in mind that property tax rates vary by location and you should research the historical property tax rates for that area first. In Houston, for instance, the property tax rate for 2022 is 0.533640 per $100 of assessed value. Know and understand this so you can estimate the amount you will have to pay annually or as part of your mortgage payment. Most importantly, don't forget to incorporate this into your budget to make sure you can afford your tax obligations.
Aaron says that for even more cost savings, you can take a look at property tax exemptions or deductions. Some jurisdictions offer these for certain demographics, such as senior citizens, veterans, or homeowners with disabilities.
Navigating the intricacies of property taxes can be tricky, so we recommend that you hire a tax professional or financial advisor who specializes in real estate taxation. They can guide you on the potential tax implications of downsizing your home and help you understand the local tax regulations of the municipality or county you're moving into.
3. Capital gains tax
If you're selling your current, bigger, home and it has appreciated in value since you bought it, you may be subject to capital gains tax on the profit you make from the sale.
This is another substantial cost you'll have to contend with when downsizing. In some cases, however, you may be eligible for exemptions or exclusions that can reduce or eliminate capital gains tax altogether.
If you have (1) owned the house for at lease two years and (2) lived in it for at least two out of the past five years (which the IRS calls the ownership and use tests) then you may qualify for the primary residence exclusion. This means you won't owe taxes on the sale of your home if your profit is under $250,000 (for individuals filing solo) or $500,000 (for married couples filing jointly).
"Keep in mind though that in addition to federal capital gains tax, some states may also impose their own capital gains tax," Aaron reminds us. Research the specific regulations in your state to understand any additional tax obligations before you downsize.
4. Homeowners insurance
Homeowners insurance premiums are typically based on the value of the insured property. When your downsize, the value of your new home may be lower than your previous one, which can result in potentially lower insurance premiums for you. However, other factors can also influence its cost, like:
The location of your new home
Its characteristics
The coverage amount in your policy
Your policy deductible
Your credit score and claims history
You can estimate the cost of your premiums by dividing the value of your home by $1,000 then multiplying that by $3.50. If, for example, you bought a house valued at $280,000, then your home insurance policy would cost around $980.
But again, you have to remember that this is just an estimate. Your actual homeowners insurance premiums will vary depending on the factors we mentioned above.
The best way to get a good deal is to shop around for quotes from different insurance providers. Compare their coverage options, deductibles, and premiums to find the most suitable and cost-effective policy for your new home.
5. Closing costs
Closing costs are another costly element of the downsizing process. They are the fees, taxes and other expenses you pay when you finalize the sale of your current home or sign the mortgage of your new home. They typically cover:
Appraisal
Title search and insurance
Credit check
Attorney's fees
Underwriting fee
Application fee
Origination fee
Transfer taxes, if applicable (Texans, for example, don't pay transfer taxes as part of their closing costs)
These costs are usually 3% to 6% of the loan amount. This means that if the mortgage of your new home is worth $280,000, you might need to shell out an additional $8,400 to $16,800 for the closing costs.
Don't worry though — in some cases, certain closing costs may be negotiable between the buyer and seller. Discuss this with your real estate agent or attorney. The Houston Properties Team in particular can help you identify opportunities for negotiation and potentially reduce your overall closing costs.
6. Moving costs
The cost of moving can vary widely depending on several factors, including the distance of the move, the size of your home, the amount of belongings you're going to be transporting, and any other specific services you will require from the movers.
For a local move within the same city or region, the average cost of hiring professional movers can range from $500 to $1,000 for a one-bedroom house to as high as $2,000 to $3,000 for a four- to five-bedroom house.
This estimate typically covers the labor, transportation, and basic services provided by the moving company. You may even incur extra charges if you avail of any of their additional services like packing, unpacking, and furniture disassembly/assembly.
Long-distance or interstate moves, on the other hand, may require the use of larger trucks or multiple movers. Their cost is typically calculated based on the weight of your belongings and the distance you're going to travel. On average, long-distance moves can range from $1,000 to $2,000 for a one-bedroom house traveling 250 miles to a whopping $9,000 to $14,000 for a four- to five-bedroom house traveling 2,500+ miles.
7. Storage costs
Decluttering is one of the first things you need to do when you downsize, but what if there are some items you really can't let go of?
You rent a storage unit.
The average monthly cost of a storage unit can range from $60 to $300 or more, depending on the size of the unit and its location. Smaller units, such as a 5x5 or 5x10, are typically more affordable, costing roughly around $60 per month. But that's only good for a dozen boxes, or maybe a lawnmower or a sofa and a chest of drawers.
If you need to store the furnishings and appliances from a two- to three-bedroom home you would need a larger unit, one that's around 10x20 or 10x30. Unsurprisingly, they tend to have higher rates, fetching for as much as $260 per month.
Climate-controlled units, which maintain a consistent temperature and humidity level to protect sensitive belongings from extreme weather conditions, come at an even higher cost, ranging from $70 per month for a 5x10 unit to $270 per month for a 10x20 unit.
8. Home improvements
When downsizing, you may need to consider home improvement costs if you plan to renovate or make updates to your new property. Renovation projects can range from minor upgrades like painting and new fixtures to major renovations like kitchen or bathroom remodels.
A kitchen remodel, for example, costs roughly $26,000. A minor one can go from $10,000 to $24,000, a major remodel for $70,000, and a high-end remodel for $130,000.
A standard bathroom remodel, on the other hand, can cost from $6,000 for a mid-size renovation to as much as $29,000 for a high-end remodel.
The size of the space, the materials you've chosen, and the complexity will all impact the cost of your home improvement projects.
---
A Step-by-Step Guide to Downsizing for Seniors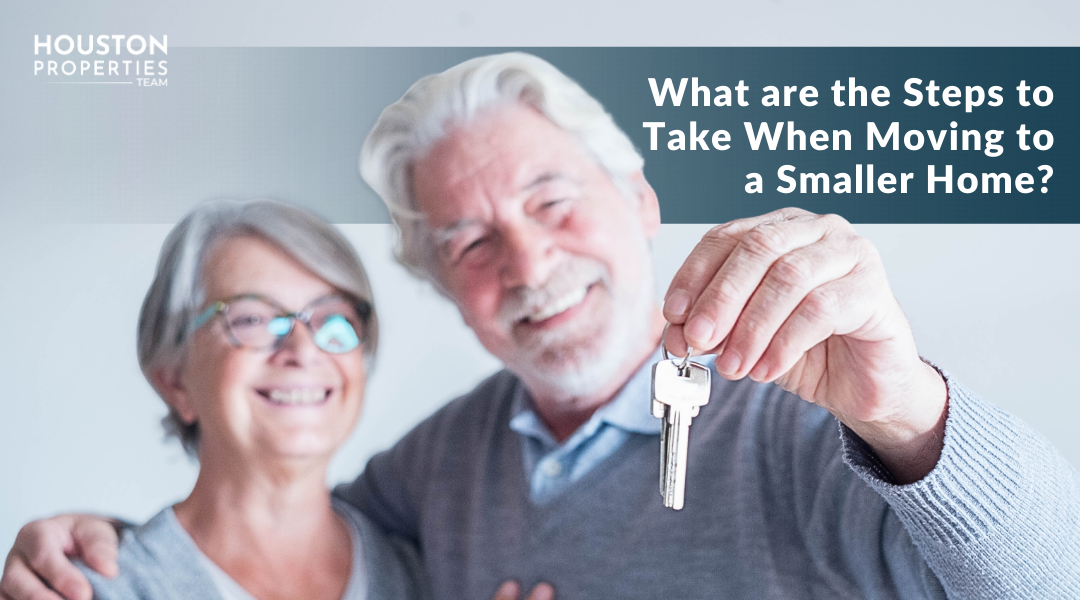 "I wholeheartedly recommend Courtney from the Houston Properties Team! I worked with her to sell my home, and I couldn't be happier with the results. Courtney's knowledge of the market was exceptional, and she worked tirelessly to get the best possible price for my home. She was always available to answer my questions and provided excellent support throughout the entire process. Without a doubt, Courtney and her team are the best in the business!" - Maximina Deras
STAGE 1: PRE-PLANNING
Before diving into the nitty-gritty of the downsizing process, it's essential to engage in thorough pre-planning. These steps will help you know how to downsize your home for retirement effectively.
Step 1: Assess your needs and goals
"It can be easy to get quickly overwhelmed by downsizing — which is why it's important to sit down and assess your needs and goals before doing anything else," advises Courtney Williams, a top-producing and award-winning Realtor with the Houston Properties Team.
How do you do that? First, determine your motivations for downsizing. Go back to the earlier section above on the 6 Main Reasons Why People Downsize. Are you doing it because you want to achieve financial freedom and cut back on utilities and maintenance costs? Or you're an empty nester and want to travel the world, so you want to take advantage of a lock-and-leave lifestyle?
Next, identify the specific features, location, and size requirements for your new home. This will help you narrow down your search and focus on properties that meet your criteria. This is especially important if you're downsizing because of health or physical concerns. You will want to find a place that contains the accessibility features you need, in a neighborhood that's conveniently located near medical facilities.
"The path to downsizing is not straight; it's a journey that looks different for everyone. And that's okay," says Courtney. "Just take your time and think about what you really want your journey to look like."
Step 2: Establish your budget
Evaluate your financial situation and set a realistic budget for your new home purchase. You should consider not only the cost of the property but also other costs involved such as property and capital gains taxes, closing, moving, and storage costs, homeowners association fees, and potential home improvements.
Step 3: Research the market
Familiarize yourself with the real estate market in your desired area. Consult with local real estate agents who specialize in downsizing transitions to gain valuable insights and guidance from them. The Houston Properties Team will be happy to help you in that regard. We have tons of data on the Houston housing market that can help you make the right decision — like our page on the Houston Housing Market that's updated daily. If you want to understand what this data means for you, call or text us at 713-425-4194.
Step 4: Create a timeline
Set a timeline for yourself. When do you plan to sell your current home? How long will it take you to find a new home? When do you want to start moving? Courtney says that "knowing the answers to these questions will help you stay organized in your planning and ensure a smooth transition to your new property."
STAGE 2: DECLUTTERING AND ORGANIZING YOUR BELONGINGS
Knowing how to downsize your belongings is the next stage in the downsizing process. Follow these steps to make this more manageable:
Step 1: Sort and categorize
The rule of thumb for getting rid of things is to go through every single room in your current home and categorize your belongings into groups. Which of them do you want to bring into your new home? Put them in the "Keep" pile. Remember to keep only the items that are essential, serve a purpose, or, as Marie Kondo says, spark joy in you.
Are there items you don't want anymore that other people might still find useful? Sort them into the "Donate" pile and reach out to charities like Goodwill, Habitat for Humanity, or the Salvation Army that can take them off your hands. Or you can give them as a gift to family and friends.
How about items that can bring you extra cash? Put them in the "Sell" pile and post them on Craiglist or Facebook Marketplace. Or you can go old school and hold a garage sale.
Lastly, put any other items that don't belong in those three categories in the "Discard" pile. Courtney talks about doing this in a sustainable way — throw them in the appropriate garbage bin, or send them to a recycling center near you.
Step 2: Make a plan for items with sentimental value for you
Sorting your belonging into those four groups may sound simple enough, but you may be surprised how hard it can be for some people. Sentimental items in particular can be exceptionally challenging to downsize. You may find yourself putting everything in the Keep pile. Don't.
Instead, you can consider digitizing old photographs or keeping only a small selection of mementos that mean the most to you. Or you can give away special items to your loved ones so you can preserve memories without sacrificing valuable space in your new home.
Step 3: Hire professional services
If you find that you need to, you can also enlist the help of professional organizers, downsizing specialists, or estate sale/tag sale companies. They can help streamline the process and guide you into making informed decisions about your belongings.
STAGE 3: FINDING A NEW HOME
Once you've decluttered and organized your belongings, it's time to find the perfect new home. Follow these steps to accomplish that:
Step 1: Work with a trusted real estate agent
Engage the services of an expert real estate agent who specializes in downsizing transitions, like Paige Martin, or Courtney Williams, or any member of the Houston Properties Team. They are ranked among the top residential Realtors in the world — they can help you navigate the housing market and identify suitable properties while negotiating the best deal for you.
Step 2: Go on home viewings
Take the time to visit potential properties and assess if and how they meet your needs and preferences. Is the layout right for you? Are there enough storage options? What are your maintenance requirements? Do you or anybody else in your household have any current or future accessibility needs?
Step 3: Evaluate the community
Research the community surrounding your prospective new home. According to Courtney, "Some people forget to do this because they get so caught up in the house itself, but it's an indispensable step if you don't want to live in a neighborhood that makes you feel uncomfortable."
Proximity to family and friends, nearby healthcare facilities, available recreational activities, and the overall quality of life are just some of the factors you need to consider when assessing whether your new neighborhood is right for you.
Step 4: Consider other home options
Explore various other home options, such as condos or active adult communities which often offer amenities, maintenance services, and a sense of community.
Condo living, for example, offers a specific kind of convenience that you may not find in single-family homes or apartments. Condos have a variety of amenities such as pools, gyms, tennis courts, and community rooms. There's also less maintenance — there's no need to mow the lawn, tend to your garden, or clean your driveway when you're living in one.
Condos may also provide better security than a single-family detached home. Some of them have building entrances that are manned by a doorman, so you can be sure that only residents or authorized people will have access to your building.
Courtney says that these perks are especially attractive to her clients who are seniors on the move and empty nesters who want to take their minds off the hassles of maintaining a home and just want to enjoy their retirement years.
So if you're trying to decide on a house vs condo or apartment vs condo then you should very well consider those factors.
For people over the age of 55 who are considering moving from a house to an apartment and wish to live with people their own age, active adult communities are also a good option. These communities feature apartments (but they also offer townhomes and single-family homes) and they also usually have tennis courts, clubhouses, and golf courses to foster community and an active lifestyle among its residents.
There are also senior apartments and assisted living communities that are perfect for seniors or adults who can no longer live independently. They have staff that assists residents in personal care while offering meals, housekeeping services, and recreational activities.
STAGE 4: THE MOVING PROCESS
Once you've found your new home, it's time to navigate the moving process. These are the steps to follow when moving to your new home.
Step 1: Create a moving plan
Develop a detailed moving plan that outlines tasks, timelines, and responsibilities for you and for anybody who's going to help you out. This can be in the form of a table that you can fill out with the name of the person in charge of a specific task, a description of the task itself, and the dates when you plan to start and finish the task. This will help you stay organized and reduce the stress of moving.
Step 2: Hire professional movers
You might also want to consider hiring professional movers who specialize in downsizing. They can provide packing services, handle the logistics, and ensure the safe transportation of your belongings.
Step 3: Notify necessary parties
"This step is crucial but is so often overlooked — you need to inform relevant parties of your change of address," Courtney reminds us. "This includes utility companies, financial institutions, healthcare providers, and government agencies."
Imagine the nightmare of not receiving a critical government notice or a credit card bill that makes you miss your credit card payments just because you didn't inform your bank or a particular government agency that you've moved.
Step 4: Pack strategically
Use a systematic approach when packing. Label boxes by room and by contents, and make sure to pack essential items separately. These are the items that you should be able to easily access, like food and toiletries. Lastly, remember to create an inventory list to keep track of your belongings.
Step 5: Settle into your new home
Once you've arrived at your new home, take the time to acclimate yourself to your new surroundings. You packed strategically so now you have to unpack strategically as well. Focus on essential areas first like the kitchen, bathroom, and bedroom, and then gradually work through each room at a pace that suits you.
---
The Essential Downsizing Checklist for Seniors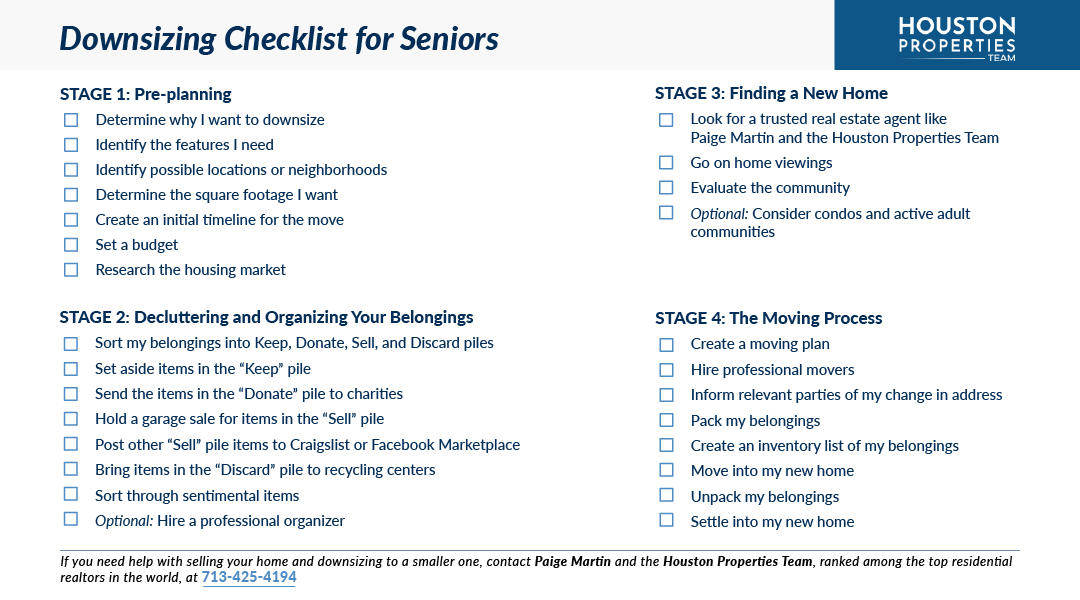 Use this downsizing home checklist to easily keep track of all the stages and steps of the downsizing process. You can print it out by right-clicking on the image and choosing the "Save image as" option.
After printing the checklist, you can read on to discover useful tips for downsizing for seniors.
---
17 Downsizing Tips and Ideas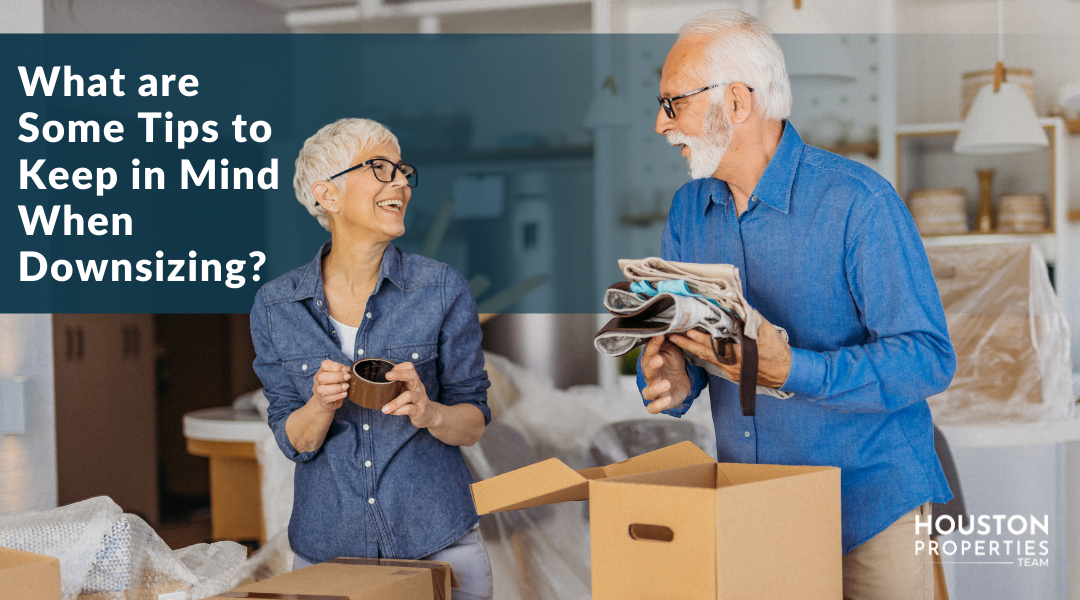 "Lisa Iglesias is the BEST realtor! I cannot speak highly enough of her knowledge, attention to detail, and care for her clients. She takes the time to listen to your needs and preferences without making you feel pressured to make a decision. Lisa and The Houston Properties Team are a must if you are considering selling or buying a home." - Gladys Hussein
Downsizing can be an arduous task, but we have some ideas on how to make the process a little bit more painless for you. Here are some downsizing tips for empty nesters, seniors, retirees, and homebuyers of every age.
1. Get a free home valuation.
If you want to get the most out of the sale of your home, you need to know how to price it relative to its market value, because that will dictate how fast or how slow it will sell, or if it will even sell at all.
An experienced Houston real estate agent can help you determine your home's worth. Contact Paige Martin at pmartin@houstonproperties.com for a Free Custom Valuation Report of your home's value.
2. Seek help from a trusted Realtor.
Downsizing can be a complicated process, but you can make it less so if you work with the right Realtor. You need someone who understands how challenging it can be to let go of a property your children grew up in — like us here at Houston Properties. We practice next-level empathy and patience when dealing with people who downsize, and our clients can attest to this.
This is why we were able to close over $500 million real estate sales in the last few years — people come to us because they know we care more.
"When you work with us, we will help you dig deep into your needs and explore all your options. We'll walk you through the pros and cons of each possibility, so you can get a clear picture of what your situation would really look like," says Lisa Iglesias, one of the most highly acclaimed principals of the Houston Properties Team and boasts of two decades of residential real estate experience and a passion for client care.
"This kind of conversation is a game-changer when it comes to making the right downsizing decision," she concludes.
3. Take photos of the items you're letting go.
Afterward, save the photos in a digital album. This allows you to preserve their memories without having to deal with the physical clutter that they can cause.
4. Take inventory of your belongings.
Create a list or a spreadsheet of all the items you own, which can be useful once you start deciding which to keep and which to sell, donate, or discard. This list will also be helpful after you move into your new home so you can check if you were able to bring all the essentials with you or if some got lost in the shuffle.
5. If you have a collection, pick only your favorites.
A good rule of thumb is to choose only 3 or 4 items from your collection that you love looking at the most, then donate the rest or give them away as gifts. This will help you minimize the clutter in your new home.
6. Get rid of duplicates
Do you maybe have three food processors in your kitchen but you know deep in your heart that you only need one of them? Give away the other two. The same goes for any other item in your house that you have more than one of. The storage space in your new home will thank you for it.
7. Take it one room at a time.
The thought of downsizing your entire home can feel overwhelming, so don't think of it that way. Think of it like you're downsizing just your bedroom, and then just your kitchen, and so on.
8. Measure your furniture and appliances.
This is to ensure that they can pass through doorways and hallways and will fit comfortably in the available space in your new home.
9. Designate spaces in your new home for your belongings.
If a particular item doesn't have a designated space, don't bring it. This saves you the headache of having to get rid of it after you've moved in to your new home.
10. Consider renting a storage unit.
If you find that you have belongings you absolutely cannot let go of, you can try renting a storage unit where they can stay while you're still deciding what to do about them.
11. Digitize documents to reduce paperwork.
Important documents such as financial records, medical papers, and legal documents can be scanned and stored digitally. Doing it this way can save space and make it easier to access and organize them in the future. For those that are not as important, like warranties for appliances you no longer own, get rid of them.
12. Involve family members (or even friends!) in the downsizing process for support and assistance.
They can help with decluttering, packing, and decision-making. Bonus: Their involvement can make the process more enjoyable and less overwhelming.
13. Review and update your budget.
Moving to a smaller home can mean a change in mortgage payments, property taxes, utilities, and overall cost of living. Generally, they'll be lower, but there might be instances where some of your expenses can increase. Use this opportunity to review and update your budget so you can align it with your new financial situation.
14. Consult with a financial advisor.
They can help assess the impact that your move can have on your overall financial situation, and they can make sure that your downsizing plans are aligned with your financial goals.
15. Clearly label boxes with their contents and the room they belong to.
This makes it easier to locate specific items when you're ready to start unpacking. This also ensures a more organized transition to your new home.
16. Consider hiring professional movers who are experienced in downsizing transitions.
They can handle the logistics, packing, and transportation of your belongings so you won't have to do everything on your own. It might be an extra expense but it's a worthwhile one if it means less stress and more peace of mind for you.
17. Inform utility providers of your move.
Notify them about your change of address and schedule service transfers as early as 2 weeks before your actual move date. This includes electricity, gas, water, internet, and cable or satellite TV.
---
FAQ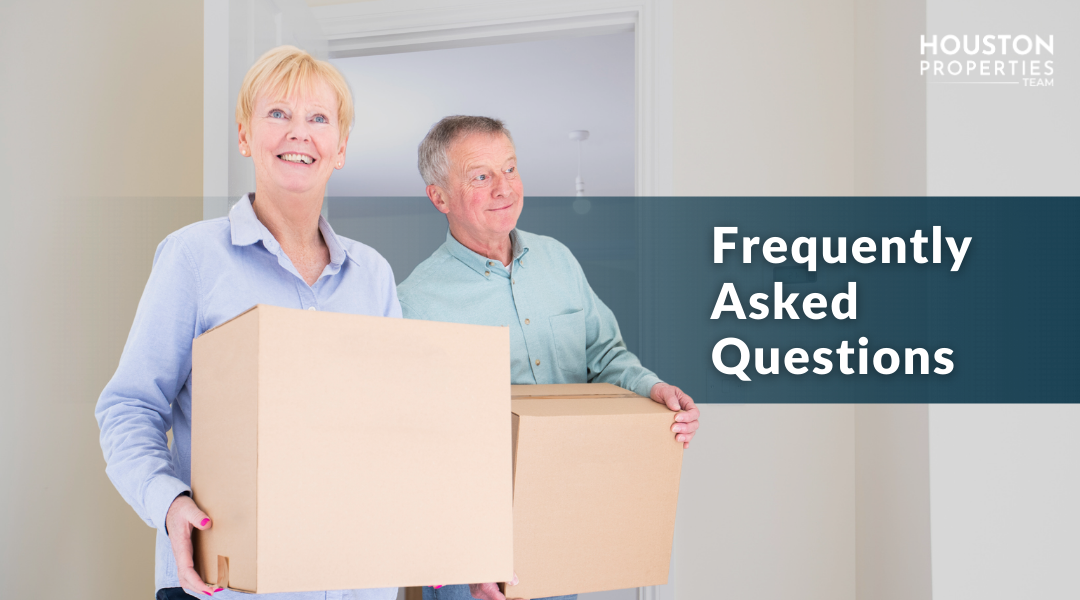 "Shannon and the Houston Properties Team are incredible and I wouldn't consider doing a real estate transaction without them. From their candid advice to their detailed market knowledge, they make sure you have all the information you need to make an informed decision." - Colleen Hogan
Is it a good idea to buy a small house?
Yes, buying a small house can be a good idea for many reasons. It often means lower mortgage payments, reduced utility costs, and a simplified lifestyle. Plus, a smaller home can offer a cozier, more manageable living space.
Is it cheaper to live in a smaller house?
Yes, living in a smaller house is generally cheaper. Smaller homes typically have lower mortgage debts and maintenance costs, reduced property taxes, and decreased utility bills. However, it's important to assess its overall impact on your finances based on factors like the location, condition, and resaleability of the property.
Is it smart to live in a small house?
Yes, living in a small house can be a wise choice for many people. It promotes a simpler and more environmentally-friendly lifestyle, encourages efficient use of space, and often requires less upkeep.
What are the disadvantages of having a small house?
Some of the disadvantages of having a small house are: limited storage space, less room for hosting guests, and reduced privacy. Additionally, downsizing from a large property to a smaller one may require letting go of some possessions and adjusting to a minimalist lifestyle.
Is 1,500 square feet too small?
"1,500 square feet is not that small at all," says Shannon Poindexter, a downsizing expert and Houston broker with the Houston Properties Team. "While it can be less spacious, it can still provide ample space for you to live comfortably. Would you be surprised to know that it can fit three bedrooms and two bathrooms, in addition to a living room, kitchen, and dining area? The key here is to focus on efficient design and layout to make the most of the available space."
At what age should seniors downsize?
The decision to downsize isn't solely based on age but rather on personal circumstances. Some seniors may choose to downsize in their 50s, while others may wait until their 70s or later. Factors like changing needs, financial considerations, and lifestyle preferences should guide the timing of downsizing for each individual.
How to downsize at 70?
Downsizing at 70 involves knowing how to downsize and simplify your life. Start by decluttering and prioritizing your belongings. Then, assess your needs and find a smaller home that suits your lifestyle. Lastly, consider hiring professionals to assist with the process, such as real estate agents and downsizing specialists like the ones we have here at Houston Properties. The important thing to remember is to take your time and ensure a smooth transition to your new home.
What to do first when downsizing?
The first thing you need to do when downsizing is to create a comprehensive plan. Assess your needs, determine the property type you want and its location, and set a realistic budget for yourself. Next, declutter and organize your belongings, keeping only what's essential. Lastly, research the housing market, enlist the help of a real estate agent from the Houston Properties Team, and start exploring potential new homes that meet your criteria.
How do you help an older person downsize?
You can help an older person downsize by providing much-needed empathy and support. Another thing you can do is offer to help them with decluttering and sorting their belongings, but remember to respect their decisions. You can also recommend them resources for professional organizers, estate sales, or donation services. Or help them research housing options and accompany them to viewings.
What is a good size house for retirement?
Generally, retirees prefer a smaller, more manageable house for retirement, one that typically ranges from 1,000 to 2,000 square feet. At the end of the day though the ideal size of a retirement home depends on your individual preferences and needs.
How do you know when it's time to downsize?
You would know it's time to downsize when there is a lot of unused space in your current home, you're having difficulty maintaining or navigating your property, you're experiencing a strain on your personal finances, or you suddenly have a desire for a simpler lifestyle.
What percentage of retirees downsize?
51% of retirees downsize according to a Merrill Lynch and Age Wave retirement study titled "Home in Retirement: More Freedom, New Choices."
Why is downsizing so stressful?
Downsizing can be stressful because it often involves parting with sentimental belongings, adjusting to a smaller living space, and navigating the logistics of selling, packing, and moving. Additionally, the emotional aspect of leaving a familiar home and neighborhood can contribute to the stress associated with it.
What to do with extra furniture when downsizing?
When downsizing, you can sell your extra furniture through online marketplaces or consignment stores, donate them to charitable organizations like Habitat for Humanity or the Salvation Army, or offer them as a gift to family or friends. You can also arrange for them to be kept in a storage unit if you plan to revisit them later.
Is it worth it to downsize?
Yes, downsizing can be worth it for many people. It can lead to financial savings, reduced household maintenance, and a more manageable living space. Moreover, it can promote a simpler lifestyle and potentially free up resources for other worthwhile pursuits like travel or new hobbies.
---
The Best Houston Realtor to Help You Downsize Your Home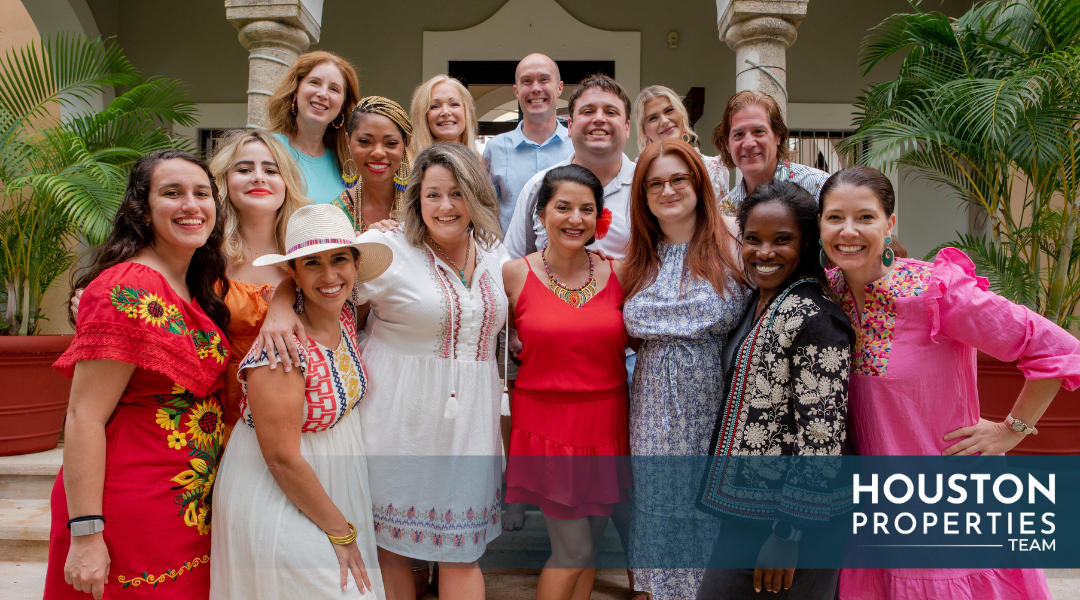 The Houston Properties Team has a well-defined structure based on the individual strengths of each member. Each member is a specialist in their role – which is why our homes sell faster and for more money than average.
Paige Martin, Broker Associate with Keller Williams Realty, and the Houston Properties Team are ranked among the top residential Realtors in the world.
They have been featured on TV and in dozens of publications including The Wall Street Journal, Fortune Magazine, Reuters, Fox News in the Morning, Money Magazine, Houston Business Journal, Houstonia, and Houston Chronicle.
Paige Martin was just ranked as the #5 agent in the world with Keller Williams, completing over $1 billion in Houston residential real estate sales.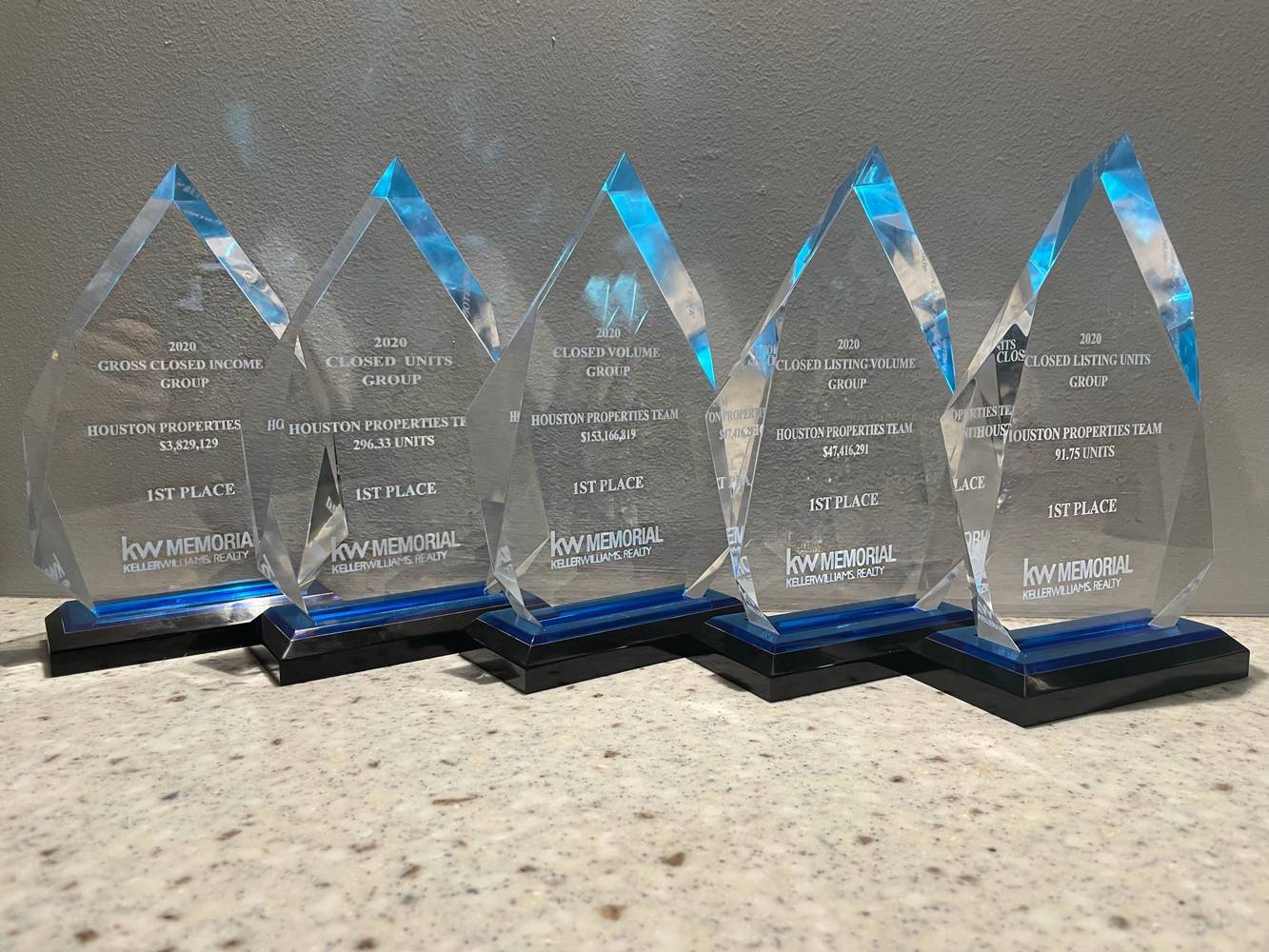 Recent awards include:
– 2022: #1 Residential Real Estate Team by Sales Volume, Houston Business Journal
– 2021: Best Real Estate Teams in America, RealTrends.com
– 2021: Top 100 Women Leaders in Real Estate of 2021
– 2021: America's Top 100 Real Estate Agents
– 2021: Top Real Estate Team (Houston Properties Team), Houston Business Journal
– 2021: Best Houston Real Estate Team, Best of Reader's Choice
– 2021: Top Real Estate Team (Houston Properties Team), Houston Business Journal
– 2021: #1 Real Estate Team, Keller Williams Memorial
– 2020: America's Best Real Estate Teams, Best of America Trends
– 2020: Best Houston Real Estate Team, Best of Reader's Choice
– 2020: Top Real Estate Team (Houston Properties Team), Houston Business Journal
– 2020: #6 Individual Agent, Keller Williams, Worldwide
– 2020: #1 Individual Agent, Keller Williams, Texas (Top Keller Williams Realtor)
– 2020: #1 Real Estate Team, Keller Williams Memorial
- 2019: Top Residential Realtors in Houston, Houston Business Journal
- 2019: America's Best Real Estate Agents, RealTrends.com
- 2019: #5 Individual Agent, KW Worldwide
- 2019: #1 Individual Agent, KW Texas
- 2018: #5 Individual Agent, Keller Williams, Worldwide
- 2018: #1 Individual Agent, Keller Williams, Texas
- 2018: #1 Individual Agent, Keller Williams, Houston
- 2018: America's Best Real Estate Agents, RealTrends.com
- 2018: Top 25 Residential Realtors in Houston, Houston Business Journal
- 2018: Texas' Most Influential Realtors
- 2017: #1 Individual Agent, Keller Williams, Texas
- 2017: #1 Individual Agent, Keller Williams, Houston
- 2017: #10 Individual Agent, Keller Williams, Worldwide
- 2017: America's Best Real Estate Agents, RealTrends.com
- 2017: Top 25 Residential Realtors in Houston, Houston Business Journal
- 2017: Texas' Most Influential Realtors
- 2016: #1 Individual Agent, Keller Williams, Texas
- 2016: #1 Individual Agent, Keller Williams, Houston
- 2016: #20 Individual Agent, Keller Williams, Worldwide
- 2016: Texas' Most Influential Realtors
- 2016: Top 25 Residential Realtors in Houston, HBJ
- 2016: Five Star Realtor, Featured in Texas Monthly
- 2016: America's Best Real Estate Agents, RealTrends.com
- 2015: #9 Individual Agent, Keller Williams, United States
- 2015: #1 Individual Agent, Keller Williams, Texas
- 2015: #1 Individual Agent, Keller Williams, Houston
- 2015: America's Best Real Estate Agents, RealTrends.com
- 2015: Top 25 Residential Realtors in Houston, HBJ
- 2015: Five Star Realtor, Texas Monthly Magazine
- 2014: America's Best Real Estate Agents, RealTrends.com
- 2014: #1 Individual Agent, Keller Williams Memorial
...in addition to over 318 additional awards.
Paige also serves a variety of non-profits, and civic and community boards. She was appointed by the mayor of Houston to be on the downtown TIRZ board.
Benefits Of Working With The Houston Properties Team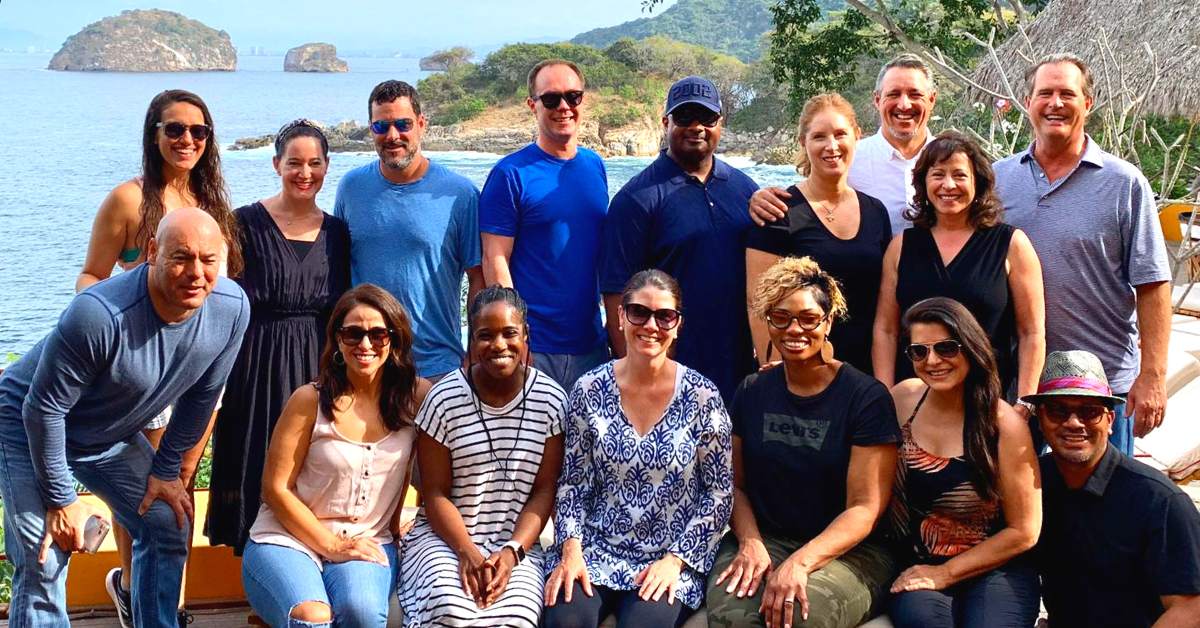 Our team, composed of distinguished and competent Houston luxury Realtors, has a well-defined structure based on the individual strengths of each member.
We find the team approach as the most effective way to sell homes. We have dedicated people doing staging, marketing, social media, open houses, and showings. Each Houston Properties Team member is a specialist in their role—which is why our homes sell faster and for more money than average.
The benefits of working with a team include:
the ability to be in two or three places at one time; a member can handle showings, while another answer calls
collective time and experience of members
targeted advice and marketing of agent expert in your area
competitive advantage by simply having more resources, more ideas, and more perspectives
a "checks and balances" system; selling and buying a home in Houston is an intensely complex process
more people addressing field calls and questions from buyers and agents to facilitate a faster, successful sale
efficient multi-tasking; one agent takes care of inspections and repair work, while another agent focuses on administrative details
multiple marketing channels using members' networks
constant attention: guaranteed focus on your home and your transaction
lower risk for mistakes. Multiple moving parts increase oversights. A team approach handles these "parts" separately
flexibility in negotiation and marketing
better management of document flow
increased foot traffic through more timely and effective showing schedule coordination; and
increased sphere of influence and exposure to more potential buyers.
To meet all the award-winning members of the Houston Properties Team, please go here.
---
Best Houston Real Estate Resources
---