Guide To 2016 Main Houston Condos
2016 Main Houston Condos is located in the heart of Downtown Houston, near the Interstate 45 and just a few blocks away from the METRORail station. 2016 Main is also in close proximity to Midtown and Montrose.
Address: 2016 Main, Houston, Texas 77002
Built In: 1965
Number of Units: 363
Price Range: $69,000 – $300,000
For more information or available 2016 Main Houston Condos for sale, call Paige Martin at
713-384-5177 or email Paige@HoustonProperties.com
2016 Main Condos For Sale

All 2016 Main Condo Listings
2016 Main Amenities
2016 Main Houston is one of the first high-rise residential condo building built in Downtown Houston. At 26-stories high, the building has a total of 363 condos for sale, furnished with hardwood flooring, custom-made bathrooms, and spacious living and dining areas.
You may choose from one-bedroom units or two- to three-bedroom units. Whatever your budget is, you can be easily accommodated at this Houston highrise. To have a better idea of 2016 Main condos for sale pricing, one of the condos up for sale today has a price tag of $95,000. It has one bedroom and one bath and has a 709 square feet living area space.
For more information on available 2016 Main Houston condos, please contact Paige Martin at 713-384-5177 or email paige@houstonproperties.com
2016 Main Amenities
24-hour security service
Controlled access
Parking
Cleaning services
Pool and hot tub
Exercise room
Party room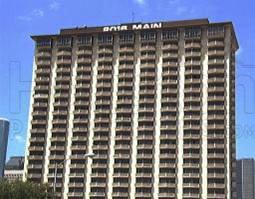 2016 Main is one of downtown Houston's original high rise and condo buildings.
Located right at the edge of downtown Houston, the high rise building known as 2016 Main is adjacent to Interstate 45 and overlooks both downtown and the popular midtown area of Houston. The METRORail train stops just one block from 2016 Main.
Click here for a map of 2016 Main.