Guide to One Park Place Condo Houston
Built in 1982, located in Downtown, see One Park Place condos for sale, amenities, pictures & reviews.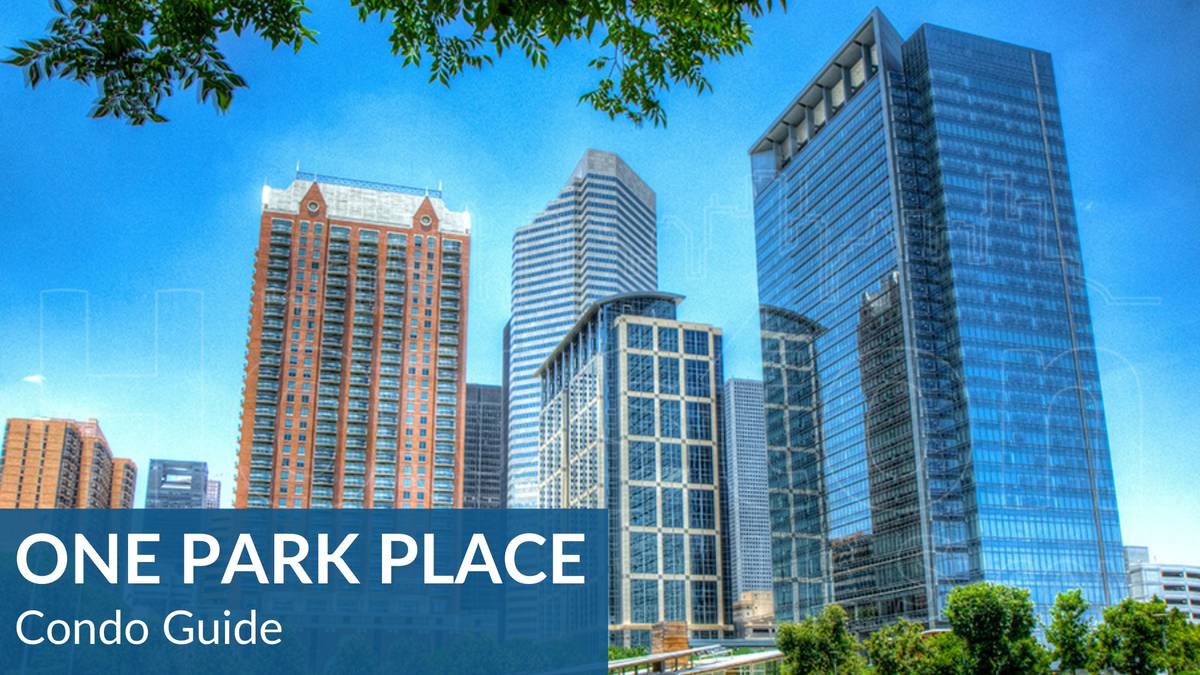 With a 12-acre front yard, One Park Place is a luxury building in Downtown. The property operates only by leasing all of its 346 units.
Leasing a unit at One Park Place gives residents:
ACCESS TO CITY AREAS: The area is a prominent building in Downtown Houston. Residents are minutes of walking from the Metro Rail. Metro Rail gives locals access to different parts of Houston. The location of One Park Place is near the Central Business District. Residents can go to several sports arenas and downtown communities.

LUXURY AMENITIES: One Park Place offers high-end facilities. The high-rise has one of the most spacious pool decks in the district. Outdoor areas provide residents with relaxation in the heart of the city. The 12-acre front yard, Discovery Green, is part of One Park Place. Residents can eat in an in-house restaurant headed by a Sous chef. Phoenicia Specialty Foods is a grocery market on the first floor.

NEARBY LEISURE SPOTS: A 7-mile underground hub is near the condo. Lessees can go to restaurants, shops, and hidden bars with spots in the zone. Above ground, residents can access premium buildings across the high-rise. Many high-end dining, retail, and lifestyle services are near One Park Place.

REPUTABLE MANAGERS: The Finger Companies handles One Park Place. Marvy Finger leads the company, and different groups recognize his expertise. He is a veteran with 60 years of experience developing properties. One Park Place received awards under his leadership.

CONVENIENT PATHWAYS: One Park Place is near several freeways in Houston. Residents have easy access to I-10, I-45, and I-69. These roads offer paths to the surrounding vibrant areas. Residents can go to Midtown Houston on these roads.

SPACIOUS LIVING AREAS: Units in One Park Place are large. Condo units range from 800 to 3,400 square feet. These living quarters allow pets. Renting the units starts at $3,000. The highest rates for the units go a little over $14,500. These spacious units come with one to three-bedroom options.

GREAT SCHOOLS: One Park Place is zoned to the Houston Independent School District (HISD). The HISD is home to some of the best schools in Houston. Residents can choose to study in top schools near the condo.
Due to its lease-only policy, One Park Place units fill up fast. It is a challenge for people to choose among the condo units. But securing a spot in One Park Place has many benefits.
To get personal advice on buying or selling a Downtown One Park Place unit, contact Paige Martin, one of Houston's best condo realtors and one of the top-ranked Realtors in the United States.
"We have been working with Courtney for a couple of years now and have completed several transactions on both the buy and the sell side. I can honestly say that I have never dealt with anyone so thorough, professional or knowledgeable. We have worked with other realtors in the past, and are so thankful Courtney and the team were recommended to us. We have never had to worry about whether we had current market data, that documentation was submitted on time or that we were getting the best advice. She is so personable, reliable and will always make time for you. She really is there for you every step of the way!" - Susan Davis (Google Review)
---
Table of Contents
---
One Park Place Condo Amenities
| Information | One Park Place |
| --- | --- |
| Address | 1111 Caroline Street |
| City | Houston |
| Zip | 77010 |
| Region | Downtown |
| Year Built | 1982 |
| Construction Status | Complete |
| Developer | 1414 Texas Downtown |
| # Floors | 3 |
| # Units | 22 |
| Parking | Assigned |
| Guest Parking | Valet |
| HOA | One Park Place |
| --- | --- |
| HOA / Sq Ft | $1.2 |
| What's Included in HOA Fee? | Building & Grounds, Cable TV, Concierge, Fireplace/Fire pit, Gym, Insurance Common Area, Limited Access, Lounge, Massage Room, On Site Guard, Outdoor Fireplace, Outdoor Kitchen, Partial Utilities, Porter, Private Garage, Recreational Facilities, Storage Outside of Unit, Trash Removal, Valet Parking, Water and Sewer |
| Amenities | One Park Place |
| --- | --- |
| Fitness Room/Gym | No |
| Pool | Yes |
| Pool: Heated | No |
| Pool: Lap Size | No |
| Pool: Indoor | No |
| Pool: Hot Tub/Jacuzzi | No |
| Party/Gathering Room | No |
| Concierge | Yes |
| Valet | Yes |
| Porter | No |
| On Site Manager | Yes |
| Balconies Available? | Yes |
| Electric Car Option? | No |
| Tennis Courts | No |
| Extra Security? | Yes |
| Security | Yes |
| Guest Rooms Available? | Yes |
| Rooftop Deck/Terrace | Yes |
| Outdoor Kitchen | Yes |
| Gas Cooktop Available? | No |
| Storage Unit Option | Yes |
| Sauna | No |
| Business Center | Yes |
| Building Generator | No |
---
One Park Place Condo Sales Trends
---
How To Find One Park Place In Houston
| Commute Time | One Park Place |
| --- | --- |
| Downtown (min) | 5 |
| Med Ctr (min) | 15 |
| Energy Corridor (min) | 25 |
| Galleria (min) | 20 |
| Highlights | One Park Place |
| --- | --- |
| Run / Bike Trails | Discovery Green, Monument au Fantome, |
| Nearby Retail / Dining | The Grove, Brasserie Du Parc, Pappas Bros. Steakhouse, |
| MetroRail Access | One Park Place |
| --- | --- |
| # Blocks to MetroRail | 3 |
| Nearest MetroRail Stop | Central Station Main |
---
One Park Place Pet Policies & Information
Commute Time
One Park Place
Pet Area/Courtyard
Yes
Pet Area / Unique Pet Features
Pet-Friendly Apartment, with Pet Walking and Grooming Services
Max # Animals
2
Breed Restriction
Dogs not permitted whether full-breed or crossbreed: Chows, Pit Bulls, Dobermans, Rottweilers, and Great Danes. Snakes and/or exotic animals are prohibited.

No animals under 1 year of age.
Weight Limit
None
---
One Park Place Best Realtor Insights
One Park Place is a for-lease-only luxury high-rise located in Downtown Houston.
One Park Place offers spacious living spaces with amazing views of the Houston skyline.

The building has a gourmet coffee bar, theater & game room, private outdoor walking track, and a gym.

The 12-acre front yard has a one-acre pool deck and is home to downtown Houston's largest resort-style pool.

On-site restaurants MKT Bar, Brasserie du Parc, and the nearby Four Seasons Hotel provide room service.

Phoenicia Specialty Foods, a 30,000 square feet gourmet grocery, is also close to the building. It offers quality foods and everyday staples to One Park Place residents.

One Park Place is near sports arenas, entertainment venues, and a nature reserve park.

It is a pet-friendly apartment complex with its own Pet Walking & Grooming Service for residents.

Each unit features sound-proof walls, ultra-violet painted windows, oak floors, and high-quality appliances.

Condo prices range between $2,995 to $14,680 for 1 to 3-bedroom unit types.

Sizes of One Park Place units start from 808 to 2,520 square feet. The penthouses range from 2,000 to over 3,500 square feet.
---
One Park Place Condominium Reviews
One Park Place Condos For Lease Information
---
The One Park Place is but a few minutes of walking away from the Metro Rail, giving its residents ease of access to almost all major establishments and spots in Houston. One Park Place condos for sale are popular today because of its proximity to the 12-acre nature-reserve Discovery Green Park, Houston's major sports arenas (Astros' Minute Maid Park, Rockets' Toyota Center, and Dynamo's BBVA Compass Stadium), 30,000 square-foot grocery store Phoenicia Specialty Foods, Sundance Theatre, and various other establishments downtown.
Another major One Park Place selling perk is its massive list of amenities. One Park Place residents get to enjoy rooms for media, conference, and party events; a 24-hour private fitness center; and a one-acre resort-style pool with secluded cabanas, grilling stations, fire pit, private track, etc. 24-hour concierge services, valet parking, on-site 24-hour emergency maintenance, and controlled access security complete the One Park Place luxury living package.
---
One Park Place Houston Condo Highrise
---
The condos for lease within One Park Place also come with their own set of features. Windows fully coated with ultra-violet paint, a private terrace that offers amazing views of the Houston skyline, oak floors, generously spaced walk-in closets, soundproof units, and top-of-the-line appliances highlight the list of One Park Place condo perks.
With 15 exquisitely designed floor plans, One Park Place condos for sale come uniquely designed. The condos' sizes range from 808 square feet to 2,520 square feet, while the penthouses come in the 2,000 to 3,500 square feet neighborhood.
---
Best Houston Real Estate Resources
---