Guide To The Edge Houston Condos
Standing 6-stories high at 300 St. Joseph Parkway Houston, Texas, 77002 and right at the juncture where Downtown Houston and Midtown Houston meet is mid-rise residential condo, The Edge.
The Edge Condos Houston has 93 condos units that are a short distance to Metro Rail DTC station, as well as the trolley lines to other Downtown and Midtown areas.
For more information or available The Edge Condos for sale, call Paige Martin at
713-384-5177 or email Paige@HoustonProperties.com
The Edge Condos For Sale
All The Edge Condo Listings
The Edge Condos Amenities
The Edge Condos Location Overview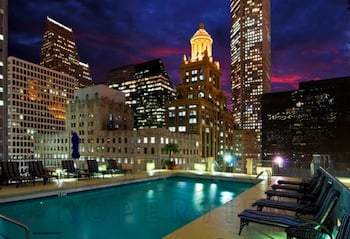 The Edge Condos Houston stretches over the area where Downtown Houston and Midtown meets. This gives its residents easy access to most of the areas between the two Houston districts. Adding to the travel and location conveniences is the fact that the Metro Rail DTC station and the trolley lines are very close to The Edge Condominiums too.
The Edge is at a convenient midpoint for getting on to major freeways and to Houston's many sports and entertainment arenas, as well as the superior Theater District.
Downtown Houston is where you can find some of the more exciting commercial establishments in the city. There are hundreds of restaurants, bars, nightclubs and cafes downtown. To top it all of is the sprawling business district housed within it, which currently is home to over 200,000 workers and professionals.
Midtown is a thriving neighborhood that exemplifies the unique experience of urban living. It is a peaceful community with houses that carry contemporary and traditional architectural designs. This dynamic cultivates small and medium entrepreneurship as many of Midtown's newer developments were designed to accommodate and encourage retail activities on the first floors. This in turn provides The Edge condos for sale owners the rare chance to engage in business within a peaceful and family-driven neighborhood.
The Edge Condos For Sale Features
The Edge only has 6 floors but it carry 93 condos for sale. This is because The Edge is more like a "residential complex" than a "residential building". The structure carries a traditional old-school architectural design to compliment the mostly contemporary establishments in the area.
There is nothing "old" about The Edge, however. It was completed in 2008 and its condos' interior design tones carry modern touches. One small example of this is the sound insulated system installed between units and floors. While the number of units and floors may give the impression that it's a crowded residential condo, the sound insulation system put in place ensures privacy among its residents.
For more information on available The Edge condos, please contact Paige Martin at 713-384-5177 or email paige@houstonproperties.com
The Edge Condos Amenities
Concierge Service
Fitness center
Party room
Pool
Sauna
Theater room
Conference room
Pictures of The Edge In Houston