Guide to 3525 Sage Condo Houston
Built in 1985, located in Galleria, see 3525 Sage condos for sale, amenities, pictures & reviews.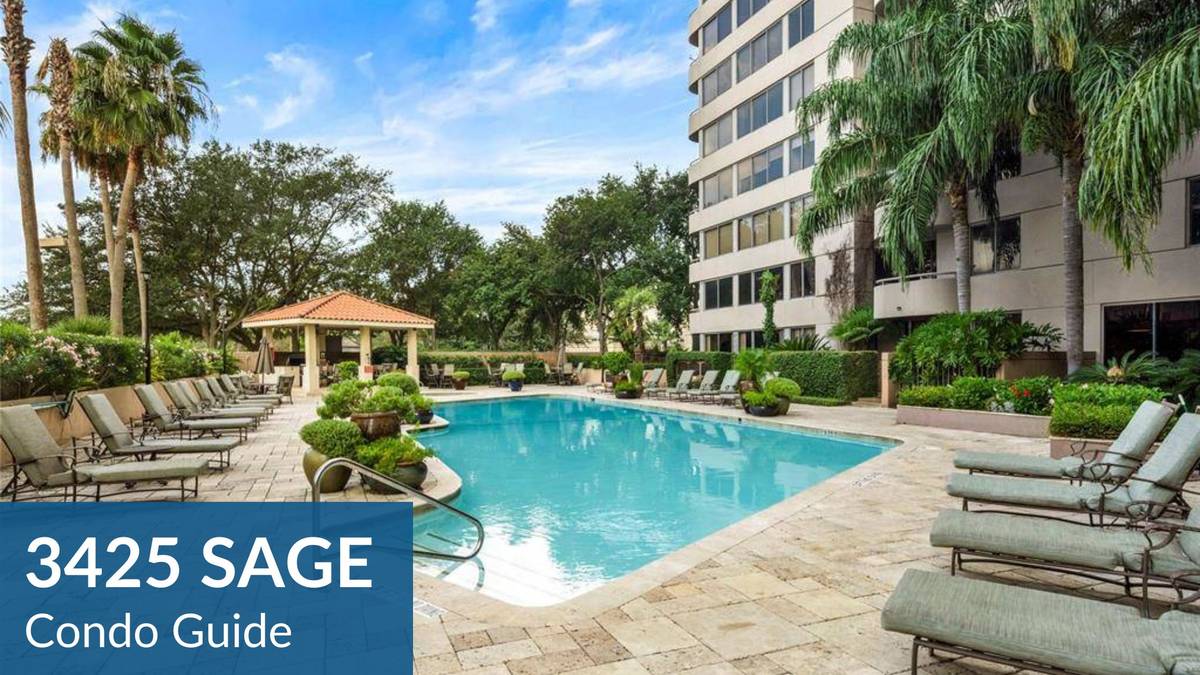 Established in 1985, 3525 Sage is a 17-story high-rise in the Galleria featuring 290 units. The building has a diverse mix of establishments, hotels, and workspaces nearby.
The 3525 Sage is famous for its:
CONVENIENT LOCATION: 3525 Sage has easy access to loop 610. The building is north of Highway 59 and south of Richmond. The building is close to Houston's key districts. It is less than 20 minutes from Texas Medical Center, Galleria, and Downtown. The Mark and The Mercer are two nearby buildings.

EXCELLENT AMENITIES: Residents at 3525 Sage have access to good amenities. The building features a concierge, a business center, a party room, an exercise room, and a fitness facility. Most units have stainless kitchen appliances and granite countertops. Each unit also has covered balconies and living rooms with a view of the south of Houston. An outdoor kitchen with a gazebo and a pool is available at the building.

ACCESSIBILITY TO JOB CENTERS: The location of 3525 Sage is close to major job centers in Houston. The Galleria and Downtown Houston have more than 23 million square feet of office space. More than 150,000 people work in the busy commercial district. It is home to more than 50 medical and research facilities. Living in the condo provides an ideal commute for anybody working nearby.

RETAIL AND DINING GALORE: The residents of 3525 Sage may look forward to Houston's premier and largest shopping district. The building is minutes from Galleria's over 425 restaurants and entertainment venues. Downtown also offers some must-visit places. Among the attractions are the Toyota Center and Minute Maid Park Stadium. Nearby attractions include the George R. Brown Convention Center and Discovery Green.

OUTDOORS & GREEN SPACE: The building location offers recreational spots for residents. Evelyn's Park Conservancy and Levy Park are nearby biking and hiking trails at 3525 Sage. Memorial Park, one of the biggest parks in Texas, is a few minutes away. Residents can also opt for the green space available in the building. Tranquility Garden is a semi-indoor park with many plants, flowers, and other greeneries. Residents can relax in the lush garden during their leisure time.
Buying or selling a condo property at 3525 Sage can be tricky. Due to the proximity of some apartments to the Galleria, surrounding bars, stores, and restaurants might make noise. Some units may sell at a premium or low price. But both condominiums may have poor construction and general design problems.
To get personal advice on buying or selling in 3525 Sage, contact Paige Martin, one of Houston's best realtors and one of the top-ranked Realtors in the United States.
"Paige Martin is Houston's best realtor. Buying a home can be a nightmare for first-time buyers. Paige and her team made everything simple, they guided us every step of the way. We will definitely hire her again." - Tonda Grist (Google Review)
---
Table of Contents
---
3525 Sage Condo Amenities
| Information | 3525 Sage |
| --- | --- |
| Address | 3525 Sage Road |
| City | Houston |
| Zip | 77056 |
| Region | Galleria |
| Year Built | 1985 |
| Construction Status | Complete |
| Developer | 3525 sage |
| # Floors | 17 |
| # Units | 290 |
| Parking | Assigned, Private Garage |
| Guest Parking | Valet |
| HOA | 3525 Sage |
| --- | --- |
| HOA / Sq Ft | $0.74 |
| What's Included in HOA Fee? | Activities Manager, Building & Grounds, Cable TV, Clubhouse, Concierge, Courtesy Patrol, Electric, Fireplace/Fire pit, Full Utilities, Gas, Gym, Insurance Common Area, Intrusion Alarm System, Limited Access, Lounge, On Site Guard, Other, Outdoor Fireplace, Outdoor Kitchen, Partial Utilities, Pet Run, Porter, Private Garage, Recreational Facilities, Storage Outside of Unit, Trash Removal, Water and Sewer |
| Amenities | 3525 Sage |
| --- | --- |
| Fitness Room/Gym | Yes |
| Pool | Yes |
| Pool: Heated | No |
| Pool: Lap Size | No |
| Pool: Indoor | No |
| Pool: Hot Tub/Jacuzzi | No |
| Party/Gathering Room | Yes |
| Concierge | Yes |
| Valet | No |
| Porter | No |
| On Site Manager | Yes |
| Balconies Available? | Yes |
| Electric Car Option? | No |
| Tennis Courts | No |
| Extra Security? | Yes |
| Security | Yes |
| Guest Rooms Available? | No |
| Rooftop Deck/Terrace | No |
| Outdoor Kitchen | Yes |
| Gas Cooktop Available? | No |
| Storage Unit Option | No |
| Sauna | No |
| Business Center | Yes |
| Building Generator | No |
---
3525 Sage Condo Sales Trends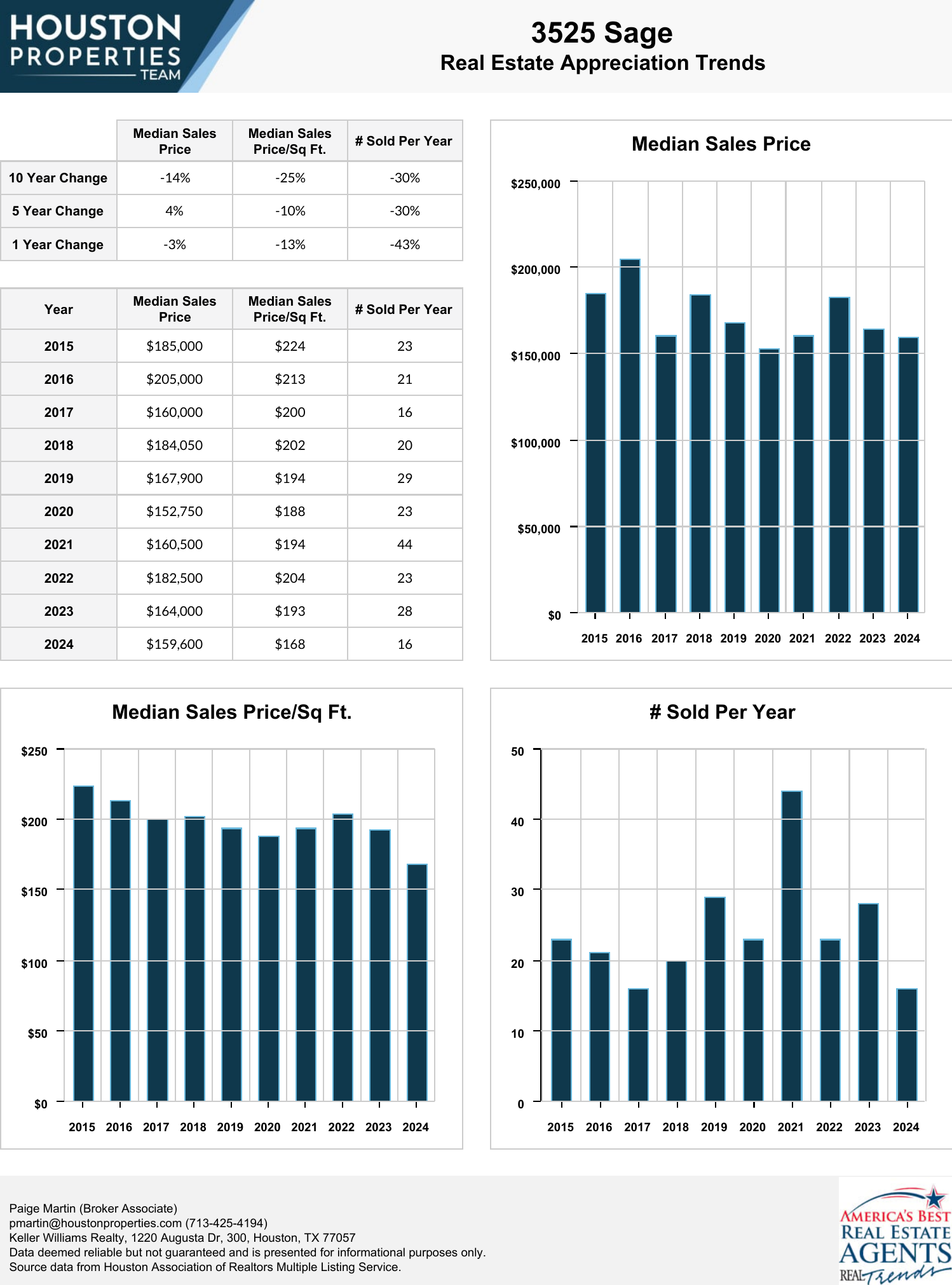 ---
How To Find 3525 Sage In Houston
| Commute Time | 3525 Sage |
| --- | --- |
| Downtown (min) | 15 |
| Med Ctr (min) | 15 |
| Energy Corridor (min) | 20 |
| Galleria (min) | 5 |
Highlights
3525 Sage
Run / Bike Trails
Evelyn's Park Conservancy, Levy Park
Nearby Retail / Dining
Retail: Luna Retail LLC, Southwest Freeway Retail Center, Jr Retail, Richmond Square, Mann's wholesale retail jewleey, Post Oak Shopping Center, H&M, Macy's,Target, Alex Trading Wholesale and Retail, Dillard's

Dining: Moxies Houston Restaurant, Local Foods - Tanglewood, Adair Kitchen, North Italia, Caracol Restaurant, JOEY Uptown, Morton's The Steakhouse, 2840 Restaurant & Bar, Bubba's Texas Burger Shack, Bayou City Seafood & Pasta, La Table, White Oak Kitchen + Drinks, Dish Society, Piatto Ristorante, Liberty Taco, Post Oak Grill, 51fifteen Cuisine & Cocktail, Grotto Ristorante, Turner's, Etoile Cuisine Et Bar,

Grocery Store: Randalls, Whole Foods Market, Target Grocery, Super Mercado Teloloapan #7, Woodway Food Group, Grocers Supermarket, Richard's Grocery Store, Rice Epicurean Markets, H-E-B, Tana Grocery, Grainsrut, Renwick Food Market, Pop's Supermarket, Kroger, Sellers Bros #17,Fan Grocery,

School: Memorial Lutheran School, Tanglewood Middle School, The Fay School, The School at St. George Place, St. Michael Catholic School, Mandarin Immersion Magnet School, Bonne Vie School, TheBridgeSchool.net, Westminster Weekday Schools, Tanglewood Academy, The Caroline School, Parkview Baptist School, Fusion Academy Houston GalleriaT. H. Rogers School, Challenge Early College High School, Southwest Schools, Russian School of Mathematics - Houston
| MetroRail Access | 3525 Sage |
| --- | --- |
| # Blocks to MetroRail | N/A |
| Nearest MetroRail Stop | N/A |
---
3525 Sage Pet Policies & Information
| Commute Time | 3525 Sage |
| --- | --- |
| Pet Area/Courtyard | No |
| Pet Area / Unique Pet Features | Unable to find |
| Max # Animals | Unable to find |
| Breed Restriction | Unable to find |
| Weight Limit | Unable to find |
---
3525 Sage Best Realtor Insights
3525 Sage Condos is a 17-story condominium at the heart of Galleria. This high-rise tower features resort-like amenities and facilities for residents to enjoy.
3525 Sage Condominiums boasts a selection of lifestyle facilities. Some of these include a grand lobby, library, fitness room, outdoor pool, and 24/7 concierge.

One of the unique amenities found in this condo is its "Tranquility Garden." This lush, semi-indoor park provides residents with a quick escape from the bustling city.

Aside from its in-house park, 3525 Sage is near urban parks and trails such as Evelyn's Park Conservancy and Levy Park.

3525 Sage Condos is close to the border of Houston's Inner Loop. 3525 Sage ranks as one of the most convenient condos in Houston today.

3525 Sage is less than 20 minutes away from central business districts such as Texas Med Center and Downtown.

Residents are minutes away from upscale shopping centers like The Galleria and Uptown Park.

Built in 1985, the building features 17 floors with over 290 units.

3525 Sage features one-bedroom to four-bedroom floor plans. Unit sizes range from 800 to more than 1,900 square feet.

Standard unit features include updated kitchens, private balconies, and full-sized washer/dryer. Other units have granite countertops, walk-in closets, and, stainless steel appliances.

The average selling price for a single 3525 Sage condo unit is $223,500.
---
3525 Sage Condominium Reviews
3525 Sage Houston: Location Overview
---
The 3525 Sage Condominiums are located right at the heart of Uptown Houston, within the luxurious Galleria Area. Towering 17 floors and built in a majestic "tripod shape" structure, the 3525 Sage Condominiums give off a hip and trendy vibe.
---
3525 Sage Houston: For Sale Features and Amenities
---
3525 Sage amenities are spearheaded by what they call a "Tranquility Garden." It is a semi-indoor park with plants, flowers, and other verdant elements surrounding a Sen Pottery fountain. It was envisioned to provide an "escape" from the stress of living right at the heart of a vast and busy city.
---
Best Houston Real Estate Resources
---