Guide to Astoria Condo Houston
Built in 2014, located in Galleria, see Astoria condos for sale, amenities, pictures & reviews.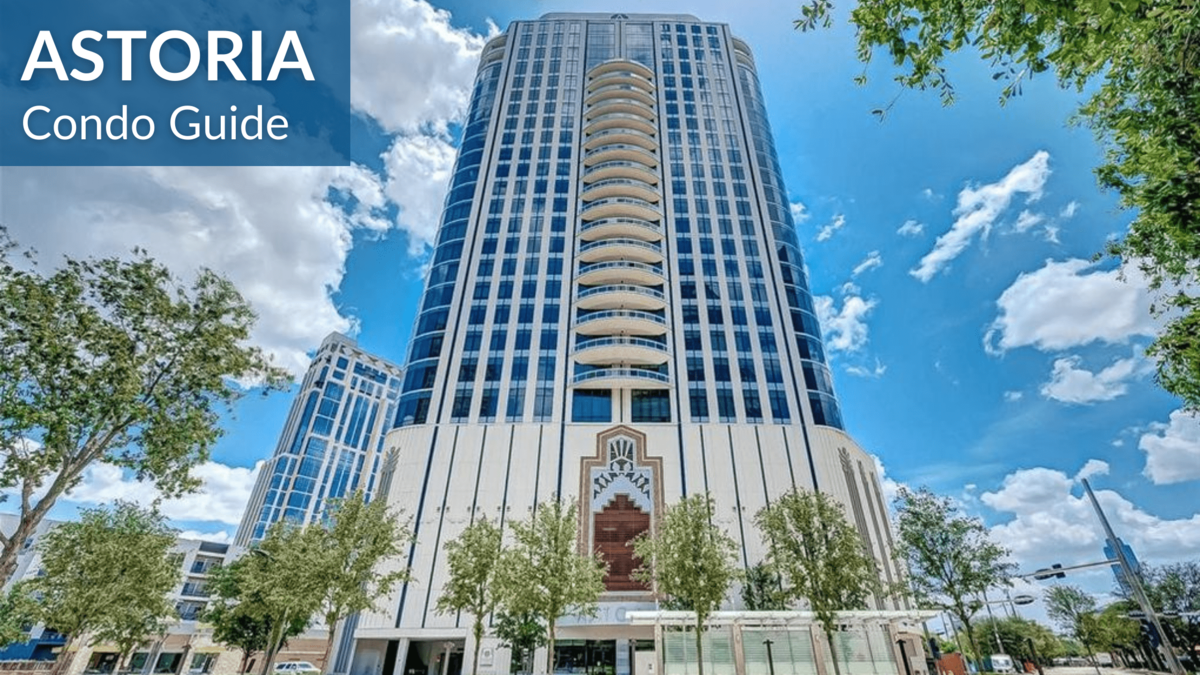 Located along Post Oak and the Galleria, the Astoria condo is in a prime location near the central business district. It is a 28-story high-rise with 75 expansive units and ten penthouses.
The Astoria condo features:
REPUTABLE ARCHITECTURAL DESIGN: Built in 2015 by Randall Davis and DC Partners, the Astoria condo is one of the latest additions to Houston's best luxury condos. Randall Davis is well known for his modern and neo-classical high-rise developments, revolutionizing the luxurious lifestyle concept. Some of his other reputably designed skyscrapers are Cosmopolitan, Manhattan, Empire Lofts and Rise Lofts.

FULL LUXURY HIGH-RISE: Astoria condo comes with glass balcony rails, coffered ceilings, hardwood living room floors, exclusive bath fixtures, and porcelain kitchen floors. It features fancy high-rise living with its polished blend of art-deco and modern architectural design. It includes four-inch oak hardwood floors, Eggersmann cabinets, Miele appliances, and stone countertops.

EXCLUSIVE AMENITIES: Astoria condo is home to several high-end features that are unique to them. The penthouses have private rooftop pools, maids' quarters, and private elevator entrances. There is also an outdoor lounge, a fitness center, and a community room with a kitchen for catering. The infinity-edge pool is an exquisite addition that overlooks the skyline of the Galleria.

COZY LOFT SPACES: Condos here start at around 1,450 square feet, making even the smallest two-bedroom unit quite spacious. Specific floor plans offer panoramic 270-degree views through 10-foot floor-to-ceiling windows.

EASY COMMUTE: Astoria condo is along Post Oak Boulevard between 610 West Loop and San Felipe Street. Residents can quickly travel to significant freeways like Loop 610, Westheimer Road, San Felipe Street, and Kirby Drive.

GREAT LOCATION NEAR CENTRAL BUSINESS DISTRICT: Uptown's premier shopping trifecta (the Galleria, Uptown Park, and Highland Village) are only two miles away from the building. Residents can also get to the Texas Medical Center and the Museum District in less than 15 minutes. The location in the Museum District provides easy access to 19 museums, galleries, and research institutes.

CONVENIENT LIVING IN THE HEART OF GALLERIA: Astoria Condo is two miles away from the Galleria, one of Houston's major job centers. The Galleria is home to over 425 Yelp-rated establishments and 3,000 businesses. Residents can easily access the district's finest restaurants, prestigious shops, exciting bars, and other commercial centers.
Buying an Astoria condo can be tricky for a reason. The Astoria condo is a brand-new high-rise in a convenient location, but its top status comes at a price: a hefty monthly HOA charge.
To get personal advice on buying or selling an Astoria unit, contact Paige Martin, one of Houston's best condo realtors and one of the top ranked Realtors in the United States.
"We worked with Brittney Coyle and we were extremely pleased with her and the entire team that supported us. They were very knowledgeable and went above and beyond to help us through the buying process, making sure they provided us with thorough research on properties and areas we were interested in. As we were moving to Texas from out of state we needed a lot of assistance with our many questions and viewing properties for us which Brittney happily helped us with! We also used a company to buy our new home with cash before we closed on the property we lived in which made for 2 closing transactions and a lot of learning and navigating along the way. Brittney went above and beyond to learn about the company and how their process worked and contacted them on our behalf numerous times. She was a critical factor in our ability to buy a home from so far away in a short amount of time during an insane housing market!! We can't thank you enough! This team is amazing!!" - Sarah Carnivale (Google Review)
---
Table of Contents
---
Astoria Condo Amenities
| Information | Astoria |
| --- | --- |
| Address | 1409 Post Oak Boulevard |
| City | Houston |
| Zip | 77056 |
| Region | Galleria |
| Year Built | 2014 |
| Construction Status | Complete |
| Developer | Randall Davis |
| # Floors | 28 |
| # Units | 75 |
| Parking | Above Ground, Private Garage |
| Guest Parking | Valet |
| HOA | Astoria |
| --- | --- |
| HOA / Sq Ft | $0.77 |
| What's Included in HOA Fee? | Activities Manager, Building & Grounds, Clubhouse, Concierge, Courtesy Patrol, Gas, Gym, Insurance Common Area, Limited Access, Lounge, On Site Guard, Outdoor Fireplace, Outdoor Kitchen, Partial Utilities, Porter, Private Garage, Recreational Facilities, Storage Outside of Unit, Trash Removal, Valet Parking, Water and Sewer |
| Amenities | Astoria |
| --- | --- |
| Fitness Room/Gym | Yes |
| Pool | Yes |
| Pool: Heated | No |
| Pool: Lap Size | No |
| Pool: Indoor | No |
| Pool: Hot Tub/Jacuzzi | No |
| Party/Gathering Room | Yes |
| Concierge | Yes |
| Valet | Yes |
| Porter | No |
| On Site Manager | Yes |
| Balconies Available? | Yes |
| Electric Car Option? | No |
| Tennis Courts | No |
| Extra Security? | Yes |
| Security | Yes |
| Guest Rooms Available? | Yes |
| Rooftop Deck/Terrace | Yes |
| Outdoor Kitchen | No |
| Gas Cooktop Available? | Yes |
| Storage Unit Option | Yes |
| Sauna | No |
| Business Center | Yes |
| Building Generator | No |
---
Astoria Condo Sales Trends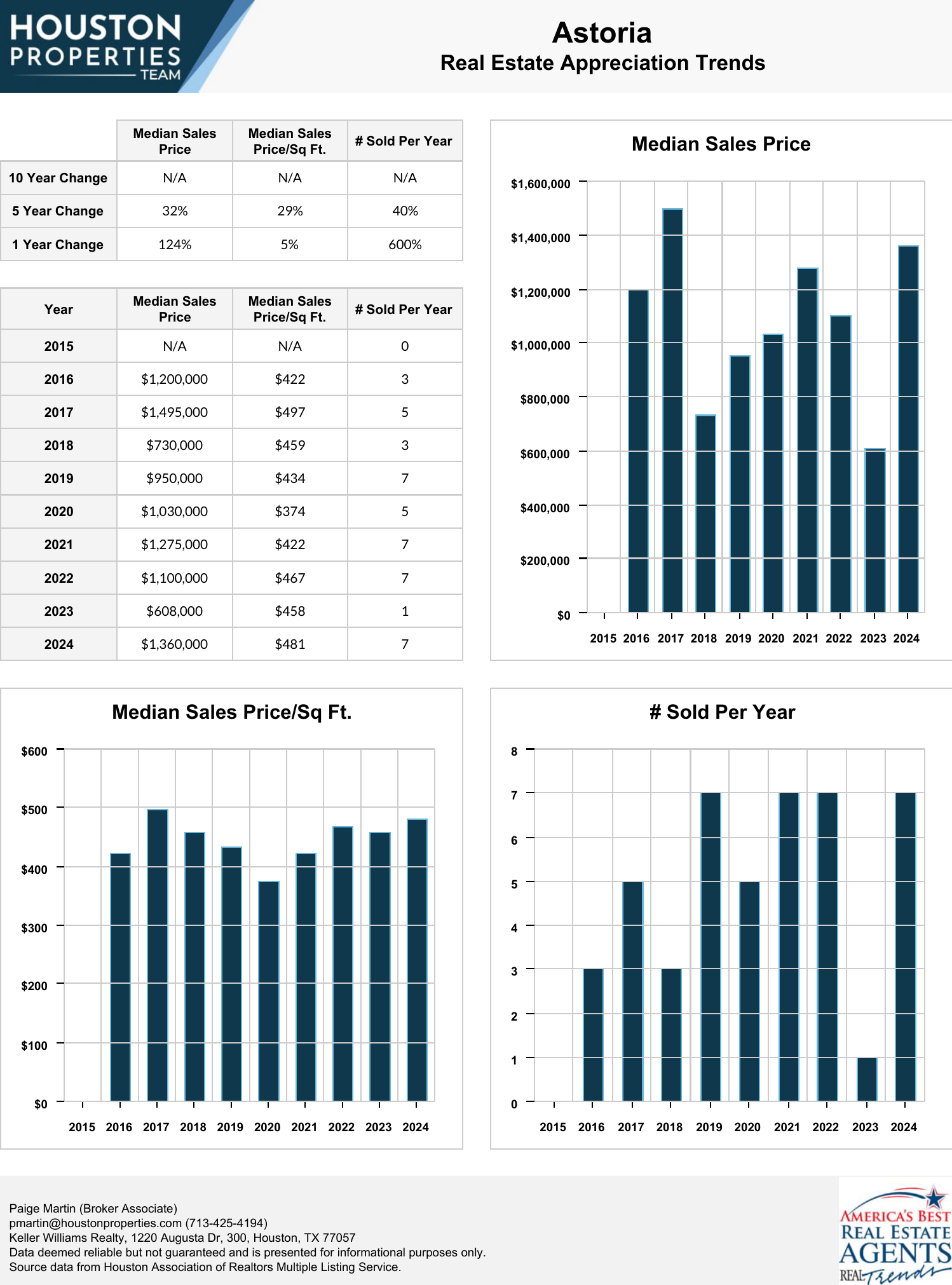 ---
How To Find Astoria In Houston
| Commute Time | Astoria |
| --- | --- |
| Downtown (min) | 20 |
| Med Ctr (min) | 20 |
| Energy Corridor (min) | 20 |
| Galleria (min) | 5 |
Highlights
Astoria
Run / Bike Trails
- Memorial Park Hike and Bike Trailhead
- Cullen Running Trails Center
- Hike and Bike Trail
- Buffalo Bayou Park Trail
- Arboretum Lake
Nearby Retail / Dining
- Moxie's Houston Restaurant
- Adair Kitchen
- North Italia
- Merus Grill by J. Alexander
- Caracol Restaurant
- Morton's The Steakhouse
- Bayou City Seafood and Pasta
- White Oak Kitchen + Drinks
- Piatto Ristorante
- Liberty Taco
- Whole Foods Market
- Grainsrut
- Woodway Food Group
- Monclova Food Services
- Herbert's Specialty Meats
- Richard's Grocery Store
- Luna Retail LLC
- TJ Maxx
- Southwest Freeway Retail Center
- Post Oak Shopping Center
- Richmond Square
- H&M
| MetroRail Access | Astoria |
| --- | --- |
| # Blocks to MetroRail | N/A |
| Nearest MetroRail Stop | N/A |
---
Astoria Pet Policies & Information
| Commute Time | Astoria |
| --- | --- |
| Pet Area/Courtyard | No |
| Pet Area / Unique Pet Features | Unable to find |
| Max # Animals | 2 |
| Breed Restriction | None |
| Weight Limit | None |
---
Astoria Best Realtor Insights
Featuring contemporary architecture with modern art deco, Astoria Condos is a beautiful addition to Galleria's luxury high-rises.
Astoria Condos was built in 2015 by Randall Davis and DC partners. Randall Davis is known for developing popular residential high-rises in Houston like Cosmopolitan, Manhattan, Empire Lofts and Rice Lofts.

Astoria Condos has 28 stories with 75 units and ten penthouses. It features contemporary art-deco architecture, borrowing inspiration from the Pantages Theater in Los Angeles.

Residents have immediate access to major freeways like Loop 610, Westheimer Road, San Felipe Street, and Kirby Drive.

The luxury tower sits along Post Oak Boulevard between San Felipe Street and the 610 West Loop. Residents enjoy more than 50 high-end restaurants and almost 200 upscale shops along Post Oak Boulevard

Memorial Park is about five miles north of Post Oak Boulevard. It features a three-mile running trail and an 18-hole golf course. It also has swimming, tennis, softball, volleyball, and more facilities.

Uptown's premier shopping trifecta (The Galleria, Uptown Park, and Highland Village) is just two miles away from the building. Residents are less than 15 minutes away from the Texas Medical Center and Museum District.

Astoria Condos features luxury amenities, including a starlight infinity-edge pool deck and a resident's lounge with a movie theater. It also offers 24/7 concierge service, a state-of-the-art fitness center, a private wine room, and a pied-a-terre for guests. Penthouse units have expansive terraces, four sky pools, and private garages.

Astoria Condos has seven-floor plans named after famous painters like Picasso, Van Gogh, and Da Vinci, to name a few.

There are available two-, three-, and four-bedroom units with an average size of 3,000 square feet of living space. Penthouses typically offer 9,000 square feet.

Astoria Condos for sale are priced between $600,000 to over $3,000,000.
---
Astoria Condominium Reviews
The Astoria: Mass Transit Options And Access
---
The Galleria district is one of Houston's Most Accessible Neighborhoods. The Astoria sits at the heart of the Galleria area along Post Oak Boulevard. Residents have near-immediate access to major thoroughfares like Loop 610, West Loop, Westheimer Road, San Felipe Street, and Kirby Drive. METRO bus provides public bus service to Inner Loop neighborhoods.
The Galleria/Uptown district is home to Houston's premier shopping trifecta: The Galleria, Uptown Park, and Highland Village. These world-class retail centers feature upscale shopping, dining, and entertainment hotspots, including high-end retailers like Versace, Hermes, Versace, Giorgio Armani, Yves Saint Laurent, and Bvlgari.
Popular Neighborhood Venues: Galleria Mall, Galleria Business District, Uptown Park, Highland Village

Top Ranked Restaurants Nearby: True Food Kitchen, North Italia, Adair Kitchen, Masraff's

Grocery Stores: Whole Foods, The Fresh Market

Trails & Parks: Memorial Park, Post Oak Park, Grady Park, Hidalgo Park
---
Astoria Condos: Maps And Directions
---
The Astoria sits at 1405 Post Oak Boulevard between San Felipe Street and Loop 610. The Galleria area, also known as Uptown District or Uptown Houston, is located south of the Memorial area and the Memorial Villages, west of Memorial Park and Afton Oaks, east of Briarmeadow, and north of Bellaire.
The Astoria's central location provides convenient access to other key Houston districts such as The Museum District and the Medical Center. The Museum District houses 19 cultural institutions within a 1.5-mile radius of the Mecom Fountain in Hermann Park. Texas Medical Center has more than 50 research and medical institutions with more than 100,000 employees.
About 5 miles east of the Galleria area, Downtown is Houston's central business district housing several prominent companies with more than 150,000 employees.
---
The Astoria: School Zoning Information
---
Astoria residents can send their children to the following schools:
Briargrove Elementary School offers magnet programs as well as Vanguard, S.T.E.M, College and Career Readiness, and International Baccalaureate programs.

Tanglewood Middle School formerly known as Grady Middle School, is an International Baccalaureate school that offers Pre-AP programs for gifted and talented students.

Wisdom High School formerly known as Lee High School, offers career pathways in construction and design through a college preparatory curriculum and hands-on experience. Available student programs include Business Management and Administration, Health Sciences, Human Services, Public Safety, and IT.
To find an updated listing of all The Astoria real estate zoned to any specific public school, please email Paige Martin at PMartin@HoustonProperties.com with the property preference and budget that you're working with.
Note: For more detailed information on specific schools zoned to different The Astoria areas, please refer to our Houston Schools Guide OR email me.
Note: School zoning tends to change from year to year. The information provided above is accurate but not guaranteed. Please double-check by visiting the school's website.
---
Best Houston Real Estate Resources
---