Guide to Belfiore Condo Houston
Built in 2014, located in Galleria, see Belfiore condos for sale, amenities, pictures & reviews.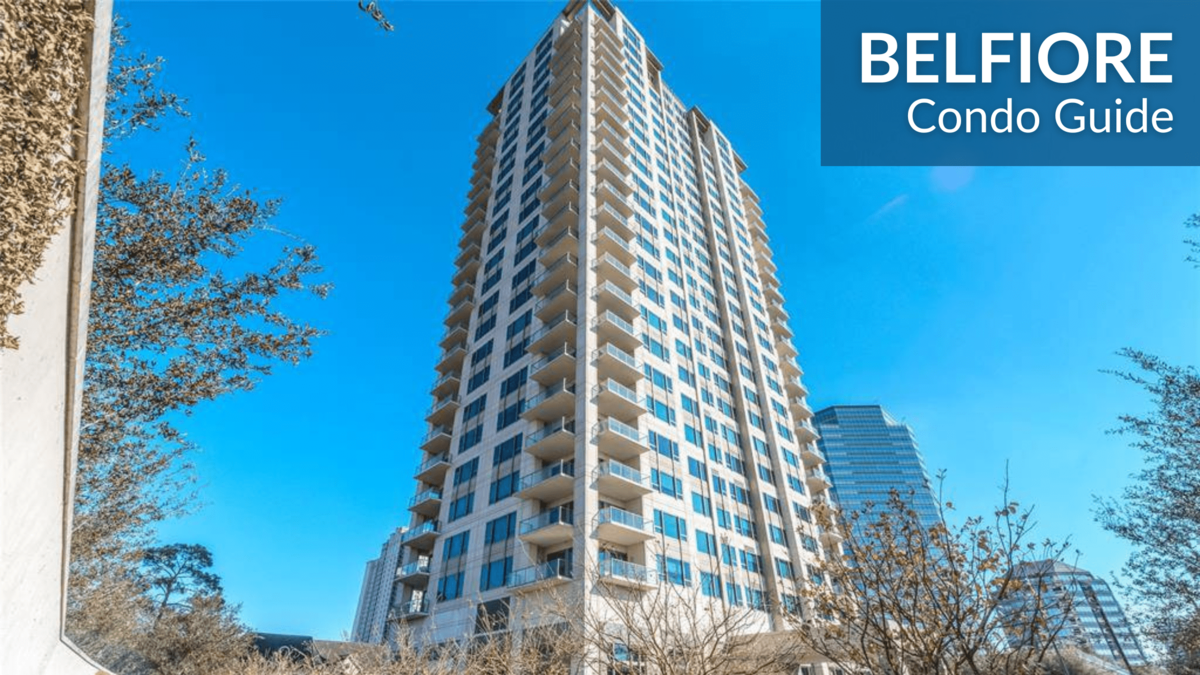 A Giorgio Borlenghi and Interfin development (the same group behind popular luxury buildings Montebello, Villa D'Este, and Four Leaf Towers), The Belfiore is a 26-story high luxury condo with European architecture.
It features:
EXCLUSIVITY AND PRIVACY: With condos' prices starting at over $1,000,000, Belfiore is one of the most exclusive and expensive luxury condos in Houston. With only two units and a private lobby per floor, residents enjoy a private and exclusive home.

LUXURY AMENITIES: The Belfiore features a resort-style heated swimming pool with a jacuzzi, spa, and cabanas, and an expansive party room with a bar and catering kitchen. Each unit has an exclusive lobby and 700-ft. corner terraces with a panoramic view of the Galleria skyline and wooded Tanglewood and Memorial Park.

CUSTOMIZABLE UNITS: The owners get their units completely bare apart from the basic white wall coatings, plumbing, and electrical systems. This provides residents flexibility in customizing their residences. They can customize the unit's interior, design, and finishes to their liking.

NEAR BUSINESS AND RETAIL CENTERS: Belfiore is nestled amid one of the most sought-after neighborhoods in Galleria. Houston's shopping trifecta, The Galleria, Uptown Park, and Highland Village, is less than 2 miles away from the building. These malls house more than 700 retailers, fine-dining restaurants, and five-star hotels. The Galleria is also one of Houston's key business districts and features more than 23 million square feet of office space.

OPEN PET POLICY: Belfiore is one of Houston's most pet-friendly luxury condos. Its open pet policy doesn't restrict owners on the number, breed, and weight of pets.
Buying in the Belfiore can be tricky. It's a new building, so there are limited resale trends. In addition, it's one of the highest-priced buildings in the city and has one of the largest HOA fees.
To get personal advice on buying or selling a Belfiore unit, contact Paige Martin, one of Houston's best condo realtors, and one of the top-ranked Realtors in the United States.
"I highly recommend the Houston Properties team for anyone in need of a knowledgeable and professional realtor in the Houston area. The team at Houston Properties is dedicated to finding their clients the perfect home or property, and they go above and beyond to ensure a smooth and successful transaction. With their extensive knowledge of the Houston real estate market and their commitment to excellent customer service, the Houston Properties team is the go-to choice for anyone looking to buy or sell a home in the Houston area." - Jesse Manley (Google Review)
---
Table of Contents
---
Belfiore Condo Amenities
| Information | Belfiore |
| --- | --- |
| Address | 1275 S. Post Oak Lane |
| City | Houston |
| Zip | 77056 |
| Region | Galleria |
| Year Built | 2014 |
| Construction Status | Complete |
| Developer | Interfin |
| # Floors | 26 |
| # Units | 46 |
| Parking | Private Garage |
| Guest Parking | Valet |
| HOA | Belfiore |
| --- | --- |
| HOA / Sq Ft | $1.11 |
| What's Included in HOA Fee? | Building & Grounds, Cable TV, Clubhouse, Concierge, Courtesy Patrol, Gas, Insurance Common Area, Limited Access, On Site Guard, Outdoor Kitchen, Partial Utilities, Pet Run, Porter, Recreational Facilities, Storage Outside of Unit, Trash Removal, Valet Parking, Water and Sewer |
| Amenities | Belfiore |
| --- | --- |
| Fitness Room/Gym | Yes |
| Pool | Yes |
| Pool: Heated | Yes |
| Pool: Lap Size | No |
| Pool: Indoor | No |
| Pool: Hot Tub/Jacuzzi | Yes |
| Party/Gathering Room | Yes |
| Concierge | Yes |
| Valet | Yes |
| Porter | No |
| On Site Manager | Yes |
| Balconies Available? | Yes |
| Electric Car Option? | No |
| Tennis Courts | No |
| Extra Security? | Yes |
| Security | Yes |
| Guest Rooms Available? | No |
| Rooftop Deck/Terrace | No |
| Outdoor Kitchen | No |
| Gas Cooktop Available? | Yes |
| Storage Unit Option | Yes |
| Sauna | Yes |
| Business Center | No |
| Building Generator | Yes |
---
Belfiore Condo Sales Trends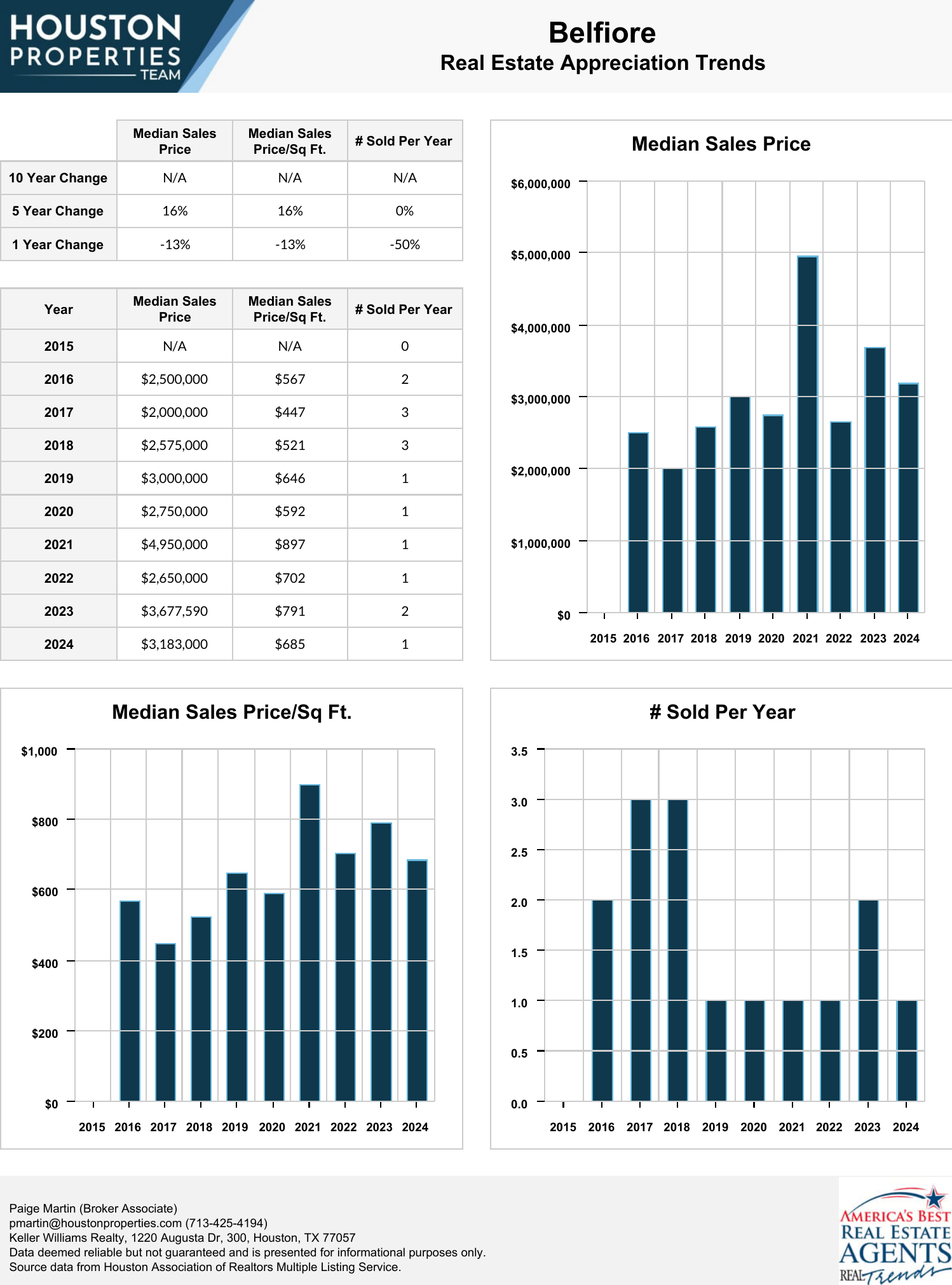 ---
How To Find Belfiore In Houston
| Commute Time | Belfiore |
| --- | --- |
| Downtown (min) | 20 |
| Med Ctr (min) | 20 |
| Energy Corridor (min) | 20 |
| Galleria (min) | 10 |
Highlights
Belfiore
Run / Bike Trails
Grady Park
Water Park Destination Guide
Cloister Garden
Waterfall
Woodland Field Station
Nearby Retail / Dining
H-E-B
Adair Kitchen
La Table
Maggiano's Little Italy
Willie G's Seafood
Craft F&B
Merus Grill by J. Alexander's
Flower Child
True Food Kictchen
Moxies Houston Restaurant
Caracol Restaurant
| MetroRail Access | Belfiore |
| --- | --- |
| # Blocks to MetroRail | N/A |
| Nearest MetroRail Stop | N/A |
---
Belfiore Pet Policies & Information
| Commute Time | Belfiore |
| --- | --- |
| Pet Area/Courtyard | Yes |
| Pet Area / Unique Pet Features | Open Pet Policy |
| Max # Animals | Open Pet Policy |
| Breed Restriction | Open Pet Policy |
| Weight Limit | Open Pet Policy |
---
Belfiore Best Realtor Insights
Belfiore is one of the premier luxury condos in the Galleria area.
Construction of the 346-ft. high-rise building started in 2013. The Belfiore, a Kirksey Architecture-designed condo, was completed in 2016.

Milan-born developer Giorgio Borlenghi led the development of Belfiore. It was his newest luxury high-rise project in Houston. He also developed some landmarks in Houston's Galleria area. Examples are the Four Leaf Tower, Montebello, Villa d'Este, and Hotel Granduca.

The building sits on 2 acres of land at the southeast corner of Post Oak Lane and South Wynden Drive.

Belfiore is just a few steps from premier retail destinations and business centers. Texas Medical Center, Downtown Houston, and Museum District are less than 10 miles from The Belfiore. The Galleria, Uptown Park, and Highland Village are less than 2 miles.

The condo building has 24 floors and 46 units, including two penthouses.

Belfiore has a maximum of 2 units per floor. Each unit features 11-foot ceilings and wide living areas with floor-to-ceiling windows. The residences have exclusive elevators, a lobby, and a service entrance.

Belfiore has the largest condo unit floor area in Houston. Each unit averages 4,600 square feet and includes a spacious 700-square-foot corner terrace. Prices for Belfiore condos for sale are between $2,000,000 and $3,000,000. Penthouse units range up to over $6,000,000.

Belfiore offers luxurious amenities such as a resort-like heated pool with a spa and lush garden. It has an expansive party area, a state-of-the-art fitness club, and a private dog park.

Its central location gives residents a stunning view of Tanglewood and Memorial Park.

Its location within Galleria provides residents immediate access to major freeways. They have access to Richmond Avenue, San Felipe Street, Westheimer Road, and Woodway Drive.
---
Belfiore Condominium Reviews
Belfiore: Mass Transit Options And Access
---
The Galleria/Uptown area is one of Houston's Most Accessible Neighborhoods. Thanks to its location in the northwest area where Loop 610 and Southwest Freeway meet, Belfiore residents have immediate access to major roads and freeways. These include Richmond Avenue, San Felipe Street, Westheimer Road, and Woodway Drive.
Aside from the advantages of its location, Galleria is also one of Houston's premier destinations for retail and business. The Galleria has 2.4 million square feet of leasable space with several world-class hotels, five-star restaurants, and upscale shopping boutiques. Not only is The Galleria a shopping paradise to many, but it is also a haven for food enthusiasts.
Below are the popular/top-ranked places and establishments within the area:
Popular Neighborhood Venues: Galleria, Uptown Park, Rice Village, Uptown Collection, Highland Village, BLVD Place.

Top Ranked Restaurants Nearby: Caracol, De Frisco's Double Eagle Steak House, Chama Gaucha Steak House, Masraff's, Maggiano's Little Italy

Grocery Stores: Whole Foods, The Fresh Market

Trails & Parks: Gerald D. Hines Waterwall Park, Post Oak Park, Hidalgo Park, Grady Park
Several Metro bus routes and a rapid transit bus line cover the Galleria/Uptown area.
---
Belfiore Houston Condos: Maps And Directions
---
Belfiore is located at 1275 S Post Oak Lane, within the Galleria district. The Galleria area, also known as Uptown District or Uptown Houston, is located south of the Memorial area and the Memorial Villages, west of Memorial Park and Afton Oaks, east of Briarmeadow, and north of Bellaire.
Belfiore's location makes it highly accessible to major city roads like Loop 610, Westheimer Road, and Woodway Drive. These thoroughfares link the neighborhood to other key districts. Texas Medical Center, one of Houston's major employment centers and the largest medical complex in the world, is 7 miles from the Belfiore. Museum District, one of Houston's cultural centers, is also 7 miles away from the building, while Downtown Houston, the city's central business district, is 10 miles away.
Not only known as a satellite business district, but The Galleria is also a popular retail business area. The Belfiore residents are just a mile from The Galleria, one of the biggest malls in the country. It features signature retail outlets, chain stores, bars, fancy restaurants, and cafes, among others. Another favorite shopping destination in the district is the European design-inspired Uptown Park, which is less than 5 minutes away from the building.
The Galleria areas' zip codes are 77056 and 77057.
---
Belfiore Houston Condos: School Zoning Information
---
Galleria, where Belfiore is located, is zoned to the Houston Independent School District (HISD).
Belfiore residents can send their children to the following schools:
Briargrove Elementary School offers Vanguard, S.T.E.M, College and Career Readiness, International Baccalaureate, and magnet programs.

Tanglewood Middle School, formerly known as Grady Middle School, is an International Baccalaureate school that offers Pre-AP programs for gifted and talented students.

Wisdom High School, formerly known as Lee High School, offers career pathways in construction and design through a college preparatory curriculum and hands-on experience. Available student programs include Business Management and Administration, Health Sciences, Human Services, Public Safety, IT, and more.
To find an updated listing of all Belfiore real estate zoned to any specific public school, please email Paige Martin at PMartin@HoustonProperties.com with the property preference and budget that you're working with.
Note: For more detailed information on specific schools zoned to different Belfiore areas, please refer to our Houston Schools Guide OR email me.
Note: School zoning tends to change from year to year. The information provided above is accurate but not guaranteed. Please double-check by visiting the school's website.
---
Best Houston Real Estate Resources
---