Belfiore Condo Houston For Sale | 1275 S Post Oak Lane, Houston Condos
The Belfiore Houston: Executive Summary
A Giorgio Borlenghi and Interfin development (the same group behind popular luxury buildings Montebello, Villa D'Este and Four Leaf Towers), The Belfiore is a 26-story high luxury condo with European architecture. It features:
EXCLUSIVITY AND PRIVACY: With condos' prices starting at over $1,000,000, Belfiore is one of the most exclusive and expensive luxury condos in Houston. With only two units and a private lobby per floor, residents enjoy a private and exclusive home.
NEW CONSTRUCTION HIGHRISE: Well-known designer Giorgio Borlenghi introduced Belfiore in 2013. It is his latest development in Houston and one of the newest condos in the posh Galleria area, a bustling retail and business district. His portfolio includes Four-Leaf Towers, Four Oaks Place, Villa d'Este and Montebello.
LUXURY AMENITIES: The Belfiore features resort-style heated swimming pool with jacuzzi, spa and cabanas, and an expansive party room with bar and catering kitchen. Each unit has an exclusive lobby and 700-ft. corner terraces with a panoramic view of the Galleria skyline and wooded Tanglewood and Memorial Park.
CUSTOMIZABLE UNITS:  The owners get their units completely bare apart from the basic white wall coatings, plumbing, and electrical systems. This provides residents flexibility in customizing their residences. They can customize the interior, design, and finishes of the unit to their liking.
NEAR BUSINESS AND RETAIL CENTERS: Belfiore is nestled amid one of the most sought-after neighborhoods in Galleria. Houston's shopping trifecta, The Galleria, Uptown Park and Highland Village, is less than 2 miles away from the building. These malls house more than 700 retailers, fine dining restaurants, and five-star hotels. The Galleria is also one of Houston's key business districts and features more than 23 million square feet of office space.
OPEN PET POLICY : Belfiore is one of the most pet-friendly luxury condos  in Houston. Its open pet policy doesn't restrict owners on the number, breed, and weight of pets.
Buying in the Belfiore can be tricky. It's a new building so there's limited resale trends. In addition, it's one of the highest priced buildings in the city and has one of the largest HOA fees.
To get personal advice on buying or selling a Belfiore unit, contact Paige Martin, one of Houston's best condo realtors and one of the top ranked Realtors in the United States.
"Paige Martin and her team are THE condo experts in Houston. Paige has literally written the book (The Definitive Houston Condo Buying Guide) about buying a condo in Houston. They know what buildings to avoid, what floor plans to be wary about, and they have relationships to help with off market inventory and sales. If you're considering buying or selling a condo (new construction or one of the current buildings) I would highly recommend you talk to them. You won't find any other Realtor or team who is as knowledgeable as they are about the pro's and con's of Houston's highrise buildings. They are fabulous to work with, are very candid with their advice and will look out for your best interests. I highly recommend the HoustonProperties.com team."
Following are the amenities currently offered at Belfiore and what the HOA fee covers:
24-hour concierge
24-hour valet
11-foot ceiling height
Breathtaking panoramic views of Downtown and Tanglewood
Underground parking garage
Heated swimming pools with spa and lush garden
Two units per floor
Two exclusive, high-speed elevators for each residence
Two private 700-ft. corner terraces in each residence
Expansive party room and bar with fully equipped caterer's kitchen
State-of-the-art athletic club and fitness center
Belfiore residents are automatic members of the building's Homeowners Association (HOA). The HOA manages the common areas of the condominium and provides essential services from which all residents benefit.
Condos within the Galleria have higher than average fees because many residents want to experience luxurious services and more amenities, as well as "next-door access and living" to the numerous entertainment establishments in the area. They evaluate their fees monthly based on the unit's square footage.
(See our Houston Condos HOA & Amenities Guide)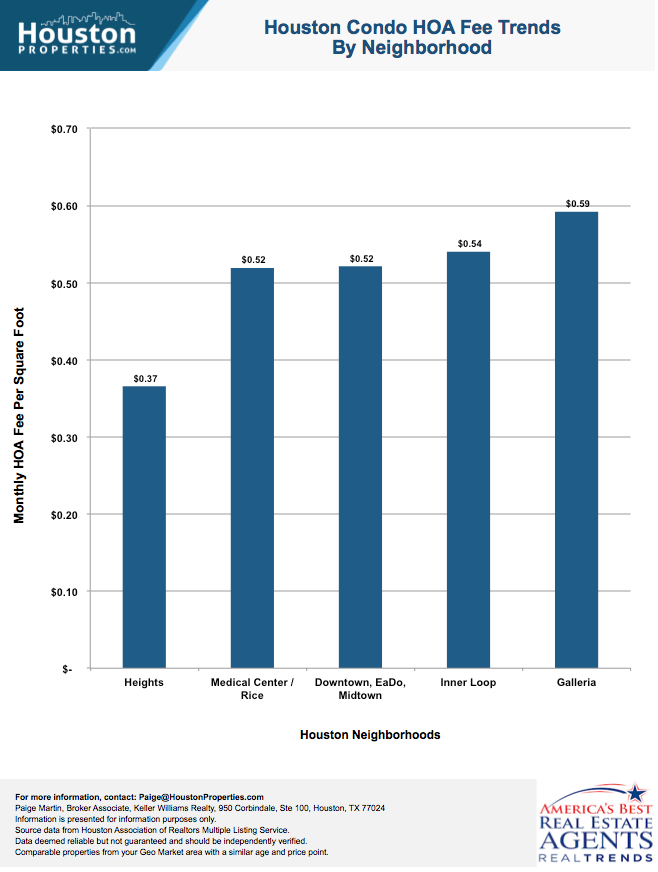 See how the HOA fees at Belfiore compares with other Houston condos: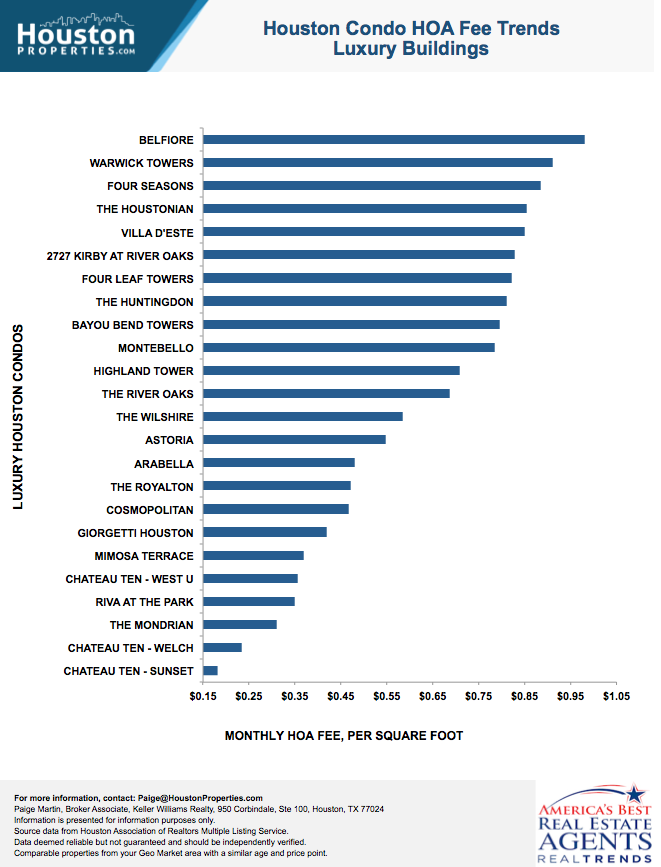 Belfiore: Comparable Condo Buildings
As the luxury highrise opened in 2016, Belfiore real estate trends aren't available yet. However, most units have already been sold with prices at upwards of $2,000,000. Belfiore condos for sale have a list price of $2,300,000 to around $6,400,000 with an average of 5,567 square feet per unit.
(See 10-Year Appreciation Rates Of Houston's Luxury Condos)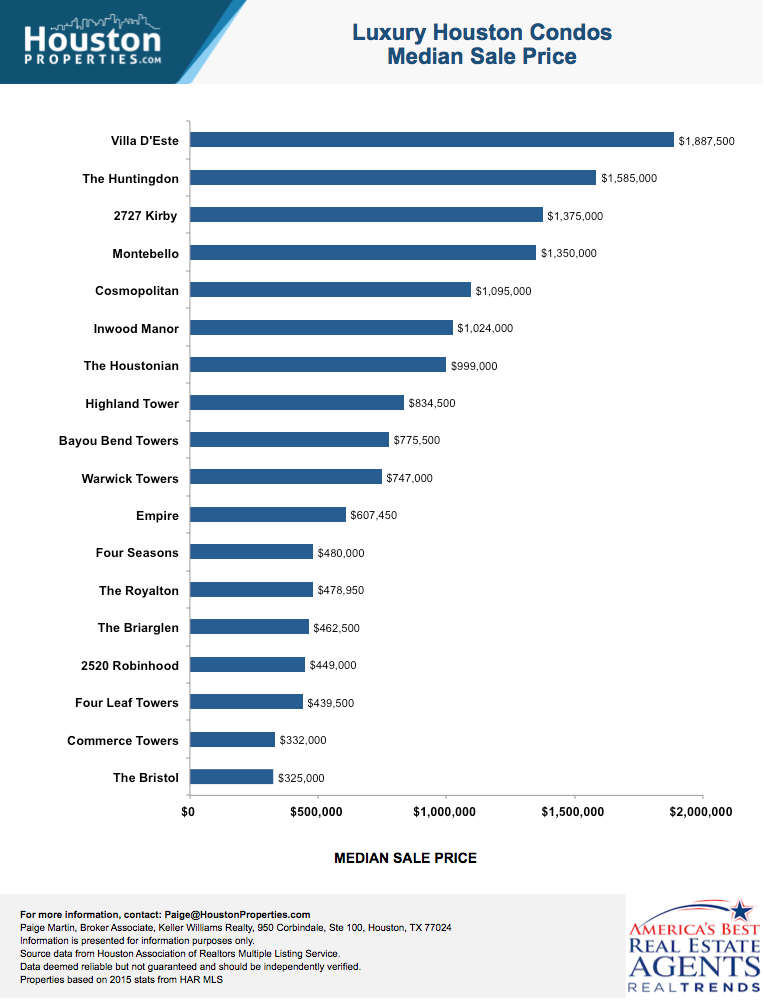 The Galleria district features some of the best condo appreciation rates in the city. Due to its proximity to Houston's premier business centers and accessibility to major freeways, upscale condos in the Galleria are constantly in high demand. In fact, Galleria condos have steadily appreciated over the past decade.
Check the 5- and 10-Year sales trends of Houston's best condo buildings below.
For the most current version of this data, or to get assistance in buying or selling a Houston Condo, please contact Paige Martin, one of the top condo realtors in Houston.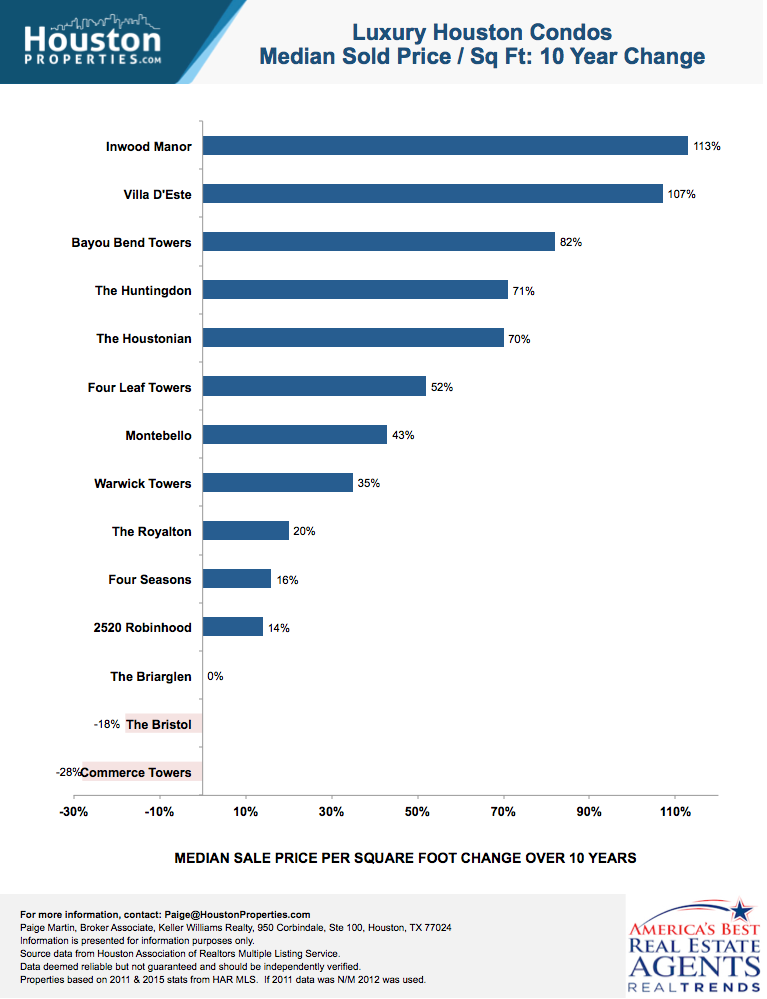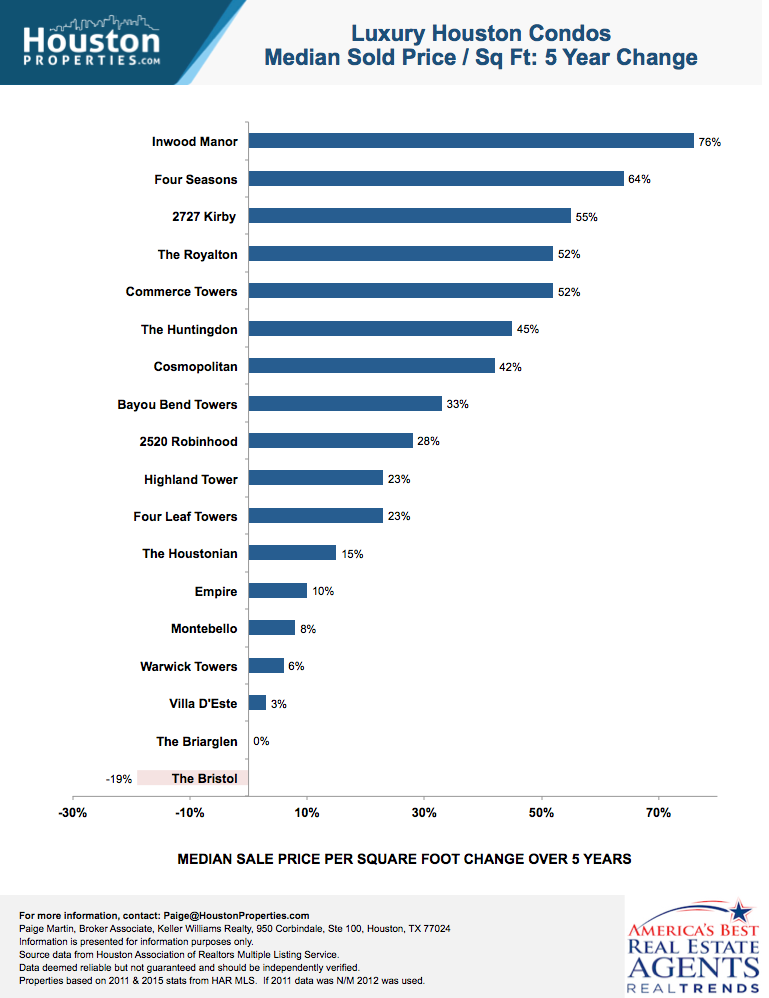 (Data sourced from the Houston Association of Realtors Multiple Listing Service and is deemed reliable but not guaranteed.)
For more information on available Belfiore condos, please contact Paige Martin at 713-425-4194[email protected]
or email 
12 Things Belfiore Condo Buyers Should Know
Belfiore is the newest addition to the upscale luxury condos in the Galleria area.
Construction of the 346-ft. high rise building started in 2013.
The Belfiore, a Kirksey Architecture-designed condominium, was completed in 2016.
Milan-born developer Giorgio Borlenghi led the development of Belfiore, his newest luxury high rise project in Houston. He also developed some landmarks of Houston's Galleria area, such as the Four Leaf Tower, Montebello, Villa d'Este and Hotel Granduca.
The building is set on 2 acres of land at the southeast corner of Post Oak Lane and South Wynden Drive.
Belfiore is just a few steps away from premier retail destinations and business centers. Texas Medical Center, Downtown Houston and Museum District are less than 10 miles away from The Belfiore, while The Galleria, Uptown Park and Highland Village are less than 2 miles away.
The condo building has 24 floors and 46 units, including two penthouses.
Belfiore has a maximum of 2 units per floor. Each unit features 11-foot ceilings and wide living areas with floor-to-ceiling windows. The residences have exclusive elevators, lobby, and service entrance.
Belfiore has the largest condo unit floor area in Houston. Each unit averages 4,600 square feet and includes a spacious 700-square foot corner terrace.
Belfiore offers luxurious amenities such as resort-like heated pool with spa and lush garden, an expansive party area, a state-of-the-art fitness club, and a private dog park.
Its central location gives residences a stunning view of the surrounding areas like Tanglewood and Memorial Park.
Its location within Galleria provides residents immediate access to major freeways such as Richmond Avenue, San Felipe Street, Westheimer Road, and Woodway Drive.
Prices for Belfiore condos for sale are typically priced between $2,000,000 and $3,000,000, with penthouse units ranging up over $6,000,000.
Belfiore Houston Pet Policies & Management Office

Belfiore: Mass Transit Options And Access
The Galleria/Uptown area is one of Houston's Most Accessible Neighborhoods. Thanks to its location in the northwest area where Loop 610 and Southwest Freeway meet, Belfiore residents have immediate access to major roads and freeways. These include Richmond Avenue, San Felipe Street, Westheimer Road, and Woodway Drive, among others.
Aside from the advantages of its location, Galleria is also one of Houston's premier destinations for retail and business. The Galleria has 2.4 million square feet of leasable space with several world-class hotels, five-star restaurants and upscale shopping boutiques. Not only is The Galleria a shopping paradise to many, it is also a haven to food enthusiasts.
Below are the popular/top ranked places and establishments within the area:
Popular Neighborhood Venues: Galleria, Uptown Park, Rice Village, Uptown Collection, Highland Village, BLVD Place.
Top Ranked Restaurants Nearby: Caracol, De Frisco's Double Eagle Steak House, Chama Gaucha Steak House, Masraff's, Maggiano's Little Italy
Grocery Stores: Whole Foods, The Fresh Market
Trails & Parks: Gerald D. Hines Waterwall Park, Post Oak Park, Hidalgo Park, Grady Park
Several Metro bus routes cover the Galleria/Uptown area, along with a rapid transit bus line.
Belfiore is located at 1275 S Post Oak Lane, within the Galleria district. The Galleria area, also known as Uptown District or Uptown Houston, is located south of the Memorial area and the Memorial Villages, west of Memorial Park and Afton Oaks, east of Briarmeadow, and north of Bellaire.
Belfiore's location makes it highly accessible to the city's major roads like Loop 610, Westheimer Road and Woodway Drive. These thoroughfares link the neighborhood to other key districts. Texas Medical Center, one of Houston's major employment centers and the largest medical complex in the world is 7 miles away from the Belfiore. Museum District, one of Houston's cultural centers, is also 7 miles away from the building while Downtown Houston, the city's central business district, is 10 miles away.
Not only known as a satellite business district, The Galleria is also a popular retail business area. The Belfiore residents are just a mile away from The Galleria, one of the biggest malls in the country. It features signature retail outlets, chain stores, bars, fancy restaurants, cafes, among others. Another favorite shopping destination in the district is the European design-inspired Uptown Park, which is less than 5 minutes away from the building.
The Galleria areas' zip codes are 77056 and 77057.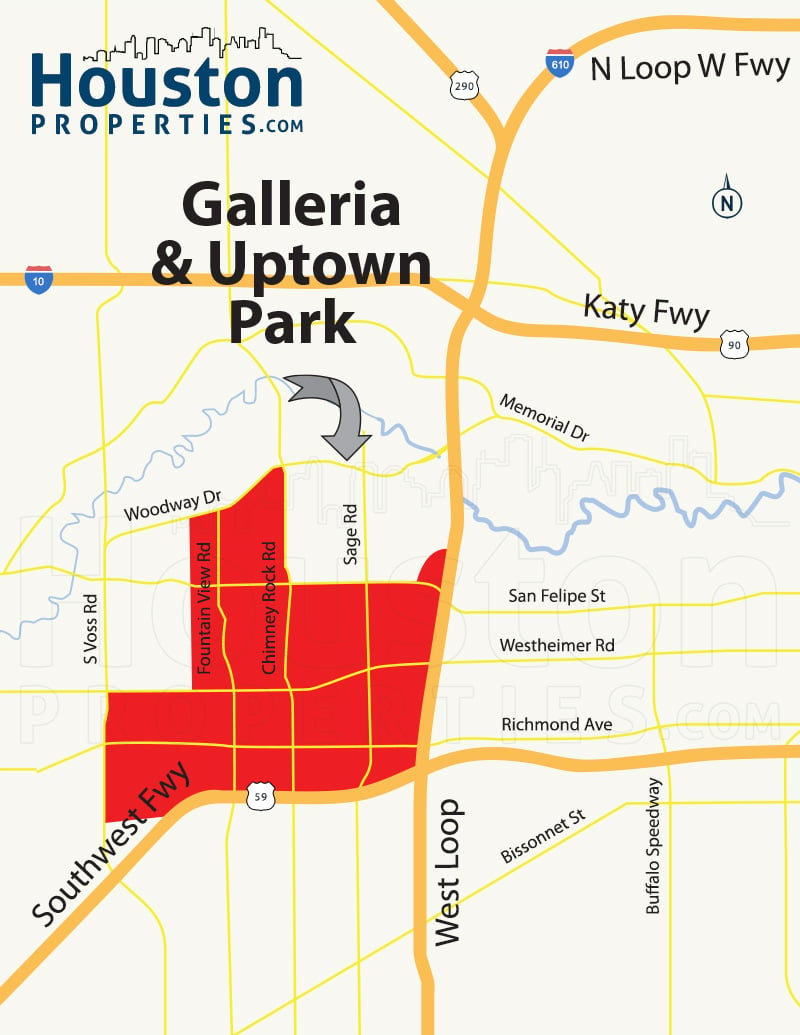 Belfiore Houston Condos: School Zoning Information
Galleria, where Belfiore is located, is zoned to the Houston Independent School District (HISD).
Belfiore residents can send their children to the following schools:
Briargrove Elementary School offers Vanguard, S.T.E.M, College and Career Readiness, International Baccalaureate, and magnet programs.
Tanglewood Middle School, formerly known as Grady Middle School, is an International Baccalaureate school that offers Pre-AP programs for gifted and talented students.
Wisdom High School, formerly known as Lee High School, offers career pathways in construction and design through college preparatory curriculum and hands-on experience. Available student programs include Business Management and Administration, Health Sciences, Human Services, Public Safety, IT, and more.
Paige Martin is one of the most experienced and knowledgeable condo Realtors in Houston, and has a lot of experience helping people buy and sell at Belfiore.
Our vast market knowledge, relationships & extraordinary marketing platform (built over 10 years) will help you sell faster, for more money. Know what your home value is AND learn more about our Houston seller program.
Get the most money for your condo in the least time!
Our proprietary marketing system (over 10 years in the making) gives you maximum exposure for your condo.
We pay to have your condo staged and professionally
photographed by one of the best
photographers in Houston.*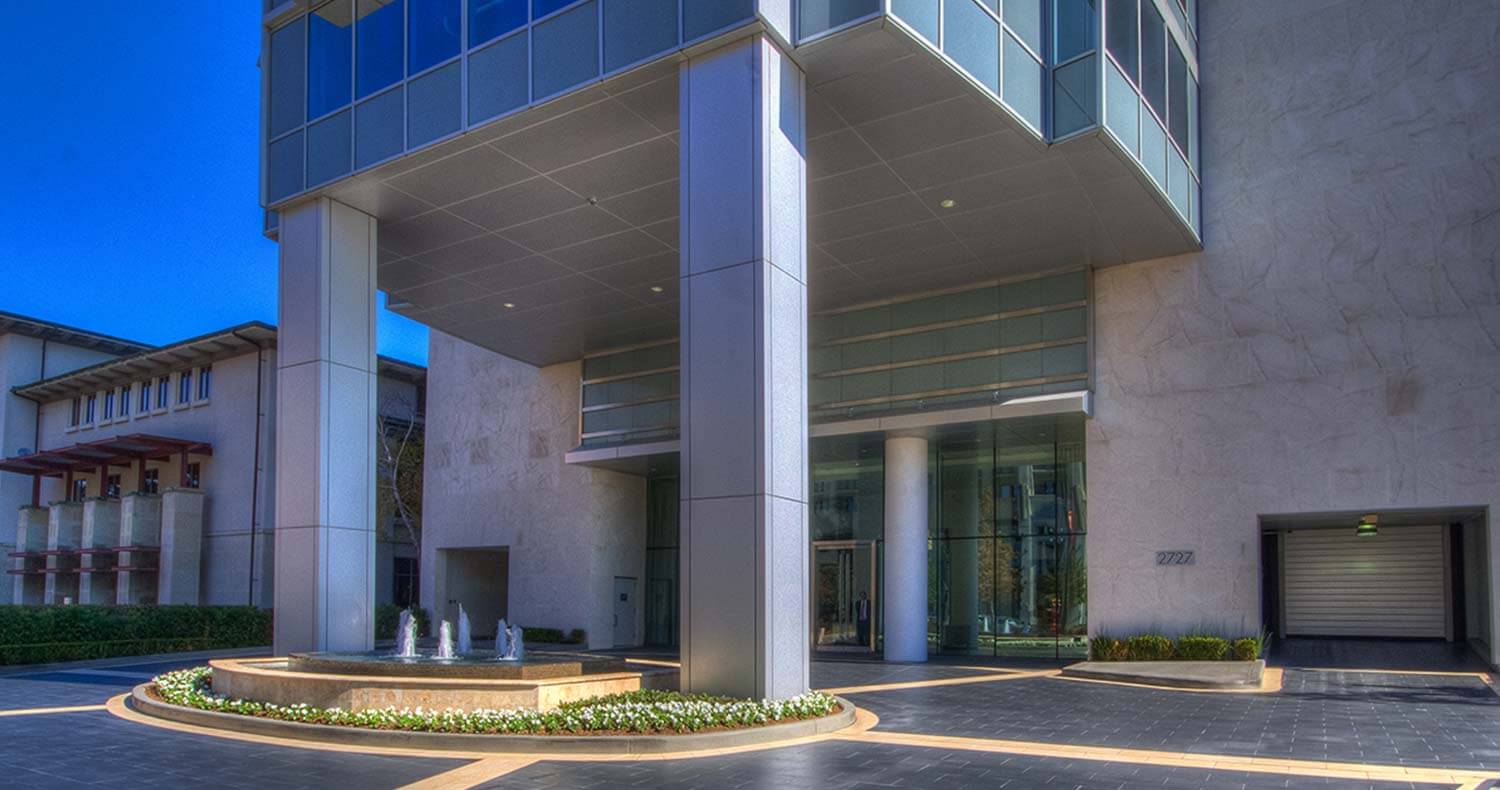 *Up to two hours of staging
Online Marketing Dominance
9 out of 10 buyers use the Internet to search for condos.
We rank in the top 3 results for over 1,150 unique, intentional Houston condo keyword searches on Google.
Only we will feature you to our 400,000 annual visitors.