Campton Post Oak Condo Houston | 4950 Woodway Drive
Built in 1981, located in Galleria, see Campton Post Oak condos for sale, amenities, pictures & reviews.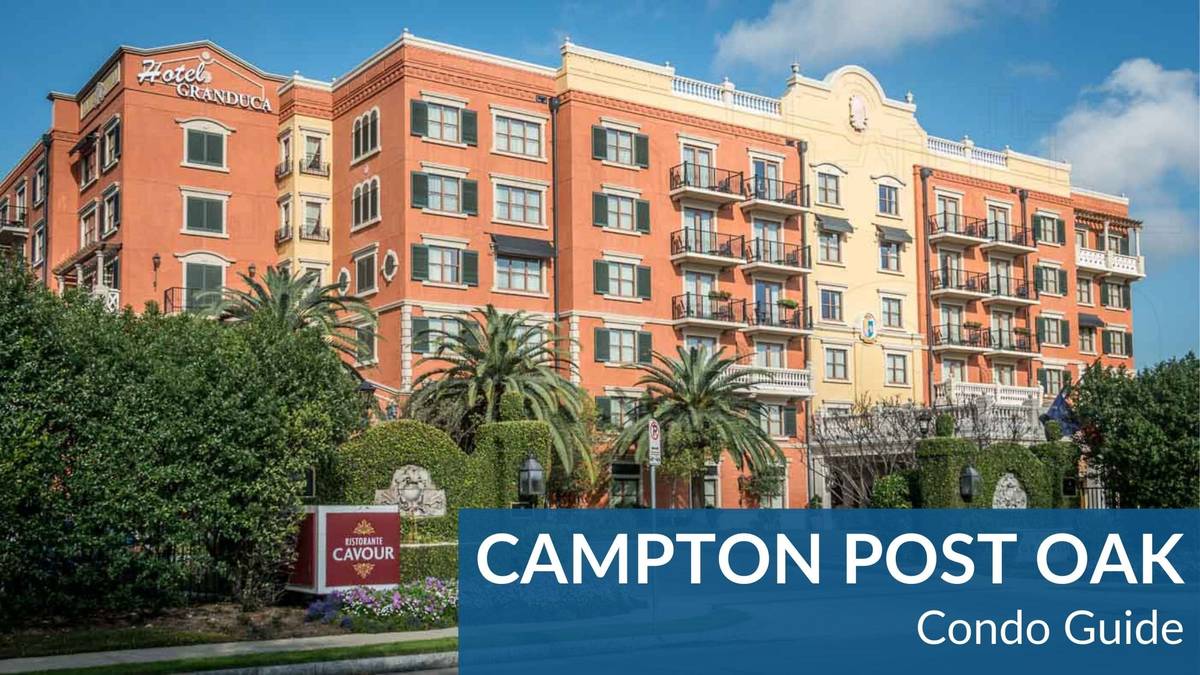 Resting in the more unfrequented streets of the Galleria area is an 8-story mid-rise, The Campton at Post Oak. The 28-unit building has a superb location within a peaceful neighborhood while having easy access to numerous establishments and business centers.
The building features:
• STANDARD LIVING SPACES – Built in 1981 and renovated during 2002 by James Badger, the same developer of the Il Palazzo at the Museum District The Campton features standard finished units with hardwood floors, black granite kitchen counters, and marble baths. Unit sizes range from 1,800 square feet to 3,900 square feet. One of the penthouses is located on the top floor and has 3 balconies where residents may enjoy a grand view of Houston.
• GREAT AMENITIES: Residents get to enjoy secure and elegant condo-living with The Campton's amenities. These include 24-hour concierge services, card and code-controlled building access, as well as automated doors for garage parking. In addition, the building also has private balconies and offers pet services.
• STRATEGIC LOCATION – Nestled at the corner of Post Oak and Woodway, residents get to enjoy living in a more secluded thus quiet neighborhood while being a few blocks away from more than 200 retail shops and 50 world-class restaurants which can be found along Post Oak lane. Notably, the building is also within the Galleria area – which is one of Houston's most accessible neighborhoods.
• SHOPPING AND ENTERTAINMENT: Just about 2 miles from The Campton lies The Galleria mall – Houston's largest mall. This houses over 300 stores, signature boutiques, restaurants, bars, and cafes. Other shopping hubs (such as the River Oaks Shopping Center, Tanglewood, Uptown Park, and Highland village) are less than 10 minutes away from the building.
• MEMORIAL PARK: One of the most popular public parks in Houston, The Memorial Park, is located less than 4 miles from The Campton. Known for its 2.88 miles per lap jogging trail, the Memorial Park also features tennis courts, facilities for softball, swimming, fitness centers, 6 miles of hiking and biking trails, and a 300-acre golf course.
• DOWNTOWN: The Campton's location near the Interstate 10 east highway (less than 3 miles away) makes Downtown Houston highly accessible to residents (just a 15-minute drive). Housing more than 3,000 companies and over 150,000 employees, Downtown is one of Houston's largest job centers. This bustling business hub is also the location of major attractions such as the Houston Aquarium and Hobby Center for Performing Arts.
Buying a Campton Condo can be tricky. While being one of the less recent constructions in the area, there have also been newer property developments in the Galleria which can affect resale. Apart from this, few units are available for sale every year.
To get personal advice on buying or selling a Campton unit, contact Paige Martin, one of Houston's best condo realtors and one of the top ranked Realtors in the United States.
"Selling your home is an emotional process. For that, it is important to work with the best real estate agency out there. From the moment we decided to sell, Houston Properties Team was there for us. They took their time to get to know us, what our needs were and when it would be the right time to sell, and for what price. We received a detailed timeline so we knew exactly where we were in the process at all times. They were very knowledgeable and went above and beyond for us. They were very patient, answered every question we had big or small promptly, and always provided us with the information we needed. I highly recommend working with the Houston Properties Team. Thanks to them, we had a very smooth sale and found the perfect new owners for our house." - Olivia Simoen-Deman (Google Review)
---
Table of Contents
---
Campton Post Oak Condo Amenities
| Information | Campton Post Oak |
| --- | --- |
| Address | 4950 Woodway Drive |
| City | Houston |
| Zip | 77056 |
| Region | Galleria |
| Year Built | 1981 |
| Construction Status | Complete |
| Developer | James Badger of Badger Interests |
| # Floors | 8 |
| # Units | 28 |
| Parking | Assigned, Private Garage |
| Guest Parking | Self Park, Limited |
| HOA | Campton Post Oak |
| --- | --- |
| HOA / Sq Ft | $0.41 |
| What's Included in HOA Fee? | Concierge, Insurance Common Area |
| Amenities | Campton Post Oak |
| --- | --- |
| Fitness Room/Gym | No |
| Pool | Yes |
| Pool: Heated | No |
| Pool: Lap Size | No |
| Pool: Indoor | No |
| Pool: Hot Tub/Jacuzzi | No |
| Party/Gathering Room | No |
| Concierge | Yes |
| Valet | No |
| Porter | No |
| On Site Manager | Yes |
| Balconies Available? | No |
| Electric Car Option? | No |
| Tennis Courts | No |
| Extra Security? | Yes |
| Security | Yes |
| Guest Rooms Available? | Yes |
| Rooftop Deck/Terrace | Yes |
| Outdoor Kitchen | No |
| Gas Cooktop Available? | No |
| Storage Unit Option | No |
| Sauna | No |
| Business Center | No |
| Building Generator | No |
---
Campton Post Oak Condo Sales Trends
---
How To Find Campton Post Oak In Houston
| Commute Time | Campton Post Oak |
| --- | --- |
| Downtown (min) | 10 |
| Med Ctr (min) | 20 |
| Energy Corridor (min) | 20 |
| Galleria (min) | 10 |
| Highlights | Campton Post Oak |
| --- | --- |
| Run / Bike Trails | Memorial Park Hike and Bike Trailhead |
| Nearby Retail / Dining | Shops at nearby Tanglewood (Whole Foods Market, Post Oak Plaza), Shops at The Galleria (Joey Uptown, Macy's) |
| MetroRail Access | Campton Post Oak |
| --- | --- |
| # Blocks to MetroRail | N/A |
| Nearest MetroRail Stop | N/A |
---
Campton Post Oak Pet Policies & Information
| Commute Time | Campton Post Oak |
| --- | --- |
| Pet Area/Courtyard | No |
| Pet Area / Unique Pet Features | Pet Services |
| Max # Animals | No answer from HOA yet |
| Breed Restriction | No answer from HOA yet |
| Weight Limit | No answer from HOA yet |
---
Campton Post Oak Condominium Reviews
Location Benefits Of Living In Campton At Post Oak Houston
The Campton at Post Oak is located at 4950 Woodway, Houston, Texas 77056. Its address makes it one of the more appealing residential buildings in Houston as it sits in the more secluded neighborhoods while being close to the biggest retail, dining, and business centers. Residents can enjoy peaceful condo-living while being a few minutes away from a massive variety of shops, restaurants, and commercial establishments.
Condos for sale in Campton at Post Oak are also just a few miles away from Downtown Houston. Downtown is Houston's central business district which currently houses over 200,000 employees and 3,500 companies.
Lastly, residents of Campton at Post Oak get to enjoy living just a stone's throw away from the peaceful wooded areas of Memorial Park. The Memorial is one of the largest parks in the country which is known for its towering trees and expansive jogging trails. It also features sports facilities, fitness centers, and a 300-acre golf course.
Campton At Post Oak Amenities
The Campton at Post Oak is located at 4950 Woodway, Houston, Texas 77056 and is formerly known as The Pinehollow.
The Campton is an 8-story mid-rise that was constructed in 1982. The building has 28 units and is located in the Galleria area of Houston Texas with unit prices ranging from $170,000 to $350,000. The building offers 24-hour concierge services, controlled access, pet services, and eight floors of spacious living areas.
---
Best Houston Real Estate Resources
---