The nine-story high Executive House residential condo mid-rise building is located at 5050 Woodway in Houston Texas, 77056. Executive House is one of the smaller and older buildings in Houston's Galleria.
For more information or available Executive House Condos for sale, call Paige Martin at
713-425-4194 or email [email protected]
Executive House Condos For Sale
All Executive House Condo Listings
Executive House Amenities
Executive House Condos Profile
The Executive House's 5050 Woodway Houston Texas 77056 address brings it just a few minutes away from Downtown Houston and the business district within it. It is also right nearby the wooded area and expansive running and walking trails of Memorial Park. The Galleria, along with its numerous world-class restaurants, trendy retail outlets, exciting nightclubs and bars, is within a stone's throw away from the condos for sale in Executive House.
With 42 units built within its nine floors, the Executive House mid-rise building houses some of the most generously spacious condos for sale in Houston. The average floor sizes for the Executive condos are between 1,330 square feet to 5,323 square feet.
The least expensive Executive House condos usually sell in the $80,000 to $120,000 neighborhood, while the high-end luxury units and penthouses fetch anywhere between $300,000 and upwards of $400,000.
For more information on available Executive House condos, please contact Paige Martin at 713-425-4194 or email [email protected]
Executive House Amenities
Residents-only swimming pool
Sauna
Guest Rooms
Exercise and Fitness Room
Party Room
Storage Rooms
Concierge Service
Laundry Room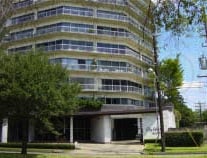 Executive House Houston Mid Rise is located at 5050 Woodway in Houston TX, 77056.
Executive House in Houston is a luxury mid rise building in Houston featuring nine floors, units priced from the $100,000 to the $300,000's and was built in 1964.
Executive House Mid Rise in Houston's building amenities include: concierge service, swimming pool, sauna, laundry room, storage space, and an exercise room.
E mail [email protected] for more information on Executive House Houston Tx or call 713-425-4194 to arrange a Executive House Houston tour today.