Guide To The Manhattan Lofts Houston
Located at 3030 Post Oak in Houston, Texas, 77056, the 9-story high Manhattan graces the Galleria and Post Oak area with its Gotham City-inspired architecture.
This Randall Davis-developed residential mid-rise has 63 condos for sale carrying French Beaux-Arts design tones that compliment the 19th and early 20th century structure themes of the building.
For more information or available The Manhattan Condos for sale, call Paige Martin at
713-384-5177 or email Paige@HoustonProperties.com
The Manhattan Condos For Sale

All The Manhattan Condo Listings
The Manhattan Condos Amenities
The Manhattan Condos Houston Location Overview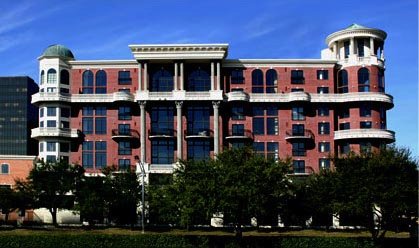 Elegantly perching over the Galleria skyline, The Manhattan Condos Houston can be found at the corner of Post Oak and Hidalgo. It is centrally located at the Uptown Houston area, bringing Manhattan condos for sale owners very close to a fine selection of shopping, dining and recreational options.
Situated in close proximity to Uptown District and its 23.6 million square feet of office space, The Manhattan residents enjoy a short travel to and from their place of work/business. Having the Galleria (currently the largest shopping mall in Texas) is a nice perk for owners of condos in Manhattan too. The Galleria houses various upscale shops as well as city-wide chain stores.
The heavily forested areas of Tanglewood and Memorial Park are near The Manhattan Condos too. People fond of naturesy walks in the park and wooded and lush views will appreciate the short distance between the aforementioned neighborhoods and condos in The Manhattan.
The Manhattan Condos For Sale Features And Amenities
One look at The Manhattan building and its French Beaux-Arts style architecture is evident. Its development was spearheaded by Randall Davis, hence the heavy touch of early 19th century New York buildings. Examples of this influence are the heavy stone base, two-story and paired columns, arched windows and grand arched openings.
The condos for sale in Manhattan share this theme and can be seen through the units' vaulted ceilings and huge walls of windows (which bring in abundant natural light), hardwood floors, interior Corinthian columns, and countless designer upgrades and custom finishes. With the average unit size being around 2,650 square feet, Manhattan residents are assured of more than ample living space.
For more information on available The Manhattan condos, please contact Paige Martin at 713-384-5177 or email paige@houstonproperties.com
The Manhattan Condos Amenities
Concierge service
Pool
Elevator