Guide to Montebello Condo Houston
Built in 2003, located in Galleria, see Montebello condos for sale, amenities, pictures & reviews.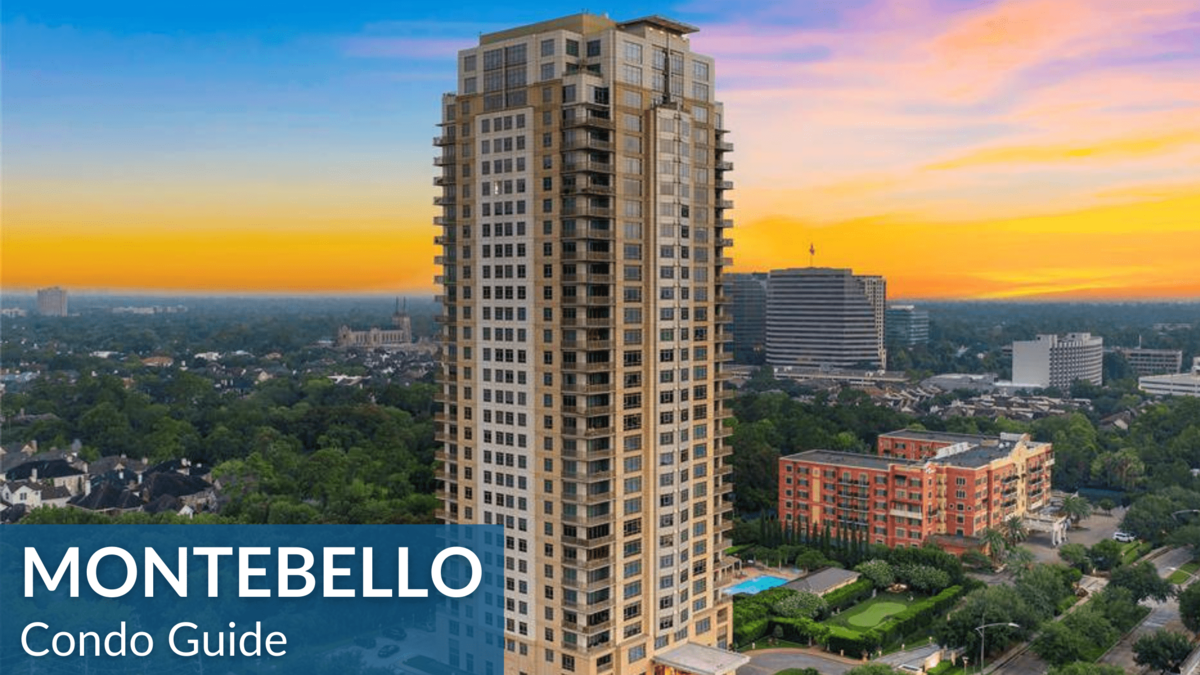 Montebello, Italian for "pretty mountain," is a Giorgio Borlenghi luxury highrise with 98 units and four two-level penthouses. The Houston-based developer is also behind luxury highrises Villa D'Este, Four Leaf Towers, and Belfiore.
The building offers:
FULL-SERVICE AMENITIES: Aside from overlooking the Galleria skyline and Tanglewood, residents enjoy Montebello's full-service amenities. These include 24-hour concierge and security, valet parking, porter, fitness center, spa, clubhouse, party room, heated swimming pool, and garden.

GOOD APPRECIATION: Montebello, completed in 2003, has posted strong appreciation rates over the last decade. With a median sales price of $1.4M, Montebello is one of Houston's best-performing luxury condos.

LARGE FLOOR PLANS: Like other Giorgio Borlenghi highrises, Montebello features only four units per floor. Montebello condos offer large living spaces ranging from 2,000 to more than 4,800 square feet. Standard unit amenities include 10-foot ceilings, large kitchens with premium appliances, large balconies, jacuzzi tubs with outside views, and dual pane windows.

UPTOWN PARK RETAIL CENTER: Located across the street from Montebello, Uptown Park Retail Center resembles a European village. The retail center is also an Interfin project and features the main boulevard and a centrally located fountain. Housing buildings with different elevations, Uptown Park Retail Center features boutique shops, antique and furniture stores, two upscale salons, and fine dining.

LOCATION NEAR GALLERIA AND TANGLEWOOD: Nestled along Uptown Park Boulevard, Montebello is only a few steps away from Galleria and Tanglewood areas. Featuring over 425 yelp-rated establishments and 3,000 businesses, the Galleria district is one of Houston's business and retail centers. Less than a mile away, Tanglewood is one of Houston's most expensive neighborhoods.

EASY ACCESS TO BUSINESS CENTERS: Downtown and Energy Corridor, two of Houston's largest employment centers, are easily accessible from Montebello condos. Downtown, less than 15 minutes away via I-10, is home to the headquarters of several prominent companies. The Central Business Center houses 3,000 companies with over 150,000 employees.

OUTDOOR ACTIVITY AND GREEN SPACE: Residents are minutes away from outdoor activity areas in Memorial Park, the largest urban park in Houston. Memorial Park features tennis courts, volleyball courts, a fitness center, a swimming pool, skating rinks, bike trails, and a three-mile running course. The park also hosts the annual Spring Bayou City Art Festival.
Buying in Montebello can be tricky for several reasons. First, prices have fluctuated a bit with the recent launch of many new construction luxury condos. In addition, certain units overlook disadvantaged locations and have more freeway noise than others. Also, since the building was constructed in 2003, some units are starting to go through recent upgrades and renovations. All of these factors must be considered when evaluating a unit's fair value price.
Condo:
To get personal advice on buying or selling a Montebello residence, contact Paige Martin, one of Houston's best condo realtors and one of the top-ranked Realtors in the United States.
"We have been working with Courtney for a couple of years now and have completed several transactions on both the buy and the sell side. I can honestly say that I have never dealt with anyone so thorough, professional or knowledgeable. We have worked with other realtors in the past, and are so thankful Courtney and the team were recommended to us. We have never had to worry about whether we had current market data, that documentation was submitted on time or that we were getting the best advice. She is so personable, reliable and will always make time for you. She really is there for you every step of the way!" - Susan Davis (Google Review)
---
Table of Contents
---
Montebello Condo Amenities
| Information | Montebello |
| --- | --- |
| Address | 1100 Uptown Park Boulevard |
| City | Houston |
| Zip | 77056 |
| Region | Galleria |
| Year Built | 2003 |
| Construction Status | Complete |
| Developer | Interfin Corporation |
| # Floors | 30 |
| # Units | 98 |
| Parking | Assigned, Below Ground, Private Garage |
| Guest Parking | Valet, Self Park |
| HOA | Montebello |
| --- | --- |
| HOA / Sq Ft | $0.94 |
| What's Included in HOA Fee? | Building & Grounds, Cable TV, Car Wash, Clubhouse, Concierge, Courtesy Patrol, Gym, Insurance Common Area, Limited Access, On Site Guard, Outdoor Kitchen, Partial Utilities, Pet Run, Porter, Private Garage, Recreational Facilities, Storage Outside of Unit, Trash Removal, Valet Parking, Water and Sewer |
| Amenities | Montebello |
| --- | --- |
| Fitness Room/Gym | Yes |
| Pool | Yes |
| Pool: Heated | Yes |
| Pool: Lap Size | Yes |
| Pool: Indoor | No |
| Pool: Hot Tub/Jacuzzi | Yes |
| Party/Gathering Room | Yes |
| Concierge | Yes |
| Valet | Yes |
| Porter | Yes |
| On Site Manager | Yes |
| Balconies Available? | Yes |
| Electric Car Option? | No |
| Tennis Courts | No |
| Extra Security? | Yes |
| Security | Yes |
| Guest Rooms Available? | No |
| Rooftop Deck/Terrace | Yes |
| Outdoor Kitchen | Yes |
| Gas Cooktop Available? | No |
| Storage Unit Option | Yes |
| Sauna | Yes |
| Business Center | Yes |
| Building Generator | Yes |
---
Montebello Condo Sales Trends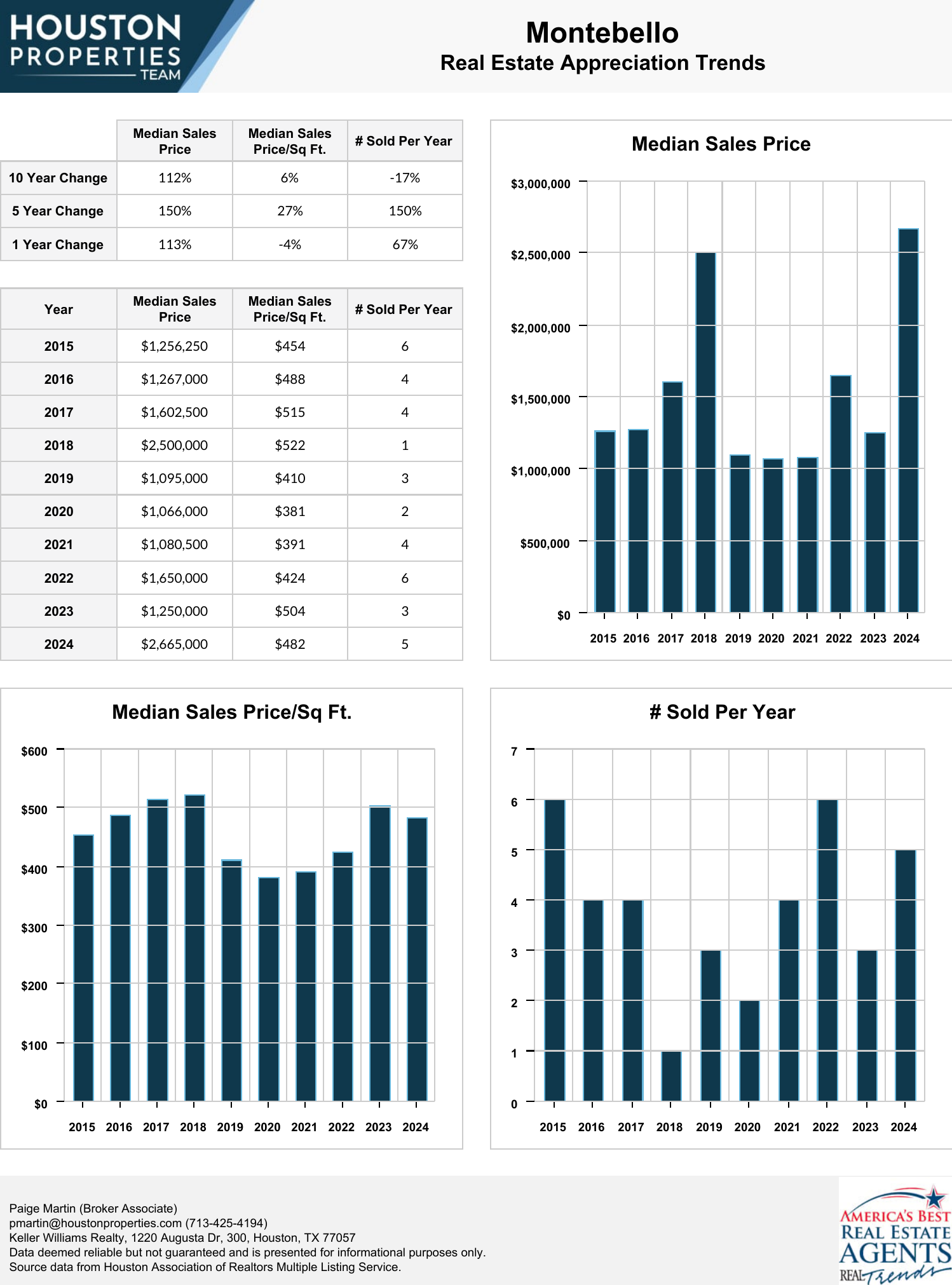 ---
How To Find Montebello In Houston
| Commute Time | Montebello |
| --- | --- |
| Downtown (min) | 20 |
| Med Ctr (min) | 20 |
| Energy Corridor (min) | 25 |
| Galleria (min) | 5 |
Highlights
Montebello
Run / Bike Trails
- Memorial Park Hike and Bike Trails
- Memorial Park Green Ridge Trail
- Arboretum Lake
- Post Oak Park
- Grady Park
- Martin Debrovner Park
- Gerald D. Hines Waterwall Park
Nearby Retail / Dining
Retail:

- Uptown Park
- Post Oak Plaza Shopping Mall
- River Oaks District Shopping Mall
- Highland Village Shopping Mall
- Sage Plaza Shopping Mall
- Richmond Square
- The Galleria

Dining:

- McCormick & Schmick's Seafood & Steaks
- Merus Grill
- Étoile
- Bloom & Bee
- King Ranch Texas Kitchen
- Adair Kitchen
- Mastro's Steakhouse
- Birdies

Entertainment:

- Belvedere
- The Black Swan Nightclub
- Craft F&B
- The Railyard Houston
- Ducky McShweeney's

Groceries:

- Whole Foods Market
- Randalls
- Target Grocery
- Woodway Food Group
- Hebert's Specialty Meats
- H-E-B Grocery store
| MetroRail Access | Montebello |
| --- | --- |
| # Blocks to MetroRail | N/A |
| Nearest MetroRail Stop | N/A |
---
Montebello Pet Policies & Information
| Commute Time | Montebello |
| --- | --- |
| Pet Area/Courtyard | Yes |
| Pet Area / Unique Pet Features | Secured courtyard area |
| Max # Animals | 2 |
| Breed Restriction | None |
| Weight Limit | Max 40 lbs |
---
Montebello Best Realtor Insights
The Montebello is a premier high-rise near Galleria and Tanglewood Areas. It places its residents at the center of world-class retail and entertainment landmarks.
Built in 2003, The Montebello was designed by Houston-based developer Giorgio Borlenghi. The same developer behind Villa D'Este, Four Leaf Towers, and Belfiore.

Standing 30 stories tall, Montebello has only four units per floor. This provides residents with large living spaces ranging from 2,000 to more than 4,800 square feet. Montebello features 98 units with two-level penthouse units in total.

The luxury condo building is a few steps away from Uptown Park, north of the Galleria/Uptown area.

Located along Uptown Park Blvd, Montebello has easy access to major streets such as Loop 610 and Post Oak Blvd,

The Montebello is 15 minutes away from Energy Corridor and other central business districts.

Tanglewood, one of Houston's most expensive neighborhoods, is less than a mile away from Montebello. The beautiful wooded neighborhood is home to former US Presidents, celebrities, and CEOs.

Lush green spaces and outdoor retreats in Memorial Park are also minutes away from Montebello condos for sale.

Building amenities include a fitness center, clubhouse, garden, heated pool & spa. The condo also has valet parking, a porter, a staffed gate, and 24-hour concierge service.

Unit amenities include 10-foot ceilings, kitchens with upscale appliances, and large balconies. Other unique features include jacuzzi tubs with outside views and dual-pane windows.

Prices for Montebello condos for sale are between $800,000 to more than $2,500,000.
---
Montebello Condominium Reviews
Montebello: Mass Transit Options And Access
---
Galleria is one of Houston's Most Accessible Neighborhoods Located along two major freeways, Galleria provides residents quick access to key Inner Loop hubs.
Galleria residents enjoy high-rise living near world-class shopping and entertainment centers. These include popular landmarks like The Galleria Mall and Uptown Park, to name a few. Residents are also a few minutes away from hundred of restaurants, parks, and shops.
Popular Neighborhood Venues: Galleria Mall, Galleria Business District, Uptown Park
Top Ranked Restaurants Nearby: Etoile, Peli Peli, Chama Gaucha, Pappas Bros, Truluck's, Kenny & Ziggy's, Caracol, Capital Grille, Masraff's
Grocery Stores: Whole Foods, Grocery's & More, Randall's
Trails & Parks: Waterwall Park
---
Montebello: Maps And Directions
---
Located within Galleria, Four Leaf Towers sits along San Felipe Street. The Galleria area is located south of the Memorial area and the Memorial Villages, west of Memorial Park and Afton Oaks, east of Briarmeadow, and north of Bellaire.
Located about 6 miles west of Downtown Houston, Montebello is within the bustling Galleria/Uptown area. The Galleria sits south of Tanglewood, east of Briargrove, west of Afton Oaks, and north of Bellaire.
Galleria/Uptown is one of Houston's business districts. The galleria features about 24 million square feet of office space and 5 million square feet of retail space.
Upscale boutiques, classy diners, and other entertainment hubs line the streets of Uptown Houston. Here, residents are steps away from a variety of dining, retail, and entertainment options.
The Galleria/Uptown area in Houston bears a 77098 Harris County zip code. (View Houston zip code map.)
---
Montebello: School Zoning Information
---
Montebello is located near the Galleria neighborhood. Galleria neighborhood is zoned to the Houston Independent School District (HISD).
Montebello residents can send their children to the following schools:
Briargrove Elementary School at 6145 San Felipe St. Briargrove is an International Baccalaureate School that offers IB Primary Years Programme(PYP). Apart from that, the school also features enrichment classes in music, science lab, art, and critical thinking lab, among others.

Grady Middle School at 5215 San Felipe St. Established in 1929, Grady Middle School offers several academic programs, including core enrichment, Gifted, and Talented. Grady also has baseball, basketball, cheerleading, wrestling, volleyball, and soccer teams, among others.

Westside High School at 14201 Briar Forest Dr. As the Houston ISD's Magnet School for Integrated Technology, Westside's curriculum centers on five aspects: Media Relations, Applied Science/Health Science, Fine Arts, Business, and Computing Sciences.
To find an updated listing of all Montebello real estate zoned to any specific public school, please email Paige Martin at PMartin@HoustonProperties.com with the property preference and budget that you're working with.
Note: For more detailed information on specific schools zoned to different Montebello areas, please refer to our Houston Schools Guide OR email me.
Note: School zoning tends to change from year to year. The information provided above is accurate but not guaranteed. Please double-check by visiting the school's website.
---
Best Houston Real Estate Resources
---