Guide to Park Square Condo Houston
Built in 1981, located in Inner Loop, see Park Square condos for sale, amenities, pictures & reviews.
Park Square Executive Summary
Park Square is a 22-story luxury Highrise condo with 117 units, 20 of which are penthouse units. It boasts one of the largest, non-penthouse floor plans of 2157 sq. ft. per unit with breathtaking views to the south, east, and west and two balconies on the 8th floor. Located close to Memorial Park, it's a favorite among outdoor fitness enthusiasts.
The building features:
LARGE FLOOR PLANS: Each condo unit has 2 spacious bedrooms with the master suite furnished with big closets and 2 full bathrooms. It has a very wide living room, a wet bar, and a dining area. Also included in the unit is a utility room furnished with a washer and dryer.

ACCESS TO MAJOR CENTERS: Park Square One condo is only 10 minutes away from The Galleria, one of Houston's main business and retail centers. This area features more than 23 million square feet of office space and 5 million square feet of retail space. It's also one of the biggest malls in the country, is home to hundreds of retail outlets, boutiques, bars, cafes, and restaurants. Only a few minutes away from the bustling and exciting. It's also one of the biggest malls in the country, home to hundreds of retail outlets, boutiques, bars, cafes, and restaurants. Only a few minutes away from the bustling and exciting Energy Corridor and Downtown, the heart of Houston.

SPECIAL AMENITIES: This building has a business room useful for meetings and conferences that also serves as a library. It also has two party rooms with bar and kitchen amenities. Outdoor grills and gardens with shaded decks provide greenery for the pleasure of its residents.

SPORTS, RECREATION & OTHER AMENITIES: Residents also enjoy a 24/7 manned at the gate security service. They also have a concierge and a marble-floored reception lobby where you will feel like you are in a 5-star hotel. Each tenant has two covered parking areas serviced with an elevator. Available for use are the sauna/hot tubs, heated showers by the workout room equipped with separate lockers for men & women. An Olympic-size heated swimming pool and a lighted lawn tennis court are also available for use of residents.

PLENTY OF OUTDOOR ACTIVITIES NEARBY: It's 10 minutes away from Memorial Park, It is popular and favored among bikers, joggers/hikers, and trail runners who can enjoy the 2.88 miles of recreational trails along the bayou. Memorial Park features a 300-acre golf course that's rated among the top in the entire country. It also has facilities for lawn tennis and swimming.
To get personal advice on buying or selling a Park Square condo, contact Paige Martin, one of Houston's best condo realtors and is one of the top-ranked Realtors in the United States.
"The entire Houston Properties team made the home buying a breeze. As first-time homebuyers, my wife and I were a bit nervous going into the process but the HP team made us feel comfortable with their knowledgeable guidance, proactive communication, and friendly demeanor. I definitely recommend them." - Jonathan Prim (Google Review)
---
Table of Contents
---
Park Square Condo Amenities
| Information | Park Square |
| --- | --- |
| Address | 49 Briar Hollow Lane |
| City | Houston |
| Zip | 77027 |
| Region | Inner Loop |
| Year Built | 1981 |
| Construction Status | Complete |
| Developer | Fratelli Designs |
| # Floors | 22 |
| # Units | 117 |
| Parking | Assigned, Below Ground |
| Guest Parking | None |
| HOA | Park Square |
| --- | --- |
| HOA / Sq Ft | $0.78 |
| What's Included in HOA Fee? | Building & Grounds, Cable TV, Clubhouse, Concierge, Fireplace/Fire pit, Gym, Insurance Common Area, Limited Access, Lounge, On Site Guard, Other, Outdoor Fireplace, Outdoor Kitchen, Partial Utilities, Pet Run, Porter, Recreational Facilities, Storage Outside of Unit, Trash Removal, Valet Parking, Water and Sewer |
| Amenities | Park Square |
| --- | --- |
| Fitness Room/Gym | Yes |
| Pool | Yes |
| Pool: Heated | Yes |
| Pool: Lap Size | Yes |
| Pool: Indoor | No |
| Pool: Hot Tub/Jacuzzi | Yes |
| Party/Gathering Room | Yes |
| Concierge | Yes |
| Valet | No |
| Porter | Yes |
| On Site Manager | Yes |
| Balconies Available? | Yes |
| Electric Car Option? | No |
| Tennis Courts | Yes |
| Extra Security? | Yes |
| Security | Yes |
| Guest Rooms Available? | No |
| Rooftop Deck/Terrace | No |
| Outdoor Kitchen | No |
| Gas Cooktop Available? | No |
| Storage Unit Option | Yes |
| Sauna | Yes |
| Business Center | Yes |
| Building Generator | No |
---
Park Square Condo Sales Trends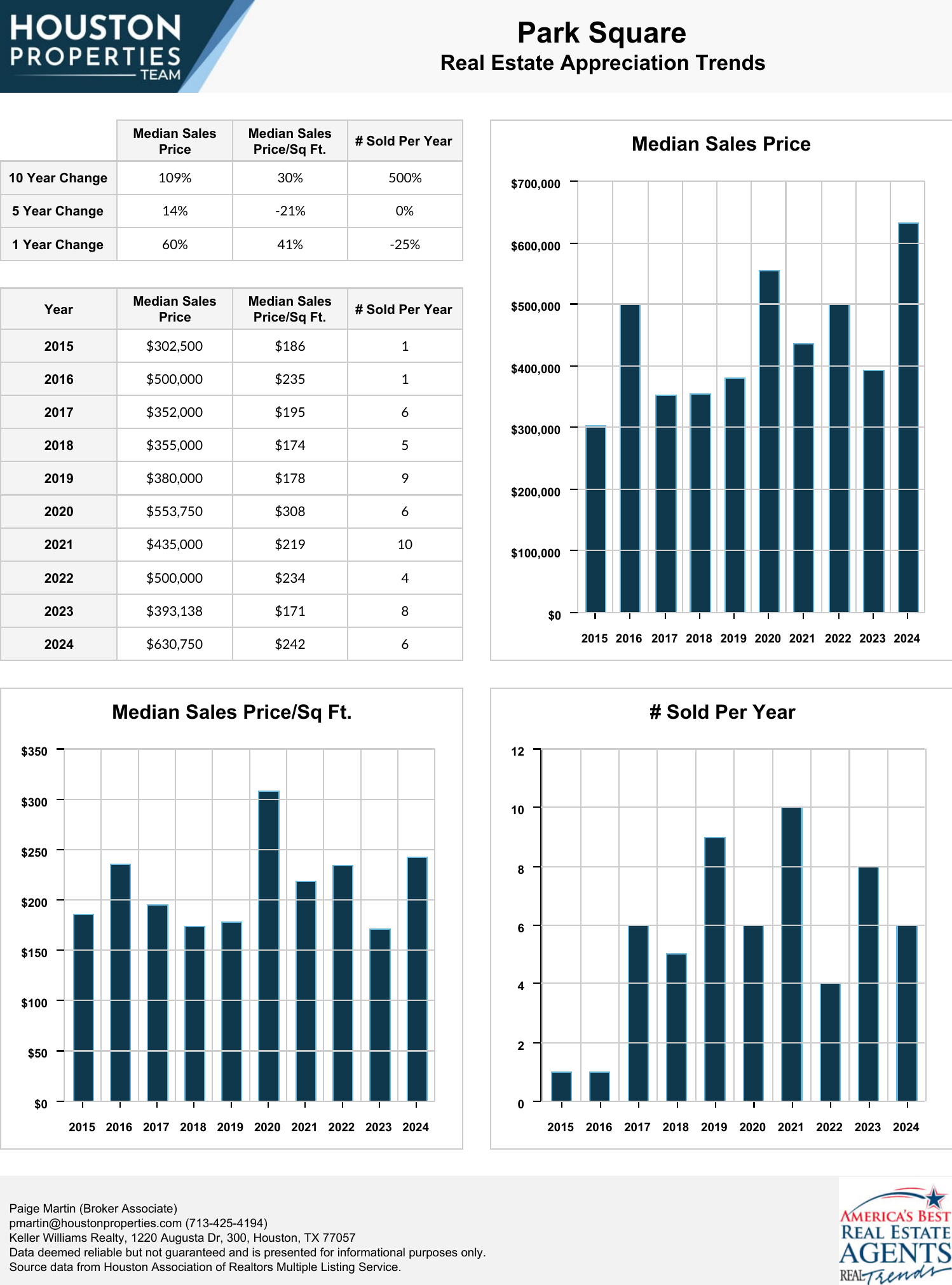 ---
How To Find Park Square In Houston
| Commute Time | Park Square |
| --- | --- |
| Downtown (min) | 15 |
| Med Ctr (min) | 15 |
| Energy Corridor (min) | 15 |
| Galleria (min) | 5 |
| Highlights | Park Square |
| --- | --- |
| Run / Bike Trails | Memorial Park Hike & Bike Trailhead, Cullen Running Trail Center |
| Nearby Retail / Dining | Less than 15 minutes away from the following establishments: Ouisie's Table, The Remington Bar, Jackie in the Box, Mastro's Steakhouse, Target, IPIC Theaters, Central Market, Dick's Sporting Goods, Steak 48, The Galleria, Kroger Pharmacy, Trader Joe's, Goodwill Houston Select Center. |
| MetroRail Access | Park Square |
| --- | --- |
| # Blocks to MetroRail | N/A |
| Nearest MetroRail Stop | N/A |
---
Park Square Pet Policies & Information
Commute Time
Park Square
Pet Area/Courtyard
No
Pet Area / Unique Pet Features
No pets allowed condo.
Sent an email to condo HOA twice. Still waiting for their reply for verification of this information.
The source of information is https://www.har.com/park-square/highrise_60
Max # Animals
No pets allowed condo.
Breed Restriction
No pets allowed condo.
Weight Limit
No pets allowed condo.
---
Park Square Condominium Reviews
Park Square Condo Houston TX Location Overview
Park Square Condominiums is located inside the Houston Loop near Galleria and Memorial Park. Downtown Houston is home to a large business district with over 200,000 jobs. Workers and professionals Downtown have the luxury of having just a few minutes separating their workplace and home, should they decide to own one of the condos for sale in Park Square Condominiums.
Because of the high-rise condo tower's nearness to Galleria, its residents also don't have to travel far to access first-class restaurants, cafes, hotels, bars, and movie theatres. Department stores, shopping malls, grocery stores, pharmacies, florists, and banking offices are all also a few minutes away from the condos in Park Square.
Park Square Condos is also close to Memorial Park, one of the largest parks in the country and a favorite place among many Houstonians due to its massive wooded areas, long jogging trails, and relaxing and scenic spots.
Park Square Condo Houston TX: Features And Amenities
Completed in 1980, Park Square Condominiums have 117 condos for sale within its 22 floors. It also has 22 luxury penthouses, all boasting magnificent views of the tree-laden Uptown and Downtown Houston skyline.
The building has a tight security system, with two security guards manning the residences round-the-clock. A doorman is also available to assist residents and guests 13 hours per day.
Park Square also offers attractive amenities, including a party room with a kitchen and bar, a conference room with a library, a reception area with hard marble floors, and a workout room. Steam showers, sauna, and whirlpool tubs are also available, with separate locker rooms for men and women.
The highlight of the amenities list, however, would have to be its Olympic-size heated pool. While it is common for most buildings with condos for sale in Houston to have swimming pools, Park Square Condo's pool is still quite special.
---