Guide to The Hawthorne Condo Houston
Built in 2023, located in Galleria, see The Hawthorne condos for sale, amenities, pictures & reviews.
A Pelican Builders development, The Hawthorne is a 17-story luxury condominium featuring cutting-edge interior and exterior designs. It sits near Uptown Houston and Memorial Park and boasts:
NEW HIGHRISE DEVELOPMENT: The Hawthorne development broke ground in 2021. It features 18 floors and 30 units. Making it Houston's newest luxury highrise from Pelican Builders.

LUXURY AMENITIES: Features include a 67-ft. swimming pool and outdoor community grill. There is also a resident coffee bar, guest suites, and fitness centre. Each unit has preinstalled smart home technology.

CONVENIENT LOCATION: The Hawthorne is a few minutes away from the Galleria and Memorial Park. This gives residents easy access to world-class shopping, dining, and entertainment centres. Residents also have plenty of outdoor activities.

EXCELLENT RETAIL & ENTERTAINMENT: The Hawthorne is a mile away from The River Oaks District. It is a thrilling 14-acre outdoor retail space with meticulously landscaped streets. It has 60 upscale boutique shops, fine dining, streetside cafes and, the iPic Theater.

EXCLUSIVITY: The Hawthorne lies within one of Houston's most expensive neighbourhoods. It is one of the most lavish condos in the area with units available starting at $1.3M. Unit sizes vary from 1,517-4,508 sq. ft., giving homeowners large living spaces with privacy and exclusivity.
Buying a condo in The Hawthorne can be tricky given that the building is new construction. There is no relevant sales trend history, and the high-class services and amenities suggest higher HOA fees. A Hawthorne condo buyer would benefit from a good realtor's advice, especially on how the building and unit compare to other residential condos in the district.
To get personal advice on buying or selling a Hawthorne unit, contact Paige Martin, one of Houston's best condo realtorsand one of the top-ranked Realtors in the United States.
"I can't recommend the Houston Properties Team enough. Working with them has been a painless and wonderful experience and would recommend them to any of our friends and family. She and the Houston Properties Team guided us flawlessly through our first home purchase. There is no other person I would trust with our next home purchase after how amazing this process has been." - Chad (Google Review)
---
Table of Contents
---
The Hawthorne Condo Amenities
| Information | The Hawthorne |
| --- | --- |
| Address | 5656 San Felipe Street |
| City | Houston |
| Zip | 77056 |
| Region | Galleria |
| Year Built | 2023 |
| Construction Status | New (Broken Ground) |
| Developer | Pelican Builders |
| # Floors | 17 |
| # Units | 67 |
| Parking | Private Garage |
| Guest Parking | Valet |
| HOA | The Hawthorne |
| --- | --- |
| HOA / Sq Ft | $0.8 |
| What's Included in HOA Fee? | Building & Grounds, Clubhouse, Concierge, Fireplace/Fire pit, Gas, Gym, Insurance Common Area, Limited Access, Lounge, On Site Guard, Other, Outdoor Fireplace, Outdoor Kitchen, Partial Utilities, Pet Run, Pet Washing Station, Porter, Private Garage, Recreational Facilities, Storage Outside of Unit, Trash Removal, Valet Parking, Water and Sewer |
| Amenities | The Hawthorne |
| --- | --- |
| Fitness Room/Gym | Yes |
| Pool | Yes |
| Pool: Heated | No |
| Pool: Lap Size | Yes |
| Pool: Indoor | No |
| Pool: Hot Tub/Jacuzzi | No |
| Party/Gathering Room | Yes |
| Concierge | Yes |
| Valet | Yes |
| Porter | Yes |
| On Site Manager | Yes |
| Balconies Available? | Yes |
| Electric Car Option? | Yes |
| Tennis Courts | No |
| Extra Security? | Yes |
| Security | Yes |
| Guest Rooms Available? | Yes |
| Rooftop Deck/Terrace | Yes |
| Outdoor Kitchen | Yes |
| Gas Cooktop Available? | Yes |
| Storage Unit Option | Yes |
| Sauna | No |
| Business Center | Yes |
| Building Generator | Yes |
---
The Hawthorne Condo Sales Trends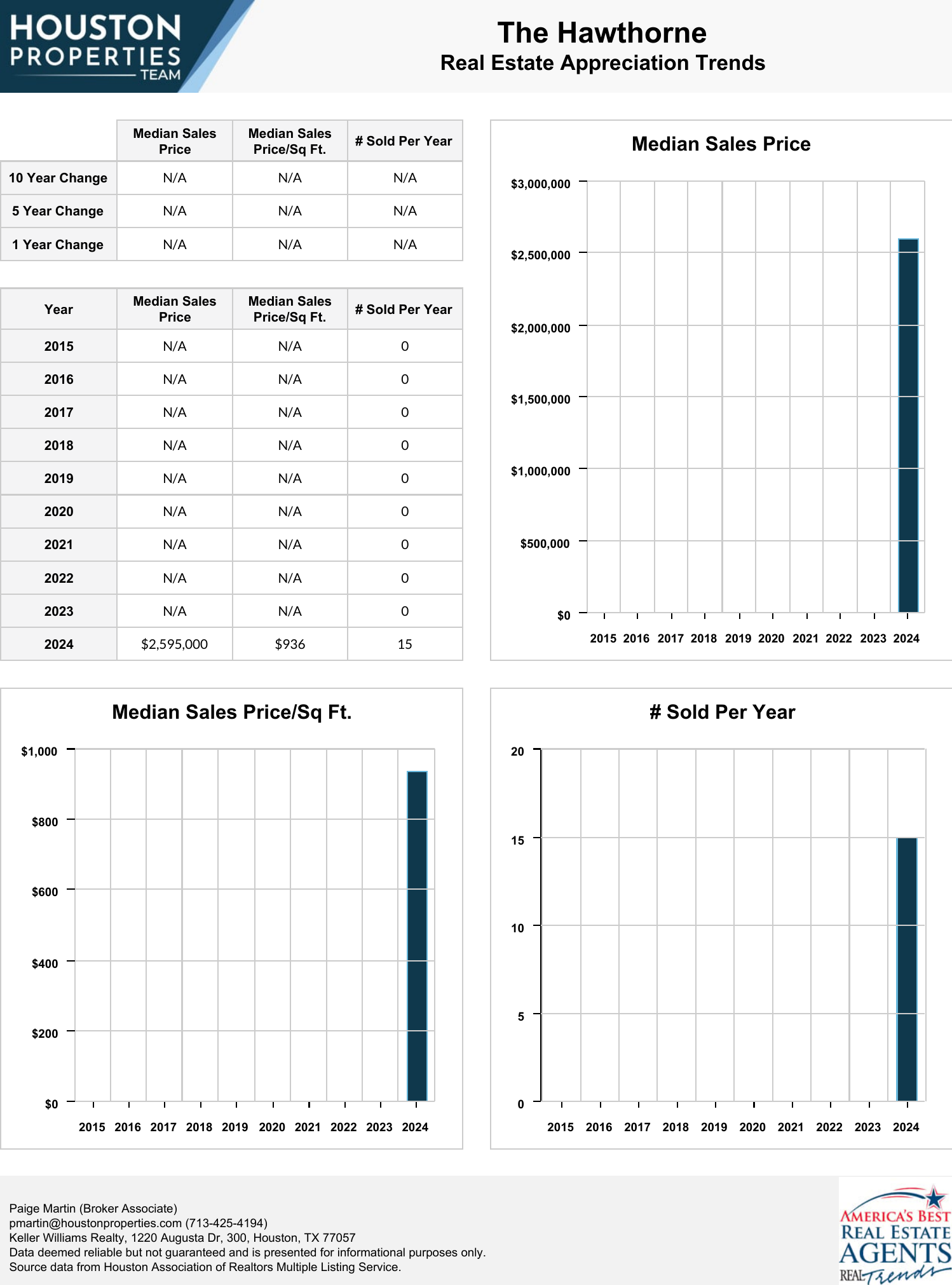 ---
How To Find The Hawthorne In Houston
| Commute Time | The Hawthorne |
| --- | --- |
| Downtown (min) | 20 |
| Med Ctr (min) | 20 |
| Energy Corridor (min) | 20 |
| Galleria (min) | 5 |
| Highlights | The Hawthorne |
| --- | --- |
| Run / Bike Trails | Houston Country Club, Memorial Park, Tanglewood Grady Park |
| Nearby Retail / Dining | Uptown Houston District, the Galleria, Uptown Park, BLVD Place, River Oaks District, H-E-B, Dish Society, Randalls, Adair Kitchen |
| MetroRail Access | The Hawthorne |
| --- | --- |
| # Blocks to MetroRail | N/A |
| Nearest MetroRail Stop | N/A |
---
The Hawthorne Pet Policies & Information
| Commute Time | The Hawthorne |
| --- | --- |
| Pet Area/Courtyard | Yes |
| Pet Area / Unique Pet Features | Pet Washing Station, Pet Run, Terrace Pet Potty |
| Max # Animals | No answer from HOA yet |
| Breed Restriction | No answer from HOA yet |
| Weight Limit | No answer from HOA yet |
---
The Hawthorne Condominium Reviews
No Page
---