Towering over the tree-covered area of Tanglewood west of Houston and just past the Galleria area and Uptown Houston is 20-story high Woodway Place II Condominiums.
Located at 651 Bering Houston, Texas 77057, Woodway Place II Condominiums has 117 condos that feature concrete floors and ceilings, energy efficient double-pane solar bay windows, nine foot ceilings, marble baths, oversized storage closets and spacious balconies.
Note: Woodway Place II, located at 651 Bering Drive, is not to be confused with Woodway Place located at 5001 Woodway, or Woodway Place Atrium located at 661 Bering Drive.
For more information or available Woodway Place II Condos for sale, call Paige Martin at
713-425-4194 or email [email protected]
Woodway Place II Condos For Sale
All Woodway Place II Condo Listings
Woodway Place II Condos Amenities
Woodway Place II Condominiums Location Overview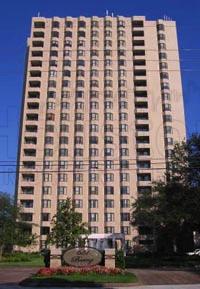 Built in 2003 near Tanglewood and next to upscale Uptown and Galleria area, Woodway Place II Condominiums is a residential midrise condo building that overlooks Downtown Houston, Memorial Park and other Inner Loop neighborhoods. Its Uptown location gives owners of condos in Woodway II a short travel time to the big office complex within the area while also being close to the peaceful, relaxing and wooded neigborhood of Tanglewood.
Woodway Place Atrium condos for sale are also near the exciting Houston corner, the Galleria. This is where the Galleria Mall (one of the largest malls in the country) and European architecture-inspired Uptown Park shopping center, along with numerous world-class restaurants, trendy bars, and other commercial establishments, can be found.
Memorial Park is also minutes away from Woodway II giving owners of its condos for sale easy access to one of the largest parks in the country. Memorial Park is well-known locally for its wooded areas, wounding jogging trails, and "naturesy" scenic spots.
Woodway Place II Condominiums For Sale Features And Amenities
Woodway Place II has one of the more modernly-designed condo highrise in the Bering Drive area in Houston. Its architectural aesthetics, reaching 20 floors upwards to the sky, carry a slick and layered structural design. All condos for sale in Woodway Place II come with private balconies and this is effectively worked in to the building's facade, giving it an imposing and scaled look, while at the same time providing its residents a venue to enjoy the Downtown, Uptown, Tanglewood, and Memorial Park views.
Woodway Place II condos for sale feature concrete floors and ceilings, energy efficient double-pane solar bay windows, nine foot ceilings, marble baths, and spacious storage closets. Building amenities include 24-hour controlled access, multi-video camera surveillance, an outdoor swimming pool, tennis courts, party room, assigned parking (with ample guest parking), convenient entrance with a porte-cochere and concierge, doorman and porter services.
For more information on available Woodway Place II condos, please contact Paige Martin at 713-425-4194 or email [email protected]
Woodway Place II Condos Amenities
Concierge
Pool
Party Room
Storage Space
Tennis Court