Guide to 2727 Kirby Condo Houston
Built in 2008, located in Inner Loop, see 2727 Kirby condos for sale, amenities, pictures & reviews.
2727 Kirby at River Oaks is a 400-ft. high-rise built in 2008. It is also a mainstay on Houston's premier luxury condo buildings list.
EXCLUSIVITY: 2727 Kirby is one of the city's top-rated luxury buildings (along with Montebello, Huntingdon, and Villa D'Este) and has one of the highest resident satisfaction rates.

LUXURY STATUS AND RESORT-LIKE AMENITIES: The building features an Olympic-size infinity heated pool overlooking downtown, a 5-hole putting green, a party/conference room, a fitness center, and a private spa. Select units also have personal balconies and wine cellars.

PET-FRIENDLY: With its own private dog park and open pet policies, 2727 Kirby is one of the most pet-friendly luxury condos in Houston. The building allows two dogs and two cats, with a limit of 55 lbs for each pet.

BUSINESS DISTRICT ACCESSIBILITY: 2727 Kirby residents are minutes away from Houston's hotspots. Some of these are Texas Medical Center, the world's largest medical center, and Galleria, known as Houston's shopping mecca. The building is also situated near main roads like Westheimer Road and Richmond Avenue. This presents a relatively easy commute among residents.

FANTASTIC UPPER KIRBY LOCATION: The building is located in the prestigious Upper Kirby neighborhood, one of Houston's most accessible neighborhoods. The district has more than 150 Yelp-rated retail, dining, and entertainment establishments located along the exciting Kirby Drive, Shepherd Drive, and Westheimer Road.
Buying the 2727 Kirby can be tricky for several reasons. First, as a newer condo in Houston, there is less trend data available. In addition, a number of deals are done off the public market – agents without access to this can't miss deals and improperly value units. Also, higher floor units have larger floor plans (unique to this building's design), and some listing agents include balcony space in their square footage while others don't (giving unfair value estimates to unaware buyers). Lastly, certain views are superior to others – this affects the value of different units (both positively and negatively.)
To get personal advice on buying or selling a 2727 Kirby condo, contact Paige Martin, one of Houston's best condo realtors and one of the top ranked Realtors in the United State.
"We were moving from Virginia, and Houston Properties kept in touch with us for almost a year until we were ready to relocate. They guided us through the entire process and were very kind, friendly, and knowledgeable. The sellers' market made the home buying process very stressful for us, but they were able to manage that and keep us focused on finding a home we would love. The team was always quick to respond to my numerous emails and texts and sent us daily updates regarding new homes coming on the market. When things could have fallen apart after appraisal, they helped us to negotiate with the seller. Words or the 5-star rating cannot really express the wonderful experience we received from them. We would 100% recommend Houston Properties for your home buying or selling needs!" - Yolanda Hicks (Google Review)
---
Table of Contents
---
2727 Kirby Condo Amenities
| Information | 2727 Kirby |
| --- | --- |
| Address | 2727 Kirby Drive |
| City | Houston |
| Zip | 77098 |
| Region | Inner Loop |
| Year Built | 2008 |
| Construction Status | Complete |
| Developer | Ziegler-Cooper |
| # Floors | 30 |
| # Units | 90 |
| Parking | Above Ground, Private Garage |
| Guest Parking | Valet, Self Park |
| HOA | 2727 Kirby |
| --- | --- |
| HOA / Sq Ft | $1.15 |
| What's Included in HOA Fee? | Building & Grounds, Cable TV, Car Wash, Clubhouse, Concierge, Courtesy Patrol, Gas, Gym, Insurance Common Area, Limited Access, Lounge, Massage Room, On Site Guard, Other, Outdoor Fireplace, Outdoor Kitchen, Partial Utilities, Pet Run, Porter, Recreational Facilities, Sauna, Storage Outside of Unit, Trash Removal, Valet Parking, Water and Sewer |
| Amenities | 2727 Kirby |
| --- | --- |
| Fitness Room/Gym | Yes |
| Pool | Yes |
| Pool: Heated | Yes |
| Pool: Lap Size | Yes |
| Pool: Indoor | No |
| Pool: Hot Tub/Jacuzzi | Yes |
| Party/Gathering Room | Yes |
| Concierge | Yes |
| Valet | Yes |
| Porter | Yes |
| On Site Manager | Yes |
| Balconies Available? | Yes |
| Electric Car Option? | Yes |
| Tennis Courts | No |
| Extra Security? | Yes |
| Security | Yes |
| Guest Rooms Available? | Yes |
| Rooftop Deck/Terrace | Yes |
| Outdoor Kitchen | Yes |
| Gas Cooktop Available? | Yes |
| Storage Unit Option | Yes |
| Sauna | Yes |
| Business Center | Yes |
| Building Generator | Yes |
---
2727 Kirby Condo Sales Trends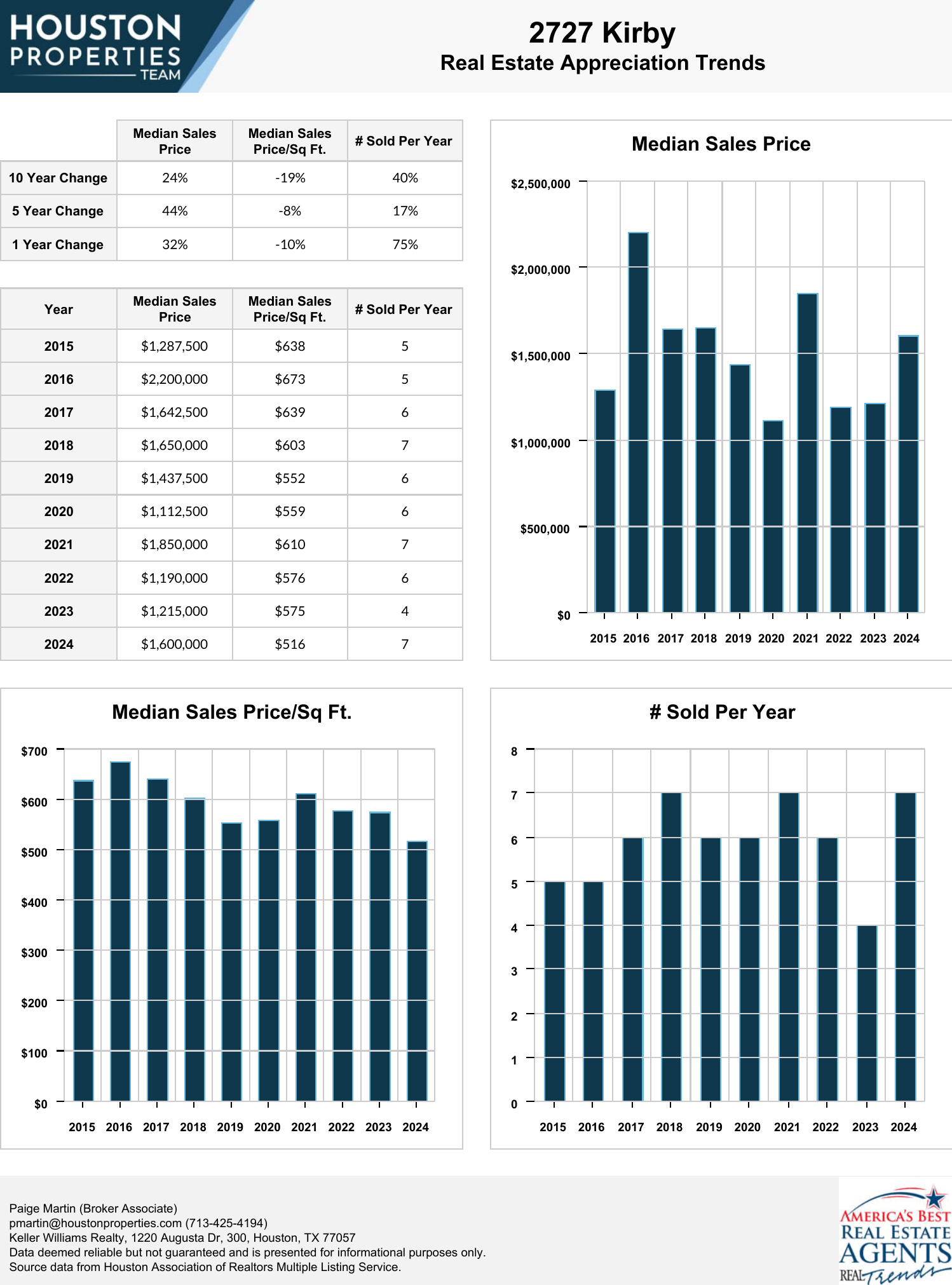 ---
How To Find 2727 Kirby In Houston
| Commute Time | 2727 Kirby |
| --- | --- |
| Downtown (min) | 15 |
| Med Ctr (min) | 10 |
| Energy Corridor (min) | 30 |
| Galleria (min) | 10 |
| Highlights | 2727 Kirby |
| --- | --- |
| Run / Bike Trails | River Oaks neighborhood, Rice University Running trailing |
| Nearby Retail / Dining | Shops At Arrive River Oaks Mall (Tootsies, Eddie V's, Pondicheri), Whole Foods, The Centre At River Oaks Shopping Mall |
| MetroRail Access | 2727 Kirby |
| --- | --- |
| # Blocks to MetroRail | N/A |
| Nearest MetroRail Stop | N/A |
---
2727 Kirby Pet Policies & Information
| Commute Time | 2727 Kirby |
| --- | --- |
| Pet Area/Courtyard | Yes |
| Pet Area / Unique Pet Features | Outdoor, secured pet park monitored by cameras. Staff will walk out with you at night if desired. |
| Max # Animals | 2 dogs + 2 cats. |
| Breed Restriction | None |
| Weight Limit | Max 55 lbs |
---
2727 Kirby Condominium Reviews
12 Things 2727 Kirby Condo Buyers Should Know
Located in Upper Kirby, 2727 Kirby is one of Houston's luxury high rises.
Construction for the 400-foot, Ziegler Cooper-designed residential building started in 2006.

2727 Kirby condominiums was completed in late 2008.

It features 93 units spread across 30 floors.

The building is centrally located along Kirby Drive, just south of Westheimer Road.

2727 Kirby is minutes away from several restaurants, bars, cafes, retail stores and boutiques. Premiere retail and entertainment centers like Highland Village, River Oaks Shopping Center, and the Galleria.

The condo building also has easy access to main Houston roads like Westheimer Road, Kirby Drive, Richmond Avenue, Buffalo Speedway, and Southwest Freeway.

Thanks to its great location, 2727 Kirby residents are highly accessible to and from key Houston districts like the Galleria/Uptown area, Downtown, and the Medical Center.

2727 Kirby residents are zoned to some of the HISD's top-rated schools, including Poe Elementary, Lanier Middle School, and Lamar High School.

Building amenities include a concierge and valet service, private and semi-private elevators, large balconies, a heated infinity pool, a putting green, a fitness center, and a theater room, among others.

Each 2727 Kirby condo unit are equipped with Italian Snaidero cabinetry, European appliances, and other luxury features and fixtures.

Units at 2727 Kirby at River Oaks generally feature 2- to 3-bedroom floor plans. Sizes range from 2,400 to more than 4,500 square feet.
Prices for 2727 Kirby condos for sale are typically priced between $1,000,000 and $2,000,000 with units ranging up over $3,000,000.
2727 Kirby: Mass Transit Options And Access
Upper Kirby is one of Houston's Most Accessible Neighborhoods. Residents have convenient access to the Buffalo Speedway, the Southwest Freeway, Westheimer Road, and Shepherd Drive.
Apart from reaping the benefits of its central location, the neighborhood is also a destination in itself, with its collection of upscale boutiques, fine dining restaurants, bars, and lounges.
Popular Neighborhood Venues: Greenway Plaza, Lakewood Church, Edwards Greenway

Top Ranked Restaurants Nearby: Kata Robata, Fleming's, Grace's, Carrabba's, Mia's, Little Pappasito's

Grocery Stores: Whole Foods, Central Market

Trails & Parks: Levy Park, Menil Park, Weir Park
However, 2727 Kirby is not located very close to the MetroRail.
For buildings with better mass transit options, consider [condos near the METRORail](https://www.houstonproperties.com/houston-condos/highrises-near-metrorail and the downtown, Midtown, Museum District, and Medical Center neighborhoods.
There are nearly 20 bus stops within 6 blocks of the 2727 Kirby. Majority of these stops are along Kirby Dr and Westheimer Rd. The nearest stop is at the corner of 2727 Kirby and Westheimer Rd, about 2 blocks from the building and just 2 minutes by foot.
2727 Kirby Condos: Maps And Directions
Located within Upper Kirby, 2727 Kirby sits along Kirby Drive, just south of Westheimer Road. It is nestled at the heart of one of Houston's hippest districts and is about 4 miles away from Downtown Houston.
Upper Kirby lies north of Southwest Freeway, south of River Oaks, west of Montrose/Neartown, and east of Afton Oaks. Key Houston neighborhoods like the Medical Center and the Galleria are minutes away from the Upper Kirby district.
Residents enjoy relatively easy commutes, as several main roads go through the neighborhood, including Westheimer Road, Kirby Drive, Richmond Avenue, and Buffalo Speedway.
The vibrant mixed-use district features a variety of retail, dining, and entertainment options. Premier shopping destinations like Galleria, Rice Village, River Oaks Shopping Center, Highland Village, and Uptown Park are minutes away.
Business centers like the Greenway Plaza, the Galleria, Downtown and the Medical Center are highly accessible from the neighborhood.
Upper Kirby Houston bears a 77098 Harris County zip code.
2727 Kirby: School Zoning Information
2727 Kirby At River Oaks is located within Upper Kirby. Upper Kirby is zoned to the Houston Independent School District (HISD).
2727 Kirby residents can send their children to the following schools:
Poe Elementary at 5100 Hazard St. Named after the famous author, Edgar Allan Poe Elementary offers a fine arts magnet program, featuring various enrichment classes in dance, music, visual arts, Suzuki violin, and technology. It also offers International Baccalaureate Primary Years Programme (IB PYP).
Lanier Middle School at 2600 Woodhead St. Lanier is located in neighboring Neartown/Montrose and is one of the HISD's International Baccalaureate World schools (IB Middle Years Programme). It offers a Vanguard Magnet/GT program that features classes in foreign languages, algebra, and IPC (Integrated Physics and Chemistry).
Lamar High School at 3325 Westheimer Rd. Located within the Upper Kirby District, Lamar features several academic programs including an IB Diploma Programme, Advanced Placement, and a magnet program for Business Administration. As one of the HISD's International Baccalaureate schools, it offers IB diplomas in 5 languages: French, Chinese, Italian, Russian, and Spanish.
---