Looking To Buy An Isabella At Midtown Condo? You Need To Read This First.
Isabella At Midtown
Looking to buy a condo in Isabella At Midtown? You need to read this.
Do Not Buy A Condo In The Isabella Without Reading This
Isabella At Midtown is a new construction 5-story condo building located at the corner of Main St and Isabella St.
If you're looking to buy a condo in Isabella At Midtown, here are key risk factors you need to consider.
RESALE RISK: Based on the last decade of Midtown resale trends, the price per square foot of The Isabella is materially above the norm. In other parts of Houston, some of the newest condos have resold at up to 32% under developer prices. Since most buildings were just completed, there isn't a robust resale market. Buying a new construction condo from a developer with unproven resale-ability, and when the price per square foot is materially above the market pricing is a risk factor that buyers should take into account.
VIEW LOSS RISK: One of this developer's principal prior projects recently experienced material view loss, which has impacted resale trends in this building. Any buyer considering The Isabella should be aware of the potential for view loss from constructions in Isabella, Cleburne or Main Street.
COMPLETION RISK: So far, 11 of Houston's new condo projects have been cancelled by developers (all of which had received client deposits). If a condo project doesn't make, are you aware of your rights and protections?
DEVELOPER CONTRACTS AND ONE-SIDE AGREEMENTS: The Texas Real Estate Commission provides standard contracts that are used in over 90% of Texas Real Estate Transactions. These contracts are meant to be fair and are drafted to protect both sides. If you are signing a contract with a new developer who does not use a TREC contract, be sure that you are aware of the (usually one-sided) contract clauses and provisions that you are agreeing to that you normally don't have to agree to when buying another property.
Houston is experiencing an unprecedented amount of new condo construction.
Based on prior condo resale trends and the current (expensive) price per square foot rates, it is unlikely that all of the projects will be successful investments for the buyer who may need to resale their unit within a 3-7 year period.
Ensure that you're consulting with your Realtor to help you understand the risks, market pricing, and how to protect yourself when looking at new construction options.
To get personal advice on buying or selling an Isabella At Midtown condo unit, contact Paige Martin, one of Houston's best condo realtors and one of the top ranked Realtors in the United States.
"Paige Martin and her team are THE condo experts in Houston. Paige has literally written the book (The Definitive Houston Condo Buying Guide) about buying a condo in Houston. They know what buildings to avoid, what floor plans to be wary about, and they have relationships to help with off market inventory and sales. If you're considering buying or selling a condo (new construction or one of the current buildings) I would highly recommend you talk to them. You won't find any other Realtor or team who is as knowledgeable as they are about the pro's and con's of Houston's highrise buildings. They are fabulous to work with, are very candid with their advice and will look out for your best interests. I highly recommend the HoustonProperties.com team."
Following are the amenities currently offered at Isabella At Midtown and what the HOA fee covers:
Building Amenities:
Swimming Pool with hot tub
Fitness Center
Owners' lounge with a fully-equipped kitchen and big-screen TV.
Private, reserved parking space
Unit Amenities
Open floor plans
European-inspired interior designs
Engineered wood floors
Carpeted bedrooms
Kitchen appliances
Washer and dryer connections
Isabella's monthly maintenance fee covers shared expenses including common areas' electricity, water and sewage, trash pick up, pest control, and building insurance. It also covers the maintenance of recreation facilities like the swimming pool, fitness center and owners lounge.
See the HOA fee of condo buildings within the Downtown, Midtown and EaDo areas below:
(See Houston Condos: HOA Fees & Amenities)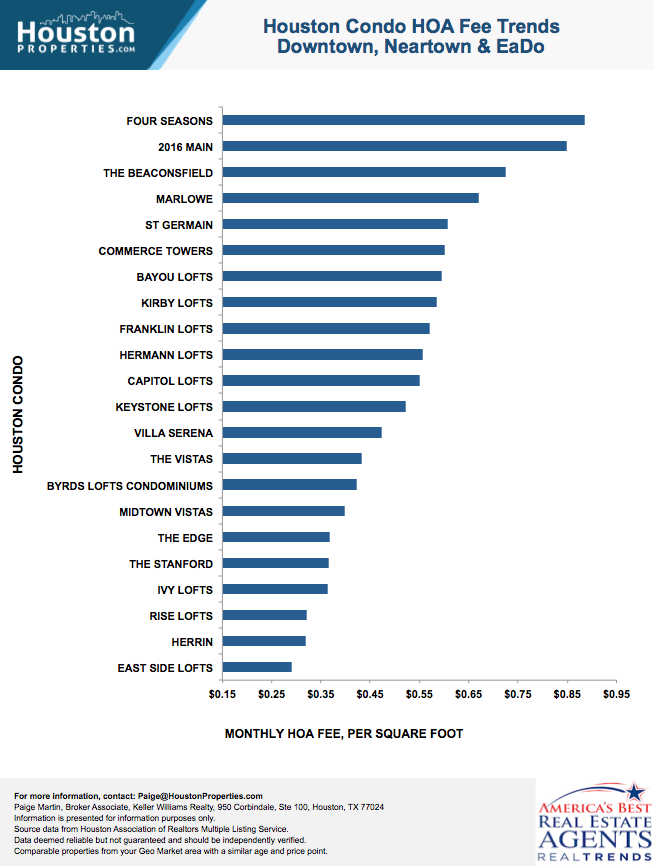 Isabella At Midtown: Comparable Condo Buildings
As a new-construction condo, Isabella At Midtown doesn't have sales trend yet like other Houston luxury condos. (See Condo Appreciation Trends of Houston's Luxury Highrises.)
Looking at the 10-year sales trends of Midtown real estate, the average price per square foot of The Isabella is considerably higher.
In other parts of Houston, some of the newest condos have resold at up to 32% under developer prices. Buying a new construction condo from a developer with unproven resaleability and when the price per square foot is materially above the market is a risk factor that buyers should take into account.
For the most current version of this data, or to get assistance in buying or selling a Houston Condo, please contact Paige Martin, one of the top condo realtors in Houston.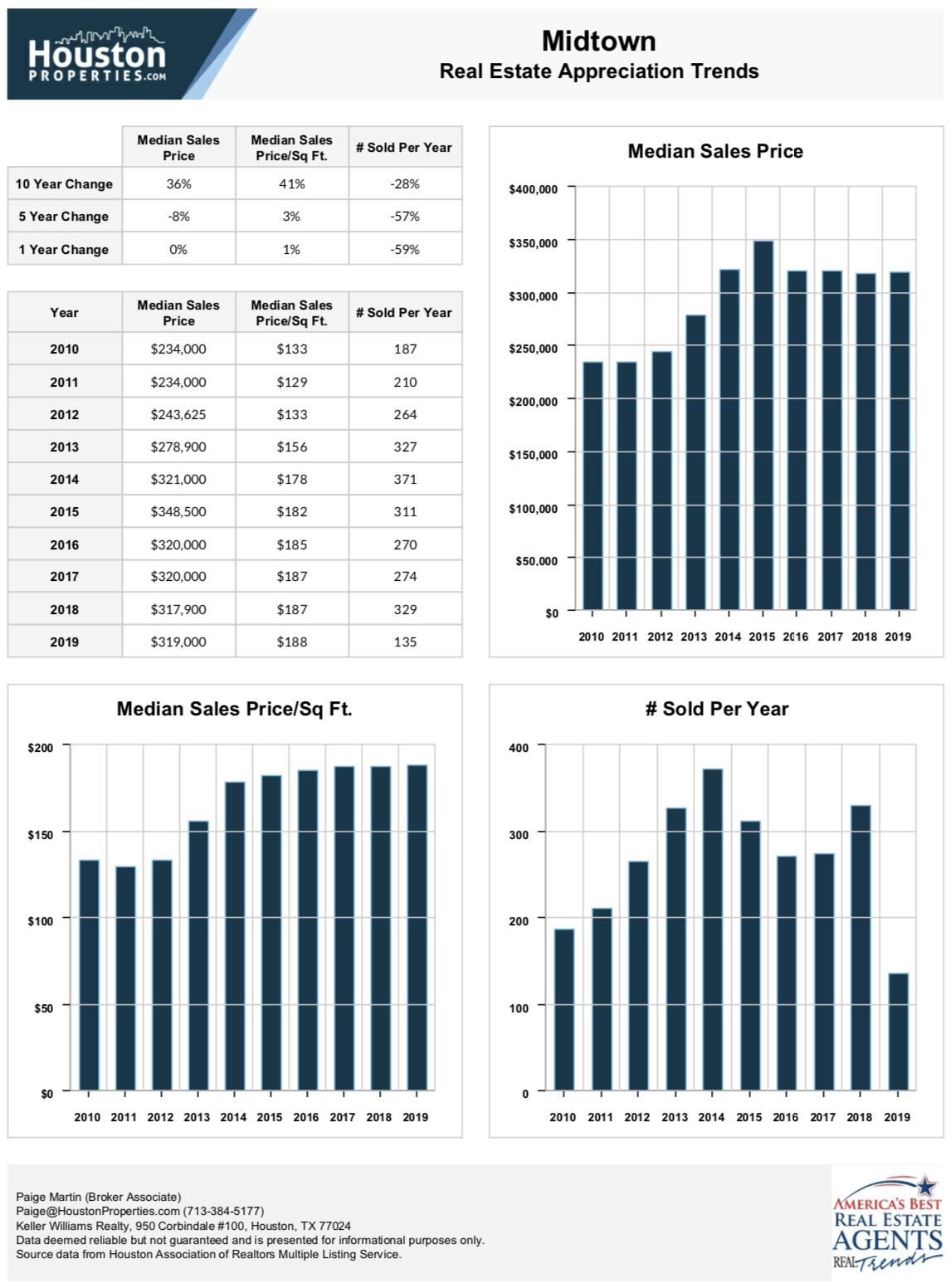 (Data sourced from the Houston Association of Realtors Multiple Listing Service and is deemed reliable but not guaranteed.)
For more information on available Isabella At Midtown condos, please contact Paige Martin at 713-384-5177
or email Paige@HoustonProperties.com
Isabella At Midtown Pet Policies & Management Office
Isabella At Midtown is a pre-construction building and the pet policies are not in place yet.

Isabella At Midtown: Mass Transit Options And Access
Midtown is one of Houston's Most Accessible Neighborhoods. Midtown sits along major freeways (Gulf and Southwest) and near major roads (Main Street, Alabama Street, and Fannin Street), providing residents easy access to Houston's key districts. The MetroRail Red Line also runs through the neighborhood. The nearest MetroRail Stop from Isabella At Midtown is 4 blocks away while the the B-cycle station just outside the building.
Popular for its Midtown lively street scene, Montrose is a mixed-used district with over 350 Yelp-rated establishments. The neighborhood houses several music bars, restaurants, cafes and shops. It is also home to the new Midtown park, The Midtown Art & Theatre Center Houston (MATCH), and Ensemble Theatre.
Popular Neighborhood Venues: Houston Community College, The Midtown Art & Theatre Center Houston (MATCH)
Top Ranked Restaurants Nearby: Brennan's, Breakfast Klub, Reef, Artisans, CoCo's, The Front Porch
Grocery Stores: Randall's, Fiesta
Trails & Parks: Midtown Park, Bethel Park, Peggy's Point Plaza Park, West Webster Street Park, Elizabeth Baldwin Park
The Isabella at Midtown sits at 4001 Main St intersecting Isabella Street in the heart of Midtown. The 617-acre district is located southwest of Downtown Houston and northeast of the Museum District.
Located less than 2 miles north of Isabella At Midtown, Downtown houses the headquarters of several prominent companies. It is home to more than 3,000 businesses with more than 150,000 employees.
The Midtown Art & Theatre Center Houston (MATCH), located less than a mile from Isabella At Midtown, is a $25M arts complex that features performing arts space, gallery and dining venues.
Midtown real estate have 77002, 77004, and 77006 Harris County zip codes. (View Houston zip code map.)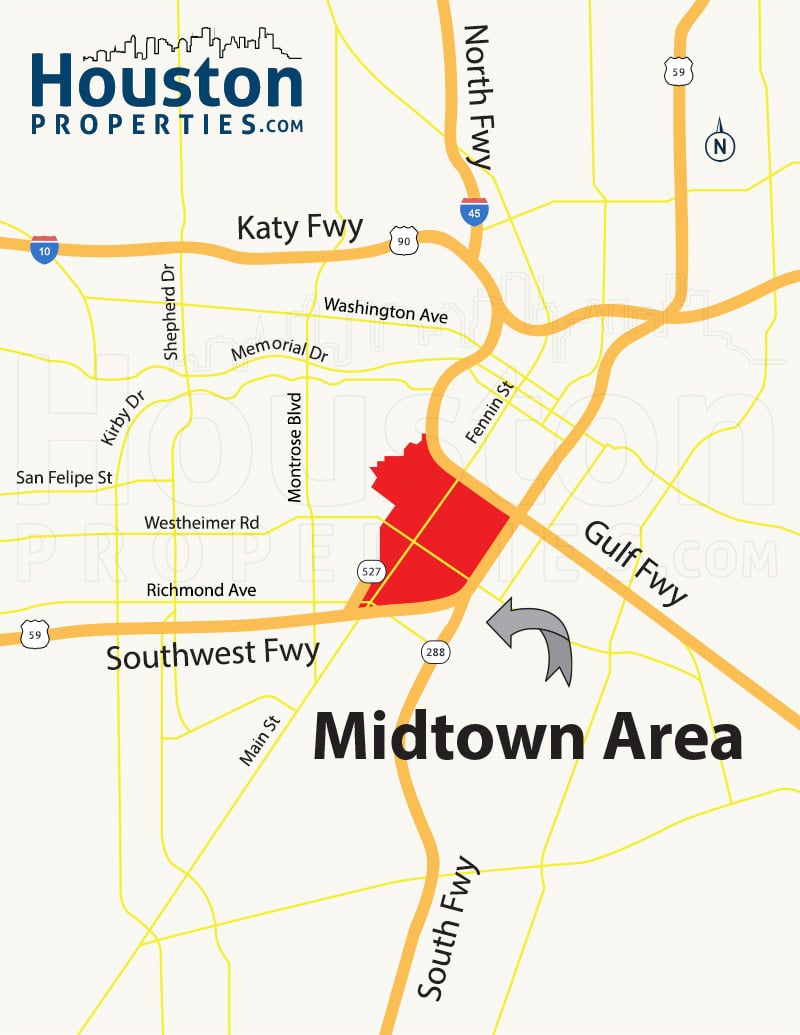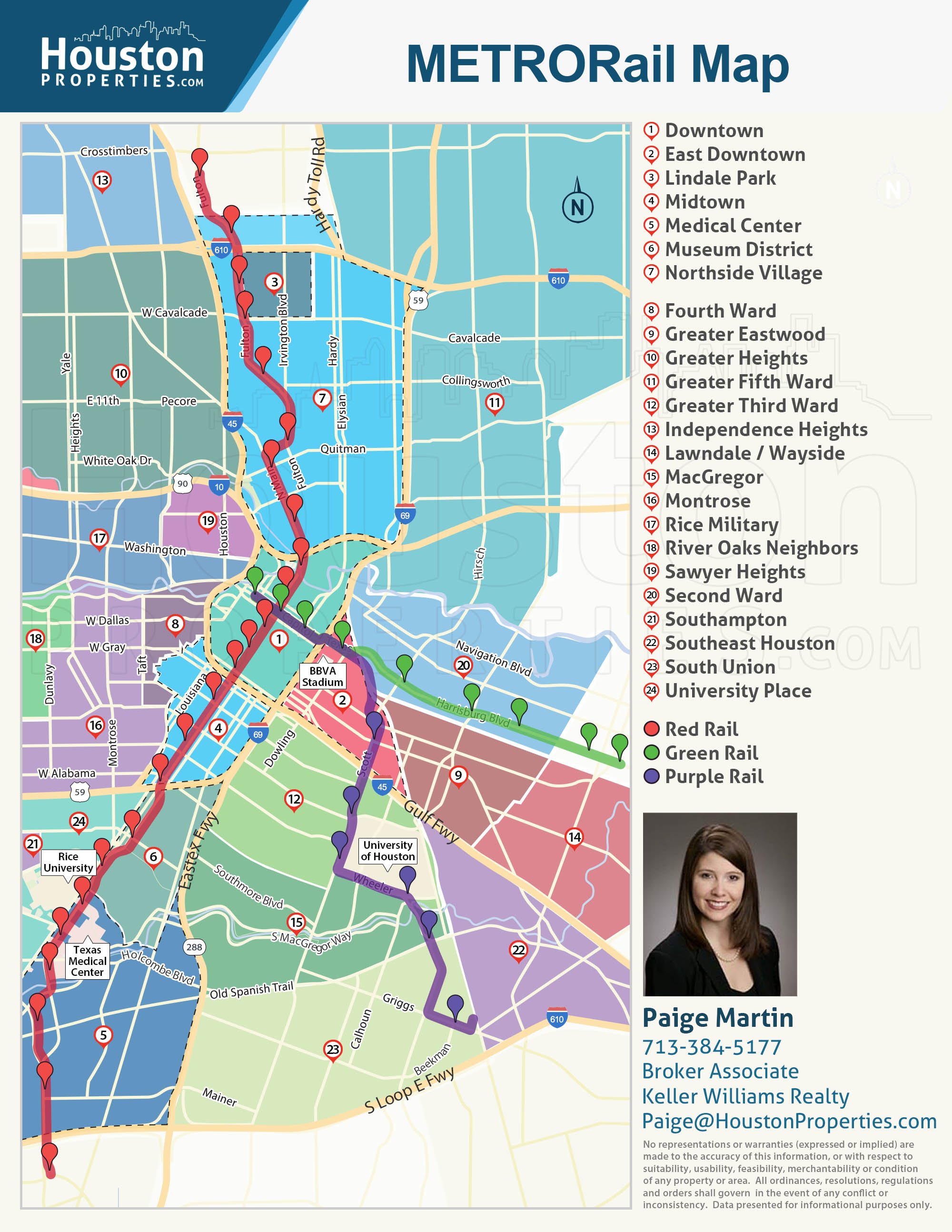 Isabella At Midtown: School Zoning Information
Isabella At Midtown is located within the Inner Loop. Midtown is zoned to the Houston Independent School District (HISD).
Isabella At Midtown residents can send their children to the following schools:
Henry F. MacGregor Elementary School at 4801 La Branch St. Serving PK to 5 students, MacGregor offers several magnet programs in music and science. It also offers an Extended Day Program.
Gregory-Lincoln Education Center at 1101 Taft St. GLEC is a combined elementary and middle school serving K-8 students. The school has a diverse student body and requires students to wear uniforms.
Lamar High School at 3325 Westheimer Rd. Home to the Lamar Texans, this high school offers one of the best athletics programs in the city. Lamar also has one of the oldest lacrosse programs in Texas. Apart from its athletics, Lamar also offers excellent academic programs. It is an International Baccalaureate World School with a Diploma Programme and a business administration magnet school.
Paige Martin is one of the most experienced and knowledge condo Realtors in Houston, and has a lot of experience helping people buy and sell at Isabella At Midtown.
Our vast market knowledge, relationships & extraordinary marketing platform (built over 10 years) will help you sell faster, for more money. Know what your home value is AND learn more about our Houston seller program.
Get the most money for your condo in the least time!
Our proprietary marketing system (over 10 years in the making) gives you maximum exposure for your condo.
We pay to have your condo staged and professionally
photographed by one of the best
photographers in Houston.*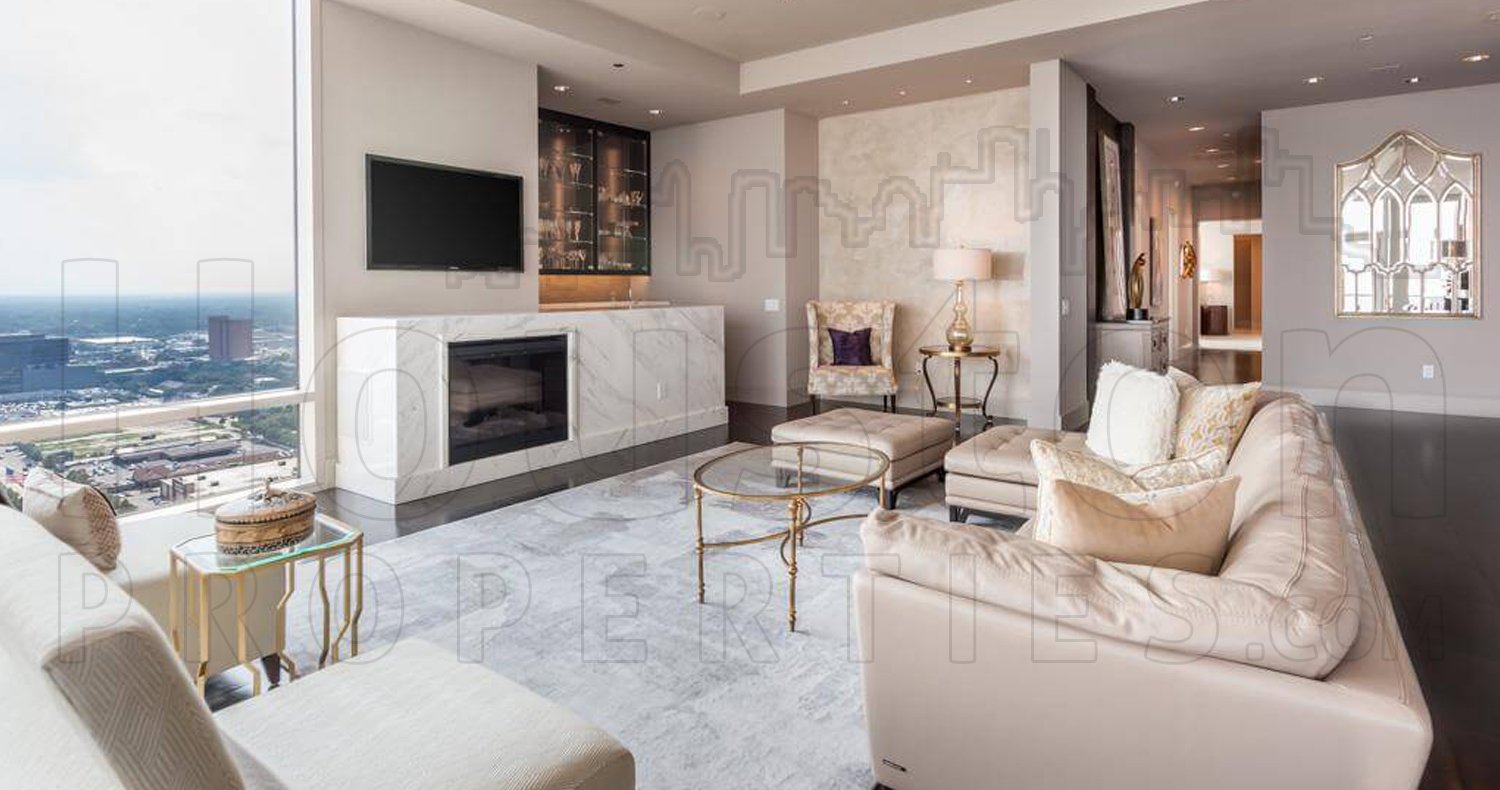 *Up to two hours of staging
Online Marketing Dominance
9 out of 10 buyers use the Internet to search for condos.
We rank in the top 3 results for over 1,150 unique, intentional Houston condo keyword searches on Google.
Only we will feature you to our 400,000 annual visitors.