Guide to Lovett Place Condo Houston
Built in 2008, located in Inner Loop, see Lovett Place condos for sale, amenities, pictures & reviews.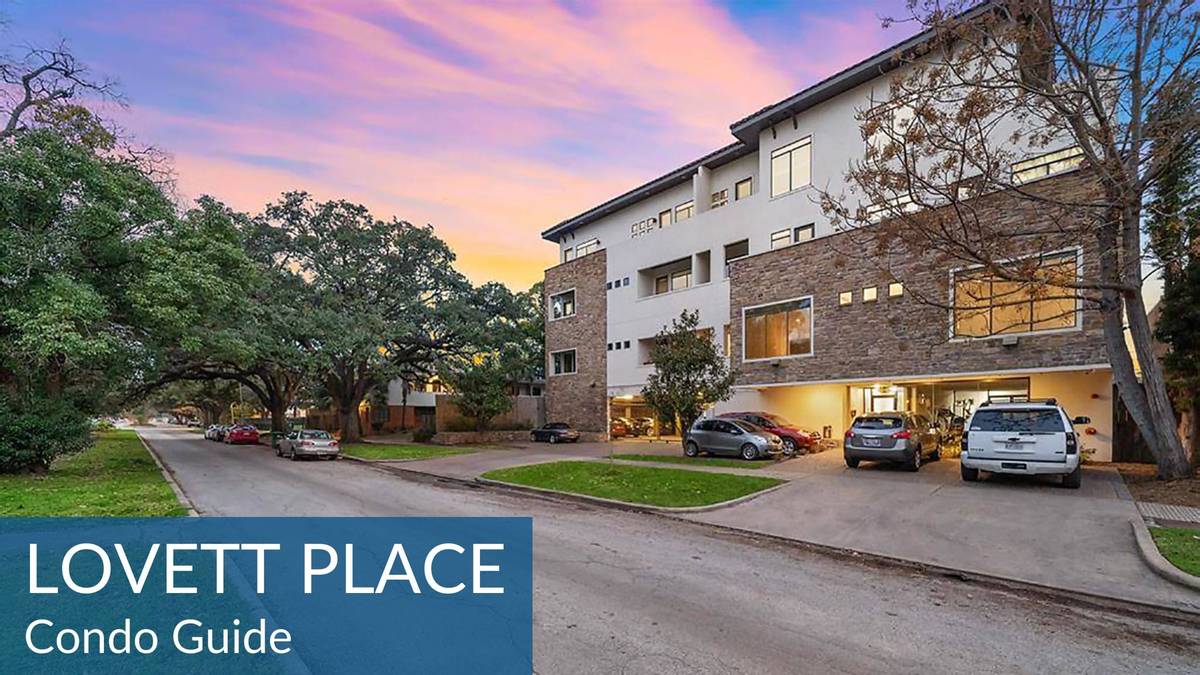 Located in Houston's Inner Loop, Lovett Place Condos are minutes away from central districts. The 4-story building sits along Lovett Boulevard which is easily accessible from Downtown.
Lovett Place is popular due to its:
PROXIMITY TO COMMERCIAL DISTRICTS: Business centers are a 10-minute drive from the building. These include Downtown Houston and the Galleria. Residents can reach the Texas Medical Center in 7 minutes. These districts are home to many major employers, providing job opportunities for residents. Retail, dining, and entertainment activities are also available in the areas. The Theatre District and Hobby Airport are also nearby.

VARIOUS RETAIL OPTIONS: Some of the best restaurants, bars, and shopping areas in Houston are in the Galleria. Aside from the Galleria, many shopping centers are nearby. River Oaks Shopping Center is less than 2 miles from the building. It houses over 100 retail stores and restaurants. Other options include Westheimer Center, Hawthorne Square, and Montrose Collective. It will take Lovett Place residents less than 5 minutes to reach them.

GREAT ACCESSIBILITY: Lovett Place Condos have easy access to transportation services. It is only eight blocks from the MetroRail, with the TMC Transit Center as its nearest stop. Hobby Airport is also a short drive from the area.

RICH HISTORY AND GREAT CULTURE: Lovett Place is nearby Houston's cultural centers like the Rothko Chapel. It features works from famous artists like Jackson Pollock and Pablo Picasso. The building was formerly used as a radio station known as KILT/KLOL.

HUGE SPACE: The 4-story building features a spacious and smoke-free environment. With a total of 25 units, the average size of each unit is 1,300 square feet. This includes an expansive master bedroom and walk-in closets.

LUXURIOUS AMENITIES: Each unit has a luxury bathroom with separate jetted tubs. They also have large balcony terraces where residents can look out into the azalea garden. Its residents can enjoy access to the 24-hour fitness center. Assigned parking (with a gated garage) is provided for them as well. The place also comes with a designer kitchen with granite counters and GE profile stainless steel appliances. For pet owners, the building offers an outdoor pet park monitored by security cameras.
Purchasing a unit at Lovett Place can be tricky. Its location is known to have problems with rising property values.
To get personal advice on buying or selling a Lovett Place unit, contact Paige Martin, one of Houston's best condo realtors and one of the top-ranked Realtors in the United States.
"Our realtor, Brittney Coyle, was wonderful. This was our first time selling a home, and she was helpful and patient with us, explaining everything along the way. The whole process went smoothly. We want to thank Brittney and the team at Houston Properties. We would definitely recommend them!" - Jordana Harris (Google Review)
---
Table of Contents
---
Lovett Place Condo Amenities
| Information | Lovett Place |
| --- | --- |
| Address | 510 Lovett Boulevard |
| City | Houston |
| Zip | 77006 |
| Region | Inner Loop |
| Year Built | 2008 |
| Construction Status | Complete |
| Developer | Perry |
| # Floors | 4 |
| # Units | 25 |
| Parking | Assigned |
| Guest Parking | Limited |
| HOA | Lovett Place |
| --- | --- |
| HOA / Sq Ft | $0.46 |
| What's Included in HOA Fee? | Building & Grounds, Gas, Gym, Insurance Common Area, Limited Access, Private Garage, Recreational Facilities, Trash Removal, Water and Sewer |
| Amenities | Lovett Place |
| --- | --- |
| Fitness Room/Gym | Yes |
| Pool | No |
| Pool: Heated | No |
| Pool: Lap Size | No |
| Pool: Indoor | No |
| Pool: Hot Tub/Jacuzzi | No |
| Party/Gathering Room | No |
| Concierge | No |
| Valet | No |
| Porter | No |
| On Site Manager | Yes |
| Balconies Available? | Yes |
| Electric Car Option? | No |
| Tennis Courts | No |
| Extra Security? | Yes |
| Security | Yes |
| Guest Rooms Available? | No |
| Rooftop Deck/Terrace | Yes |
| Outdoor Kitchen | No |
| Gas Cooktop Available? | Yes |
| Storage Unit Option | Yes |
| Sauna | No |
| Business Center | No |
| Building Generator | No |
---
Lovett Place Condo Sales Trends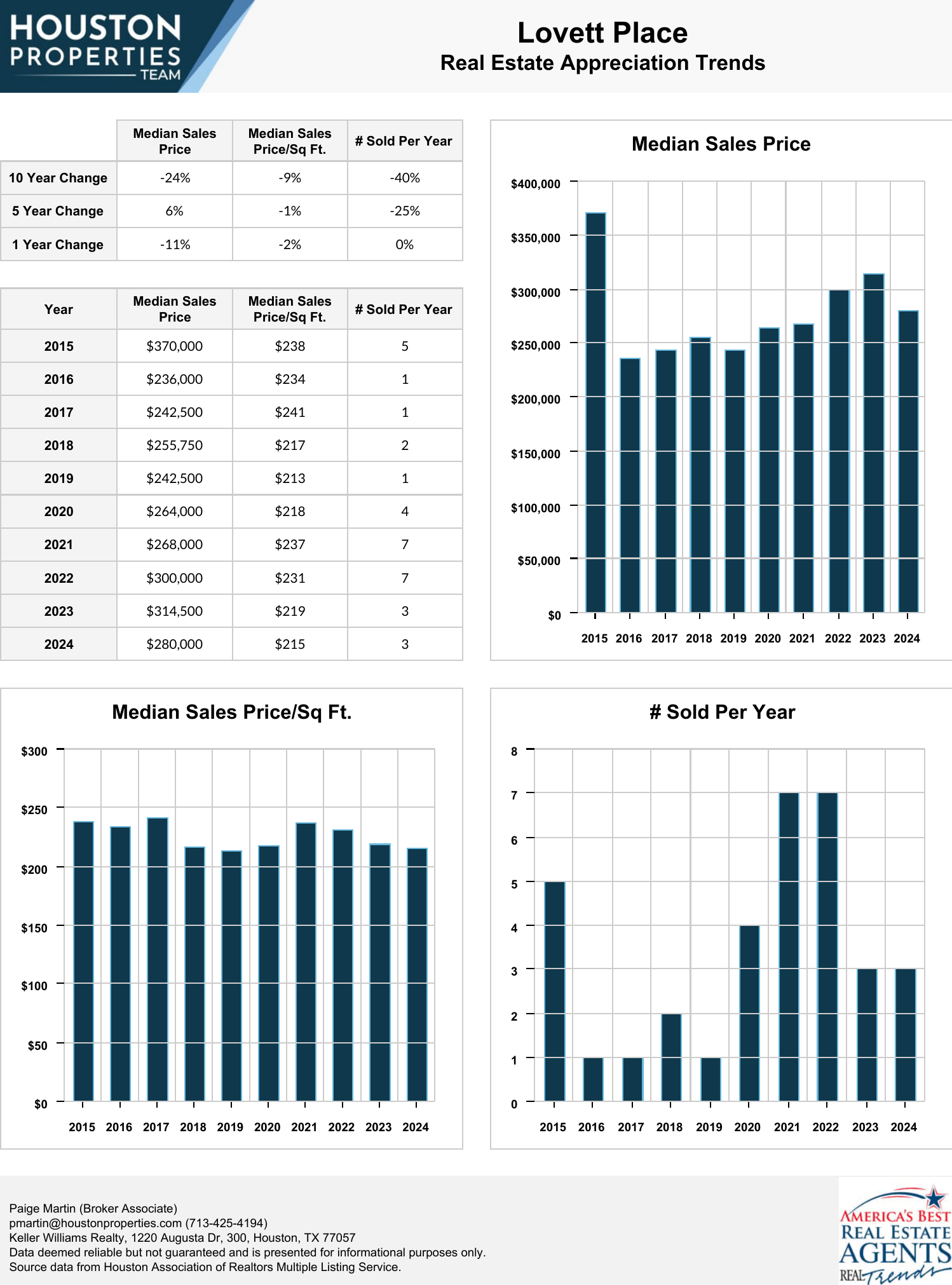 ---
How To Find Lovett Place In Houston
| Commute Time | Lovett Place |
| --- | --- |
| Downtown (min) | 10 |
| Med Ctr (min) | 5 |
| Energy Corridor (min) | 30 |
| Galleria (min) | 10 |
| Highlights | Lovett Place |
| --- | --- |
| Run / Bike Trails | Downtown Houston, Midtown Houston, University of St. Thomas, the Museum District, Buffalo Bayou, and Memorial Park. |
| Nearby Retail / Dining | River Oaks Theatre, The Menil Collection, Rothko Chapel, River Oaks Shopping Center, The Galleria, Theatre District, and Hobby Airport. |
| MetroRail Access | Lovett Place |
| --- | --- |
| # Blocks to MetroRail | 8 |
| Nearest MetroRail Stop | TMC Transit Center |
---
Lovett Place Pet Policies & Information
| Commute Time | Lovett Place |
| --- | --- |
| Pet Area/Courtyard | Yes |
| Pet Area / Unique Pet Features | Outdoor, secured pet park monitored by cameras. |
| Max # Animals | 2 dogs + 2 cats |
| Breed Restriction | None |
| Weight Limit | 55 lbs |
---
Lovett Place Best Realtor Insights
The four-story Lovett Place was built in 2008 along the picturesque Lovett Boulevard.
Lovett Place is found in the Inner Loop, near Downtown Houston and The Medical Center.

The Theatre District, the Galleria, and the Hobby Airport are also nearby.

Restaurants, shops, bars, and other establishments can be easily accessed from Lovett Place.

Each condo for sale has an average size of 1,300 square feet.

Lovett Place's unique design includes an azalea garden and traditional English furniture.

The building features a 24-hour monitored security system, fire alarms, and sprinkler systems.

Each unit comes with walk-in closets and a luxe bathroom with a separate jetted tub.

Lovett Place is a smoke-free environment that has large verandas and a rooftop terrace.

It also has gated parking, controlled access transportation services, and a 24-hour gym.

Other features of the condominiums include hardwood floors and designer kitchens with granite counters.
---
Lovett Place Condominium Reviews
Lovett Place Houston TX Condos: For Sale
---
All Lovett Place Condo Listings
---
Lovett Place Condos: Location
---
Lovett Place Condos can be found at the private and peaceful location of Lovett Boulevard, which is easily accessible from Downtown Houston. The Texas Medical Center is only 7 minutes away, along with its many dining options and stores.
On the other hand, the exclusive Galleria area is only 12 minutes from Lovett Place Condos. The Galleria is where you can find the best restaurants, shopping options, bars, and other commercial establishments in Houston.
---
Lovett Place Houston TX Condos: Features And Amenities
---
The four-story-high Lovett Place's architectural design gives off a warm and homey ambiance, with azalea gardens and classic English furniture. There are 25 Lovett Place Condos for sale, averaging aver 1,300 square feet in size.
The condos feature fine hardwood floors, designer kitchens with granite counters and GE Profile stainless steel appliances, and expansive master suites with walk-in closets. Lovett Place Condos also has large balcony terraces with spectacular city views.
---
Best Houston Real Estate Resources
---